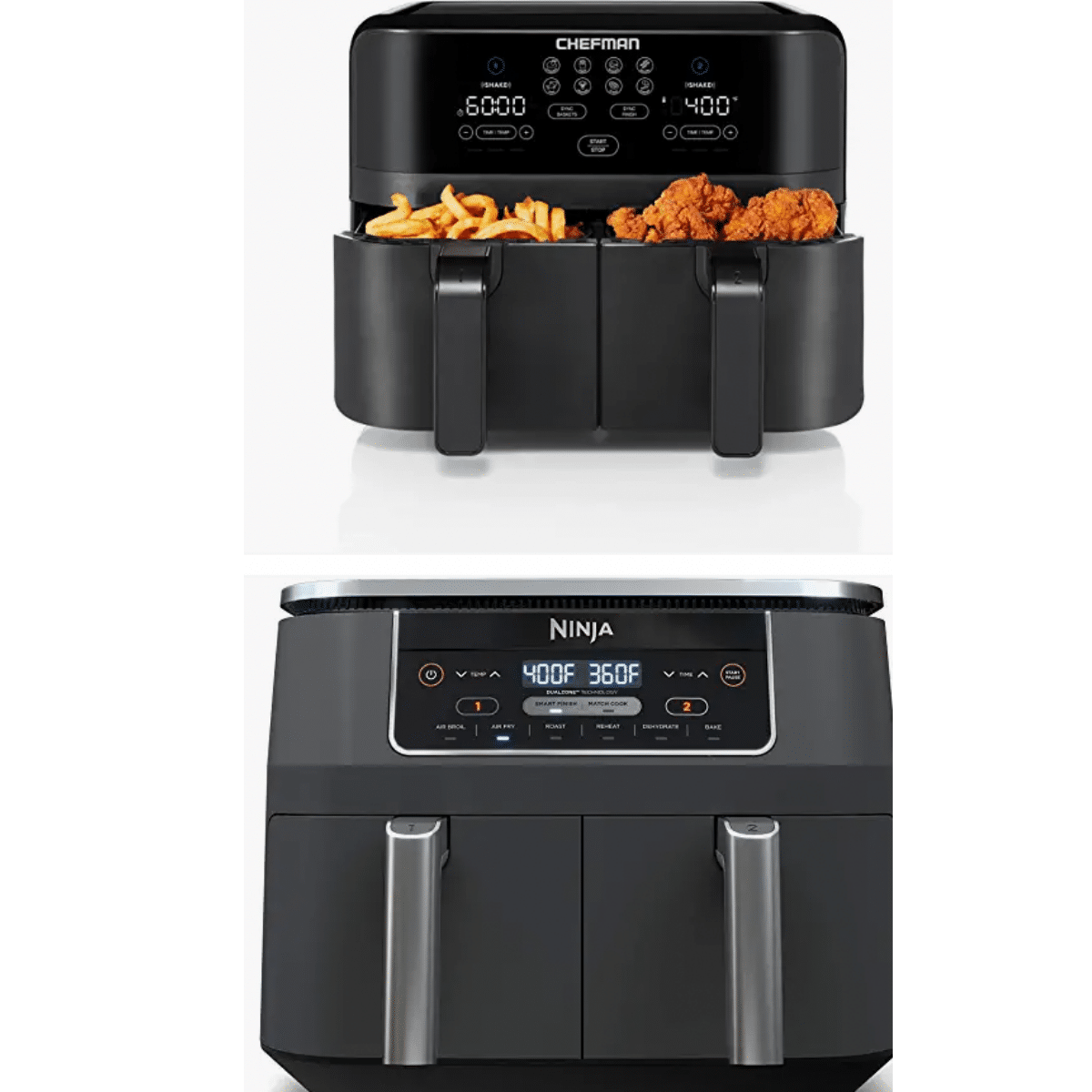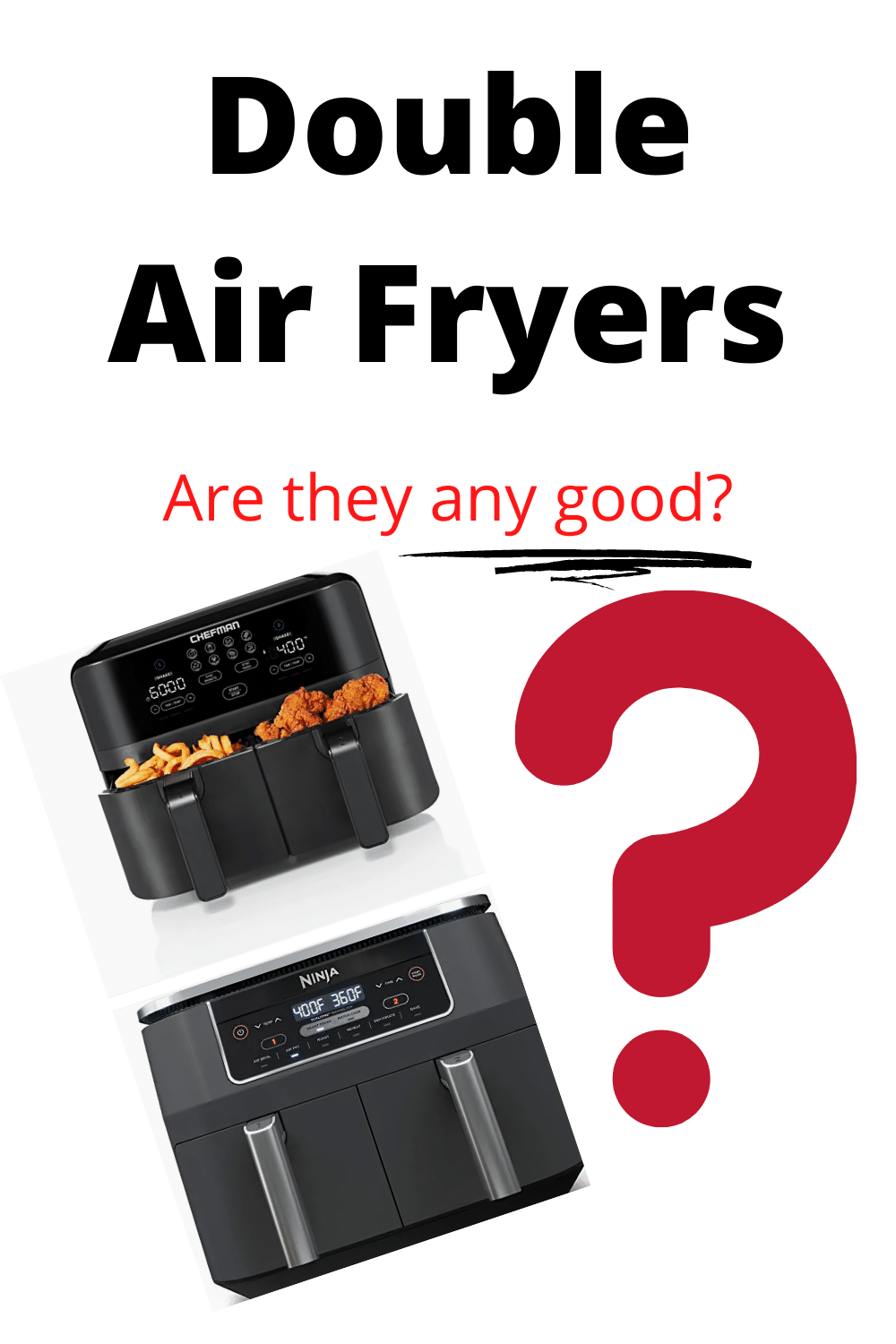 Considering purchasing a double air fryer? The ability to cook two different foods in the air fryer at the same time is certainly a huge benefit, but is it worth it?
Learn more about double air fryers, and get help deciding if a dual air fryer is the right one for you and your family. Learn which models are worth checking out and hear from real people about their experiences with double air fryers.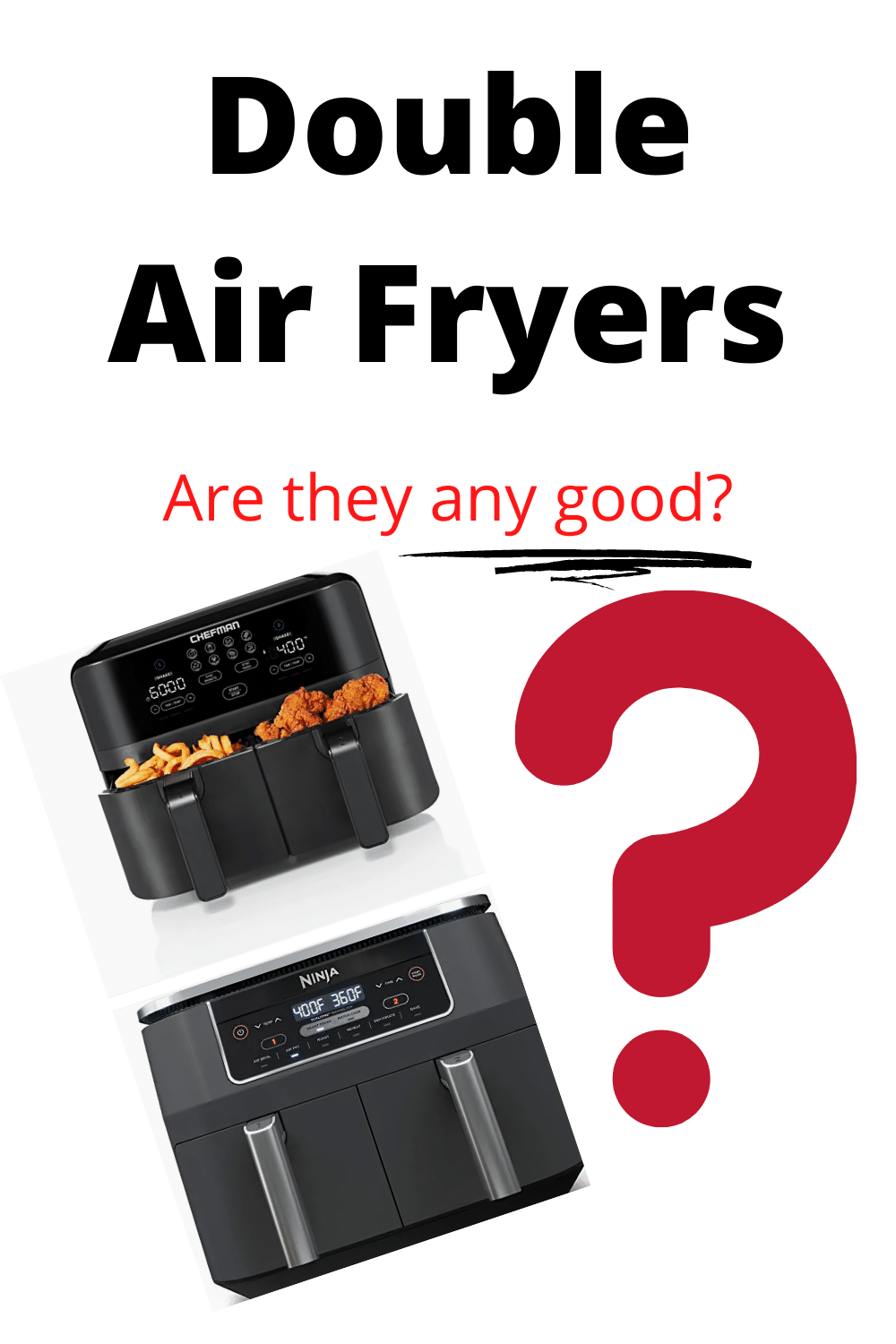 WHAT IS A DOUBLE AIR FRYER?
Double air fryers are really quite cool! These dual air fryers have two separately heated sections, and the ability to cook two or more different dishes at the same time.
Imagine cooking Chicken at 360°F on one side, while the french fries cook at 400° on the other! The potential with a 2 basket air fryer is that you can make a full meal in the air fryer, rather than cooking only one part, or needing to cook dinner in multiple air fryer batches.
2 BASKET AIR FRYER BENEFITS
These are the reasons that you should consider purchasing a double air fryer for your household:
Flexibility. You can use just one basket, or both of them. Each basket can be programmed to have a different temperature and time.
Time Saving. If you regularly find yourself cooking one part of dinner in the air fryer, taking it out, cooking another part of dinner, and then reheating everything before serving - you probably need a double air fryer!
Understand that double air fryers are generally bigger than single basket styles, so be sure that you have enough room on your counter for one before you purchase.
WHICH AIR FRYERS HAVE DOUBLE BASKETS?
There aren't too many options on the market that have dual baskets, but there are enough that you'll have options.
Most of the major players in the air fryer market have a dual model available, including Ninja, Instant Vortex, and Chefman.
Ninja Foodi makes their 2 Basket Air Fryer with DualZone technology in two sizes, a 10-quart which boasts the ability to cook 8 pounds of chicken wings, and a smaller 8-quart model. It has 4.8 stars on Amazon, and my readers love it too!
The Dual Basket double air fryer from Instant Vortex features see-through windows so you can watch your food cook without opening the baskets! Many of the newer Instant Vortex Air Fryers have this feature, and I really like it.
Chefman Turbofry Dual Air Fryer is another popular double air fryer. It has a total 9-quart capacity and touch screen controls.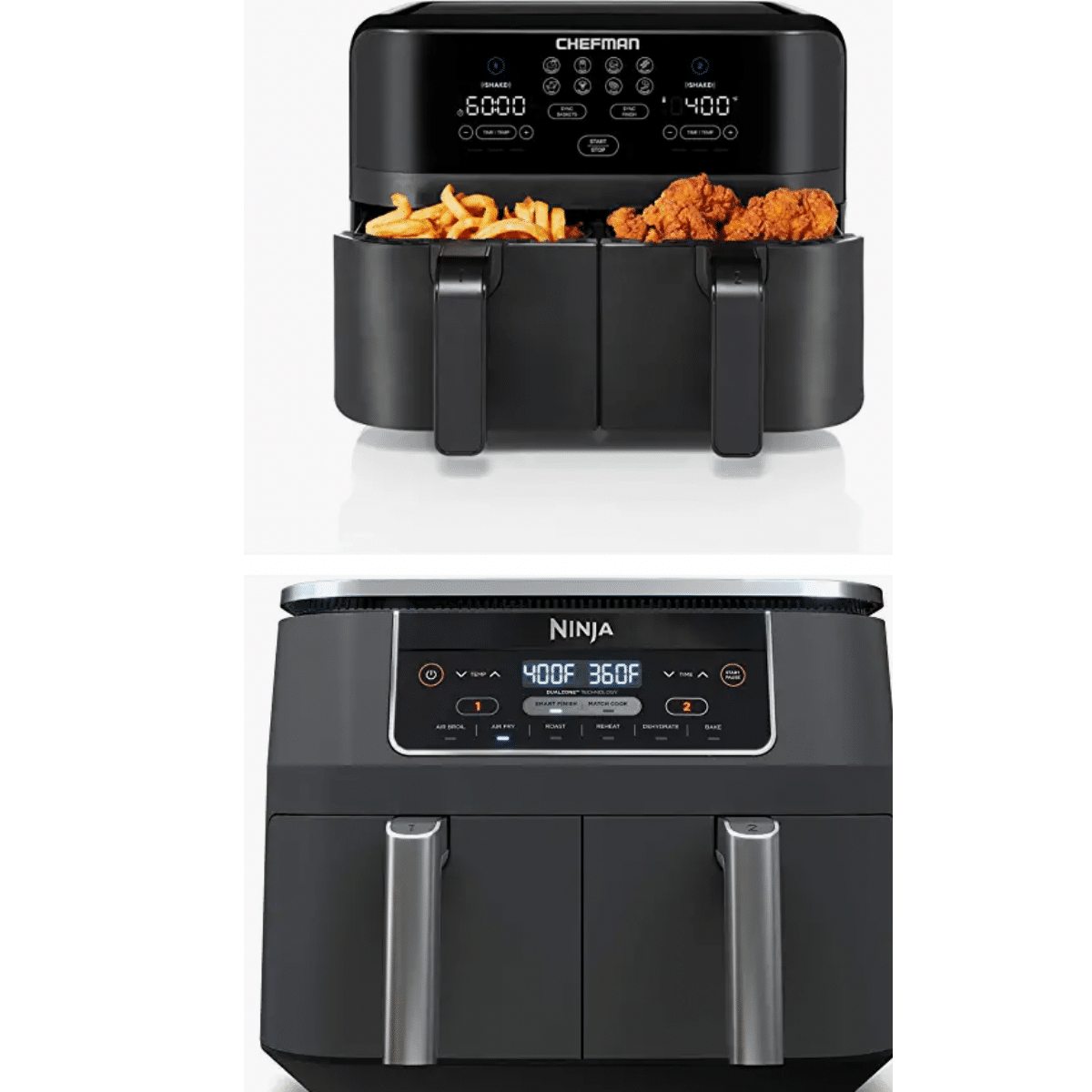 REAL REVIEWS FOR DOUBLE AIR FRYERS
Did you know that we have multiple large Facebook groups all about Air Fryers? The biggest one, Air Fryer Recipes has over 860,000 members! If you aren't one of them, hop over and check us out. We have fun there!
You can search the group to find real reviews and opinions about any type of air fryer you're interested in purchasing.
Here's what members have to say about their Double Air Fryers: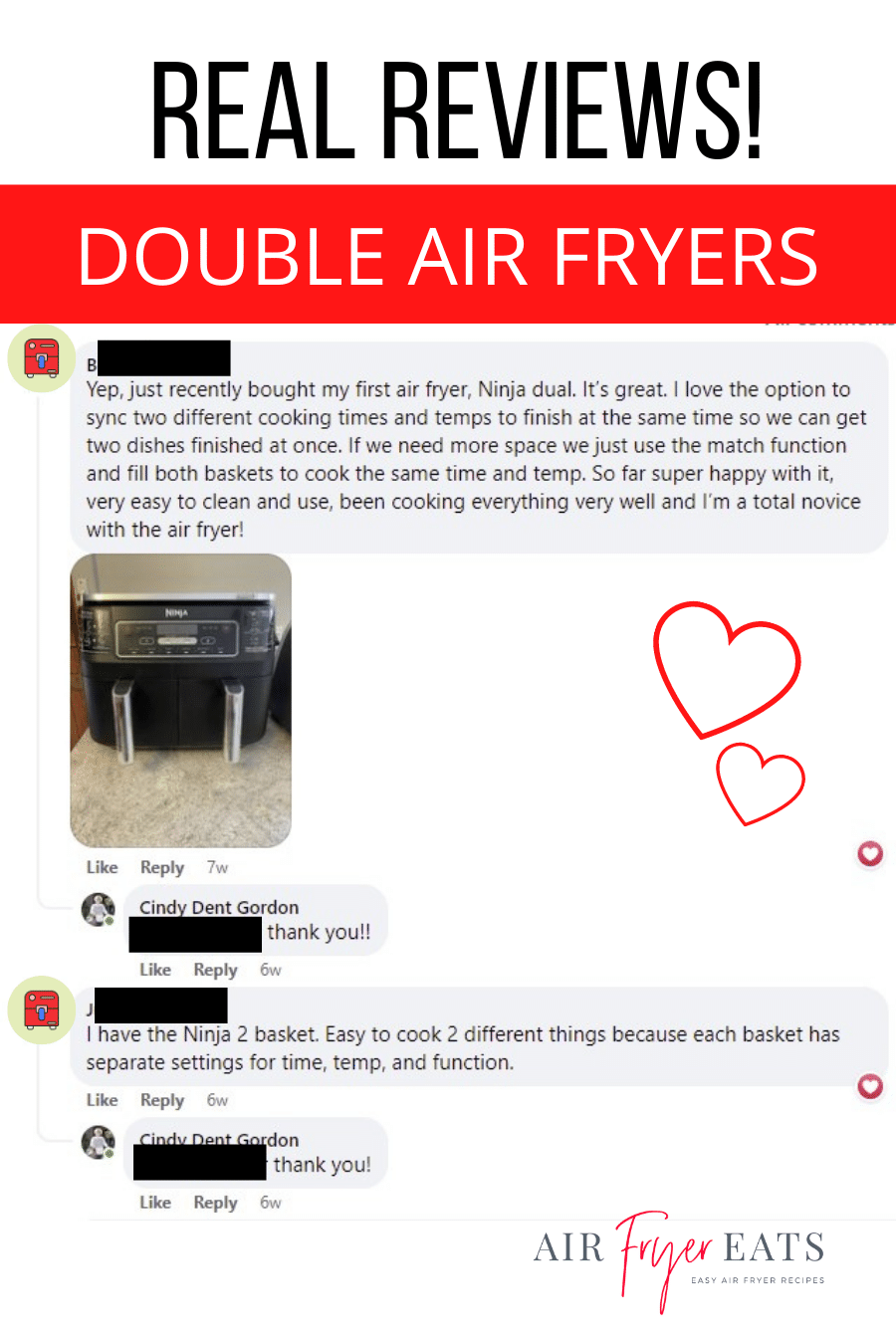 Both of these reviews are about the Ninja Foodi 2-Basket Air Fryer.
B says that "it's great. I love the option to sync two different cooking times and temps.... If we need the space we just use the match function and fill both baskets to cook the same time and temp."
B also says, "Very happy with it. Very easy to clean and use, been cooking everything very well and I'm a total novice!"
J agrees that the Ninja 2 basket makes it "Easy to cook 2 different things because each basket has separate settings for time, temp, and function."
Overall, the double air fryer most used by our group members is the Ninja Foodi 2 basket air fryer. It's the most popular, and those who have one love it!
RECIPES FOR 2 BASKET AIR FRYER
While none of our many air fryer recipes is specifically designed for a double air fryer, you can certainly cook any of them in one! You can even choose two recipes, and cook them both at the same time.
Try making Air Fryer Sweet Potato Fries in one drawer, while Chicken Breast air fries in the other.
Or make some Air Fryer Apple Crisp for dessert while you also prepare a delicious dinner of Breaded Pork Chops.
Are you planning to cook a Thanksgiving meal in the air fryer? Air Fryer Turkey can roast in the air fryer while you use the other drawer to heat up various holiday side dishes and desserts!
A 2 basket air fryer is particularly helpful when you're trying to make easy breakfasts. Imagine cooking the bacon in one side while using the other basket to heat up frozen waffles and toast.
TIPS FOR CHOOSING THE RIGHT AIR FRYER SIZE
Consider what you want to make.
Consider how many people you are cooking for.
Consider available counter space. Double air fryers are larger than most single air fryers.
Always size up - get one size bigger than you "think" you will need
Your budget matters too.
READY TO BUY A DOUBLE AIR FRYER?
Basically, you need to decide what air fryer size will cook the amount of food you need and want. Remember your available kitchen and counter space as well as your budget. If your budget allows, we recommend you size up, one more size than you think you'll need. This is the biggest takeaway that we can give, we hear this again and again from our air fryer community.
Be sure to take a look at our other articles as you continue to do your air fryer research. We have articles specially geared towards small air fryer, large air fryer, air fryer oven, the best air fryer, air fryer reviews, double air fryer and glass air fryer!

Ready to further your air fryer expertise? Be sure to check out our air fryer guides to help you along the way! After you get that perfect air fryer size and bring it home be sure to download our Air Fryer Starter Guide, Convert your Oven Recipes to Air Fryer Recipes using our Air Fryer Calculator, Learn WHY your air fryer might be smoking, learn about Putting FOIL in your air fryer, Tips for your Air Fryer, How to clean your Air Fryer and our printable air fryer times cheat sheet!
And of course, check out our Common Air Fryer Mistakes, so you know what NOT to do!
We would love to hear from you! Drop us a comment below telling us what air fryer size you selected for yourself or your family.