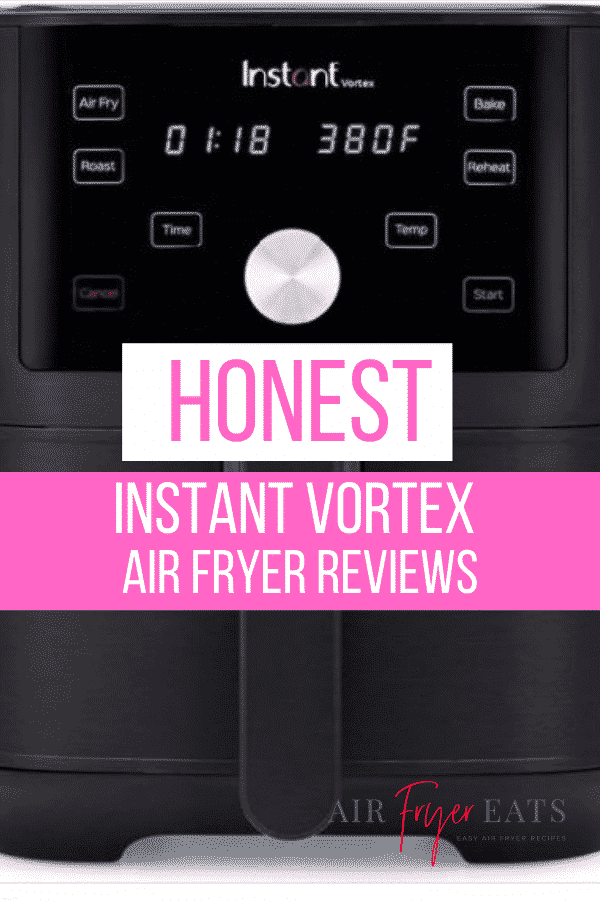 Are you in the market for a new Air Fryer? You'll want to read these Instant Vortex Air Fryer reviews first. We've compiled loads of Instant Vortex reviews for you to use when making your decision.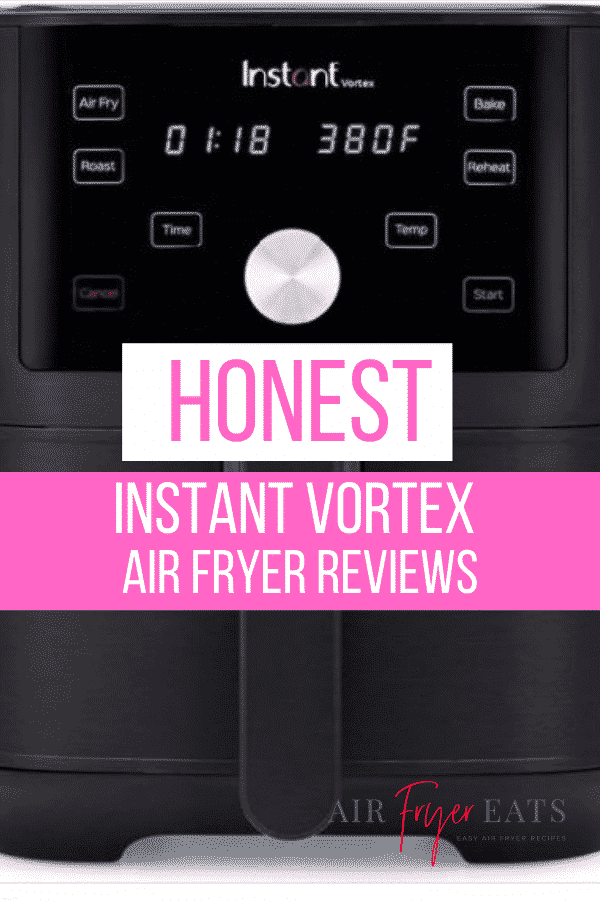 REAL REVIEWS FOR INSTANT VORTEX
I am going to share with you some real reviews that members of our facebook group have shared for the Instant Vortex Air Fryer. With so many different air fryers on the market, it can be difficult to make a choice, and I hope that these reviews help you find your perfect air fryer.
We've also reviewed other air fryers. Check out these reviews of Cosori Air Fryers.
Ninja Foodi Air Fryer Reviews are over here in this post.
IS AN AIR FRYER A CONVECTION OVEN?
If you're going to buy a new air fryer, you should understand what you're getting. Here's here an air fryer works.
Okay, so first off in learning How Does an Air Fryer Work, let's talk about: Convection.
Convection, if you remember your high school chemistry lessons, is the transfer of heat by movement.
When it comes to cooking, that heat is typically transferred by the movement of air.
If you have a convection oven, there is a fan at the back of it that will move heat around in a circular fashion.
This makes food cook more quickly and often more evenly.
An air fryer works by convection too. The fan inside the unit blows air around that's been heated by an electric heating element.
This is why you can effectively fry food with a very small amount of oil, since the fan blows the hot oil around to touch every surface of it, creating a crispy crunch.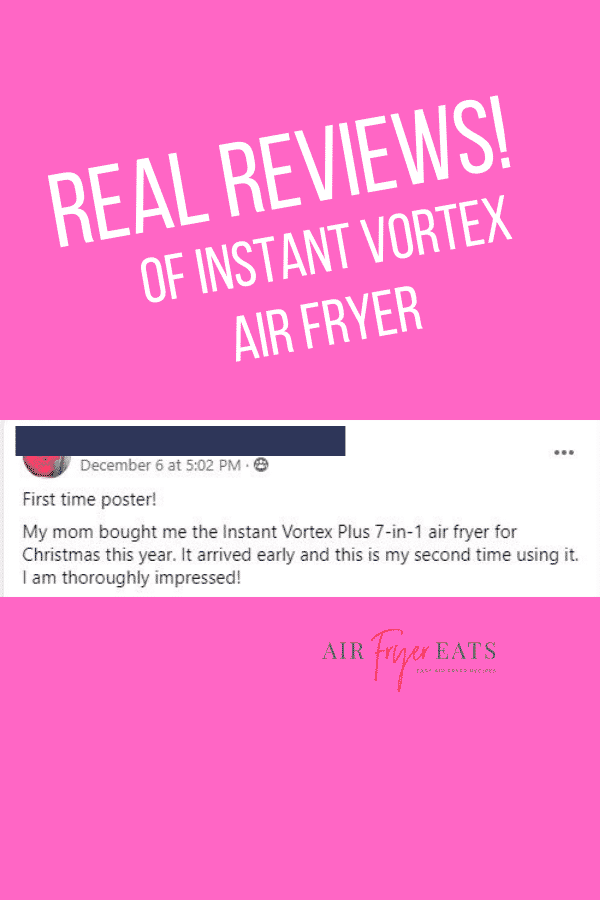 WHAT DOES THE INSTANT VORTEX AIR FRYER DO?
The Instant Vortex Air Fryer is a 6 quart basket style air fryer with four pre set functions:
Air Fry
Roast
Bake
Re-heat
The Vortex has a large basket and can fit up to two pounds of french fries or a 4 pound chicken.
Instant Vortex Air Fryer comes to us from the makers of the Instant Pot. If you like your instant pot, you'll recognize the simple screen and easy to use interface here as well.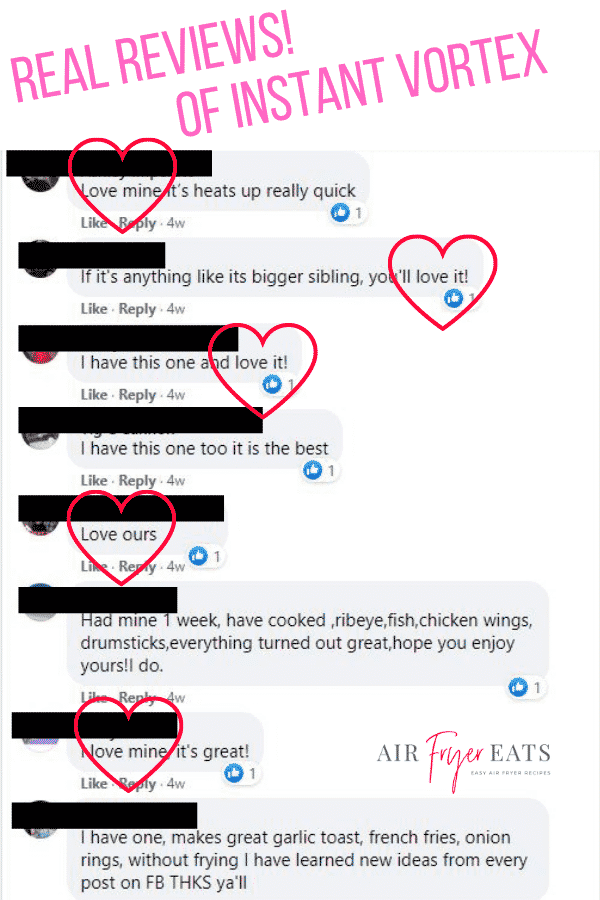 INSTANT VORTEX AIR FRYER REVIEWS
You don't need to take my word for it when it comes to a review of the Instant Vortex Air Fryer!
Take a look at some of the things that my Air Fryer Recipes Facebook Group had to say about this Air Fryer! I often poll my QUICKLY growing group of over 340,000 members to see what air fryers they like. Here's what they've said about this one.
Carmen: I have one, I love it and use it daily.
Barb: Great for bacon! Make wings once a week.
TC: I make wings and fries in my basket. Works great.
Courtney: I just got this one and was quite impressed with my first try at fried wings. I also baked fish in it and it turned out well.
Tig: I have this one too it is the best.
Ashley: Love mine, it heats up really quick.
Mary: I love mine, it's great!
Tina: Got mine last year for Christmas. I use it almost every day. It's amazing and I am still learning what else to do next.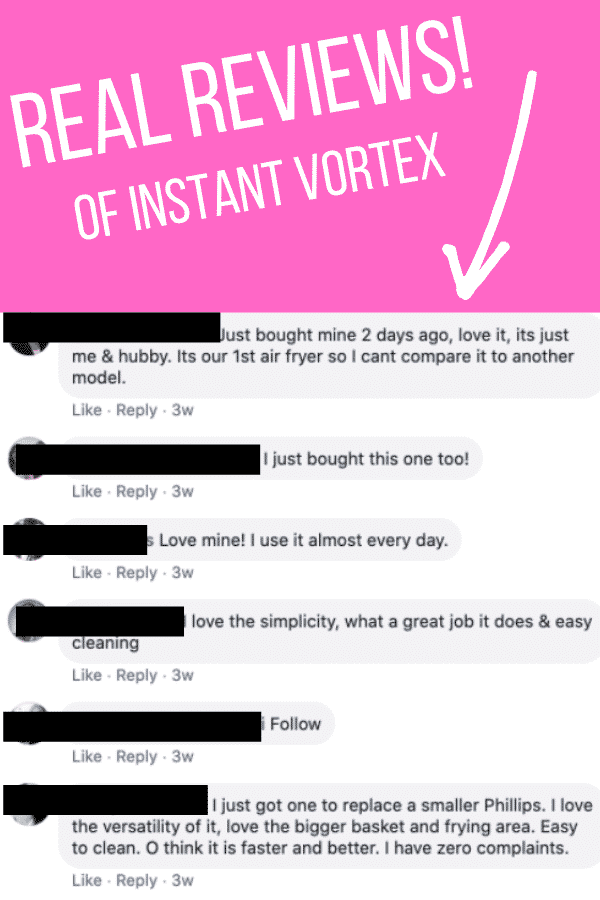 NEUTRAL REVIEWS FOR NINJA FOODI
This Machine may not be perfect for everyone. Here are some reviews from the Facebook group that are just so/so.
Some members mentioned a chemical smell with the first use.
Susie: I love mine! Don't be turned off by the initial smell. The smell is real bad at first, but I promise it goes away.
Retta: The smell is gradually decreasing with use and cleaning but ughh!
Aysha: Mine still has a smell and it transfers to food.
Here's a tip! There are some little rubber bits on the tray. Members say that removing those is important. They aren't needed and cause the plastic burning smell.
Some say this this machine is loud.
Twila: I absolutely love mine! It's the perfect size for my boyfriend and I. The only thing I'm not a big fan of is how loud it is while it is cooking the food. But other than that I love it!
NEGATIVE REVIEWS FOR INSTANT VORTEX?
I don't have any super negative reviews for the Instant Vortex to share here. Most people in my group that have this Air Fryer really enjoy it!
LOOKING FOR EASY AIR FRYER RECIPES TO START WITH?
Buying an air fryer can be confusing, with all the choices that are available now. I invite you to join our facebook group and ask questions and read these real reviews to find the one that is the best for you and your cooking needs.


Have you made this recipe? Please leave a comment AND rating below! It helps other readers!
Be sure to tag @AirFryerEats on instagram, if you share a picture on the gram! Let's get social, you can follow me on Youtube, Instagram, Facebook, Pinterest or join one of our Air Fryer Facebook Groups: Air Fryer Recipes, Air Fryer Recipes for Seniors and Gluten Free Air Fryer Recipes.
Don't forget to subscribe to our EMAIL newsletter.