Have you seen the Instant Pot Air Fryer Oven? It's full name is the Instant Vortex Plus and today we are sharing our honest opinions about it.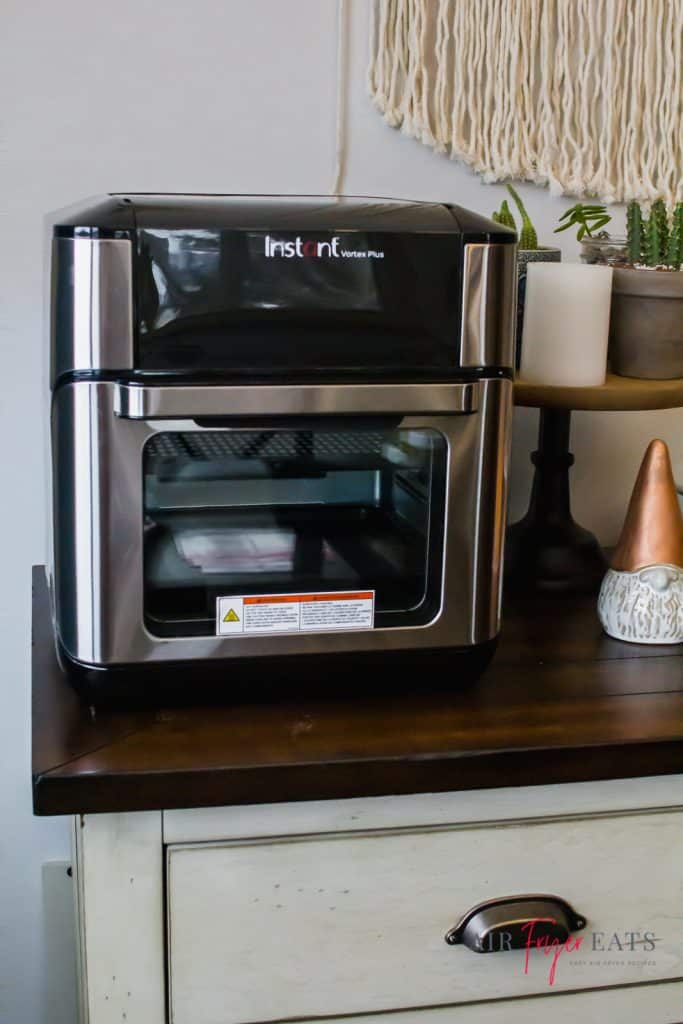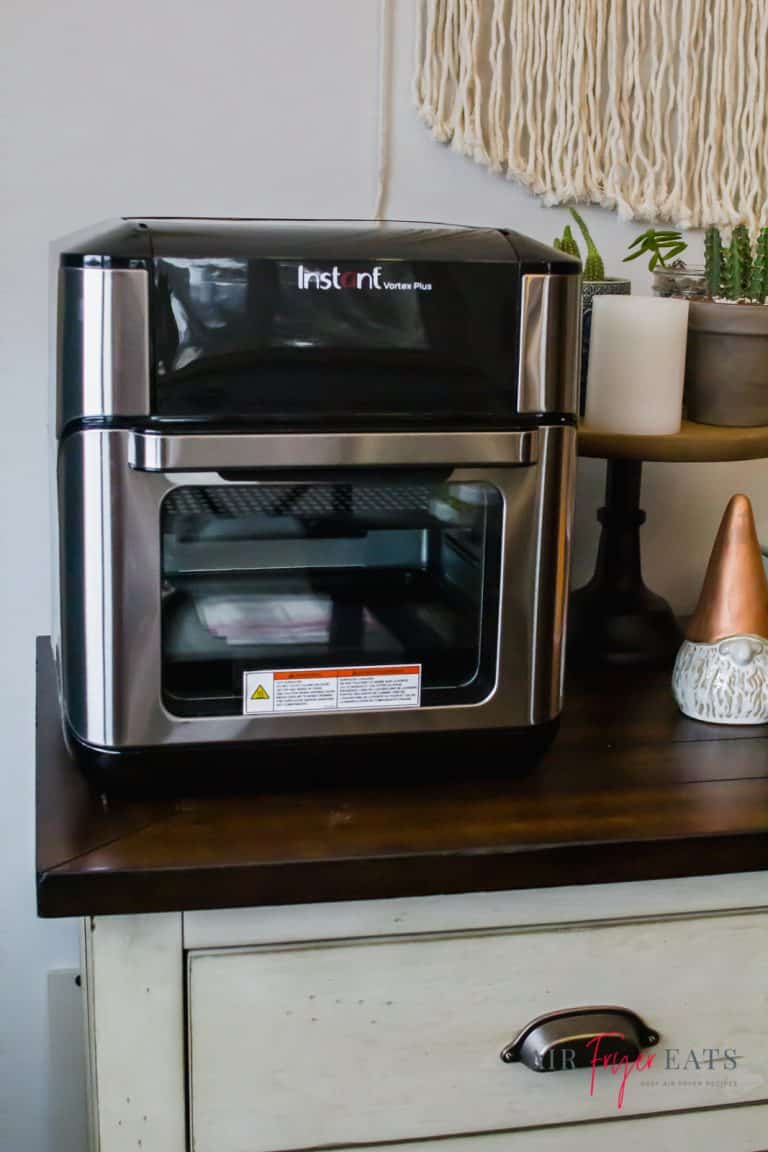 VORTEX PLUS AIR FRYER OVEN BY INSTANT POT
We have been lucky to test many air fryers from many companies. Sometimes, we refer to our air fryer facebook community to tell us which ones are worth testing and sometimes the brands reach out to us. Thank you to Instant Brands for providing us a unit to test.
We have many members in our facebook group that love the Instant Vortex Plus. We were very excited to get our hands on this unit to test!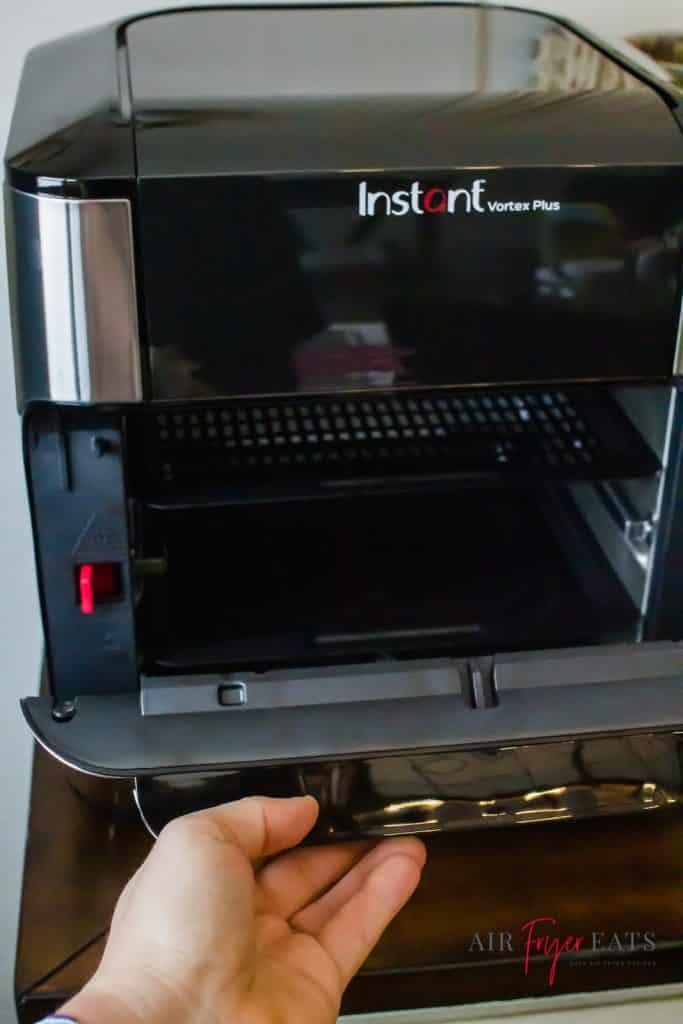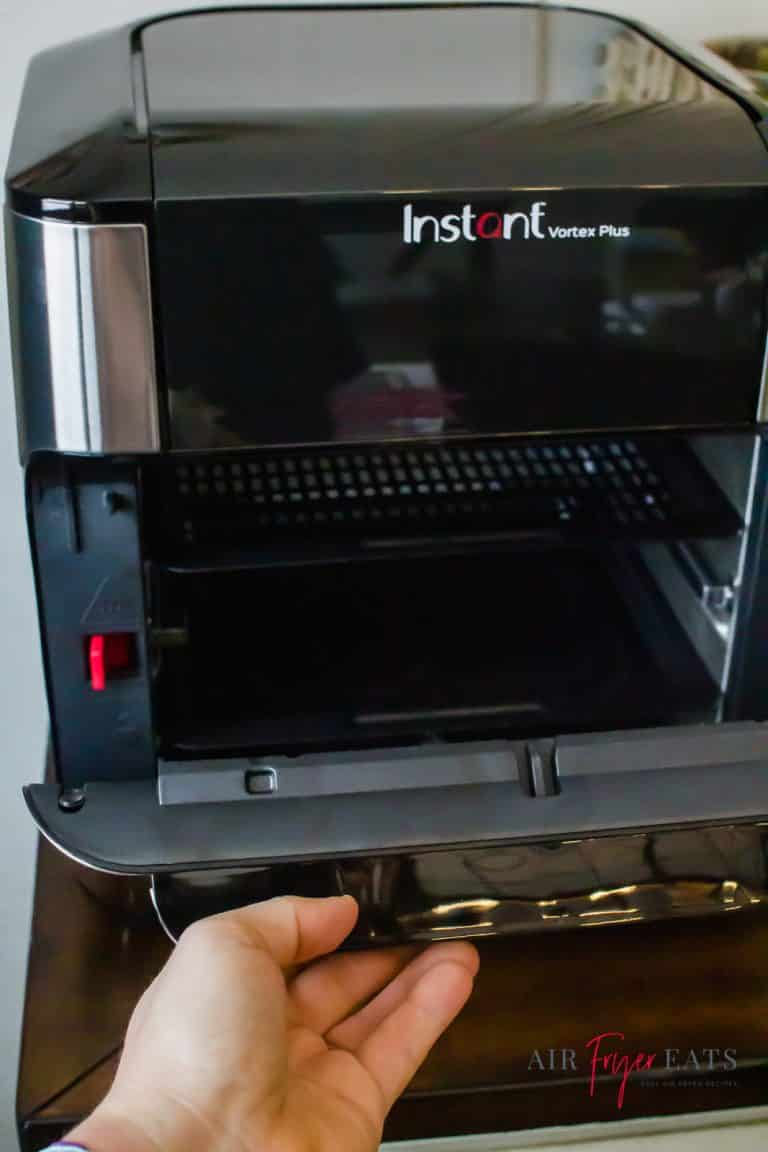 INSTANT VORTEX PLUS AIR FRYER OVEN FEATURES
Multiple Program Presets - Air Fry, Roast, Broil, Bake, Reheat and Dehydrate
Compact sleek design that looks great on your counter
Easy to clean
Price is good. Lots of air fryer BANG for your BUCK
Control buttons are easy to understand and easy to use
We had pretty high expectations for the Instant Vortex Plus because we already love our Instant Pot Pressure Cooker and know the quality of that. We also have an Instant Vortex Air Fryer and LOVE IT! You can read our Instant Vortex Review here.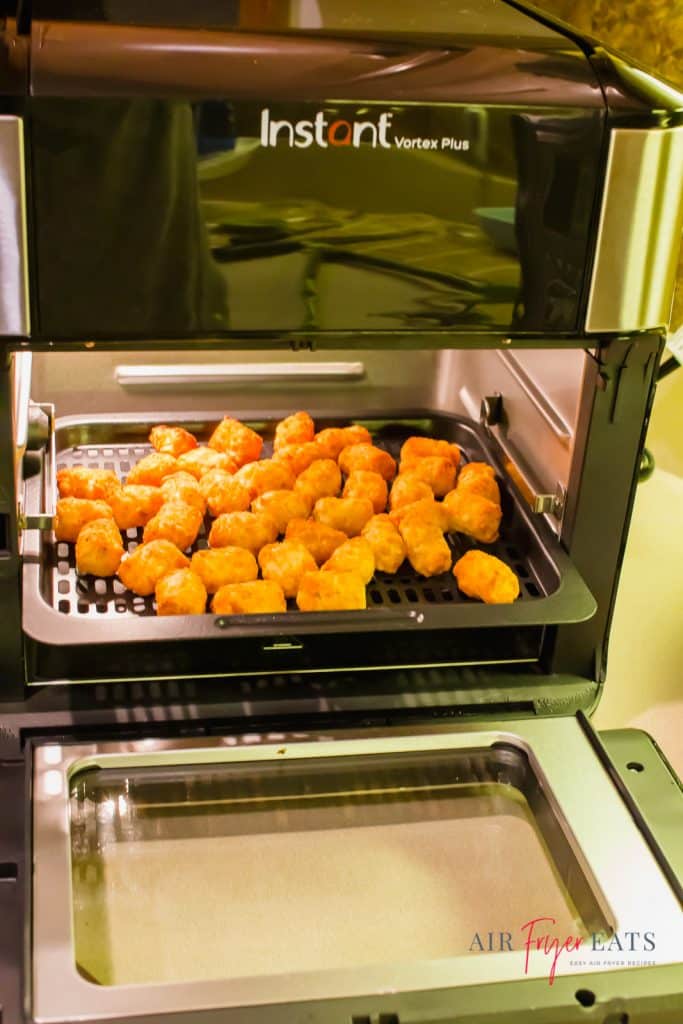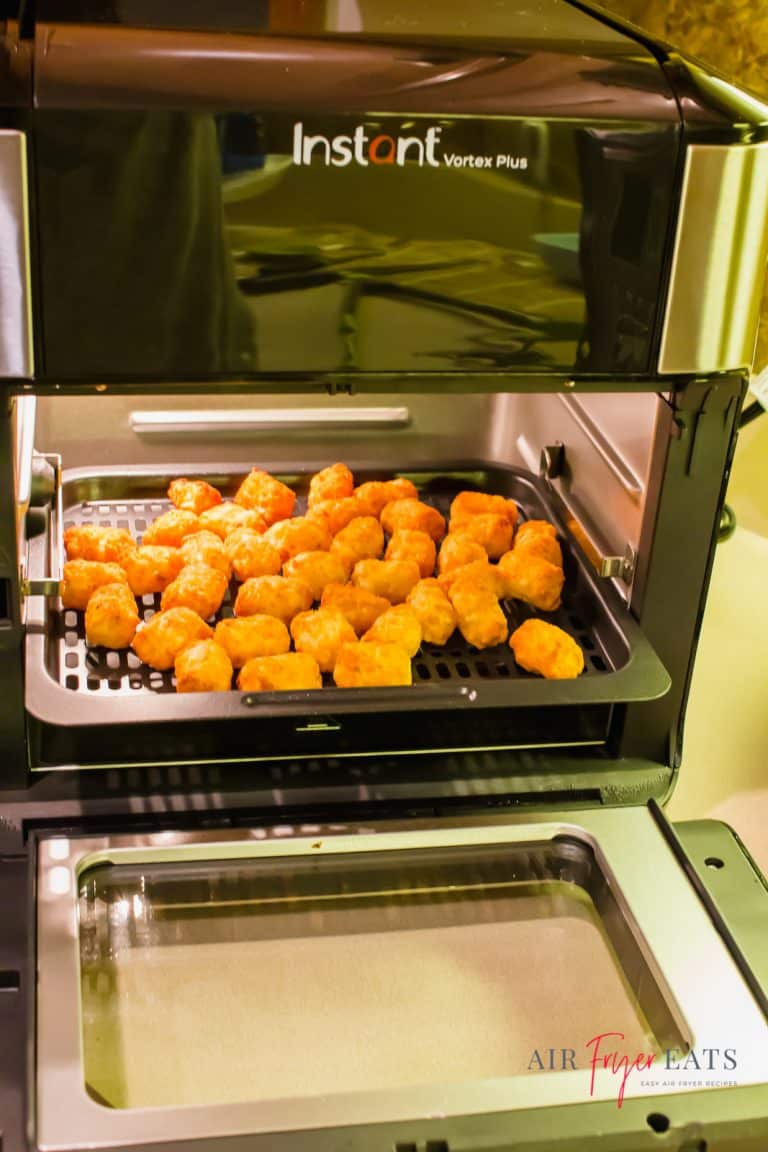 INSTANT VORTEX PLUS - NEGATIVES
We want to start by saying that if this is the only air fryer you ever tried, we think you'll love it, but after trying many others, this one didn't stand up to the rest.
While the racks inside provide a multi level cooking experience and you can fit more food, we didn't like the idea of constantly rotating the racks to get an even cooking field.
The door on our instant vortex plus air fryer oven was not sturdy. It creaked and wobbled when we open and shut it. While the unit is compact and we love the look, we felt that the inside space wasn't quite as roomy as the other air fryers (similar size) that we tried.
We are not sure if the unit we got was just not well put together but it didn't not seem sturdy at all. It cooked up the usual foods well, we were just not overly impressed with the unit. We tried it directly using the Instant Vortex with a basket. We LOVED that unit.
Our team really really wanted to like this unit, especially after we heard so many great reviews, but it truly did not stand up to the other units we tried. If you love the Instant Family Brands, I would suggest that you get the basket fryer. It may be a little harder to find (its not listed on Amazon right now) but its worth it. You can check it out and read our full review of the Instant Vortex here.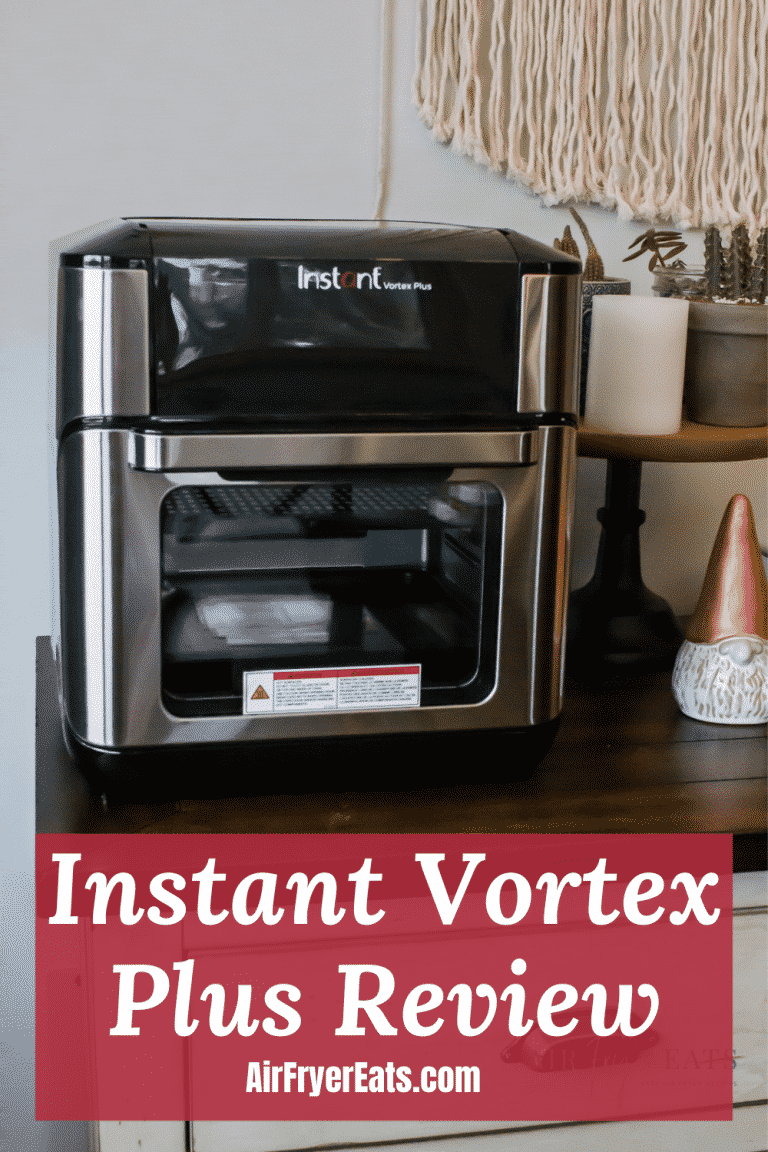 INSTANT VORTEX PLUS REVIEW - is it worth it?
While there are some drawbacks to this unit, there are some perks also. For our family of 4 (with two growing hangry teenagers) this doesn't work size wise. We think this unit is great for those just starting out. If you are looking to cook for 1-2 people and cook in small batches the Instant Vortex Plus would work well for you.
As for the build of the unit. We may have gotten a fluke of a unit that wasn't well put together because the other Instant Vortex with a basket is perfect. I would suggest keeping everything we mentioned in mind and reading review on Amazon. Be sure to filter your search for "most recent" and looked for verified purchase when reading reviews.
Do you have this unit? Do you like it? Drop us a comment below!