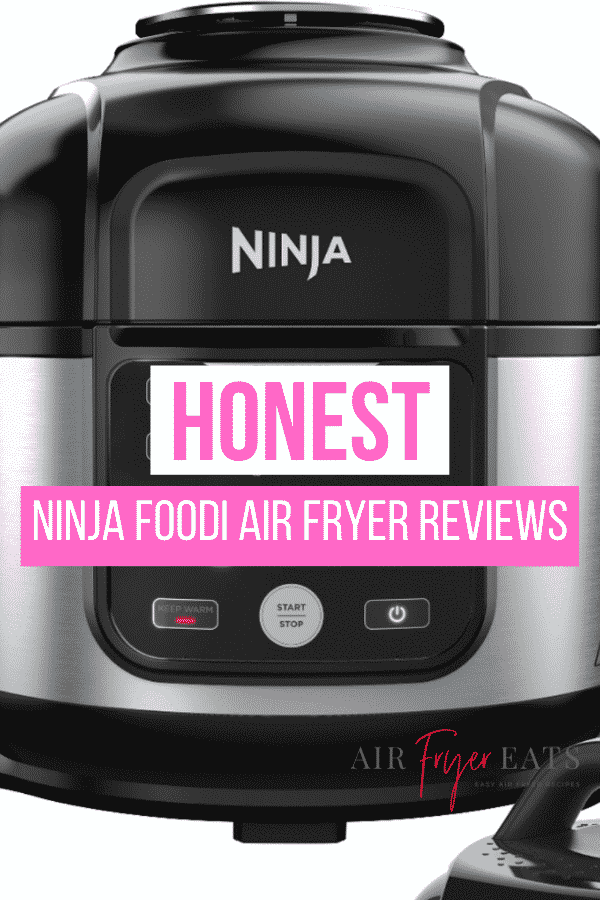 Interested in purchasing a Ninja Foodi? You'll want to read these Ninja Foodi Air Fryer Reviews first. We've compiled loads of Foodi reviews for you to use when making your decision.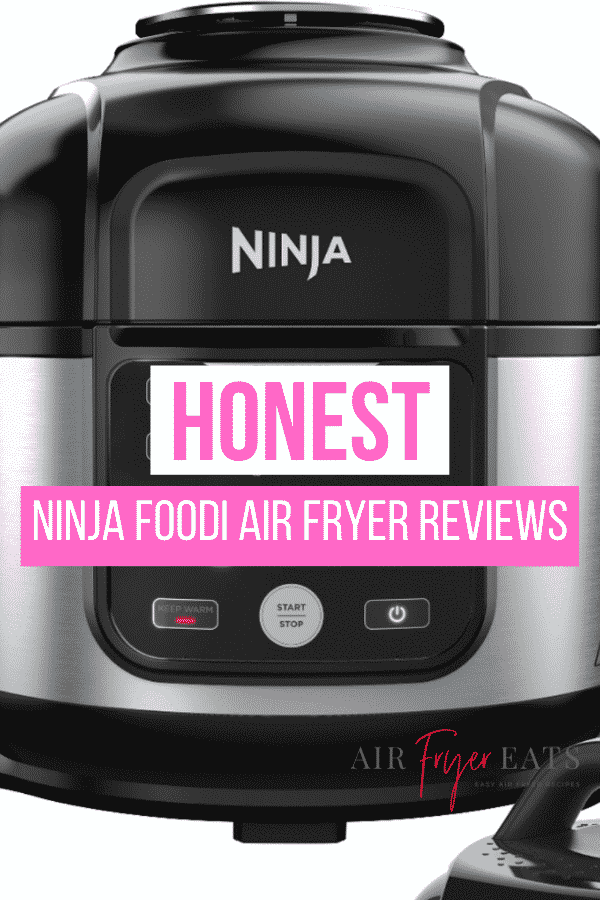 NINJA FOODI AIR FRYER AND PRESSURE COOKER REVIEWS
The Ninja Foodi Air Fryer/ Pressure Cooker is a very popular air fryer model right now. Ninja is a well known small kitchen appliance brand known for high-tech blenders, coffee makers, and now Air Fryers and pressure cookers too!
What's extra special about the Ninja Foodie is that it is one kitchen appliance that does multiple things. The newest model is a 9 in 1 Air Fryer. This Foodi really does it all!
We have so many Ninja Foodie Air Fryer reviews to share with you!
We've also reviewed other air fryers. Check out these reviews of Cosori Air Fryers.
Instant Vortex Air Fryer Reviews are over here in this post.
IS AN AIR FRYER A CONVECTION OVEN?
Okay, so first off in learning How Does an Air Fryer Work, let's talk about: Convection.
Convection, if you remember your high school chemistry lessons, is the transfer of heat by movement.
When it comes to cooking, that heat is typically transferred by the movement of air.
If you have a convection oven, there is a fan at the back of it that will move heat around in a circular fashion.
This makes food cook more quickly and often more evenly.
An air fryer works by convection too. The fan inside the unit blows air around that's been heated by an electric heating element.
This is why you can effectively fry food with a very small amount of oil, since the fan blows the hot oil around to touch every surface of it, creating a crispy crunch.
The Ninja Foodi has a fan on the top lid that moves the air around.
WHAT DOES THE NINJA FOODI DO?
The 9 in 1 Ninja Foodi has 9 different functions! Previous models ( 5 in 1, 7 in 1, 8 in 1) did slightly less things, but are still very well liked and have good reviews. This machine is firstly a pressure cooker, but it's also an air fryer and a slow cooker.
Pressure: Cook food quickly while maintaining tenderness.
Steam: Gently cook delicate foods at a high temperature.
Slow Cook: Cook food at a lower temperature for a longer period of time.
Yogurt: Produce creamy homemade yogurt.
Sear/Sauté: Use the unit as a stovetop for browning meats, sautéing veggies, simmering sauces, and more.
Air Crisp: Give foods crispiness and crunch with little to no oil.
Bake/Roast: Use the unit like an oven for tender meats, baked treats, and more.
Broil: Caramelize and brown your food.
Dehydrate: Dehydrate meats, fruits, and vegetables for healthy snacks.
NINJA FOODI REVIEWS
You don't need to take my word for it to know that the Ninja Foodi is a great appliance!
Take a look at some of the things that my Air Fryer Recipes Facebook Group had to say about this Air Fryer! I often poll my QUICKLY growing group of over 340,000 members to see what air fryers they like. The Ninja Foodi is very popular!
Read these Ninja Foodi Air Fryer Reviews: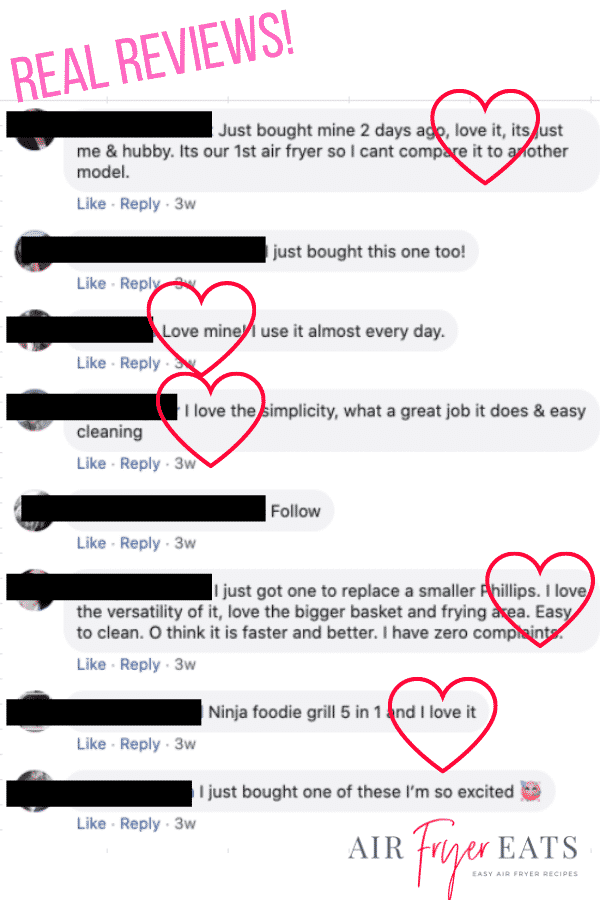 POSITIVE REVIEWS FOR THE NINJA FOODI
Stephanie: This is the one I have - I love it!
Patsy: I'd definitely recommend it to others. The "max crisp" is a game changer.
Jyoti: I love it! I actually got a different one, and I returned it because nothing was cooking and then I got this one. I am very impressed!
Antonio: That's the Cadillac of Air Fryers.
Jacob: I have this and love it. No complaints at all.
Grace: The Ninja Foodi is definitely the best.
Shara: if you want to definitely have the pressure cooker too I would recommend the Ninja brand. I have an IP and love it for pressure cooking, but pretty much set it aside and only use the Ninja.
Lori: Love my 6.5 quart Ninja Foodi! I use all the features on mine.
Norma: I have Ninja Foodi 5 in 1, love it.
Jackie: I just bought this, did sausages in it last night. So easy! I got the one with the 6 settings so you can max crisp and dehydrate as well.
Tyler: I have the Ninja and love it!!! Worth every penny!
Shirley: Just tried mine for the first time last night. So easy to clean. It worked great, even for a beginner.
Elaine: Great for two people. Ridiculously easy to clean.
Kerry: I've got one. Love it.
Hope: I have one and I love mine.
Anna: I have 2 boys, 20 and 15 years old. All 3 of us love it. Use it daily.
Gayla: Love mine! Easy to use. Easy clean up! Best chicken wings you'll ever make!!!
NEUTRAL REVIEWS FOR NINJA FOODI
This Machine may not be perfect for everyone. Here are some reviews from the Facebook group that are just so/so.
Alyssa: I really like mine and it does a great job, and it's easy to clean, but it wasn't big enough for me and my two hungry teenagers. I passed it on to a single friend.
Lou: It's great! But you have to cook in batches. I wish I bought a toaster oven style with a rotisserie.
William: Depends on how many people you are cooking for! I have the Ninja 4 quart and it's perfect for 2 or 4.
Dana: I love it. I wish it were bigger but I've heard that the bigger ones don't cook evenly.
So it seems that some people aren't thrilled with the capacity of this machine. Definitely think about your family size and what you need for your personal cooking situation.
NEGATIVE REVIEWS FOR NINJA FOODI?
I don't have any negative reviews for the Ninja foodie to share here. Everyone in my group really likes their Ninji Foodi Air fryers!
There were some folks in our group that were having trouble with the pressure cooking function. Just make sure you read the instructions fully. Pressure cookers are simple, but can seem scary at first.
I hope that gives you a good overview of how people feel about their Ninja Foodi Air Fryers.
We have included as many reviews as we could in this post. If you're ready to get cooking, try one of these recipes!
LOOKING FOR EASY AIR FRYER RECIPES TO START WITH?