Membership ebooks
Welcome to the Air Fryer Eats premium membership! On this page you'll find the easy to ready, easy to print (ink friendly) ebooks. Most of these ebooks do not feature pictures, they are a quick and easy way to print recipes by category with minimal ink.
Simply click on the picture to download the PDF ebook. It should open in a new window for you (if you are on your computer. Then you have the choice to download (downward arrow) or print.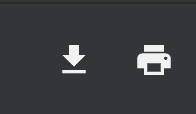 If you have questions, please email [email protected]
Sorry, no content matched your criteria.