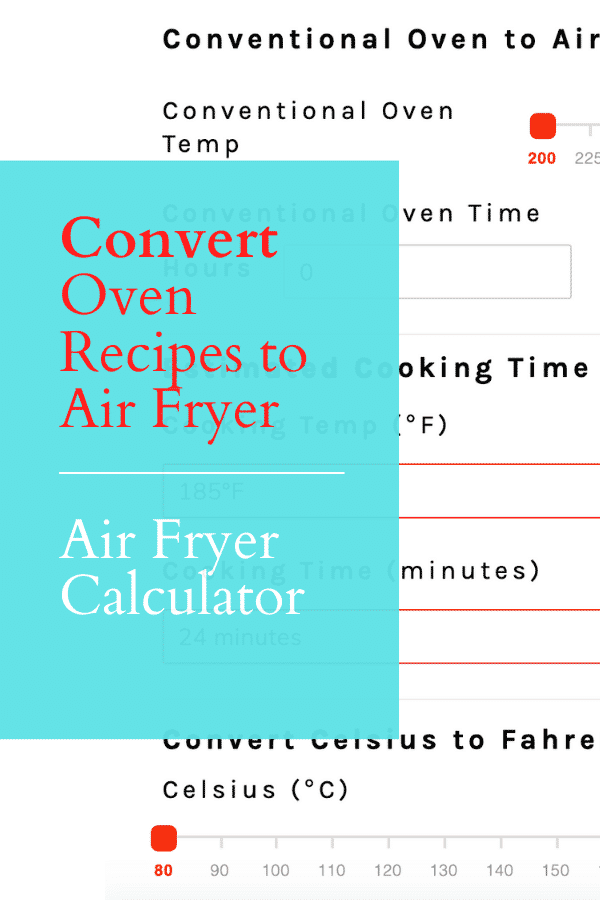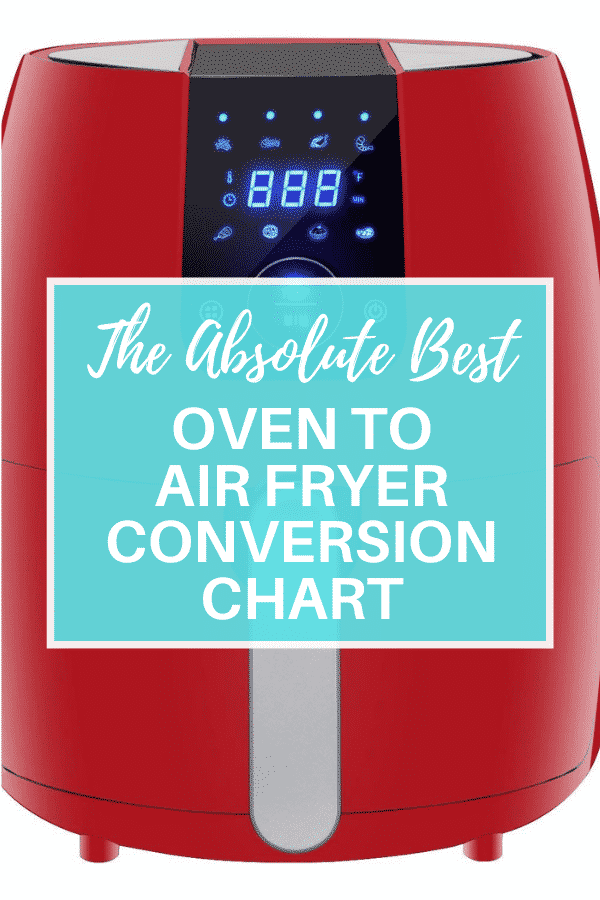 Use this simple air fryer conversion (Air Fryer Calculator) to give you an estimate on air fryer cooking times.
Welcome to the Air Fryer Calculator
Simply add in your conventional oven temp and time, then this air fryer calculator will convert the information into the estimated temp and time you'd use in the air fryer. For TIPS see BELOW the calculator.


This calculator works on safari desktop/mobile and chrome mobile. We are having errors with the new chrome desktop that rolled out.
Conventional Oven to Air Fryer Temperature Conversion
Conventional Oven
Temp (°F)
Conventional Oven Time
---
Estimated Cooking Time & Temp for The Air Fryer
---
Convert Celsius to Fahrenheit
---
Convert Fahrenheit to Celsius
Air Fryer Calculator Tips
**If you are on mobile, CLICK the temperature timeline to select your temp. Do not try to slide the red dot on the air fryer calculator.
Click the temp, enter the time and then click on any white spot and your new estimate time will appear.
This air fryer calculator gives you a starting point (estimation) of the temp and time you need to use in your air fryer when you are working off a conventional oven recipe.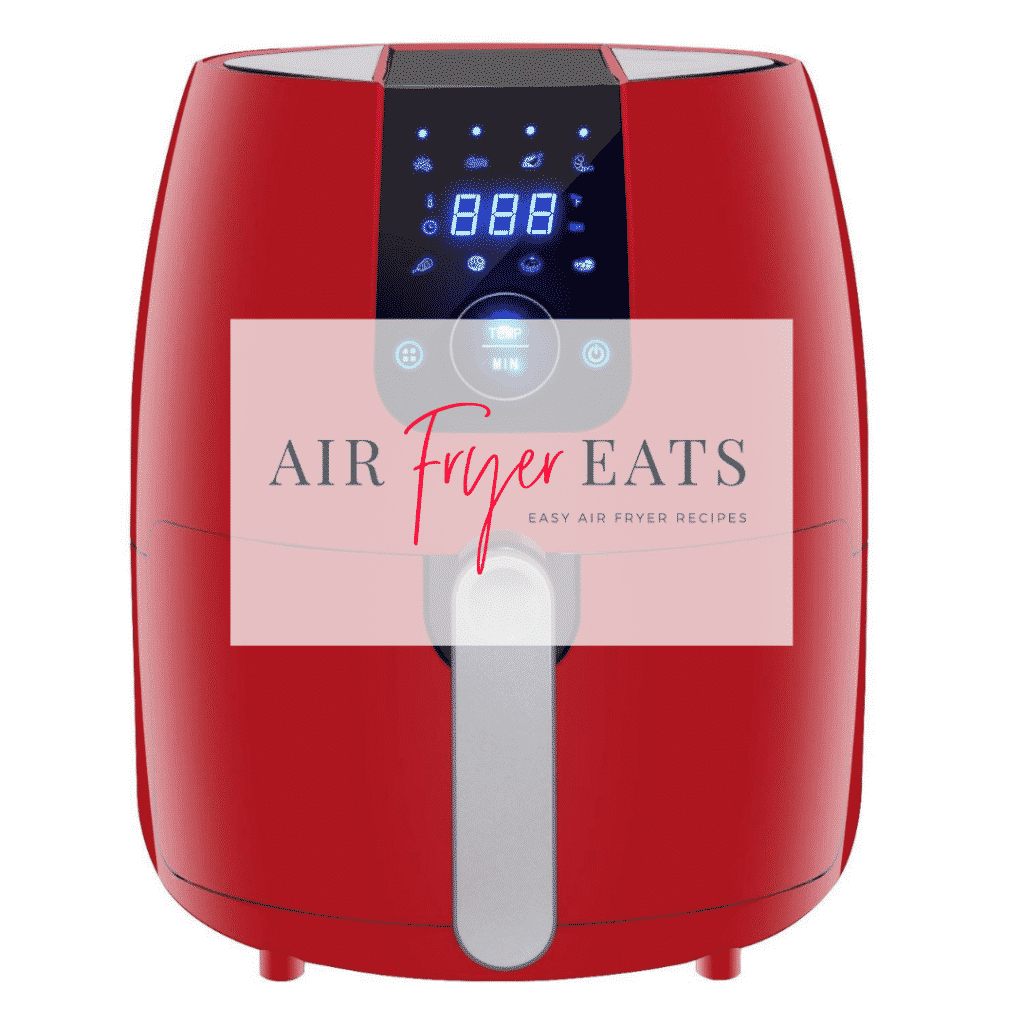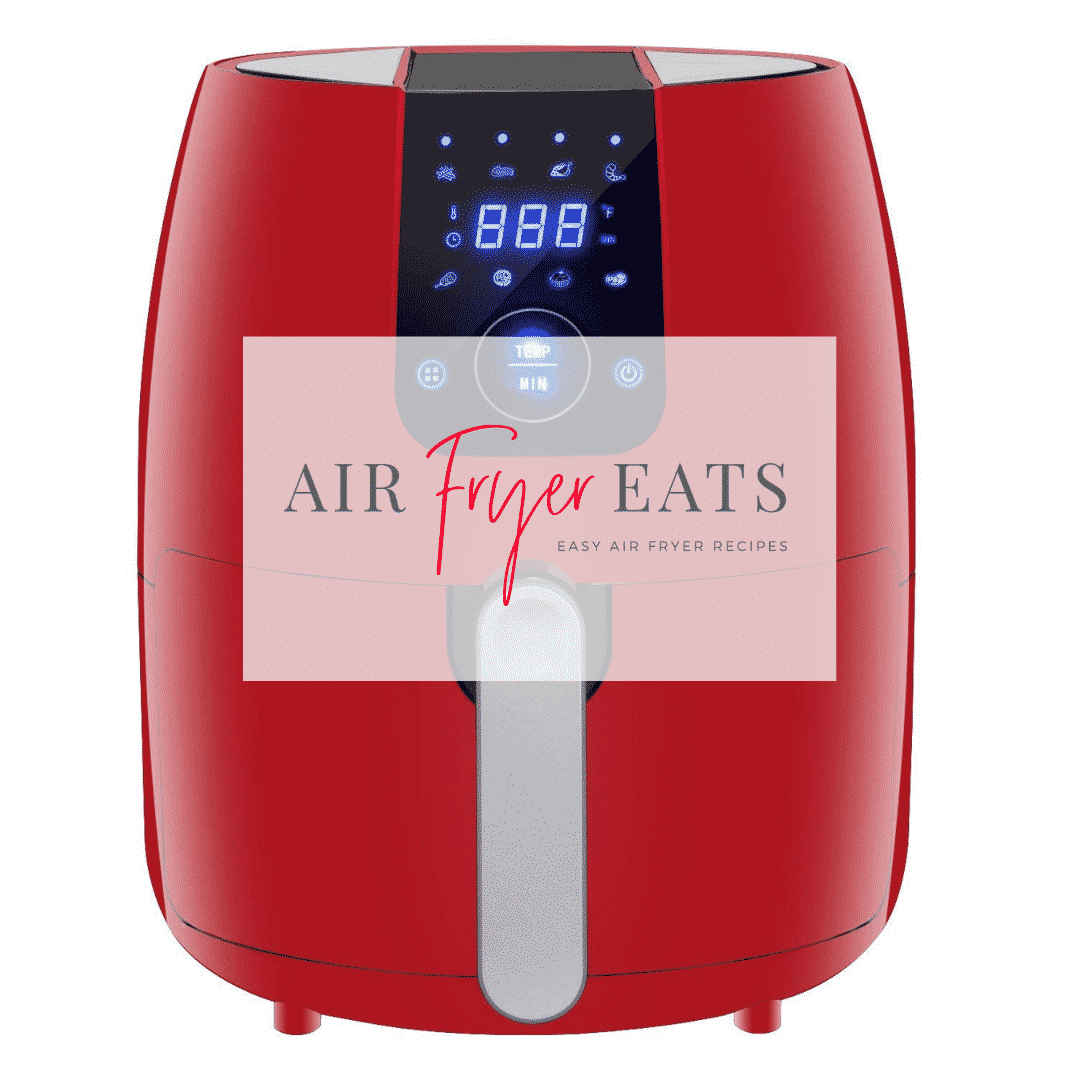 Air Fryer Conversion
This tool was created to help you easily figure out cooking times! Even when using the Air Fryer Calculator or an air fryer conversion,always, check on your food while its cooking.
Each air fryer runs a touch different, so its best for you to check on the food several times during the cooking process and use the air fryer calculator (air fryer conversion) for a starting point.
It is okay to open the air fryer to take a peak. If you are cooking meat, always rely on a meat thermometer to give you the accurate temp to see if the meat is completely cooked.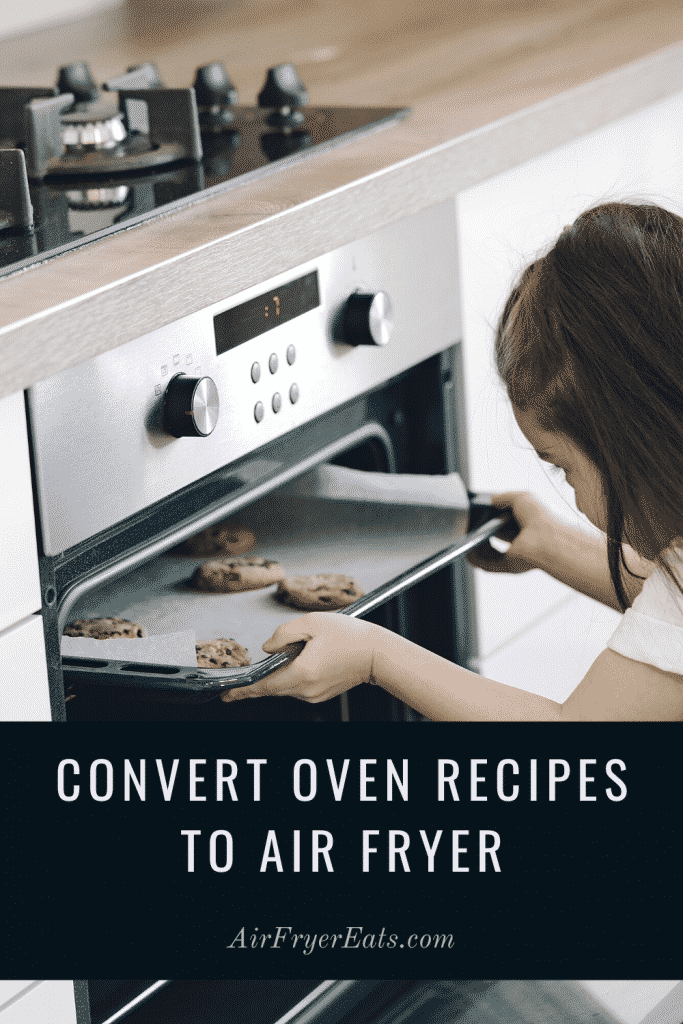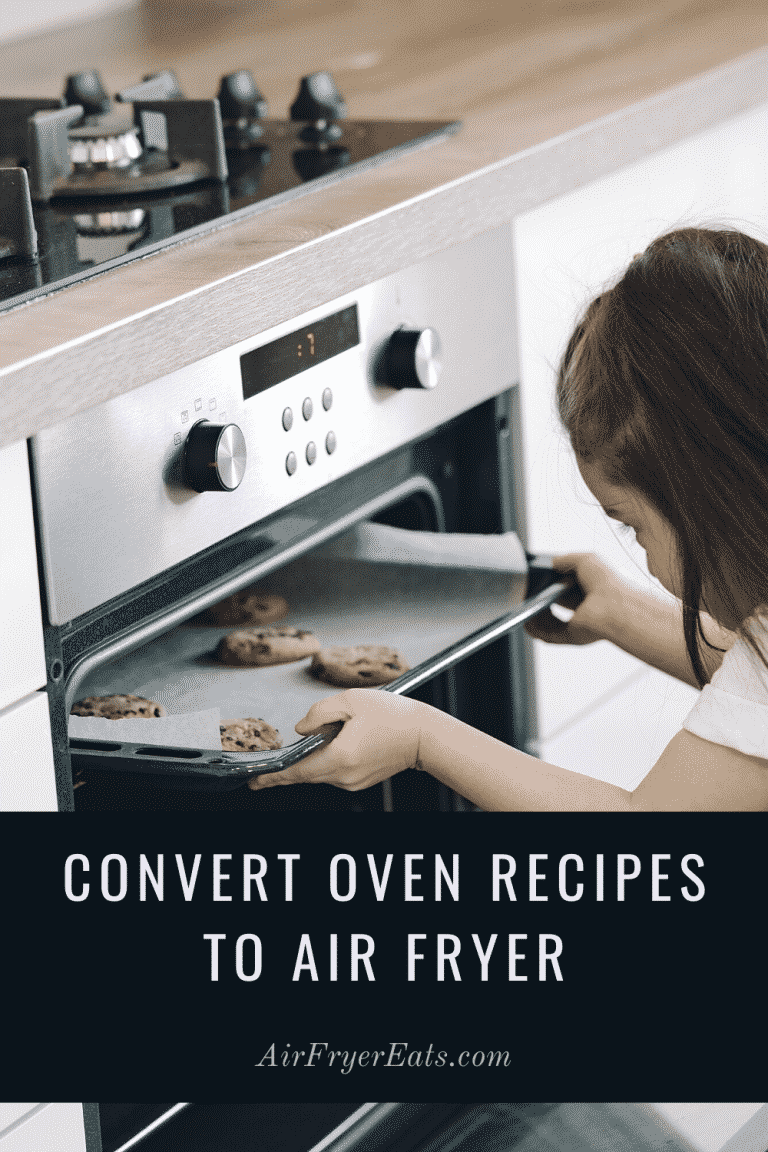 ---
Air Fryer Cooking Times Cheat Sheet
We have also created an Air Fryer Cooking Times downloadable cheat sheet. This is the absolute best air fryer conversion chart for Air Fryer Cooking Times.
We give temperature and times for all types of food! We even included a section for frozen foods! This is a complete list for air fried cooking needs!
Whether you are using an air fryer oven or an air fryer unit with a basket. This cheat sheet will give you a great point to start. Each unit runs a bit different.
Use our Air Fryer Cheat Sheet as a spot to begin with your cooking if you have an existing conventional oven recipe or package directions.
Temp Conversion
Are you looking for a f to c calculator?
We have created a temperature converter calculator to help you convert Fahrenheit to Celsius and vice versa.
The team heard your requests that you wanted an easy way to convert temperature on recipes.
Our group has so many friends from all across the world and we want to make temp conversion easy! Looking for a measurement conversion chart, you can download that too!
Air Fryer Calculator - Air Fryer Conversion : Featuring Air Fryer Sweet Potato Casserole
We actually used the Air Fryer Calculator - Air Fryer Conversion when we developed this recipe. It helped us to gauge the time and temp needed! If you want to impress the crowd at your next holiday gathering, bring a dish of Air Fryer Sweet Potato Casserole. The fluffy sweet potato filling and crunchy pecan topping will be the star of the show!
Ingredients
3

cups

sweet potatoes

cubed and cooked

½

cup

coconut milk

(full-fat, canned)

¼

cup

brown sugar

1

t

ground cinnamon
Pecan Topping
1

cup

pecan pieces

½

cup

cassava flour

(or all purpose flour)

¼

cup

brown sugar

1

t

ground cinnamon

¼

c

vegan butter

(or dairy butter) melted
Instructions
In a large pot, bring water to a boil. Then boil sweet potato pieces until soft, about 10 minutes.

Drain water and put sweet potatoes into a bowl, then mash them using a potato masher or fork.

Add the brown sugar to the bowl.Measure out ½ cup of coconut milk from the can. Use the cream from the coconut milk can first.

Add the cinnamon to the bowl, then use a fork to combine all of the ingredients.

Spread the mixture into an oiled 8x8 baking dish, then set aside.
To make Pecan Topping
Place the flour, brown sugar, and cinnamon in a large mixing bowl.

Pour in the melted butter, then mix to combine until crumbly.

Sprinkle the pecan topping over the sweet potato mixture.
To Bake
Air Fryer this casserole at 340F/ 171C for 16 minutes. Serve and Enjoy!
Go AD FREE!
Notes
You can sub in coconut sugar for brown sugar.

The flour used can be any type of flour. Cassava, gluten free all purpose flour or wheat all purpose flour

If you are not vegan, you can use dairy butter.

Instead of boiling potatoes, you can use my instant pot sweet potato recipe to cook your sweet potatoes or use my air fryer sweet potato recipe. (link in post above)
Nutrition
Calories:
572
kcal
|
Carbohydrates:
65
g
|
Protein:
5
g
|
Fat:
35
g
|
Saturated Fat:
9
g
|
Sodium:
158
mg
|
Potassium:
547
mg
|
Fiber:
6
g
|
Sugar:
32
g
|
Vitamin A:
14706
IU
|
Vitamin C:
4
mg
|
Calcium:
109
mg
|
Iron:
3
mg
Tired of the ads?
Go AD Free - Become part of our Membership community!
Air Fryers can vary greatly. Please take the time to learn your specific air fryer. You may need to adjust times and temperatures based upon your air fryer.
All though this website attempts to provide accurate nutritional information, the information should only be considered an estimate. Varying factors such as different product types, different brands, etc. can change nutritional information. It is your responsibility as a consumer to read all labels to make sure the ingredients fit your dietary needs as well as calculate your own nutritional information as a double check.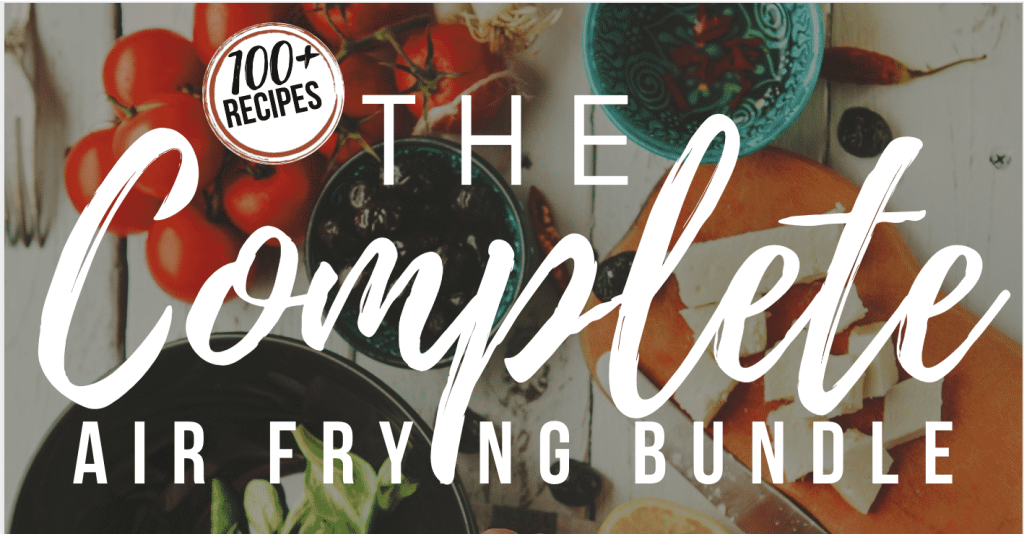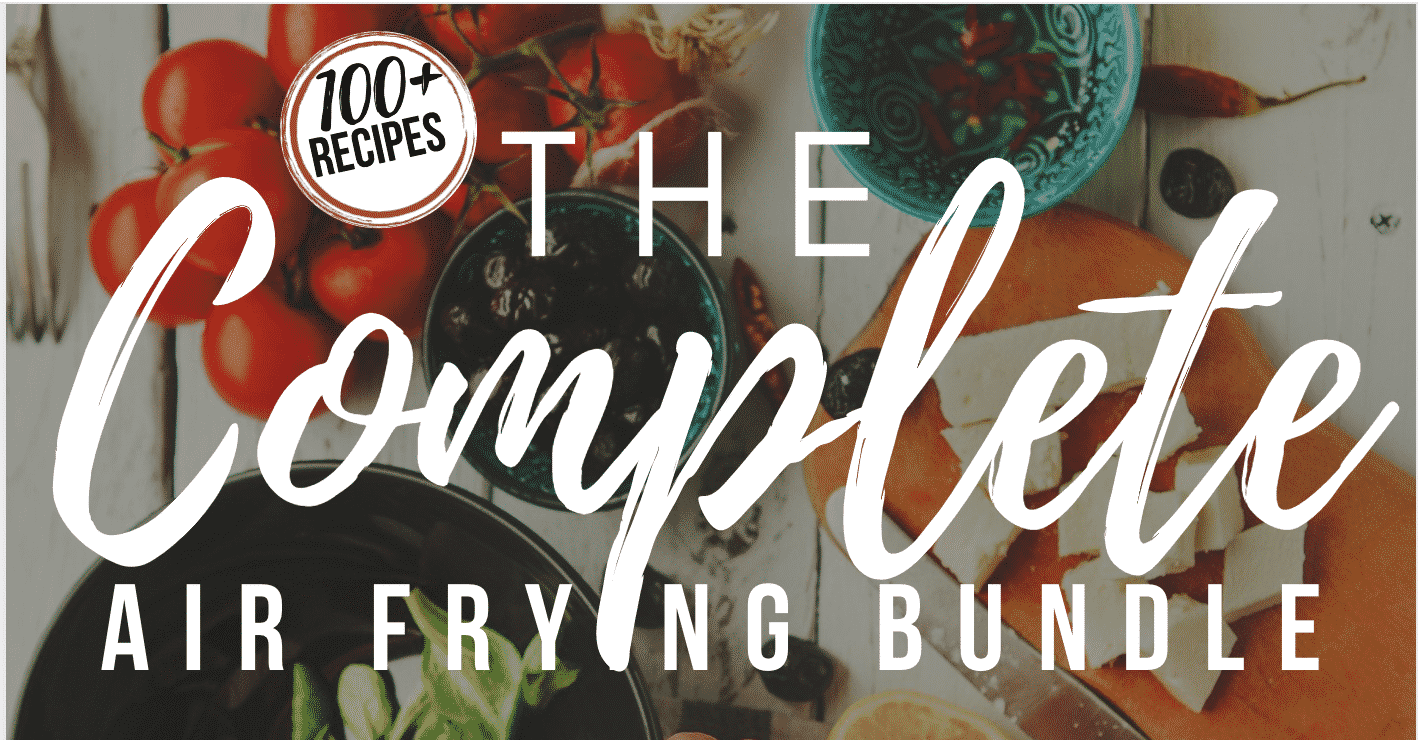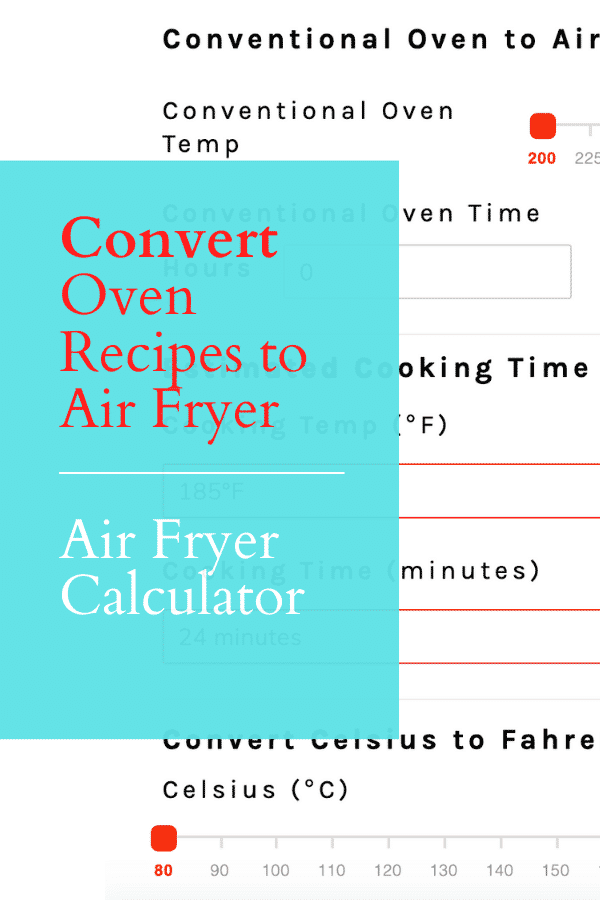 Pin for later 🙂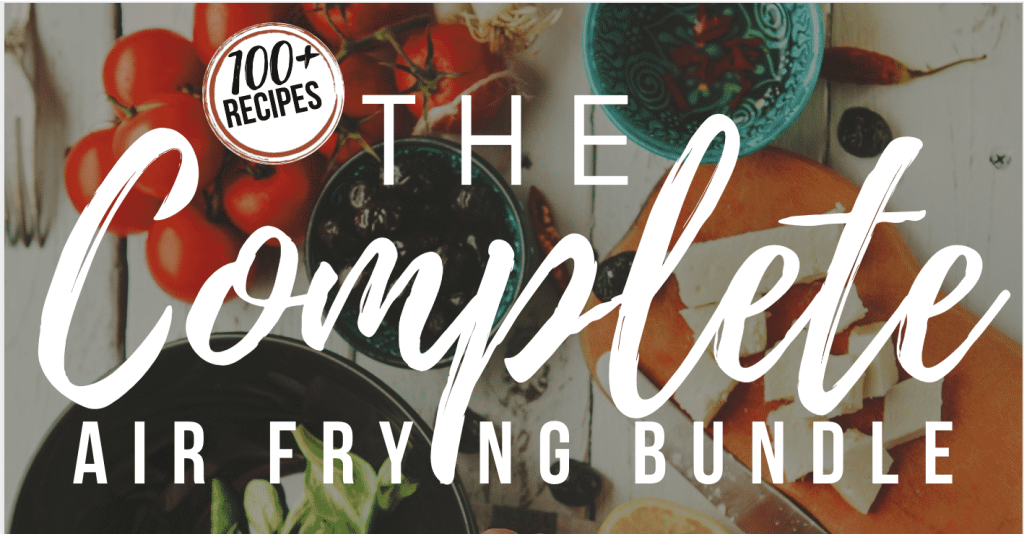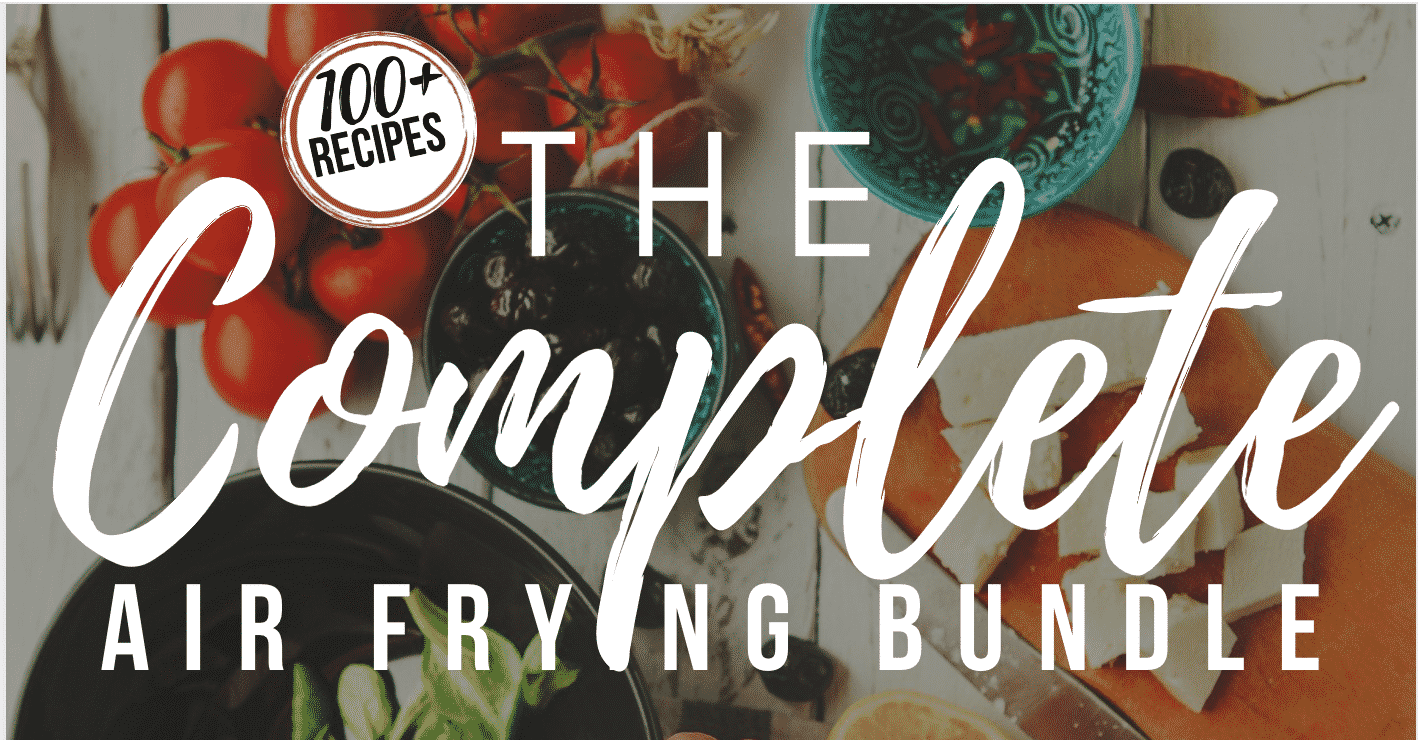 Wondering how you can convert your favorite oven recipes to air fryer recipes? We have an Oven to air fryer conversion calculator or what we like to call an air fryer calculator. It will help you with a starting temperature and cooking time for your favorite oven recipes. Start with the time/temp the air fryer calculator gives you and then check the food as you go and adjust. Be sure to write down the final time so you remember!
If you are looking for basic Air fryer cooking times we have those too! We even has a downloadable (free) cheat sheet for you. Get the sheet here: Air fryer cooking timesNeeding more air fryer recipes? Here are some ideas to get you started! Air fryer hot pocket, Turkey bacon in air fryer, Frozen corn dogs in air fryer, Air fryer hamburger patties, Air fryer chicken tenders no breading, Air fryer lamb chops ,Air fryer plantains, Air fryer calamari and Air fryer turkey meatballs.