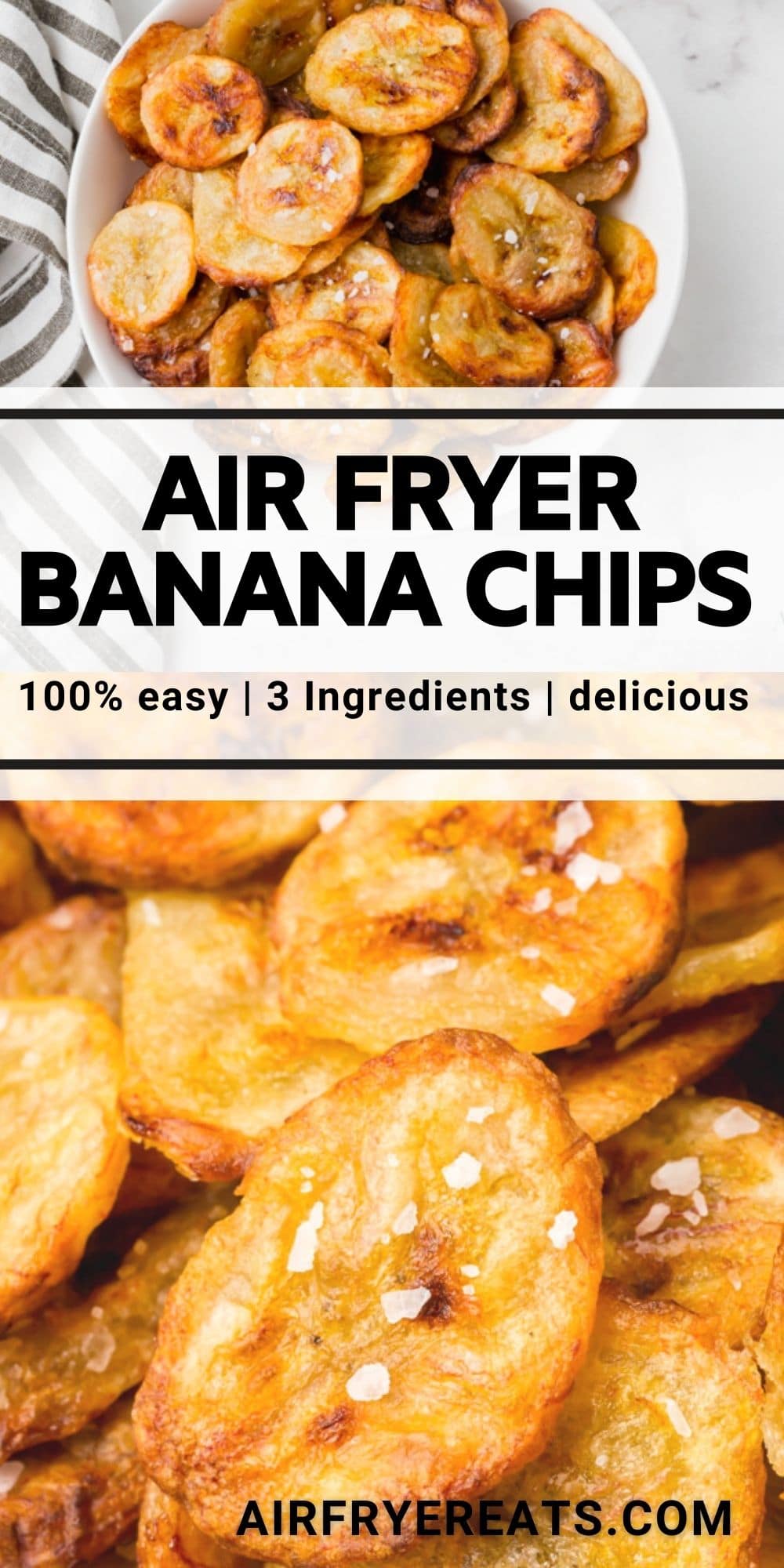 Air Fryer Banana Chips are a healthy, sweet and salty snack that comes together quickly and easily in your air fryer with just three ingredients. Skip the snack aisle and make the best banana chips at home!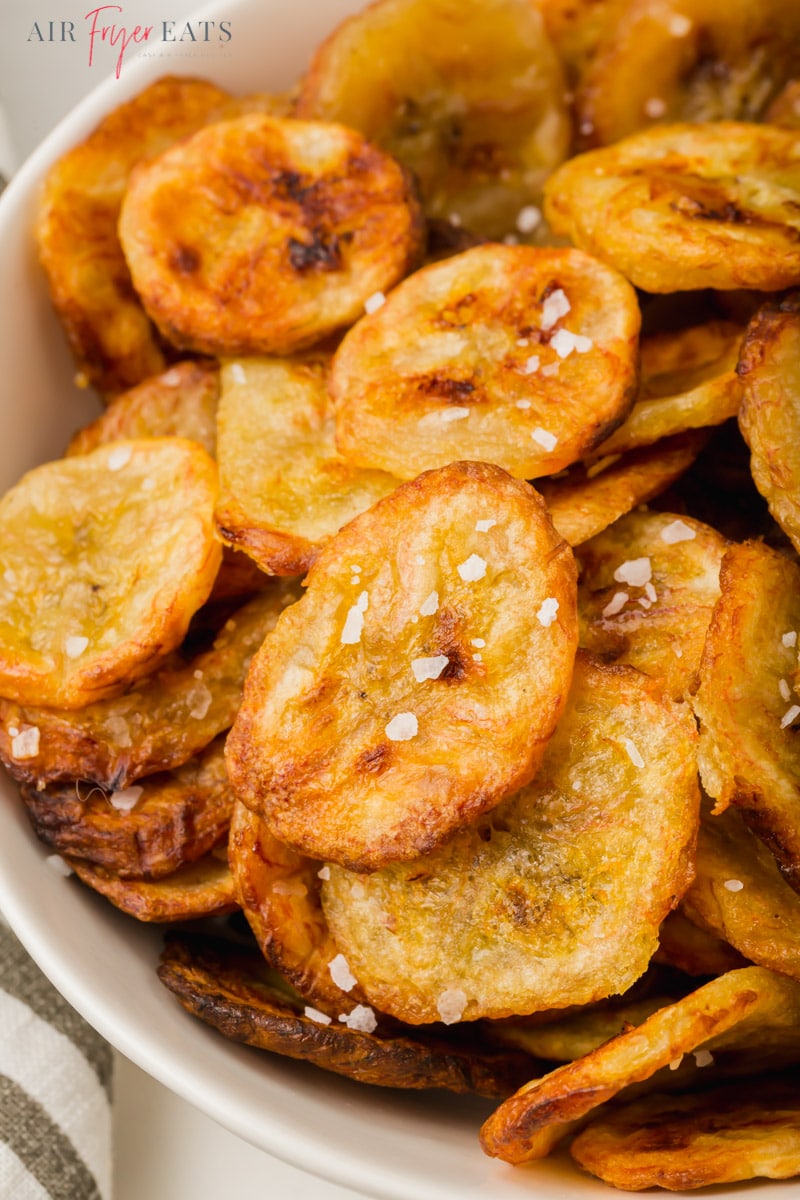 AIR FRYER BANANA CHIPS RECIPE
I love that combo of salty and sweet. If you can add fruit, that is a win-win for me! These Air Fryer Banana Chips are a healthy, crunchy snack you will love to eat and feel good giving your kids, too.
These are naturally sweet, dusted with kosher salt, and air fried with a small amount of oil so they come out crispy, crunchy, and irresistible.
You might also enjoy Air Fryer Plantains. They are softer and savory and make a delicious side dish. Love Bananas? Try Banana Chia Pudding for an amazing breakfast treat.
Air fryer banana chips are naturally gluten free and vegan, too. You can feel good about snacking on these homemade chips with all-natural ingredients and less calories than store-bought options.
Get ready, you are just three ingredients away from these snack-y air fryer treats! Looking for a new air fryer? You might be interested to check out this Okaysou Dance 430 review!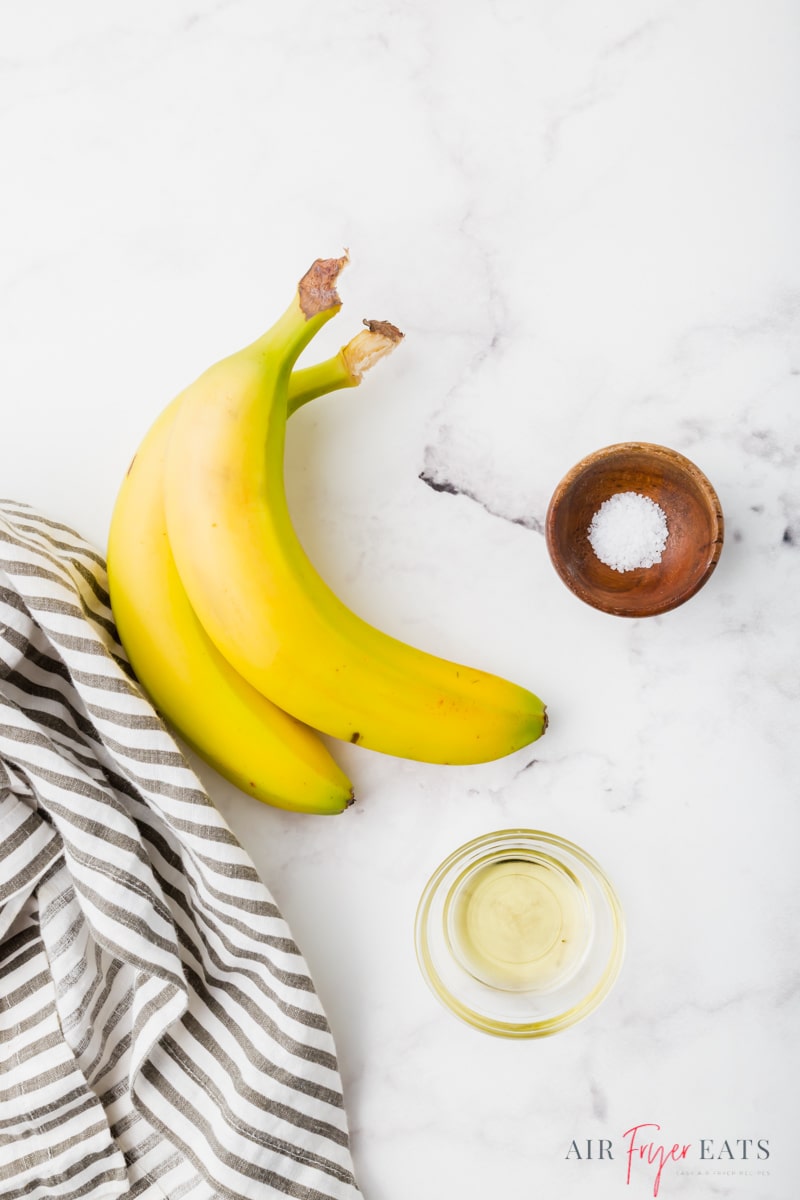 INGREDIENTS FOR BANANA CHIPS AIR FRYER
Bananas - For this air fryer recipe, you will need two bananas that are just barely ripe. Using them for chips before they start to get brown will give the best flavor and texture for the chips.
Avocado Oil - I like avocado oil, but you could use olive oil or another neutral oil instead.
Kosher Salt - A nice flaky salt gives these chips their perfectly salty flavor.
Seasonings - I keep it simple with this air fryer banana chip recipe, but there are so many seasonings you could add for a sweeter, saltier, or more savory version. Keep scrolling for some of my fav spice suggestions for banana chips.
If you have any questions, please leave a comment below and I will get back to you ASAP!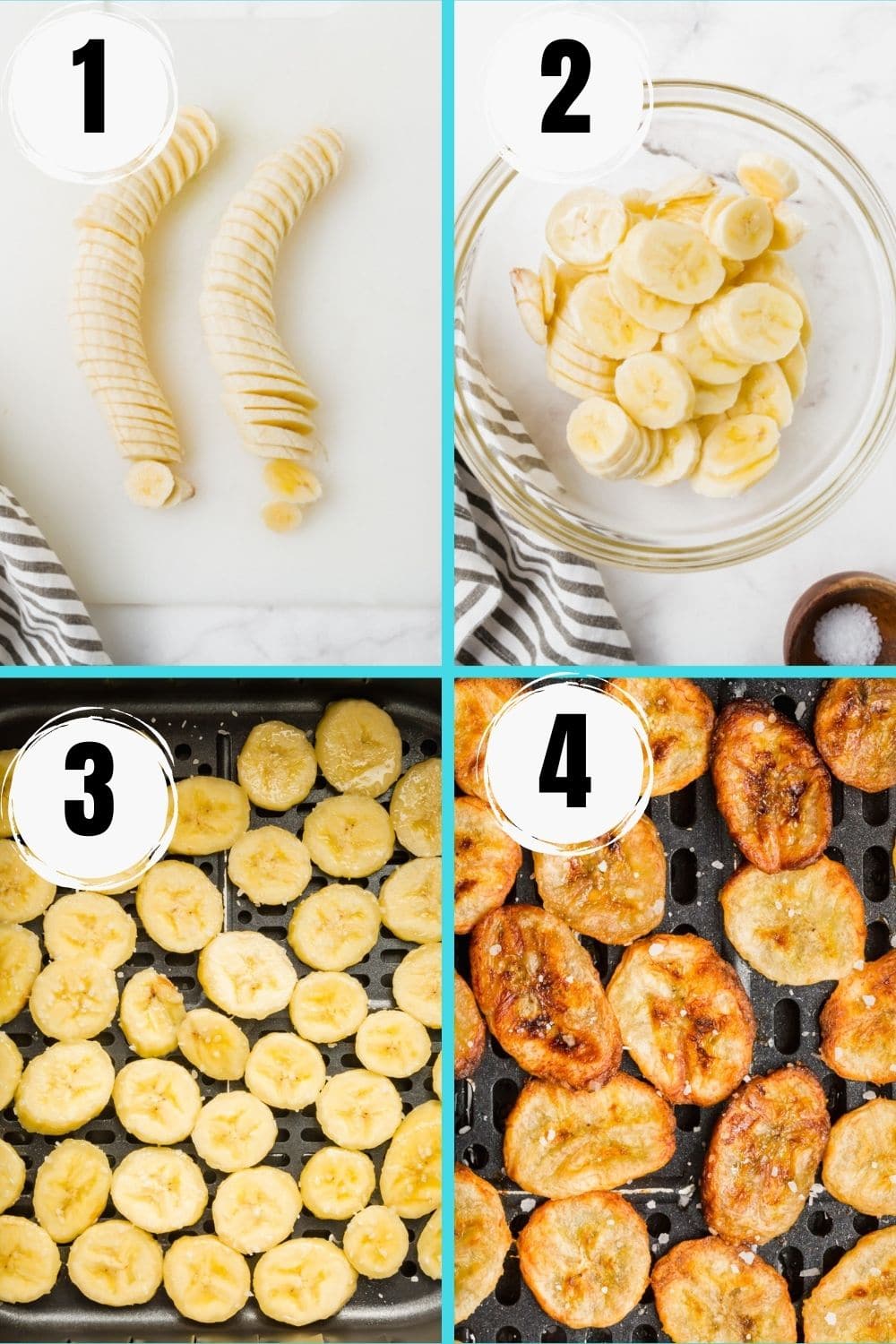 HOW TO MAKE BANANA CHIPS IN AIR FRYER
First, slice the bananas into thin slices, about ¼ inch thick.
Then, put the banana slices in a bowl and cover with olive oil. Mix until combined.
Next, place the banana slices in a single layer in the air fryer. Work in batches if needed since overcrowding will result in soggy banana chips. Sprinkle the slices with kosher salt.
Air Fry as directed in the recipe card below, flipping over half way through cooking time. Remove from air fryer and let cool before enjoying for the crispiest air fryer banana chips. Enjoy!
These numbered steps match the numbered photos above and are for illustration purposes. For the complete list of ingredients and instructions, please see the recipe below.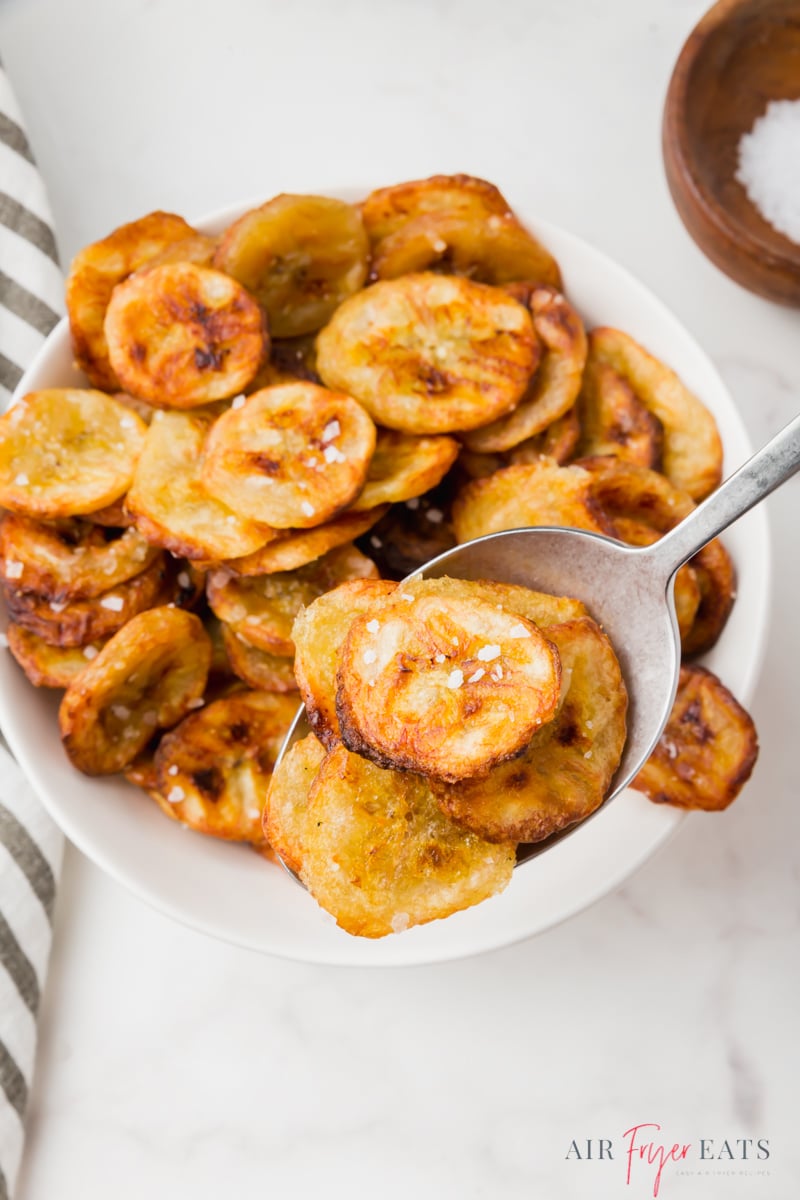 WHAT TO SERVE WITH AIR FRYER BANANA CHIPS
While you can just eat these delicious chips by the handful, they are also delicious when used as dippers for your favorite dips! Try air fryer banana chips with salsa, guacamole, aioli, or hummus for a healthy snack.
If you want to impress your friends and family, add these crispy banana chips to a vegan charcuterie board! They have the perfect salty sweet flavor to blend with fruits, veggies, and tons of dips. Looking for a sweet treat to add to your spread? Give Pink Rice Krispies a try!
FLAVOR OPTIONS FOR AIR FRYER BANANA CHIPS
With this deliciously mild fruit, your options for seasoning these air fryer banana chips are endless! Use your favorite seasonings to create different banana chip flavors. Try these:
Use different types of salt. Seasoned salt, smoked salt, or specialty salts would all be delicious.
Try some spices. Make your chips spicy with cayenne pepper, chipotle, chili lime salt, or even hot paprika. A little goes a long way with these options, so add and taste!
Make them sweet. My favorite way to enjoy air fryer banana chips is as a healthy dessert treat! Cinnamon, nutmeg, and sugar would turn these snacks into a sweet treat. Drizzle with some chocolate or add them to an ice cream sundae after they are cool for a really decadent snack.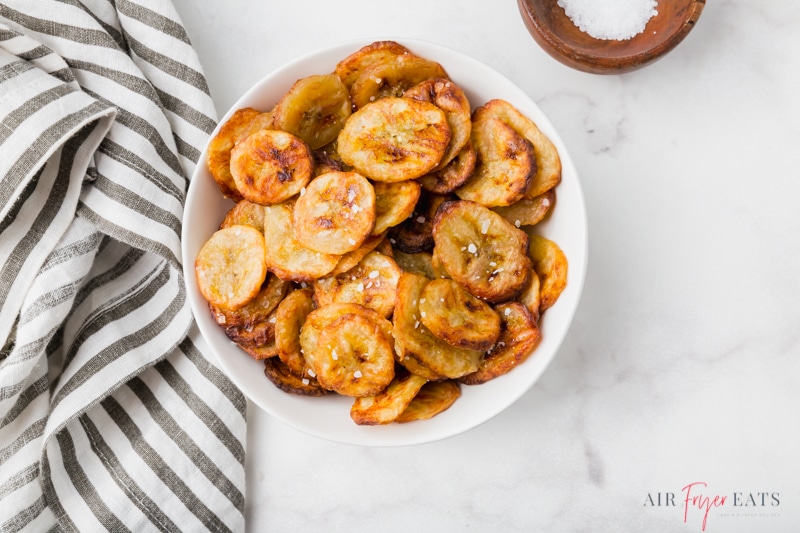 DO I USE GREEN OR RIPE BANANAS FOR BANANA CHIPS?
I like to use bananas that are just ripe for this. You want them to be firm enough to cleanly slice into thin slices, and also have a little bit of sweetness left.
If your bananas are green, you can make this recipe with them, they just will not be quite as sweet. However, mushy brown bananas will not work here. Save them for a smoothie or banana pudding instead.
WHICH OIL IS BEST FOR AIR FRYING BANANA CHIPS?
I like avocado oil because it is a healthier fat and is has a mild flavor. In this air fryer banana chip recipe you can use any type of oil you like, even olive oil or melted coconut oil will work.
I do not recommend skipping the oil here. It helps the banana chips not stick together, and it makes the outsides perfectly crunchy, too. Choose an oil that you are happy with, and use it sparingly!
HOW TO STORE BANANA CHIPS
This is the best meal prep snack! You can store any leftovers in an airtight container at room temperature for up to a week.
Any moisture will cause the chips to soften or spoil, so be sure that they are completely cool before you put them away.
Pro tip: Store your banana chips in a paper bag or with a paper towel to help absorb any excess moisture. This will keep them perfectly crunchy all week long!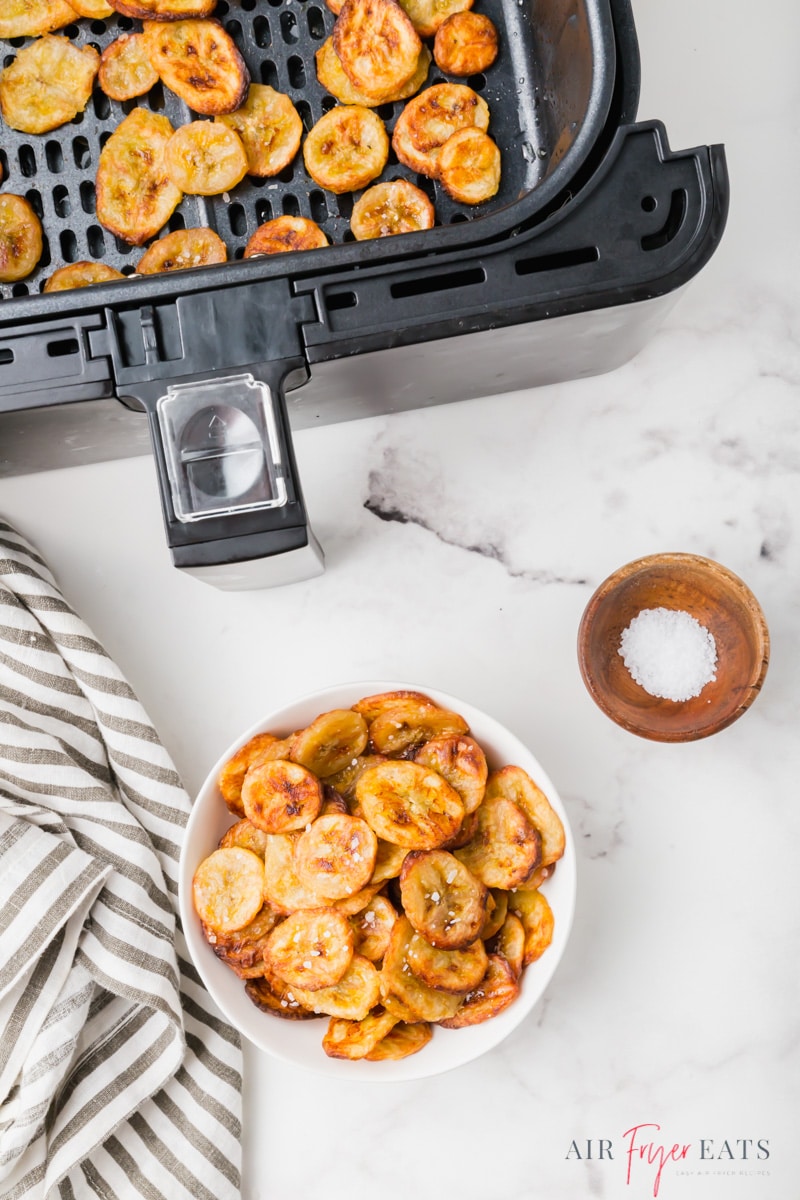 MORE YUMMY AIR FRYER RECIPES
Air Fryer snacks are always delicious. If you like these chips, try Air Fryer Tortilla chips or Air Fryer Kale Chips.
Air Fryer Seasoned Pretzels are a really delicious way to turn regular pretzels into an irresistible snack in the air fryer. Enjoy all of these snacks with your favorite dips, try a French onion dip.
Air Fryer Chickpeas are seasoned with garlic and rosemary and roasted in the air fryer to create the perfect healthy snack.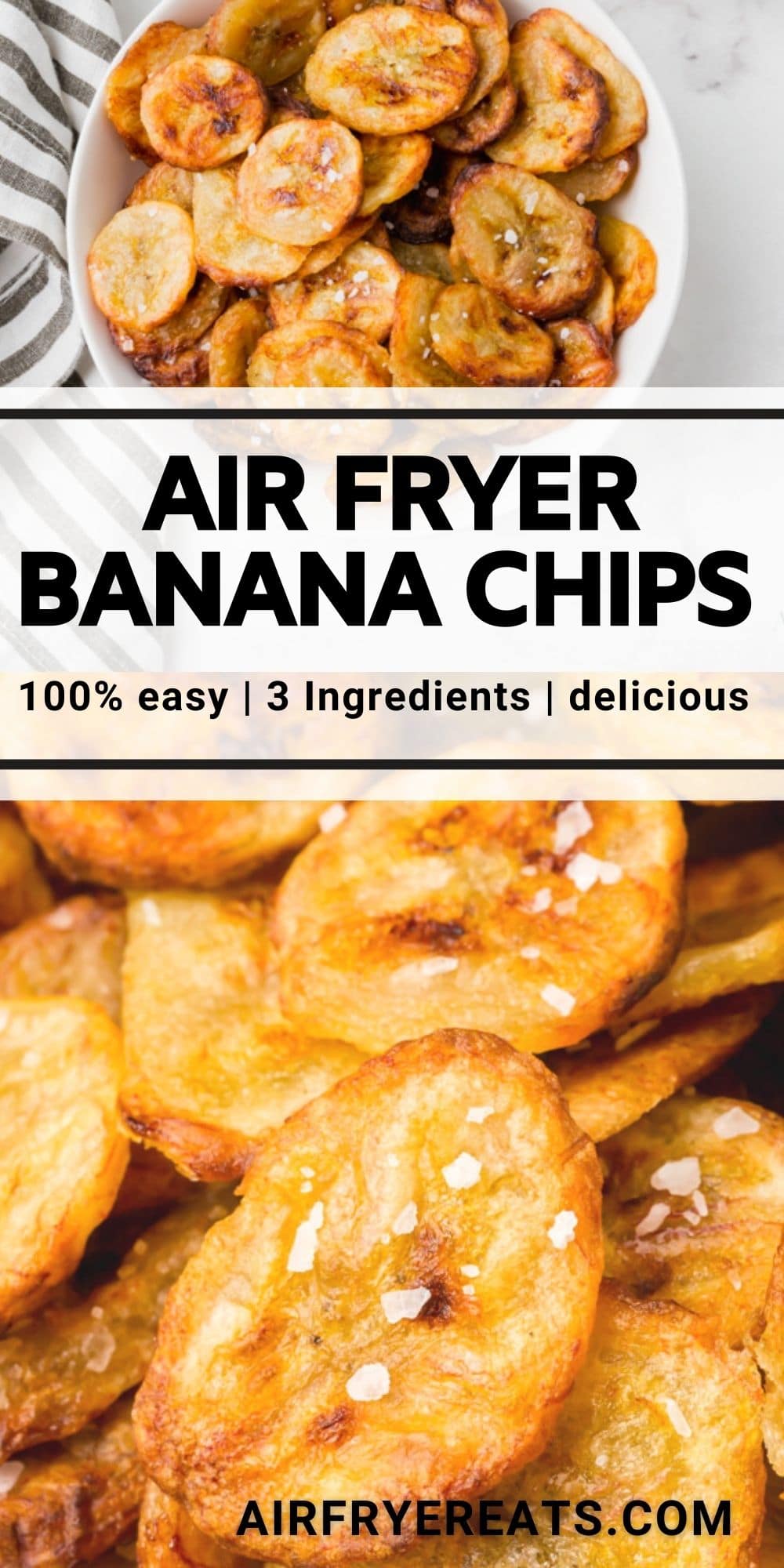 Have you made this recipe? Please leave a comment AND rating below! It helps other readers!
Be sure to tag @AirFryerEats on instagram, if you share a picture on the gram! Let's get social, you can follow me on Youtube, Instagram, Facebook, Pinterest or join one of our Air Fryer Facebook Groups: Air Fryer Recipes, Air Fryer Recipes for Seniors and Gluten Free Air Fryer Recipes.
Don't forget to subscribe to our EMAIL newsletter.
Air Fryer Banana chips
Air Fryer Banana Chips are a healthy, sweet and salty snack that come together quickly and easily in your air fryer with just three ingredients.
Ingredients
2

Bananas

barely ripe

2

tsp

Avocado Oil

or olive oil

¼

tsp

Kosher Salt
Instructions
Preheat your air fryer to 350F for 5 minutes.

Slice the bananas into thin slices, about ¼ inch thick.

Place the banana slices in a bowl and cover with olive oil. Mix until combined.

Place the banana slices in a single layer in the air fryer. Work in batches if need be.

Sprinkle the banana slices with kosher salt.

Air fry for 8-10 minutes at 350F, flipping halfway through, until bananas are lightly browned and crispy.

Remove from the air fryer and let cool on a baking sheet or cooling rack. Repeat with remaining bananas.
Go AD FREE!
Notes
You want to choose bananas that are just barely ripened. If they are too ripe, they will be difficult to cut into even slices. If you prefer, you can also use unripe, green bananas.
The trick to getting crispy banana chips is to slice the bananas very thin. It also helps if they are very uniformly cut. If they are the same size you won't have to worry about the bananas cooking in different amounts of time.
Pro Tip: This recipe can be made in the air fryer unit with a basket or the air fryer oven. If you are using the air fryer oven, use the middle rack and select the "Air Fry" function.
Pro Tip: Check your food as it cooks. Each air fryer runs a bit differently. Sometimes airfying is a trial and error process. Check your food as it cooks to learn your air fryer better! When cooking a new recipe or food items be sure to check your food often to help avoid over/under cooking.
Have oven recipes that you'd like to convert to an air fryer recipe? Use our Air Fryer Calculator to help you estimate cooking times and temps! Calculator here:
https://airfryereats.com/air-fryer-conversion-air-fryer-calculator/
Nutrition
Calories:
72
kcal
|
Carbohydrates:
13
g
|
Protein:
1
g
|
Fat:
2
g
|
Saturated Fat:
1
g
|
Polyunsaturated Fat:
1
g
|
Monounsaturated Fat:
2
g
|
Sodium:
146
mg
|
Potassium:
211
mg
|
Fiber:
2
g
|
Sugar:
7
g
|
Vitamin A:
38
IU
|
Vitamin C:
5
mg
|
Calcium:
3
mg
|
Iron:
1
mg
Tired of the ads?
Go AD Free - Become part of our Membership community!
Air Fryers can vary greatly. Please take the time to learn your specific air fryer. You may need to adjust times and temperatures based upon your air fryer.
All though this website attempts to provide accurate nutritional information, the information should only be considered an estimate. Varying factors such as different product types, different brands, etc. can change nutritional information. It is your responsibility as a consumer to read all labels to make sure the ingredients fit your dietary needs as well as calculate your own nutritional information as a double check.
Have you ever wondered if you can put foil in your air fryer? You can! But you need to do it a specific way! Be sure to check out our post about: Can you put aluminum foil in an air fryer So you can get all the details you need to be successful!
If you are looking for more recipes for your air fryer, we have got you covered! Some of our favorites and our readers favorites are: Mozzarella sticks air fryer, Frozen chicken nuggets in air fryer, Frozen chicken tenders in air fryer, Air fryer scallops and Air Fryer Burger.