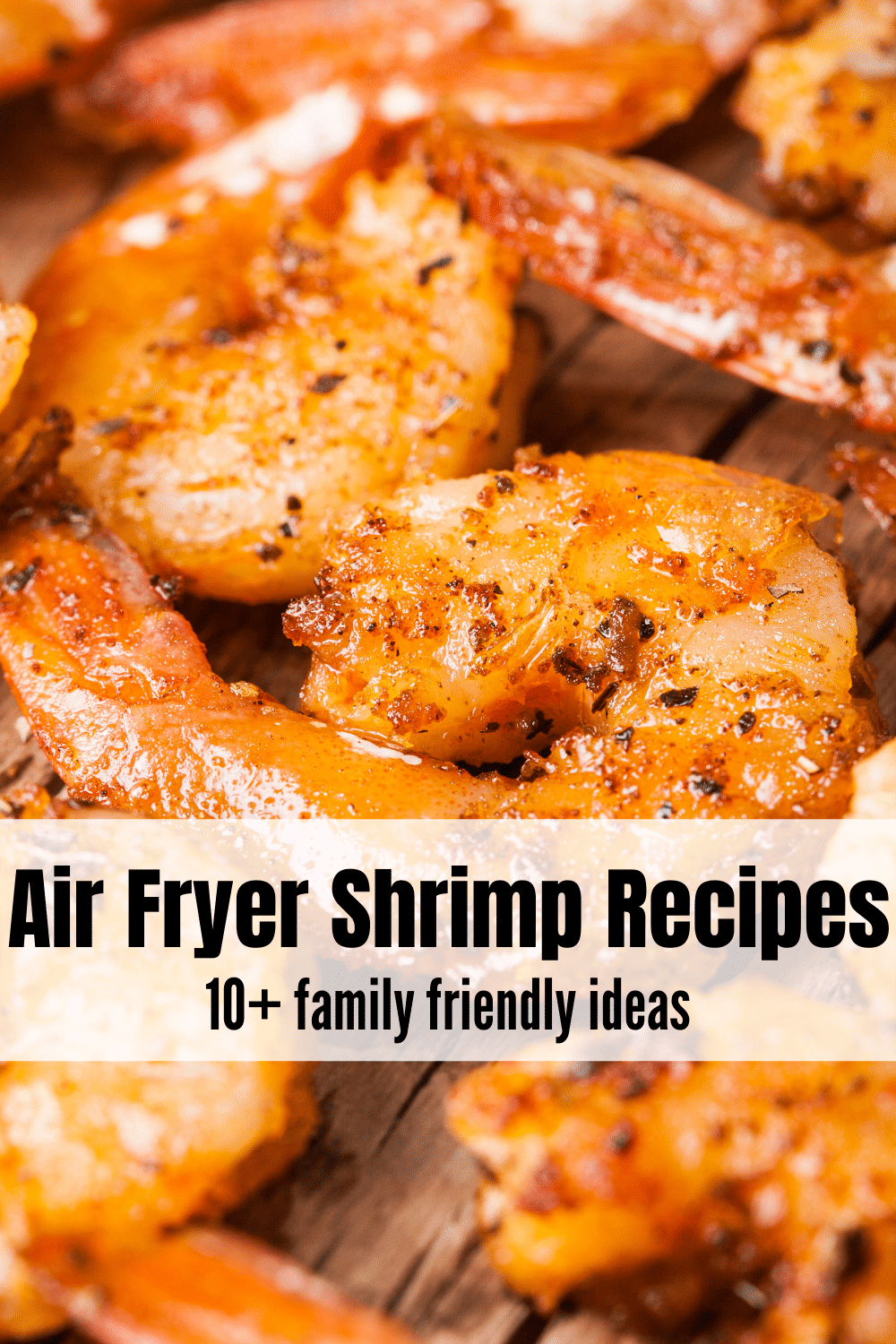 These air fryer shrimp recipes are easy, healthy, and perfect for meal prep! Read on to learn how to make the most succulent shrimp in the air fryer in just minutes.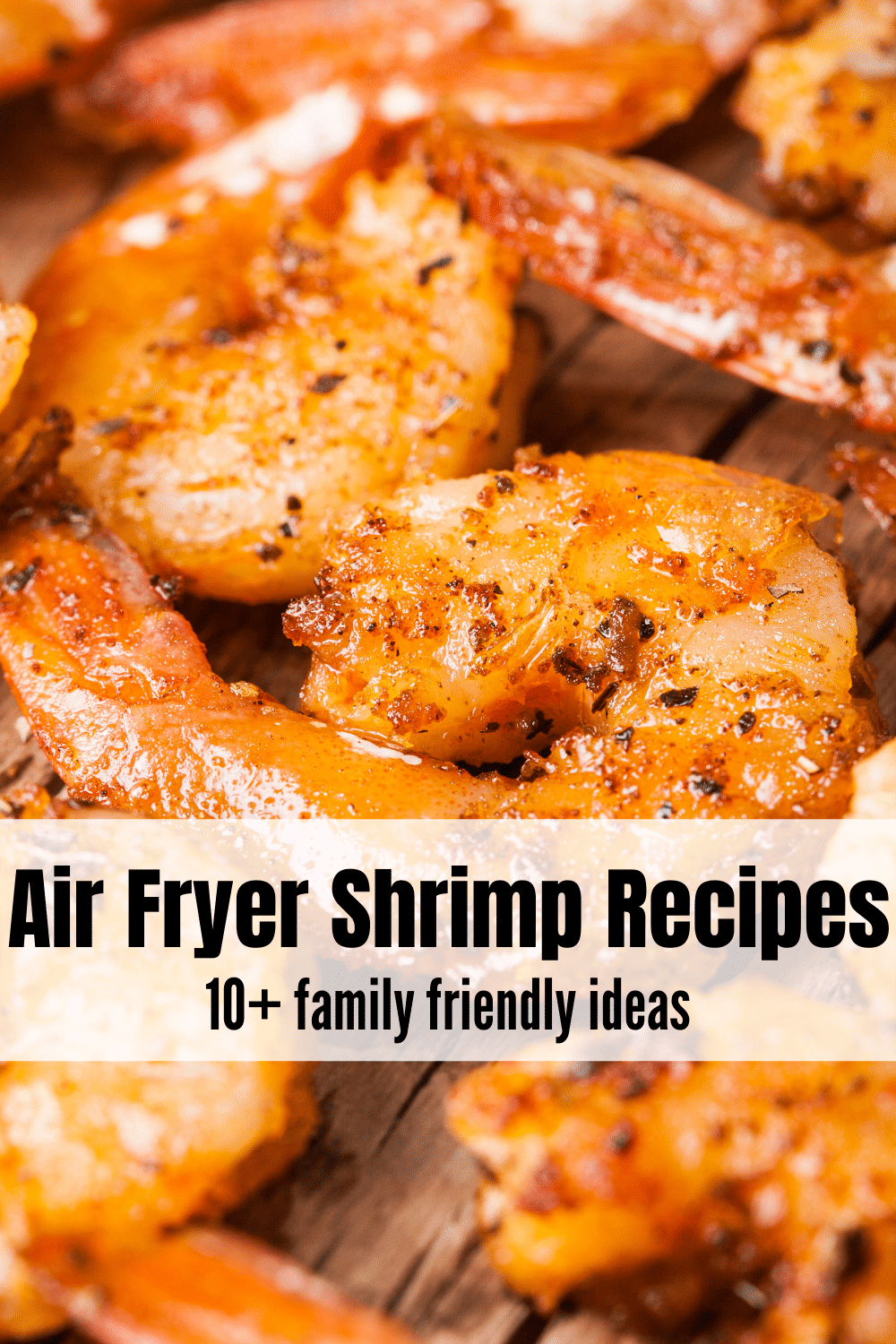 AIR FRYER SHRIMP RECIPES
Shrimp are one of the easiest and fastest proteins to cook. These air fryer shrimp recipes are always on my weekly meal rotation — they are healthy, easy, and full of flavor, too!
If you are new to air frying or have never made shrimp in the air fryer, you are in for a great meal! Air fryer shrimp are ready in just minutes! They can be served plain, added to pastas or tacos, and even used for a healthy meal prep all week long!
INGREDIENTS FOR AIR FRYER SHRIMP
Shrimp: You can use raw shrimp, frozen shrimp, breaded shrimp, or shelled shrimp. It is all up to you! Always check your shrimp periodically during air frying. Overdone shrimp are incredibly rubbery, so do not cook them too long.
Oil: To keep your air fryer shrimp from sticking to the basket, add a little spray oil before cooking. It also helps the seasonings stick to the shrimp and not your air fryer!
If you have any questions about how to make air fryer shrimp, please leave a comment below and I will get back to you ASAP!
FAVORITE AIR FRYER SHRIMP RECIPES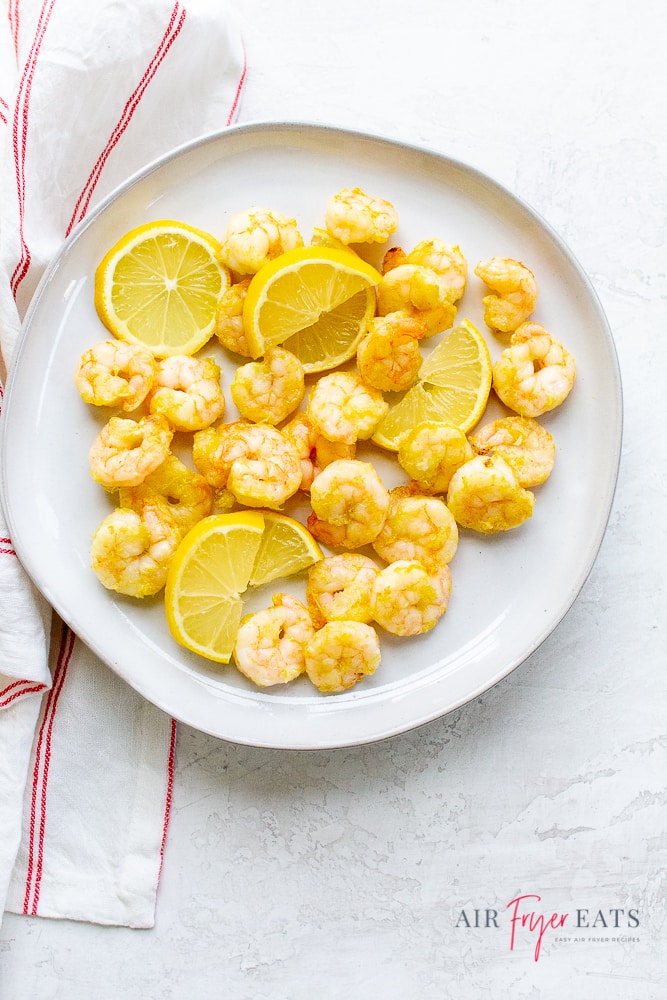 Do you love cooking seafood at home? This air fryer shrimp recipe requires only 10 minutes and 4 ingredients for the most flavorful, tender cooked shrimp! I love to add a spritz of lemon juice before serving. Do not forget the cocktail sauce!
I love fried rice, but did you know you can make fried rice in the air fryer? Add some air fried shrimp to the mix for a whole meal in one air fryer pot! You can add frozen veggies or whatever is in your produce drawer. I love to add a scrambled egg, too!
I like my air fryer shrimp recipes a little spicy. Skip the restaurant for your next date night and make air fryer bang bang shrimp at home! The shrimp are perfectly crisp with no fry oil, and the bang bang sauce is creamy and spicy.
For a Cajun spin, try these blackened air fryer shrimp. They are super healthy with no added breading and just enough spice. Also, they are delicious in an air fryer shrimp taco!
Lemon and shrimp are best friends. This lemon pepper air fryer shrimp recipe is totally keto and totally delicious. Serve this tangy air fryer shrimp recipe over a gluten-free pasta or even zoodles. You will love the sauce so much you will want to lick your plate clean. Trust me!
Fried popcorn shrimp was my favorite freezer meal as a kid. Now, I can make my own fried shrimp in the air fryer! This simple flour and panko breading is simply seasoned and easy to make. If you love crunchy shrimp, this is the recipe you need.
There is something magical about simple peel-em-and-eat-em shrimp. Keep the shells on and make this summer classic in the air fryer with crab boil seasoning and plenty of fresh lemon wedges. Your kids will love making a mess with dinner tonight!
Citrus brings out the flavor of shrimp with just a few drops. If you have had lemon air fryer shrimp recipes, you have to try air fryer spicy cilantro lime shrimp! The acid adds so much brightness. Plus, add a little lime zest on top for a beautiful dinner party platter.
Shrimp is a great dinner for kids because they do not have a strong fishy flavor. Make them even sweeter with these air fryer coconut shrimp! They are totally crispy and made for the spicy mayo dipping sauce.
Shrimp tacos never get old. This air fryer Mexican shrimp recipe is coated in a homemade spice blend! Make it mild or super spicy for the best Taco Tuesday protein.
I love a simple air fryer shrimp pasta recipe because it feels fancy but is easy to pull together in a few minutes. Add these air fryer garlic parmesan shrimp to your favorite spaghetti sauce, shrimp scampi, or make shrimp fettuccine alfredo! They are so full of flavor and great for appetizers, too.
HOW TO MAKE THE BEST AIR FRYER SHRIMP
When it comes to air fried shrimp recipes, there are so many flavor and cook options! Here are some tips and tricks to make the most yummy shrimp in the air fryer every time:
Add a little oil. Whether you are making frozen shrimp in the air fryer or raw shrimp, a little oil with keep them from sticking to each other. It also helps the seasonings stay on the air fryer shrimp, too. Win win!
Thaw before marinating. You can definitely make frozen shrimp in the air fryer without thawing. However, if you are going to marinate the shrimp, be sure to thaw them before marinating.
Do not overcrowd the basket. The main mistake air fryer beginners make is overstuffing the air fryer basket. The air fryer circulates hot air to cook food quickly and evenly. If you are feeding a crowd, make the shrimp in batches.
Check shrimp. Shrimp can go from raw to done in minutes. Be sure to check the shrimp every few minutes, and flip them halfway through cooking. Shrimp should always be cooked to 120 degrees F for food safety.
Tails can stay or go. Depending on the air fryer shrimp recipe, I will leave the shrimp tails or remove them. For a more elegant presentation, leave the tails. If you add the shrimps to a pasta or salad, remove the tails first.
WHAT TO SERVE WITH AIR FRYER SHRIMP
Add shrimp to your breakfast or brunch menu! Air fried shrimp and grits is a great filling dish that is so easy to make. Easily my favorite recipe!
Ramen is my favorite comfort food. Put some shrimp and veggies in your homemade ramen in my second favorite kitchen appliance, the Instant Pot! It is so fast and tastier than the packaged version.
Whenever you have a shrimp boil, you have to have hush puppies, corn on the cob, and of course potatoes. Make it all in the air fryer and do less dishes tonight.
Not a hushpuppy fan? Try this air fryer cornbread!
Popcorn shrimp is a simple main dish, and it deserves a simple fried side, too. Air fryer french fries are super crispy just like your favorite burger joint. You can never have just one bite!
HOW TO CLEAN SHRIMP
When it comes to raw shrimp, there are a few steps you need to take before air frying.
First, if you are removing the shells, gently remove them and the tails from the shrimp. Then, on the back side of the shrimp (the outside of the c-shape), remove the vein running from tail to tip. While the vein is totally safe to consume, it is not ideal for presentation.
If you want to be able to make air fryer shrimp any day, grab shrimp whenever you see them on sale and prep, clean, and freeze them in single servings. Then, you can quickly throw frozen shrimp in the air fryer for a quick hot meal.
HOW LONG DO YOU PUT SHRIMP IN THE AIR FRYER?
When you are making raw shrimp in the air fryer, it only takes a few minutes to go from raw to perfectly cooked! I cook my air fryer shrimp for about 8 to 10 minutes total, flipping each shrimp with tongs halfway through cooking.
The best way to tell if your shrimp are cooked is when they turn opaque. If your shrimp are pink, they are ready to eat.
WHAT TEMP TO AIR FRY FROZEN SHRIMP?
Since an air fryer cooks by circulating hot air around food like a convection oven, it will take slightly longer to air fry shrimp than it would to cook it in a skillet.
Therefore, it is safe to cook it on a higher temperature.
I recommend turning your air fryer to 400 degrees F and preheating it for a few minutes depending on the size and quantity of the shrimp you are using.
Cooking frozen popcorn shrimp in the air fryer is super simple too! Just follow these simple instructions.
HOW LONG DO LEFTOVER SHRIMP LAST?
Leftover air fried shrimp can be stored in an airtight container in the fridge for up to 3 days. Be sure to reheat them in the air fryer, too! Microwaving shrimp can often make them soggy or rubbery.
WHAT CAN YOU SEASON SHRIMP WITH?
Shrimp in the air fryer are so versatile, you can keep it simple or dress them up for any meal! Shrimp have a mild flavor, so they easily take on any flavor profile you throw at them. There are so many options to add toms of flavor to air fryer shrimp, like:
Garlic powder
Salt and pepper
Italian seasoning
Red pepper flakes
Cayenne pepper
Smoked paprika
Dill
Cumin
Parsley
Chives
Lemon pepper
Taco seasoning
Lemon juice
Butter
Garlic
Onion powder
Dipping sauce like cocktail sauce, tartar sauce, or melted garlic butter
The options are truly endless for succulent shrimp dishes in the air fryer. Let me know your favorite spice combo in the comments!
HOW LONG DO YOU COOK FROZEN FRIED SHRIMP IN THE AIR FRYER?
The beauty of flash-frozen food is it is already cooked, so you only need to reheat it to enjoy it!
Frozen fried shrimp are often pre-cooked. To cook frozen fried shrimp in the air fryer, set the temperature to 390 degrees F (190 degrees C) and air fry for about 5 minutes. Then, flip and cook another 5 minutes. If they are not as crunchy and brown as you would like, cook another 2 to 3 minutes.
MORE AIR FRYER SEAFOOD RECIPES
I love shrimp so much, but I may love scallops more. They are not just for eating in a fancy restaurant anymore! Make delicious and perfectly cooked Air Fryer Scallops with a garlic and herb butter sauce that will rival any seafood chef's best dish.
Forget crab cakes, you have to try air fryer salmon patties. Crispy on the outside and packed with salmon and the perfect seasonings, you will love this recipe for simple dinners or lunches.
Whenever I see fried calamari on the menu, I have to order it. Now, I make it at home without the fry oil thanks to this Air Fryer Calamari recipe! It is a great afternoon snack or dinner party appetizer with less fat and calories than typical recipes.
Why go out to a restaurant when you can have tender, flaky salmon right at home? You will not believe how easy it is to make this 10 minute Air Fryer Salmon! I promise you will never make salmon in the oven again.
Frozen fish fillets can save an impromptu weeknight dinner. Try making it in the air fryer with this air fried tilapia recipe. Add a squeeze of lemon juice before serving!
Air Fryer Shrimp Recipes : Featuring Air Fryer Shrimp
Do you love cooking seafood at home? This air fryer shrimp recipe requires only 10 minutes and 4 ingredients for the most flavorful, tender cooked shrimp!
Ingredients
10

oz

medium sized shrimp

¼

tsp

garlic salt

1

tsp

oil

lemon slices

optional
Instructions
Thaw shrimp overnight or under cold water. Place thawed shrimp in a bowl.

Pour oil over the shrimp and toss gently to coat.

Sprinkle the garlic salt over the shrimp and toss again to coat evenly.

Place the seasoned shrimp into your air fryer basket.

Cook at 400 degrees F for 8-10 minutes, flipping halfway through.

Serve with sliced lemons, or squeeze half a lemon over the cooked shrimp for flavor (optional).
Go AD FREE!
Notes
This recipe can be made with any size shrimp. If you use large or jumbo sized shrimp, you may need to increase the cooking time by a minute or two at a time until cooked through.

Pro Tip: This recipe can be made in the air fryer unit with a basket or the air fryer oven. If you are using the air fryer oven, use the middle rack and select the "Air Fry" function.
Nutrition
Serving:
4
oz
|
Calories:
81
kcal
|
Protein:
14
g
|
Fat:
2
g
|
Saturated Fat:
1
g
|
Cholesterol:
179
mg
|
Sodium:
696
mg
|
Potassium:
57
mg
|
Vitamin C:
3
mg
|
Calcium:
103
mg
|
Iron:
2
mg
Tired of the ads?
Go AD Free - Become part of our Membership community!
Air Fryers can vary greatly. Please take the time to learn your specific air fryer. You may need to adjust times and temperatures based upon your air fryer.
All though this website attempts to provide accurate nutritional information, the information should only be considered an estimate. Varying factors such as different product types, different brands, etc. can change nutritional information. It is your responsibility as a consumer to read all labels to make sure the ingredients fit your dietary needs as well as calculate your own nutritional information as a double check.