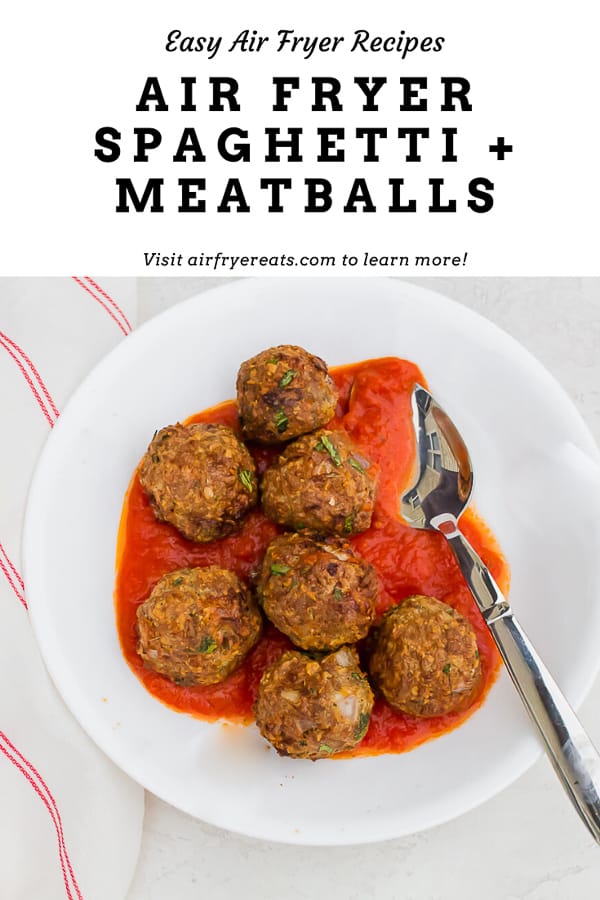 When you want to make a classic spaghetti and meatballs dish without all the fuss and wait, turn to your air fryer! You'll have Air Fryer Spaghetti Meatballs on the table in half the time!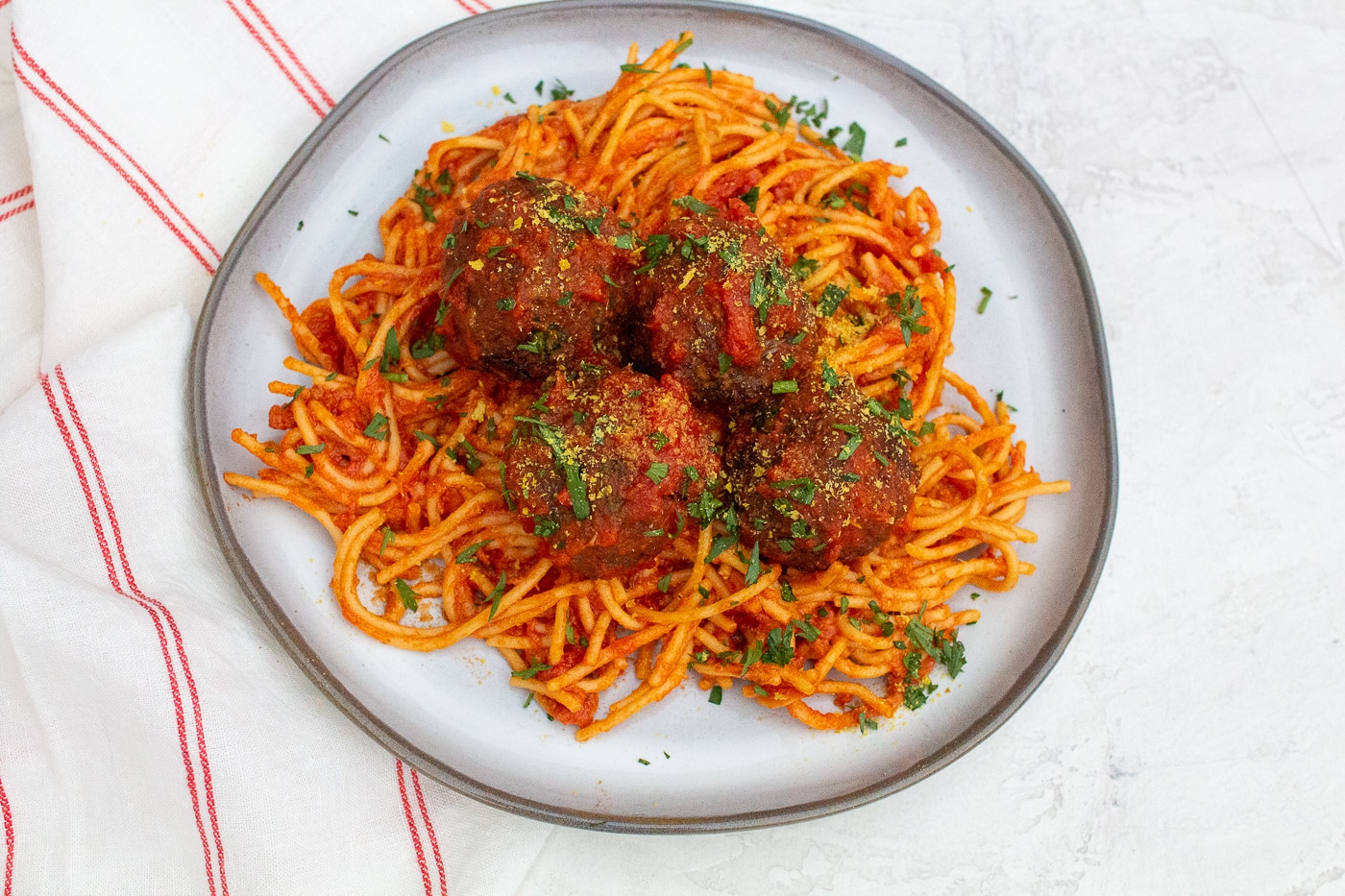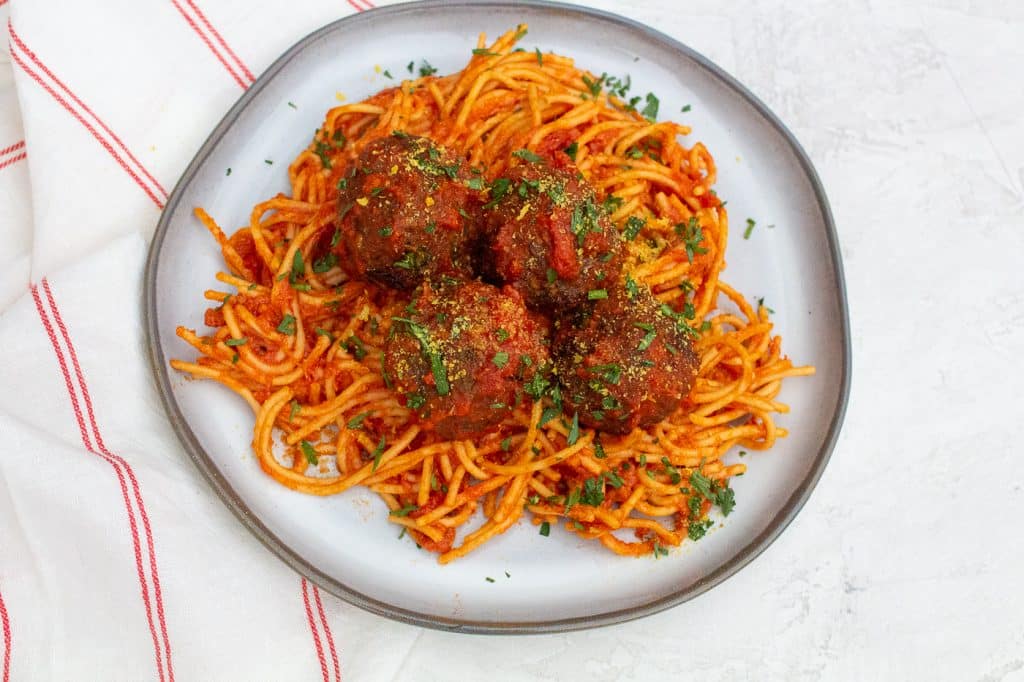 Air Fryer Spaghetti Meatballs is a quick and simple way to have dinner served in no time!
Making classic dinners like meatloaf in the air fryer is as easy as can be, and this spaghetti and meatballs dish is no exception.
Hearty air fried meatballs made with your choice of ground protein, combined with fresh cooked pasta & sauce, then topped with fresh herbs - it's a classic dish that everyone knows and loves.
Ingredients Needed for Meatballs
Gathering everything you need to make meatballs at home might seem like a challenging task, but it's no big deal!
In fact, as long as you have a pound or two of ground protein, you probably have everything else you need right in your kitchen!
You'll combine ground protein with aromatics like chopped onion and parsley, breadcrumbs and an egg for binding, and some garlic salt to bring the flavors together.
After you gather your ingredients, all that's left to do is to combine them and get cooking!
Add some cooked pasta and your favorite spaghetti sauce and you'll have dinner ready in a flash!
Follow these easy steps to get started:
First, you'll place a pound of fresh or thawed ground protein in a bowl.
Next, add some chopped onion (red onion is great for meatballs because of its potent flavor.)
Then, add some breadcrumbs. If you're gluten free, you'll want to look for gluten free breadcrumbs like Ian's brand.
Add some fresh chopped parsley to the bowl to give the meatballs some incredible Italian style flavor.
Next, add an egg to the bowl. The egg will work together with the breadcrumbs to bind the mixture together. Nobody wants mushy meatballs that fall apart when cooking!
Finally, you'll add some garlic salt to top off the flavor of these delicious air fryer meatballs.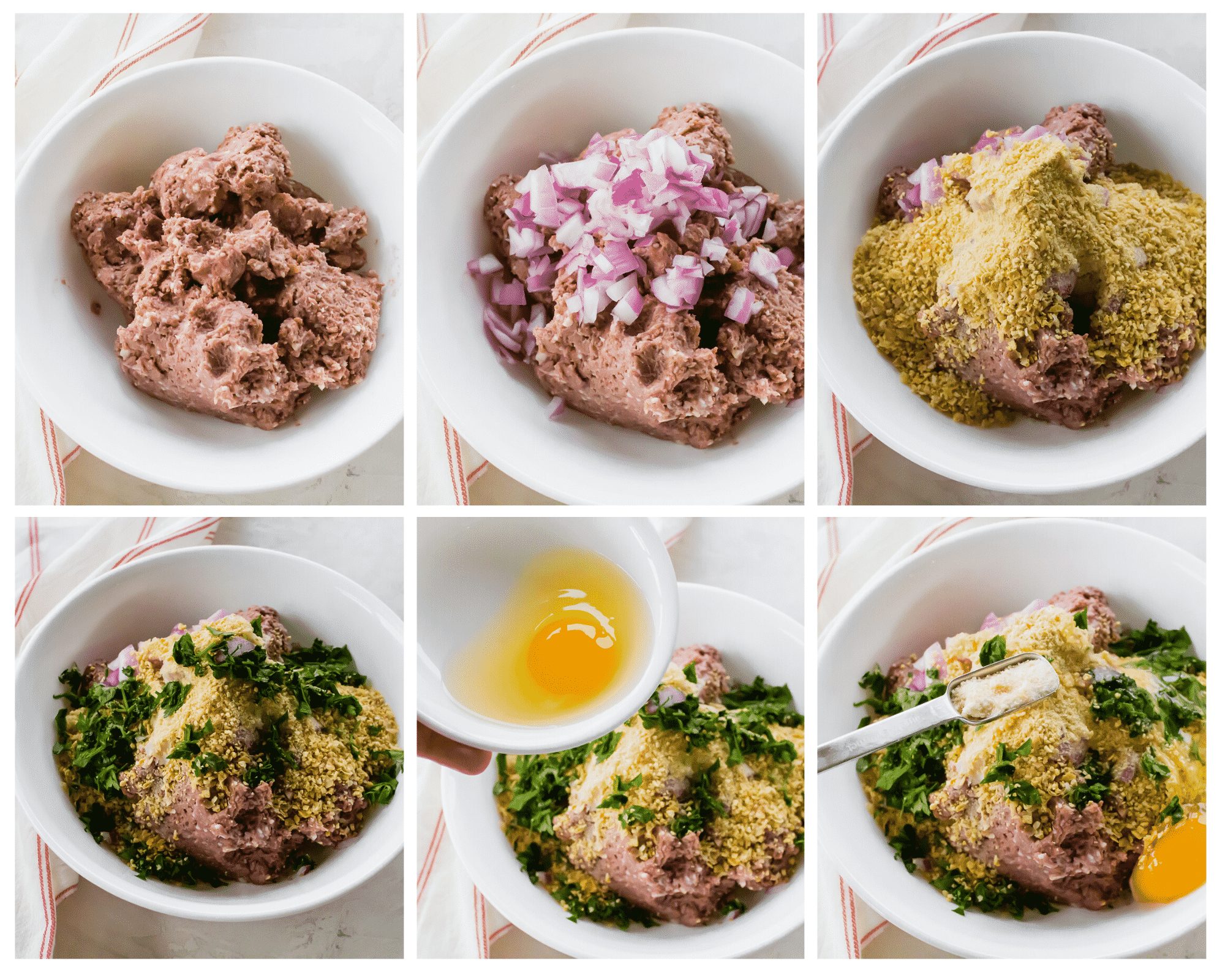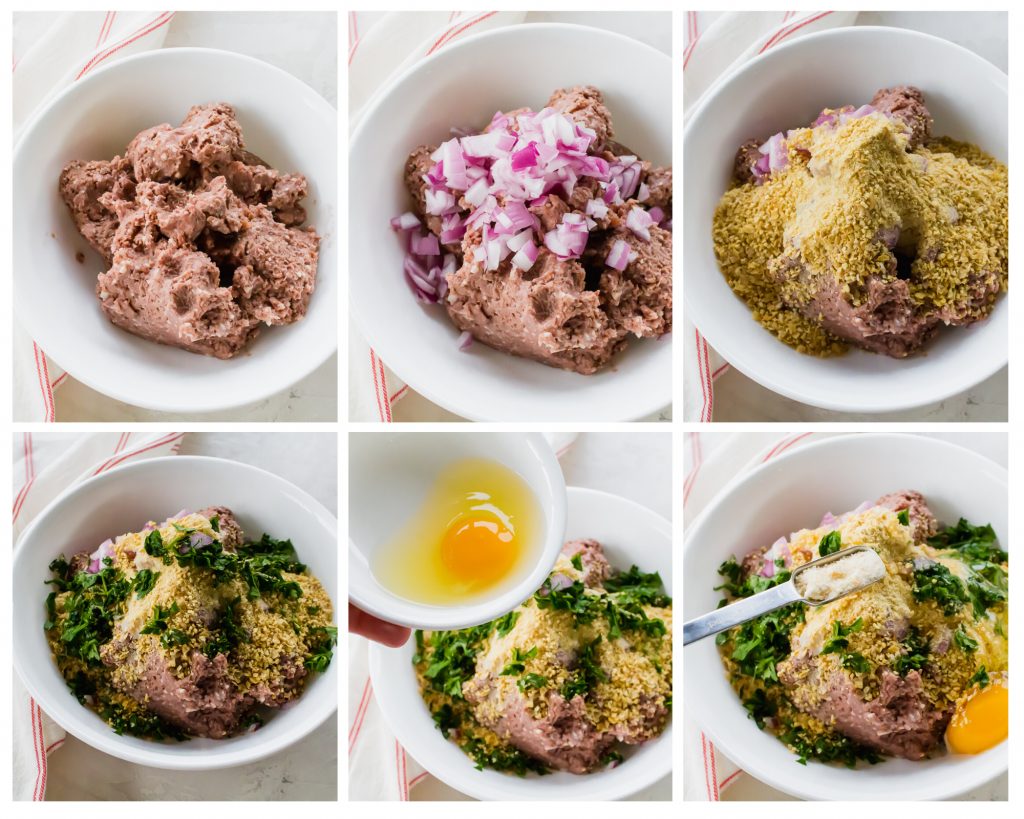 HOW TO MAKE AIR FRYER SPAGHETTI AND MEATBALLS
Once you have all of your meatball ingredients in your bowl, here's what to do next:
Combine the ingredients using your hands or a spoon. Mix thoroughly so that all of the ingredients are totally incorporated.
Next, roll the meatball mixture into 1-1.5 inch meatballs.
Then, place the meatballs in a single layer in a foil-lined air fryer basket. Space the meatballs at least a half inch apart to avoid sticking. You may need to work in batched depending on how big your air fryer basket is.
Cook the meatballs in the air fryer at 380 degrees for 15 minutes or until they're golden brown.
Boil water to cook your pasta. When the pasta is cooked, drain and toss with sauce.
Toss the meatballs with your favorite spaghetti sauce.
Add the meatballs to some cooked pasta and you're done!
You'll have dinner on the table in less than half an hour! Does it get any better than that?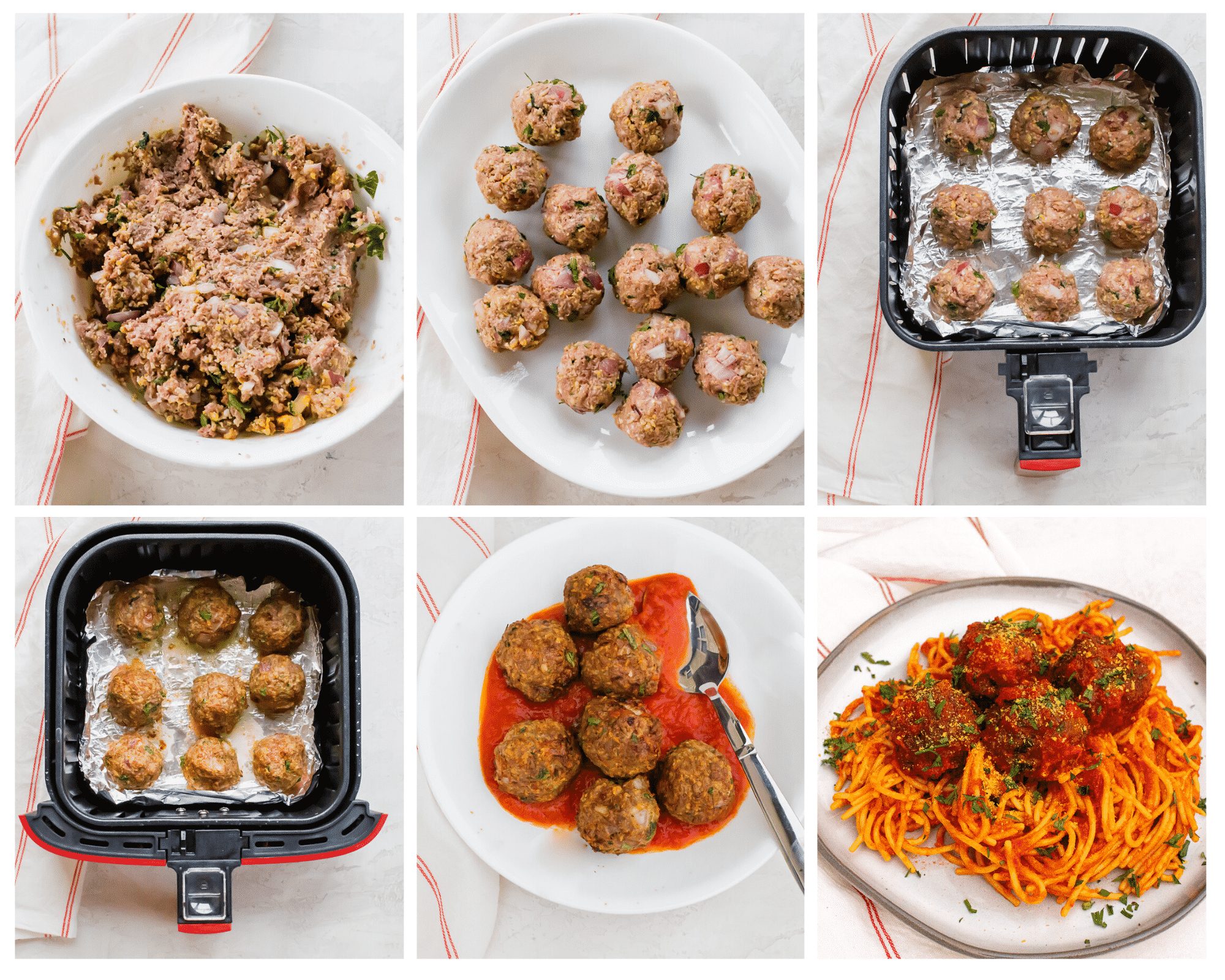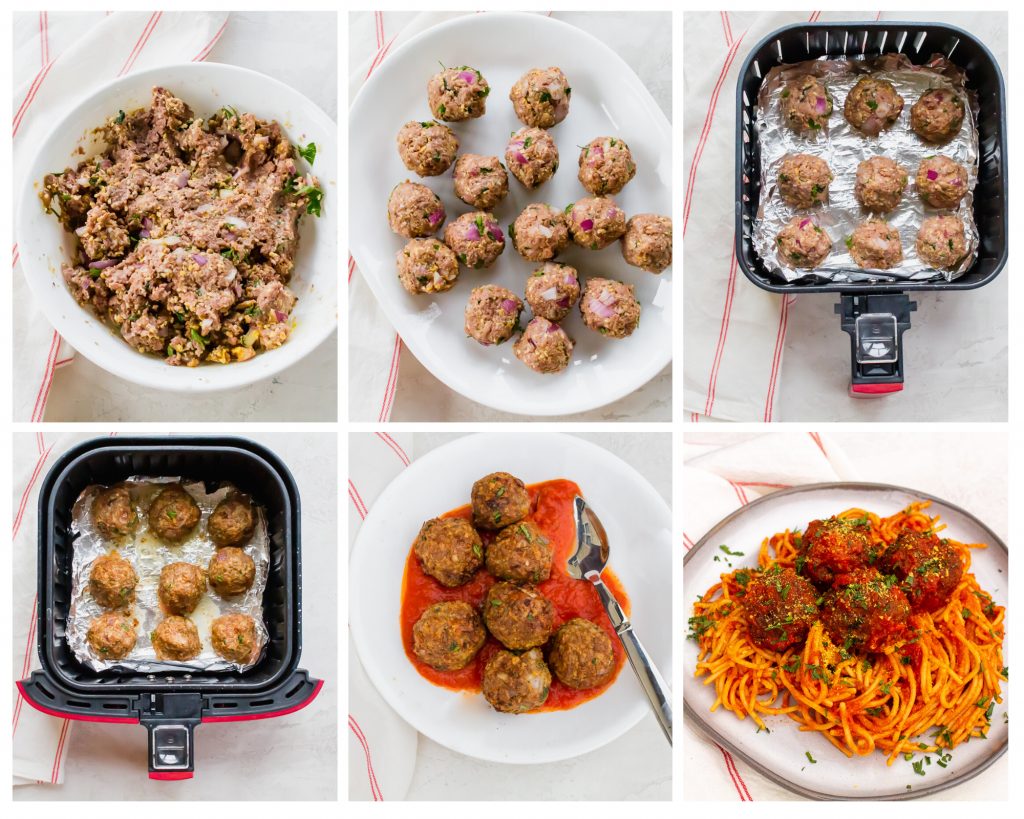 Tips for Making Meatballs
Be sure to use ground protein that is fresh or thawed through. If your meat is still a bit frozen it'll be harder to get the ingredients mixed completely and the meatballs may not cook evenly.
Don't skip the breadcrumbs and the egg! These ingredients act as a binding agent for the meat.
They also keep the meatballs tender and juicy on the inside. Skipping these items could leave you with a mushy or tough mess.
Use wet hands while rolling the meatballs. This will help cut down on mess and will help you to shape your meatballs nicely.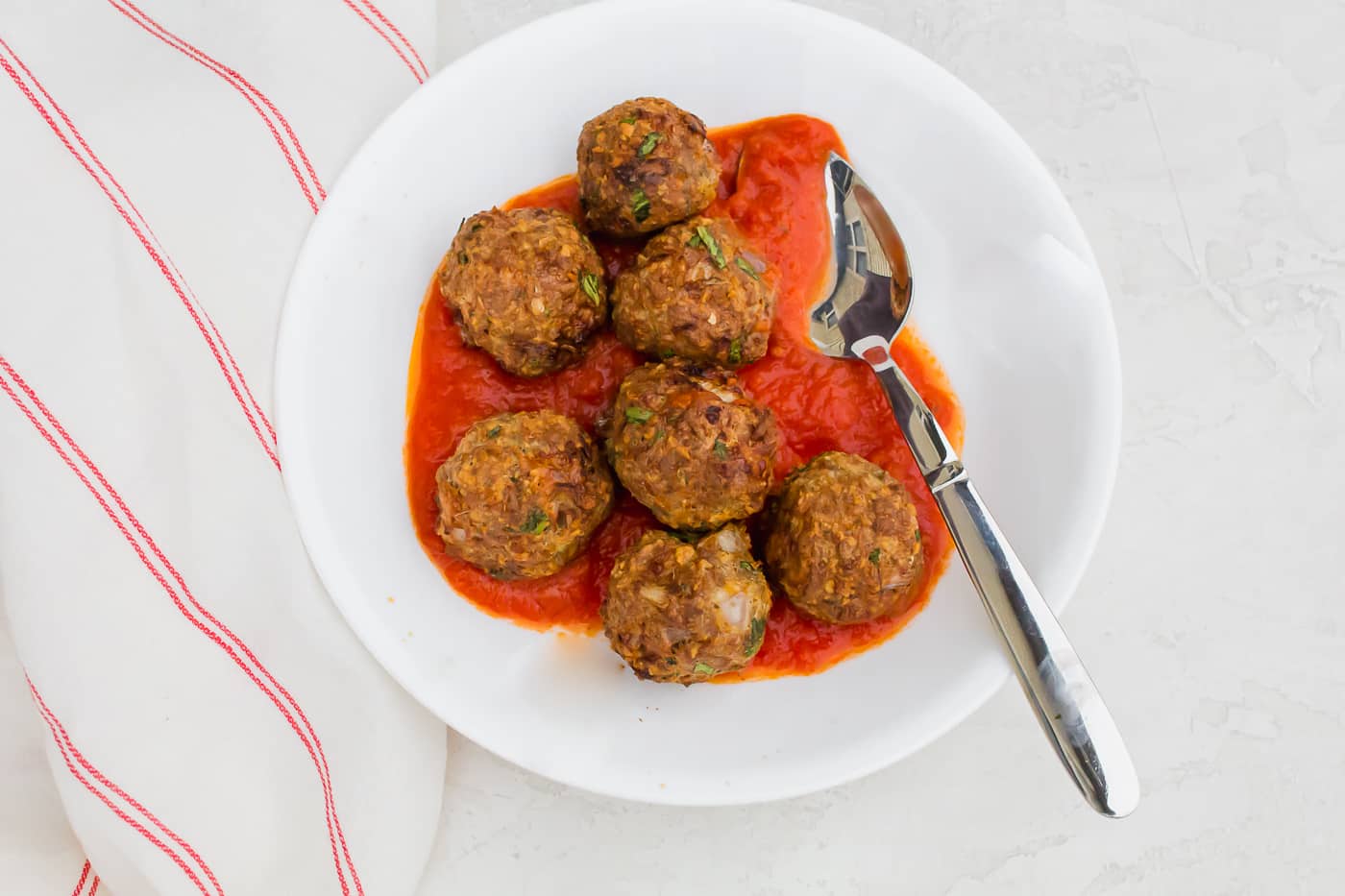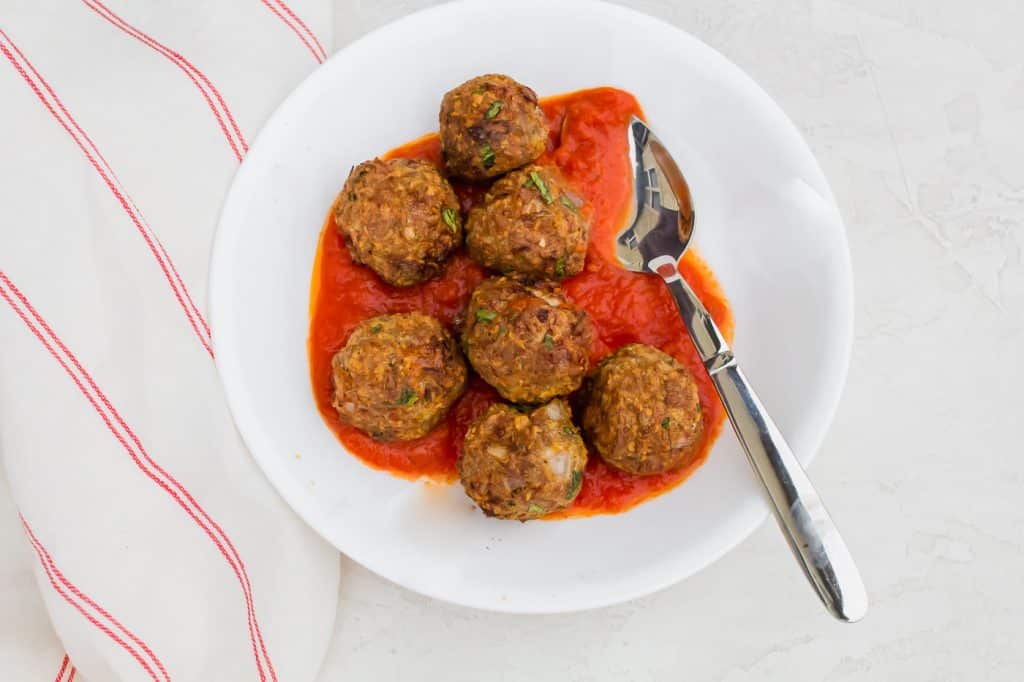 How to Serve Spaghetti and Meatballs
Whether you're serving a small family or a big crowd, here are some ways to turn your Air Fryer Spaghetti and Meatballs into a flavorful Italian-style feast:
Toss both the meatballs and pasta with sauce before serving. If you're feeding a crowd, you can place the pasta in a big bowl and top it with the meatballs in a single layer overtop.
Serve with a large pair of serving spoons and pass the bowl around the table so that everyone can help themselves, family style.
Provide small bowls of fresh parsley, Parmesan cheese, and buttery toasted breadcrumbs for topping.
If you're serving a small family, plate servings of spaghetti and meatballs individually. Top with a sprinkling desired toppings before serving.
Serve with a Mediterranean Chickpea Salad and some veggie-packed Cheesy Olive Bread to create a hearty and filling dinner spread.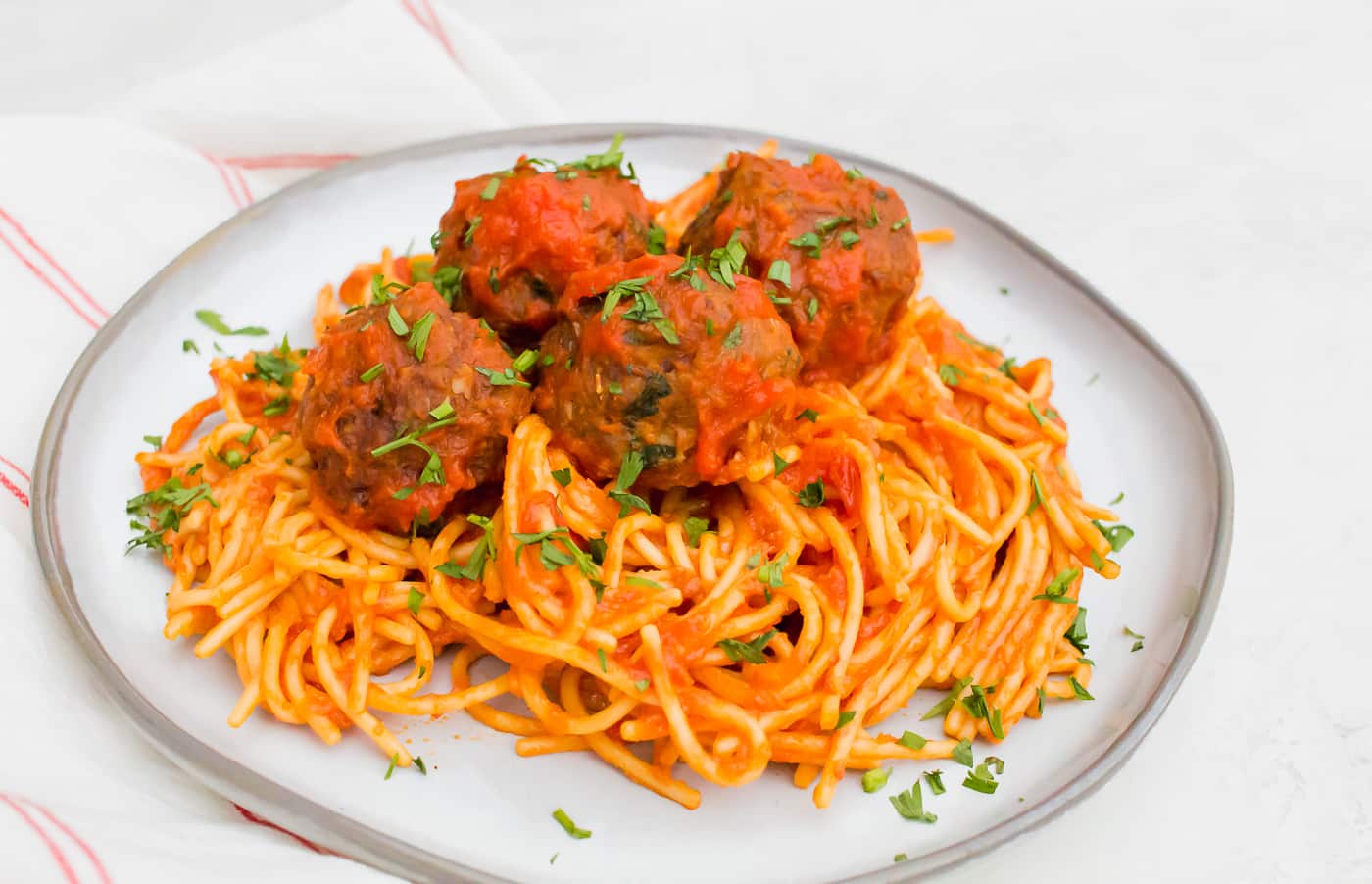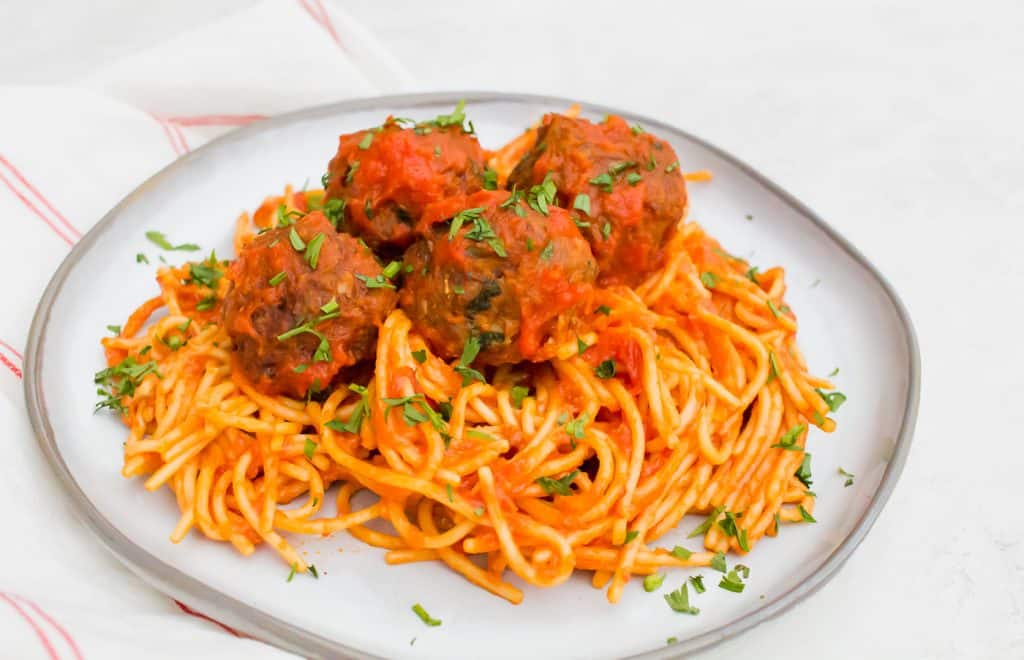 More delicious air fryer dinner recipes!
We have so many air fryer recipes to choose from!
If you are having trouble figuring out which one to try next, we suggest: Air Fryer Porkchops, Air Fryer Meatloaf and Air Fryer Hamburgers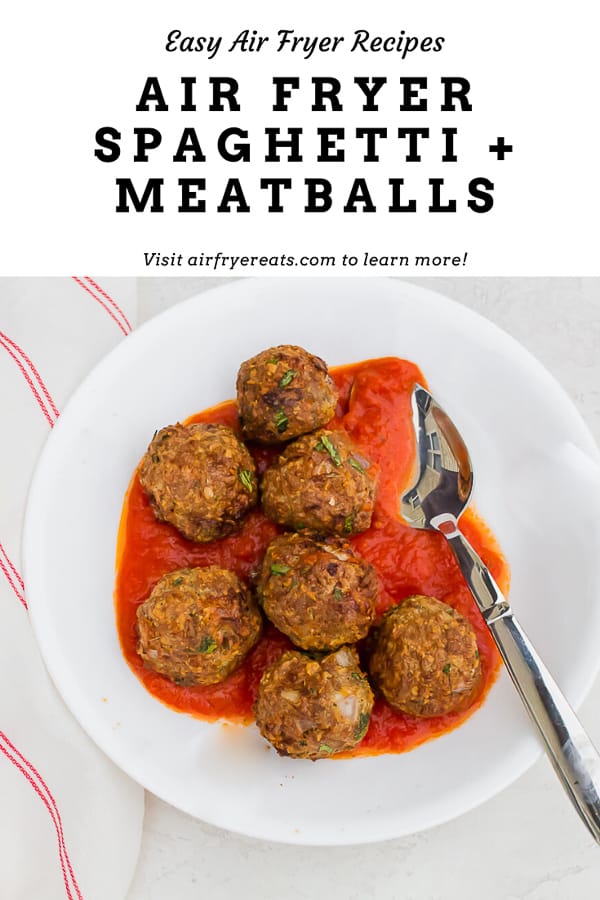 Have you made this recipe? Please leave a comment AND rating below! It helps other readers!
Be sure to tag @AirFryerEats on instagram, if you share a picture on the gram! Let's get social, you can follow me on Youtube, Instagram, Facebook, Pinterest or join one of our Air Fryer Facebook Groups: Air Fryer Recipes, Air Fryer Recipes for Seniors and Gluten Free Air Fryer Recipes.
Don't forget to subscribe to our EMAIL newsletter.
Air Fryer Spaghetti and Meatballs
When you want to make a classic spaghetti and meatballs dish without all the fuss and wait, turn to your air fryer! You'll have Air Fryer Spaghetti and Meatballs on the table in half the time!
Instructions
Combine the ground protein, breadcrumbs, onion, parsley, egg, garlic salt, and oregano in a bowl.

Roll the mixture into 1-1.5 inch meatballs.

Line your air fryer basket with foil or parchment paper.

Arrange the meatballs in the air fryer basket in a single layer.

Cook at 380 degrees F for 15 minutes.

While the meatballs are cooking, cook the pasta according to package instructions.

When the pasta is done cooking, toss it with ½ cup of the spaghetti sauce to coat.

Pour ½ cup of spaghetti sauce in a bowl and toss the cooked meatballs in the sauce to coat.

Divide the pasta and meatballs onto 4 plates.

Top with additional spaghetti sauce, fresh basil, and Parmesan if desired.
Go AD FREE!
Video
Notes
Pro Tip: This recipe can be made in the air fryer unit with a basket or the air fryer oven. If you are using the air fryer oven, use the middle rack and select the "Air Fry" function.
Nutrition
Calories:
595
kcal
|
Carbohydrates:
94
g
|
Protein:
37
g
|
Fat:
8
g
|
Saturated Fat:
1
g
|
Cholesterol:
41
mg
|
Sodium:
2079
mg
|
Potassium:
1058
mg
|
Fiber:
12
g
|
Sugar:
13
g
|
Vitamin A:
1111
IU
|
Vitamin C:
18
mg
|
Calcium:
89
mg
|
Iron:
10
mg
Tired of the ads?
Go AD Free - Become part of our Membership community!
Air Fryers can vary greatly. Please take the time to learn your specific air fryer. You may need to adjust times and temperatures based upon your air fryer.
All though this website attempts to provide accurate nutritional information, the information should only be considered an estimate. Varying factors such as different product types, different brands, etc. can change nutritional information. It is your responsibility as a consumer to read all labels to make sure the ingredients fit your dietary needs as well as calculate your own nutritional information as a double check.