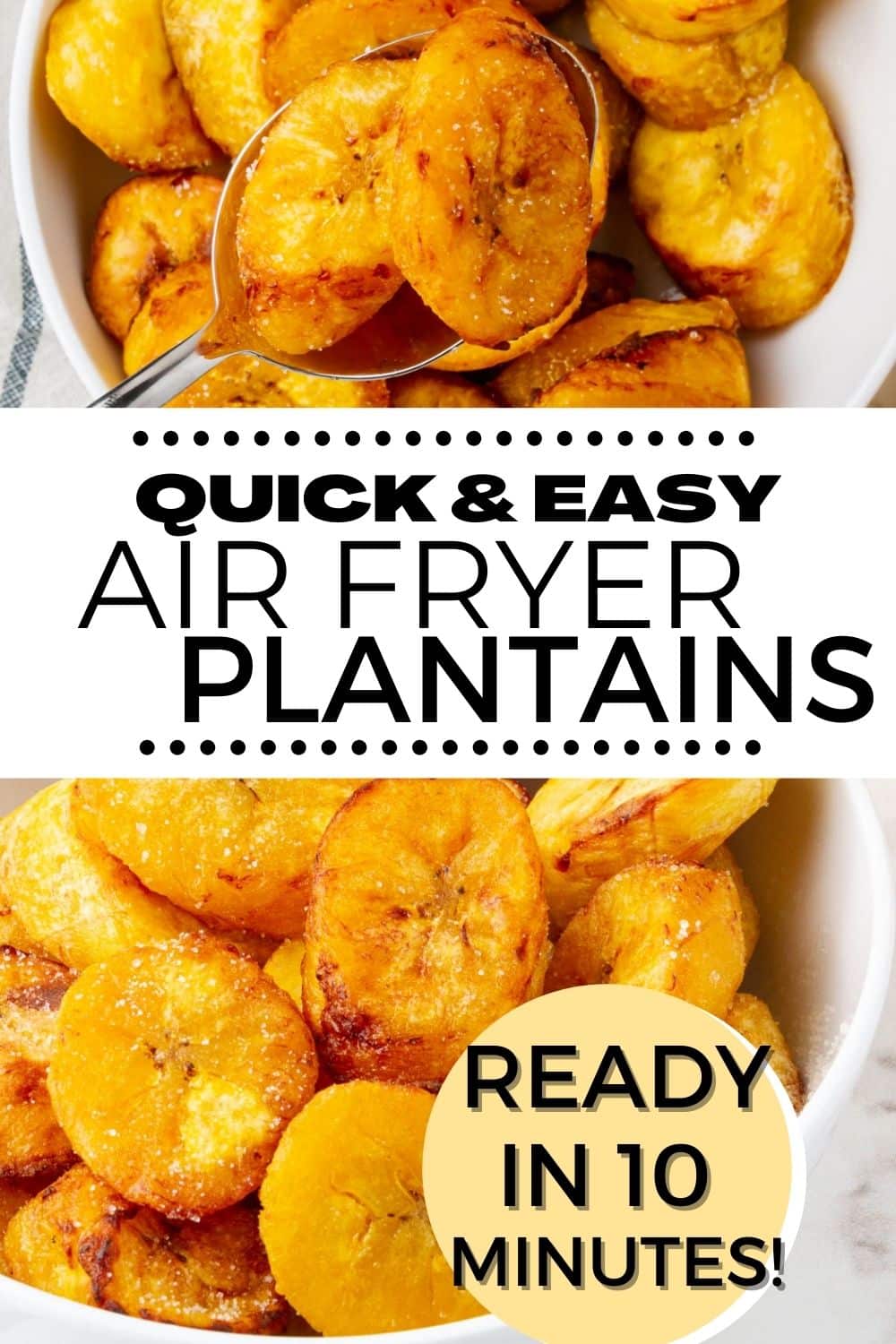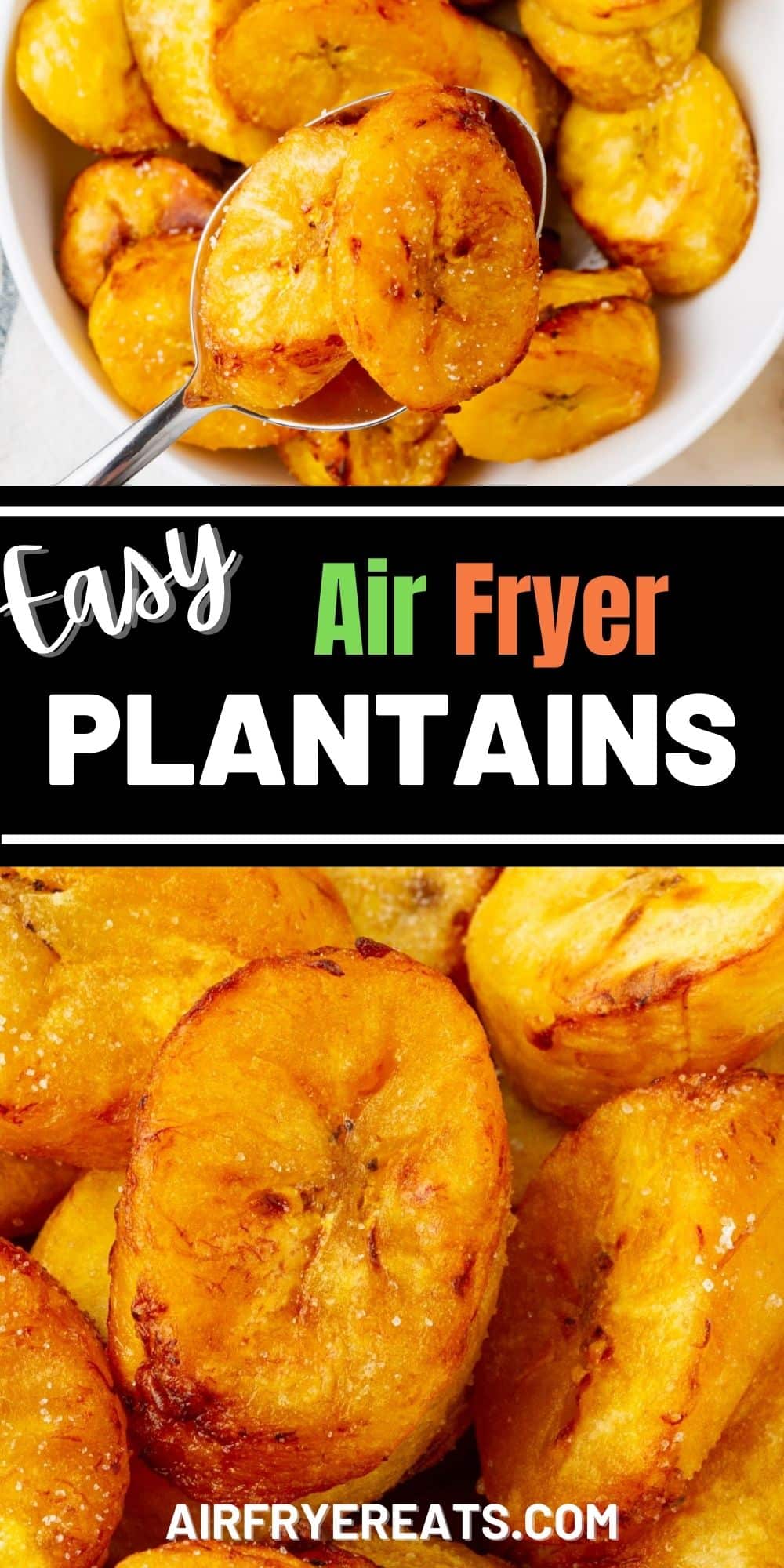 These Air Fryer Plantains are a great meal prep snack that lasts all week! Sweet, ripe, plantains cook up quickly and easily in the air fryer to be crispy on the outside and tender on the inside.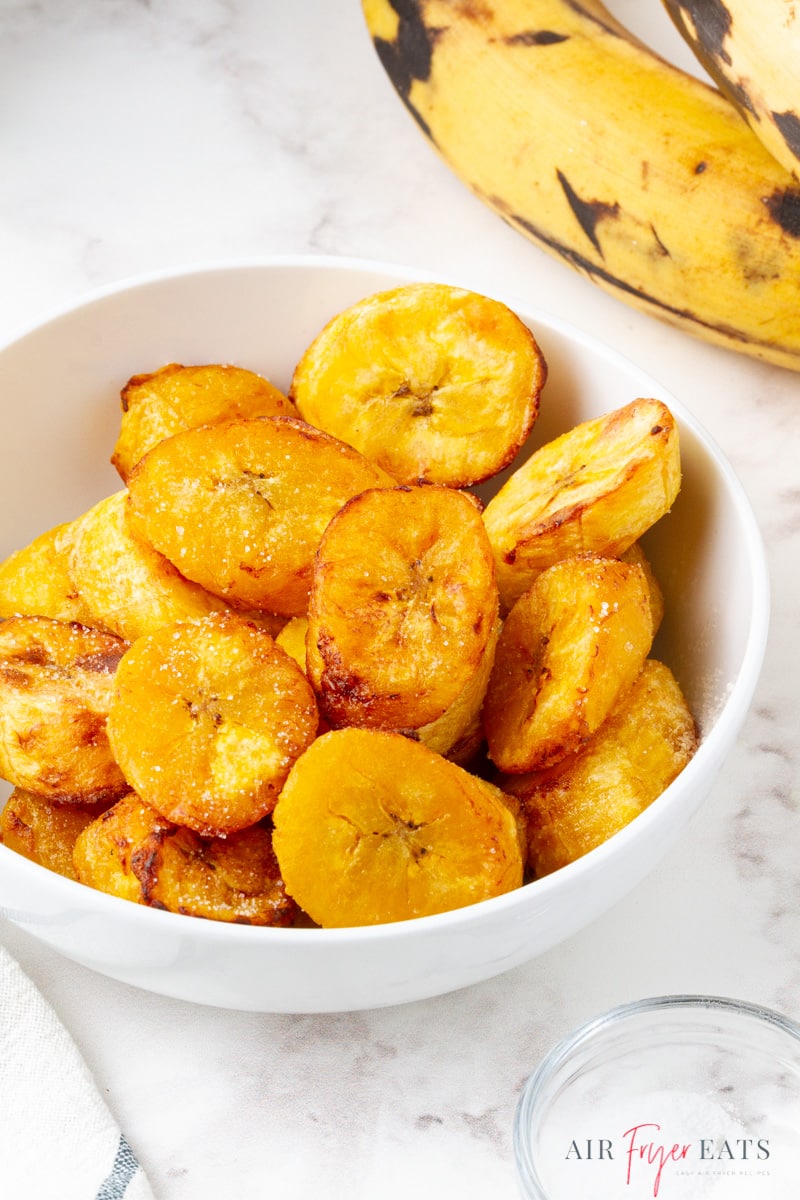 AIR FRYER PLANTAINS RECIPE
Plantains are a staple ingredient in Caribbean cuisine as well as Cuban, Puerto Rican, and Mexican dishes. Luckily, plantains are readily available in American grocery stores, and you are about to learn how to make air fryer plantains that are just as delicious as anything you'd get in the Caribbean!
Air Fryer Plantains are easy to make, and this recipe needs only three ingredients. Traditionally, plantains would be fried in oil to get tender and crispy on the outside, but we are using just a tablespoon of oil to get the same effect from the air fryer.
Want to air fry some regular bananas? We have a recipe for Air Fryer Banana Chips!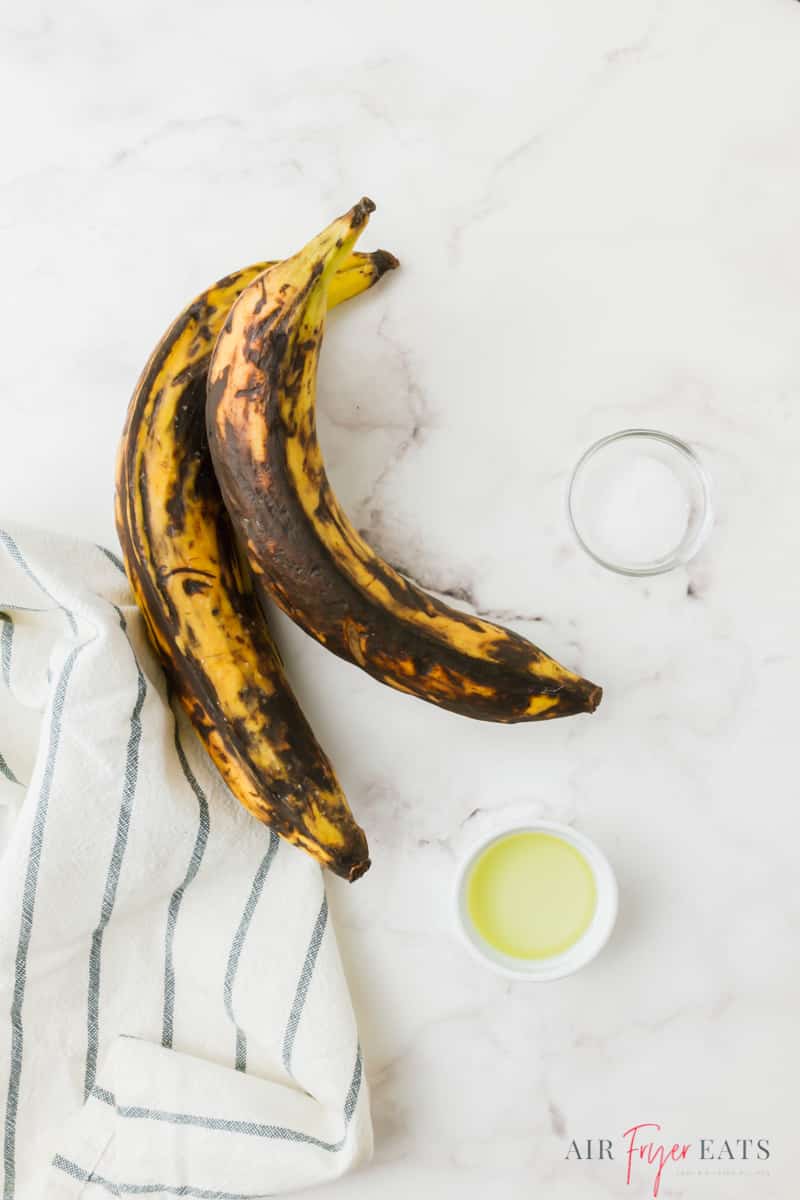 INGREDIENTS IN AIR FRYER PLAINTAINS
Plantains - You want two very ripe plantains so they are still firm when cutting and air frying. The more black you see on the skins the better. Similar to bananas, they get sweeter and softer the riper they get.
Oil - A little bit of any neutral-flavored oil works here. Avocado oil, light olive oil, or vegetable oil are my go-to options.
Sugar - Sugar is added to enhance the natural sweetness of the plantains. If you prefer not to add sugar, you can leave it out, or use a sprinkle of salt instead. Pro tip: Add a little sugar AND salt to the basket when they are still hot. Trust me.
If you have any questions about these air fryer plantain chips, please leave a comment below and I will get back to you ASAP!
If you have any questions about how to make plantains in the air fryer, please leave a comment below and I will get back to you ASAP!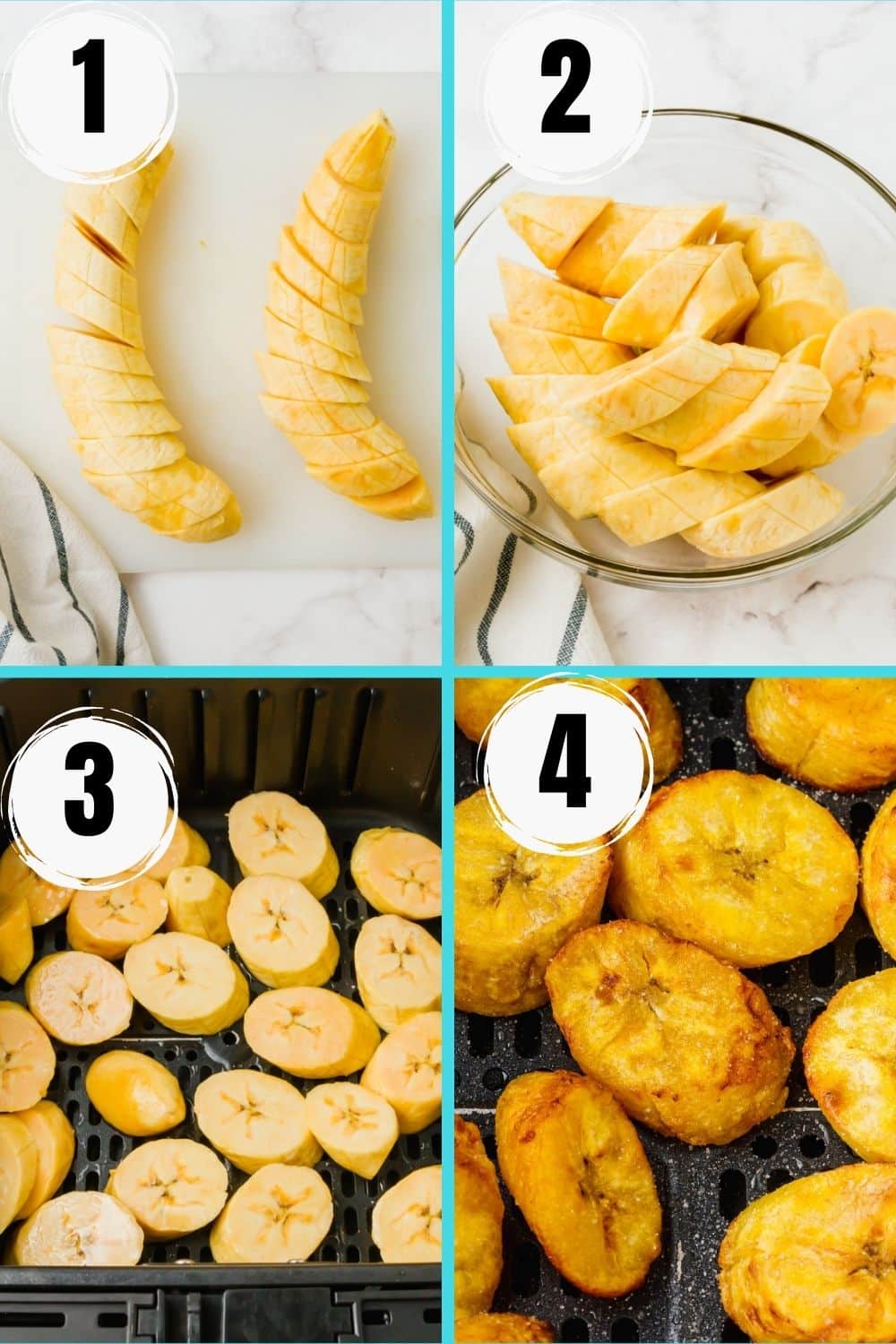 HOW TO MAKE AIR FRYER PLANTAINS
First, slice ripe plantains into ½ inch thick diagonal slices. Be sure all the plantain chips are the same size for even air frying.
Then, put the sliced plantains into a bowl and drizzle with half of the oil. Toss until evenly coated.
Now, place plantains in the air fryer basket in a single layer. You may need to do two batches, depending on the size of your plantains.
Finally, cook the plantains as directed in the recipe card below. Halfway through cooking time, flip plantains over, brush with oil and continue cooking. Sprinkle with granulated sugar and serve hot.
These numbered steps match the numbered photos above and are for illustration purposes. For the complete list of ingredients and instructions for the best air fryer plantains, please see the recipe below.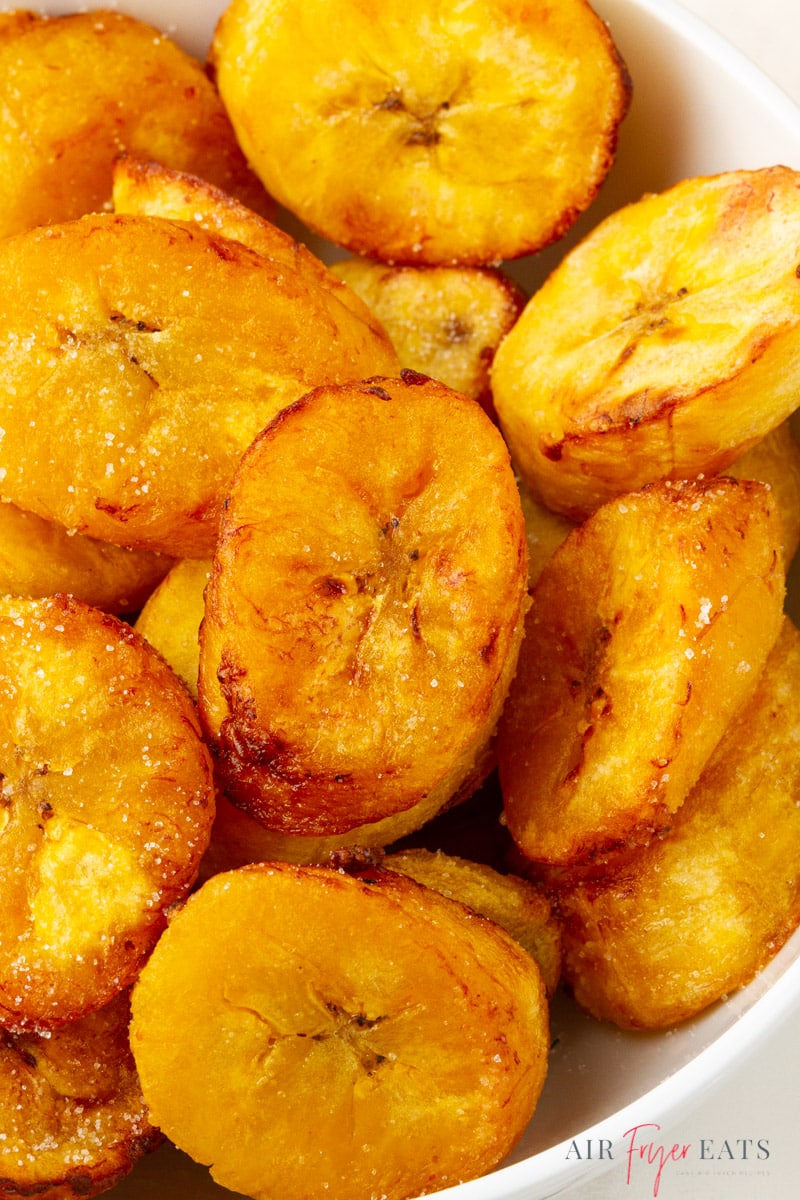 WHAT TO SERVE WITH AIR FRYER PLANTAINS
Air fryer plantains make a beautiful side dish for any meaty meal, or can even act as a meat substitute in vegetarian meals. They are very versatile!
Enjoy sweet plantains with Air Fryer Chicken Legs, Air Fryer Smoky Chicken, or Air Fryer Pork Belly. The sweetness pairs really well with the smoky, savory flavors of these meat dishes.
Use air fryer plantains as a filling for tacos, topped with your favorite taco fixings.
Make a vegan meal using air fried plantains served with seasoned beans and rice. It's got all the textures and flavors you need in a well-rounded dish with none of the meat!
HOW DO I KNOW IF PLANTAINS ARE RIPE?
A ripe plantain looks like it may have gone bad! If your plantain is yellow or green, it is not ready to eat yet. Allow your plantains to sit out on the counter until they are mostly black. This is when they are perfectly soft and sweet and ready to be cooked.
Typically you will buy the plantain green, and will need to give it a few days at home to get ripe, so if you are planning ahead, allow some time.
Need to ripen your plantains fast? Put them in a paper bag with a ripening apple or banana to speed up the process by a couple days.
HOW TO PEEL A PLANTAIN
A plantain might look like a banana, but it does not peel as easily as one.
To easily peel a plantain, use a paring knife to cut off both ends. Then, score a line down the peel. Place the knife into the cut your just made and slice off a strip of the peel. Continue in this way, gently prying the peel off of the plantain and cutting when necessary.
Try not to cut the plantain while you are peeling it!
SHOULD YOU BOIL PLANTAINS BEFORE AIR FRYING?
When you are frying plantains in oil, they need to be boiled first. But do you need to boil them before air frying?
Nope! This air fryer plantains recipe is made with less fat than a traditional fried version, plus there is less work required! All you need is an air fryer and sharp knife for this easy snack recipe.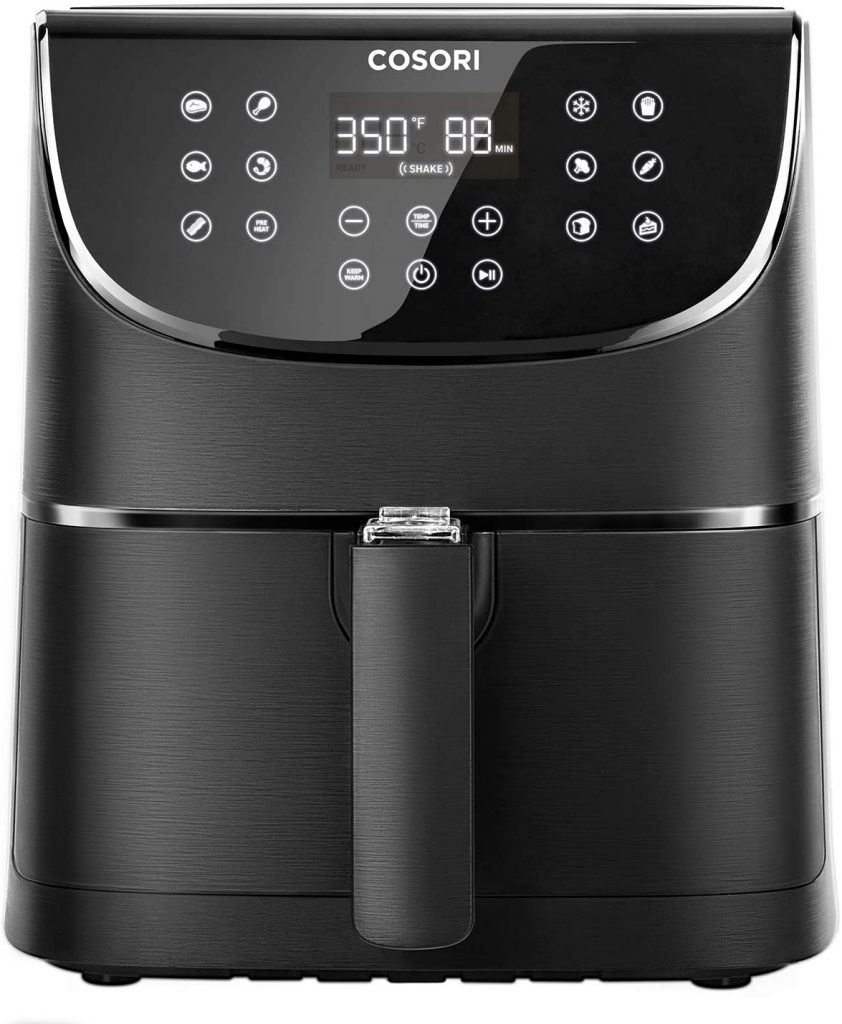 MORE AIR FRYER RECIPES TO TRY
Air Fryer Chicken Fajitas are a super simple meal to make for a weeknight dinner. Just throw everything in the air fryer!
Looking for a delicious appetizer? Air Fryer Ravioli are crispy and perfect for dipping into your favorite marinara sauce.
Air Fryer Chickpeas are seasoned with garlic and rosemary and roasted in the air fryer to create the perfect healthy snack.
You need this simple recipe for tortilla chips in the air fryer. You won't believe how easy it is to make fresh corn tortilla chips at home without deep frying!
For a sweet treat, make Air Fryer Oatmeal Cookies. Kids love helping to make these.
Love crunchy, salty snacks? Air Fryer Pumpkin Seeds are a delicious snack that you will love! This air fryer pumpkin seed recipe lets you enjoy crispy roasted pumpkin seeds in 15 minutes!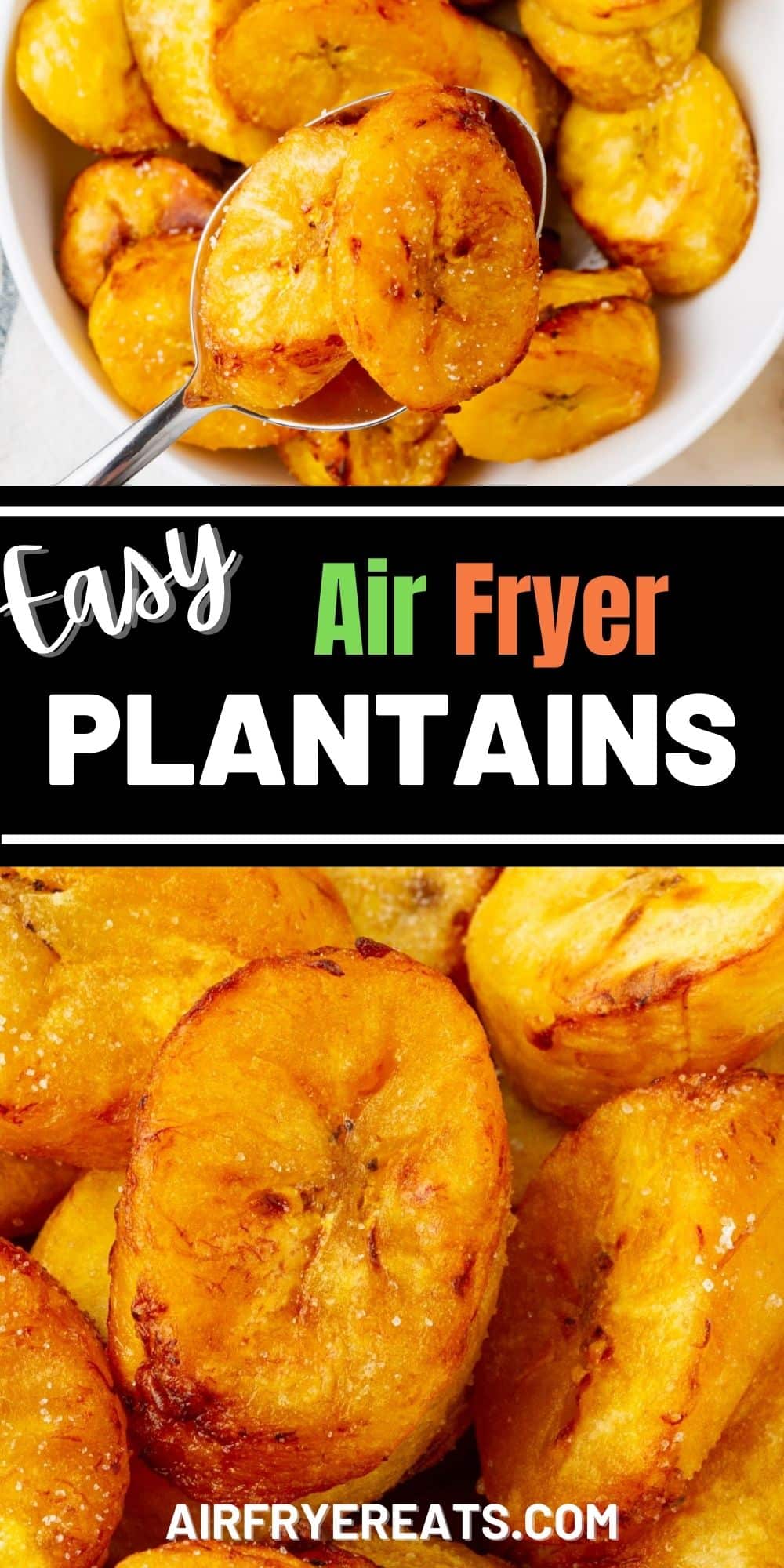 Have you made this recipe? Please leave a comment AND rating below! It helps other readers!
Be sure to tag @AirFryerEats on instagram, if you share a picture on the gram! Let's get social, you can follow me on Youtube, Instagram, Facebook, Pinterest or join one of our Air Fryer Facebook Groups: Air Fryer Recipes, Air Fryer Recipes for Seniors and Gluten Free Air Fryer Recipes.
Don't forget to subscribe to our EMAIL newsletter.
Air Fryer Plantains
Sweet, ripe, plantains cook up quickly and easily in the air fryer to be crispy on the outside, tender on the inside, and delicious as a snack or side dish.
Ingredients
2

Plantains

very ripe

1

tbsp

Avocado Oil

divided

½

tsp

Sugar
Instructions
Slice plantains into ½-inch thick diagonal pieces.

Place plantain slices in a bowl and drizzle with half of the oil. Toss until evenly coated.

Place plantains in the air fryer basket in a single layer. If you do not have enough space, you may need to work in batches.

Cook plantains at 370F for 5 minutes. Brush the tops of the plantains with the remaining oil, flip over and cook an additional 5 minutes, or until plantains are browned and the insides are tender.

Sprinkle with granulated sugar and serve immediately.
Go AD FREE!
Notes
These are sweet plantains, also known as maduros. I like to sprinkle mine with a little sugar to really enhance the sweetness of the plantains. However, you can also sprinkle them with salt instead.
The key to this recipe is in the ripeness of the plantains. If your plantains are still green, they are not yet ready to be air fried yet. Unripe green plantains are best for making tostones. You want your plantains to have a lot of black marks on the skin. The amount of black on the skin in our ingredients shot is exactly what we're looking for. If your plantains are not ripe enough, they will come out tasting starchy rather than soft and sweet.

Pro Tip: This recipe can be made in the air fryer unit with a basket or the air fryer oven. If you are using the air fryer oven, use the middle rack and select the "Air Fry" function.

ProTip: Check your food as it cooks. Each air fryer runs a bit differently. Sometimes airfying is a trial and error process. Check your food as it cooks to learn your air fryer better! When cooking a new recipe or food items be sure to check your food often to help avoid over/under cooking.

Have oven recipes that you'd like to convert to an air fryer recipe? Use our Air Fryer Calculator to help you estimate cooking times and temps! Calculator here:

https://airfryereats.com/air-fryer-conversion-air-fryer-calculator/
Nutrition
Calories:
142
kcal
|
Carbohydrates:
29
g
|
Protein:
1
g
|
Fat:
4
g
|
Saturated Fat:
1
g
|
Polyunsaturated Fat:
1
g
|
Monounsaturated Fat:
2
g
|
Sodium:
4
mg
|
Potassium:
447
mg
|
Fiber:
2
g
|
Sugar:
14
g
|
Vitamin A:
1009
IU
|
Vitamin C:
16
mg
|
Calcium:
3
mg
|
Iron:
1
mg
Tired of the ads?
Go AD Free - Become part of our Membership community!
Air Fryers can vary greatly. Please take the time to learn your specific air fryer. You may need to adjust times and temperatures based upon your air fryer.
All though this website attempts to provide accurate nutritional information, the information should only be considered an estimate. Varying factors such as different product types, different brands, etc. can change nutritional information. It is your responsibility as a consumer to read all labels to make sure the ingredients fit your dietary needs as well as calculate your own nutritional information as a double check.