Cooking porkchops doesn't have to be a big, messy production! With your trusted air fryer and minimal prep work, you can have porkchops cooked perfectly in no time!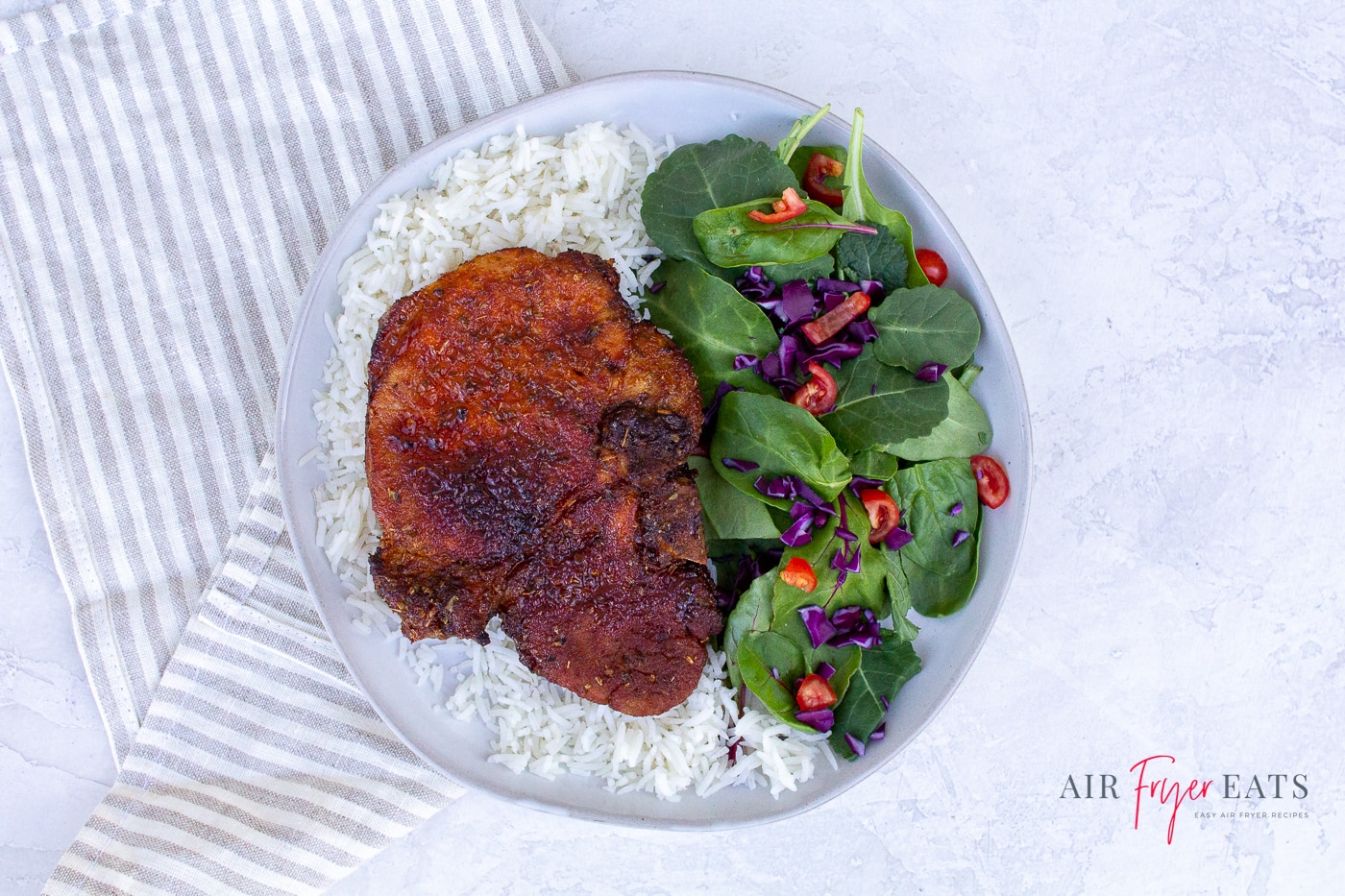 Air Fryer Porkchops are the perfect combination of savory, sweet, and smoky flavors! 15 minutes in your air fryer gives these porkchops a juicy and tender texture with an irresistibly crispy crust. Whether it's porkchops or bacon, making delicious and crispy pork dishes quickly in your air fryer is a no-brainer!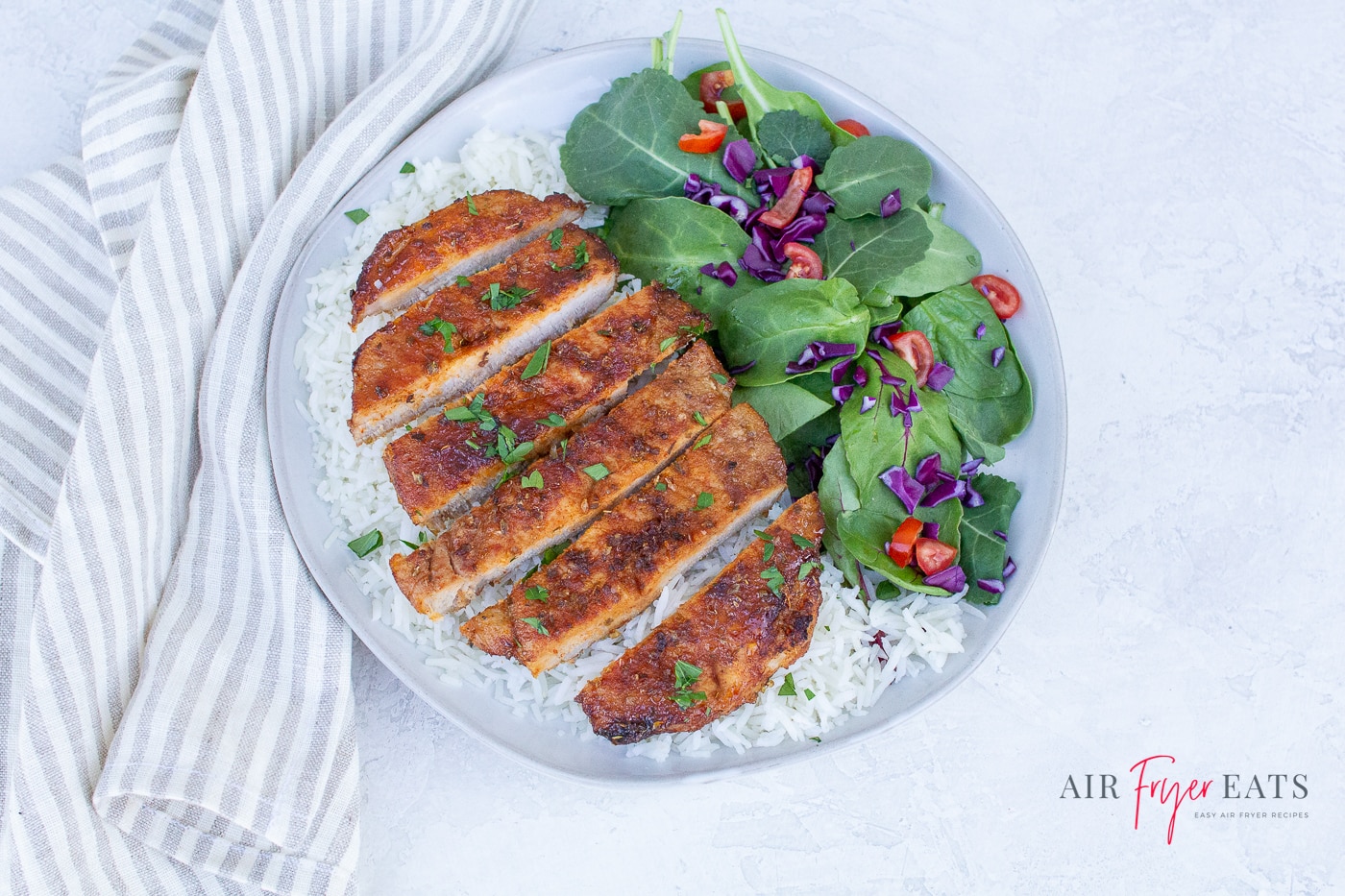 The Best Porkchop Recipe
To make these crispy porkchops, here's what you'll need:
Porkchops
Oregano
Paprika
Garlic Salt
Brown Sugar
Oil
You can use bone-in or boneless porkchops – both are delicious when air fried! Keep in mind that bone-in porkchops actually cook a little faster than boneless (and are typically juicier too!), so you may need to adjust the air frying time by a minute or two.
How to Cook Porkchops in an Air Fryer
First, combine the spices and brown sugar in a bowl and mix thoroughly.
Trim any excess fat from the edges of your porkchops and rub them with a little oil on both sides.
Coat the porkchops in the spice mixture on both sides, pressing into the chops to make sure that they're well coated.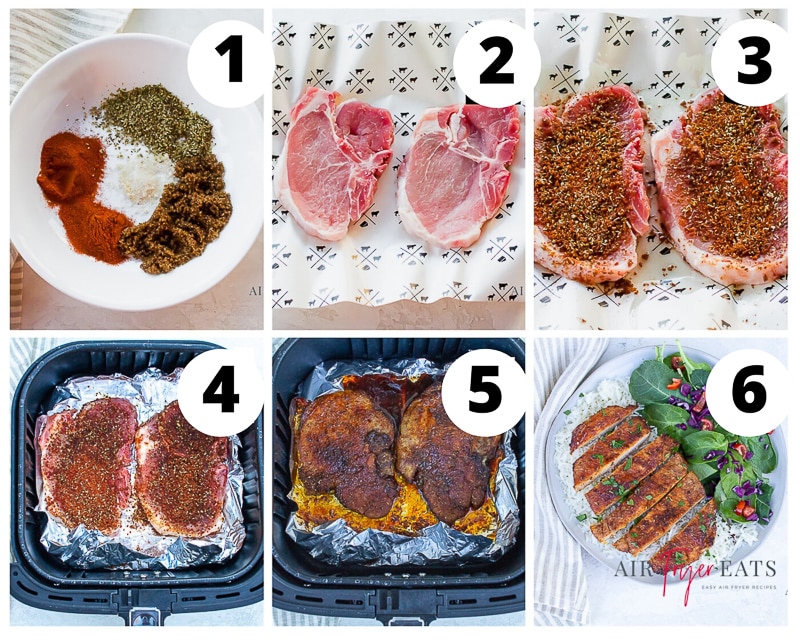 Place the porkchops in the bottom of a lined air fry basket.
Cook for 15-18 minutes, flipping the porkchops halfway through cooking.
Allow the porkchops to rest for 5 minutes, then slice, serve, and enjoy!
Can you stack meat in an air fryer?
While it may be tempting to stack porkchops in your air fryer to cut down the cooking time, it is highly recommended that you do not stack or overlap your porkchops.
Since air fryers work by cooking food from all sides, you'll want to arrange your ingredients in a single layer in your air fryer basket. This will ensure that your food cooks evenly. That's extra important when cooking meats to safe temperatures!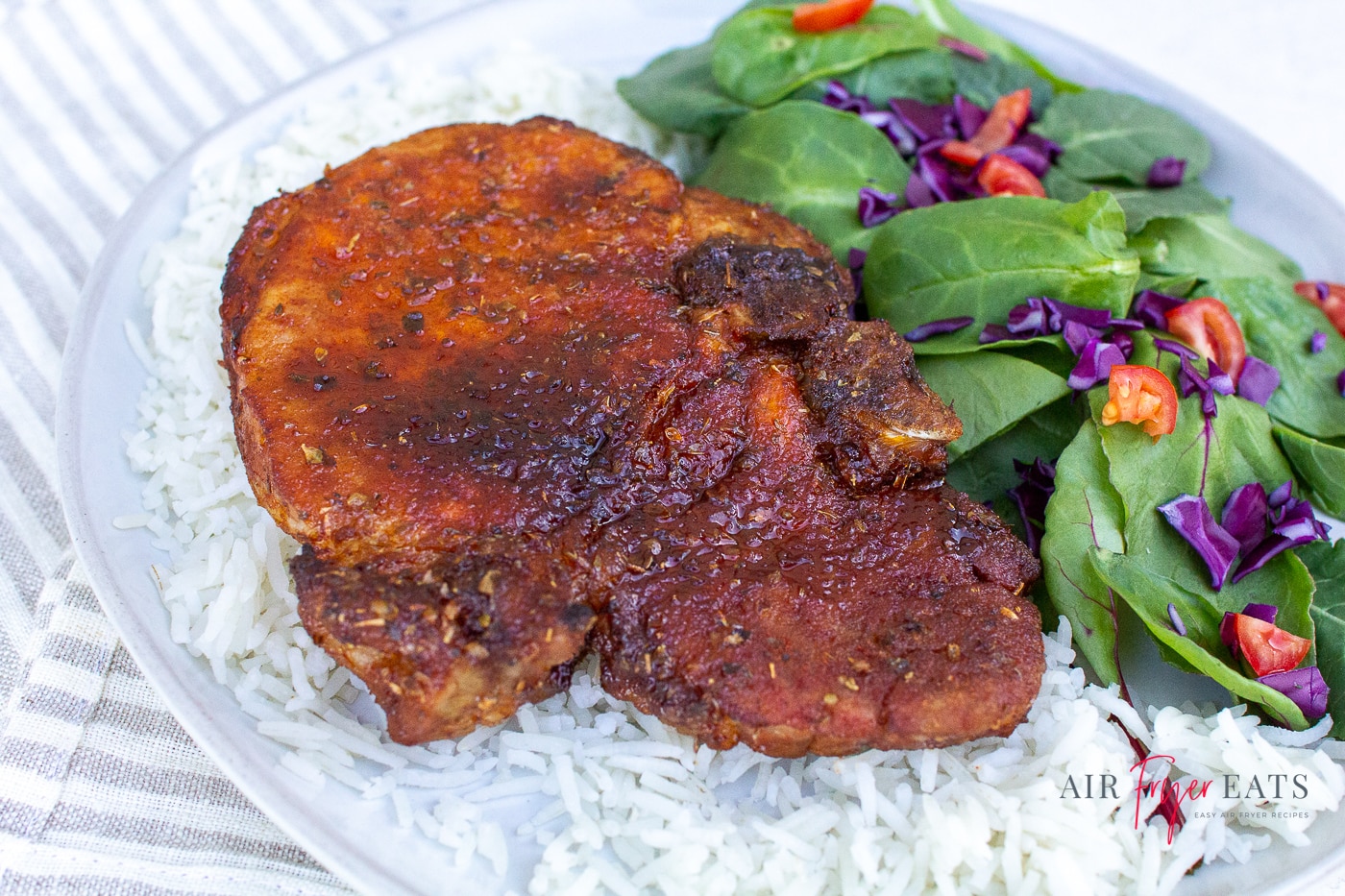 How do you cook porkchops without drying them out?
There's nothing worse than tough, dry meat! Luckily, following the recommended directions for cooking your porchops in your air fryer will help to keep them tender and juicy. Here are some other tips for cooking porkchops without drying them out:
Use bone-in chops. As the chops cook, the bone marrow disperses its juices throughout the meat, keeping the meat super moist and juicy!
Let the porkchops come to room temperature before cooking. You can certainly cook frozen meat in your air fryer. Keep in mind that letting the porkchops come to room temperature allows the meat to cook more evenly from edge to center and back again!
Allow the meat to rest. Letting the porkchops rest for 5 minutes before serving allows the juices to settle. What you're left with is the most incredibly juicy, moist porkchop recipe ever!
What goes well with porkchops?
Porkchops are one of the most versatile meats! They taste great served with just about anything, and the sweet & smoky caramelized crust pairs perfectly with savory sides. Try serving with some of these delicious recipes: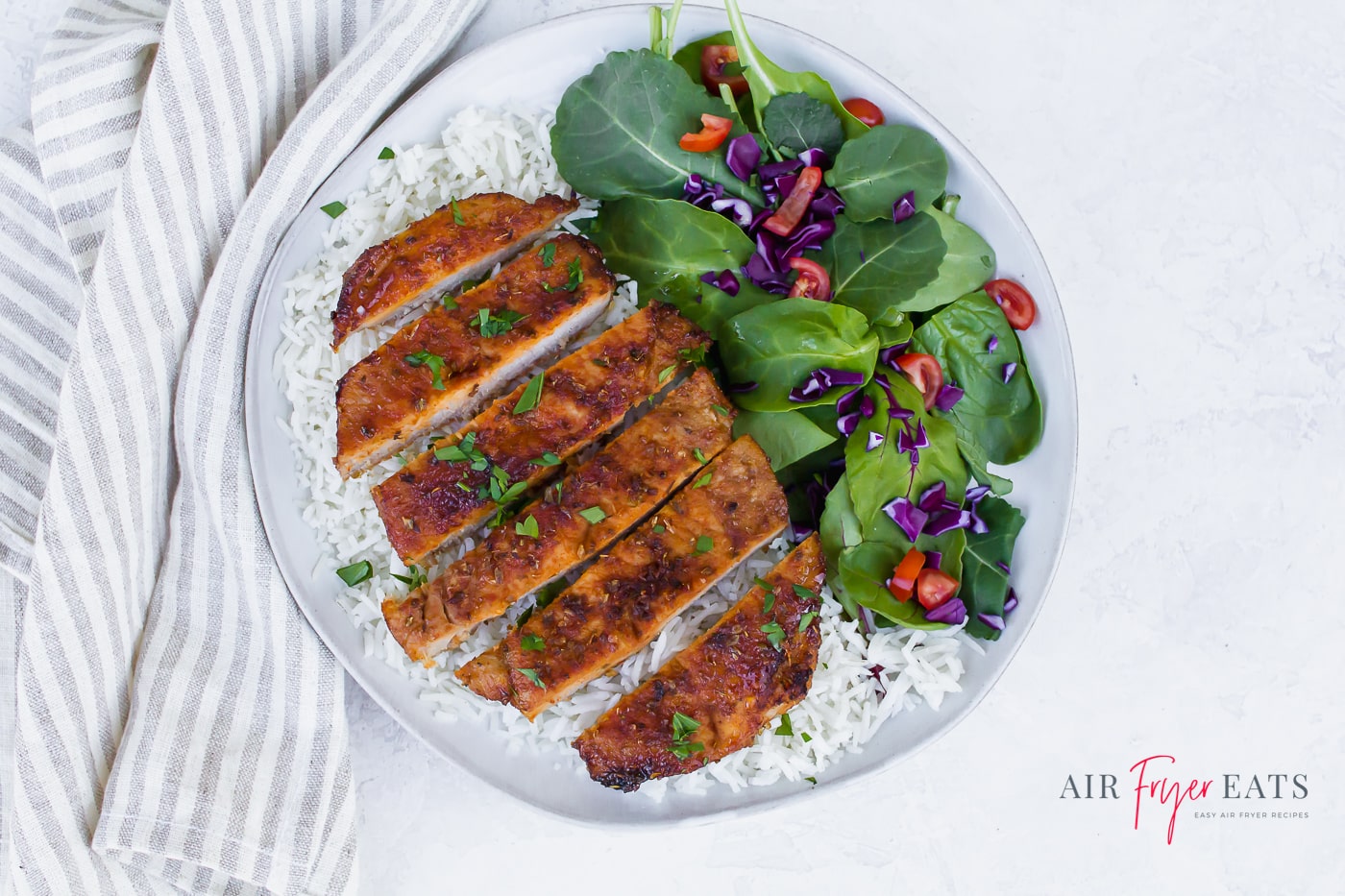 Try these other delicious main dish recipes!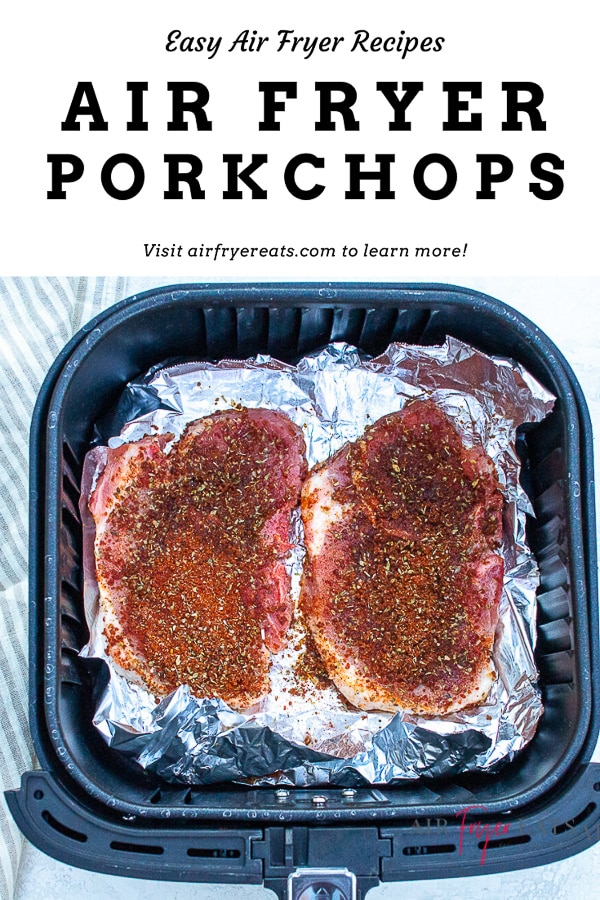 Looking for purchase an air fryer? Wondering which air fryer is right for you? Here are my TOP picks of air fryers on the market today!
PRO TIP: When cooking meat it is extremely important that you measure the internal temperature to make sure your meat has been cooked to completion. I highly recommend that you get a meat thermometer to keep handy when cooking in your air fryer!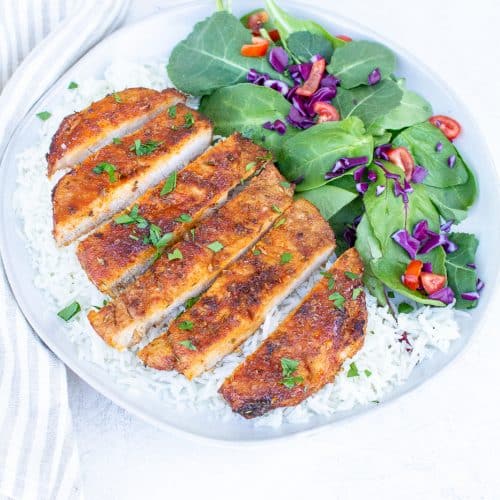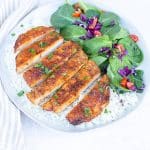 Print Recipe
Air Fryer Porkchops
Cooking porkchops doesn't have to be a big, messy production! With your trusted air fryer and minimal prep work, you can have porkchops cooked perfectly in no time!
Instructions
Add the oregano, paprika, garlic salt, and brown sugar to a bowl. Mix to combine.

Prepare the porkchops for cooking by trimming excess fat, if desired.

Rub the porkchops with a little oil on each side.

Sprinkle both sides of the porkchops evenly with the seasoning mixture.

Place a piece of parchment or foil in the bottom of your air fryer basket for easy cleanup, then place the porkchops in the basket. *Be sure not to overlap the porkchops so that they will cook evenly. You may need to cook them in batches if they are too large for your air fryer basket.

Air fry the porkchops at 380 degrees F for 15-18 minutes, flipping midway through cooking time.

To check for doneness, insert a meat thermometer into the thickest part of the chop. Porkchops should reach a minimum internal temperature of 145 degrees F before consuming.

Allow the porkchops to rest for 5 minutes to allow the juices to redistribute.
Notes
All air fryers work differently. Times and temperatures may vary slightly.

Be sure to check the meat and cook until done. Thicker porkchops will need more time. 
The porkchops I used were bone-in chops and were about ½ inch thick.
Nutrition
Serving:
1
g
|
Calories:
236
kcal
|
Carbohydrates:
7
g
|
Protein:
29
g
|
Fat:
9
g
|
Saturated Fat:
3
g
|
Cholesterol:
90
mg
|
Sodium:
358
mg
|
Potassium:
535
mg
|
Fiber:
1
g
|
Sugar:
6
g
|
Vitamin A:
510
IU
|
Calcium:
30
mg
|
Iron:
1
mg
Air Fryers can vary greatly. Please take the time to learn your specific air fryer. You may need to adjust times and temperatures based upon your air fryer. 
All though this website attempts to provide accurate nutritional information, the information should only be considered an estimate. Varying factors such as different product types, different brands, etc. can change nutritional information. It is your responsibility as a consumer to read all labels to make sure the ingredients fit your dietary needs as well as calculate your own nutritional information as a double check.

Let's talk! Have you made this air fryer porkchop recipe? Drop me a comment below telling me how it turned out!