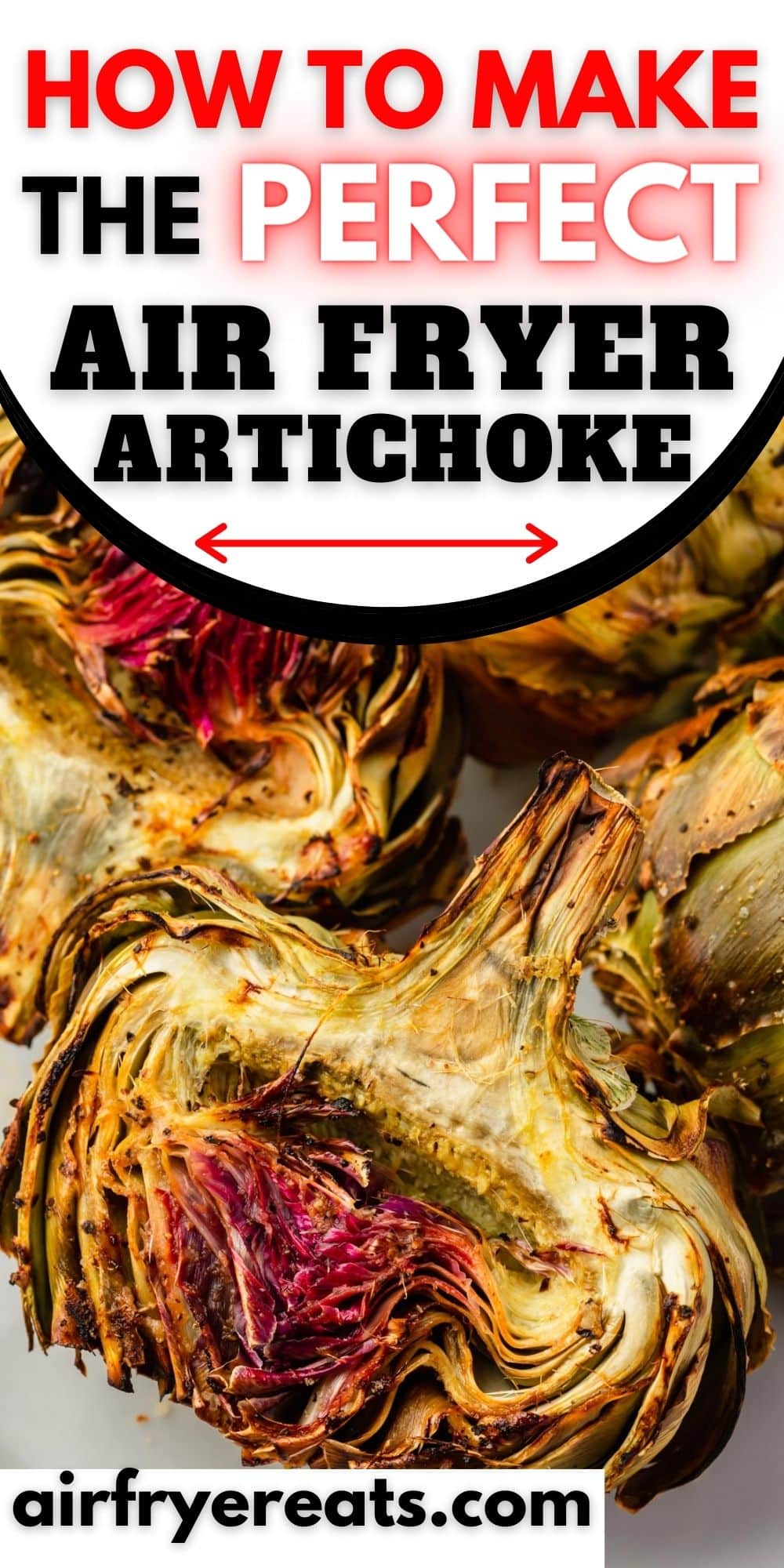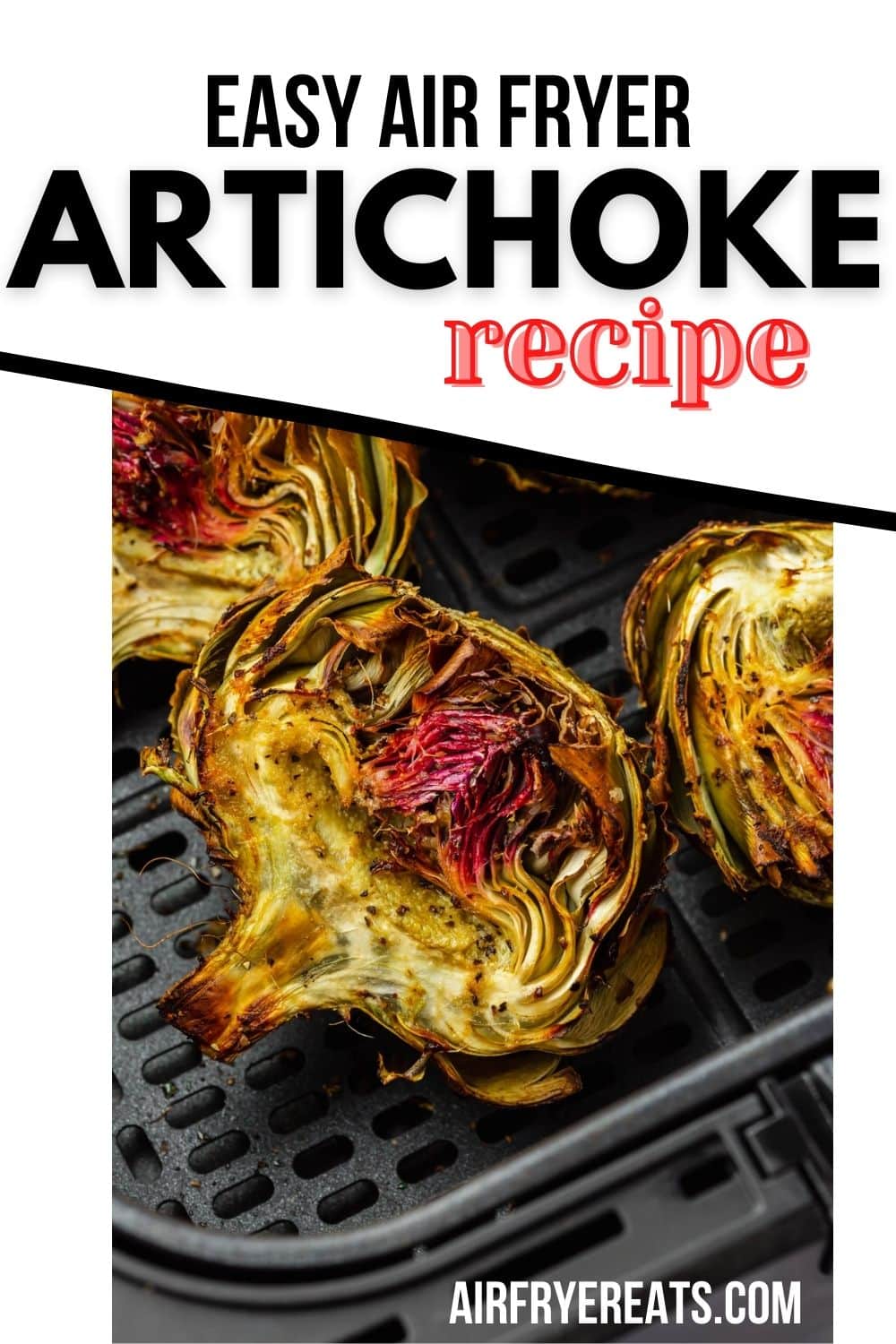 Learn how to make an Air Fryer Artichoke appetizer that is so simple and completely delicious! You can be enjoying perfectly roasted artichokes in way less time using this air fryer cooking method.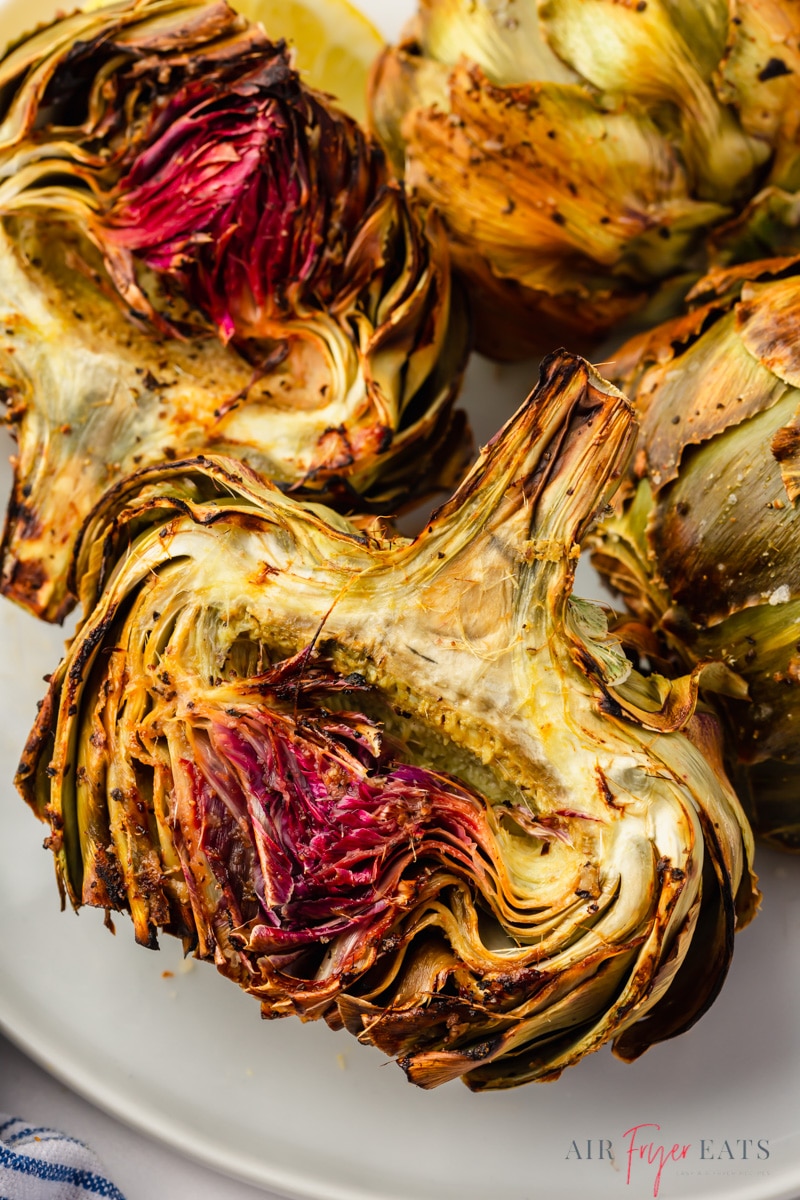 AIR FRYER ARTICHOKE RECIPE
Yes, you can air fry artichokes! Air fryer artichoke is the easiest and fastest way to prepare this rustic appetizer.
Cutting the artichokes in half allows them to cook up quickly. Using the air fryer to roast artichokes is way faster than roasting them in the oven.
This is of course true of so many foods, like Air Fryer Meatballs, and Air Fryer Stuffed Mushrooms. Using the air fryer saves us time!
Your air fryer artichoke will be tender with slightly crispy leaves that will be ready to dip into melted butter or your favorite creamy dipping sauce.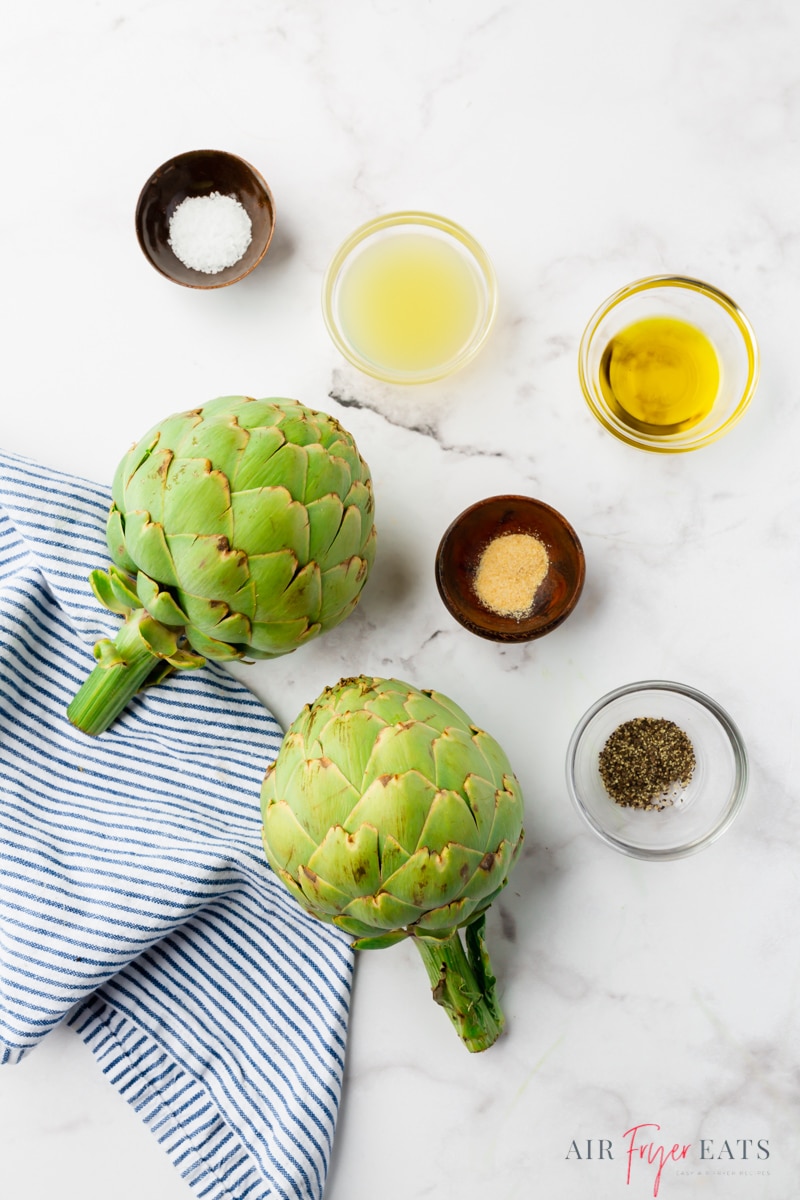 INGREDIENTS FOR AIR FRYER ARTICHOKE
Artichokes - I am able to cook two medium-sized globe artichokes in my Cosori air fryer. You can use this recipe to make just one artichoke or do two batches if you'd like to make 3 or 4.
Lemon Juice - Fresh lemon juice adds flavor and keeps the leaves from turning brown.
Olive Oil - Extra virgin olive oil is added for flavor and richness, plus it helps the artichokes to get soft and tender in the air fryer.
Kosher Salt - Basic seasonings are all this appetizer needs.
Black Pepper - Freshly ground, if you can.
Garlic Powder - I love the flavor of garlic with artichokes. Garlic powder is the easiest way to get it.
If you have any questions about how to make artichokes in an air fryer, leave a comment below and I will get back to you ASAP.
HOW TO PREP ARTICHOKES FOR THE AIR FRYER
Before you can cook your artichokes in the air fryer, you'll need to do a little bit of work to get them ready.
Start by washing the artichokes under cool running water, and removing any damaged leaves.
Then trim the pointy tips from each of the leaves, going all around the entire artichoke to remove all of the sharp parts.
Next, slice the top off of the artichoke, removing about an inch or the top ¼th of the artichoke. Cut off the long stem too so that the artichoke is more compact.
Finally, for this recipe, you'll want to cut the artichokes in half, lengthwise.
If you want to, remove the fuzzy part in the middle (the choke) now, or wait to do it after the artichokes have been cooked.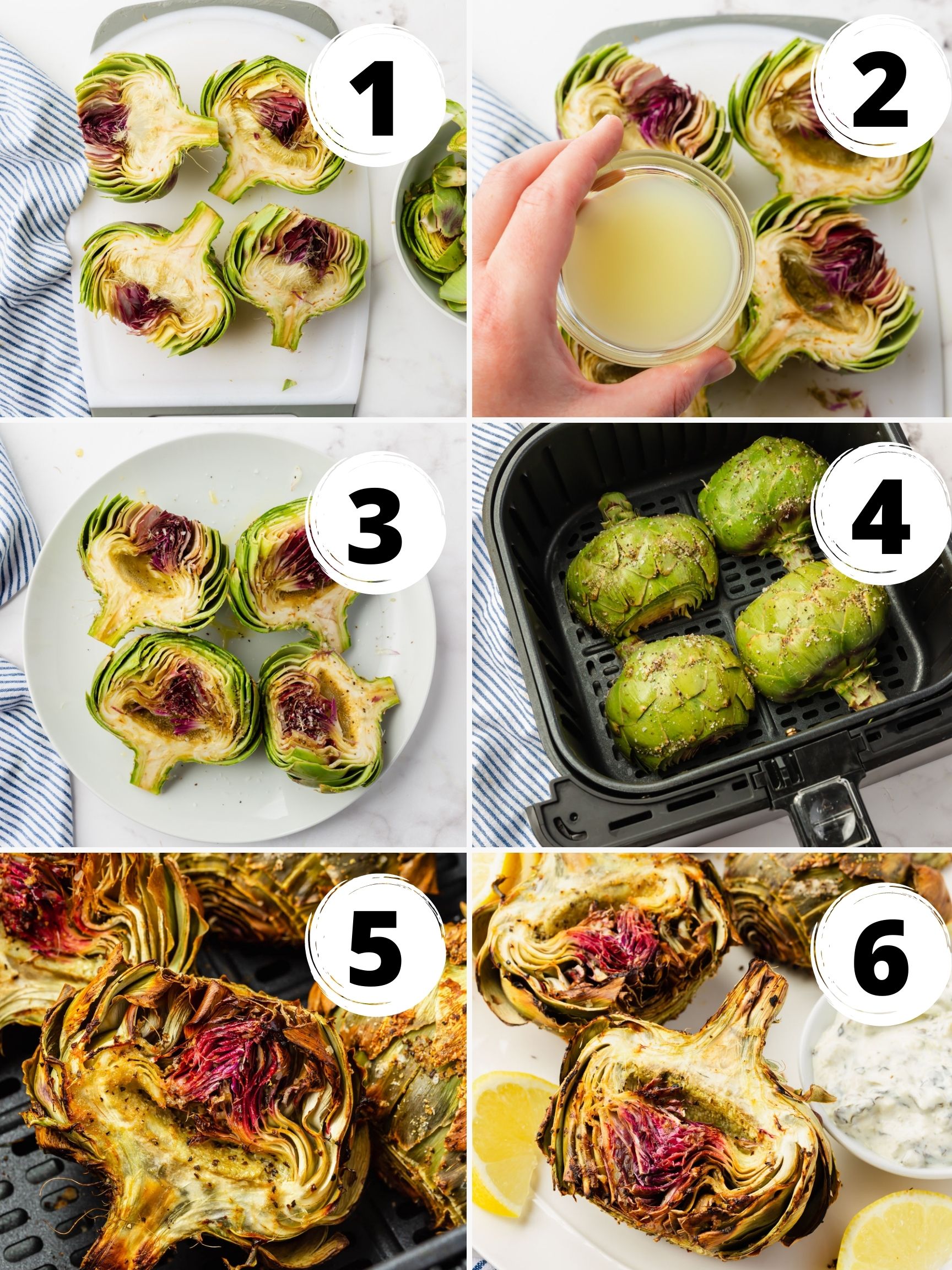 HOW TO MAKE AIR FRYER ARTICHOKE
Prep the artichokes for air frying as described above.
As soon as possible after cutting them, toss the artichoke halves with lemon juice. This prevents them from browning and adds extra flavor.
Drizzle the artichokes with olive oil, and season with salt, pepper, and garlic powder.
Place the air fryer halves in the air fryer basket, cut side down. If your artichokes don't fit in your air fryer in a single layer, you may need to cook them in two batches.
Air Fry as directed in the recipe below at 350°F/180°C. Halfway through the cooking time, flip the artichokes over.
The artichokes are ready when you can easily pull off the outer leaves. Serve with lemon wedges and your favorite dipping sauce.
These numbered steps match the numbered photos above and are for illustration purposes. For the complete list of ingredients and instructions for making air fryer artichokes, please see the recipe below.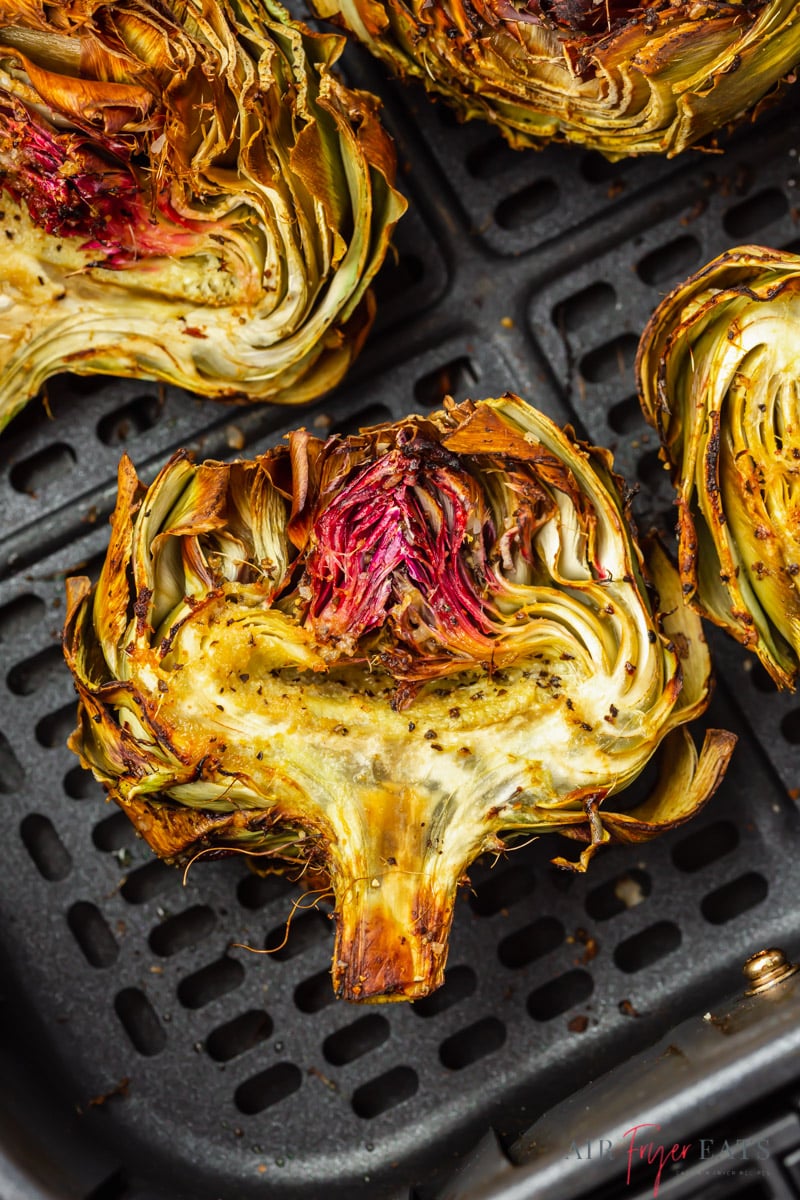 WHAT TO SERVE WITH AIR FRYER ARTICHOKE
Traditionally, artichokes are served as an appetizer that you can share before enjoying a meal.
You may want to incorporate air fryer artichokes into an appetizer spread or a charcuterie board along with things like olives, cured meats, and sliced cheese.
A side of Air Fryer Garlic Bread is also delicious with artichokes.
If you really love artichokes, try this recipe for artichoke quesadillas. You can heat them in the air fryer!
HOW TO BUY ARTICHOKES
When shopping for artichokes you should look for firm artichokes that have closed heads and compact layers of leaves.
A fresh artichoke will feel heavy for its size, and shouldn't be dry, shriveled, or slimy.
HOW TO EAT AN AIR FRYER ARTICHOKE
After the artichokes come out of the air fryer, let them cool slightly before eating them.
Then, you can tear off each petal. The inner part of the leaves is the part that you eat, and you can scrape it off with your teeth, leaving the hard outer leaf behind.
Once you've enjoyed each leaf, you can also eat the center, or the artichoke heart. Just be sure to remove the fuzzy choke with a spoon first.
ARE ARTICHOKE HEARTS POISONOUS?
Nothing about an artichoke is poisonous or toxic, but there is a part of the artichoke that you shouldn't eat.
The "choke" or the fluffy, hairy, spiky part in the very center of the artichoke is named as such because it can get stuck in your throat.
Remove the choke and throw it away either before you cook your artichokes or just after. The rest of the artichoke heart is edible and delicious!
It's best not to try to eat the hard stem of the artichoke and the outer leaves either. Again, they aren't poisonous, but they are woody and fibrous and not digestible.
THE BEST DIPPING SAUCES FOR AIR FRYER ARTICHOKES
You can dip the leaves of your air fryer artichoke into just about anything.
An easy dipping sauce for artichokes is made by melting a bit of butter and mixing it with a squeeze of fresh lemon juice and some salt and pepper.
Add a bit of garlic powder or crushed red pepper for extra flavor.
Try making some fresh lemon garlic aioli or serving artichokes with pesto too.
HOW LONG TO AIR FRYER ARTICHOKE
The amount of time the artichokes need to roast in the air fryer will depend on how large or small they are.
Medium size artichokes will be about 3 inches in diameter and will cook in the air fryer in about 15 minutes.
Small or baby globe artichokes will only take about 10 minutes in the air fryer.
If your artichokes are extra large, you may need to add 5 additional minutes to the cooking time in this recipe, for a total of up to 20 minutes.
As always, you should keep an eye on your food as it's cooking in the air fryer. That way you can pull the food out when it's ready.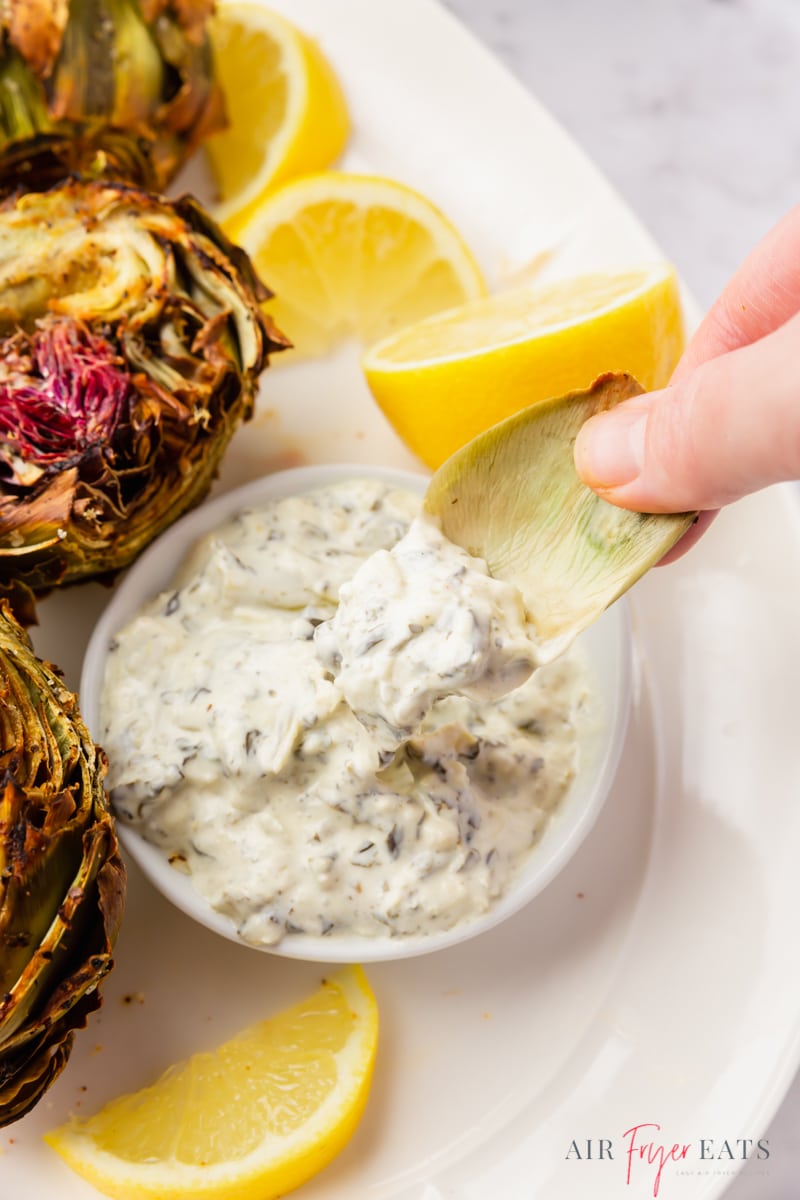 MORE AIR FRYER APPETIZER RECIPES
We have tons of air fryer appetizer ideas for you to try!
The best air fryer appetizers are the ones that are super simple to make so that you can focus on getting dinner cooked or spending time with your guests.
Cook up frozen food appetizers like Air Fryer Popcorn Shrimp and Air Fryer Frozen Meatballs. You can just toss them in and let the machine do all the work.
If you want scratch-made appetizer recipes, we have those too! Air Fryer Breaded Calamari and Air Fryer Jalapeno Poppers are some of my favorites.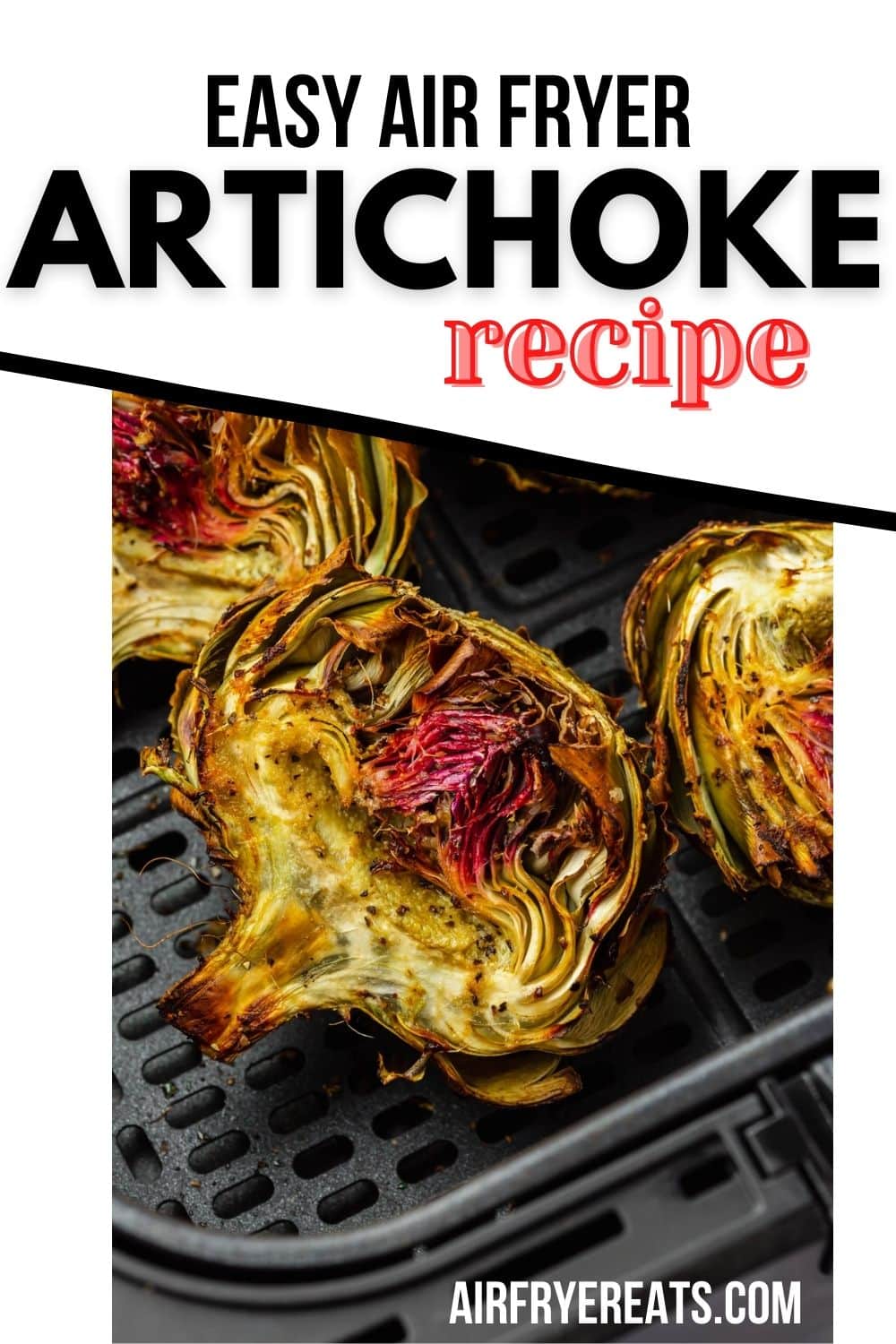 Have you made this recipe? Please leave a comment AND rating below! It helps other readers!
Be sure to tag @AirFryerEats on instagram, if you share a picture on the gram! Let's get social, you can follow me on Youtube, Instagram, Facebook, Pinterest or join one of our Air Fryer Facebook Groups: Air Fryer Recipes, Air Fryer Recipes for Seniors and Gluten Free Air Fryer Recipes.
Don't forget to subscribe to our EMAIL newsletter.
Air Fryer Artichoke
Air Fryer Artichoke is an easy and delicious appetizer. Enjoy perfectly roasted artichokes in way less time using the air fryer.
Ingredients
2

artichokes

medium sized

2

tablespoons

lemon juice

1

tablespoon

olive oil

1

teaspoon

kosher salt

½

teaspoon

ground black pepper

¼

teaspoon

garlic powder
Instructions
Wash the artichokes. Remove the bottom outer leaves from the artichoke near the stem and trim the ends of the remaining leaves so they aren't pointy. Trim the excess stem up to the base and the top ¼ of the artichoke near the point. Slice the artichokes in half lengthwise. You can remove the fuzzy choke now or after cooking.

Toss the artichoke halves in lemon juice to prevent them from browning and for some added flavor.

Drizzle the artichoke halves with olive oil and season with salt, pepper and garlic powder.

Place the air fryer halves in the air fryer basket, cut side down. You may need to air fry the artichokes in batches if they don't all fit.

Air fry at 350°F/180°C for 15-17 minutes, flipping halfway through. Check if the artichoke is ready by pulling one of the outer leaves. If it pulls off easily, it's ready. If not, air fry for longer.

Serve with lemon wedges and your favorite dipping sauce.
Go AD FREE!
Notes
The cook time is for medium sized artichokes. You may need to adjust the cook time if you are using artichokes of a different size.

If you are using baby artichokes, your cook time will be much quicker. Start checking around the 10 minute mark.

To know if the artichokes are done, try pulling one of the leaves off. If it comes off easily, the artichoke is done cooking.

Artichokes start browning very quickly after being cut. In order to prevent this, cover all of the cut sides of the artichoke with the lemon juice as quickly as possible.

Pro Tip: This recipe can be made in the air fryer unit with a basket or the air fryer oven. If you are using the air fryer oven, use the middle rack and select the "Air Fry" function.
Pro Tip: Check your food as it cooks. Each air fryer runs a bit differently. Sometimes air frying is a trial and error process. Check your food as it cooks to learn your air fryer better! When cooking a new recipe or food items be sure to check your food often to help avoid over/under cooking.
Have oven recipes that you'd like to convert to an air fryer recipe? Use our Air Fryer Calculator to help you estimate cooking times and temps! Calculator here: https://airfryereats.com/air-fryer-conversion-air-fryer-calculator/
Nutrition
Serving:
1
artichoke
|
Calories:
129
kcal
|
Carbohydrates:
15
g
|
Protein:
4
g
|
Fat:
7
g
|
Saturated Fat:
1
g
|
Polyunsaturated Fat:
1
g
|
Monounsaturated Fat:
5
g
|
Sodium:
1284
mg
|
Potassium:
505
mg
|
Fiber:
7
g
|
Sugar:
2
g
|
Vitamin A:
23
IU
|
Vitamin C:
23
mg
|
Calcium:
63
mg
|
Iron:
2
mg
Tired of the ads?
Go AD Free - Become part of our Membership community!
Air Fryers can vary greatly. Please take the time to learn your specific air fryer. You may need to adjust times and temperatures based upon your air fryer.
All though this website attempts to provide accurate nutritional information, the information should only be considered an estimate. Varying factors such as different product types, different brands, etc. can change nutritional information. It is your responsibility as a consumer to read all labels to make sure the ingredients fit your dietary needs as well as calculate your own nutritional information as a double check.