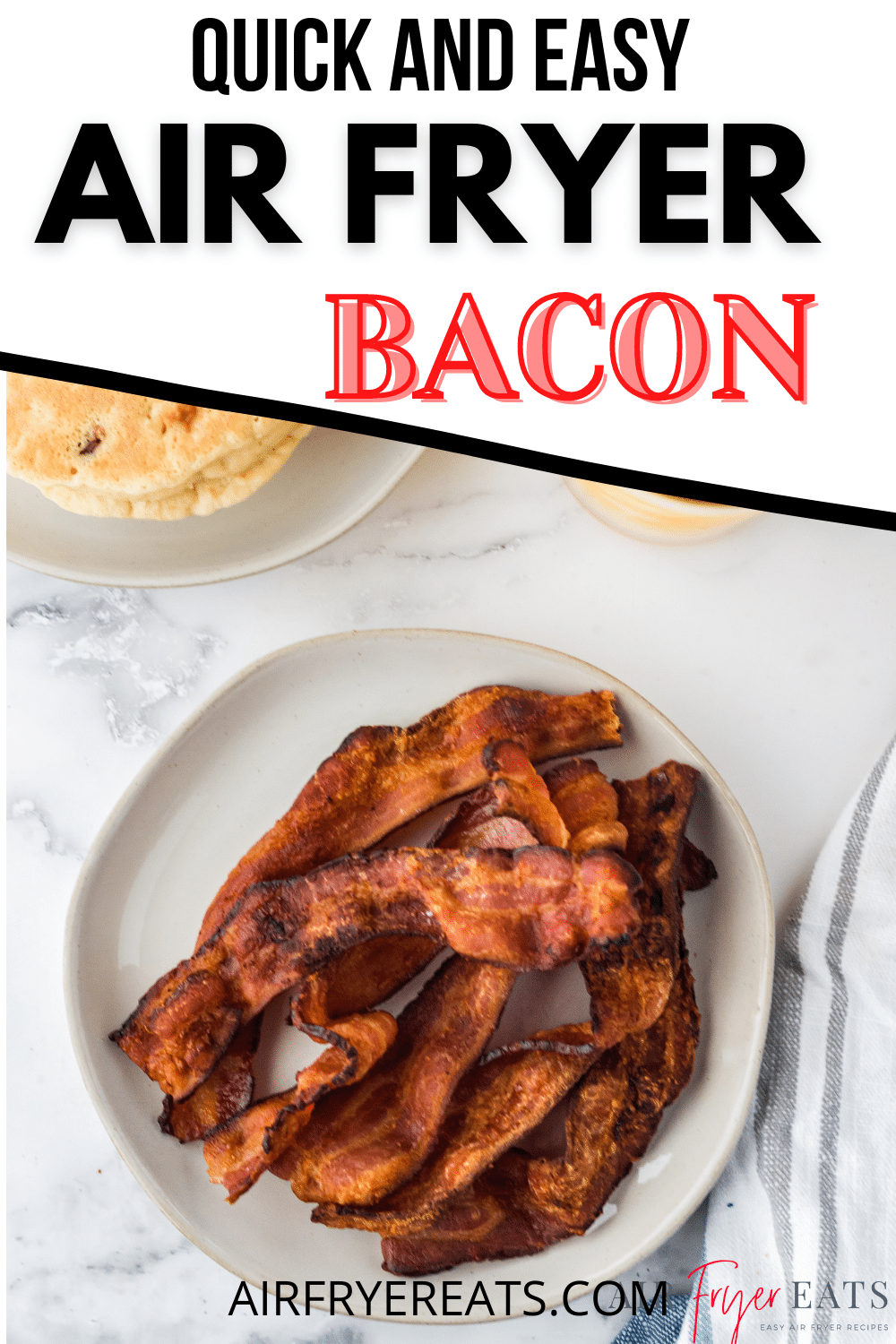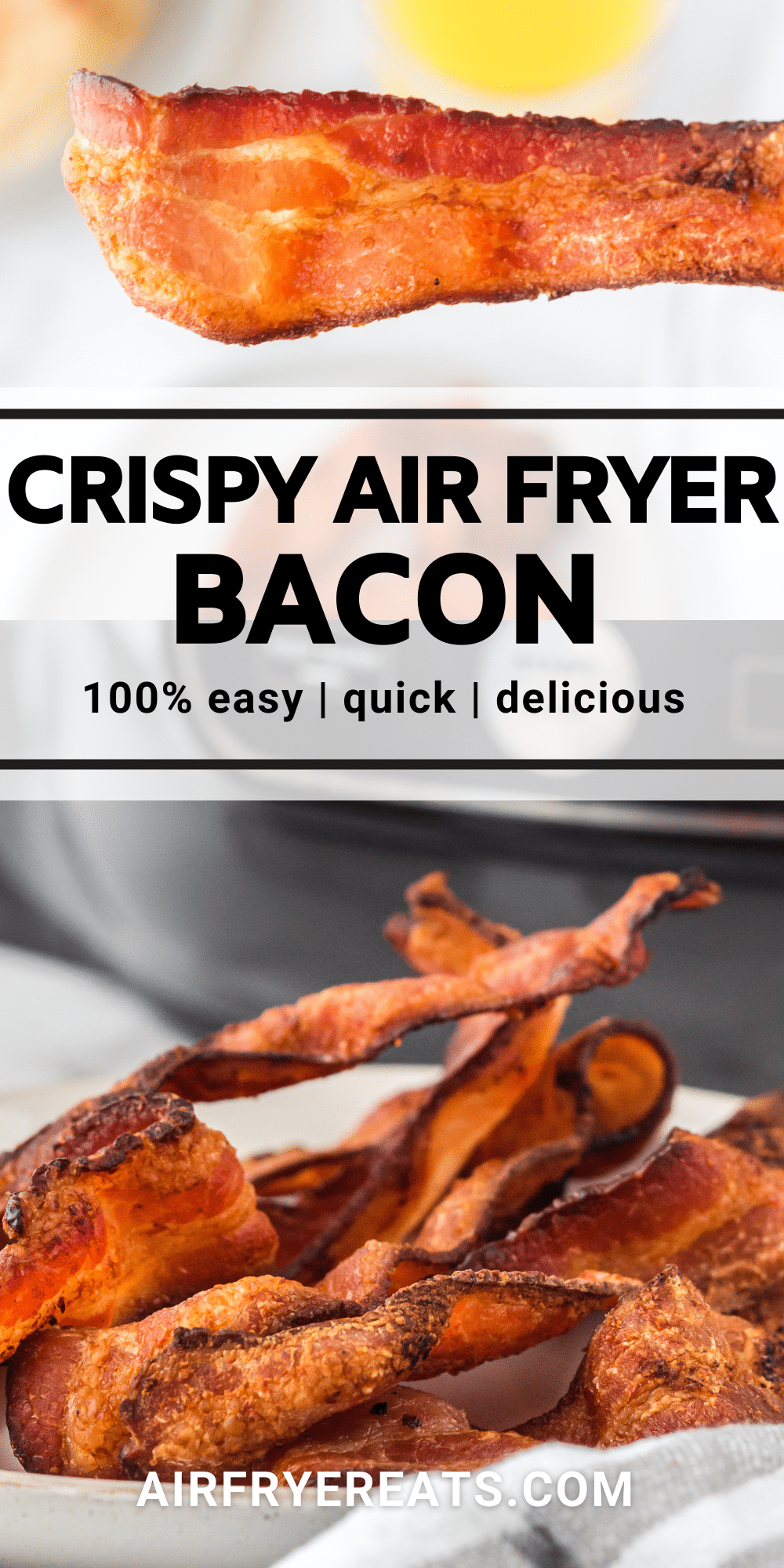 Are you looking for the best and easiest way to cook Ninja Foodi Bacon? You've found it! This air fryer recipe for bacon in the Ninja Foodi is simple, fool-proof, and an amazing timesaver for breakfast or getting bacon ready for other recipes.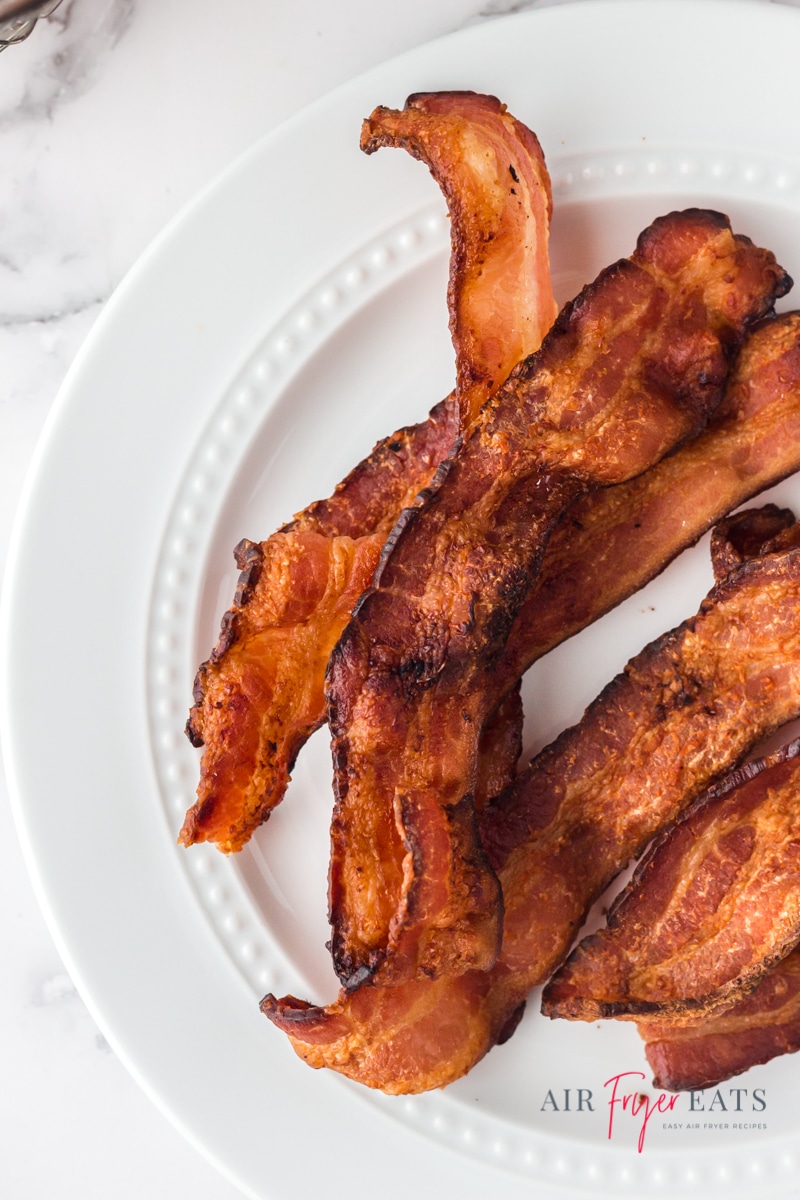 RECIPE FOR BACON IN NINJA FOODI
The air fryer function of my Ninja Foodi gets used a lot. I've found that the Ninja Foodi is particularly good at cooking crispy bacon in less time and with less mess than cooking it on the stove or in the oven.
Ninja Foodi Bacon is my new go-to method for the crispiest, tastiest bacon. I make bacon in the air fryer and turkey bacon in the air fryer often. I even have a recipe for Vegan Air Fryer Bacon on our sister site, so you know that air fryer bacon is important to me.
Honestly, I think the best part about cooking bacon in the Ninja Foodi or in any basket-style air fryer is that the clean up is so much easier. Cooking bacon on the stove makes such a mess!
Even though I do have other posts about air fryer bacon, I'm sharing this recipe specifically for Ninja Foodi bacon because the air fryer time and temperature is different in the Ninja Foodi. You can use whichever air fryer bacon post fits your machine.
The instructions here are for cooking thick cut bacon in the Ninja Foodi. It just melts in your mouth it's so good.
If you are a Ninja Foodi owner, check out our other Foodi recipes, including Ninja Foodi Meatloaf and Ninja Foodi Chicken Breast.
INGREDIENTS FOR NINJA FOODI BACON
Bacon: This Ninja Foodi Bacon recipe will show you how to cook 12 ounces of thick cut bacon. You can cook more or less than that if you prefer.
TIPS FOR BUYING BACON
Thick cut bacon should be ⅛" thick. If buying pre-packaged bacon, it should be labeled as "thick cut". If ordering from the butcher, ask for it to be cut to that thickness.
Regular cut bacon is usually 1/16" thick. You can cook this thickness of bacon in the ninja foodi, but you'll want to reduce the cook time.
This recipe will also work for slab bacon that you've sliced yourself.
Look for Center Cut bacon if you want your bacon to be meatier and less fatty.
Buy uncured bacon if you want to avoid nitrates and preservatives.
If you have any questions about Ninja Foodi Bacon, please leave a comment below and I will get back to you ASAP!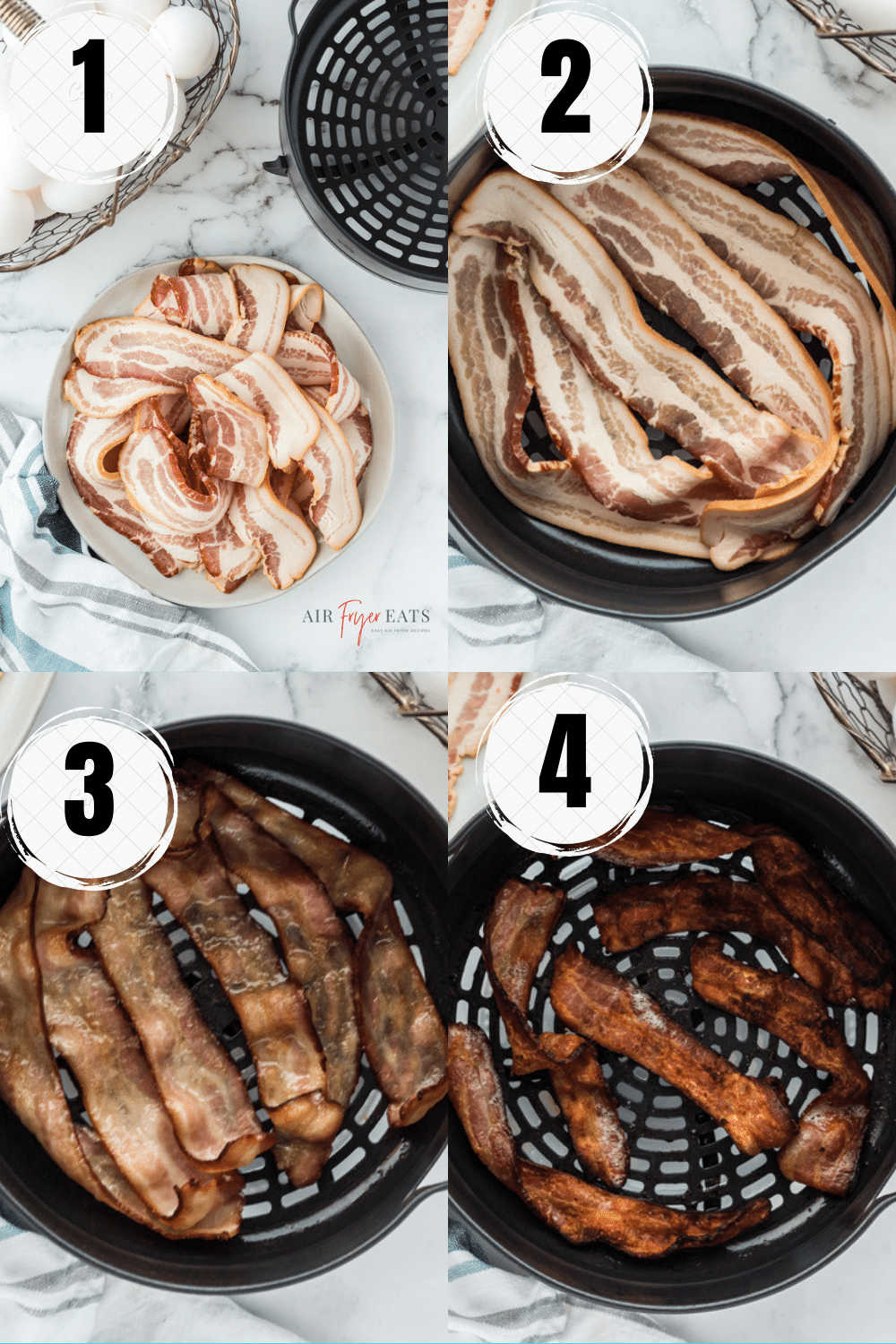 HOW TO MAKE BACON IN NINJA FOODI
Preheat the Ninja Foodi on the air fryer setting to 400°F/200°C for at least 5 minutes.
Place the bacon in the air fryer basket in a single layer and cook as directed in the recipe card below.
Flip the bacon halfway through the cook time and continue cooking as directed.
Open the Ninja Foodi and allow the bacon to rest for 3 minutes, then pat off any grease with a paper towel.
These numbered steps match the numbered photos above and are for illustration purposes. For the complete list of ingredients and instructions for Ninja Foodi Bacon, please see the recipe below.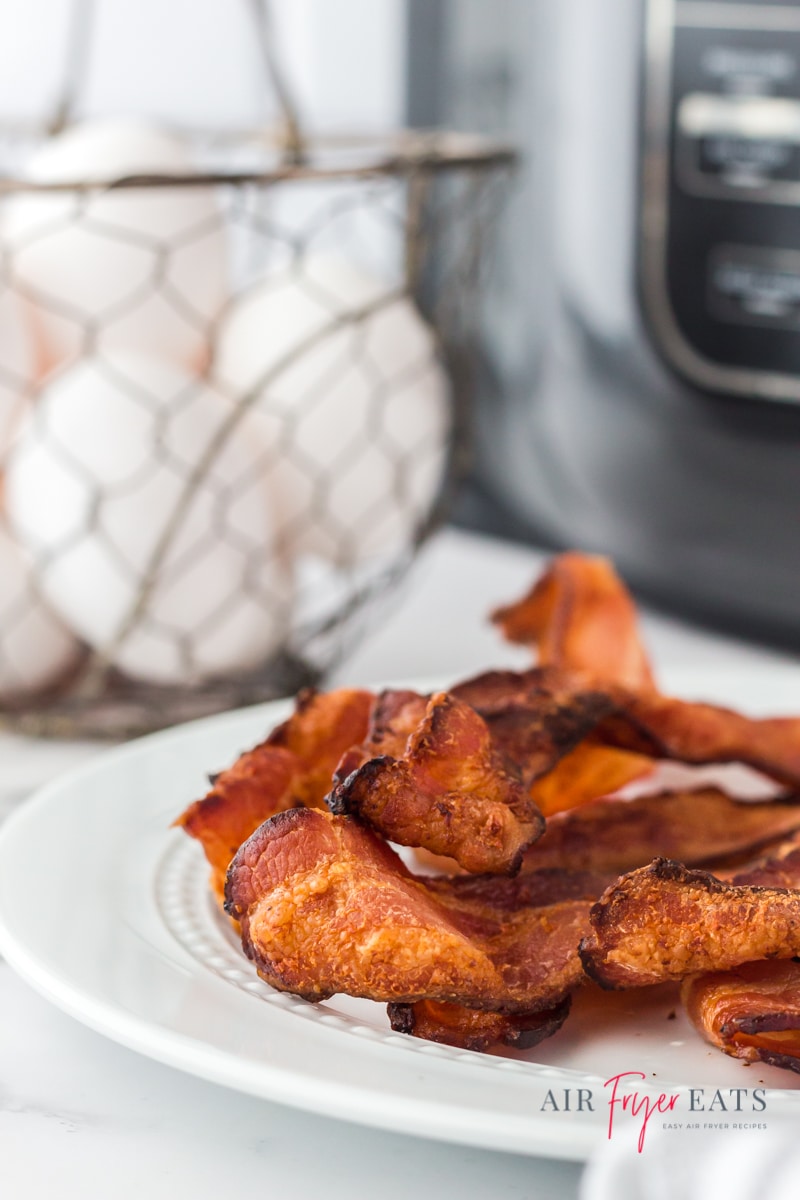 NINJA FOODI BACON TIPS
Want more flavor on your Ninja Foodi Bacon? Rub the bacon with garlic powder, chili powder, black pepper, or maple syrup before cooking.
Allowing the Ninja Foodi bacon to rest lets the bacon finish the cooking process, and makes it crisp up a bit more.
For less crispy bacon (I like mine really crispy!), simply reduce the cooking time by a few minutes. Checking your bacon in the Ninja Foodi often will ensure that you pull it out when it's the perfect doneness for you.
WAIT. WHAT BUTTONS DO I PRESS ON THE NINJA FOODI TO AIR FRY BACON?
Don't worry! If you're new to using your Ninja Foodi, all of the buttons and features can get confusing. Here are some more specific steps to air fry bacon in the Foodi.
Add the bacon to the air fryer basket, then place the basket in the Ninja Foodi, leaving the lid open.
Turn the Foodi ON, then hit AIR CRISP, and adjust the TEMP to 400 using the up arrow button on the left side.
Adjust the TIME to 5 minutes, using the arrow buttons on the right side.
Close the lid and the Foodi should start air frying! After those five minutes are up, flip the bacon over and do it again.
WHAT TO SERVE WITH NINJA FOODI BACON
Ninja Foodi Bacon is a breakfast superstar! Serve it with Air Fryer Biscuits, Air Fryer Frozen Hashbrown Patties, and scrambled eggs for a delicious, filling morning meal.
Quickly and easily making bacon in the ninja foodi is a great way to get crispy bacon for BLT sandwiches or a delicious turkey club sandwich at lunch time.
For dinner, add crumbled bacon into your salads, casseroles, or soups. Make a bacon cheddar baked potato for a yummy and cost effective dinner recipe.
Everything is better with a little bit (or a lot of) Ninja Foodi bacon.
CAN I COOK FROZEN BACON IN THE NINJA FOODI?
Yes, we cook bacon from the freezer in the Foodi all the time. Set the temperature to 350°F/177°C and cook the bacon for 3-4 minutes, just until it's thawed enough to pull the pieces apart. Then spread the bacon slices out, increase the temperature, and cook as directed in this recipe.
WHAT TEMPERATURE DO YOU COOK BACON IN A NINJA FOODI?
Using the air fryer setting at 400°F (200°C) is the perfect temperature for cooking Ninja Foodi Bacon.
CAN YOU PUT RAW BACON IN AN AIR FRYER?
Yes you can! This recipe shows you how to take your bacon from raw to perfectly crispy in the Ninja Foodi using the air fryer lid.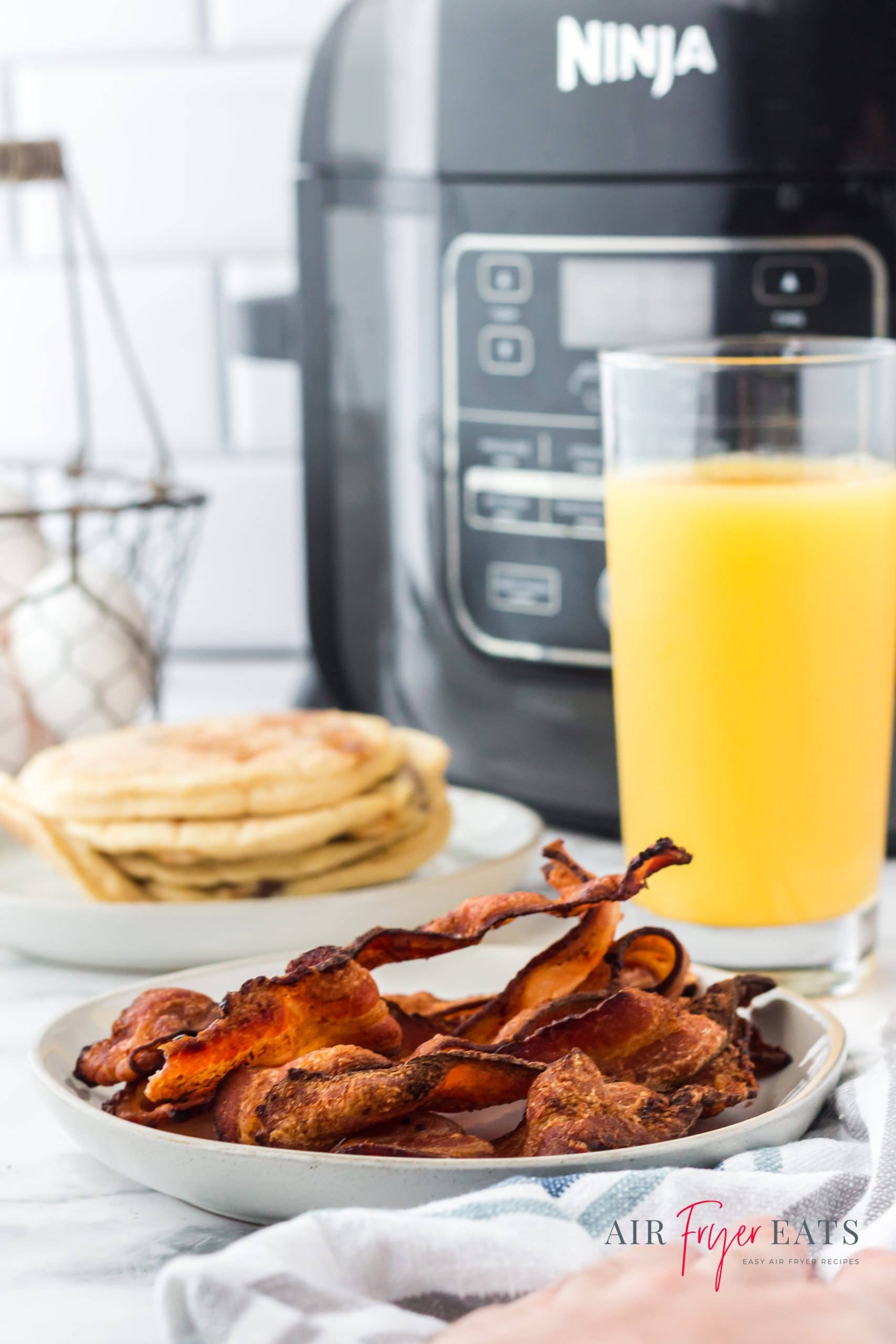 DO I NEED TO ADD WATER TO THE NINJA FOODI WHEN COOKING BACON?
You know, I have seen some articles on the web that recommend putting a few tablespoons of water in the bottom of the Ninja Foodi when cooking bacon. This is generally recommended when cooking things that might put off oil that could burn and smoke.
I don't personally have an issue with my machine smoking when I make bacon, but if you do, adding a small amount of water might help.
HOW ELSE TO AVOID SMOKE WHEN MAKING BACON IN THE AIR FRYER
Sometimes, you'll just end up with bacon that wants to smoke up your kitchen while you're cooking it in the Ninja Foodi air fryer. The same can be true about Air Fryer Hamburgers too. Here are a few tips:
Set up your air fryer near your oven hood. It will remove any smoke from the air while you're cooking Ninja Foodi bacon.
Make sure that the air fryer basket and the base of the Ninja Foodi is clean. Any old bits of food will likely burn at 400°F.
Add a tablespoon of water to the bottom of the air fryer. This will discourage grease drippings from burning.
Soak up the grease using a slice of bread (white bread, wheat bread, whatever you have will work) under the air fryer basket when cooking bacon and other greasy foods. Having the oil soaked up in the bread will discourage burning too.
HOW LONG DOES IT TAKE TO COOK BACON IN THE NINJA FOODI?
It takes approximately 10 minutes to cook thick cut bacon in the Ninja Foodi.
WHAT IF MY BACON ISN'T DONE ENOUGH?
The 10 minutes in this Ninja Foodi bacon recipe is enough to get mostly crispy bacon when you are cooking thick sliced bacon. If you want your bacon extra, extra crispy, just add another minute or two. You may also be cooking bacon that is a bit thicker. In that case, an extra couple of minutes will also do the trick.
Remember, bacon texture is a personal preference, so be sure to check on your Ninja Foodi bacon often.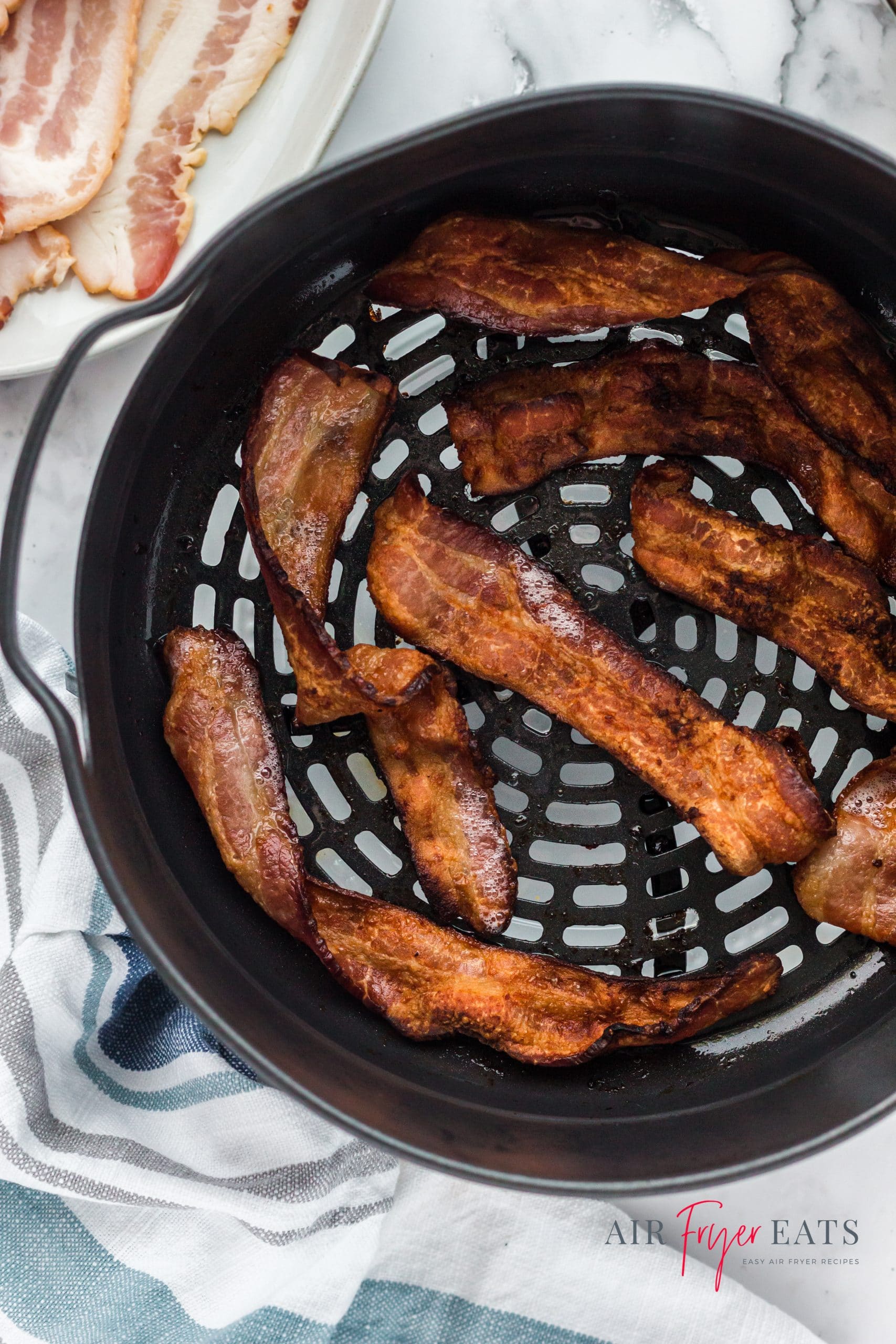 MORE NINJA FOODI AIR FRYER RECIPES
We are building our Ninja Foodi recipes up so that you'll have many to choose from!
See how to make a Whole Chicken in the Ninja Foodi. It's amazing for meal prep or for a homestyle dinner.
Ninja Foodi Salmon is another recipe that is nice to have on hand for a quick dinner. It takes just 10 minutes.
Meatloaf in the Ninja Foodi comes out wonderfully and is one of our favorites on a Sunday night with mashed potatoes or broccoli casserole.
Pretend like every day is a summer BBQ with these delicious Ninja Foodi Ribs that are so simple to make.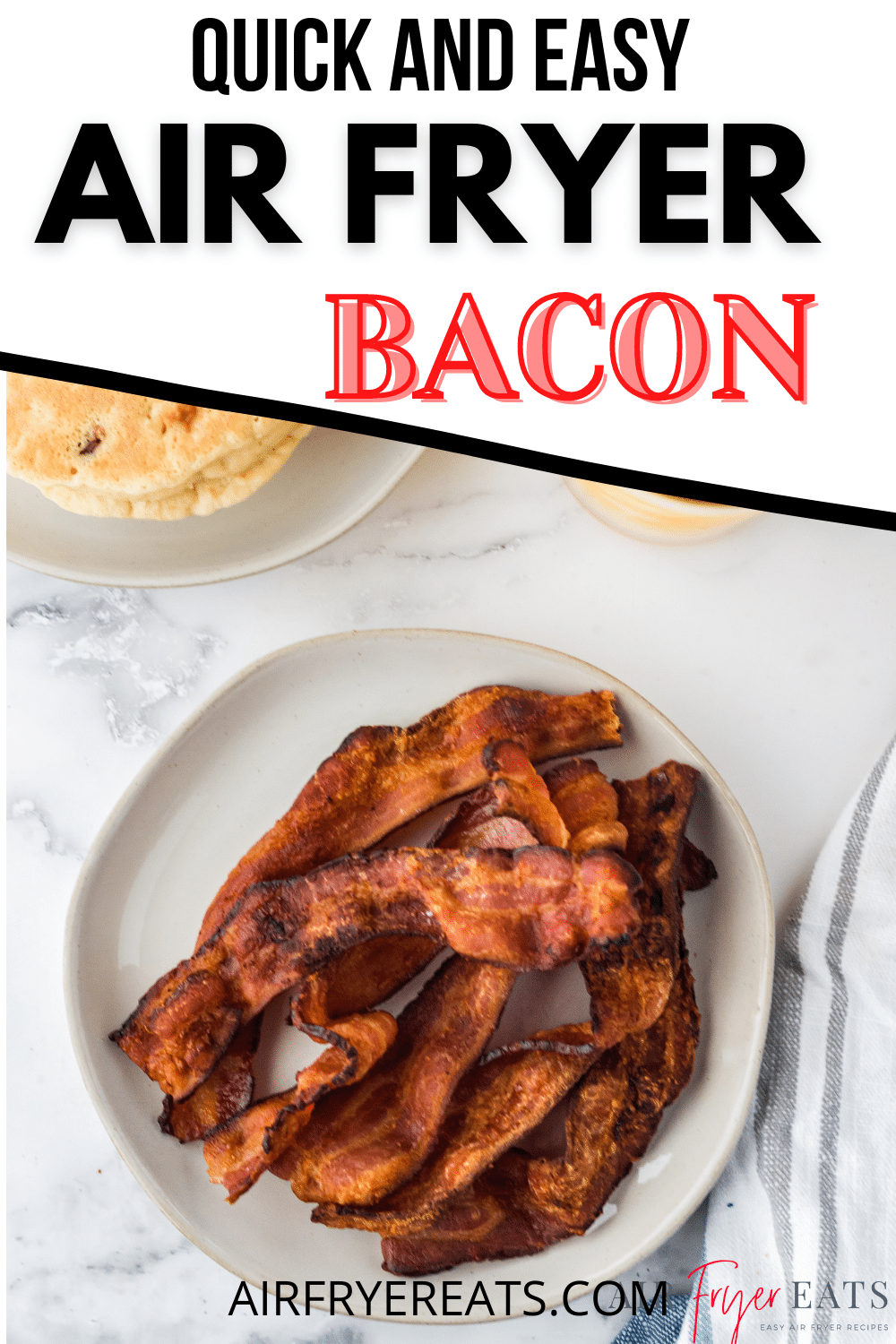 Have you made this recipe? Please leave a comment AND rating below! It helps other readers!
Be sure to tag @AirFryerEats on instagram, if you share a picture on the gram! Let's get social, you can follow me on Youtube, Instagram, Facebook, Pinterest or join one of our Air Fryer Facebook Groups: Air Fryer Recipes, Air Fryer Recipes for Seniors and Gluten Free Air Fryer Recipes.
Don't forget to subscribe to our EMAIL newsletter.
Ninja Foodi Bacon
Are you looking for the best and easiest way to cook Ninja Foodi Bacon? You've found it! This air fryer recipe for bacon in the Ninja Foodi is simple, fool-proof, and an amazing timesaver for breakfast or getting bacon ready for other recipes.
Ingredients
12

ounces

Bacon

thick cut, ⅛"
Instructions
Preheat the air fryer to 400°F/200°C for five minutes.

Place the bacon in the air fryer basket in a single layer and cook for 5 minutes at 400°F/200°C on the air fry setting.

Flip the bacon over and cook for an additional 5 minutes at the same temperature.

Allow the bacon to rest for 3 minutes, pat off any grease with a paper towel, and serve with your favorite breakfast food.
Go AD FREE!
Notes
This Ninja Foodi recipe is for thick cut bacon. For thin or regular cut bacon, reduce the time.
Regardless of which thickness of bacon you're cooking in the Ninja Foodi, be sure to check on it frequently so that you remove it when it's at the doneness you like.
Allowing the bacon to rest let's it get extra crispy, as the bacon will continue to cook as it cools down.
To cook frozen bacon in the ninja foodi, air fryer the frozen pile of bacon slices for a few minutes at 350, until you can separate the slices. Then spread them out and follow the recipe as written.
Pro Tip: This recipe can be made in the air fryer unit with a basket or the air fryer oven. If you are using the air fryer oven, use the middle rack and select the "Air Fry" function.
Pro Tip: Check your food as it cooks. Each air fryer runs a bit differently. Sometimes airfrying is a trial and error process. Check your food as it cooks to learn your air fryer better! When cooking a new recipe or food items be sure to check your food often to help avoid over/under cooking.
Have oven recipes that you'd like to convert to an air fryer recipe? Use our Air Fryer Calculator to help you estimate cooking times and temps! Calculator here:
https://airfryereats.com/air-fryer-conversion-air-fryer-calculator/
Nutrition
Calories:
355
kcal
|
Carbohydrates:
1
g
|
Protein:
11
g
|
Fat:
34
g
|
Saturated Fat:
11
g
|
Polyunsaturated Fat:
5
g
|
Monounsaturated Fat:
15
g
|
Trans Fat:
1
g
|
Cholesterol:
56
mg
|
Sodium:
563
mg
|
Potassium:
168
mg
|
Vitamin A:
31
IU
|
Calcium:
4
mg
|
Iron:
1
mg
Tired of the ads?
Go AD Free - Become part of our Membership community!
Air Fryers can vary greatly. Please take the time to learn your specific air fryer. You may need to adjust times and temperatures based upon your air fryer.
All though this website attempts to provide accurate nutritional information, the information should only be considered an estimate. Varying factors such as different product types, different brands, etc. can change nutritional information. It is your responsibility as a consumer to read all labels to make sure the ingredients fit your dietary needs as well as calculate your own nutritional information as a double check.