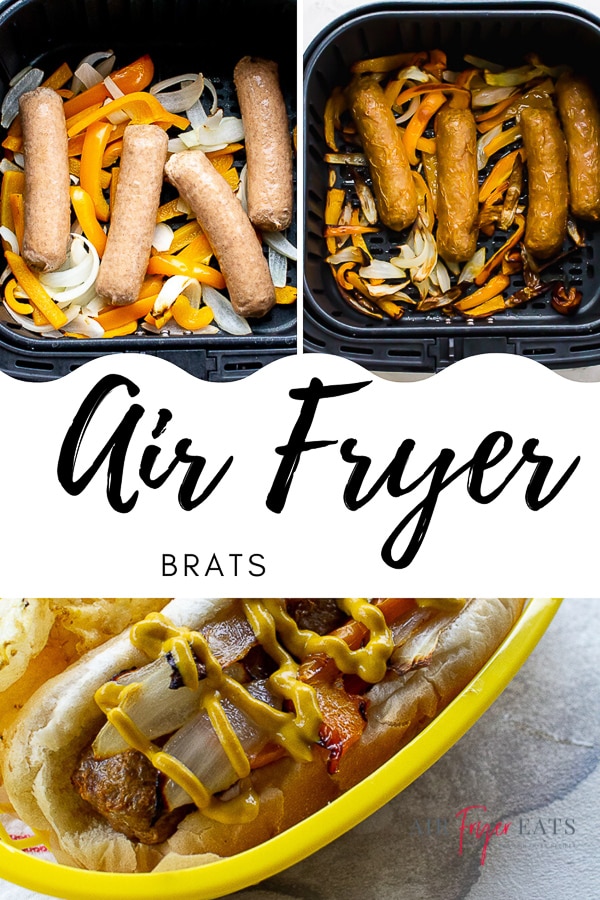 These Air Fryer Brats are cooked to perfection with onions and bell peppers for the perfect sandwich or main dish! Try these next time you're missing the ballpark snacks!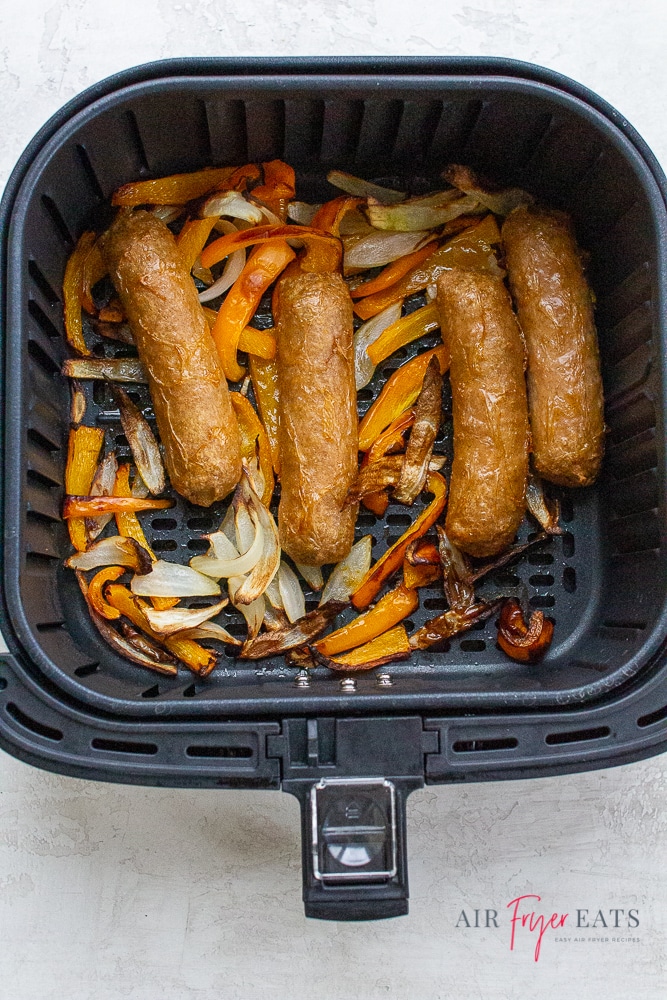 Sausage and peppers is a favorite classic of mine, and these Air Fryer Brats with sliced onions and bell peppers is the the best hot sandwich.
Put everything in a hot dog bun with some mustard, and I can already hear the seventh inning stretch music!
These brats in the air fryer are as delicious as they are on the grill but without the hassle.
The skin gets crispy while the inside stays juicy, giving you the perfect sausage.
Looking for more game day dishes? Try our Air Fryer BBQ Chicken Wings for a great chicken wing recipe without all the fat!
How to make Air Fryer Brats
Most everything cooked in the air fryer needs a little bit of oil, even though most have a nonstick coating.
Be careful with some aerosol oil spray (Like Pam) in the air fryer basket because it will damage the nonstick coating.
If you still want to be able to use a sprayer, invest in an oil mister or sprayer that you can refill with your favorite oil!
Slice bell pepper and onion into thin slices, no more than 1/2 inch thick. Any color of bell pepper will work here! I prefer orange.
Add sliced veggies to air fryer basket or tray and lightly spray with oil. Cook for about 5 minutes at 350°F or 175°C.
Remove brats from package.
Add brats to air fryer with veggies.
Cook veggies and brats about 15 minutes more. Be sure to shake or stir twice during the cook time.
Serve and enjoy!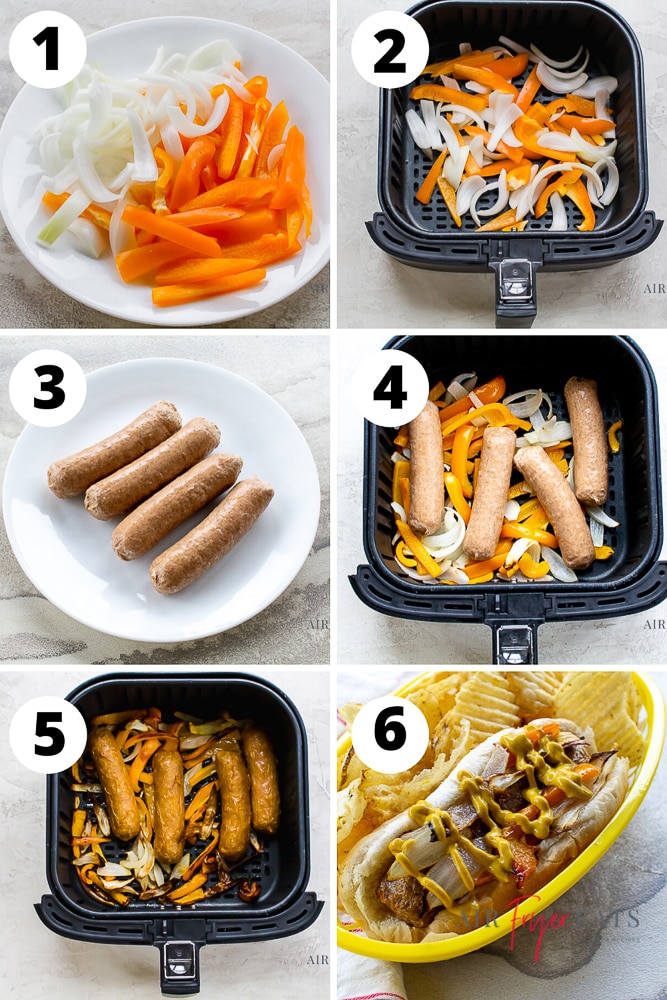 How to serve Air Fryer Brats
These are great as a sandwich with some mustard, mayo, pickles, or ketchup (your preference!) but can also be served as a main dish with no additional ingredients!
To plate without a bun, I would serve the sausages, sliced or whole, on top of the onions and bell peppers with a side salad or another side.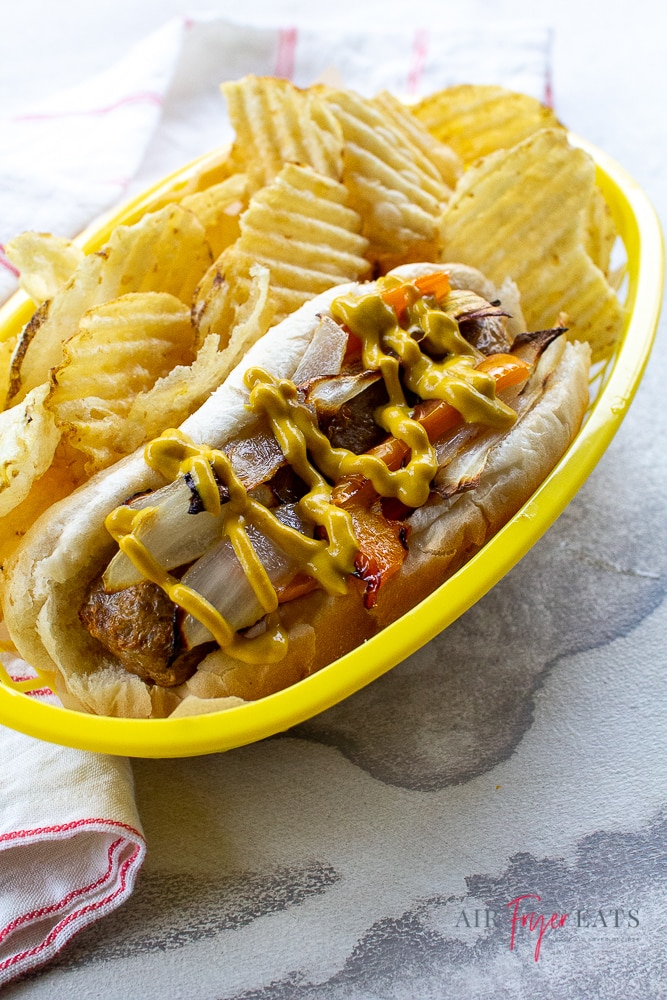 What to serve with bratwurst sandwiches
These Air Fryer Brats are great with chips or tater tots!
Just like toppings, almost any side goes with this recipe!
For a party, I like to make these with my Deviled Egg Pasta Salad which brings the flavor of the holidays to a great summer dish!
Looking for lighter options? Our Mediterranean Quinoa Salad is a great vibrant addition of more veggies to the plate filled with quintessential Mediterranean flavors like olive oil, lemon, and parsley.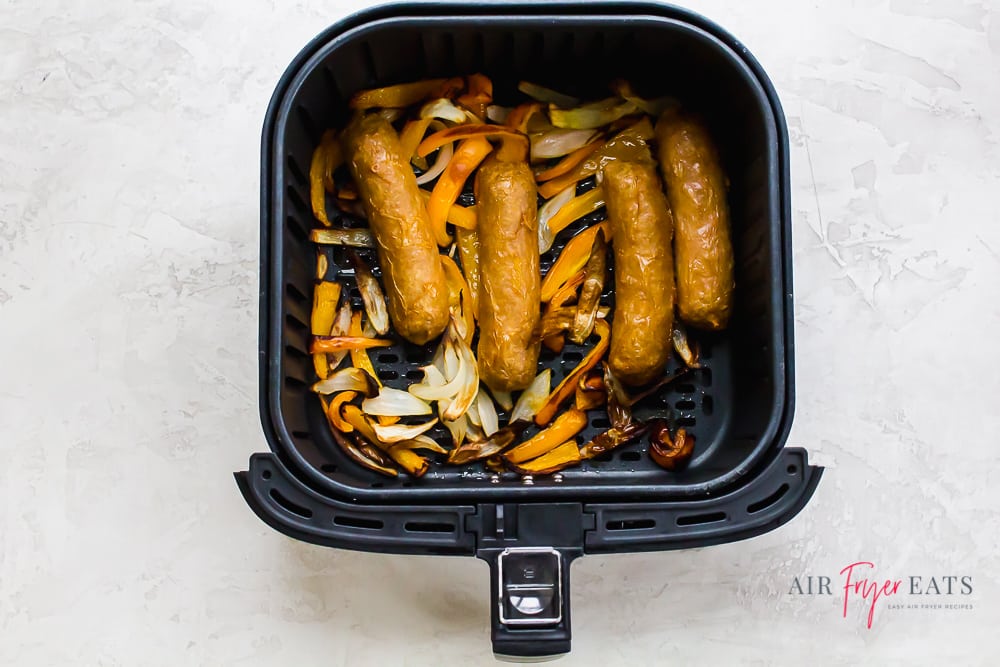 More Yummy Air Fryer recipes
If you are looking for more air fryer recipes you make, you are in the right place!
We love our air fryers too! Be sure to check out our Air Fryer Jalapeño Poppers, Air Fryer Chicken Wings, Meatballs in the Air Fryer, Air Fryer Pickles andAir Fryer Corn on the Cob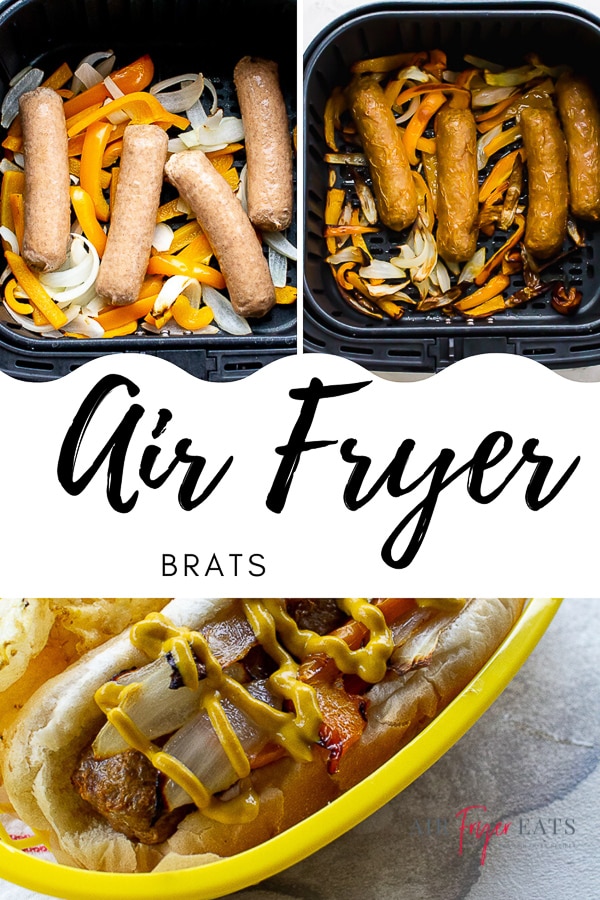 Pro Tip: This recipe can be made in the air fryer unit with a basket or the air fryer oven.
If you are using the air fryer oven, use the middle rack and select the "Air Fry" function.
Are you gluten-free? Me too! We also have a sister site where EVERYTHING is gluten-free.
It is called VegetarianMamma.
You can find some awesome dishes there for your Meatless Mondays!
Always be sure to read ingredient labels to make sure that the product/ingredients fits your dietary restrictions!
Generally, we make simple enough recipes where you can sub the ingredients.
Common subs in our recipes include: Bread = Canyon Bakehouse Bread Crumbs = Ian's GF Bread Crumbs Flour = GF Jules All Purpose GF Flour.
Because our household is mixed between gluten and gluten-free, we have made almost everything on our site both ways. (except some of the frozen foods).
If you have any questions, please ask!
Have you made this recipe? Please leave a comment AND rating below! It helps other readers!
Be sure to tag @AirFryerEats on instagram, if you share a picture on the gram! Let's get social, you can follow me on Youtube, Instagram, Facebook, Pinterest or join one of our Air Fryer Facebook Groups: Air Fryer Recipes, Air Fryer Recipes for Seniors and Gluten Free Air Fryer Recipes.
Don't forget to subscribe to our EMAIL newsletter.