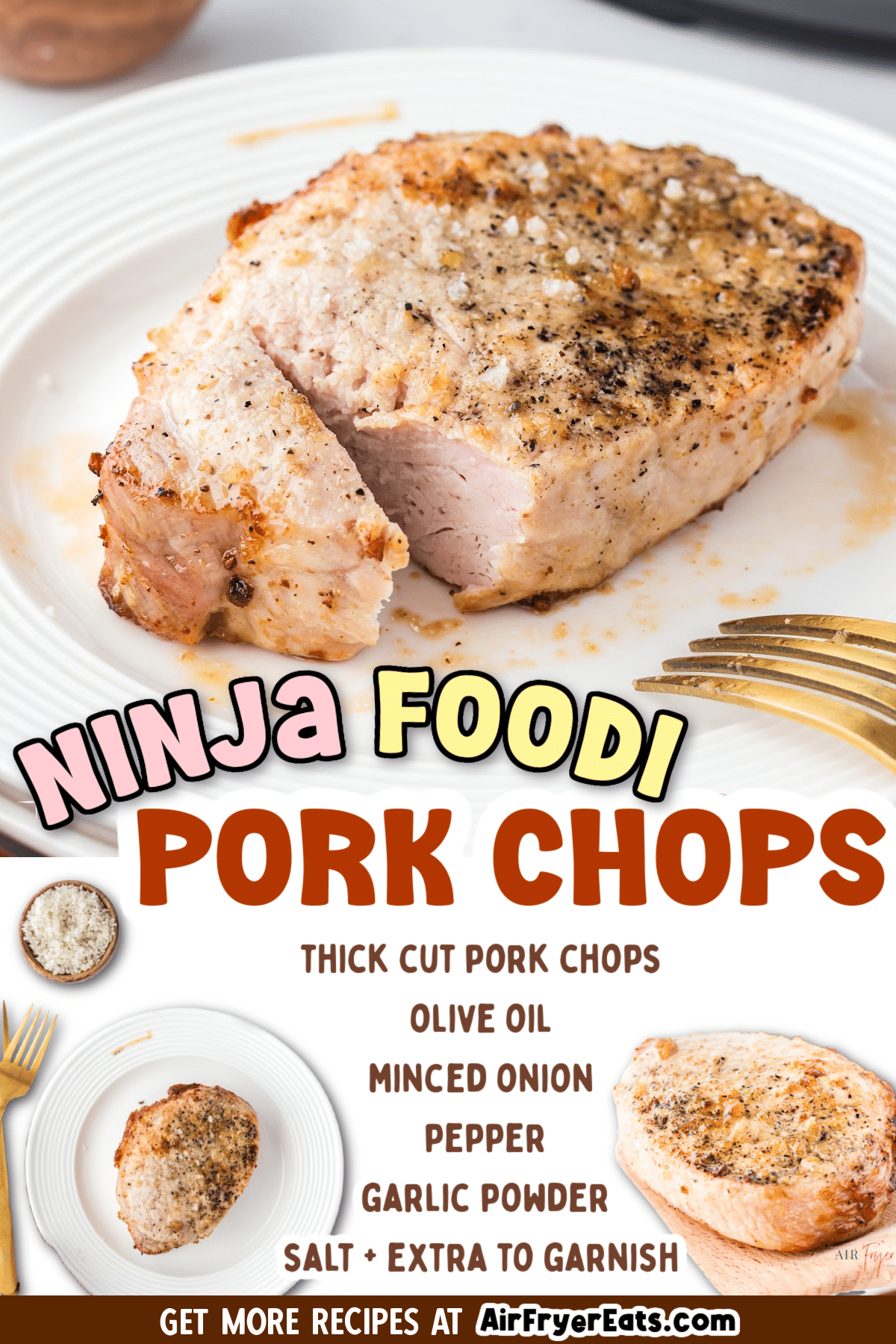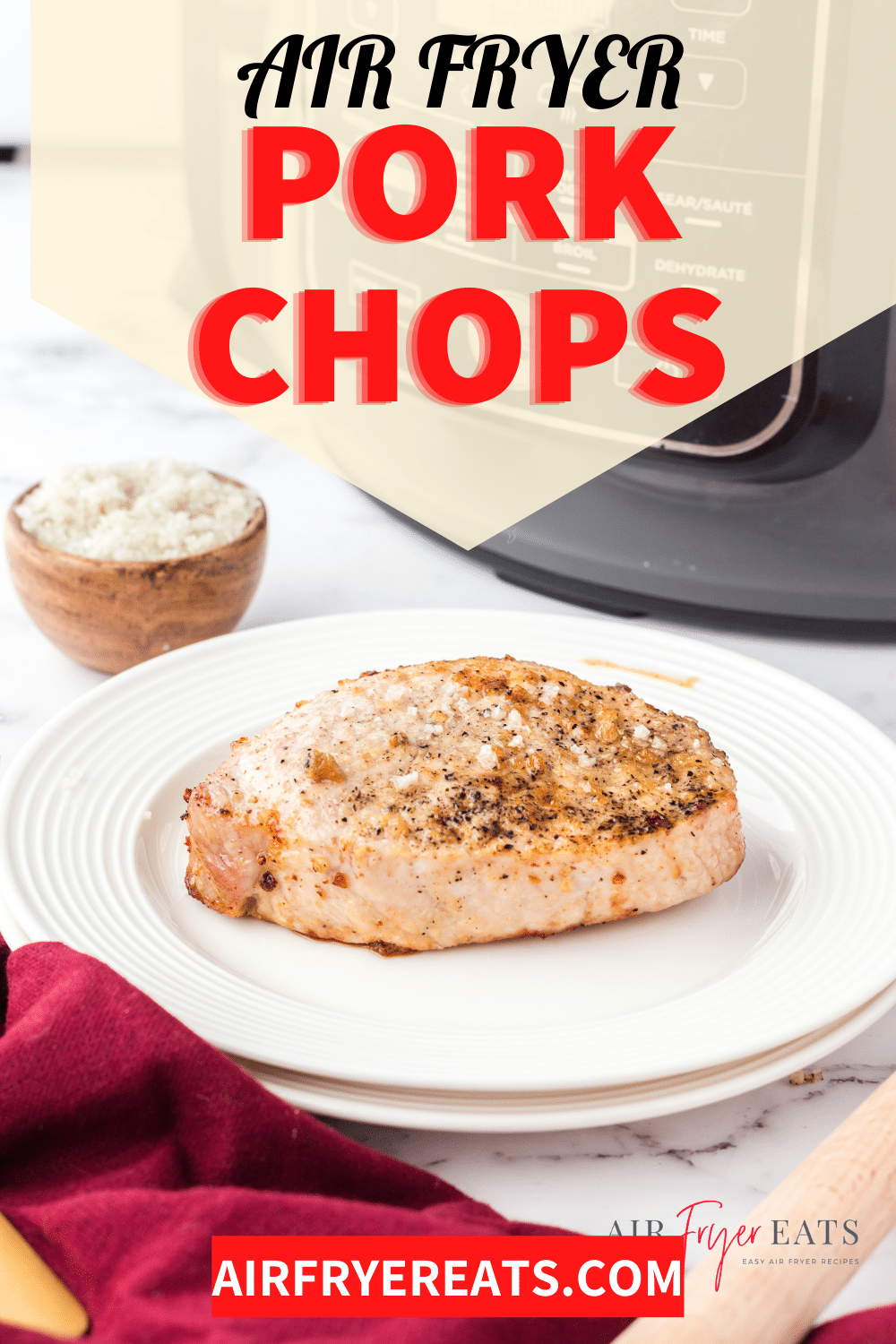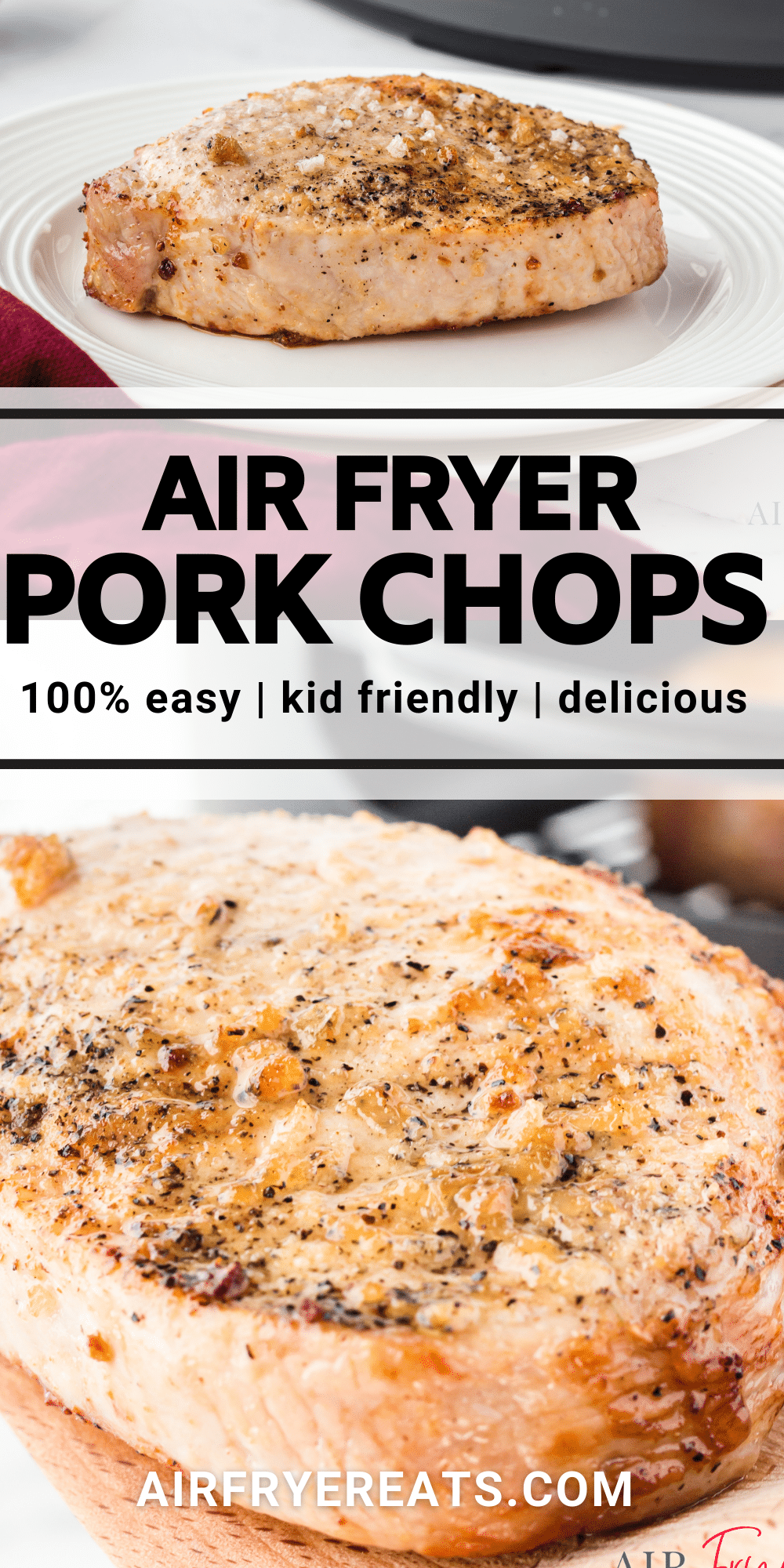 Pork Chops are so easy to air fry in the Ninja Foodi! You'll love how fast these Ninja Foodi Pork Chops are, and how juicy they turn out.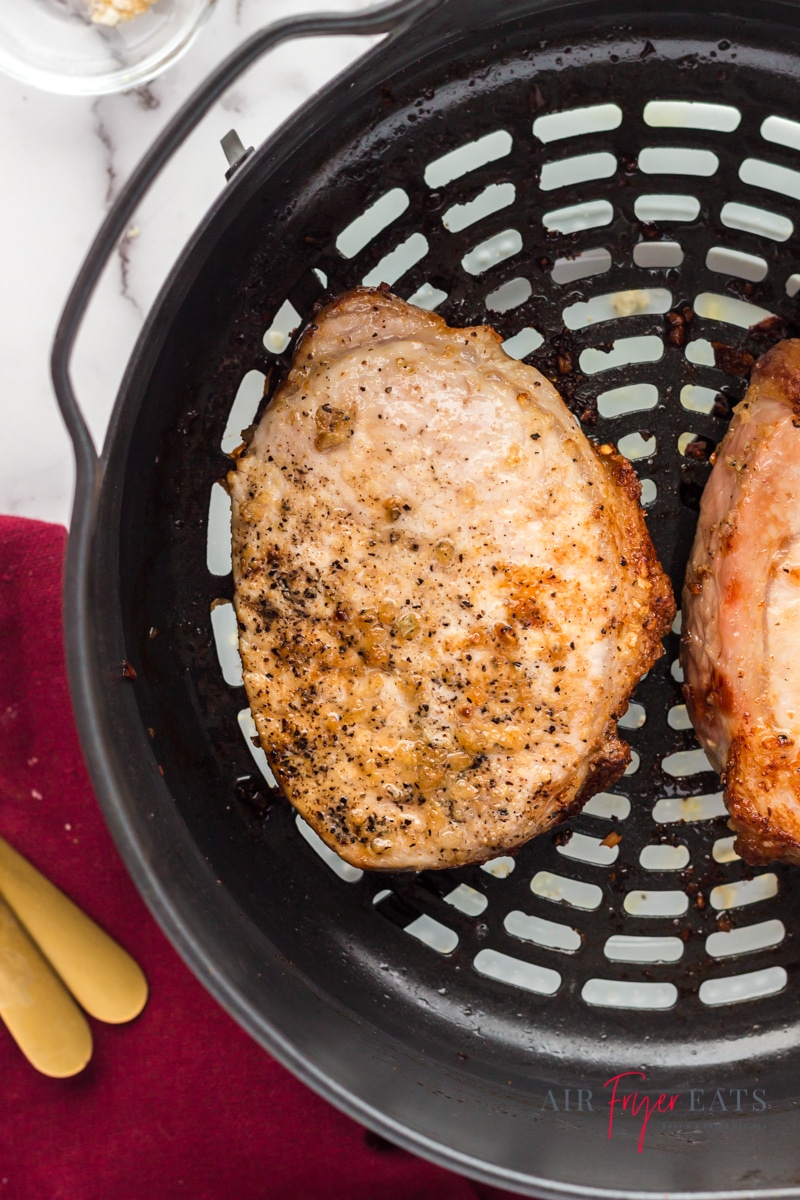 RECIPE FOR PORK CHOPS IN NINJA FOODI
The worst thing that can happen to a pork chop is that it gets overcooked and dried out. Baked or pan fried pork chops often turn out dry because the cooking methods just aren't ideal.
Air frying pork chops is the way to get perfectly cooked, juicy and tender pork chops. Every. Single. Time.
Ninja Foodi Pork Chops is a recipe that we have perfected via trial and error. What I'm sharing with you now is the best recipe for pork chops in the Ninja Foodi ever!
You're also going to love our recipe for making pork roast in the ninja foodi.
If you love air frying with your Ninja Foodi, be sure to check out my Ninja Foodi Whole Chicken Recipe and then learn how to make Bacon in the Ninja Foodi.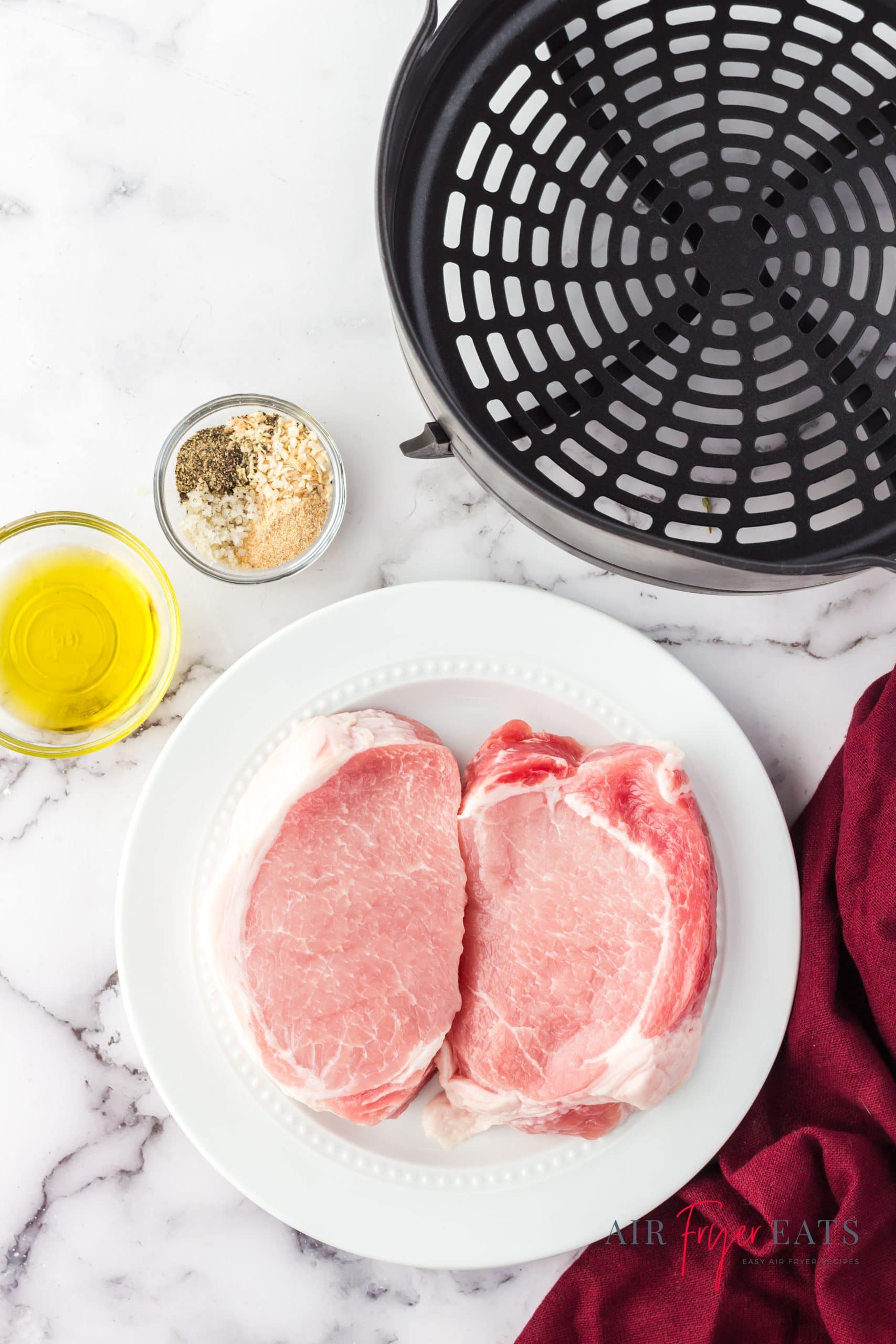 INGREDIENTS FOR PORK CHOPS NINJA FOODI
Pork Chops - This recipe makes 2 boneless pork chops that are thick cut. I find that more than two pork chops don't really fit in the Ninja Foodi air fryer basket. If you are cooking for more than two people, air fry your chops in two batches.
Olive Oil - Coat the chops with olive oil. This helps the seasonings to stick to the meat and gives the outside a golden brown color. Other types of oil can be used as well.
Minced Onion - I enjoy the texture of dried minced onion, but you can use onion powder if that is what you have.
Garlic Powder - Why is garlic powder so tasty on everything!? It's perfect on pork chops too.
Salt and Pepper - I add both to the spice blend for Ninja Foodi pork chops, and I like to sprinkle them with a bit of coarse salt before serving as well.
If you have any questions about making this Ninja Foodi Pork Chop Recipe, please leave a comment below and I will get back to you ASAP!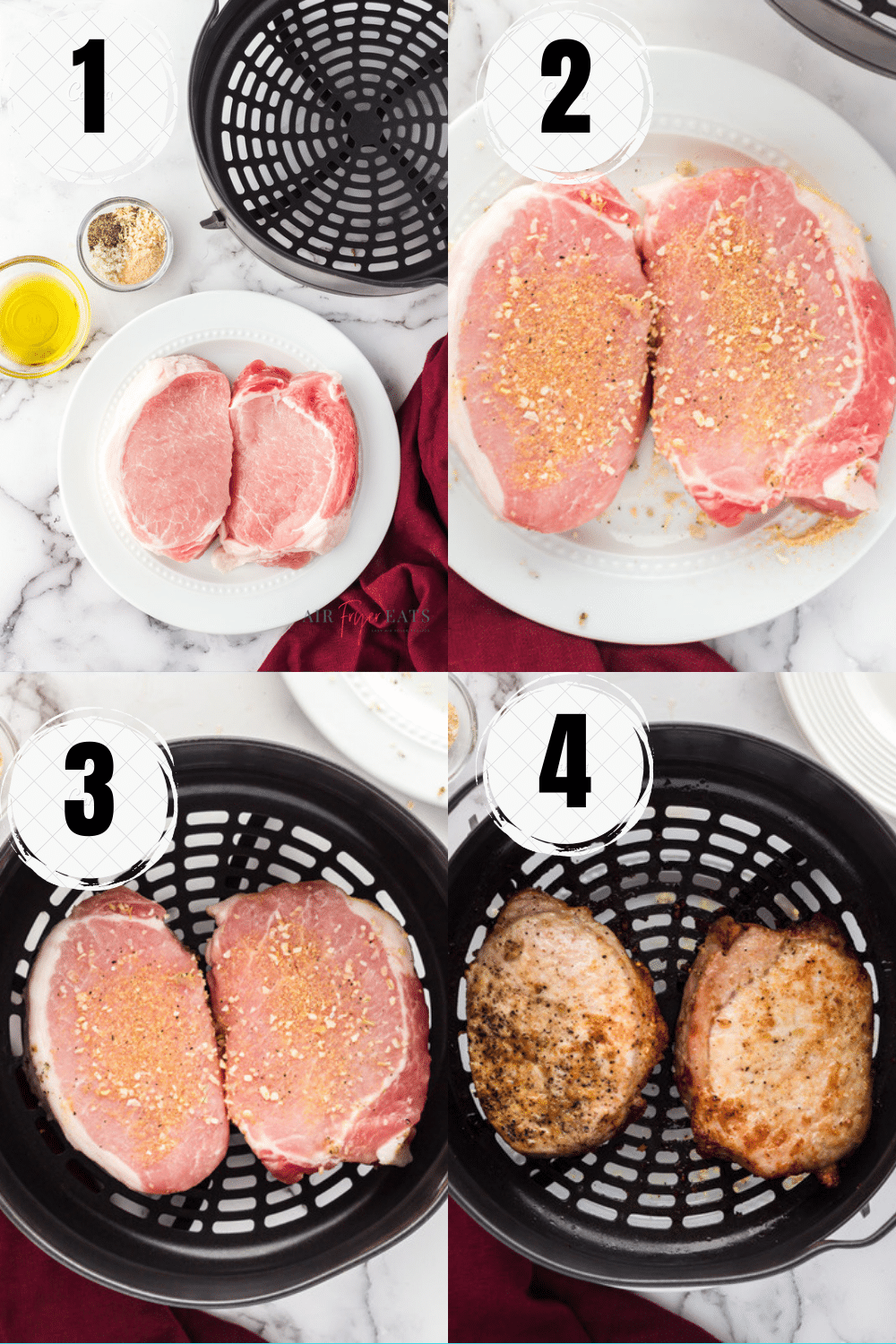 HOW TO MAKE PORK CHOPS IN NINJA FOODI
Preheat the air fryer to 375°F/190°C for 5 minutes on the air fry setting.
Coat the pork chops with a thin layer of olive oil, then sprinkle on the salt, pepper, onion, and garlic powder, being sure to evenly coat both sides of each pork chop.
Place the pork chops in the air fryer basket and cook in the Ninja Foodi on the air fry setting, as directed in the recipe below.
Flip the pork chops over half way through the cooking time, and continue cooking until the pork chops are done. Check with a thermometer to ensure that the internal temperature is 145°F/63°C.
These numbered steps match the numbered photos above and are for illustration purposes. For the complete list of ingredients and instructions for Ninja Foodi Pork Chops, please see the recipe below.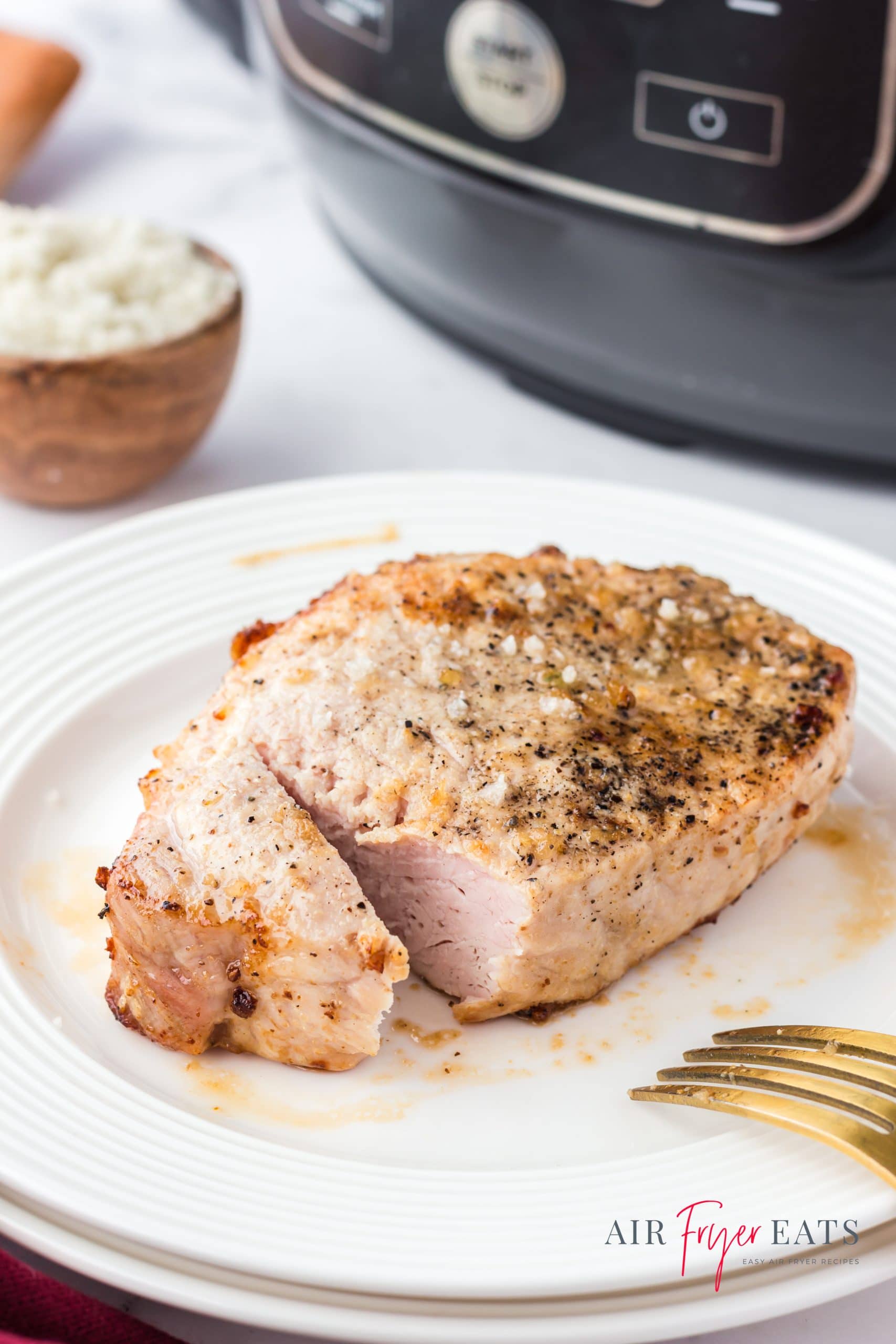 RECIPE TIPS
Preheating is Important: I don't often recommend pre-heating the air fryer, but with meat recipes like this one, preheating is needed. Allowing pork chops to slowly come up to temperature with the air fryer can cause them to dry out. It's better to start them in an already hot air fryer.
Adjust the seasonings. Nobody is forcing you to use my spice blend, although I must say that it's pretty tasty! Try Italian seasoning, Cajun seasoning, or your favorite blend of herbs and spices on Ninja Foodi pork.
Be sure to Flip: In order to cook a thick pork chop evenly, you will want to flip it over halfway through the cooking time. If you don't flip it, you may end up with one side overcooked.
Don't Overcrowd the Basket: In any air fryer, there must be empty space around your food so that the hot air can circulate. Two pork chops fit perfectly in my Ninja Foodi, and I can probably do 3 without an issue. If you want to cook more than 3 pork chops, do them in two separate batches.
WHAT TO SERVE WITH NINJA FOODI PORK CHOPS
This recipe creates juicy pork chops that are very simply seasoned, so they will be delicious with any of your favorite side dishes. I'm sure you already have some ideas, but here are a few new ones for you to check out.
Try these with Amish Potato Salad and your favorite steamed veggies.
I also like to serve Air Fryer Pork Chops with Rice and Air Fryer Broccoli. It's a healthy meal that is also super satisfying and delicious!
Growing up, my mom always served pork chops with applesauce. You can make Air Fryer Sweet Apples instead to enjoy the classic pork and apple flavor combination.
Sweet Potatoes go really well with pork chops, and there are many ways to cook sweet potatoes in the air fryer. Make dinner super simple and cook up some Frozen Sweet Potato Fries.
You can also make air fryer pork chops at night and slice them up to add to meal prep lunches for the next day. Pork is a welcome change from the typical chicken breast meal prep lunch box!
Use leftover pork chops to make Garlic Pork Cauliflower Fried Rice.
HOW TO STORE LEFTOVER PORK CHOPS
Leftover Ninja Foodi Pork Chops can be stored in an airtight container in the refrigerator. If properly stored, they will stay fresh for 3-4 days.
Reheat leftover pork chops in the air fryer at 375°F/190°C for 4 or 5 minutes.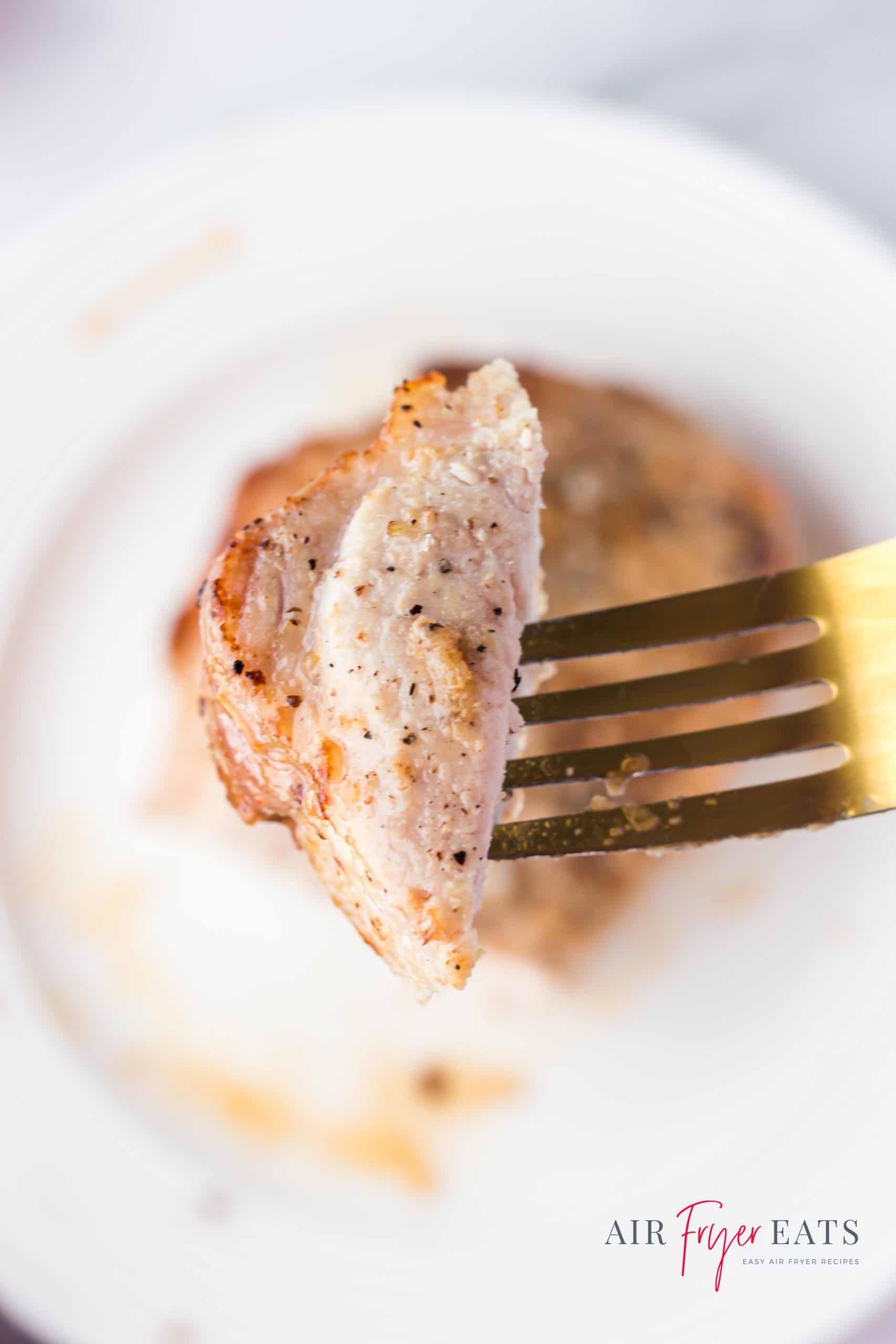 CAN PORK CHOPS BE AIR FRIED IN A NINJA FOODI?
Absolutely! You may have only tried to cook wet pork chop recipes in your Ninja Foodi, using the pressure cooking function, but they cook on the air fryer setting too, and quicker.
I love that the Ninja Foodi Multicooker can do so many different things, but honestly, I mostly use it as an air fryer!
HOW LONG TO COOK PORK CHOPS IN NINJA FOODI
At 375°F/190°C, it takes a total of about 10 minutes to air fry thick cut pork chops. The chops in the photos here were almost 1 inch thick.
Thinner pork chops will take less time. Start checking them after 4 minutes if they are very thin.
Thicker pork chops will take longer in the air fryer, possibly up to 15 minutes if they are extra thick.
DOES THIS NINJA FOODI RECIPE WORK FOR PORK CHOPS WITH BONES?
Yes, you can air fry pork chops with bones in the Ninja Foodi. You may need to add a few minutes of cook time for bone-in chops. Be sure to check the internal temperature and cook until it reaches 145°F/63°C near the bone.
CAN I COOK THIN PORK CHOPS IN A NINJA FOODI?
Thin sliced pork chops cook super fast in the air fryer or using any other method, so it can be tricky to keep them moist and tender. The air fryer time for thin pork chips is half of what's called for here. Cook the pork for only 6-8 minutes total in a pre-heated Ninja Foodi, turning once halfway through.
SHOULD I TRIM FAT FROM PORK CHOPS BEFORE AIR FRYING?
When you air fry pork chops, there isn't enough time for pork fat from pork chops to render down properly.
I suggest that you trim off most of the extra fat on your chops before cooking. Your Ninja Foodi pork chops will still be flavorful and juicy without it, thanks to the delicious spice rub we're adding.
DO PORK CHOPS NEED TO REST?
Just like steak, you should allow pork chops to rest briefly before cutting into them. This rest time lets the juices in the chop redistribute, which keeps the meat juicy and tender.
Just 2-4 minutes of rest time is needed for this Ninja Foodi Pork Chops recipe.
WHAT IS THE CORRECT TEMPERATURE FOR PORK?
The safe internal temperature for pork chops is 145°F/63°C. When cooking pork chops in the air fryer, or using any other method, you want to be sure that they cook to at least this temperature before serving them. Use an instant read meat thermometer to test them.
HOW DO I COOK PORK CHOPS IN A DIFFERENT AIR FRYER?
This recipe is specifically for air frying pork chops in a Ninja Foodi Multicooker, but we have a few different pork chop recipes you'll want to look at if you are using a different machine.
Air Fryer Pork Chops (no breading) is a basic pork chop recipe that works in any brand of Air Fryer.
Breaded Air Fryer Pork Chops are a delicious and crispy variation.
While you're looking at pork recipes, check out how we make Air Fryer Pork Belly and a Pork Loin Roast in the Air Fryer too.
MORE NINJA FOODI AIR FRYER RECIPES
If you want to learn how to use your Ninja Foodi to air fry everything, you are in the right place! Try more Ninja Foodi air fryer recipes:
Ninja Foodi Chicken Wings come out crispy and delicious every time. Enjoy them with a simple seasoning or toss them in your favorite hot sauce.
Chicken Breast air fried in the Ninja Foodi is a go-to easy dinner.
Did you know that you can air fry salmon? Ninja Foodi Salmon is an easy recipe for a healthy meal.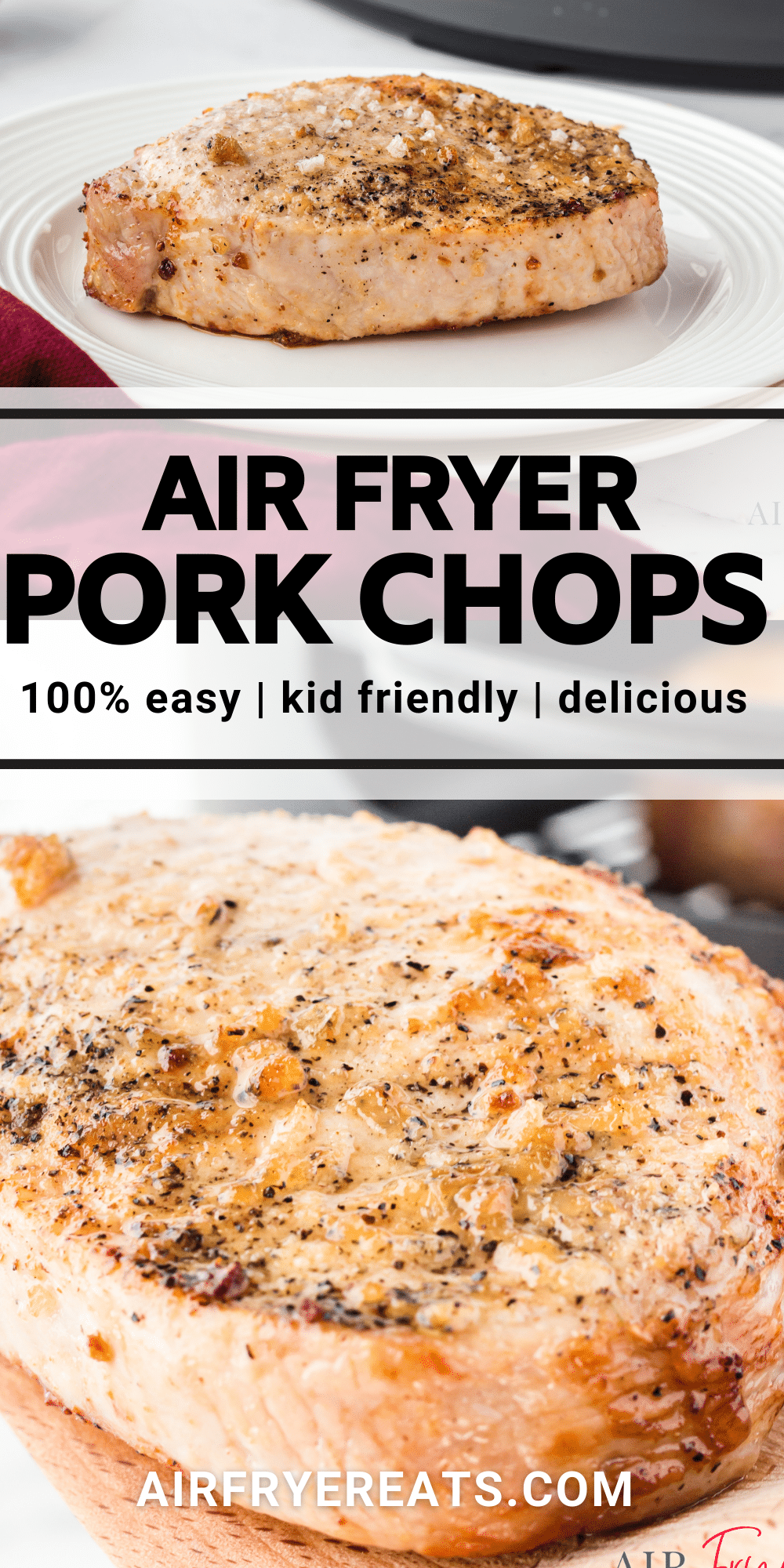 Have you made this recipe? Please leave a comment AND rating below! It helps other readers!
Be sure to tag @AirFryerEats on instagram, if you share a picture on the gram! Let's get social, you can follow me on Youtube, Instagram, Facebook, Pinterest or join one of our Air Fryer Facebook Groups: Air Fryer Recipes, Air Fryer Recipes for Seniors and Gluten Free Air Fryer Recipes.
Don't forget to subscribe to our EMAIL newsletter.
Ninja Foodi Pork Chops
Ingredients
2

pork chops

boneless, thick cut, trimmed

1

tablespoon

olive oil

1

teaspoon

minced dried onion

or onion powder

1

teaspoon

garlic powder

½

teaspoon

black pepper

½

teaspoon

salt
Instructions
Preheat the air fryer to 375 F for five minutes on the air fry setting.

Coat each pork chop in a thin layer of olive oil and then sprinkle on the spice mix, ensuring that it evenly coats both sides of the pork chops.

Place both pork chops in the air fryer and cook for 4 minutes at 375 F on the air fry setting.

Turn the pork chops over and cook for an additional 4-6 minutes, until the internal temperature of the pork is 145°F/63°C.

Allow chops to rest for 2-4 minutes before serving.
Go AD FREE!
Notes
Store leftover air fryer pork chops in an airtight container in the refrigerator for up to 4 days.
Feel free to adjust the seasonings on this recipe to your preference.
Pro Tip: This recipe can be made in the air fryer unit with a basket or the air fryer oven. If you are using the air fryer oven, use the middle rack and select the "Air Fry" function.
Pro Tip: Check your food as it cooks. Each air fryer runs a bit differently. Sometimes air frying is a trial and error process. Check your food as it cooks to learn your air fryer better! When cooking a new recipe or food items be sure to check your food often to help avoid over/under cooking.
Have oven recipes that you'd like to convert to an air fryer recipe? Use our Air Fryer Calculator to help you estimate cooking times and temps! Calculator here:
https://airfryereats.com/air-fryer-conversion-air-fryer-calculator/
Nutrition
Calories:
276
kcal
|
Carbohydrates:
1
g
|
Protein:
29
g
|
Fat:
16
g
|
Saturated Fat:
4
g
|
Polyunsaturated Fat:
2
g
|
Monounsaturated Fat:
9
g
|
Trans Fat:
1
g
|
Cholesterol:
90
mg
|
Sodium:
647
mg
|
Potassium:
525
mg
|
Fiber:
1
g
|
Sugar:
1
g
|
Vitamin A:
8
IU
|
Vitamin C:
1
mg
|
Calcium:
13
mg
|
Iron:
1
mg
Tired of the ads?
Go AD Free - Become part of our Membership community!
Air Fryers can vary greatly. Please take the time to learn your specific air fryer. You may need to adjust times and temperatures based upon your air fryer.
All though this website attempts to provide accurate nutritional information, the information should only be considered an estimate. Varying factors such as different product types, different brands, etc. can change nutritional information. It is your responsibility as a consumer to read all labels to make sure the ingredients fit your dietary needs as well as calculate your own nutritional information as a double check.