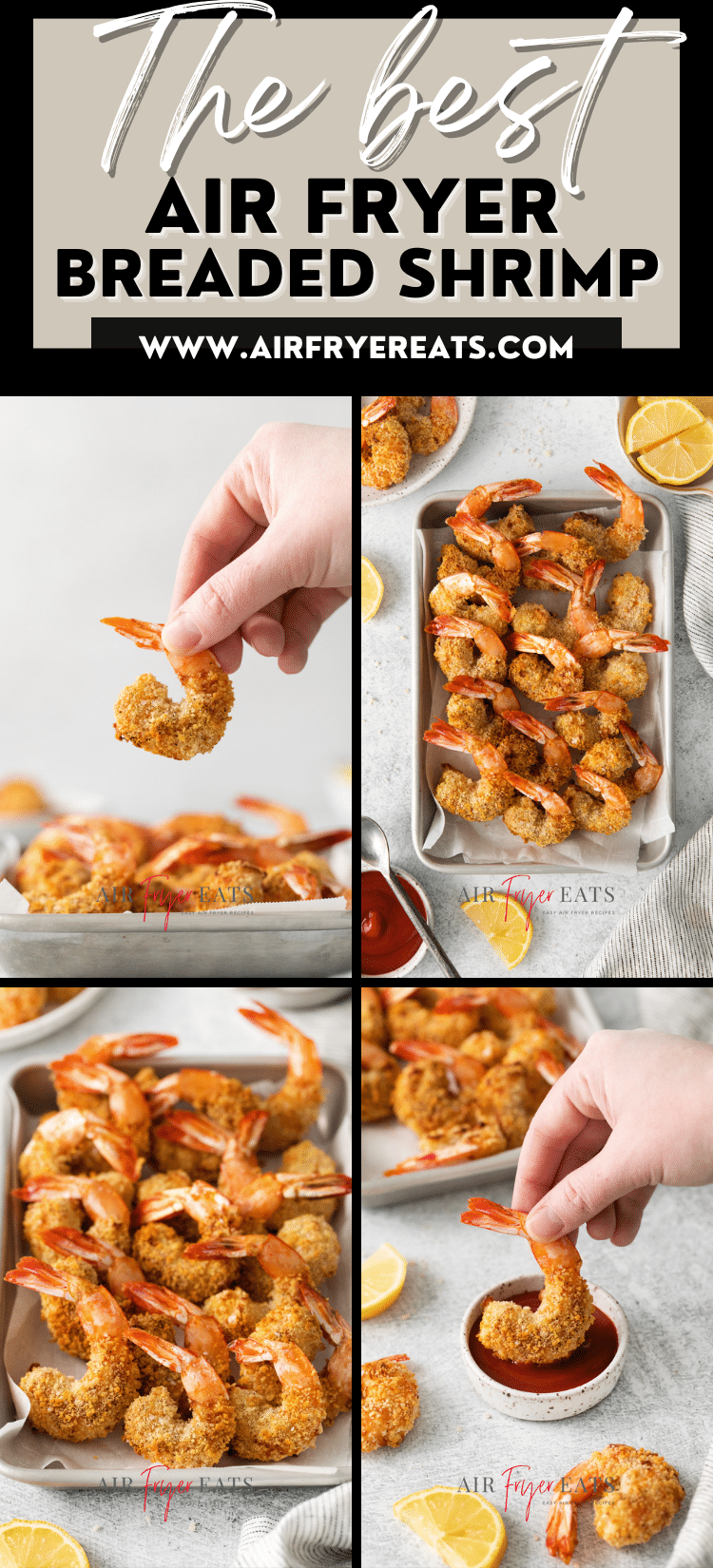 These Air Fryer Breaded Shrimp are the perfect appetizer! They're tender and juicy with a crispy crunchy coating and just a hint of salt.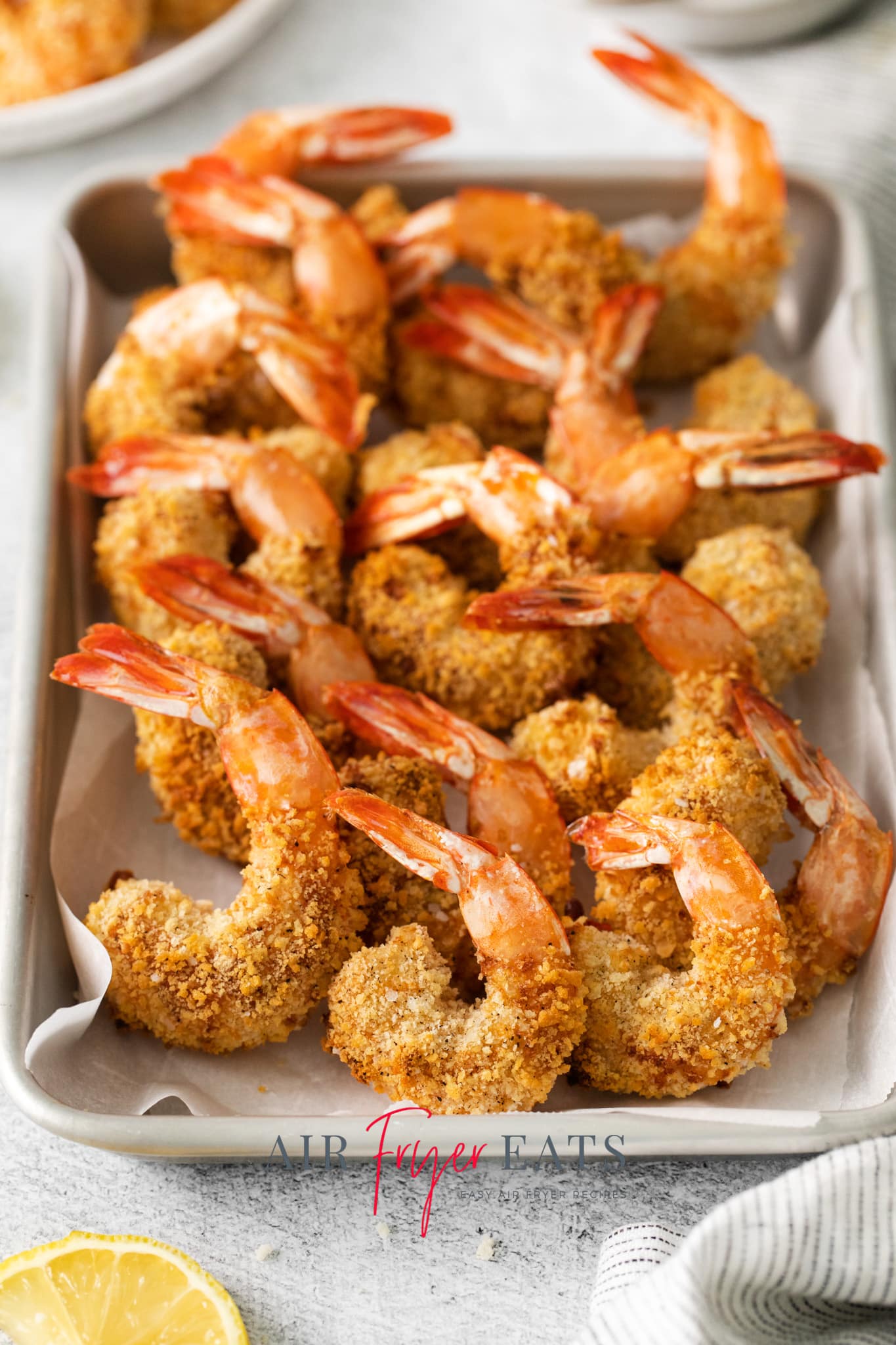 Air Fryer Breaded Shrimp Recipe
Do you love crispy, crunchy, flavorful shrimp as much as I do? Do you want to learn how to make fried shrimp with less mess, less grease, and in less time? Perfect, because that's exactly what we're doing with this easy air fryer shrimp recipe!
You can enjoy the same salty, crispy crunch that you'd expect from deep fried shrimp but without all the trouble that deep frying brings.
The air fryer makes shrimp (and all types of things) just as crispy!
I just know that you are going to love this easy recipe for making crispy breaded air fryer shrimp from scratch.
You can also make unbreaded air fryer shrimp if you'd like to, or learn how to cook up those little frozen popcorn shrimp in the air fryer instead!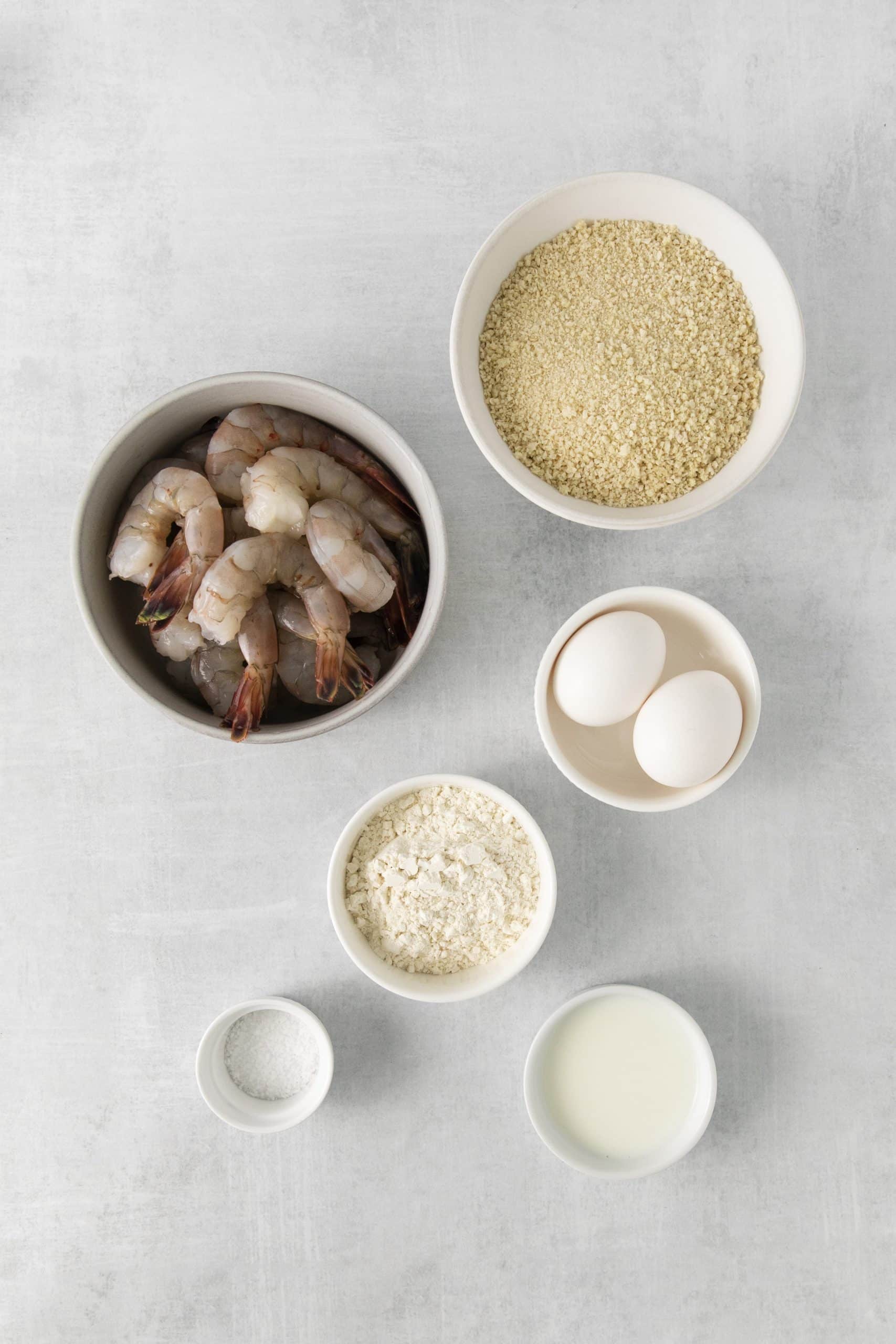 Ingredients In Air Fryer Breaded Shrimp
Shrimp: For this recipe I'm using shrimp that are labeled as 20-25 count. These are often called "jumbo" shrimp". Your shrimp should be fresh (or frozen and thawed), peeled, and de-veined. I like to leave the tails on for presentation.
Flour: Mixed with some salt and pepper, flour is the first layer of our crispy shrimp breading.
Eggs and Milk: Beaten eggs thinned with a bit of milk help to bind the breading together and keeps the breading stuck to the shrimp.
Breadcrumbs: Panko adds the best crunch!
Olive Oil Spray: We aren't frying these shrimp, but a bit of oil on the outside helps them to get brown and crispy in the air fryer.
If you have any questions, please leave a comment below and I will get back to you ASAP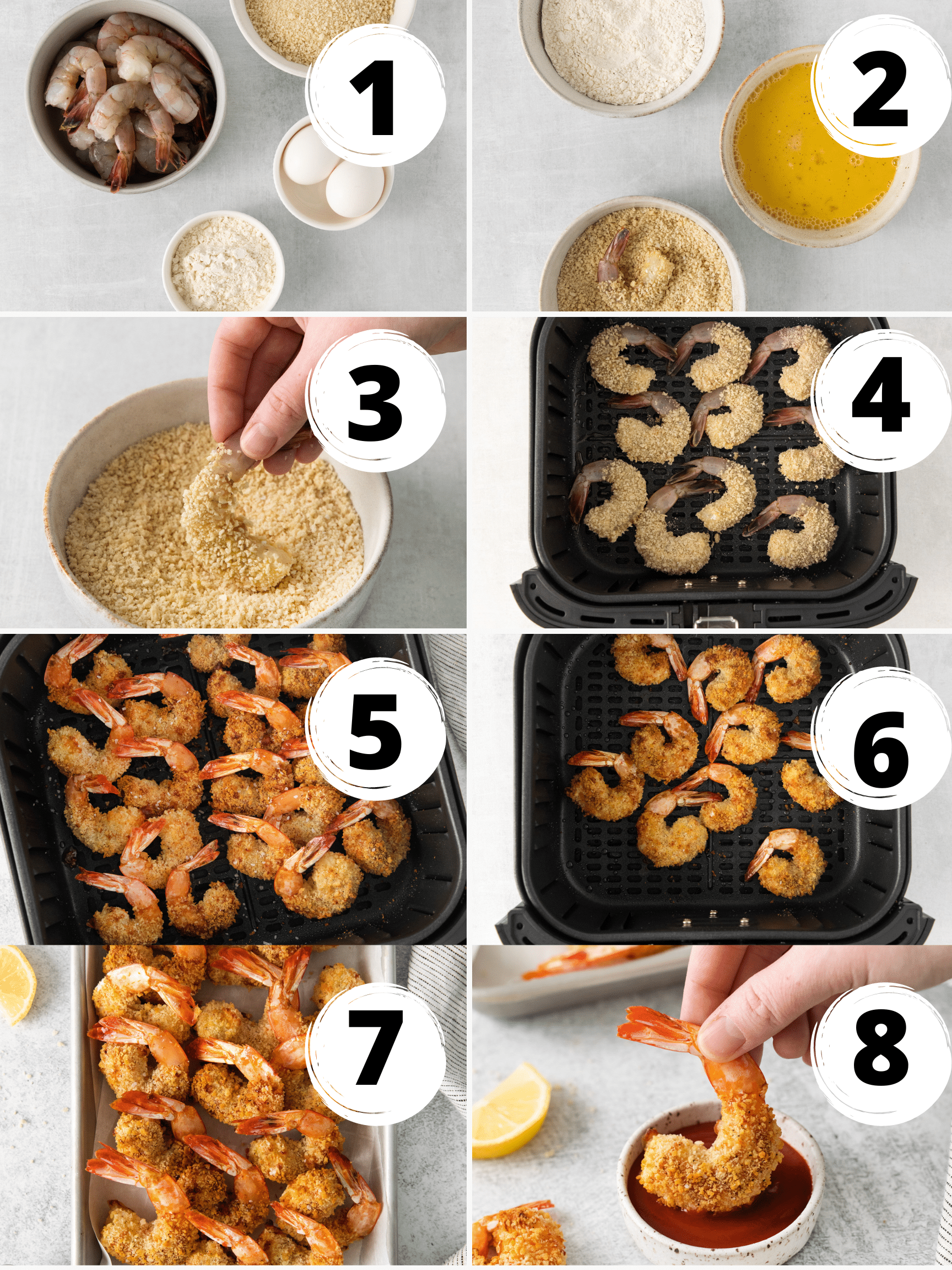 How to Make Air Fryer Breaded Shrimp
Gather your ingredients, and be sure that the shrimp is clean and peeled.
Set up a breading station. Add flour to one bowl, beaten egg and milk to a second bowl, and panko bread crumbs to a third bowl. Season each bowl with salt and pepper to taste.
Bread the shrimp by dipping each one into the flour, then into the egg, then into the breadcrumbs. Be sure to shake off any excess, at each step.
Add the shrimp to your air fryer basket after spraying it with oil. Be sure to arrange them in a single layer, don't crowd the pan!
Spray the shrimp with oil, and cook in the air fryer for 10 minutes at 400°F/200°, or until cooked through and golden brown.
You'll likely need to cook the shrimp in two batches, so repeat the process with the remaining shrimp.
Finish the shrimp by sprinkling them with salt.
Serve hot with your favorite shrimp dipping sauce!
These numbered steps match the numbered photos above and are for illustration purposes. For the complete list of ingredients and instructions, please see the recipe below.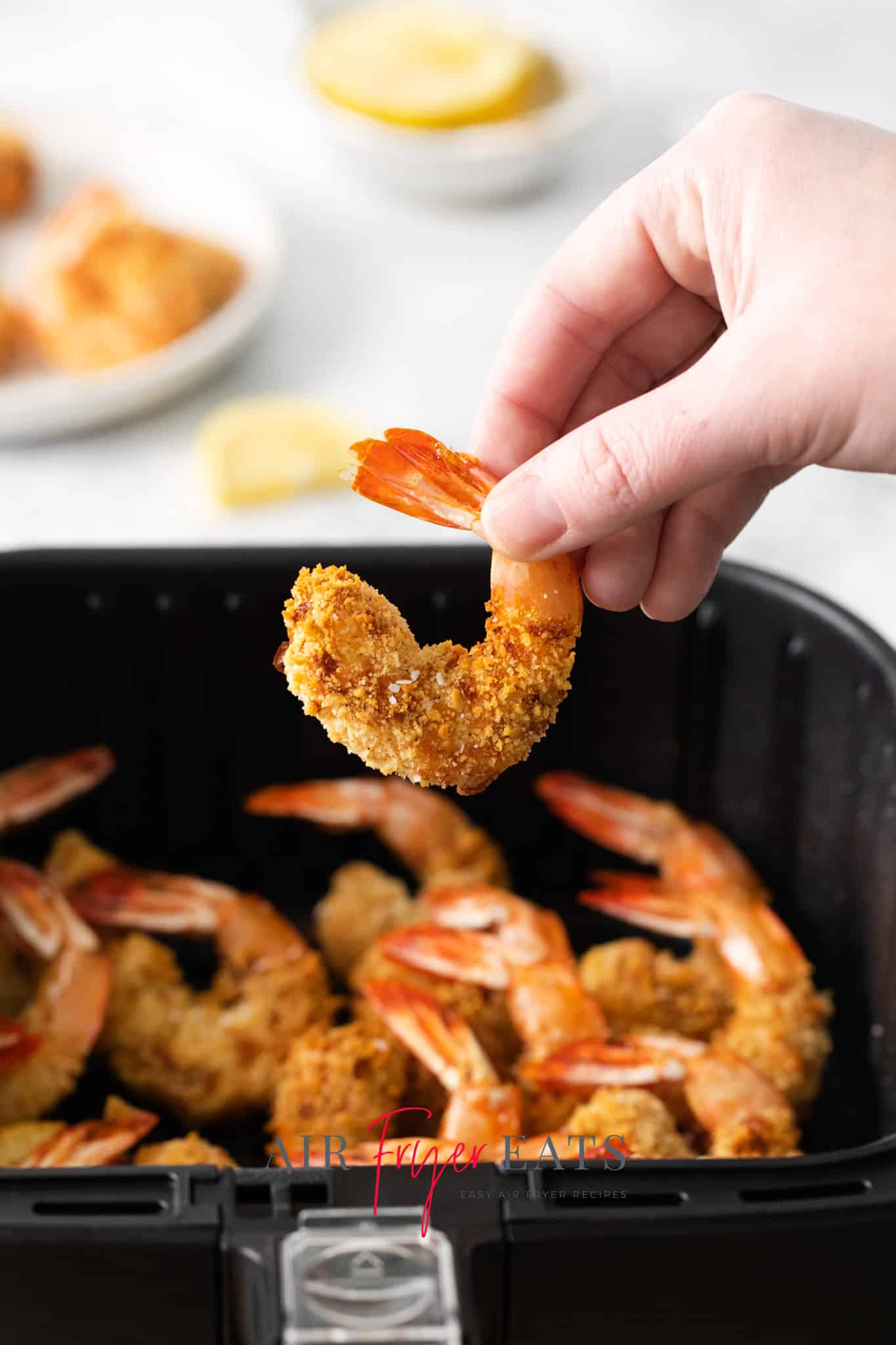 Air Fryer Shrimp Tips and Tricks
This recipe is easily made gluten free by substituting gluten free panko breadcrumbs.
And be sure to use panko rather than regular breadcrumbs. Panko crumbs are extra crunchy!
Press the shrimp gently into the breadcrumbs to get as many of them to stick as possible!
When choosing a spray oil to use with our air fryer recipes, look for an all-natural option. The additives in some cooking sprays can damage the non-stick finish on your machine.
If your shrimp isn't browning well toward the end of the cooking time, give them an extra spritz of oil!
Don't overcrowd the air fryer basket. Be sure that the shrimp are in a single layer, and not touching each other. Depending on the size of your air fryer, you may need to cook the shrimp in 2 or 3 batches.
Use a thermometer to check the shrimp for doneness. They'll be done when the shrimp reads 120°F/49°C. It's ok if you overcook the shrimp a little bit, but they are most juicy when they're perfectly done.
To avoid overcooking, stay close to your air fryer, and check on the shrimp often near the end of the cooking time.
What To Serve With Air Fryer Fried Shrimp
Fried shrimp needs a tasty dipping sauce! I suggest making a cocktail sauce with ketchup and prepared horseradish, or try them with tartar sauce instead. Kids might like these crispy shrimp with ranch dressing or ketchup!
Enjoy these air-fried shrimp as an appetizer, or serve them as the main dish, with your favorite air fryer sides.
As a party appetizer, you might like to try a few different recipes to pass around! Air Fryer Wontons and Air Fryer Pigs in a Blanket are always a favorite at get-togethers!
FAQs
Should I leave the tails on fried shrimp?
Leaving the tails on or off is a personal preference. I like to leave them on so that each shrimp has a "handle", plus they just look better that way if I'm serving them to guests. If you'd rather, you can remove the tails before cooking to make them easier to eat later.
How long does it take to air fry raw shrimp?
The exact time will depend on your air fryer and the size of the shrimp. For jumbo shrimp, we have found through testing that they take about 10 minutes at 400°F if they are breaded. Smaller shrimp will need less time, and larger ones will need a bit more.
Can I reheat these breaded shrimp in the air fryer?
Sure! Store any leftovers in an airtight container in the fridge for up to 3 days. Reheat in a preheated 375°F air fryer for just a few minutes.
Can I bread and air fry frozen shrimp?
While you can add frozen shrimp directly to the air fryer for cooking, for this breaded shrimp recipe, you'll want to fully thaw the shrimp before breading it. Be sure to pat it dry after you thaw it so that the breading sticks!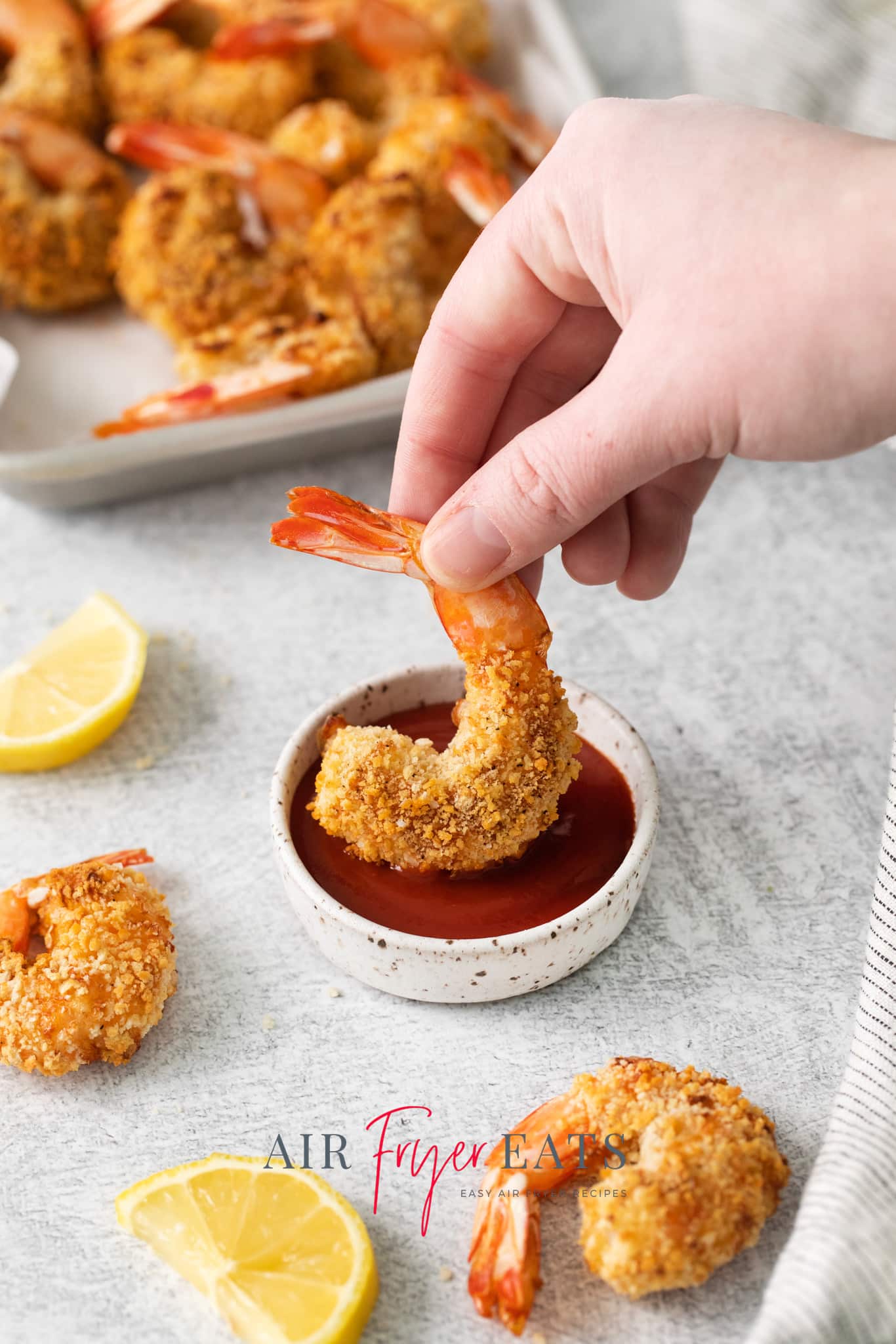 Pro Tips
Use Any Air Fryer: This recipe can be made in an air fryer unit with a basket or an air fryer oven. If you're using an air fryer oven, place your food on the middle rack and select the "air fry" function.
Check your food as it cooks! Since each air fryer runs differently, sometimes air frying is a trial and error process. When cooking a new recipe, be sure to check on your food often. This will help you avoid over or undercooking, and help you learn your air fryer's specific ways!
More Crispy Air Fryer Appetizer Recipes
This breading method works with just about any type of food that you want to make crispy in the air fryer!
Try making crispy Air Fryer Cheese Curds, or homemade Air Fryer Mozzarella Sticks.
You can also bread Air Fryer Ravioli, Air Fryer Boneless Wings, and Air Fryer Onion Rings!


Have you made this recipe? Please leave a comment AND rating below! It helps other readers!
Be sure to tag @AirFryerEats on instagram, if you share a picture on the gram! Let's get social, you can follow me on Youtube, Instagram, Facebook, Pinterest or join one of our Air Fryer Facebook Groups: Air Fryer Recipes, Air Fryer Recipes for Seniors and Gluten Free Air Fryer Recipes.
Don't forget to subscribe to our EMAIL newsletter.
Air Fryer Breaded Shrimp
These Air Fryer Breaded Shrimp are the perfect appetizer! They're tender and juicy with a crispy crunchy coating and just a hint of salt.
Ingredients
1

pound

shrimp

peeled and deveined (20-25 count)

½

cup

all purpose flour

2

large eggs

2

tablespoons

milk

1 ½

cups

panko breadcrumbs

Olive oil spray

1

teaspoon

kosher salt
Instructions
Preheat the air fryer using the preheat function or by heating it at 400°F/200°C for 5 minutes.

To create a breading station, set out three shallow bowls. Add the flour to one bowl, whisk the eggs and milk in a second bowl and add the breadcrumbs to the third bowl. Season each bowl with a pinch of salt and pepper.

Working one at a time, dip a shrimp into the flour, followed by the egg, and then the breadcrumbs. Repeat until all of the shrimp are coated.

Spray the air fryer basket with olive oil spray and place as many shrimp as will fit in a single layer– make sure to not overcrowd the pan!

Spritz the shrimp with olive oil spray and cook for 10 minutes, or until golden brown.

Repeat steps 4-5 with any remaining shrimp.

Sprinkle the cooked shrimp with salt and serve them with cocktail sauce, tartar sauce, or sweet chili sauce and enjoy immediately.
Go AD FREE!
Notes
I'm using peeled, deveined, tail-on shrimp that are 20-25 count– which means that there are 20-25 shrimp per pound.

If your shrimp are larger or smaller than this, you will need to adjust the cook time by a minute or two per size.

Coating the shrimp in panko helps make them extra crispy! Plain breadcrumbs would also work if that's what you have on hand.

Feel free to use gluten-free panko bread crumbs in this recipe. They work perfectly!
Store any leftovers in an airtight container in the fridge for up to 3 days. Reheat in a preheated 375°F air fryer for just a few minutes.
Nutrition
Serving:
4
shrimp
|
Calories:
182
kcal
|
Carbohydrates:
29
g
|
Protein:
8
g
|
Fat:
4
g
|
Saturated Fat:
1
g
|
Polyunsaturated Fat:
1
g
|
Monounsaturated Fat:
1
g
|
Trans Fat:
0.01
g
|
Cholesterol:
83
mg
|
Sodium:
780
mg
|
Potassium:
103
mg
|
Fiber:
1
g
|
Sugar:
2
g
|
Vitamin A:
131
IU
|
Calcium:
65
mg
|
Iron:
2
mg
Tired of the ads?
Go AD Free - Become part of our Membership community!
Air Fryers can vary greatly. Please take the time to learn your specific air fryer. You may need to adjust times and temperatures based upon your air fryer.
All though this website attempts to provide accurate nutritional information, the information should only be considered an estimate. Varying factors such as different product types, different brands, etc. can change nutritional information. It is your responsibility as a consumer to read all labels to make sure the ingredients fit your dietary needs as well as calculate your own nutritional information as a double check.