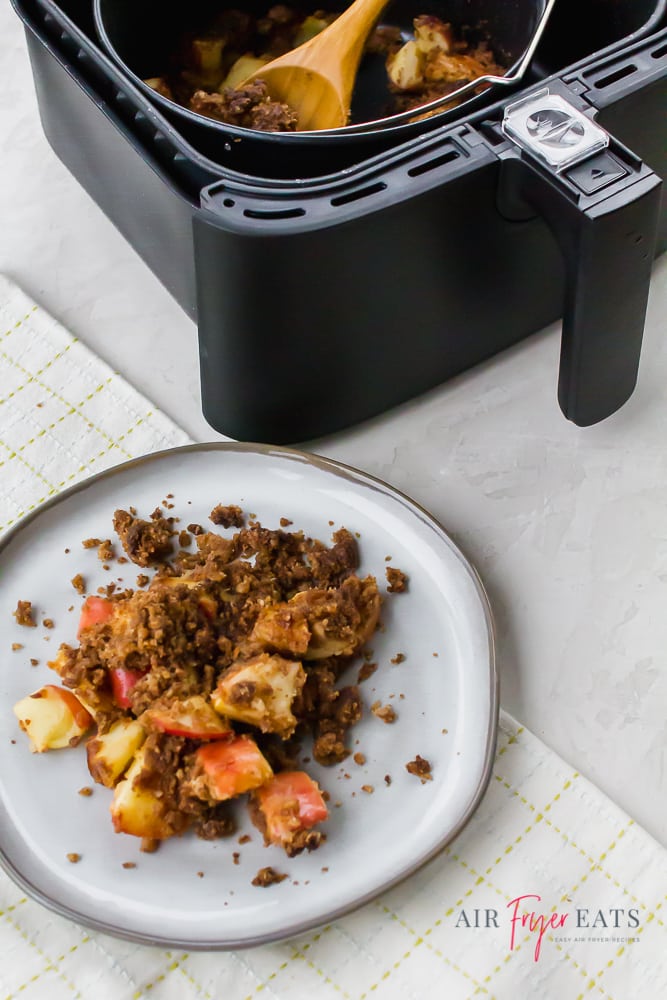 This simple yet delicious Air Fryer Apple Crisp is the perfect holiday dessert! The crunchy oat topping and sweet cooked apple filling goes great on every table.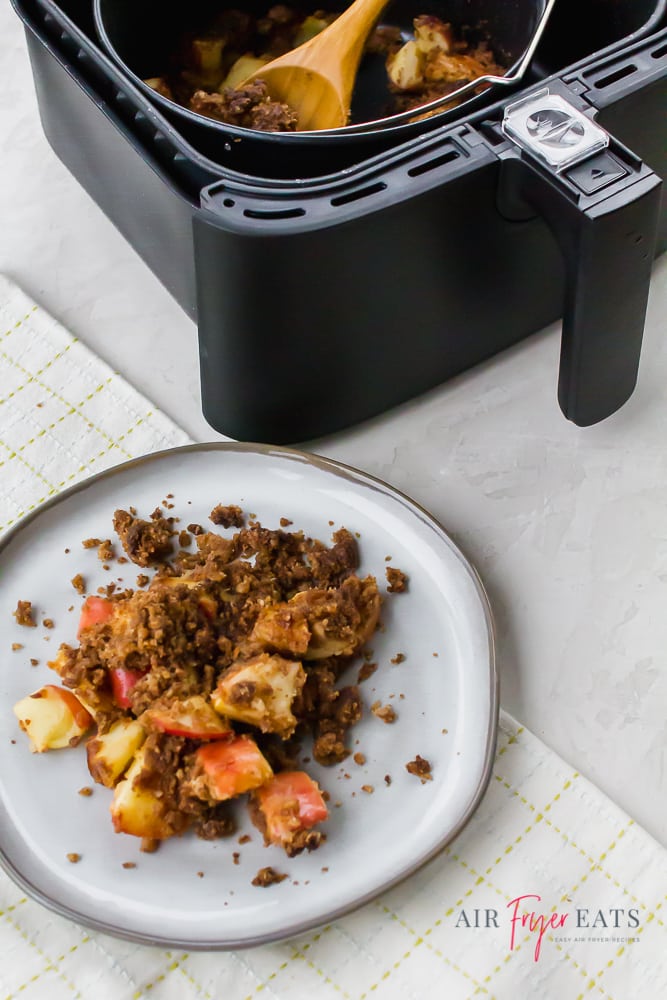 I LOVE desserts, but during the holidays, it's hard to eat a rich, decadent dessert after a huge meal!
Luckily, this Air Fryer Apple Crisp brings all the dessert I need and none of the heaviness, dairy, or excess breading!
This gorgeous air fryer dessert is similar in shape to apple pie but has no crust — just a rolled oat and pecan topping filled with cinnamon and sugar deliciousness.
Need another air fryer dessert for the family? Try these air fryer sweet apples, they are sure to make your belly happy.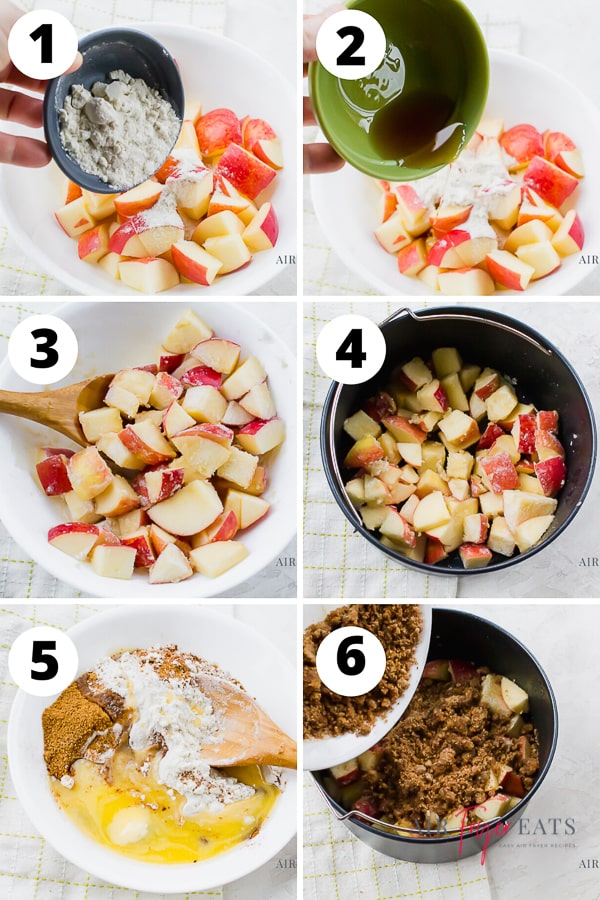 HOW TO MAKE AIR FRYER APPLE CRISP
Wash and core your apples. Next, dice your apples! I like leaving the skin on, but you can also peel them before dicing. Then toss the apples with corn starch.
Pour the maple syrup and spices over the apples.
Stir to mix apples with ingredients.
Pour into an oven safe dish or an air fryer pot.
Then, mix your rolled oats, chopped pecans, sugar, cinnamon, and maple syrup for your crisp topping in a large bowl.
Then, add the crisp topping to the apples in the air fryer pot. Air Fry at 350F (176C) for 20-25 minutes or until heated through.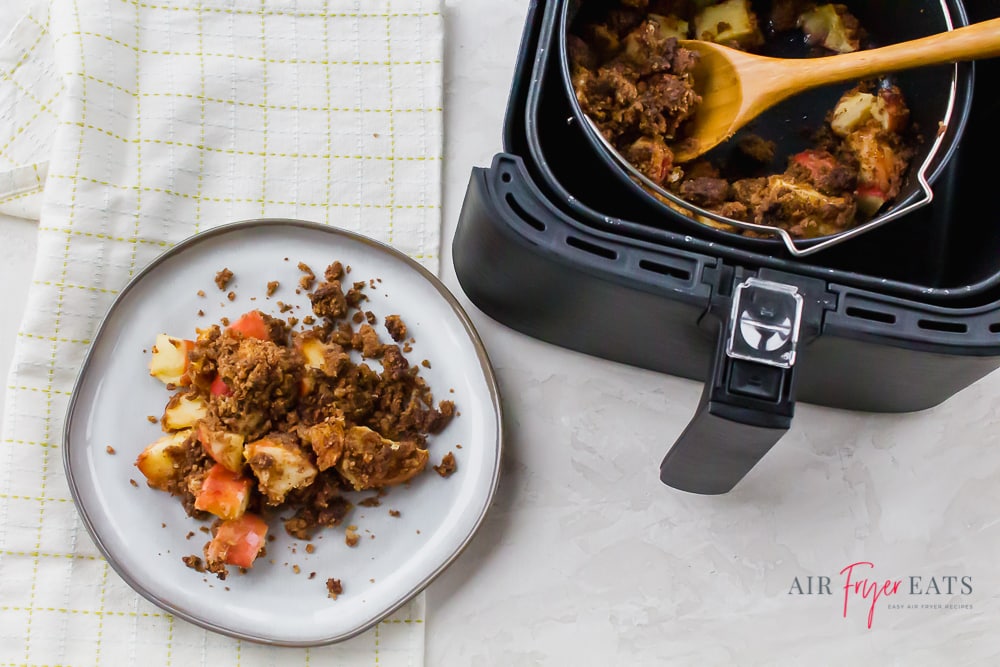 WHICH APPLES TO USE FOR AIR FRYER APPLE CRISP
Cooked apples are such a delicious treat, on their own or in a dessert, and a lot of that goodness comes from the type of apple you use.
In this recipe, I recommend a blend of green and red apples to balance the tart and the sweet.
With the green apples, I prefer the lovely Granny Smith, but Golden Delicious also works you don't like things to be tart.
For the red apples, Pink Lady, Honeycrisp, and Gala are all great options. Have one of each? Try them all!
HOW TO SERVE AIR FRYER APPLE CRISP
This vegan dessert is great on its own! It doesn't have a crust, so it's more scoop and serve than slice and serve.
What it lacks in traditional beauty it more than makes up for in delicious fall, apple flavor.
Have some dairy-free vanilla ice cream? Try this a la mode like apple pie!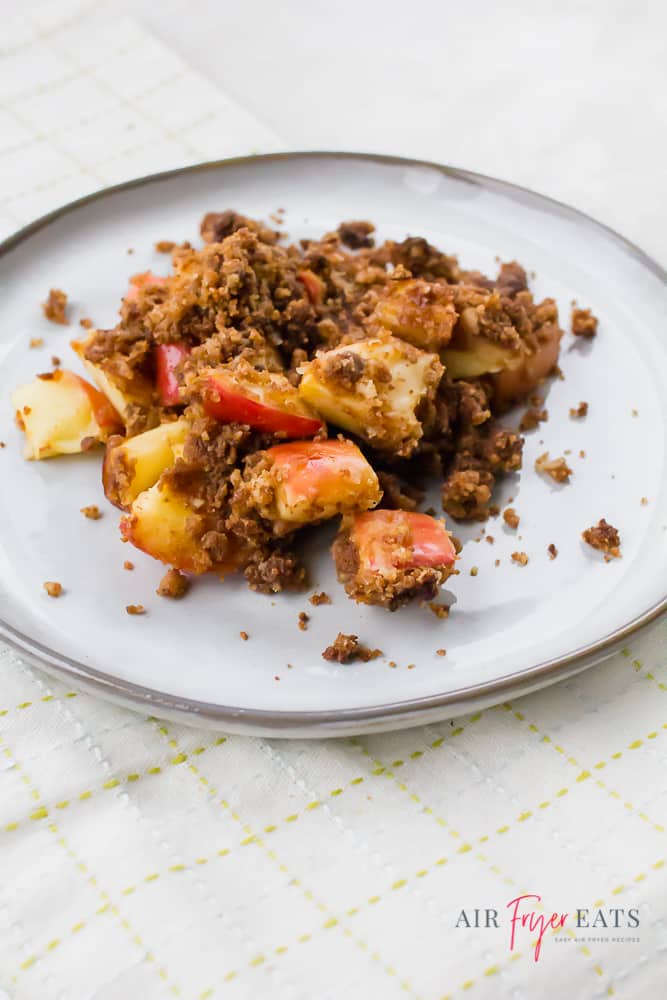 YUMMY AIR FRYER RECIPES
We love cooking in our air fryer and we especially love sweet things!
Here are some air fryer recipes for you to check out: Air Fryer Cinnamon Rolls, Donuts in the Air Fryer, 12 Air Fryer Breakfast Recipes, Air Fryer Sweet Potato Casserole and Cupcake in the Air Fryer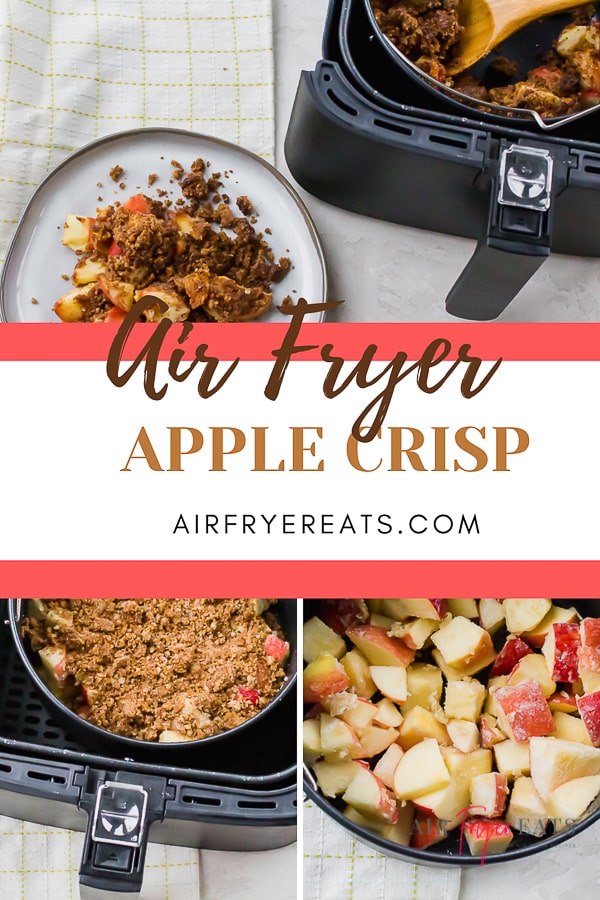 Have you made this recipe? Please leave a comment AND rating below! It helps other readers!
Be sure to tag @AirFryerEats on instagram, if you share a picture on the gram!
Let's get social, you can follow me on Youtube, Instagram, Facebook, Pinterest or join one of our Air Fryer Facebook Groups: Air Fryer Recipes, Air Fryer Recipes for Seniors and Gluten Free Air Fryer Recipes.
Don't forget to subscribe to our EMAIL newsletter.