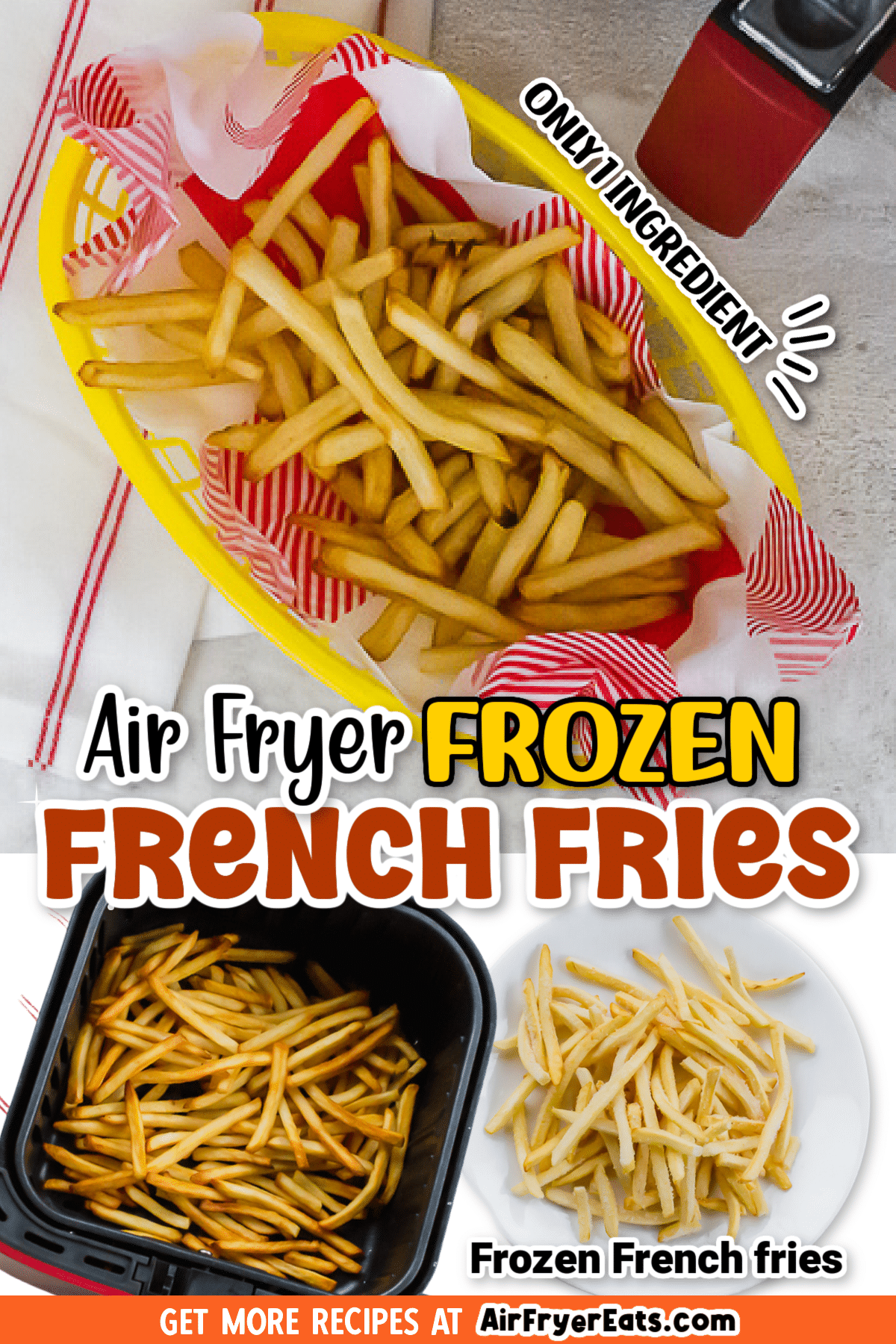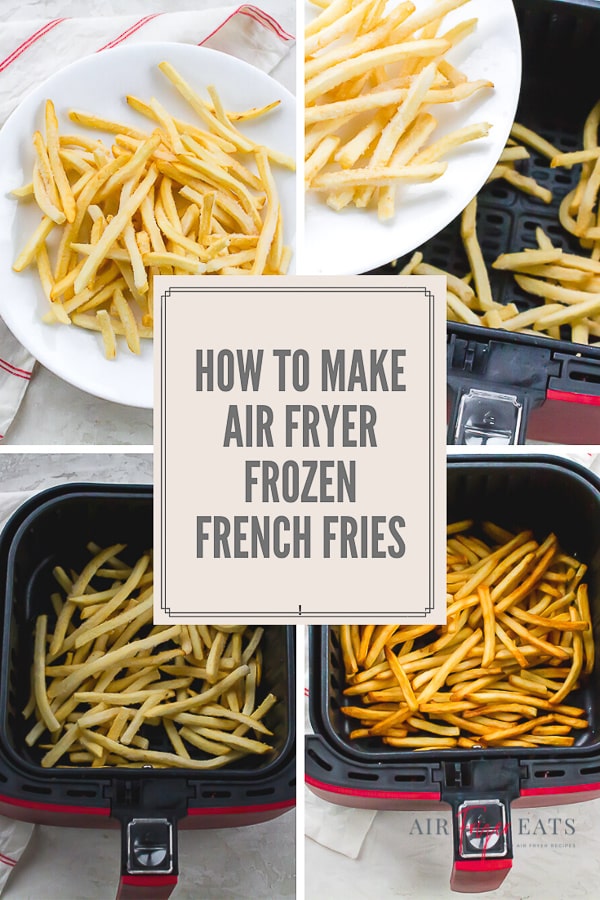 Making frozen french fries in your air fryer is a total breeze! Just one bite of these perfectly crispy fries is like a trip to your favorite burger joint!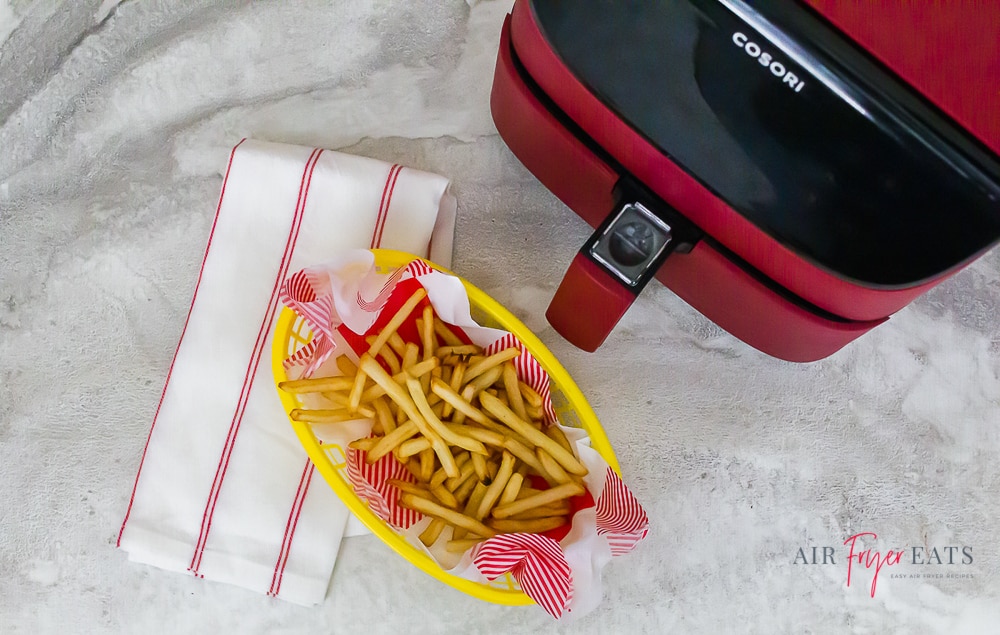 Frozen French Fries in Air Fryer
Air Fryer French Fries are so crispy and flavorful!
Gone are the days of limp, lifeless frozen french fries that take forever to cook in the oven!
One bag of frozen fries and 12 minutes in the air fryer gives you amazing results every time!
Paired with an air fryer hamburger or hotdog, your kitchen will feel like the best mom & pop roadside diner around - and you won't even have to leave your house!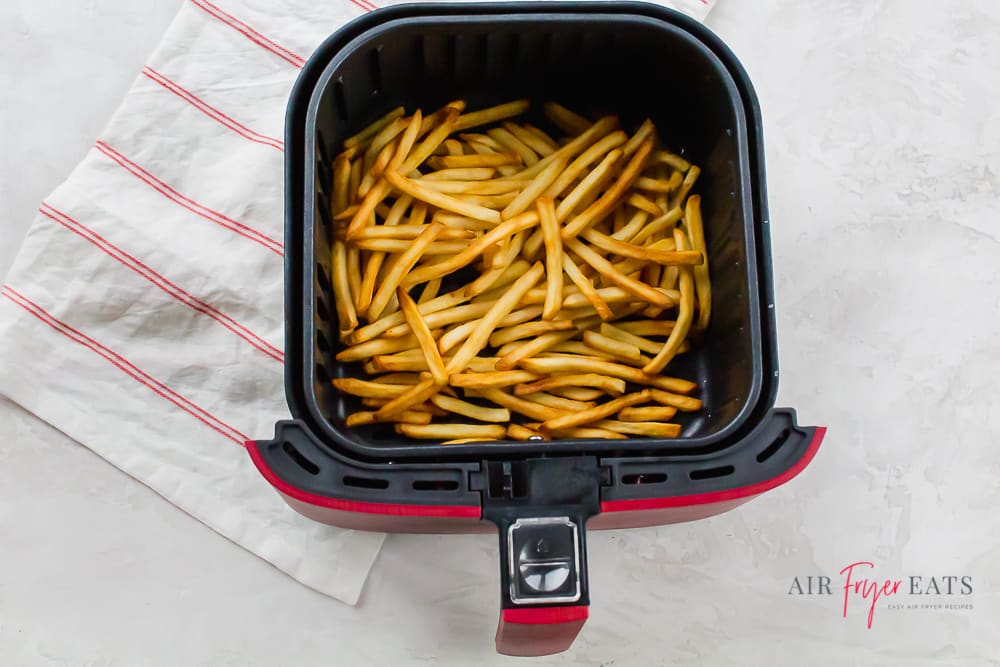 AIR FRYER RECIPE FOR BEGINNERS
Chances are quite high that frozen french fries were the first thing you cooked in your air fryer! Do you remember?
It's so easy to make frozen fries in the air fryer, and the payoff is big! Fries are cooked in the air fryer more quickly than in the oven, and they come out tasting like they were deep-fried.
If you're an air fryer newbie, you definitely need to make air fryer frozen french fries ASAP!
We're sharing tips and tricks to make sure that you get crispy, browned, tasty frozen fries, every time.
Once you've mastered air fryer french fries, you can move on to air fryer tater tots, air fryer sweet potato fries, and air fryer potato wedges made from fresh potatoes.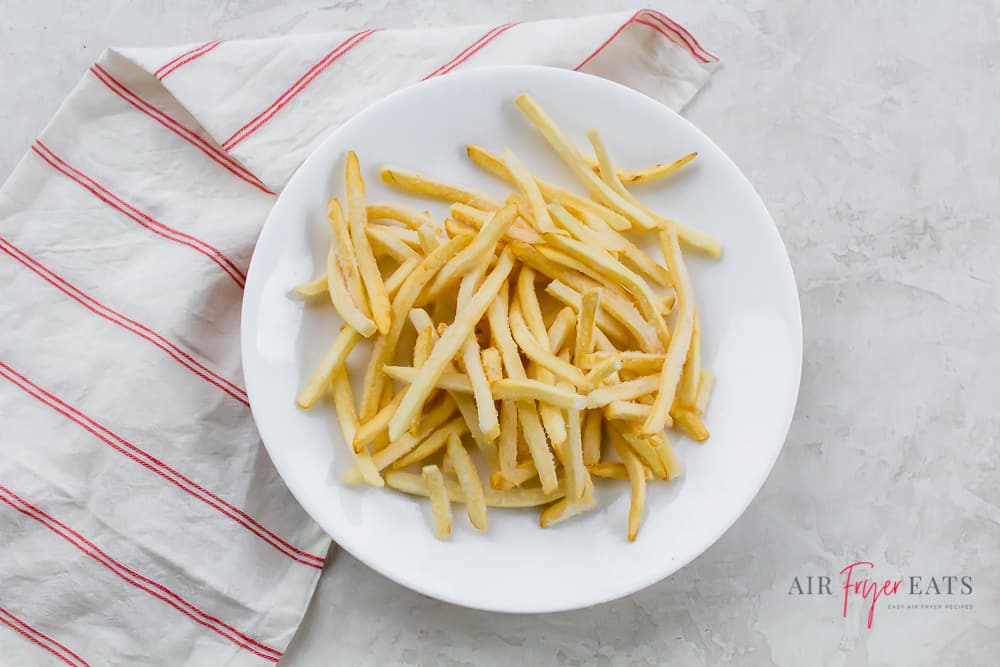 Ingredients for Frozen Fries in Air Fryer
For this air fryer french fry recipe, all you need is one bag of your favorite store-bought french fries.
Name brand fries, store brand fries, it doesn't matter. Any type or brand of frozen fries can be made in the air fryer.
That's it! There's no oil required, and you don't even have to season them!
Of course, you are welcome to add a shake of your favorite seasoning salt, or simple salt and pepper, before or after cooking if you like, but it's not a deal-breaker!
Either way, these frozen french fries in the air fryer will hit the spot! They'll be ready in minutes to make the perfect snack or easy dinnertime side dish.
If you have any questions at all about how to make frozen fries in the air fryer, leave a comment below and I will get back to you ASAP.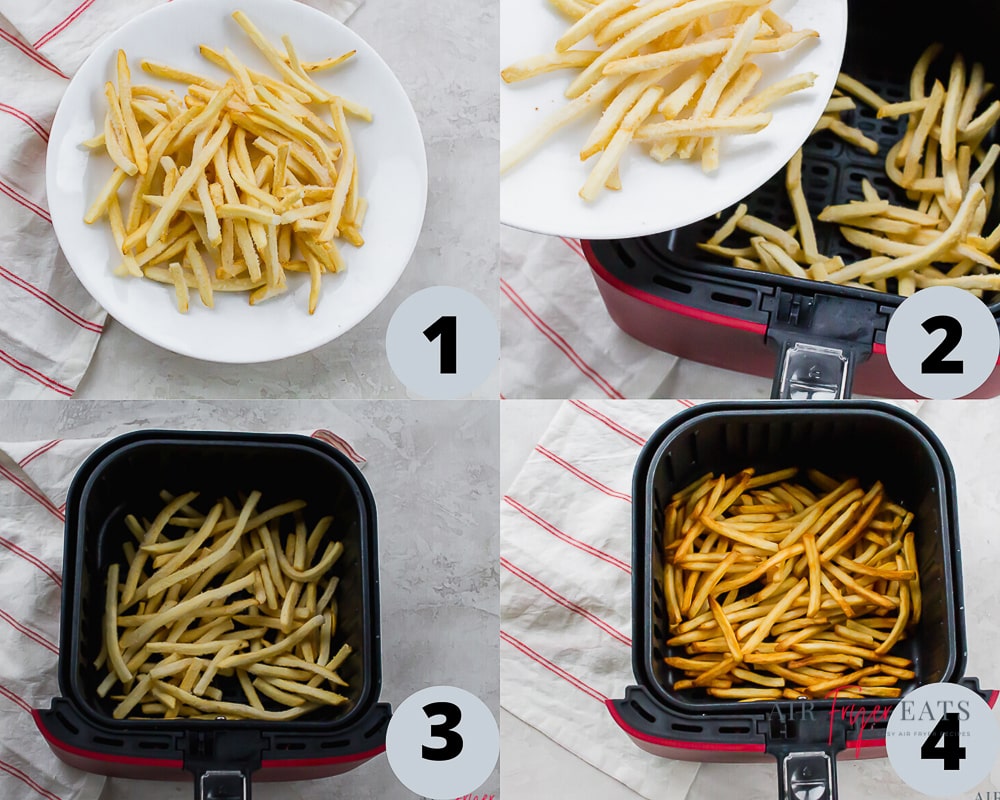 How do I cook frozen french fries in the air fryer?
Believe me when I tell you that air frying is the EASIEST way to cook french fries!
Step 1: Choose your favorite brand of french fries from your preferred grocer's frozen foods aisle.
Step 2: Pour the frozen french fries into the basket of your air fryer. They don't need to be in a single layer, but be sure not to crowd the basket so that the fries will cook evenly!
Step 3: Give the air fryer basket a gentle shake to spread the fries out as much as possible.
Step 4: Cook the fries in your air fryer at 400°F/200°C, then serve and enjoy. It's that easy!
These numbered steps match the numbered photos above and are for illustration purposes. For the complete recipe, instructions, and ingredients needed to make air fryer frozen french fries, see the recipe below.
Air Fryer Frozen French Fries Cooking Time
How long to cook frozen french fries in the air fryer depends on the style and thickness of the frozen french fries. They come in so many different varieties! Follow these guidelines for the best frozen french fries results:
For shoestring fries: Cook for 12 minutes in the air fryer.
For crinkle cut and standard-sized fries: Increase the air fryer cook time to 18 minutes. This amount of time should work for spiral or curly fries, and waffle fries too.
For thick frozen fries, follow my instructions for making Steak Fries in the air fryer.
TIPS FOR MAKING FROZEN FRENCH FRIES IN AIR FRYER
Shake Them! Be sure to remove the air fryer basket halfway through cooking to move the fries around.
This will allow them to cook to their crispiest potential! Shaking also keeps the fries from sticking together.
In some cases, it might be helpful to shake the basket more than one time during cooking. Particularly if your basket is more full than it should be.
Avoid Overfilling The Basket. This is true for every air fryer recipe. Without enough space around your food, the hot air from the air fryer won't be able to cook it properly.
For frozen fries, you can do a full bag of them in a large air fryer (like my Cosori), but if you're using a smaller model, you may need to do just a half bag at a time.
All Air Fryers are Different. Differences in size, volume, power, and heat occur in each different air fryer brand and model. This means that the times I give in my recipe may not be exactly right for you.
So, check the fries frequently as they are cooking in the air fryer. It's possible that you may need to remove them early or add a few minutes to get them to the perfect level of crispiness.
Do I need to defrost frozen french fries before frying?
No! Take it from me - do not thaw the fries before air frying!
With all of the advice you've seen around the web about water being the enemy of a crispy crunchy air fryer finish, it may seem counter-intuitive to put frozen potatoes right into an air fryer.
However, when peeled, cut potatoes are flash-frozen, that process creates an outside seal that keeps the moisture inside the potato flesh.
Thawing your frozen fries will cause that moisture to seep out and your fries will get soggy and won't crisp up properly.
Nobody wants a pile of mushy fries! So do not thaw them.
Toss frozen fries right into your air fryer and cook them at a high temperature, and you'll have beautifully crisp fries in minutes!
SHOULD I SPRAY FRIES WITH OIL WHEN AIR FRYING?
Nope! Frozen french fries do not need any oil to cook in the air fryer, and here's why:
Frozen potato products like fries, tater tots, and hashbrowns are processed with an amount of oil already on them. This is why you can bake them in the oven on a cookie sheet and they don't stick!
As the frozen fries heat up, that oil is released and helps the fries get brown and crispy.
SHOULD I PREHEAT THE AIR FRYER WHEN MAKING FROZEN FRENCH FRIES?
I don't recommend pre-heating the air fryer for cooking frozen foods like french fries. I haven't found it to be helpful or needed, and it just makes the process take longer.
However, if your air fryer model recommends pre-heating, then you should follow that advice.
HOW TO MAKE SURE AIR FRYER FRIES ARE CRISPY
Here you go. Here are the top things to remember when making frozen french fries in the air fryer. If you can remember these four things, you can't go wrong!
Don't thaw frozen french fries.
Cook at high heat.
Don't overfill the air fryer basket.
Shake to make sure everything gets crispy.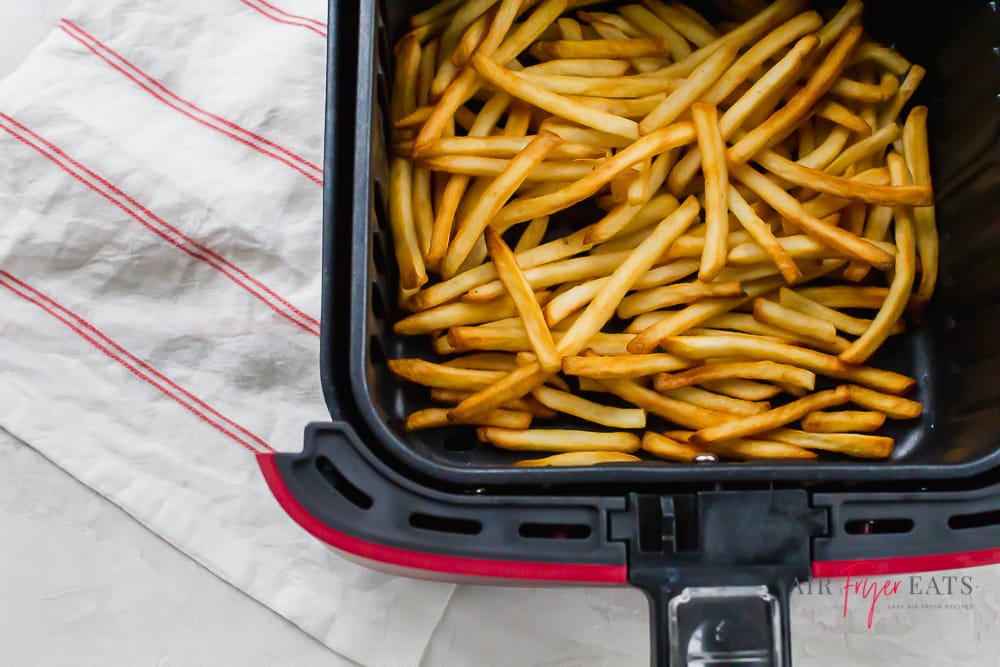 Best Dipping Sauces for Air Fryer French Fries
Tired of the same old ketchup?
Try some of these tasty homemade sauce recipes that you can whip up in no time!
We have so many sauces for you to try! Creamy Cilantro Garlic Sauce, Mediterranean Sauce, Homemade BBQ Sauce, and Dr. Pepper Barbecue Sauce should be enough to get you started.
WHAT TO SERVE WITH AIR FRYER FROZEN FRENCH FRIES
French fries in the air fryer make the perfect side dish! Serve them with your favorite meals, or try some of these air fryer dinner recipes.
Air Fryer Burgers are the perfect thing to go with frozen french fries. You can make Beyond Burger patties in the air fryer too.
Fries are also tasty with chicken tenders. We have a recipe for traditional, crispy Air Fryer Chicken Tenders and an Unbreaded Chicken Tenders recipe. Both are delicious!
I like to make frozen french fries in the air fryer with other air fryer snacks. You have to try my perfect Air Fryer Chicken Wings. Then check out recipes for Air Fryer Potato Skins, and Air Fryer Onion Rings.
Or, turn a batch of air fryer frozen fries into a meal, like this loaded french fry salad!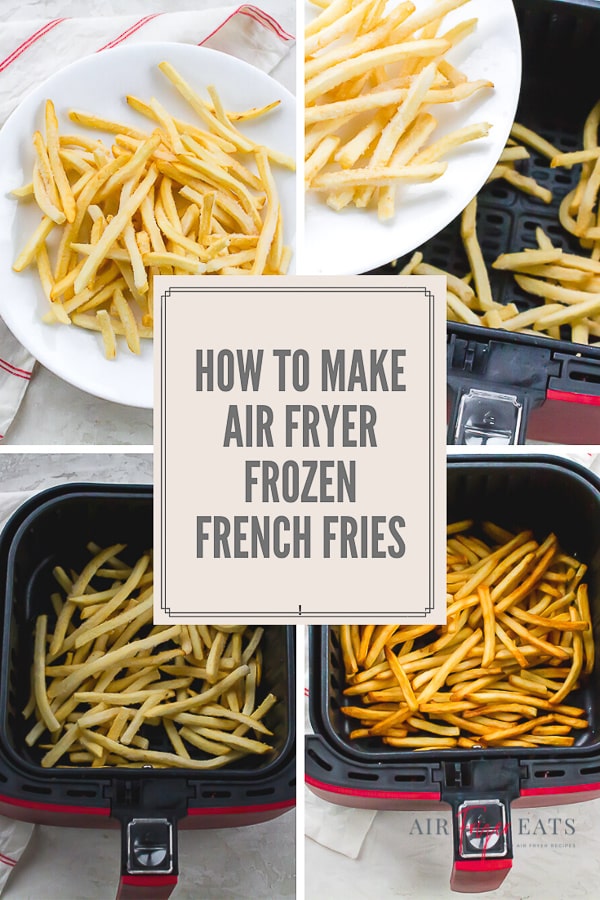 more irresistible air fryer recipes
We have so many air fryer recipes to choose from!
If you are having trouble figuring out which one to try next, we suggest: Air Fryer Chicken Wings, Air Fryer BBQ Chicken Wings and Air Fryer Fried Pickles. Maybe you'll want to try these No Potato French Fries!


Have you made this recipe? Please leave a comment AND rating below! It helps other readers!
Be sure to tag @AirFryerEats on instagram, if you share a picture on the gram! Let's get social, you can follow me on Youtube, Instagram, Facebook, Pinterest or join one of our Air Fryer Facebook Groups: Air Fryer Recipes, Air Fryer Recipes for Seniors and Gluten Free Air Fryer Recipes.
Don't forget to subscribe to our EMAIL newsletter.
Air Fryer French Fries
Making french fries in your air fryer is a total breeze! Just one bite of these perfectly crispy fries is like a trip to your favorite burger joint!
Ingredients
1

bag

Frozen French fries
Instructions
Pour your frozen french fries into the air fryer basket. Be sure not to crowd the basket. Give the basket a gentle shake to even out the fries.

Place air fryer basket into air fryer unit.Set temperature for 400 degrees F. If you are cooking shoestring fries, cook for 12 minutes.

After 6 minutes have passed remove the air fryer basket and shake it gently to move fries around. Return air fryer basket to air fryer unit and continue cooking.
Go AD FREE!
Notes
Make sure that you do not crowd the basket with too many fries. The fries will not cook evenly. Work in batches if needed.

You may need to adjust the time if your are using different types of fries.

For shoestring fries - cook for 12 minutes
For crinkle cut and regular Fries - cook for 18 minutes

Pro Tip: This recipe can be made in the air fryer unit with a basket or the air fryer oven. If you are using the air fryer oven, use the middle rack and select the "Air Fry" function.

Pro Tip: Check your food as it cooks. Each air fryer runs a bit differently. Sometimes air frying is a trial and error process. Check your food as it cooks to learn your air fryer better! When cooking a new recipe or food items be sure to check your food often to help avoid over/under cooking.
Have oven recipes that you'd like to convert to an air fryer recipe? Use our Air Fryer Calculator to help you estimate cooking times and temps! Calculator here:
https://airfryereats.com/air-fryer-conversion-air-fryer-calculator/
Nutrition
Serving:
3
oz
|
Calories:
130
kcal
|
Carbohydrates:
21
g
|
Protein:
2
g
|
Fat:
3.5
g
|
Saturated Fat:
1
g
|
Polyunsaturated Fat:
0
g
|
Monounsaturated Fat:
0
g
|
Trans Fat:
0
g
|
Cholesterol:
0
mg
|
Sodium:
290
mg
|
Potassium:
390
mg
|
Fiber:
2
g
|
Sugar:
1
g
|
Vitamin A:
0
IU
|
Vitamin C:
0
mg
|
Calcium:
0
mg
|
Iron:
0.3
mg
Tired of the ads?
Go AD Free - Become part of our Membership community!
Air Fryers can vary greatly. Please take the time to learn your specific air fryer. You may need to adjust times and temperatures based upon your air fryer.
All though this website attempts to provide accurate nutritional information, the information should only be considered an estimate. Varying factors such as different product types, different brands, etc. can change nutritional information. It is your responsibility as a consumer to read all labels to make sure the ingredients fit your dietary needs as well as calculate your own nutritional information as a double check.