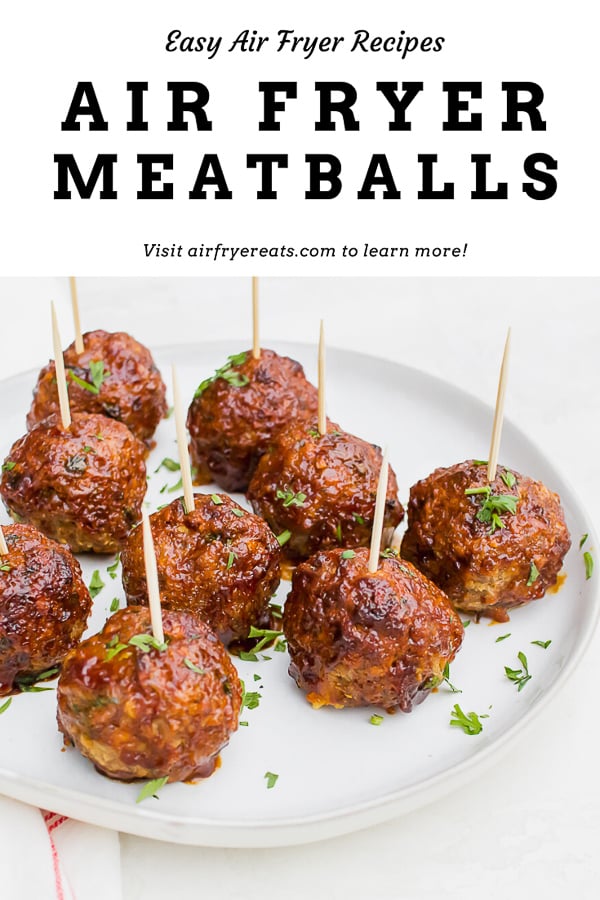 Air Fryer Meatballs are easy to make and super tasty! Serve them as an appetizer or a main dish - either way they're a real crowd pleaser!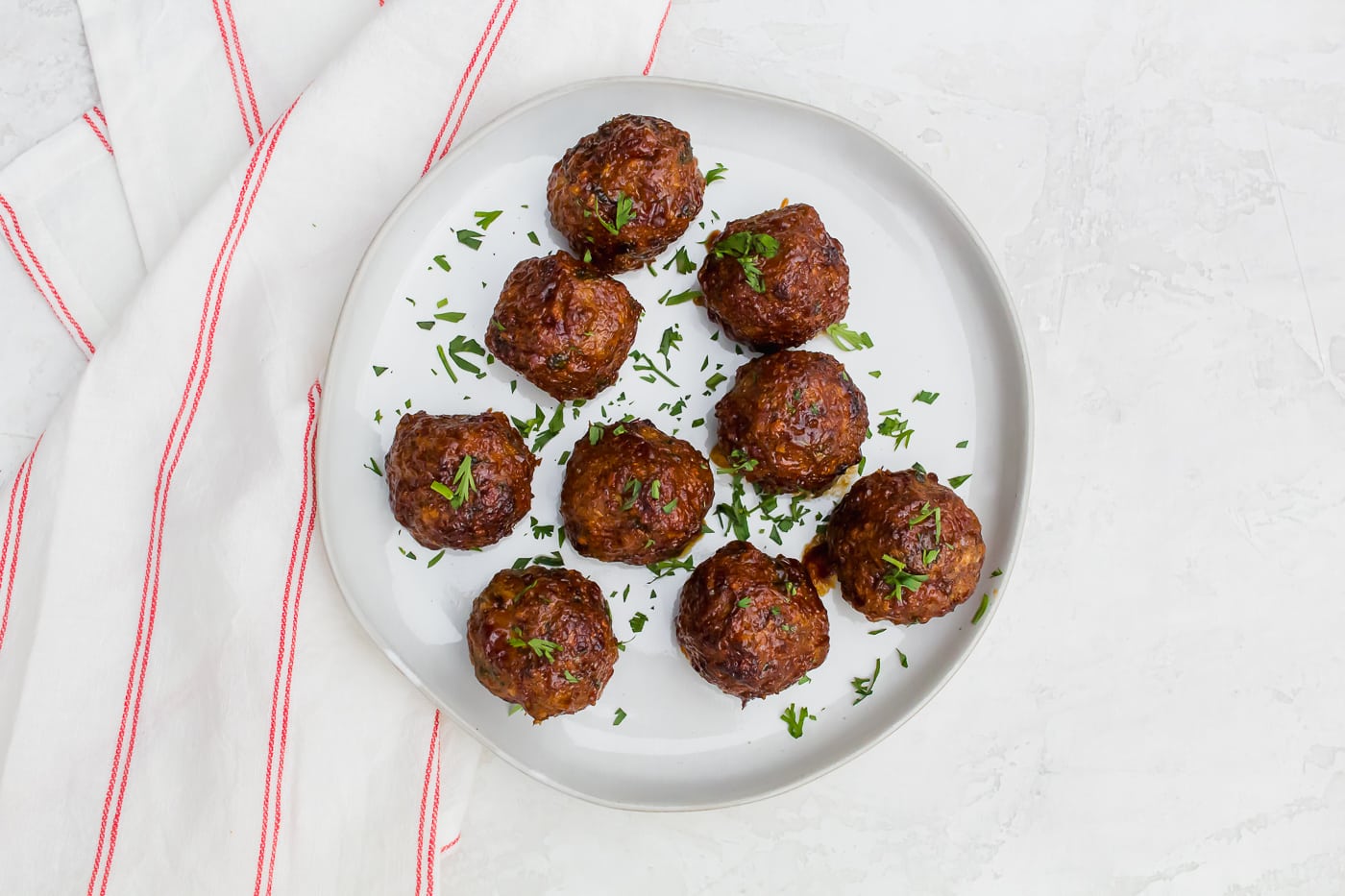 AIR FRYER MEATBALLS RECIPE
Air Fryer Meatballs are the best easy appetizer!
Add these meatballs to your appetizer spread along with Air Fryer Honey Sriracha Cauliflower and your crowd will go wild!
Believe me when I say that cooking meatballs in the air fryer will change your life. Want more meatball recipes? Check out these Air Fryer Turkey Meatballs!
A few ingredients and 15 minutes is all you need to make them!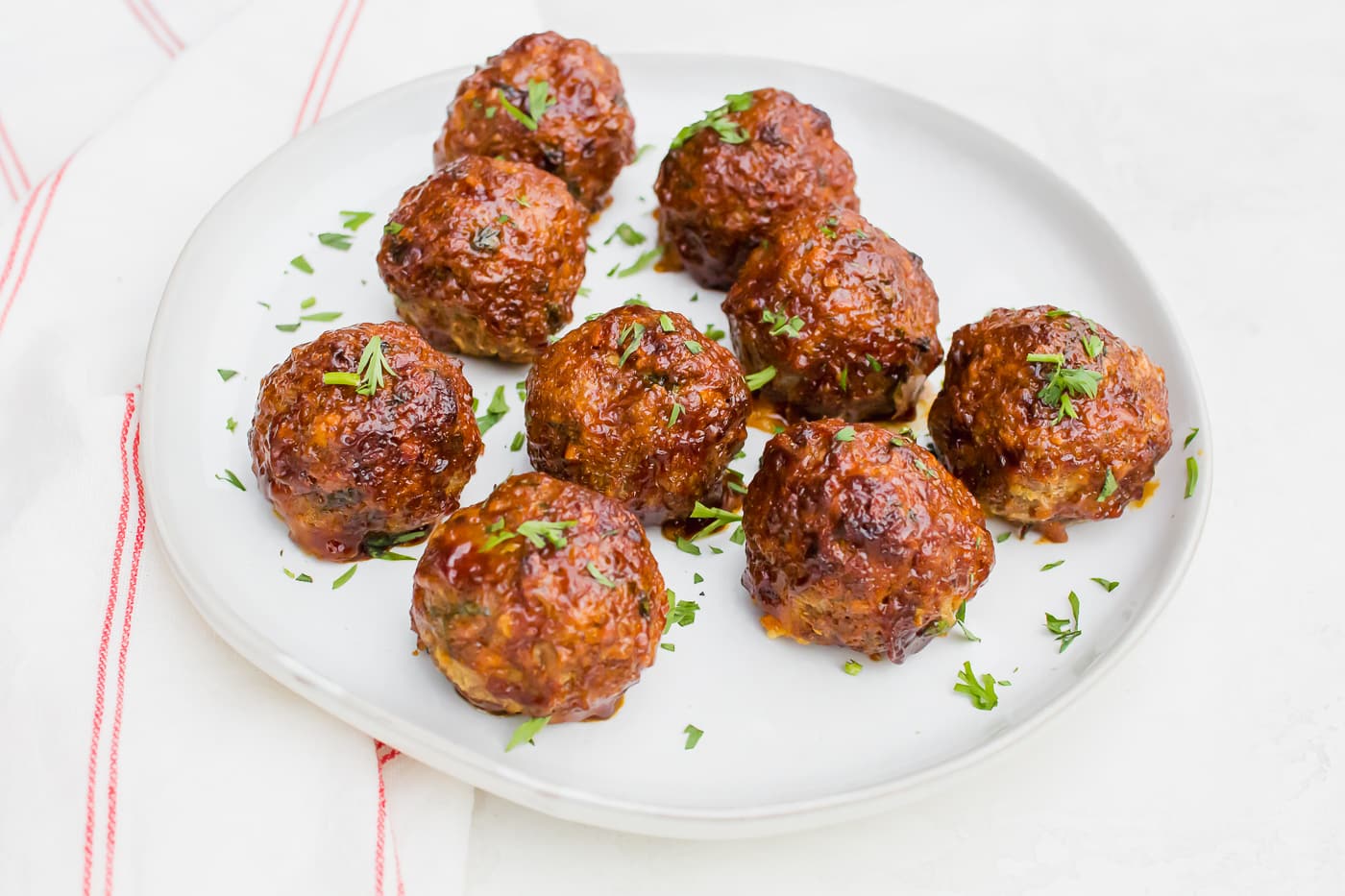 Ingredients in Air Fryer Meatballs
A pound of ground protein (try ground beef, ground pork, or veggie protein like Beyond Meat)
Breadcrumbs
Red onion (diced)
Fresh parsley (chopped)
An egg
Salt
Oregano
For the glaze:
Ketchup, Brown sugar and Dijon mustard
How to make meatballs in air fryer
First, add your ground protein to a large bowl.
Add the diced red onion, breadcrumbs, chopped parsley, egg, salt, and oregano.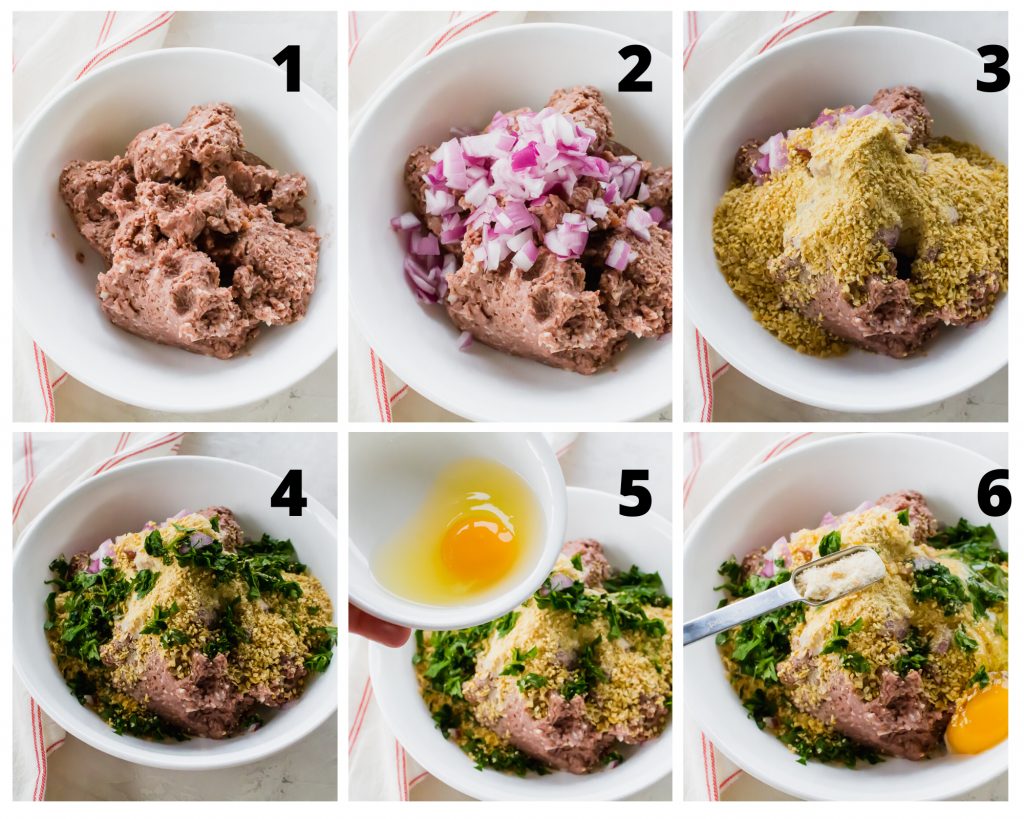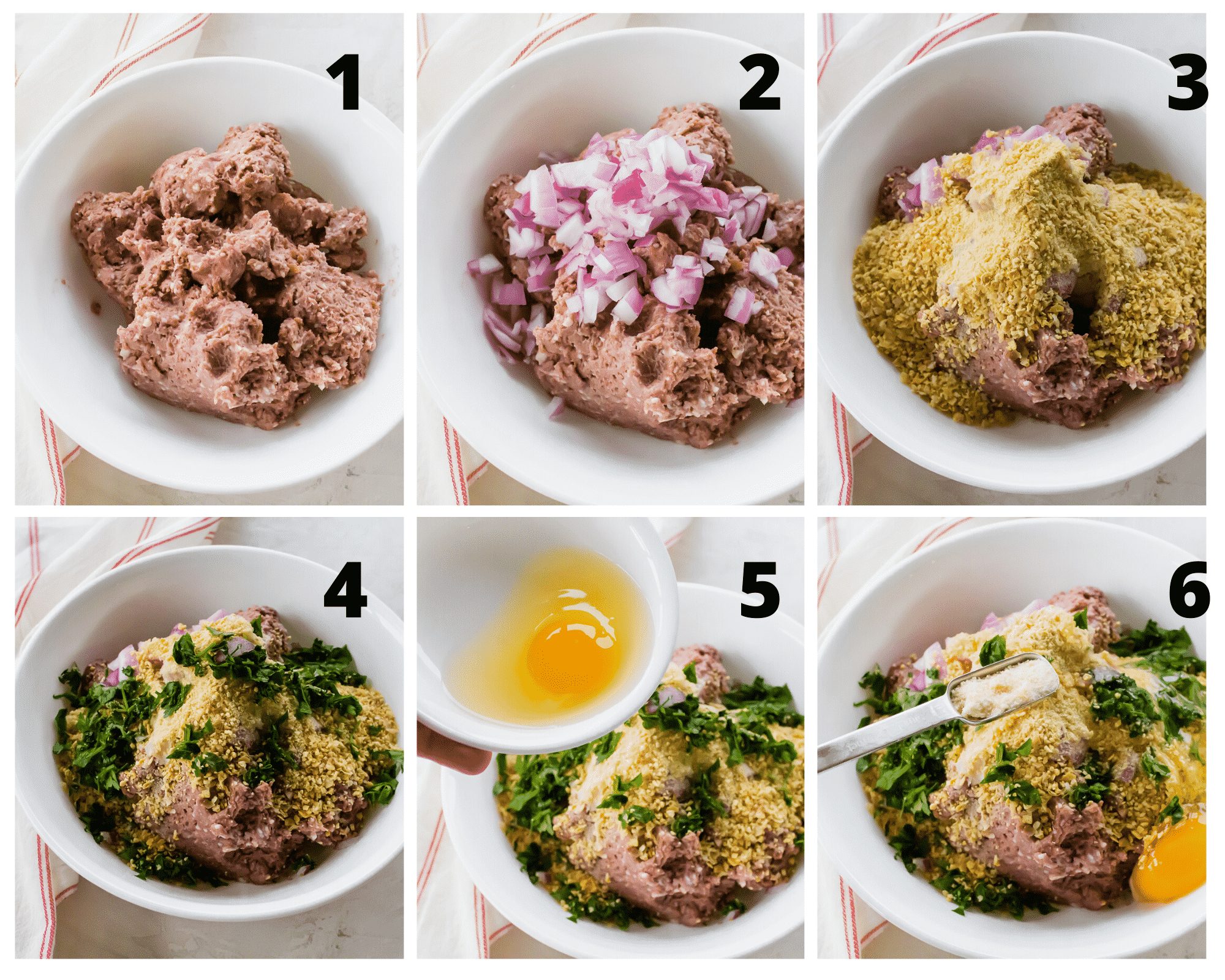 Combine thoroughly using your hands or a spatula, making sure that the ingredients are evenly dispersed throughout.
Shape the mixture into 1 to 1.5 inch balls.
Place a piece of foil or parchment in the bottom of your air fryer basket and arrange the meatballs overtop.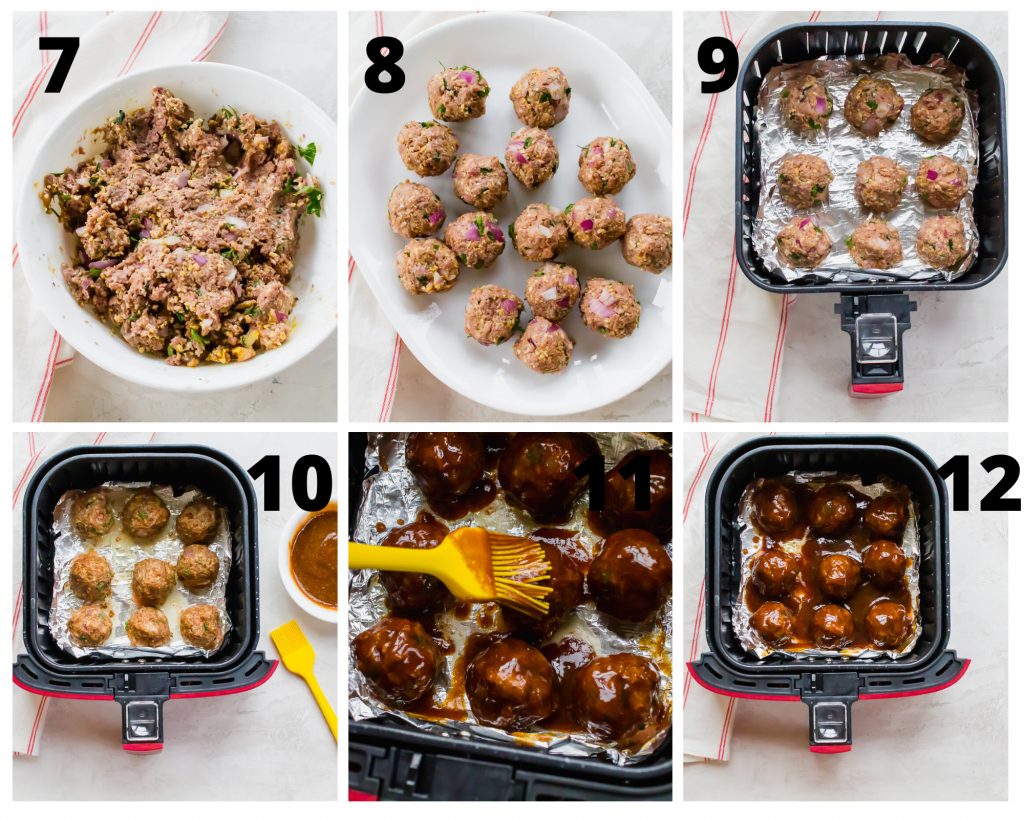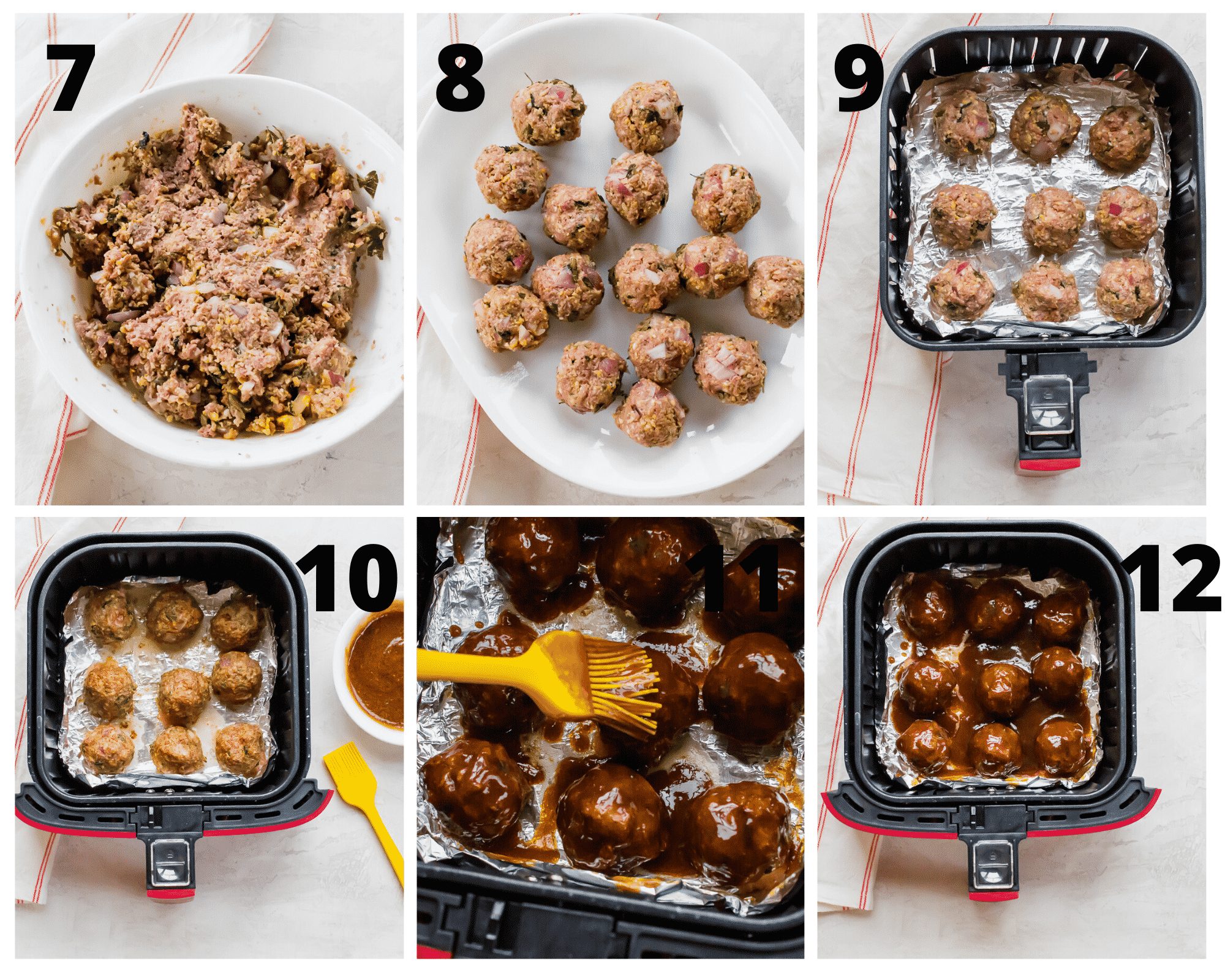 Cook the meatballs for 8 minutes.
Combine the glaze ingredients in a bowl and brush the glaze over the meatballs.
Place the meatballs back into the air fryer and cook them for an additional 7 minutes.
Serve and enjoy!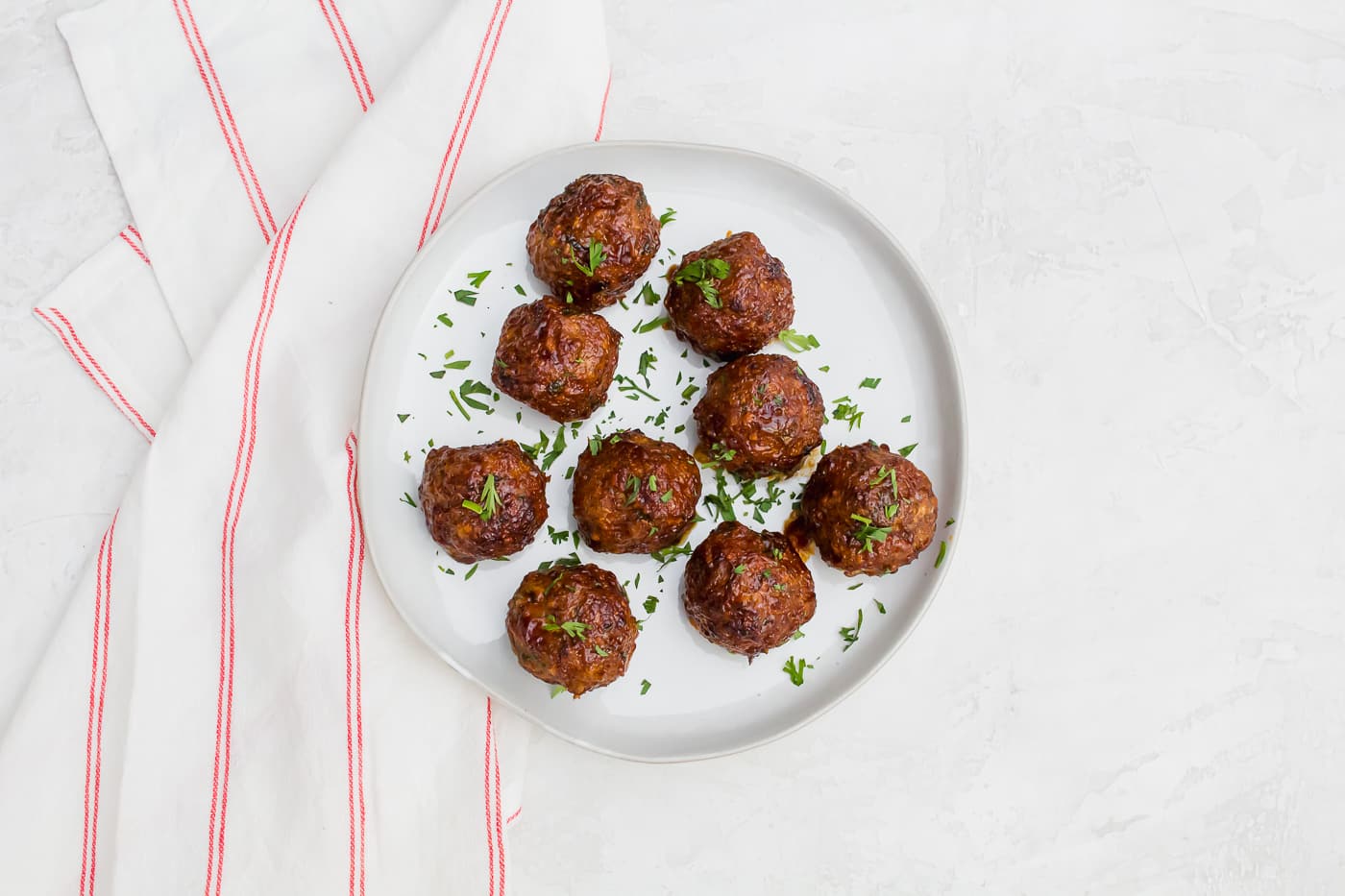 Are Breadcrumbs Necessary in Meatballs?
Ideally you'll want to have some kind of binder to hold your meatball mixture together.
Otherwise, the meatballs could fall apart and leave you with a mushy mess.
About a half cup of breadcrumbs and an egg mixed into the batter will do the trick.
If you're gluten free you can use gluten free bread crumbs or make them from your favorite gluten free bread. For our vegan friends, you can make them with oats like this meatball recipe.
Why are my meatballs tough?
There are a couple different reasons why your meatballs may have come out too tough or chewy.
Don't skip the breadcrumbs and eggs - you'll need them to bind the meat together and keep it moist.
Leaving out the binder can cause too much moisture to render off while cooking, leaving the meatballs tough.
Another reason for tough meatballs is over cooking. There are several different types of air fryers on the market, and they all operate a little differently.
As with any other recipe, be sure to watch the meatballs so that they don't overcook. You may need to adjust your cooking times by a minute or two.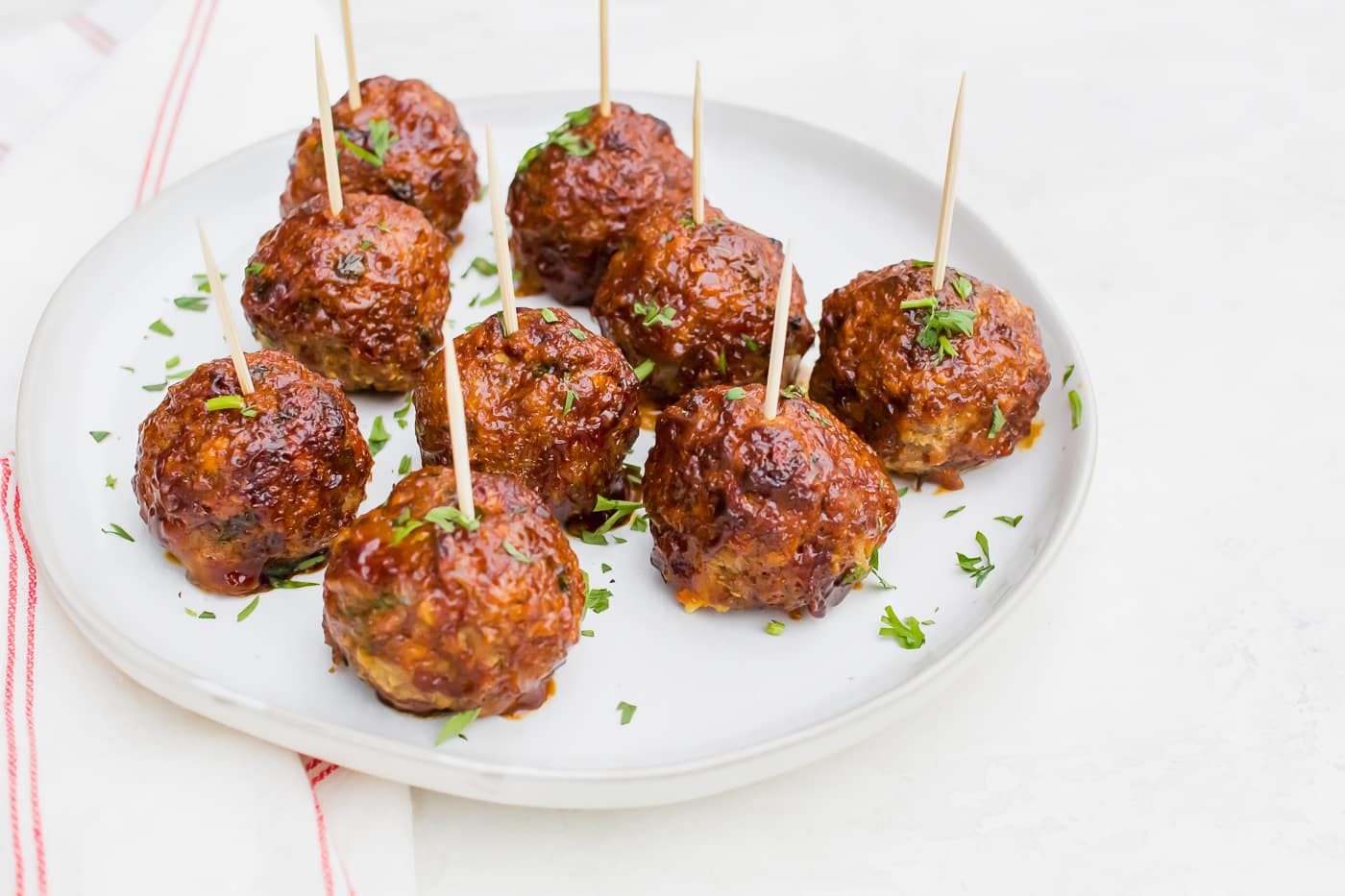 More Air Fryer Appetizers You'll Love!
We have so many air fryer recipes to choose from!
If you are having trouble figuring out which one to try next, we suggest: Air Fryer Mozzarella Sticks , Air Fryer Fried Pickles and Air Fryer Jalapeño Poppers. Also check out these mojo meatballs.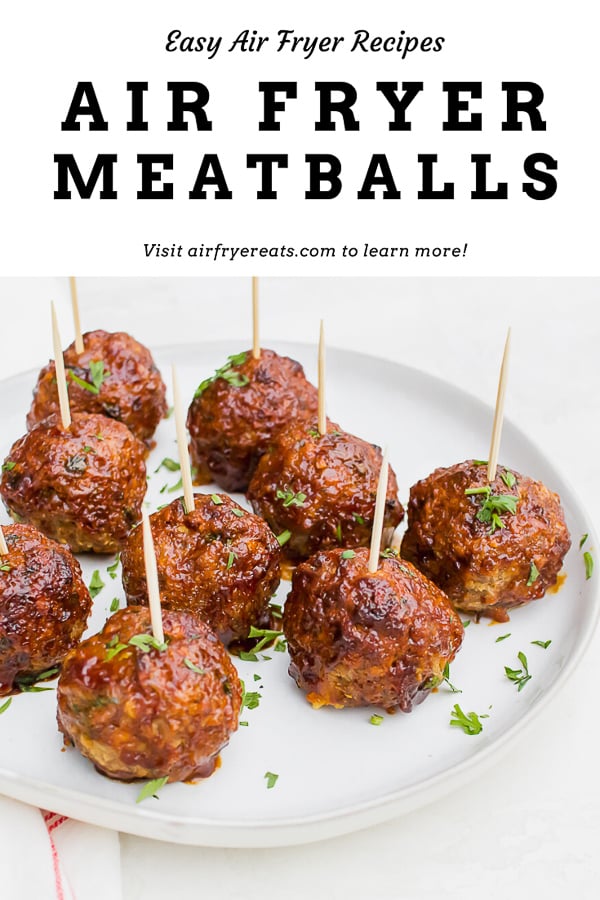 Pro Tips
Use Any Air Fryer: This recipe can be made in an air fryer unit with a basket or an air fryer oven. If you're using an air fryer oven, place your food on the middle rack and select the "air fry" function.
Check your food as it cooks! Since each air fryer runs differently, sometimes air frying is a trial and error process. When cooking a new recipe, be sure to check on your food often. This will help you avoid over or undercooking, and help you learn your air fryer's specific ways!


Have you made this recipe? Please leave a comment AND rating below! It helps other readers!
Be sure to tag @AirFryerEats on instagram, if you share a picture on the gram! Let's get social, you can follow me on Youtube, Instagram, Facebook, Pinterest or join one of our Air Fryer Facebook Groups: Air Fryer Recipes, Air Fryer Recipes for Seniors and Gluten Free Air Fryer Recipes.
Don't forget to subscribe to our EMAIL newsletter.
Air Fryer Meatballs
Air Fryer Meatballs are easy to make and super tasty! Serve them as an appetizer or a main dish - either way they're a real crowd pleaser!
Ingredients
For the meatballs:
1

lb

ground protein

(ground beef, ground pork, veggie protein)

½

cup

breadcrumbs

½

cup

red onion

diced

¼

cup

fresh parsley

chopped

1

egg

1

tsp

garlic salt

1

tsp

oregano
For the glaze:
¼

cup

ketchup

¼

cup

brown sugar

2

tsp

dijon mustard
Instructions
Combine the ingredients for the meatballs in a bowl.

Roll the mixture into 1-1.5 inch balls.

Line your air fryer basket with parchment paper or foil.

Place the meatballs into the air fryer basket.

Air fry the meatballs at 380 degrees F for 8 minutes.

Mix the glaze ingredients together and brush over the meatballs.

Air fry the meatballs for another 7 minutes at 380 degrees F.

Remove the meatballs from the air fryer basket, then serve and enjoy!
Go AD FREE!
Notes
Update: I've recently talked with people who have made this recipe in a Cuisinart Air Fryer Oven and also a Ninja Basket Air Fryer. Both of these units seem to run "hotter" than most air fryers. That means you will need to LESSEN the cook time. For this recipe, the cook time was almost cut in half. I would suggest cooking for 5 minutes, adding the sauce and cooking for 1-3 more minutes. Pro Tip: This recipe can be made in the air fryer unit with a basket or the air fryer oven. If you are using the air fryer oven, use the middle rack and select the "Air Fry" function.
Nutrition
Calories:
309
kcal
|
Carbohydrates:
39
g
|
Protein:
24
g
|
Fat:
7
g
|
Saturated Fat:
1
g
|
Cholesterol:
41
mg
|
Sodium:
1351
mg
|
Potassium:
371
mg
|
Fiber:
7
g
|
Sugar:
20
g
|
Vitamin A:
452
IU
|
Vitamin C:
7
mg
|
Calcium:
60
mg
|
Iron:
7
mg
Tired of the ads?
Go AD Free - Become part of our Membership community!
Air Fryers can vary greatly. Please take the time to learn your specific air fryer. You may need to adjust times and temperatures based upon your air fryer.
All though this website attempts to provide accurate nutritional information, the information should only be considered an estimate. Varying factors such as different product types, different brands, etc. can change nutritional information. It is your responsibility as a consumer to read all labels to make sure the ingredients fit your dietary needs as well as calculate your own nutritional information as a double check.
You are probably here because you love air fryers as much as we do! If you are looking for a few more simple recipes, I would suggest that you take a look at our Frozen Hamburgers in Air Fryer Post! You will learn what temp and time to start with and you can adjust from there! Trust us, once you try it, this will be your preferred cooking method for hamburgers!

When it comes to frozen foods in your air fryer, we have you covered there too! You can check out our Best Frozen Foods for your Air Fryer Post! Or you can skip directly to our most popular frozen food posts: Bagel Bites in Air Fryer, Air Fryer Corn Dogs, Air Fryer Biscuits,Air Fryer Tater Tots, Totino's pizza rolls air fryer and Frozen turkey burger.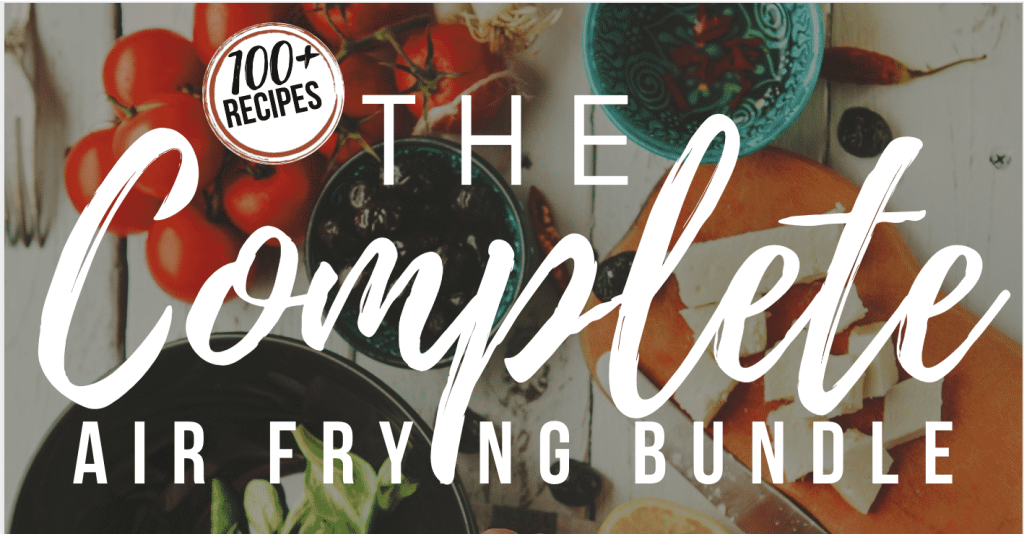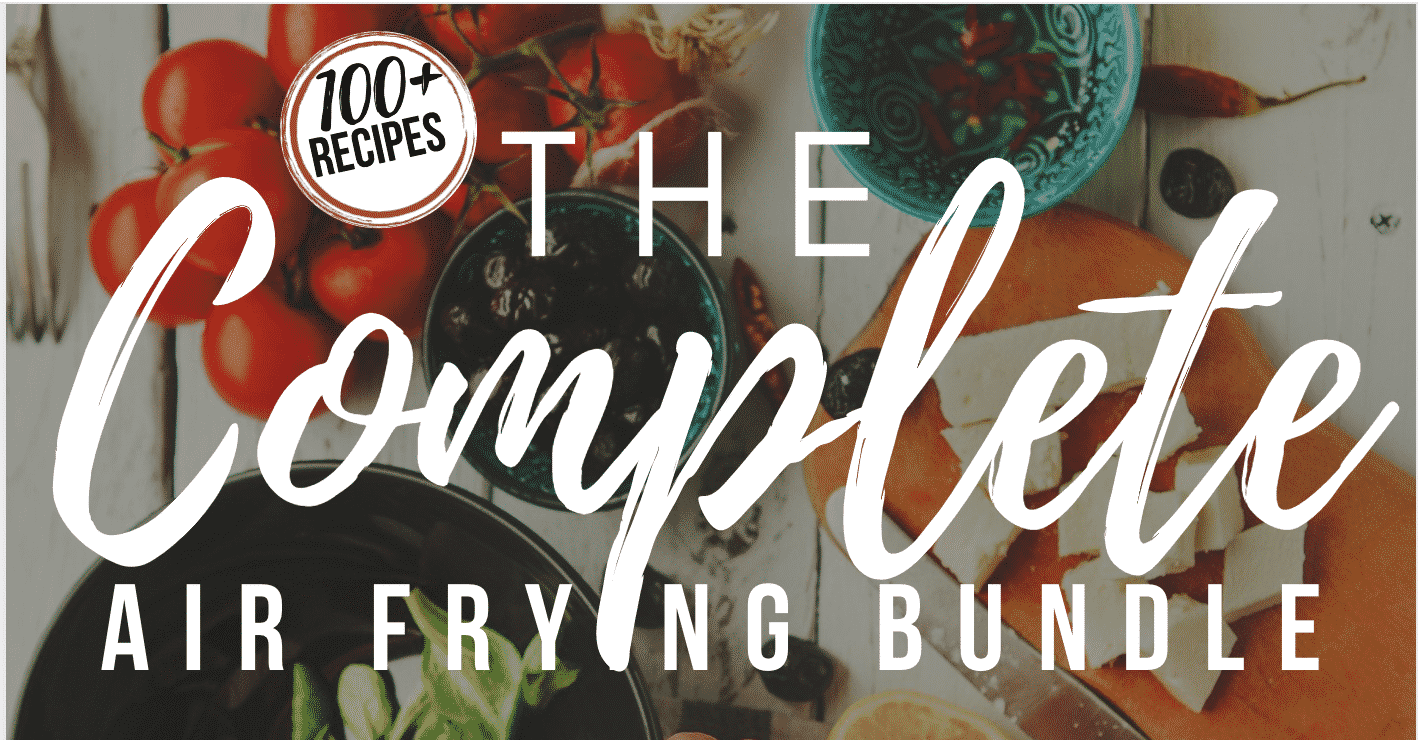 Let's talk! Drop me a comment below letting me know if you have ever made meatballs in an air fryer! If you have tried these meatballs, I'd love to get your feedback! Let me know in the comments below!