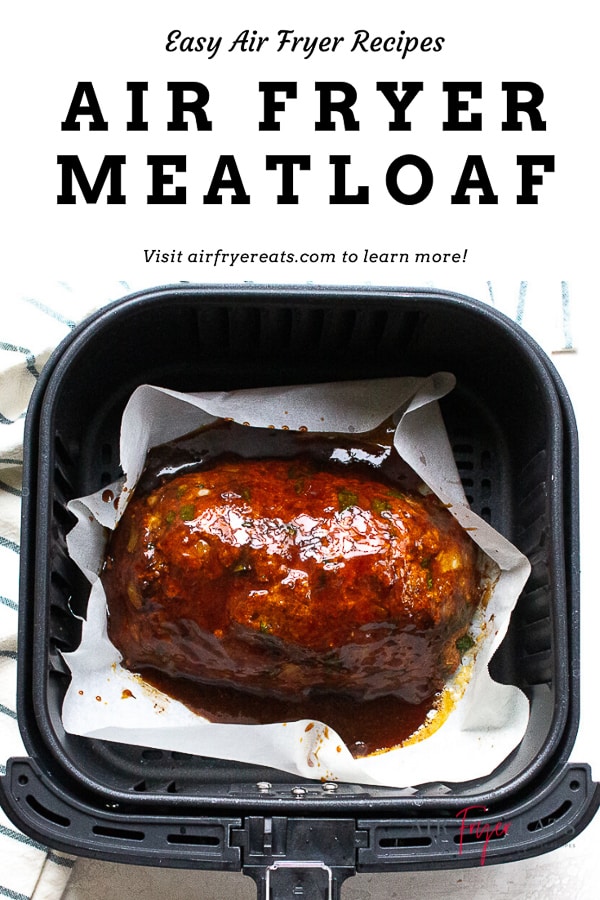 Air Fryer Meatloaf is the perfect combination of flavors! Savory spices and a sweet glaze make for a meatloaf recipe that's done in less than 40 minutes!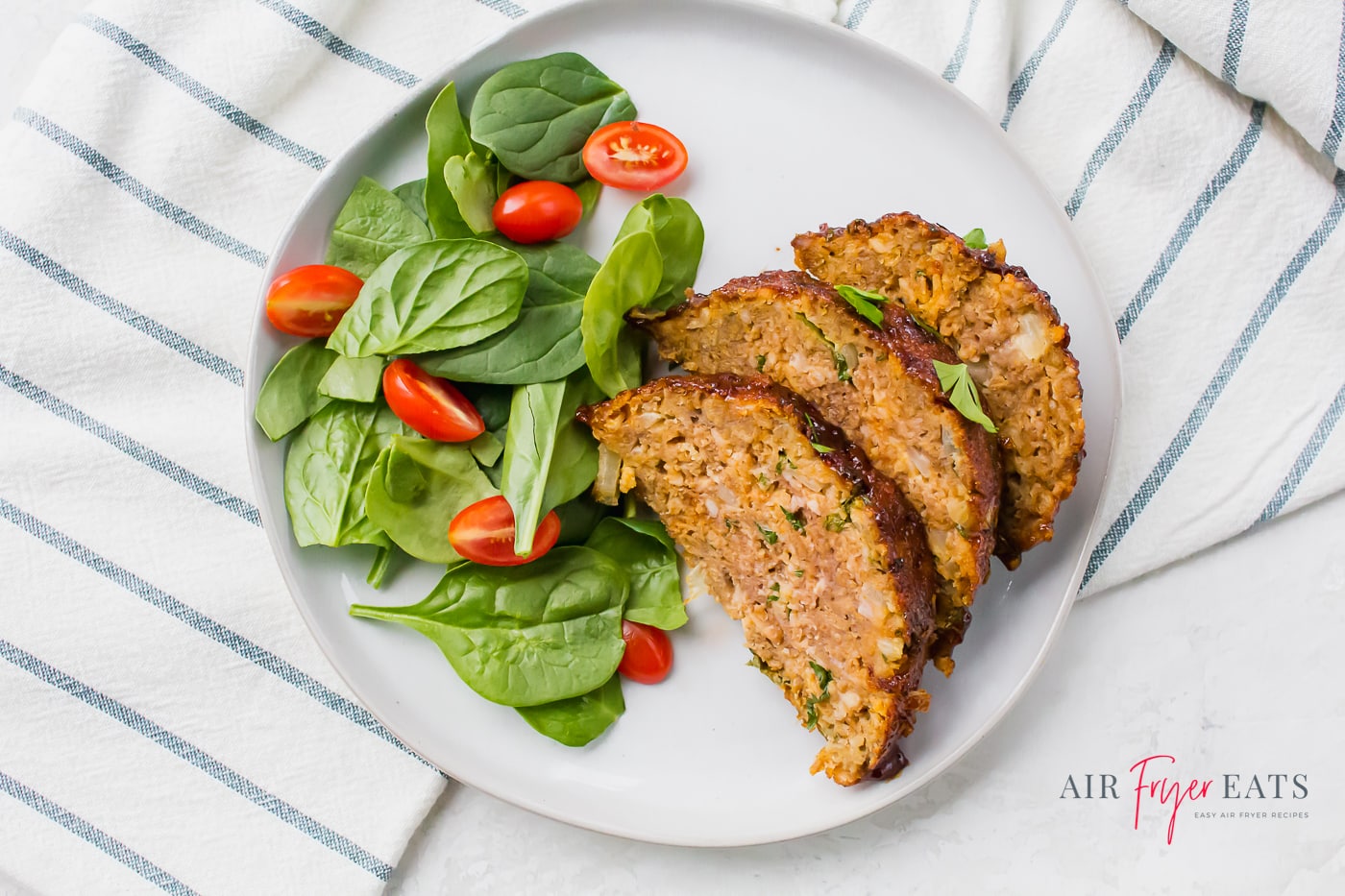 AIR FRYER MEATLOAF RECIPE
Air Fryer Meatloaf is the best way to make meatloaf! This meatloaf in air fryer is the perfect combination of savory & sweet flavors.
You won't believe how easy this meatloaf recipe is.
Served with broccoli and crispy potatoes, it makes a meal that'll satisfy your taste buds and fill your tummy!
If you've never air fried your meatloaf before, you're in for a big surprise!
One of the biggest complaints about cooking meatloaf is how long it takes. Using your air fryer cuts the cook time in half!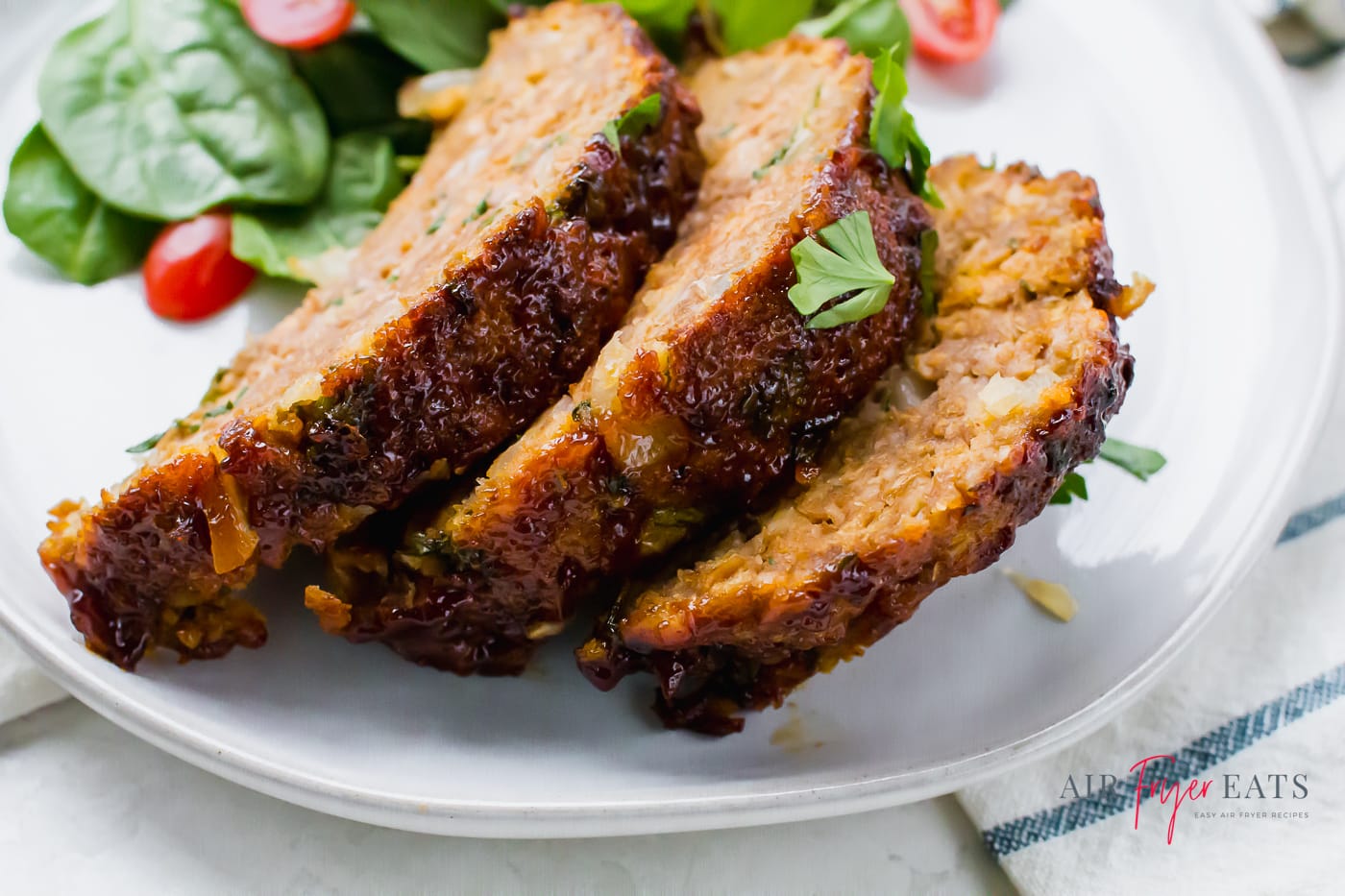 Ingredients in Air Fryer Meatloaf
Ground protein (I used Beyond Meat, but you can use whatever protein you prefer.)
Breadcrumbs
Ketchup
Diced onion
An egg (whisked)
Mustard
Liquid smoke
Garlic powder
Salt
Smoked paprika
Oregano
For the glaze:
Ketchup
Brown Sugar
Dijon mustard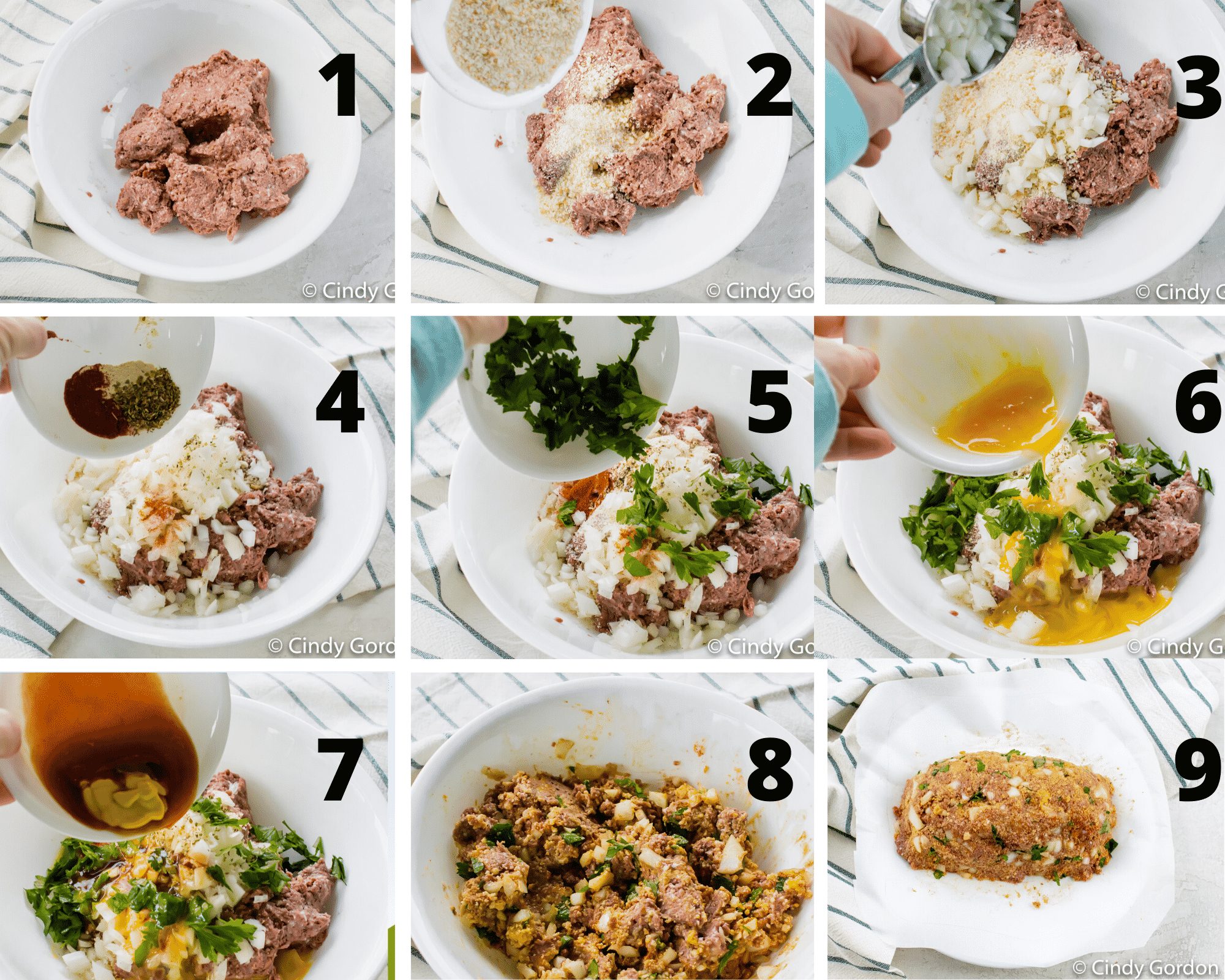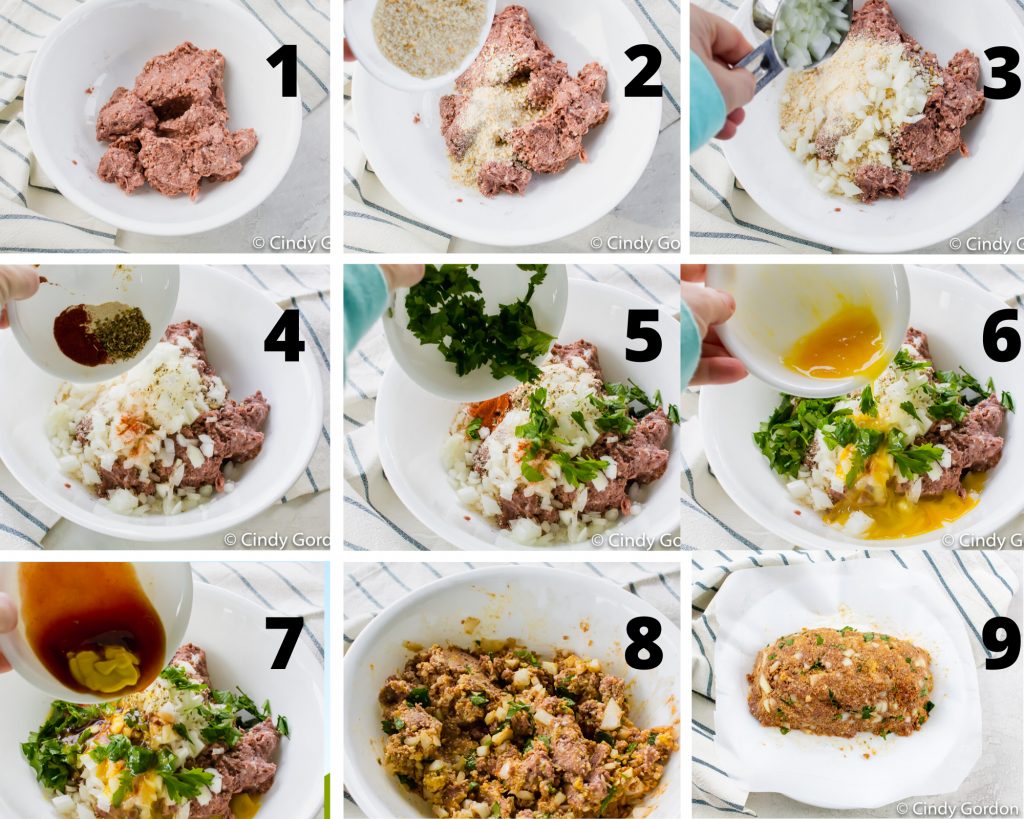 How to Make Meatloaf In Air Fryer
Add your ground protein to a large bowl.
Add the breadcrumbs.
Fold in the onions.
Next, add the spices.
Pour in the fresh diced parsley.
Add the scrambled egg.
Pour in the ketchup, mustard, and liquid smoke.
Stir well to combine.
Then form mixture into a loaf shape.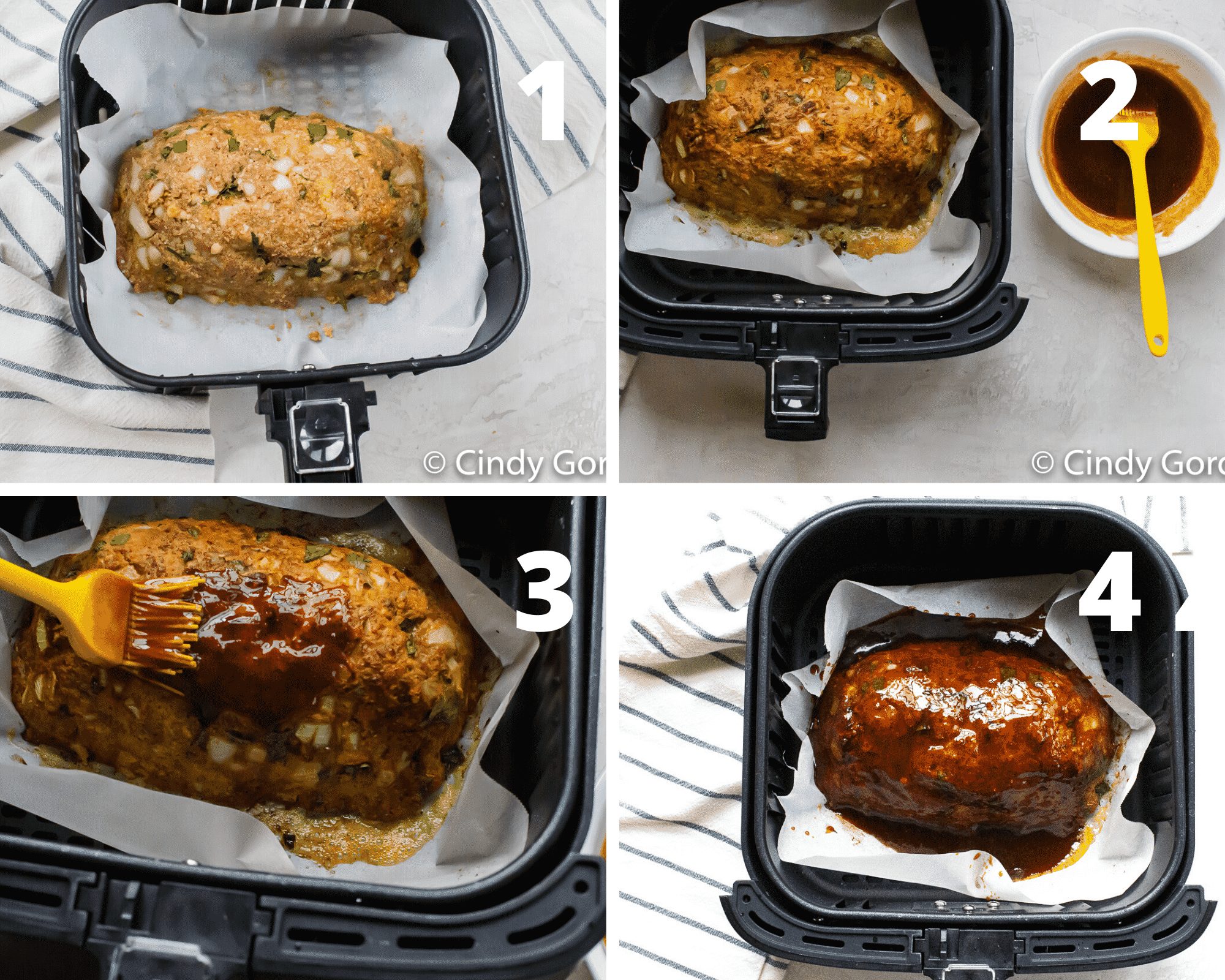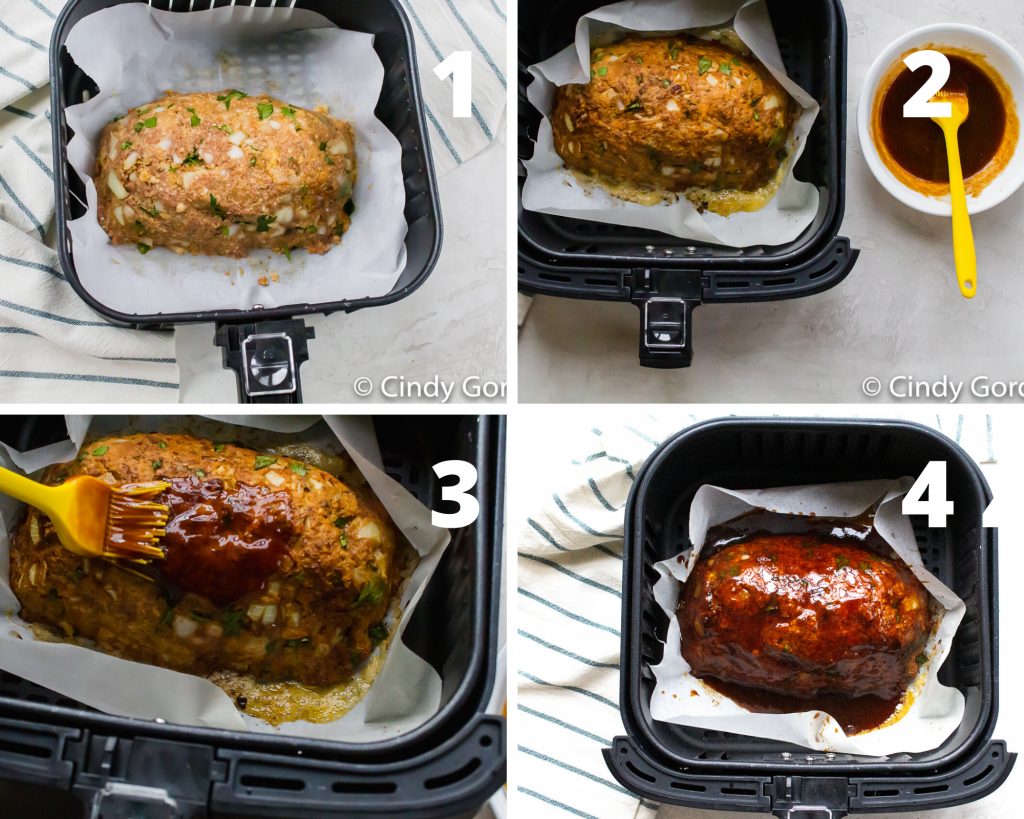 Shape the meat mixture into a loaf and place it in a lined air fryer basket.
Cook the meatloaf for 20 minutes at 370 degrees. Meanwhile, mix together the glaze ingredients.
Brush the glaze over the meatloaf and return it to the air fryer to cook for another 10-15 minutes.
Allow the meatloaf to rest before serving. Add more glaze if desired, then slice, serve and ENJOY!
Why do you need breadcrumbs in meatloaf?
Breadcrumbs combined with the whisked egg in this easy air fryer recipe act as the perfect binder for the meat.
Without proper binding agents, your meatloaf may fall apart or turn out too tough.
Adding the breadcrumbs and egg allow for the meat to hold its shape while retaining moisture to give this meatloaf its amazing juicy flavor!
How do you know when meatloaf is ready?
It can be challenging to know when meatloaf is finished due to the thickness of the loaf.
I recommend using a meat thermometer to take the guesswork out of the cooking time.
Meatloaf should reach an internal temperature of 165 degrees when a meat thermometer is inserted into the center of the loaf.
If your meatloaf isn't quite done, place it back into your air fryer and cook in 2-3 minute intervals until it reaches the recommended temperature.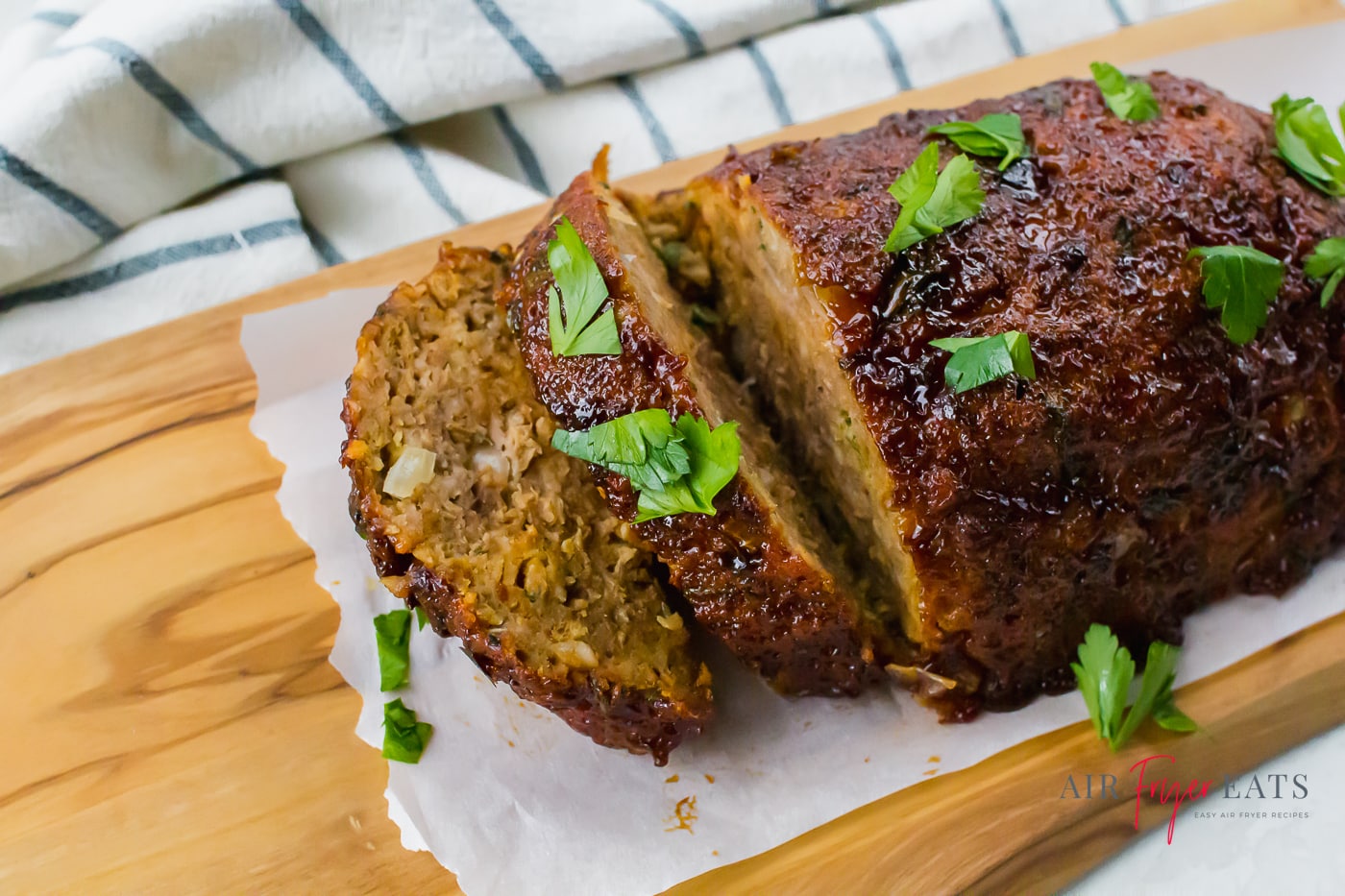 How long should meatloaf rest before serving?
Meatloaf should rest for about 10 minutes after it's removed from the air fryer.
It's important not to skip this step!
Letting the meatloaf rest allows the juices to settle and distribute throughout the loaf.
It also helps make slicing the meatloaf easier!
Tips for Making the best meatloaf
Keep an eye on the meatloaf while it cooks. I recommend checking it every so often so that you know it's not burning or cooking too quickly on the outside.
If you need to, you can cover the top of the meatloaf with foil to keep it from browning too quickly.
Don't rush the cooking time by increasing the cooking temperature!
To ensure that your meatloaf cooks evenly, keep your air fryer at a low temperature of 370 degrees F. Think low and slow!
Use a serrated knife when cutting your meatloaf. A serrated knife will give you more control, which ensures that the meatloaf won't fall apart while cutting.
Remember that cooking times will vary depending on your brand of air fryer and the thickness of your meatloaf.
Checking the loaf intermittently as it cooks will help to ensure that it isn't over or under cooked.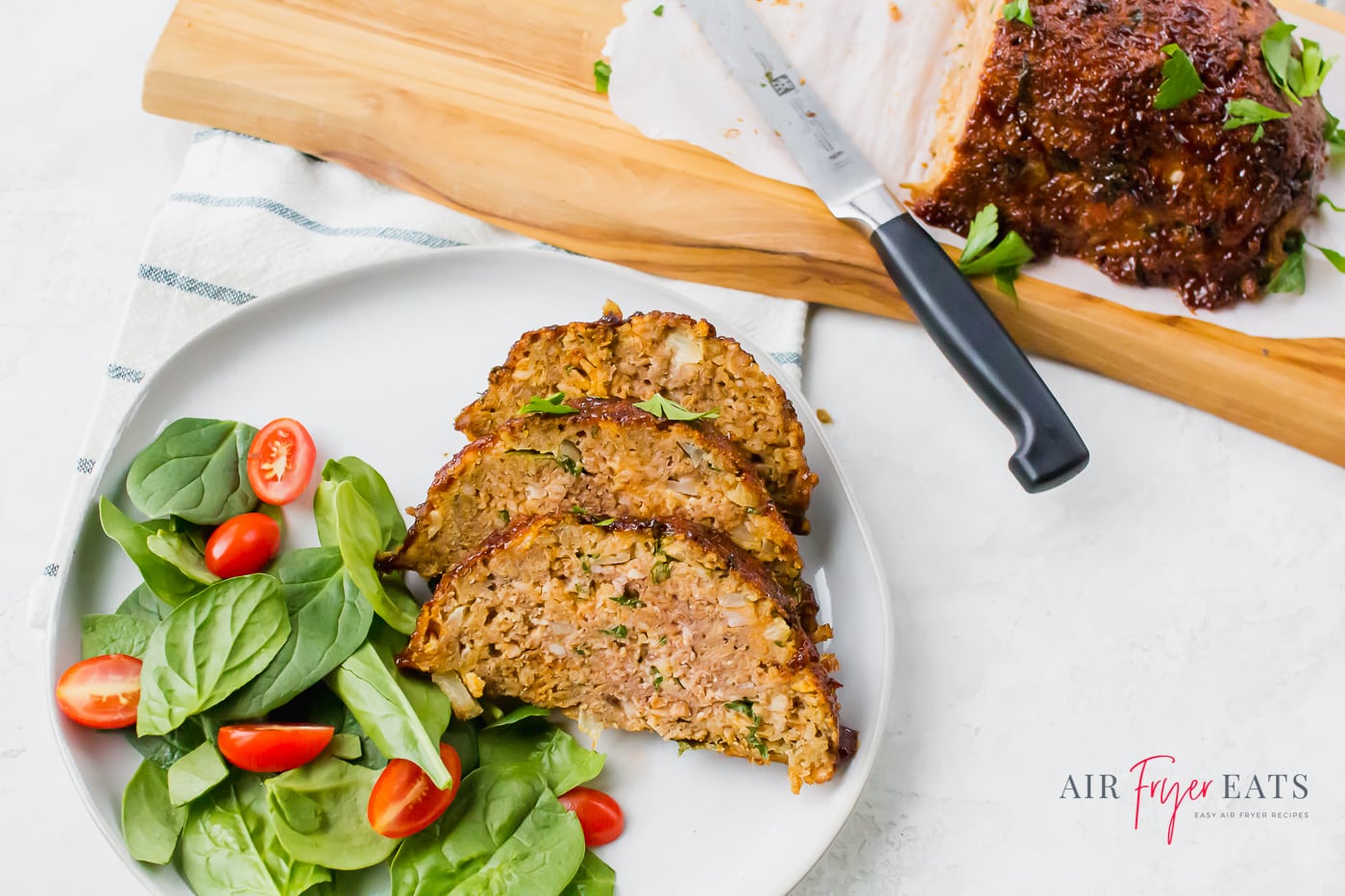 What can I add to meatloaf?
You can bulk up your meatloaf by adding chopped veggies such as bell pepper, carrots, and mushrooms if you like.
Be sure to chop the veggies finely so that they cook evenly inside the loaf.
How to Make Paleo Meatloaf
You can easily substitute the breadcrumbs to make Paleo meatloaf. Cassava flour and almond flour are great options!
What should I serve with meatloaf?
There are so many delicious side dishes that pair perfectly with meatloaf!
Try some of these:
Mashed potatoes or Baked potatoes
Crispy asparagus or a side salad
Potato pancakes or Crispy Brussels sprouts or Southern Meatloaf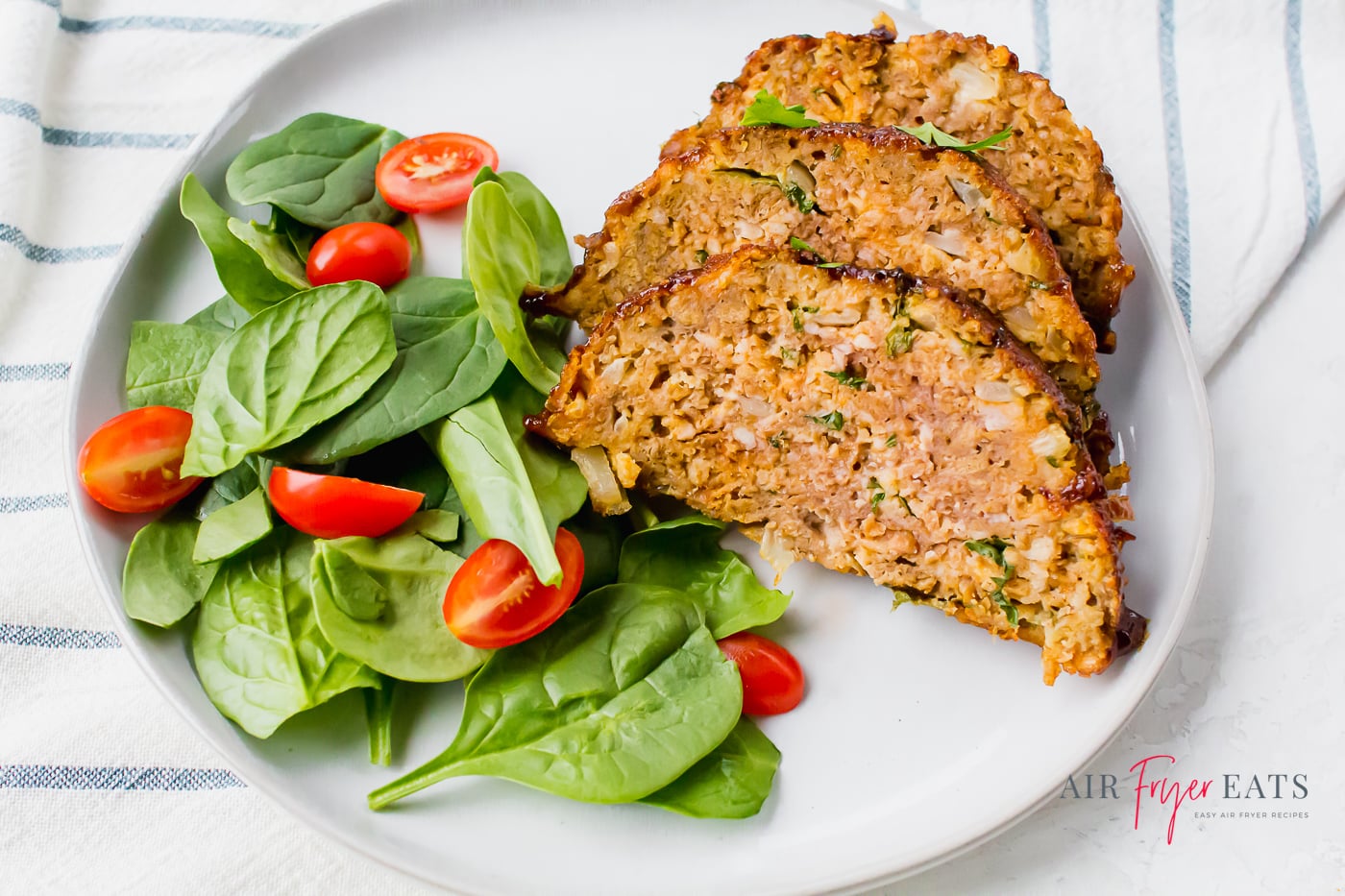 More Air Fryer Dinner Recipes You'll Love!
We have so many air fryer recipes to choose from!
If you are having trouble figuring out which one to try next, we suggest: Air Fryer Hamburgers, Air Fryer Pizza and Air Fryer Stuffed Peppers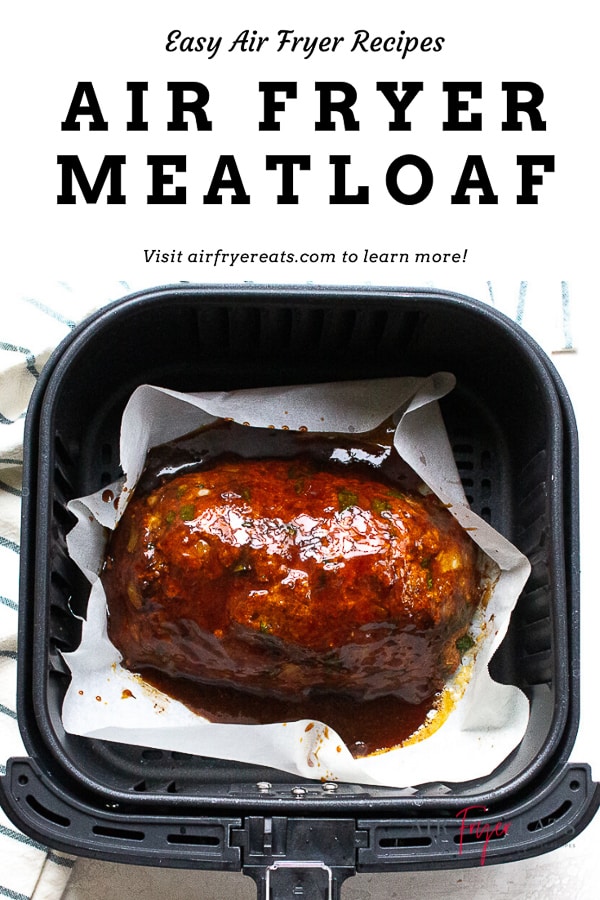 Looking for purchase an air fryer? Wondering which air fryer is right for you?
Pro Tip: This recipe can be made in the air fryer unit with a basket or the air fryer oven.
If you are using the air fryer oven, use the middle rack and select the "Air Fry" function.


Have you made this recipe? Please leave a comment AND rating below! It helps other readers!
Be sure to tag @AirFryerEats on instagram, if you share a picture on the gram! Let's get social, you can follow me on Youtube, Instagram, Facebook, Pinterest or join one of our Air Fryer Facebook Groups: Air Fryer Recipes, Air Fryer Recipes for Seniors and Gluten Free Air Fryer Recipes.
Don't forget to subscribe to our EMAIL newsletter.
Air Fryer Meatloaf
Air Fryer Meatloaf is the perfect combination of sweet and savory flavors! Mix your favorite protein with savory spices, then add a sweet glaze for an amazing meatloaf recipe that's done in less than 40 minutes!
Instructions
Add your ground protein to a large bowl.

Pour in the fresh diced parsley and spices.

Pour in the ketchup, mustard, and liquid smoke.

Shape the mixture into a loaf.

Put the meatloaf into the air fryer basket on top of parchment paper. Air fry for 20 minutes at 370 degrees F.

Remove the air fryer basket from the unit.

Mix the glaze ingredients together.

Spread the glaze on top of the meatloaf.

Return the meatloaf back to the air fryer and cook at the same temperature for 10-15 minutes. (If you are using meat, your meatloaf should reach 165 degrees F in the center before consuming. Use a meat thermometer to ensure that the loaf has reached a safe temperature.)

Allow the meatloaf to rest for 5-10 minutes before slicing and serving.
Go AD FREE!
Notes
You can add vegetables to this recipe. Nice additions are a ½ of diced carrots or ¾ c of diced bell pepper. If you enjoy mushrooms, you can also add those to your air fryer meatloaf. Just be sure that you diced them very small so they cook through.

If you are wanting to make Paleo Meatloaf, you can sub out the breadcrumbs and sub in cassava flour or almond flour.

Do not SKIP the "resting" part of this air fryer meatloaf recipe. You need to let the meatloaf sit and rest to cool down. This will help you cut into the air fryer meatloaf.

Use a serated knife to cut your air fryer meatloaf into slices. This type of knife will help the meatloaf to not break apart when cutting.

You need to check on your air fryer meatloaf every so often. You need to check to make sure it isn't crisping too fast or burning. If you feel that the top of your air fryer meatloaf is starting to burn, you can place foil on top of the meatloaf to help with that. Be careful that you secure the foil so it doesn't fly up into the air fryer's heating area.

Don't try to rush this air fryer meatloaf recipe by increasing the temperature. Cooking at a lower temperature helps to keep the meatloaf moist.

Cooking times may vary a little depending on how you shape your loaf.
Pro Tip: This recipe can be made in the air fryer unit with a basket or the air fryer oven. If you are using the air fryer oven, use the middle rack and select the "Air Fry" function.
Nutrition
Calories:
513
kcal
|
Carbohydrates:
32
g
|
Protein:
29
g
|
Fat:
29
g
|
Saturated Fat:
11
g
|
Cholesterol:
307
mg
|
Sodium:
798
mg
|
Potassium:
528
mg
|
Fiber:
1
g
|
Sugar:
20
g
|
Vitamin A:
567
IU
|
Vitamin C:
2
mg
|
Calcium:
79
mg
|
Iron:
4
mg
Tried of the ads?
Go AD Free - Become part of our Membership community!
Air Fryers can vary greatly. Please take the time to learn your specific air fryer. You may need to adjust times and temperatures based upon your air fryer.
All though this website attempts to provide accurate nutritional information, the information should only be considered an estimate. Varying factors such as different product types, different brands, etc. can change nutritional information. It is your responsibility as a consumer to read all labels to make sure the ingredients fit your dietary needs as well as calculate your own nutritional information as a double check.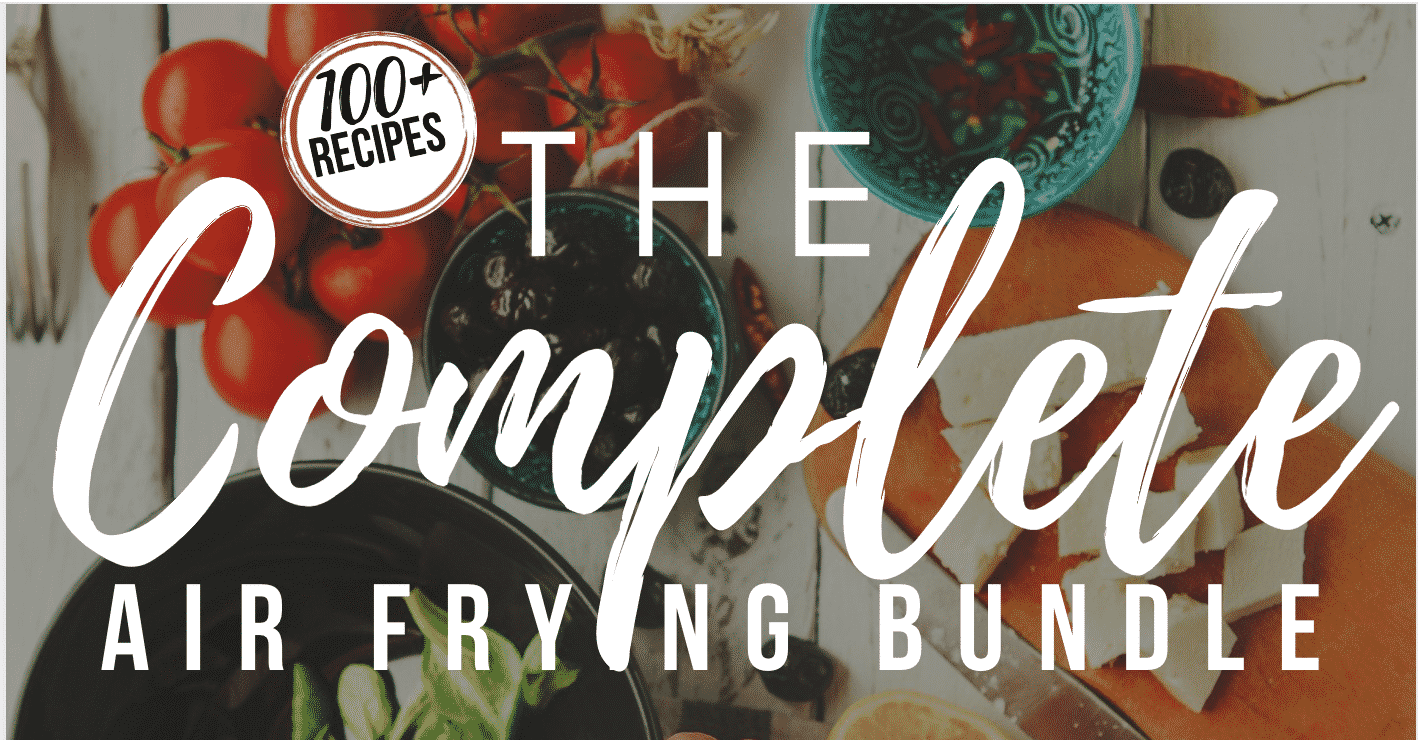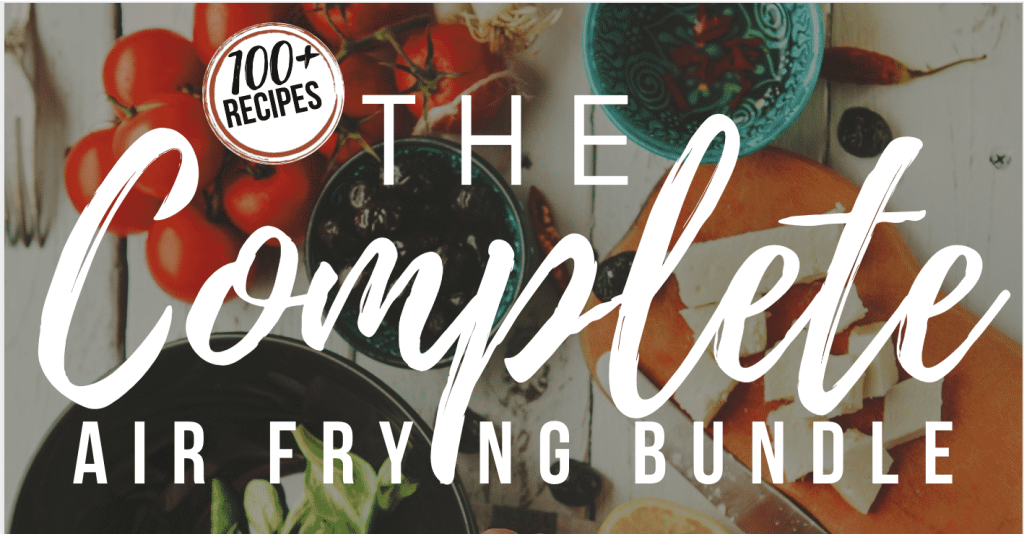 Let's talk! Drop me a comment below and tell me if you are a meatloaf lover! Have you tried my air fryer meatloaf recipe? Let me know in the comments what you thought!