So you just got an air fryer...now what? How do you use your air fryer? This post will give you some quick tips for using your air fryer like a pro.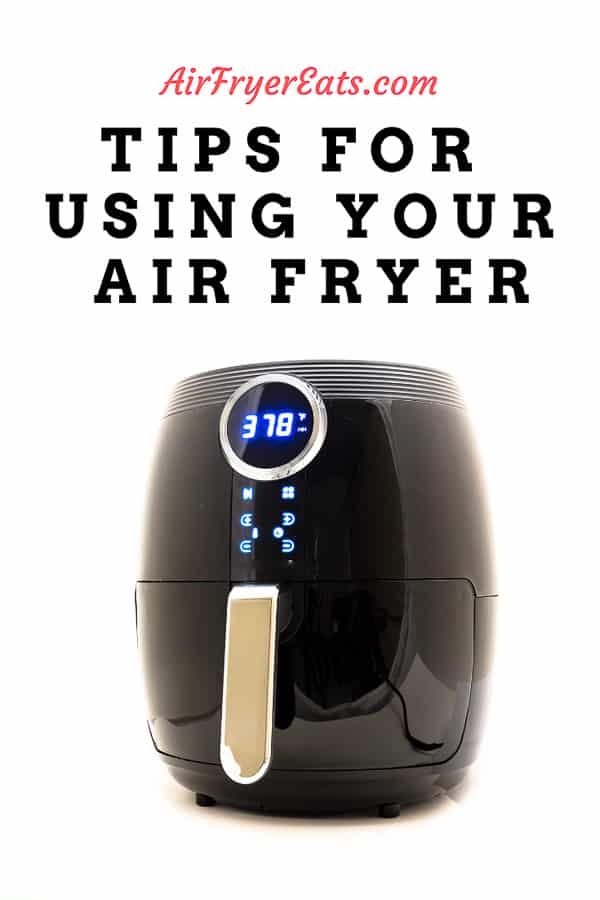 I am seriously in love with my air fryer! I've tried a couple of different types of air fryers and an air fryer oven!
Through some testing, I've figured some air fryer tips for you!
Air fryers are pretty easy to work and function, but sometimes certain questions still may pop up!
How does an Air Fryer work?
My initial thought is to tell you like magic, but that'd be too easy. Ha! Honestly, air fryers work just like the name implies.
They cook food by circulating hot air. It's truly just about as simple as that!
Sometimes you have to add a bit of oil here and there but the main function of the Air Fryer is that it cooks with air!
How awesome! It is basically a convection oven!
What can you cook in an air fryer?
Anything you want! You can cook fried chicken, french fries, chicken wings, or other game-day foods.
In our house, we don't eat meat, so we tend to cook things in there that are more veggies focused.
But, if you have a food item that you want to give a crisp, the air fryer basket in your kitchen appliance will do that job well!
Can you put oil in an air fryer?
While you don't need to use oil in the power airfryer oven, you absolutely can.
That's part of the reason that everyone loves this machine because even if you do want to deep fry something, you only have to use a minimal amount of oil.
Amounts can actually vary depending on your brand so make certain to read your users manual to know exactly!
What oil works best in an air fryer?
When it comes to using oil that works best in your air fryer, you are going to want a hot oil that can stand the temp.
The best ones to use would be avocado oil, extra virgin olive oil, peanut oil, and sesame oil.
There is some debate on whether or not you can use spray oil in your air fryer. The last I heard from Cosori, they said it was okay.
What is the difference between an air Fryer and a deep fryer?
The main difference between an air fryer and a deep fryer is that the majority of the food in the air fryer is cooked with hot circulating air and minimal oil and the majority of food cooked in the deep fryer is cooked with oil, in quite a large quantity.
Can you put foil in your air fryer oven?
Again, it's always important to read your users manual, but some say that it's fine to put foil in your hot air fryer but make certain that it doesn't completely cover up the bottom of the appliance as that could cut off the circulation of air.
I've also seen that some people use parchment paper under meat when cooking in the air fryer. I have used foil in my air fryer when I cook meat.
What are common misconceptions of an air fryer?
There are actually quite a few misconceptions about this power air fryer oven.
People tend to think that the cooking times are cut down dramatically to fry foods, but in all reality, the majority of the cooking times actually stay the same.
Another misconception that people tend to have is they think that having an air fryer means that they'll never use oil to cook or fry their foods again.
Sounds nice, but your air machine still does use a little bit of oil! It's typically less than what you'd normally use if frying, but it still does use some.
What are common mistakes when using an air fryer?
Just like with any new appliance, there is a learning curve to overcome! Common mistakes that people make include:
Not letting the fryer heat up or preheat to the appropriate temp before use
Only using it for certain foods and not expanding to cook other great options in it
Putting too much food in the basket (this will cause your food to be less crispy because not as much air can circulate)
Not cleaning it after each use
How do you "shake" an air fryer?
Sounds a bit confusing…but don't pick up your fryer and start shaking during the middle of cooking!
This is actually referring to the cooking basket in your air fryer. Sometimes, food can settle and start to stick during the cooking process.
Simply grabbing the cooking basket handle and giving it a good shake will allow that food to separate a bit and become unstuck so that the airflow can resume flowing through all the food.
Can you use batter in an air fryer?
A wet batter doesn't tend to usually far well when cooking in the greaseless fryer.
This is because you aren't really immersing the food in a ton of oil, so there is nothing that is "flash frying" that batter quick enough to make it stop from falling off.
Many people have found success with rolling the food in flour after dipping it in the wet batter which then helps hold it in place and lets the oil less deep fryer work its magic.
Can you bake in an air fryer?
Yes, yes, yes! It is absolutely possible to bake in the air fryer!
It's important to pay attention to the directions and take your time because using the air fryer may add a few more steps, but it is possible to bake with it! You can literally have your cake and eat it too!
There you have it! I've answered some of the most common questions that people tend to have when it comes to their Air Fryers.
I'm sure there are more, but hopefully, this will help you overcome any issues that you may be having and dive in and tackle using this amazing appliance.
Pin these air fryer Tips for later: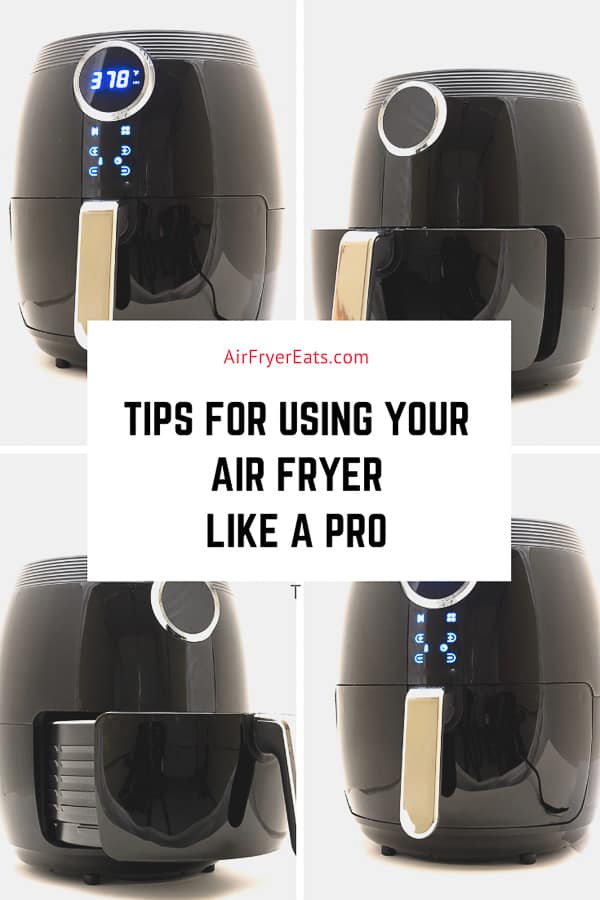 Once you start using it on a more frequent basis, you'll fall in love with it over and over again!
Teach me about air fryers
Still wondering about your air fryer? Still searching for tips for using your air fryer? Are you wanting to learn more about air frying?
I highly suggest you check out our "Start Here" page to get more information!
Let's talk! Drop me a comment below telling me what air fryer questions you have!