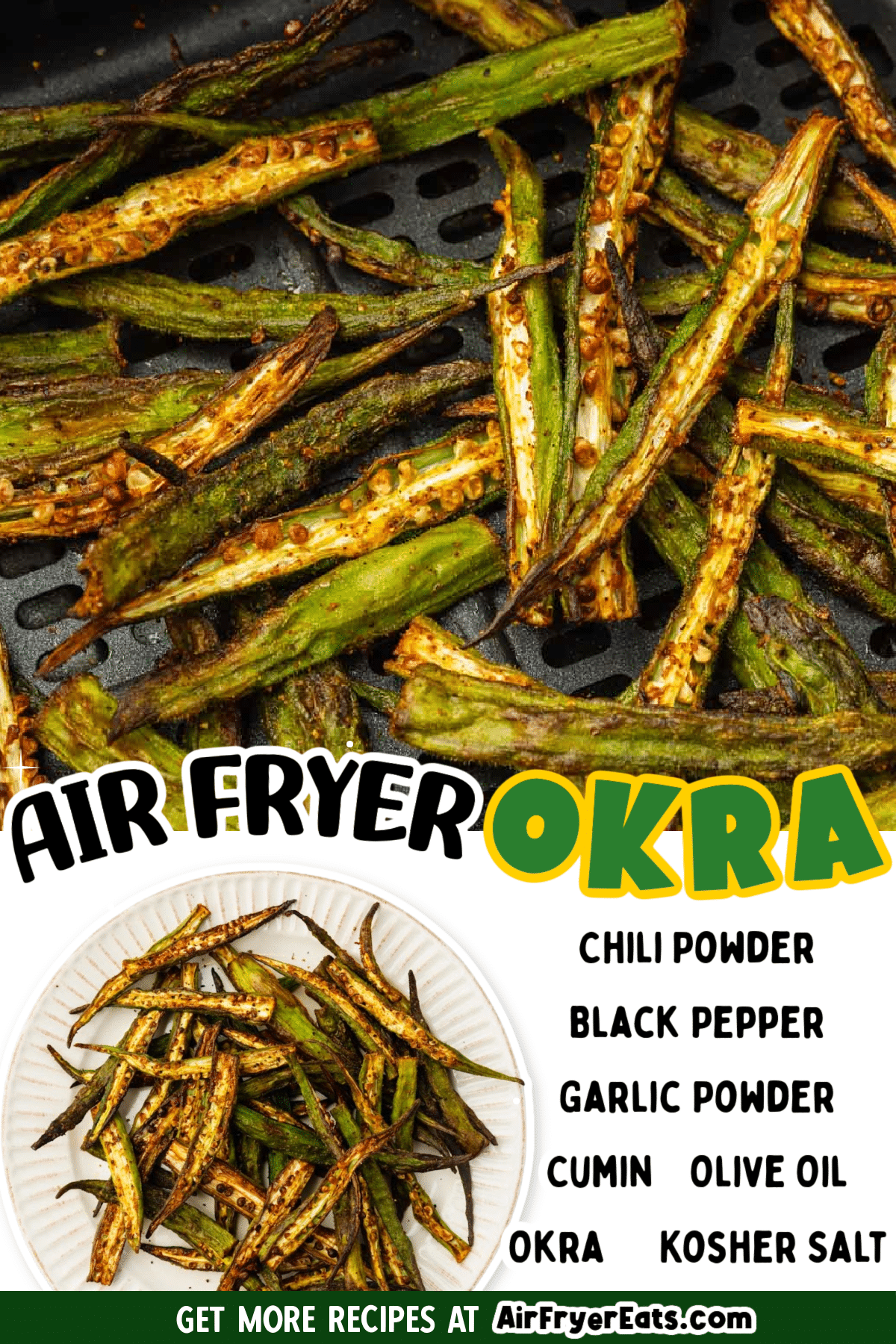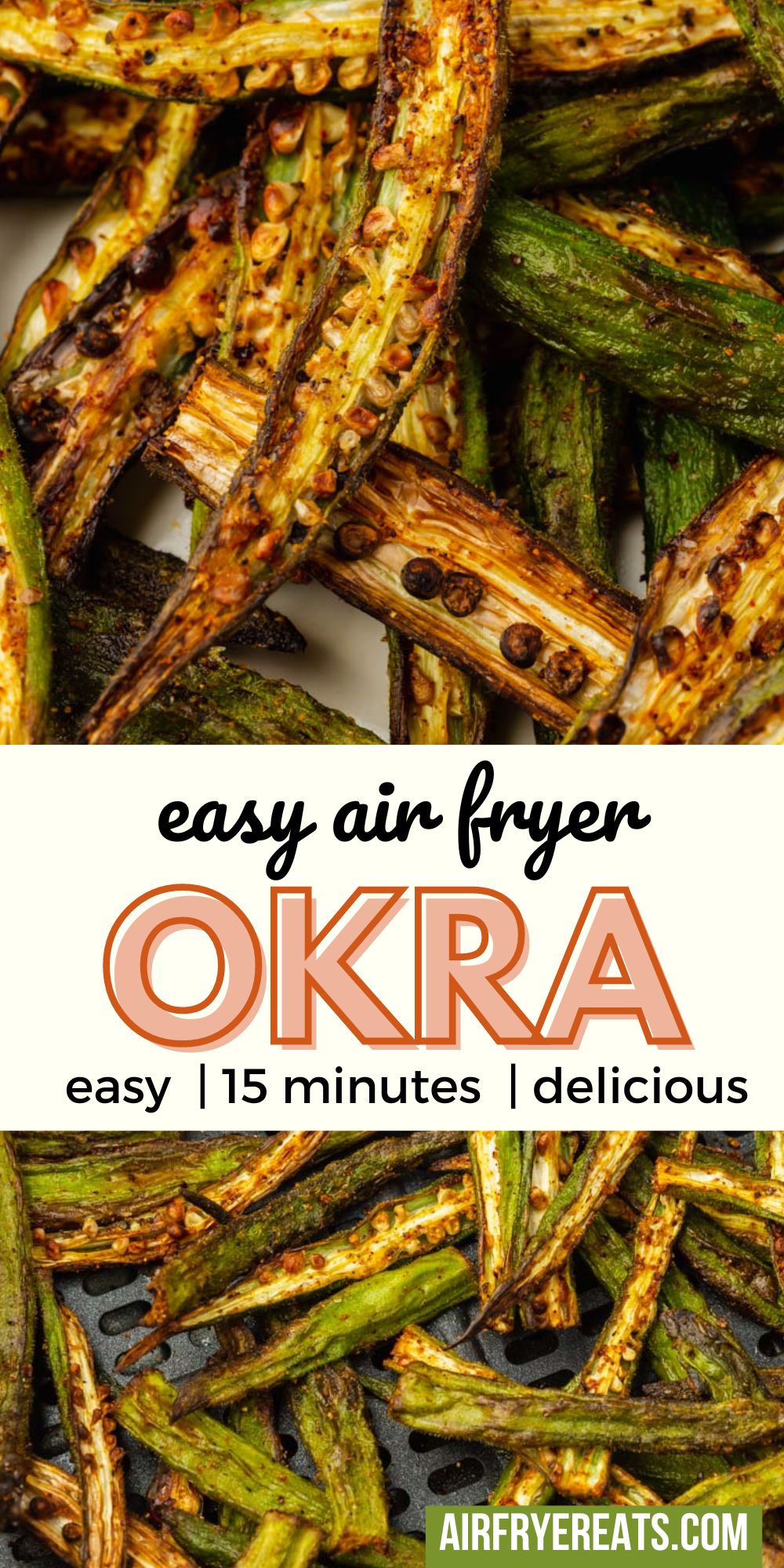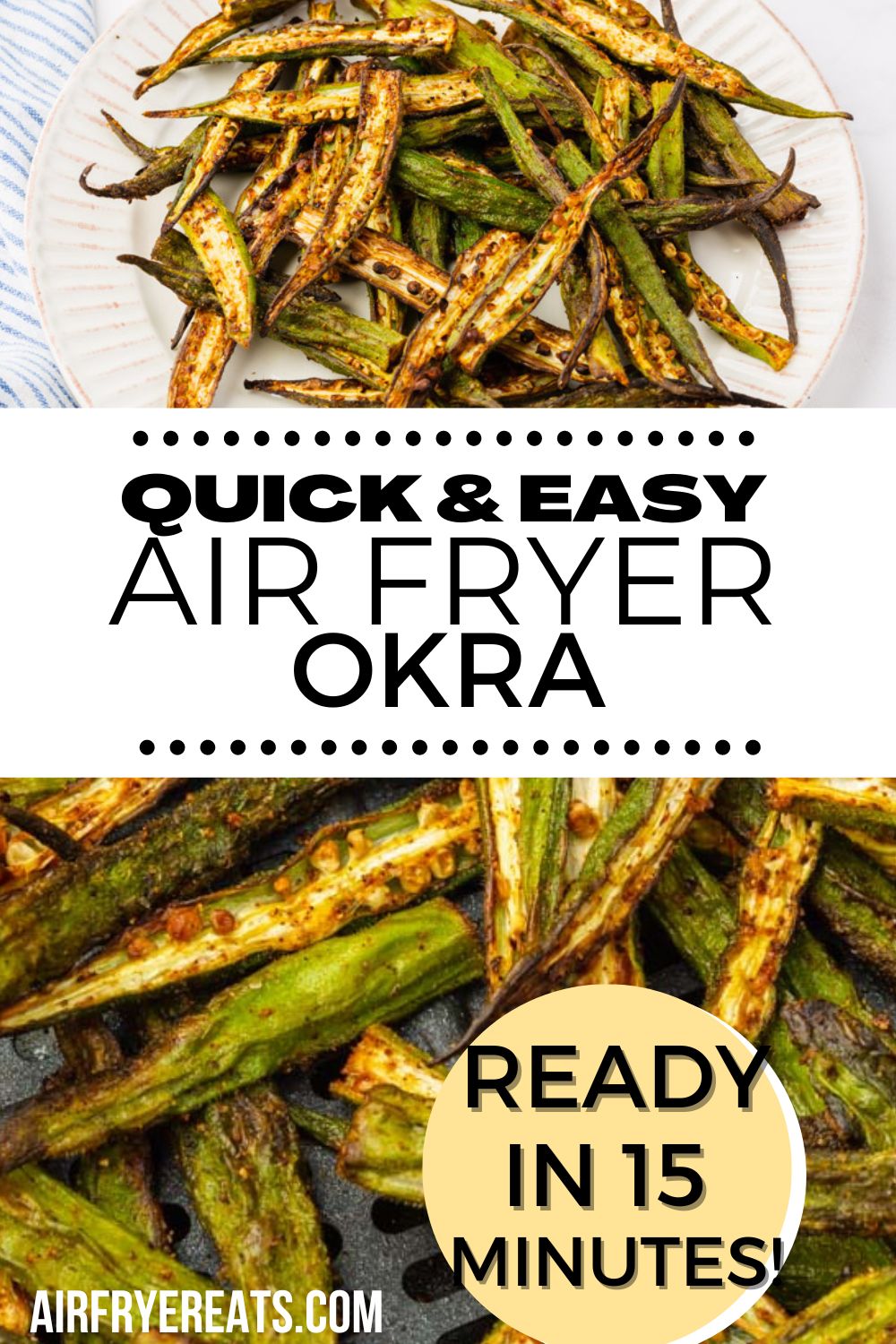 Tasty, simply seasoned fresh okra is extra crispy when you make it in the air fryer! This recipe for Air Fryer Okra will be your new favorite way to cook okra, guaranteed.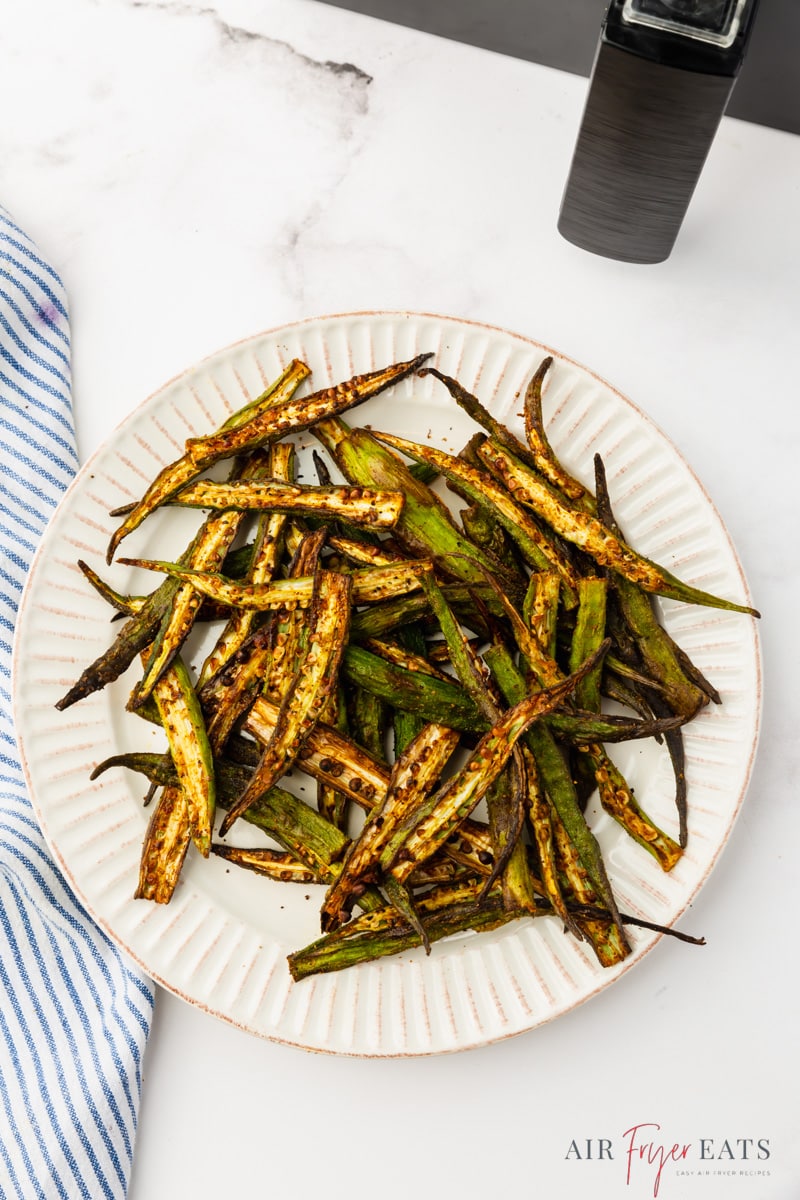 AIR FRYER OKRA RECIPE
Air Fryer Okra is my new favorite way to enjoy okra, and I know you're going to love it too!
My journey to air fryer okra started when I made frozen, breaded okra in the air fryer, and fell in love with this often overlooked veggie.
I wanted to make a healthier version of that breaded okra that was still crispy and flavorful, and used fresh okra pods - and here it is!
Unbreaded fresh okra is sliced in half, seasoned with warm, savory spices, and air fried at high heat so that it gets browned and crisp in under 15 minutes.
Making okra in the air fryer this way (without breading) means that it is gluten free, keto-friendly, vegan, and paleo approved!
This air fryer okra recipe is the perfect side dish, or enjoy it as a healthy snack or appetizer, dipped in creamy cilantro garlic sauce or your favorite ranch dressing.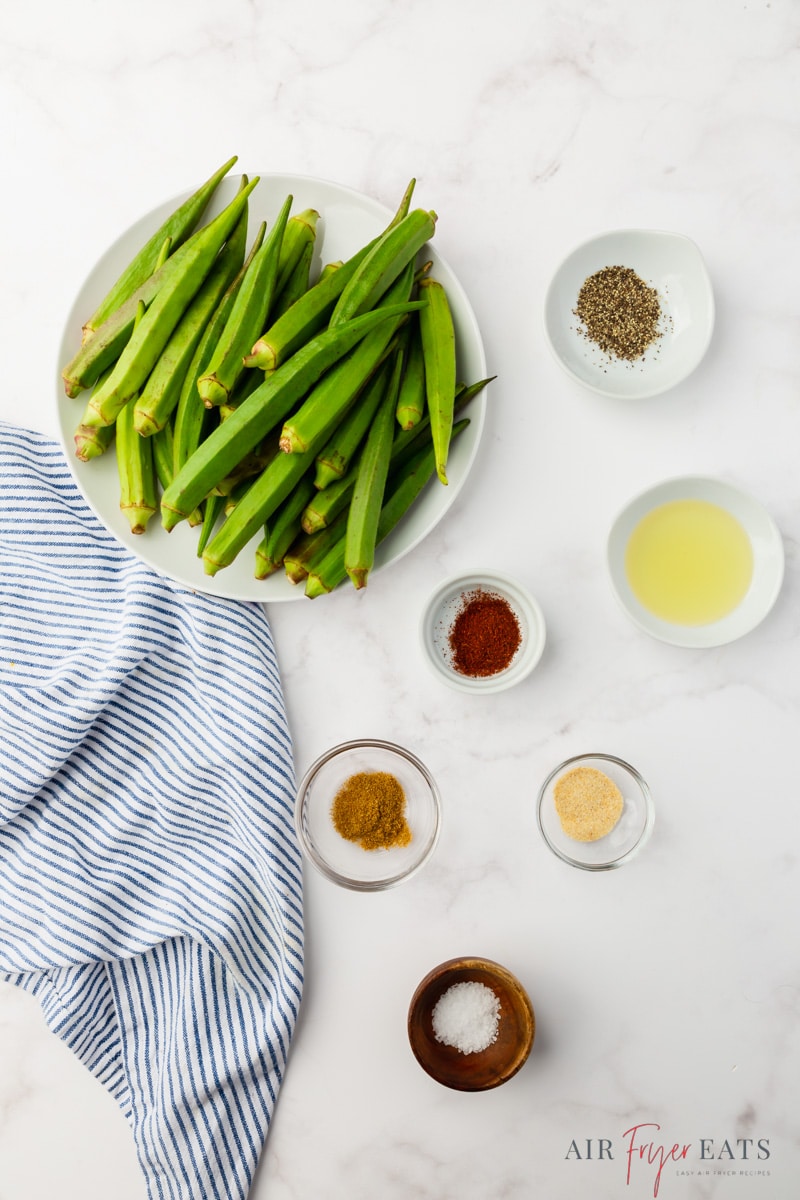 INGREDIENTS IN AIR FRYER OKRA
Okra: This recipe makes a whole pound of fresh okra! Look for pods that are all the same size so that they cook evenly. Wash the okra and be sure that you dry it well.
Olive Oil: A small amount of oil gets the party started in the air fryer, without completely soaking your veggies in fat.
Seasonings: The spice blend I love on okra has a Southwest spin, and includes kosher salt, cumin, chili powder, garlic powder, and black pepper. You can experiment with your favorite seasonings, or just use salt and pepper if you want a more versatile side dish.
If you have any questions about making air fryer okra, please leave a comment below and I will get back to you ASAP!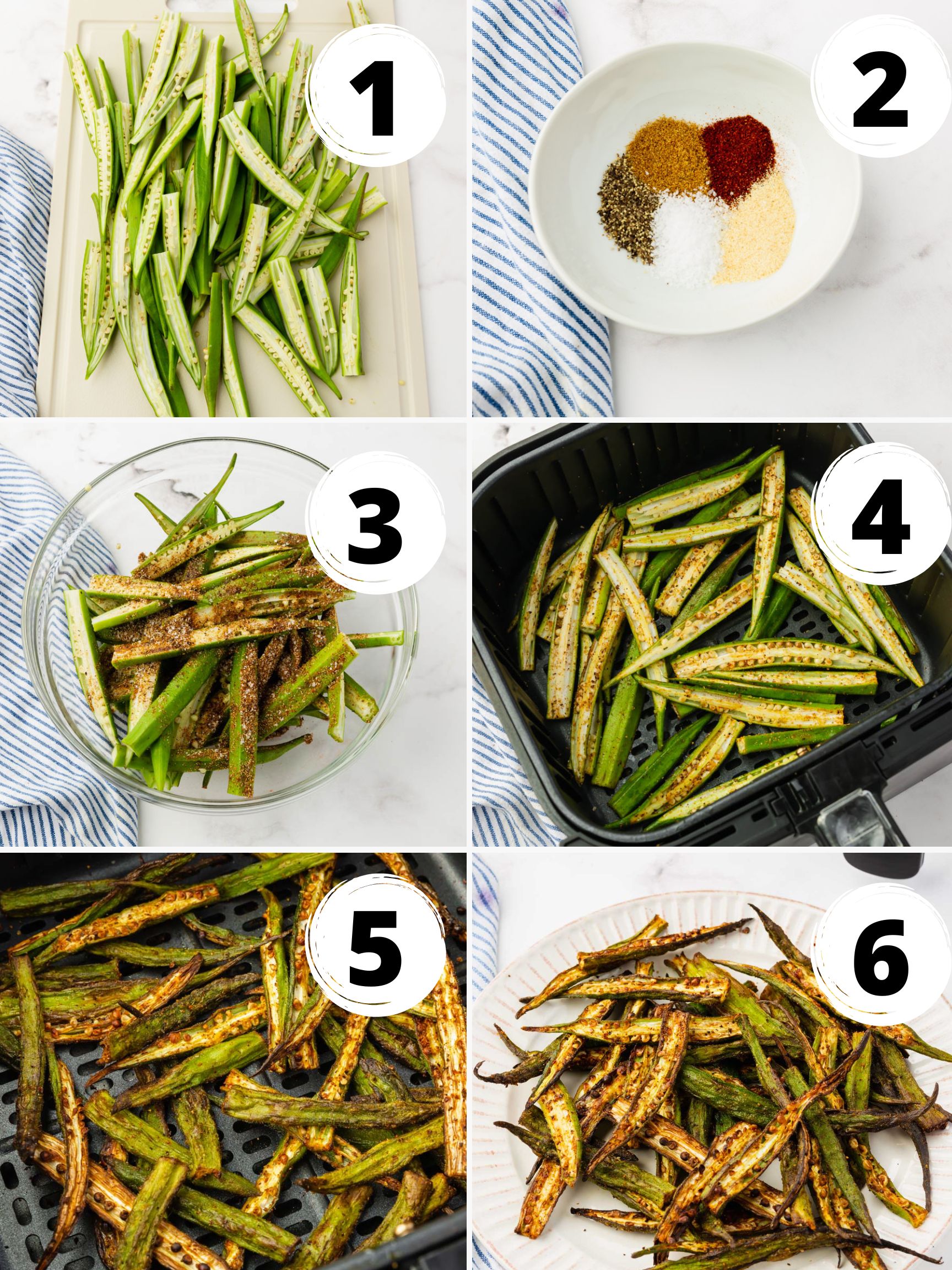 HOW TO MAKE AIR FRYER OKRA
Prep the Okra: Wash the okra pods, trim off the ends, and slice each in half lengthwise.
Mix the Spices: In a small bowl, add the salt, cumin, chili powder, garlic powder, and black pepper. Stir to combine.
Season: Add the okra to a bowl and toss with olive oil and the spice blend. Mix until each piece is evenly coated.
Fill the Air Fryer: Add the seasoned okra to the air fryer in a single layer, leaving space between each piece and avoiding overlapping too much.
Cook: Air Fry as directed in the recipe card below, until the okra is browned on the edges. Halfway through cooking, shake the basket, or flip the pieces over for even cooking.
Serve: Enjoy your air fryer okra right away!
These numbered steps match the numbered photos above and are for illustration purposes. For the complete list of ingredients and instructions for fried okra in air fryer, please see the recipe below.
WHAT TEMPERATURE TO AIR FRY OKRA?
High heat is key when it comes to air frying okra. Set your machine to 400°F/200°C for best results.
Since some air fryers cook differently than others, you may find that you need to adjust the temperature. Keep an eye on your okra while it's cooking, and adjust the time or temperature as needed.
HOW LONG SHOULD YOU AIR FRY OKRA?
The longer you air fry okra the crispier it will get! I find that 10-14 minutes is the right amount of time for okra in the air fryer, but if your pods are larger, you may want to add more time.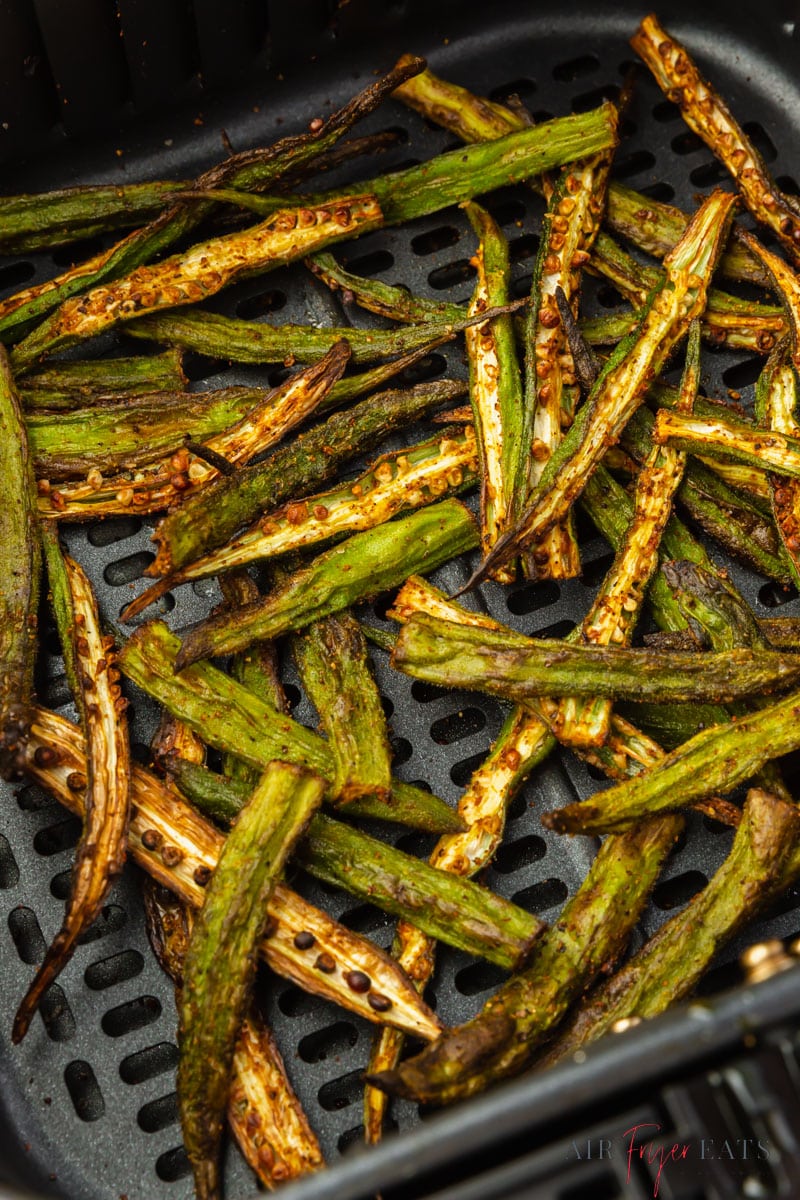 WHAT TO SERVE WITH AIR FRYER OKRA
This air fryer roasted okra makes a wonderful healthy side dish!
STORING AND REHEATING OKRA
Keep any leftovers in the fridge in an airtight container for up to 5 days.
You can also freeze air fried okra for up to 6 months!
Reheat refrigerated okra in the air fryer at 375°F for 4-5 minutes, until crispy again.
From frozen, air fry at 375°F for 7-8 minutes, stirring or tossing halfway through.
CAN I MAKE FRIED OKRA IN AIR FRYER?
Breaded "fried" okra can also be made in the air fryer! Check out my recipe for frozen breaded air fryer okra, or modify my crispy air fryer eggplant or air fryer zucchini fries recipe to use okra instead.
CAN I MAKE FROZEN OKRA IN THE AIR FRYER?
If you can't find fresh okra, look for frozen, unbreaded okra in the freezer section of your grocery store. You can also use okra that you've preserved yourself in the freezer.
Place the frozen okra in the air fryer without thawing it, and be sure to leave lots of room around each piece so that the okra doesn't steam.
HOW DO I COOK OKRA SO THAT IT ISN'T SLIMY?
Okra pods include a type of soluble fiber called mucilaginous, which turns into a gooey, slimy substance once cooked. In dishes like shrimp and okra gumbo, that slimy substance helps to naturally thicken the dish!
Generally, okra will be sort of slimy when you cook it, but air frying helps with that!
Cutting the pods in half and then exposing them to high heat in the air fryer means that that slime will dry out, so you won't be eating it!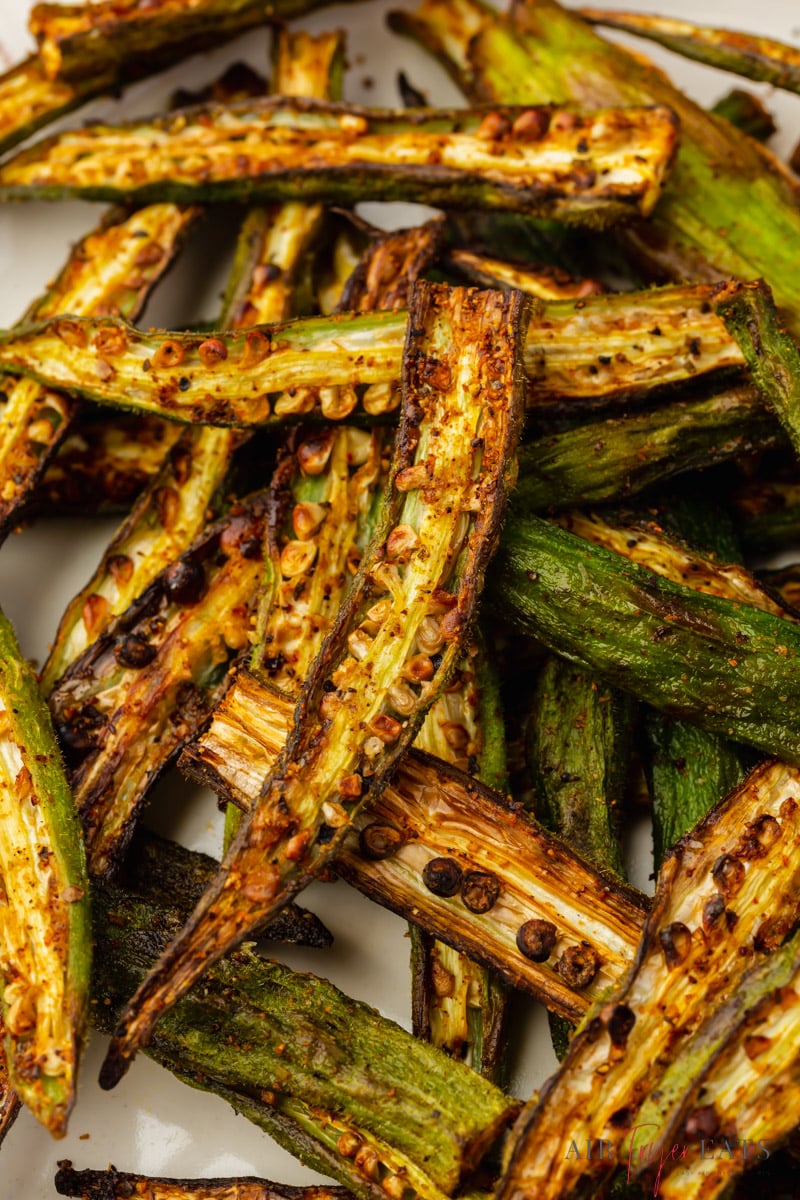 MORE EASY AIR FRYER SIDE DISH RECIPES
I love cooking vegetables in the air fryer!
Try my recipe for Air Fryer Carrot Fries. They are sweet and crispy and a wonderful alternative to potato fries.
Green Beans in the Air Fryer are really delicious, slightly roasted to make a versatile side dish.
You can even air fry broccoli! Air Fryer Broccoli is one of my favorite easy side dishes, and Air Fryer Frozen Broccoli is even easier.
Roasting veggies in the air fryer is so much easier than turning on the oven! Try some of these Air Fryer Roasted Potatoes. Trust me - you will not be disappointed!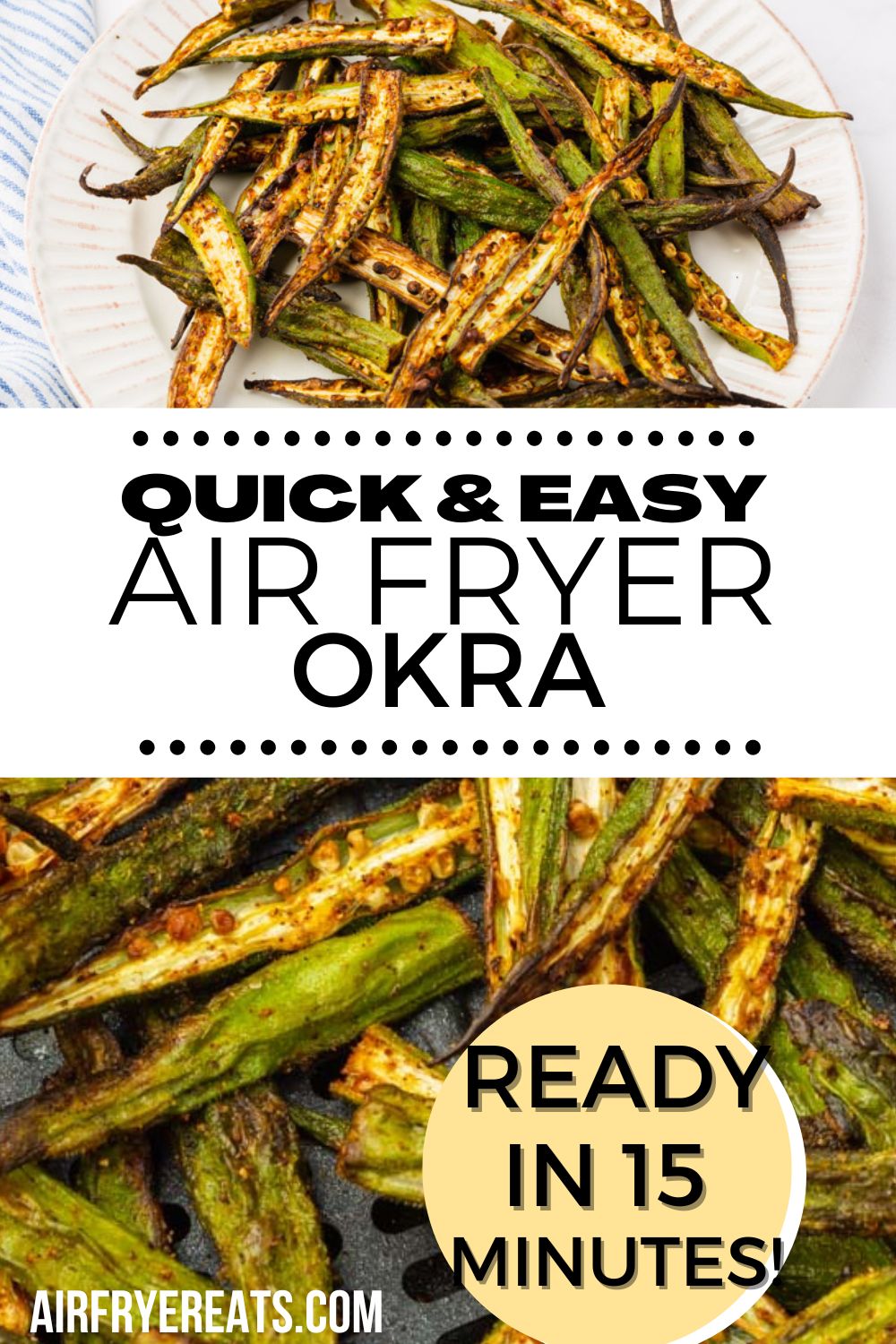 Have you made this recipe? Please leave a comment AND rating below! It helps other readers!
Be sure to tag @AirFryerEats on instagram, if you share a picture on the gram! Let's get social, you can follow me on Youtube, Instagram, Facebook, Pinterest or join one of our Air Fryer Facebook Groups: Air Fryer Recipes, Air Fryer Recipes for Seniors and Gluten Free Air Fryer Recipes.
Don't forget to subscribe to our EMAIL newsletter.
Air Fryer Okra
Ingredients
1

pound

fresh okra pods

washed and dried

1

tbsp

olive oil

½

teaspoon

kosher salt

½

teaspoon

cumin

¼

teaspoon

chili powder

¼

teaspoon

garlic powder

¼

teaspoon

black pepper
Instructions
Trim the ends of the okra and slice each pod in half lengthwise.

In a small bowl, add the salt, cumin, chili powder, garlic powder, and black pepper. Stir to combine.

Add the okra to a bowl and toss with the oil and spice blend.

Place the okra in the air fryer basket in a single layer, leaving space between each piece of okra to allow air to circulate around it. Cook in batches if need be.

Air fry at 400°F/200°C for 10-14 minutes, until the okra is browned on the edges. Be sure to shake the basket halfway through.

Serve immediately.
Go AD FREE!
Notes
Slicing the okra in half helps them get really crispy in the oven and prevents the insides from getting slimy.

You can change up the spice blend and use your favorite spices. Even just salt and pepper is delicious on this air fryer okra.

Depending on the air fryer you use, you may need to cook the okra in batches. Keep the first batch of okra warm in the oven. Alternatively, after cooking the 2nd batch, you can add the first batch back into the air fryer basket with the 2nd batch and cook for 2 minutes, until they are warm and crispy again.

Pro Tip: This recipe can be made in the air fryer unit with a basket or the air fryer oven. If you are using the air fryer oven, use the middle rack and select the "Air Fry" function.
Pro Tip: Check your food as it cooks. Each air fryer runs a bit differently. Sometimes air frying is a trial and error process. Check your food as it cooks to learn your air fryer better! When cooking a new recipe or food items be sure to check your food often to help avoid over/undercooking.
Have oven recipes that you'd like to convert to air fryer recipes? Use our Air Fryer Calculator to help you estimate cooking times and temps! Calculator here: https://airfryereats.com/air-fryer-conversion-air-fryer-calculator/
Nutrition
Calories:
71
kcal
|
Carbohydrates:
9
g
|
Protein:
2
g
|
Fat:
4
g
|
Saturated Fat:
1
g
|
Polyunsaturated Fat:
0.4
g
|
Monounsaturated Fat:
3
g
|
Sodium:
301
mg
|
Potassium:
350
mg
|
Fiber:
4
g
|
Sugar:
2
g
|
Vitamin A:
853
IU
|
Vitamin C:
26
mg
|
Calcium:
97
mg
|
Iron:
1
mg
Tired of the ads?
Go AD Free - Become part of our Membership community!
Air Fryers can vary greatly. Please take the time to learn your specific air fryer. You may need to adjust times and temperatures based upon your air fryer.
All though this website attempts to provide accurate nutritional information, the information should only be considered an estimate. Varying factors such as different product types, different brands, etc. can change nutritional information. It is your responsibility as a consumer to read all labels to make sure the ingredients fit your dietary needs as well as calculate your own nutritional information as a double check.