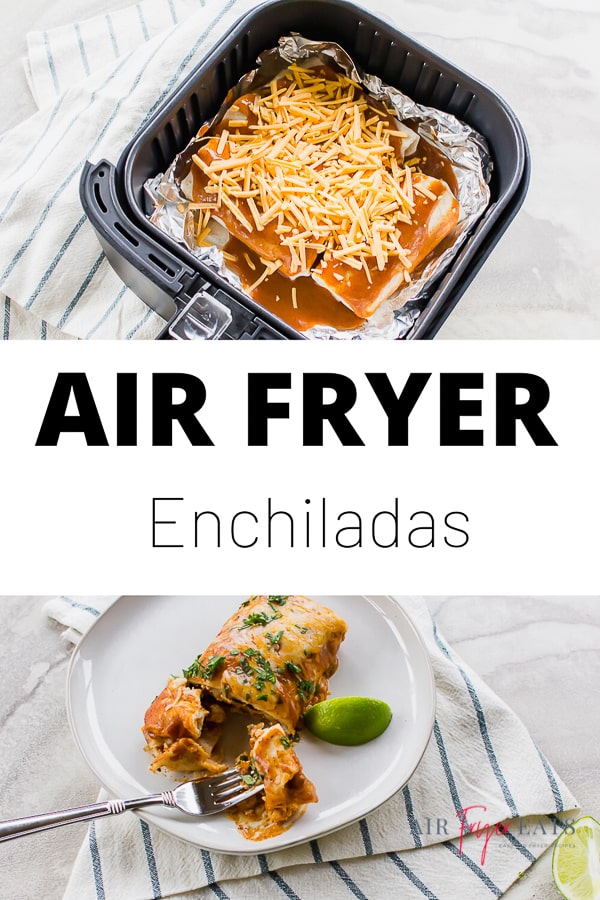 These Air Fryer Enchiladas are a breeze to make in less than half an hour and are packed with flavor! Top with your favorite cheese and enchilada sauce!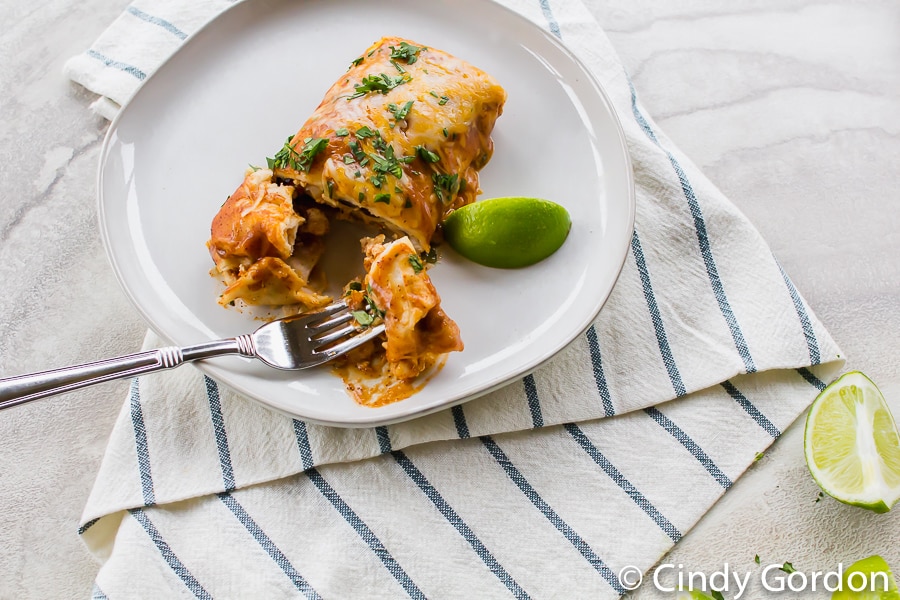 Air Fryer Enchiladas Recipe
I love Taco Tuesday, but sometimes I want something more saucy.
This Air Fryer Enchiladas recipe is quick and easy, in other words: only 4 minutes of air frying time and a handful of basic ingredients to make.
Personally, I prefer a red enchilada sauce, but you can also use a green chile enchilada sauce with this recipe!
Same for the cheese — above all, make it your own with your favorite shredded cheese and other toppings for a family favorite!
Looking for other Mexican-inspired dishes?
Try our Warm Black Bean and Corn Pasta Salad for a taste of summer spiced with lime juice and sriracha or this simple yet delicious Pineapple Salsa to snack on before the enchiladas are done!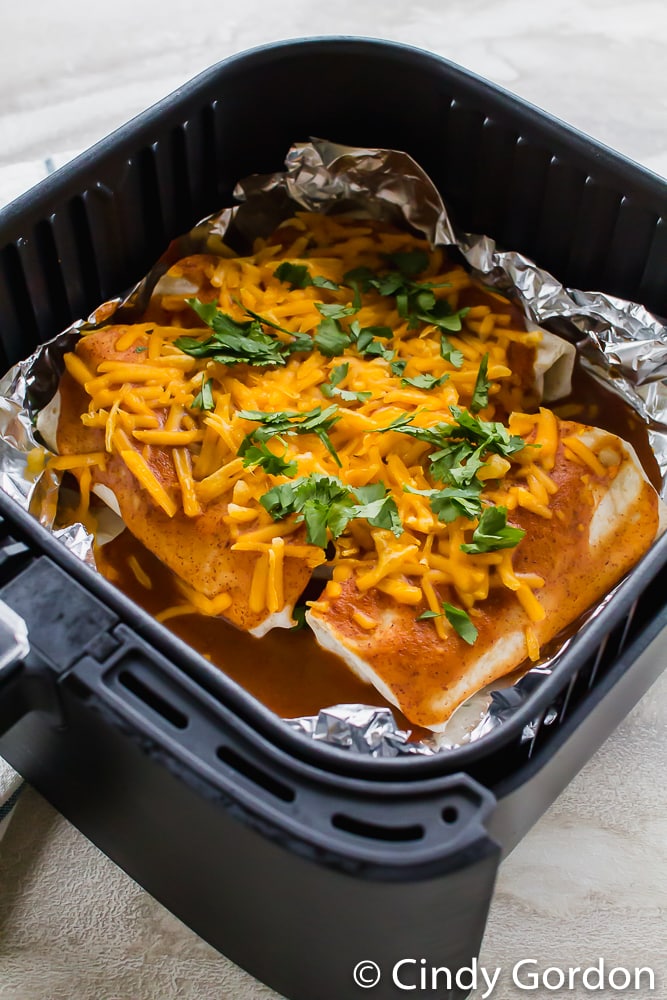 INGREDIENTS IN AIR FRYER ENCHILADAS
Protein - This recipe allows for you to use either one block firm tofu (pressed) or 1 lb. ground beef
Oil - You can use your oil of choice. I like avocado oil
Spices - Cumin and Chili Powder come together to create a delicious flavor.
Onion - You can use white, yellow or red onions for this recipe.
Beans - Use canned black beans for this recipe, but if you can sub out with the bean of your choice if you don't prefer black beans.
Rice - Use cooked rice for this recipe, this works great if you have left over rice. Rice can be any variety.
Tomatoes - I prefer to use fire roasted canned tomatoes for this recipe.
Tortillas - You can use corn or flour tortillas here. Make sure they are burrito sized. If you are gluten-free select a gf tortilla.
Cheese - Use Mexican shredded cheese or your favorite blend of shredded cheese.
Enchilada sauce - use your favorite brand here or try my homemade enchilada sauce.
Lime - Optionally, you can add in lime juice to this recipe and also use lime as a garnish.
If you have any questions about these ingredients, please leave a comment below and I will get back to you.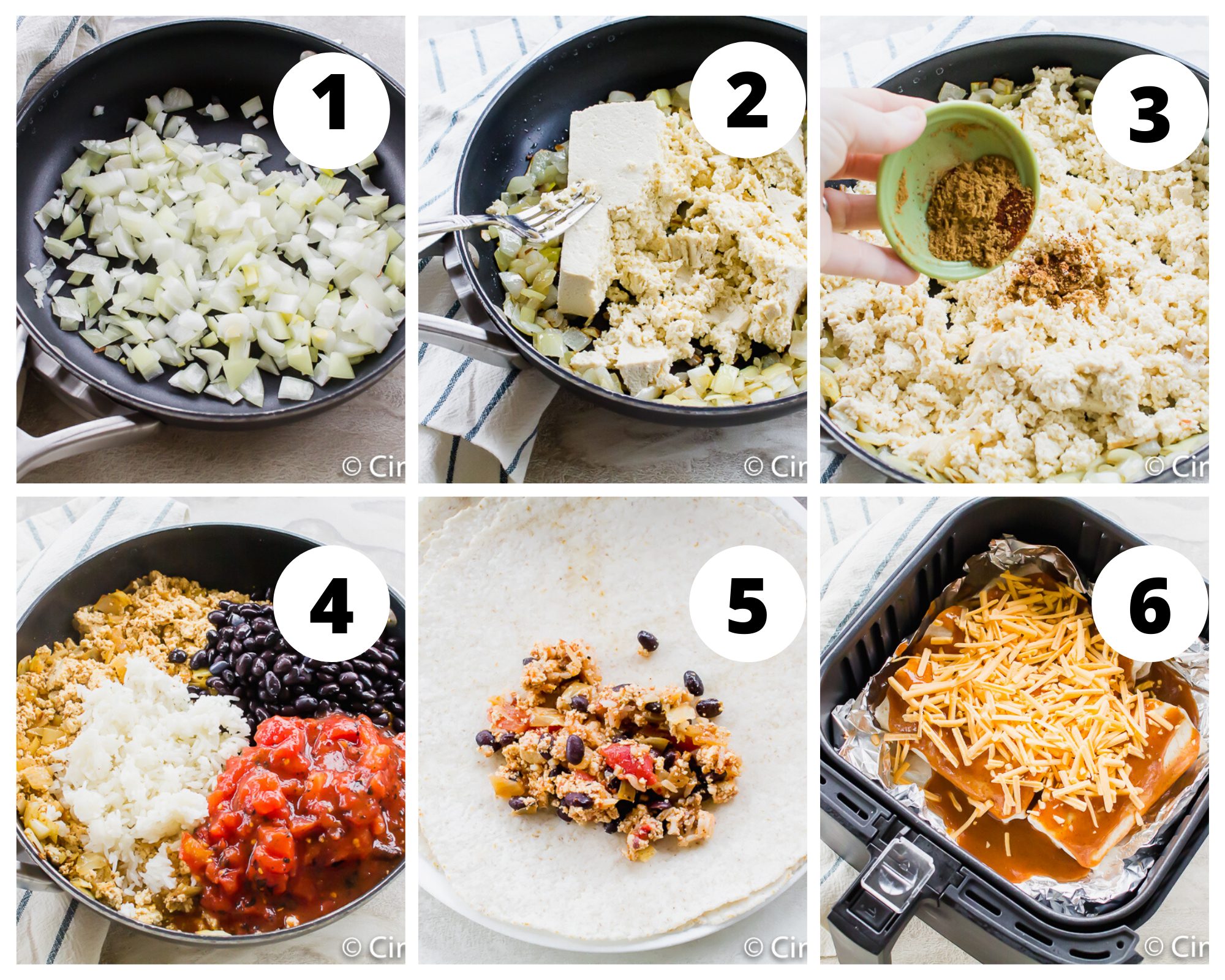 HOW TO MAKE AIR FRYER ENCHILADAS
Depending on the side of your air fryer basket, you may make anywhere from 4 to 6 enchiladas at a time.
However, the cook time on this recipe is so fast, the other batches won't have time to cool!
Make sure your enchiladas have room around them to cook evenly, and divide the sauce and cheese between your batches.
Heat a skillet over medium heat and add your oil and diced onions. Sauté the onions for a few minutes.
When the onions are soft, add your pressed tofu and mash it with a fork. Sauté the tofu and onions another 6 to 8 minutes.
Finally, add all the spices to the mixture and heat through, about 2 minutes more.
Next, add cooked black beans, cooked rice, and fire roasted tomatoes to the pan.
After that, add the enchilada mixture to tortillas and roll into tubes. Place tortillas with the seam side down to keep the mixture in the tortillas while cooking.
Before cooking, line the air fryer basket with foil and add the tortillas in batches. Top with enchilada sauce and cheese and cook for about 4 minutes at 350°F or until cheese is melted. Top as desired and enjoy!
These numbered steps match the numbered photos above and are for illustration purposes.
For the complete list of ingredients and instructions, please see the recipe below.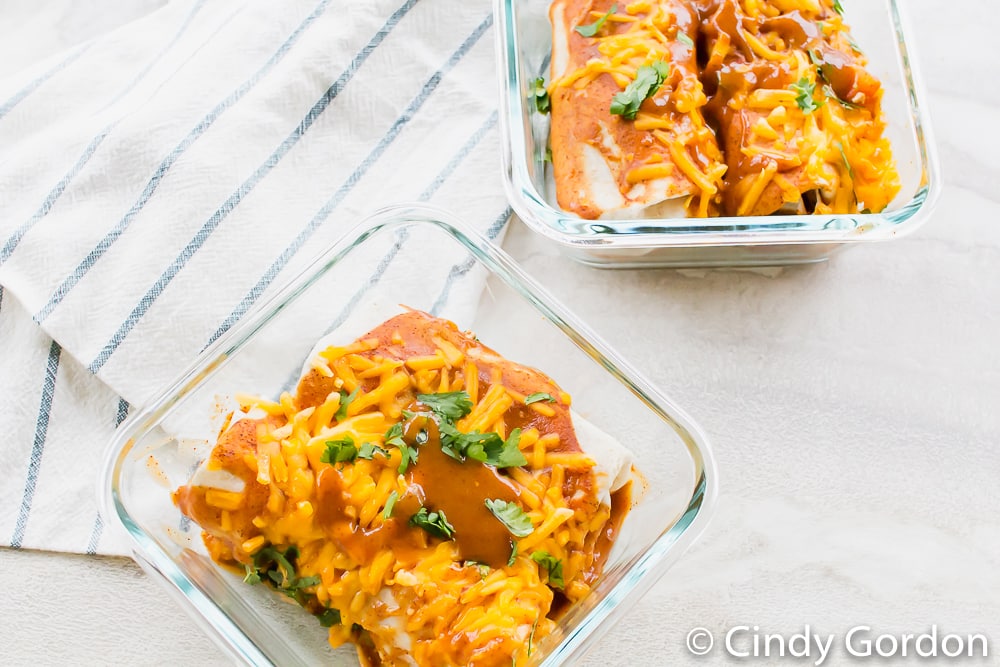 WHAT TO SERVE WITH ENCHILADAS
This fast and easy enchilada recipe makes Mexican night at home a breeze!
Rice and beans are your standard side, but I like to mix it up with this Mexican Rice Casserole, combining rice and tomatoes with black beans.
I LOVE getting potatoes when I see them on a Mexican restaurant menu, and this Mexican Tater Tot Casserole is like all the sides rolled into one and is a great way to use any leftover enchilada sauce you may have!
Want to use your air fryer all night?
This Mexican Corn on the Cob ditches the traditional dairy elements in street corn for six simple pantry staples.
CAN I MAKE AIR FRYER ENCHILADAS AHEAD OF TIME
Absolutely! All of the skillet steps could be made in advance and refrigerated up to 48 hours before being rolled into tortillas and cooked into enchiladas.
Wait to roll the enchiladas right before cooking to minimize breaking them from excess moisture.
Pro-tip to making these early: Reheat the rice mixture with a little steam in a covered pot before adding to the tortillas to keep the crunchy leftover texture at bay!
The fire roasted tomatoes should also help keep the mixture moist.
Making this for a party or potluck? Much like tacos, these Air Fryer Enchiladas can be topped with anything your heart desires!
I like to add a little salsa and cilantro to mine, and a squeeze of lime juice, but some crowd favorites are guacamole, pico de gallo, and sour cream if dairy is in your diet!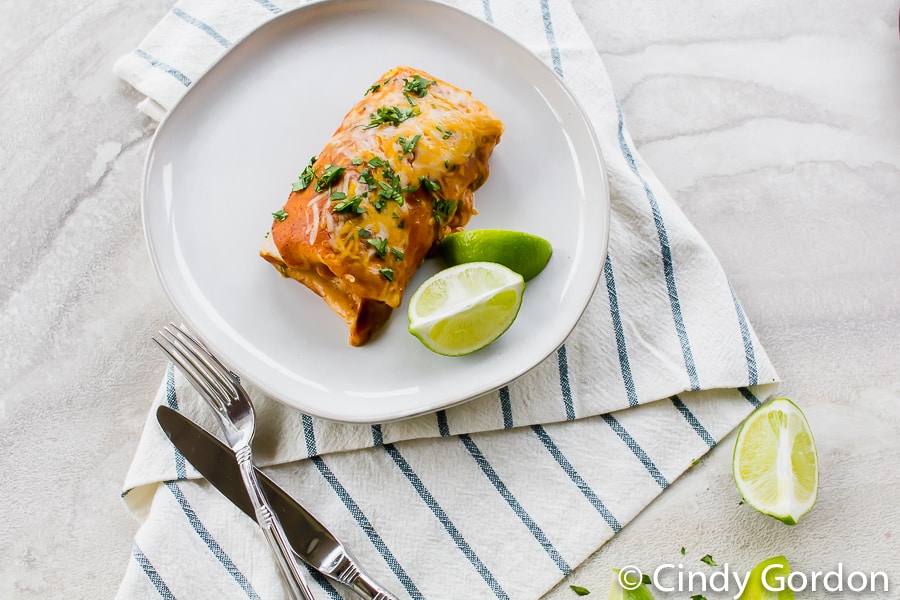 MORE YUMMY AIR FRYER RECIPES
We have so many delicious air fryer recipes on our sites.
If we had to pick our favorites, it would be these: Air Fryer Jalapeño Poppers, Air Fryer Fried Rice, Air Fryer Tofu, Air Fryer Brussels Sprouts and Air Fryer Pickles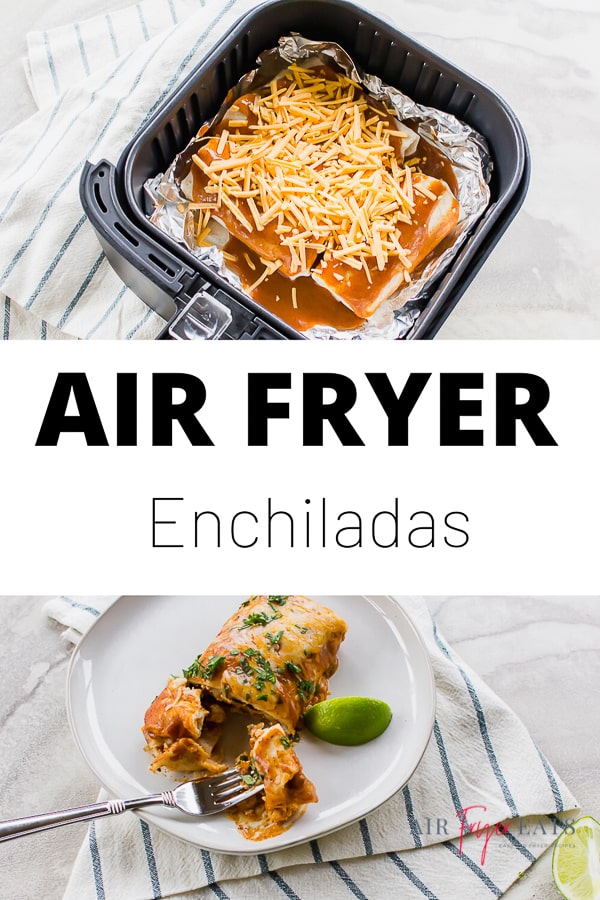 Are you gluten-free? Me too! We also have a sister site where EVERYTHING is gluten-free.
It is called VegetarianMamma. You can find some awesome dishes there for your Meatless Mondays!
Always be sure to read ingredient labels to make sure that the product/ingredients fits your dietary restrictions!
This recipe works WITH Gluten-Free Tortillas or Flour Tortillas.
Pro Tips
Use Any Air Fryer: This recipe can be made in an air fryer unit with a basket or an air fryer oven. If you're using an air fryer oven, place your food on the middle rack and select the "air fry" function.
Check your food as it cooks! Since each air fryer runs differently, sometimes air frying is a trial and error process. When cooking a new recipe, be sure to check on your food often. This will help you avoid over or undercooking, and help you learn your air fryer's specific ways!
Air Fryer Enchiladas
These Air Fryer Enchiladas are a breeze to make in less than half an hour and are packed with Mexican flavor! Top with your favorite cheese and enchilada sauce!
Ingredients
1

block

firm tofu, pressed

or 1 lb. ground beef

1

tbsp

oil

1

cup

diced onion

1

tsp

cumin

1

tsp

chili powder

1

cup

black beans

cooked

1

cup

rice

cooked

14 oz.

can

fire roasted tomatoes

1

lime

juiced, optional

12

tortillas

1

cup

shredded Mexican cheese

2

cups

enchilada sauce

1

lime

quartered, for garnish
Instructions
If using tofu: Start by pressing the tofu for about 10 to 12 minutes, tightening every 3 to 4 minutes.

In a skillet over medium heat, add oil and sauté onions.

If using beef: Add crumbled ground beef to onion mixture and sauté until the meat is browned. If using tofu: When the onions have softened, add tofu to pan. Mash tofu with a fork and sauté the tofu and onion mixture about 6 to 8 minutes.

Add the spices to the skillet mixture and stir to combine.

Add the cooked black beans, cooked rice, and fire roasted tomatoes to the tofu mixture. Heat for about 2 minutes.

If using lime juice, add to the mixture here and remove from heat.

Roll mixture into tortillas.

Line air fryer basket with foil before adding rolled tortillas with the seams facing down. This will need to be cooked in a few batches, depending on your air fryer size.

Top enchiladas with sauce and then cheese.

Cook for about 4 minutes at 350°F or until cheese melts. Repeat until all enchiladas are cooked.

Garnish with lime juice or your favorite toppings and enjoy!
Go AD FREE!
Notes
Pro Tip: This recipe can be made in the air fryer unit with a basket or the air fryer oven. If you are using the air fryer oven, use the middle rack and select the "Air Fry" function.
Nutrition
Calories:
1020
kcal
|
Carbohydrates:
174
g
|
Protein:
34
g
|
Fat:
18
g
|
Saturated Fat:
7
g
|
Cholesterol:
27
mg
|
Sodium:
4080
mg
|
Potassium:
420
mg
|
Fiber:
21
g
|
Sugar:
46
g
|
Vitamin A:
6887
IU
|
Vitamin C:
38
mg
|
Calcium:
752
mg
|
Iron:
14
mg
Tired of the ads?
Go AD Free - Become part of our Membership community!
Air Fryers can vary greatly. Please take the time to learn your specific air fryer. You may need to adjust times and temperatures based upon your air fryer.
All though this website attempts to provide accurate nutritional information, the information should only be considered an estimate. Varying factors such as different product types, different brands, etc. can change nutritional information. It is your responsibility as a consumer to read all labels to make sure the ingredients fit your dietary needs as well as calculate your own nutritional information as a double check.