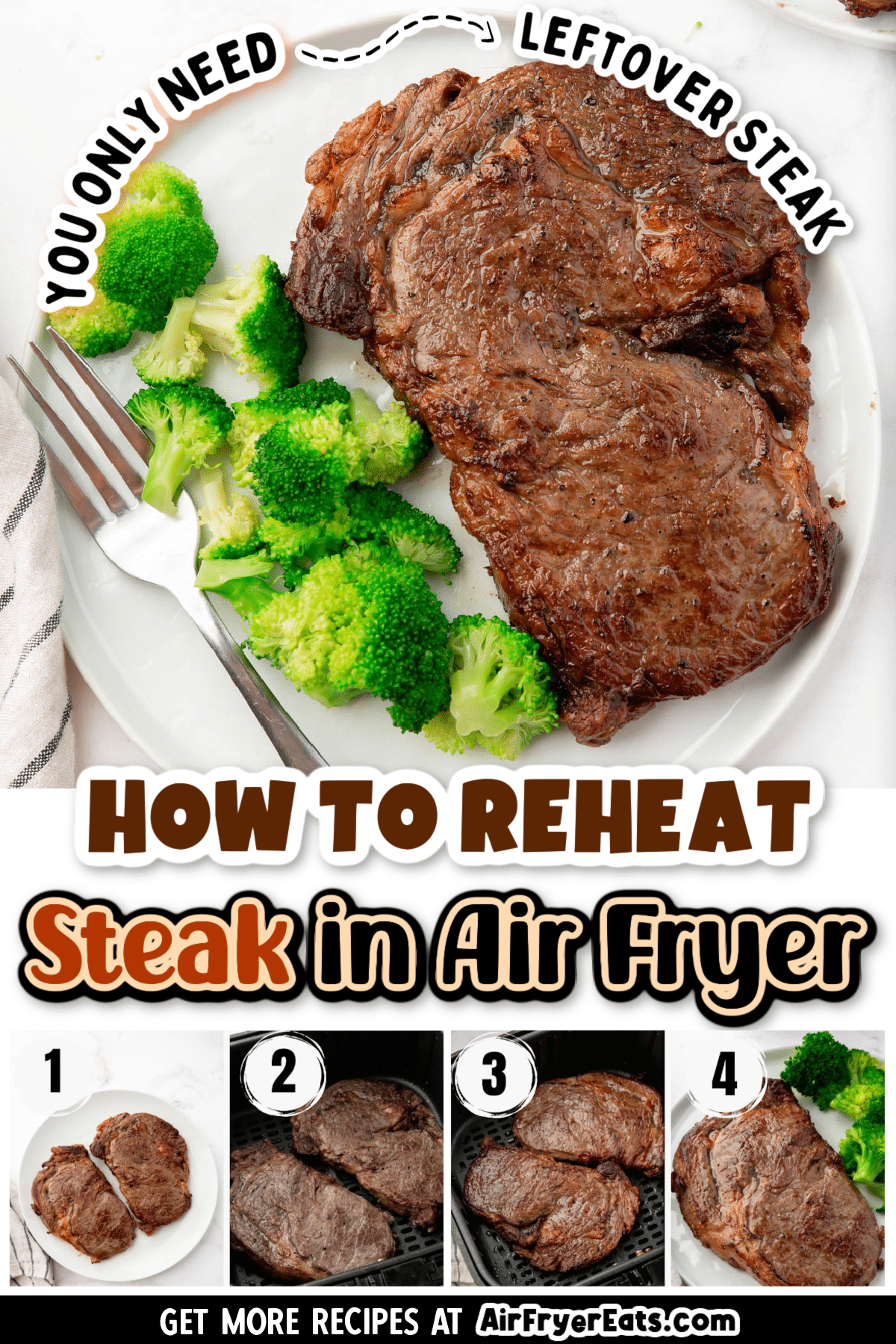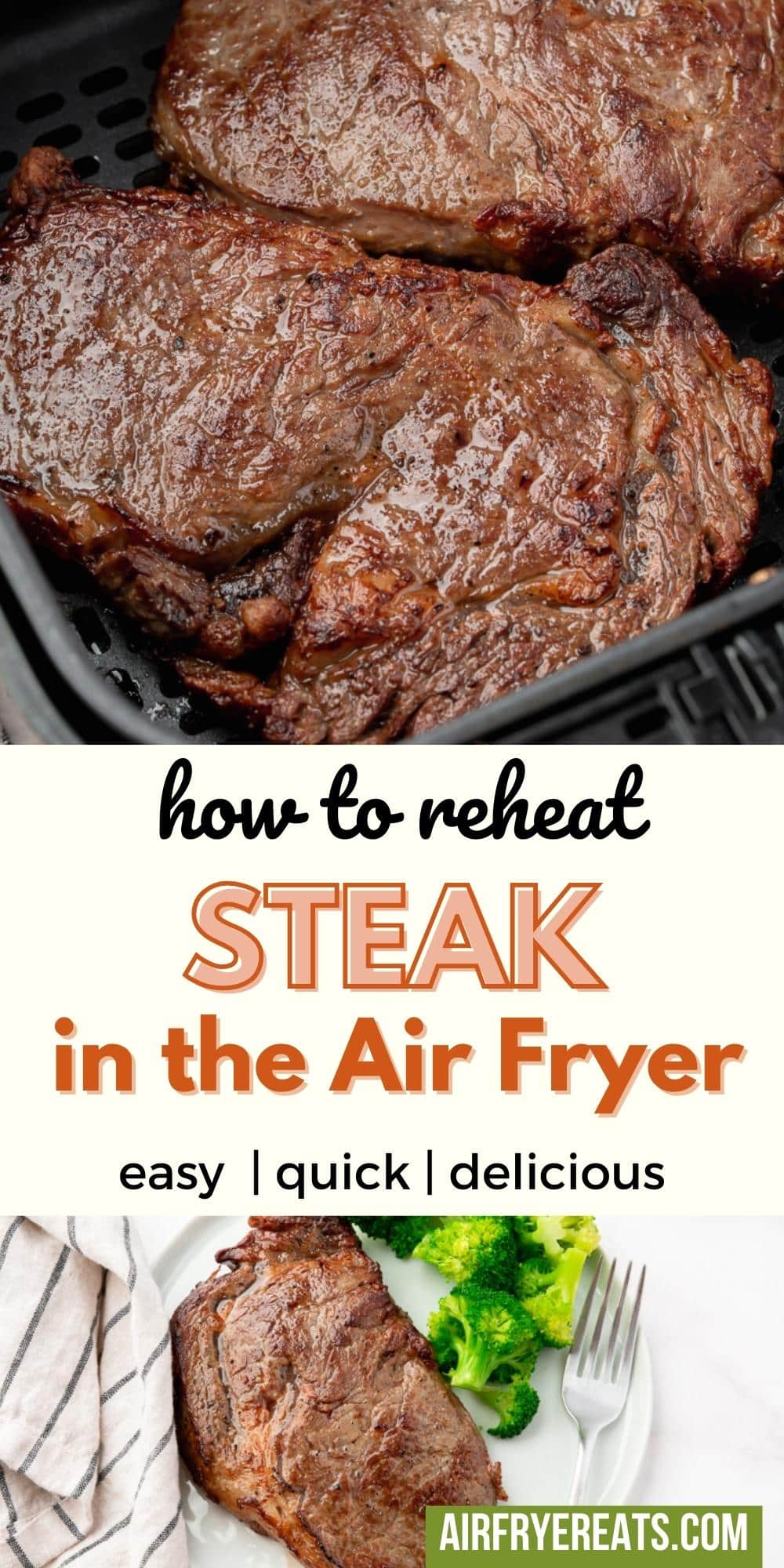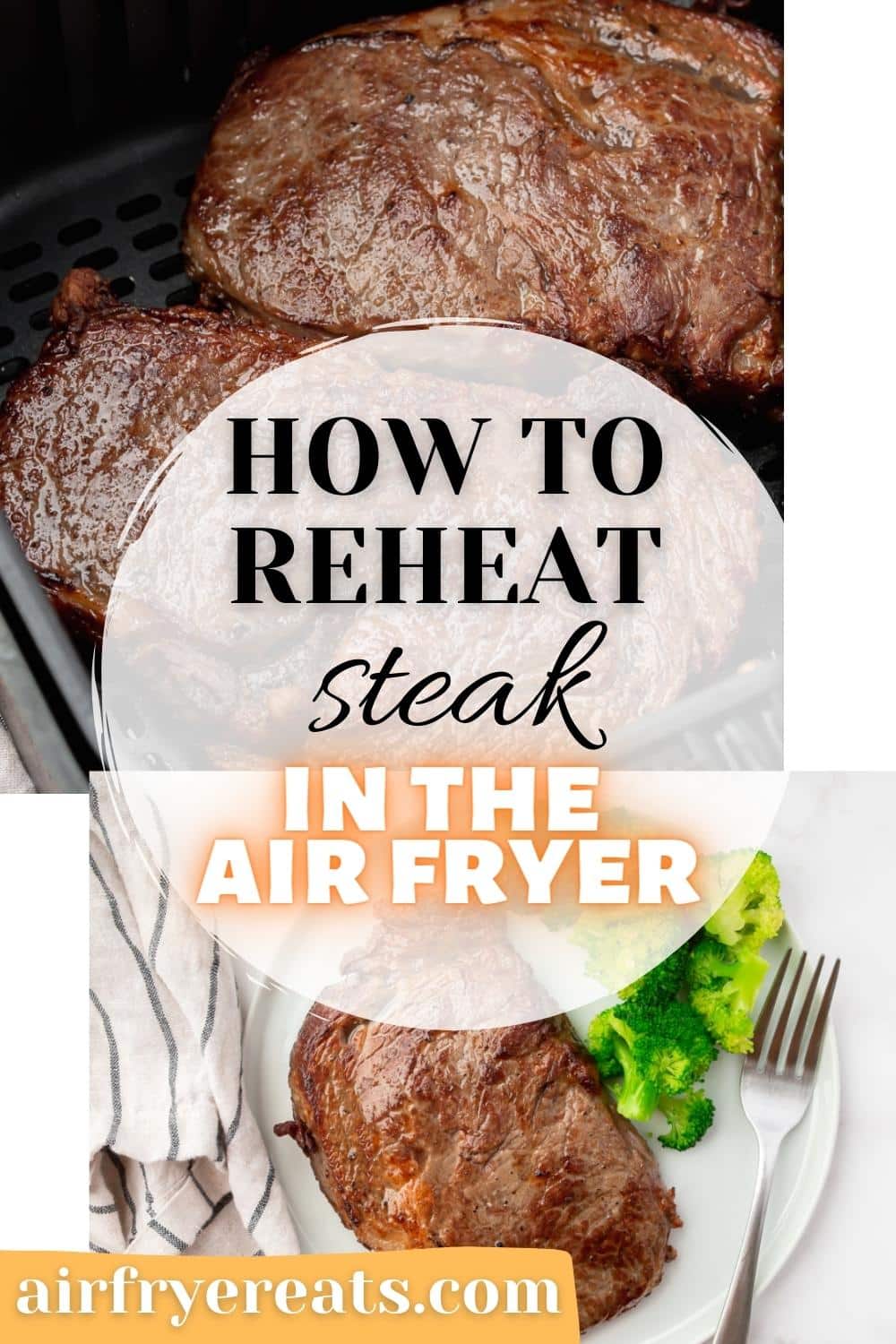 Learn how to reheat steak in the air fryer perfectly, so that it is as juicy and delicious as it was when you first cooked it!
These easy air fryer instructions for reheating steak will work with any cut or type of steak, and work wonderfully for restaurant leftovers too!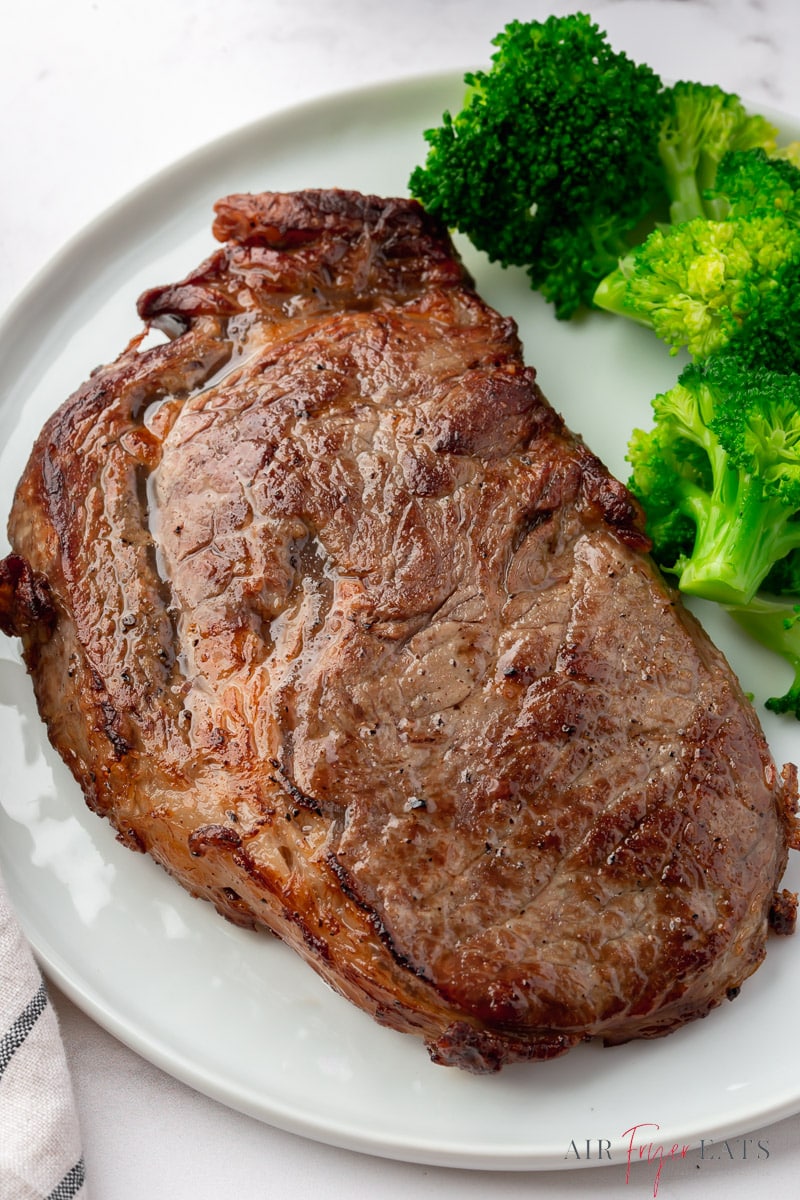 LEARN HOW TO REHEAT STEAK IN AIR FRYER
I'm sure you've had this challenge before: How do you reheat a leftover steak so that you don't overcook it and dry it out?
The goal is to re-warm a cooked steak so that it is just like it was when you enjoyed it the first time!
The microwave might seem like a good idea, but in reality, you will always end up with a tough, chewy steak if you reheat it in the microwave.
What about the oven for reheating steak? Or in a skillet on the stovetop?
Nope and nope! When it comes to reheating steak, the air fryer is going to be your very best option.
Keep reading to learn the best method for heating up leftover steak in the air fryer. You are going to love the results!
Enjoy your air fryer reheated steak with a plate of air fryer steak fries and a caesar salad, or use it to make lunches and sandwiches.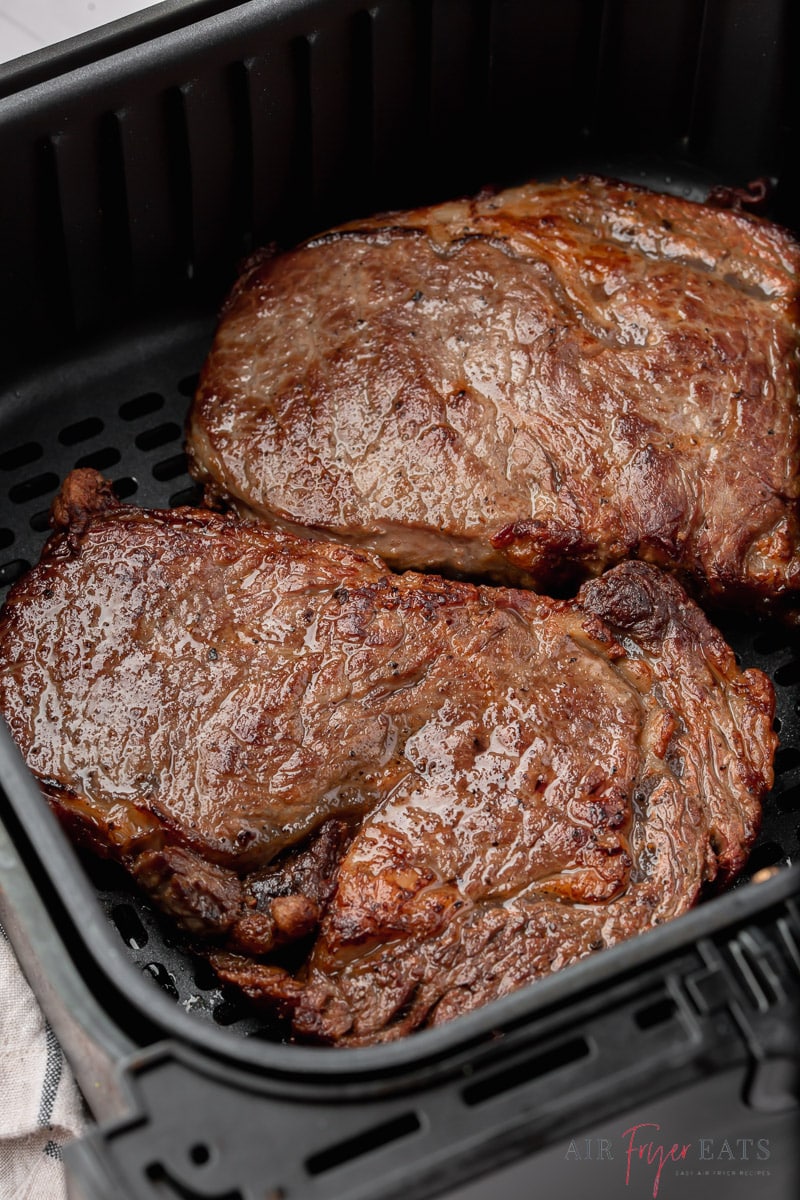 PERFECTLY REHEAT STEAK IN AIR FRYER
What do you need to perfectly reheat steak in the air fryer? Not much at all!
Simply grab your steak leftovers from the fridge, and get ready to put them in the air fryer basket. You don't need any oil, fancy gadgets, or other ingredients.
In a small air fryer, you can reheat one steak, and if you have a large air fryer, you can reheat enough steak leftovers in the air fryer for the whole family!
CAN YOU REHEAT STEAK IN AN AIR FRYER?
We get asked this question a lot, and so I'm here to assure you that you can reheat steak in the air fryer.
It takes very little time and effort, and it works! You can even grill or broil steaks on the weekend and reheat them all week long if you want to. Steaks are delicious, juicy, and perfectly cooked in the center, even after being reheated in the air fryer.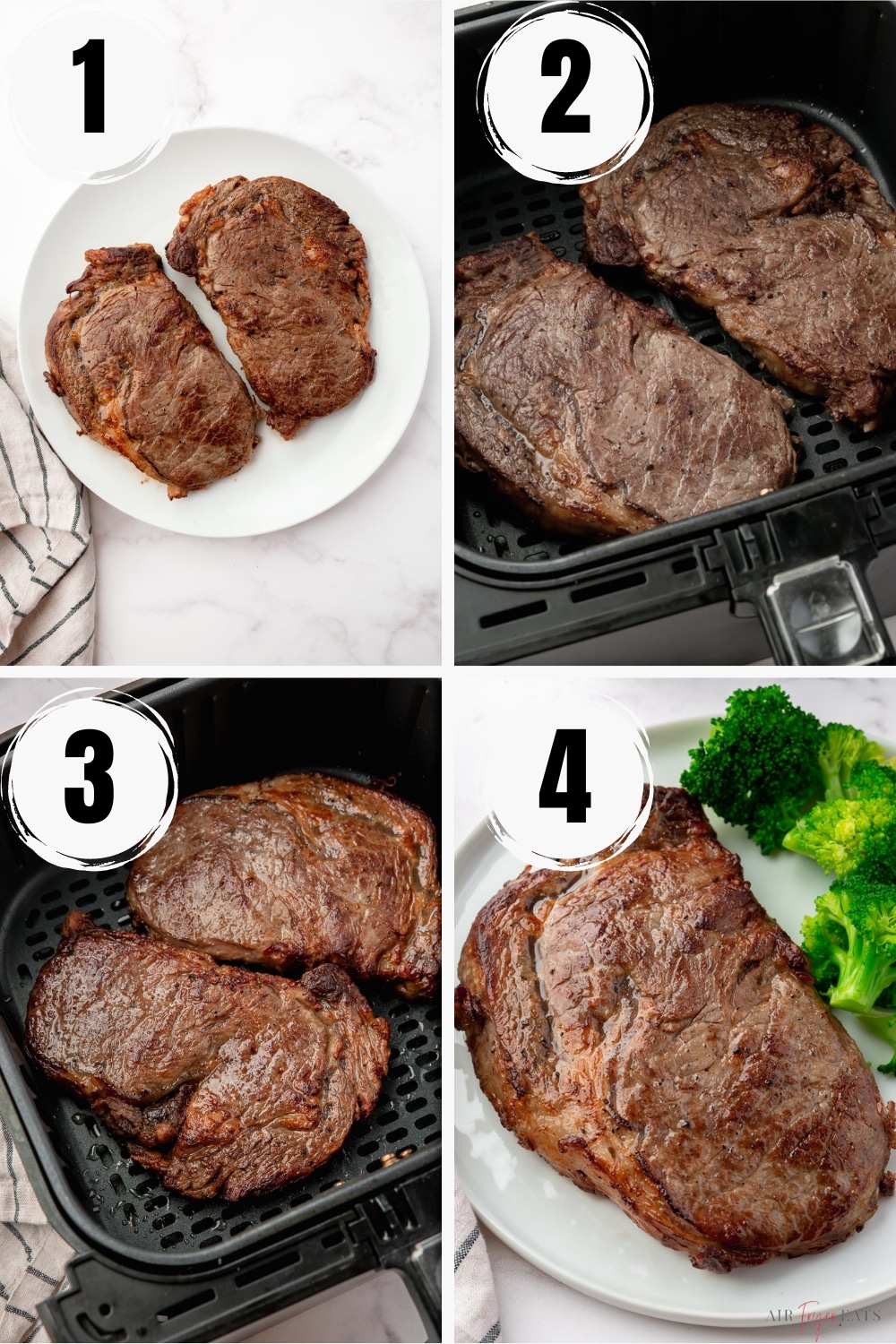 HOW TO REHEAT STEAK IN AIR FRYER
Take the chill off: Remove your leftover steak from the refrigerator and let it sit on the counter for 15-20 minutes. This brings the meat closer to room temperature and is key to success with this air fryer method.
Add the steak to your air fryer basket. Be sure to keep it in a single layer, not overlapping or stacked up.
Air Fry as directed in the recipe card below, until the internal temperature of the steak is 130°F/ 55°C. Try not to go past that point, or the steak will start to cook again, and you don't want that!
Remove your perfectly reheated steak from the air fryer and serve immediately.
These numbered steps match the numbered photos above and are for illustration purposes. For the complete list of ingredients and instructions for reheating steak in the air fryer, please see the recipe below.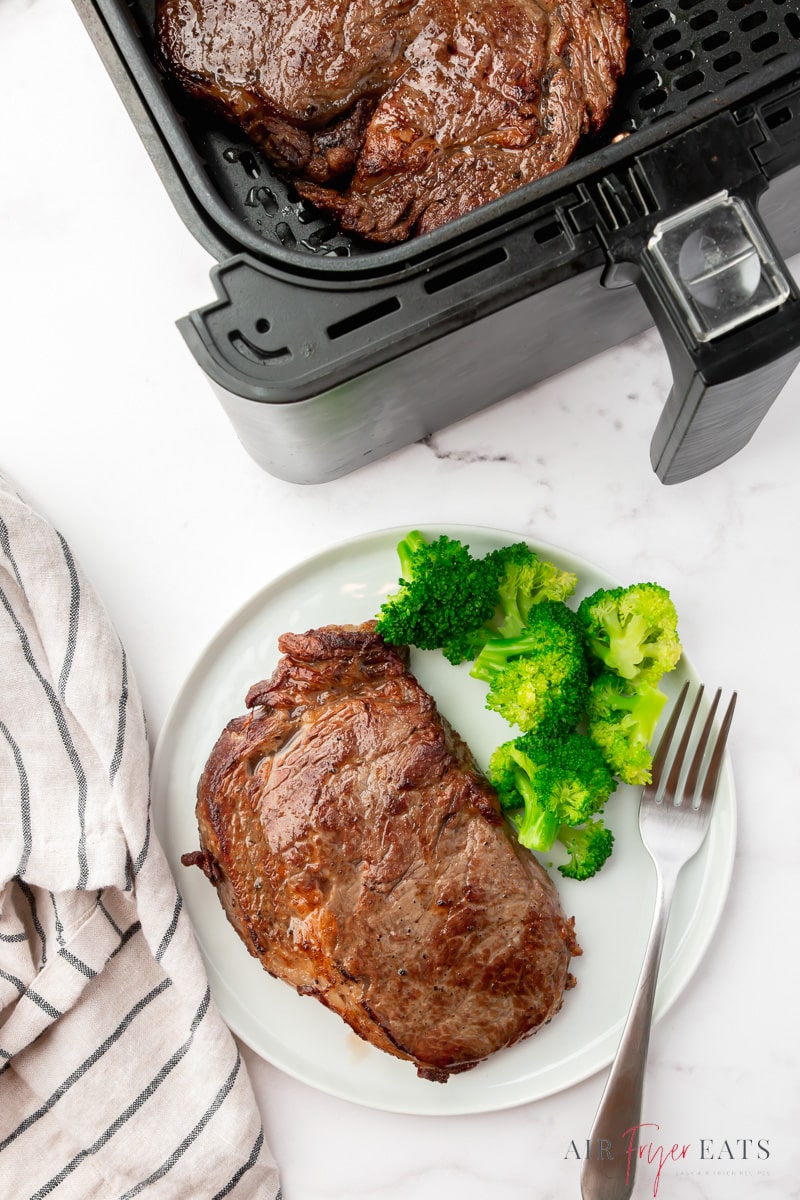 WAYS TO USE LEFTOVER STEAK
After you've reheated your steak in the air fryer, you can enjoy it as it is with a side of baked sweet potatoes, frozen curly fries or air fryer steak fries.
Or use reheated steak to create a tasty steak salad, or an open-faced steak sandwich on texas toast. Drizzle it with some homemade Blove's sauce for a real treat!
HOW LONG TO REHEAT STEAK IN AIR FRYER
It only takes between 3 and 6 minutes to perfectly reheat steak in the air fryer. The exact amount of time will depend on the size and thickness of your steaks though. Here's a general guide for timing:
A one-inch thick steak like the ribeye I'm reheating in the photos will take about 4-5 minutes.
Thinner portions of steak will be ready in 3 minutes.
Extra thick steaks, like you might get from a restaurant or steakhouse can take 6 or more minutes to properly reheat.
If you are only reheating 1 small piece of steak, the lower end of this time range should be sufficient, but if you have the basket filled with steak, more time will be needed.
In all cases, use a kitchen thermometer to ensure that the inside of each steak has come to 130°F/ 55°C. At this temperature, the steak will be warm in the center, but not overcooked.
CAN I REHEAT RARE STEAK IN THE AIR FRYER?
As long as your steak was rare when you originally cooked it, you can reheat it in the air fryer and it should still be rare. You can expect the temperature to go a bit further than rare if you need to heat it longer than a few minutes though.
WHAT TEMPERATURE TO REHEAT STEAK IN AIR FRYER
In our testing, we found that a temperature of 350°F or 180°C is the best air fryer temperature for reheating steak.
All air fryers run a bit differently though. Some are just hotter than others! You may find that your specific air fryer does best at a slightly higher or lower temperature.
SHOULD I FLIP STEAKS OVER WHEN REHEATING IN THE AIR FRYER?
I don't think it's necessary to flip steaks over when reheating them in the air fryer. Since the machine works by circulating air, both sides are warmed at the time time.
That said, if you are reheating a very thick steak, flipping it over halfway through the cooking time may be helpful.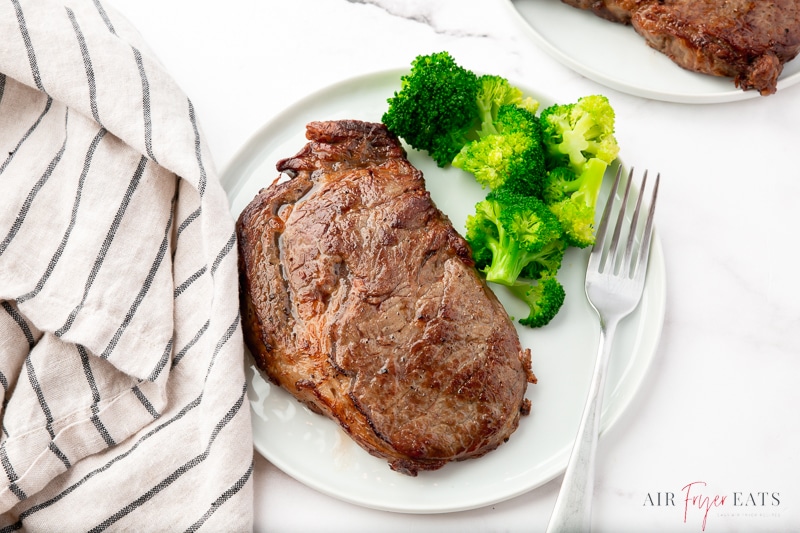 WHAT KINDS OF STEAK CAN I COOK IN THE AIR FRYER?
Are you looking for an easy and effective way to cook the perfect steak? We have you covered with our air fryer steak recipes.
Flank steak with a delicious marinade is easy to cook in the air fryer, and makes delicious tacos.
Sirloin Steak Bites are buttery, garlicky and amazing, and cook in the air fryer in just 8 minutes.
For any cut of steak, including ribeye, New York strip, and T-Bone, follow our Air Fryer Steak recipe!
If you're air frying with a Ninja Foodi, we have a Ninja Foodi Steak recipe just for you.
Is your steak still in the freezer? That's no problem at all when you follow our easy instructions for how to air fry frozen steak!
Don't miss easy recipes for Air Fryer Tuna Steaks, Air Fryer Chicken Fried Steak, and Air Fryer Cube Steak too!
MORE EASY AIR FRYER DINNER RECIPES
Crispy Air Fryer Tacos are everyone's favorite! First, use the air fryer to cook seasoned chicken thighs, then put the assembled tacos back in to crisp up the shells and melt the cheese.
Turn plain chicken breasts into a tasty air fryer main dish with recipes for Air Fryer Sweet and Spicy Chicken or Air Fryer Sticky Ginger Chicken. Serve either with Air Fryer Fried Rice.
Need something easier? Make Frozen Pot Pie in the air fryer, Air Fryer Sausage, or Air Fryer Hot Dogs!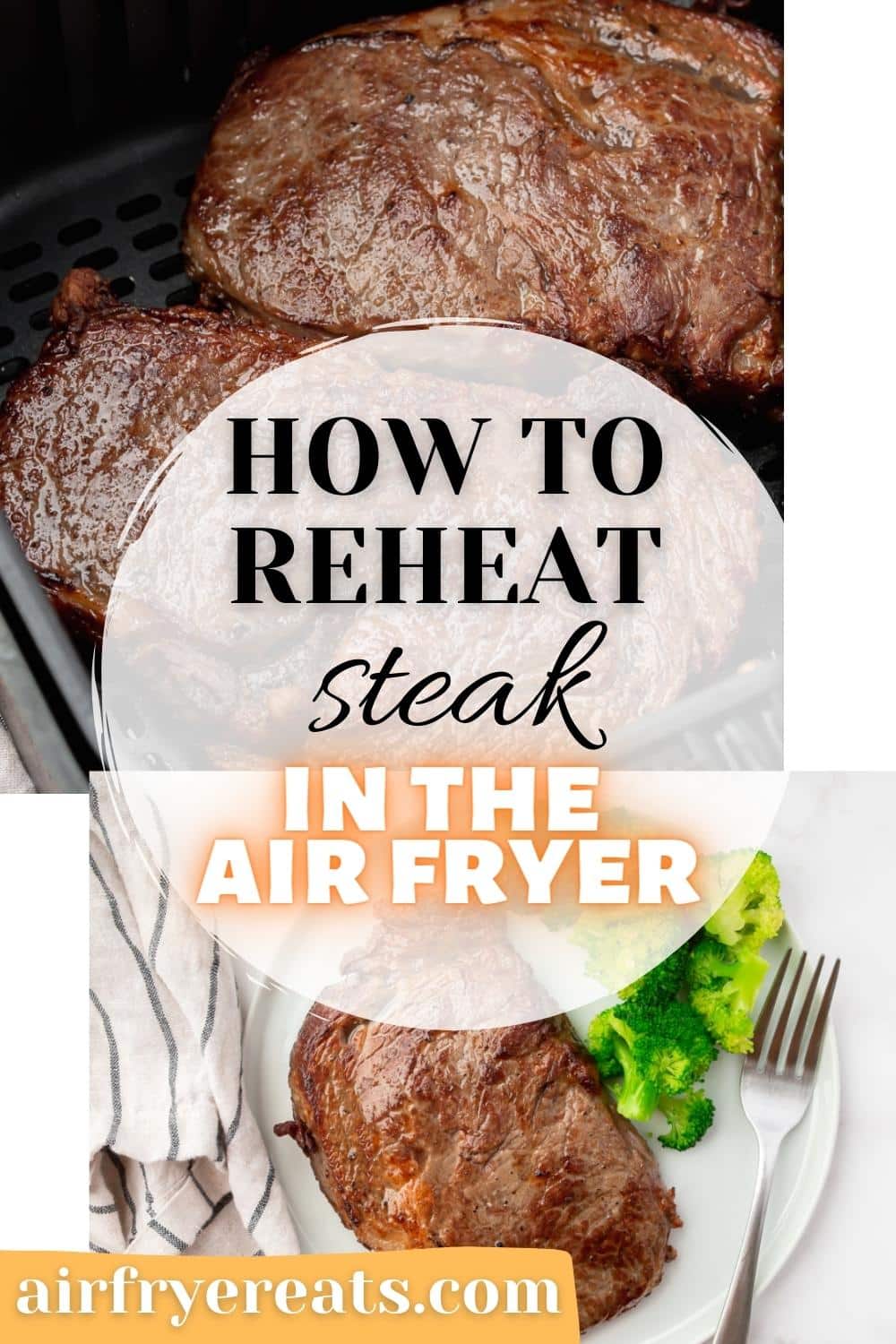 Have you made this recipe? Please leave a comment AND rating below! It helps other readers!
Be sure to tag @AirFryerEats on instagram, if you share a picture on the gram! Let's get social, you can follow me on Youtube, Instagram, Facebook, Pinterest or join one of our Air Fryer Facebook Groups: Air Fryer Recipes, Air Fryer Recipes for Seniors and Gluten Free Air Fryer Recipes.
Don't forget to subscribe to our EMAIL newsletter.
How To Reheat Steak in Air Fryer
Learn how to reheat steak in the air fryer perfectly, so that it is as juicy and delicious as it was when you first cooked it!
Ingredients
1

Steak

previously cooked
Instructions
Remove the steak from the refrigerator and let it come to room temperature for about 15-20 minutes.

Place the steak in the air fryer basket. If you're cooking more than one steak, be sure to place them in a single layer.

Air fry at 350°F/180°C for about 3-6 minutes, or until the steak has reached an internal temperature of 130°F/55°C. Serve immediately.
Go AD FREE!
Notes
Letting the steak come to room temperature before placing it in the air fryer is key to the steak reheating evenly and quickly.
The steak in the photos is a ribeye, about 1 inch thick. If you use a different cut of steak that is thinner, the steak will reheat more quickly. Cook until the steak is heated through and has reached an internal temperature of 130°F/ 55°C.
Pro Tip: This recipe can be made in the air fryer unit with a basket or the air fryer oven. If you are using the air fryer oven, use the middle rack and select the "Air Fry" function.
Pro Tip: Check your food as it cooks. Each air fryer runs a bit differently. Sometimes air frying is a trial and error process. Check your food as it cooks to learn your air fryer better! When cooking a new recipe or food items be sure to check your food often to help avoid over/under cooking.
Have oven recipes that you'd like to convert to an air fryer recipe? Use our Air Fryer Calculator to help you estimate cooking times and temps! Calculator here: https://airfryereats.com/air-fryer-conversion-air-fryer-calculator/
Nutrition
Serving:
-3
g
|
Calories:
470
kcal
|
Protein:
45
g
|
Fat:
32
g
|
Saturated Fat:
14
g
|
Polyunsaturated Fat:
2
g
|
Monounsaturated Fat:
15
g
|
Cholesterol:
138
mg
|
Sodium:
118
mg
|
Potassium:
606
mg
|
Vitamin A:
34
IU
|
Calcium:
16
mg
|
Iron:
4
mg
Tired of the ads?
Go AD Free - Become part of our Membership community!
Air Fryers can vary greatly. Please take the time to learn your specific air fryer. You may need to adjust times and temperatures based upon your air fryer.
All though this website attempts to provide accurate nutritional information, the information should only be considered an estimate. Varying factors such as different product types, different brands, etc. can change nutritional information. It is your responsibility as a consumer to read all labels to make sure the ingredients fit your dietary needs as well as calculate your own nutritional information as a double check.