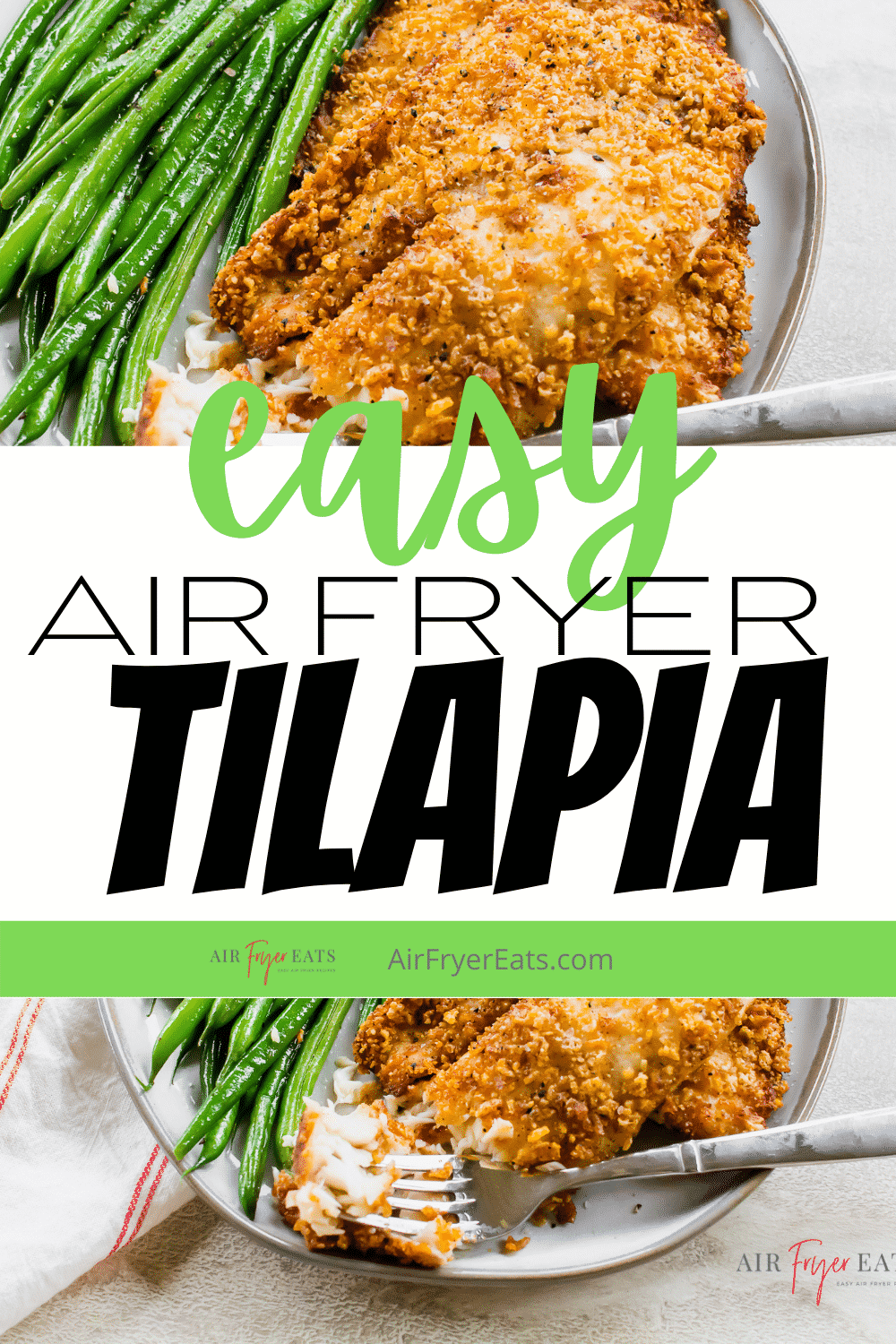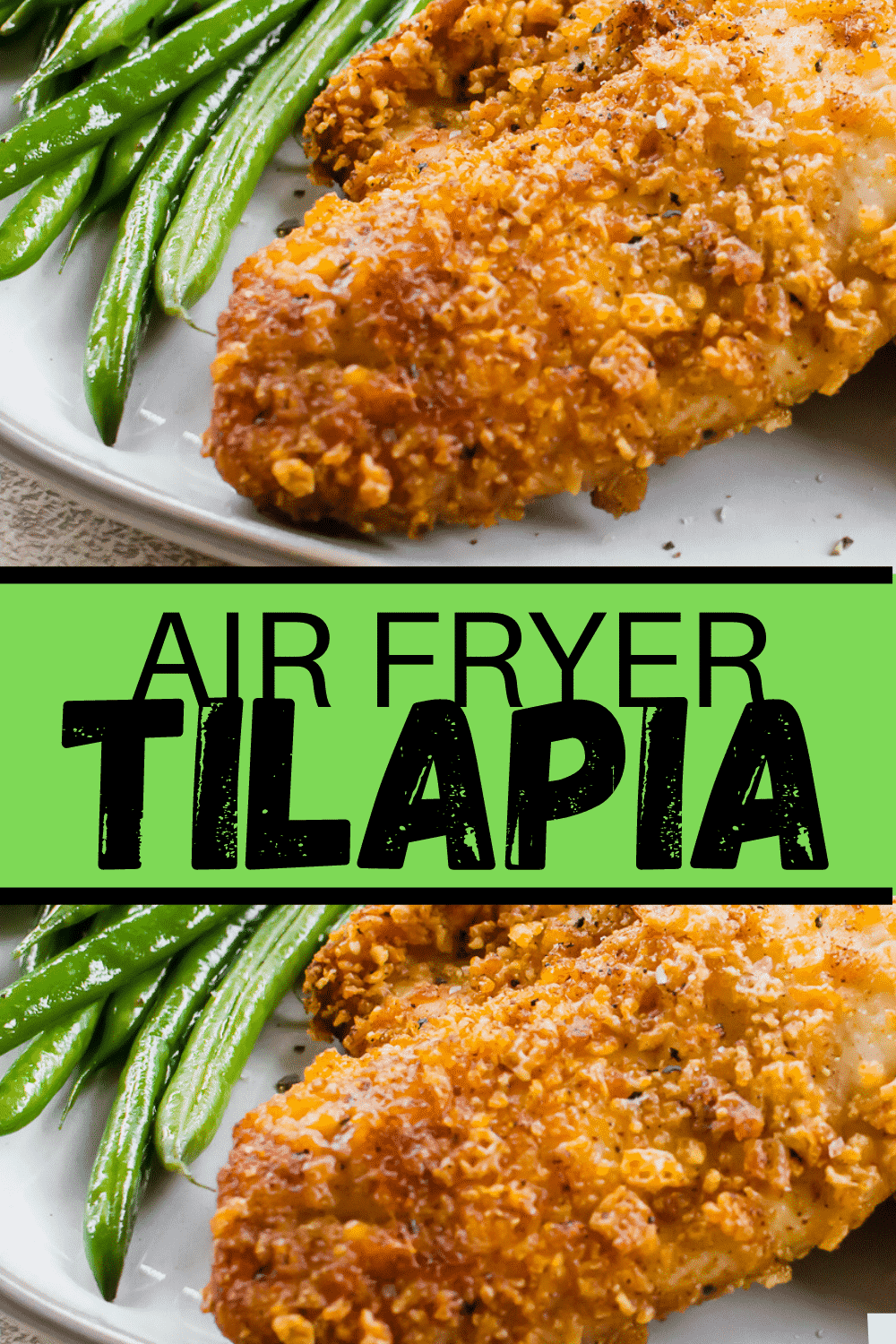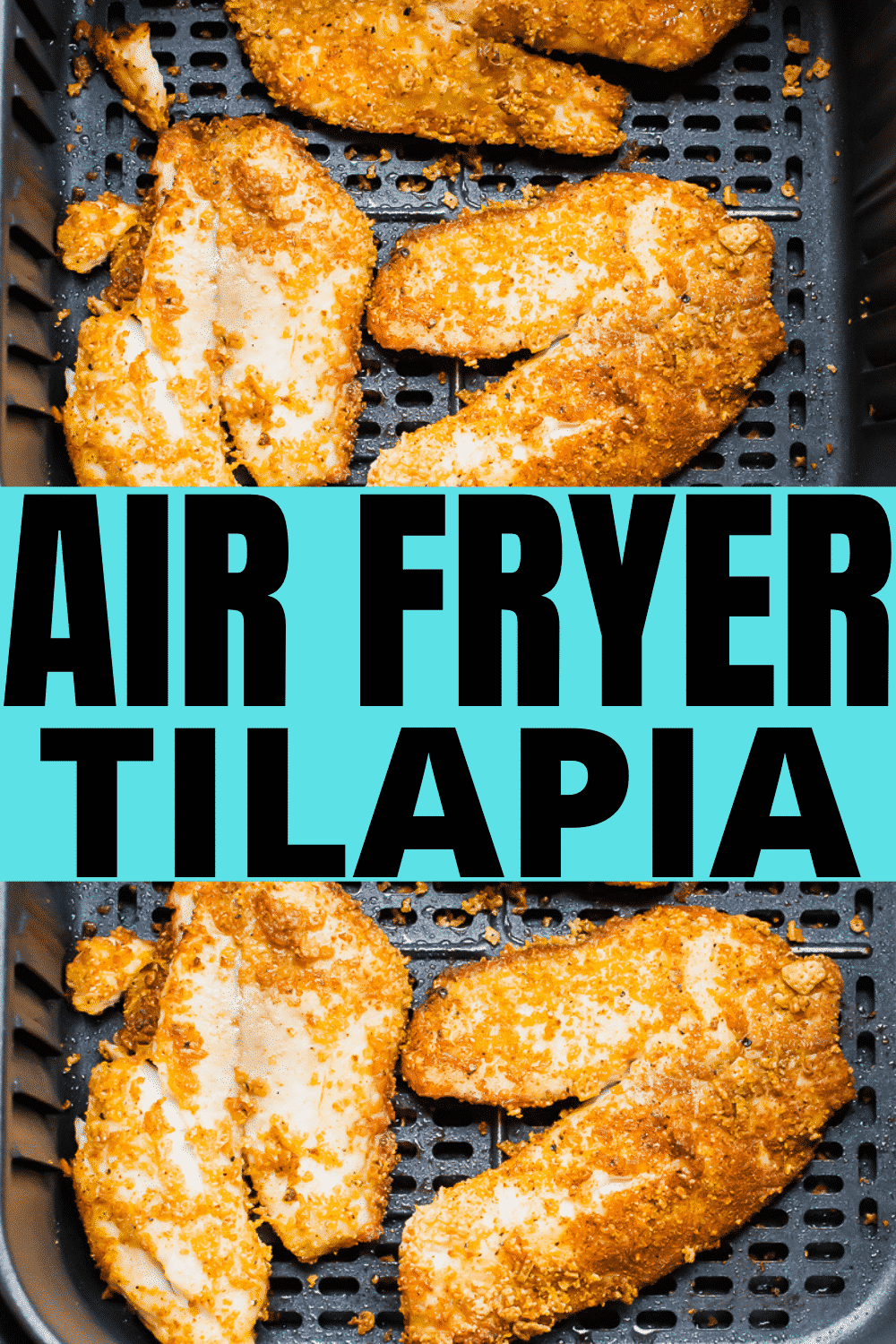 Air Fryer Tilapia is so fast and flaky! Coat this yummy white fish in seasoned breadcrumbs for a quick fish dinner with pantry staples.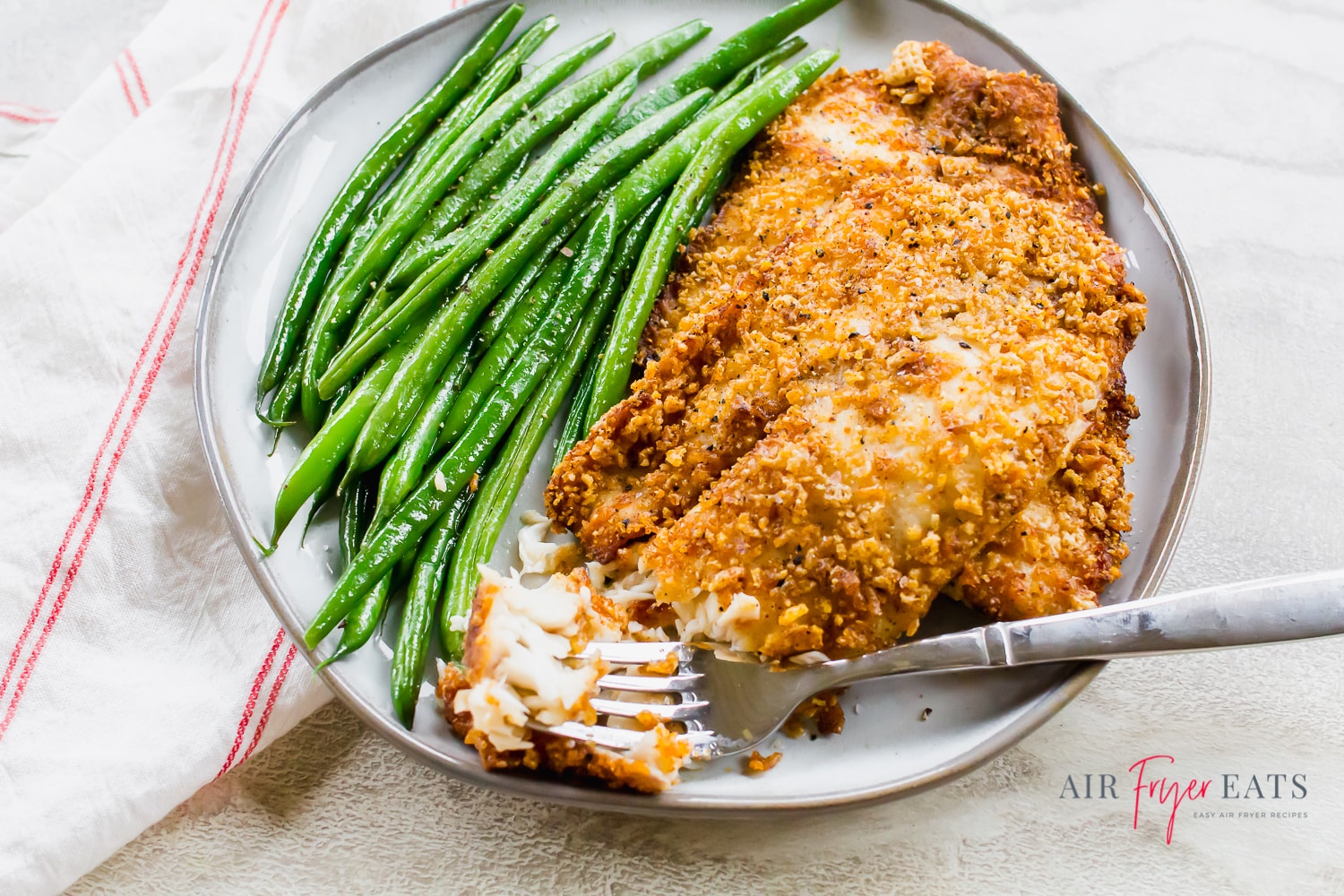 AIR FRYER TILAPIA RECIPE
Fish dinners feel so unattainable, but not with the air fryer! I love this Air Fryer Tilapia because it's easy to throw together a meal on a weeknight dinner with no plans and prep!
It's as crunchy as this air fryer eggplant with a seasoned breadcrumb coating that clings to the flaky white fish! Doesn't it just look like you spent hours in the kitchen?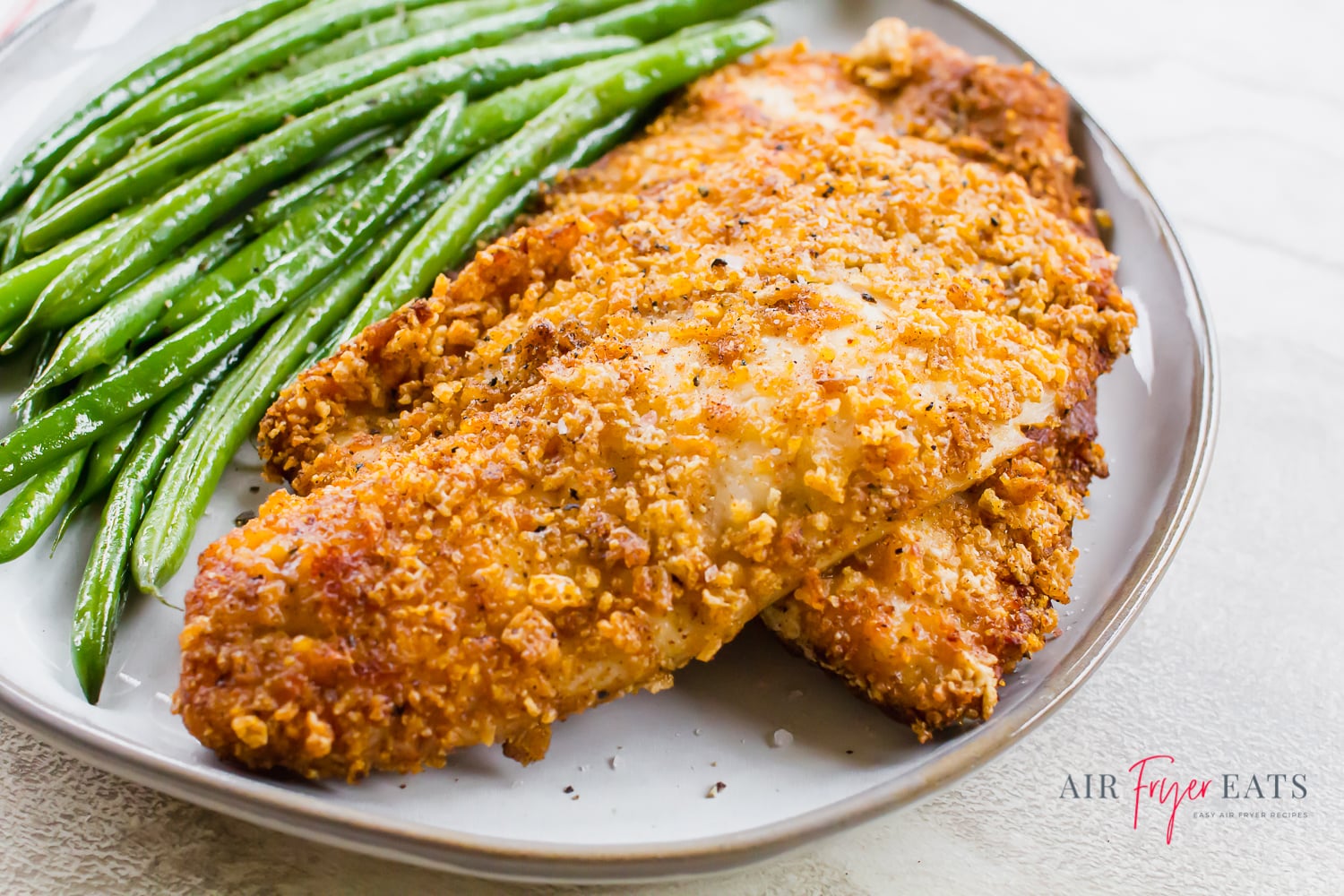 INGREDIENTS IN AIR FRYER TILAPIA
Tilapia filets: You can use fresh or frozen tilapia for this recipe! If it's frozen, be sure to thaw it first so the breadcrumbs stick well.
Spray oil: To keep the tilapia from sticking to the air fryer basket, you need a little oil. It helps the breadcrumbs stick to the tilapia, too.
Chili powder: I love this spice because it brings a smokiness to the tilapia without a lot of heat. If you want more spice, add a pinch of cayenne pepper to your mix.
Garlic salt: I use this in place of salt because everything tastes better with garlic! Garlic salt has a sweeter flavor than raw or roasted garlic and goes great with fish.
Pepper: Pepper is good on all fish! It brings a little spice to the filets without overwhelming anyone at the table.
Breadcrumbs: I use gluten-free breadcrumbs for this air fried fish recipe, but you can use any kind! Pat them on the chicken well for the crunchiest coating.
If you have any questions, please leave a comment below and I will get back to you ASAP!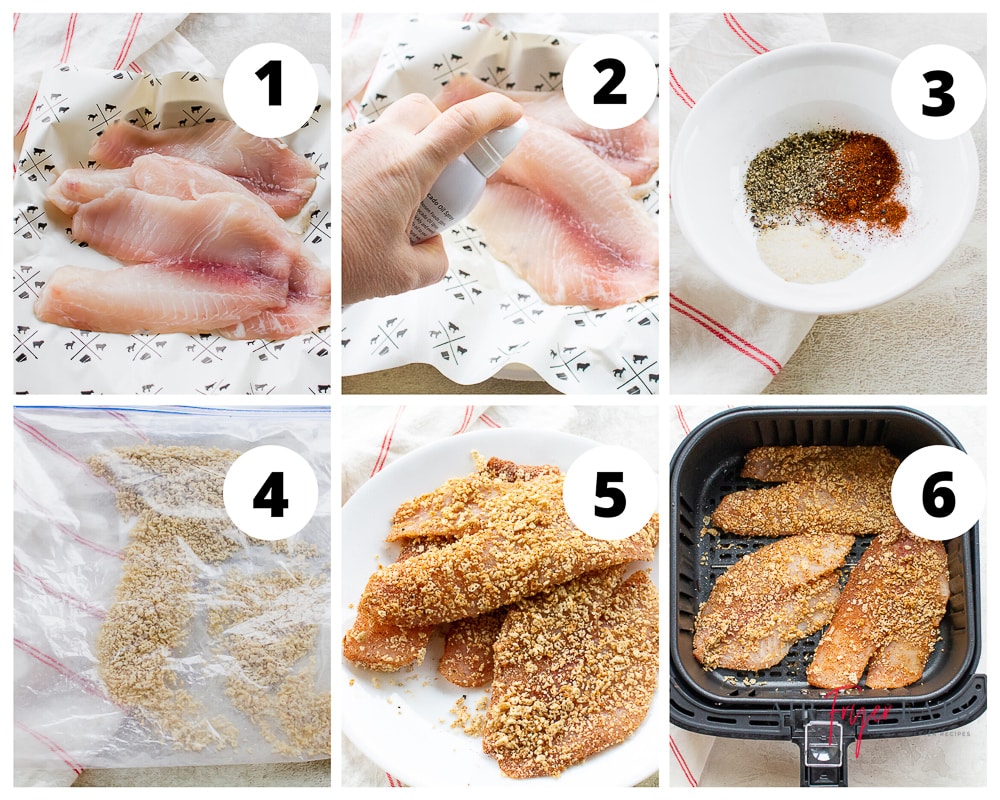 HOW TO MAKE AIR FRYER TILAPIA
First, thaw your filets if necessary and dry them with a paper towel.
Then, spray the filets with a little oil on each side.
Now, mix together the spice blend in a small bowl.
Put the breadcrumbs in a ziplock bag and add the spices. Shake it all together.
Next, put one filet in the bag at a time and press the breadcrumbs gently into the tilapia. Make sure to coat it completely! Repeat for every filet.
Finally, air fry the filets until the breadcrumbs are toasted. Flip the tilapia halfway through for evenly cooked fish.
These numbered steps match the numbered photos above and are for illustration purposes. For the complete list of ingredients and instructions, please see the recipe below.
If you don't want to cook your tilapia in the air fryer tonight. You can opt for baked tilapia in foil and use your oven!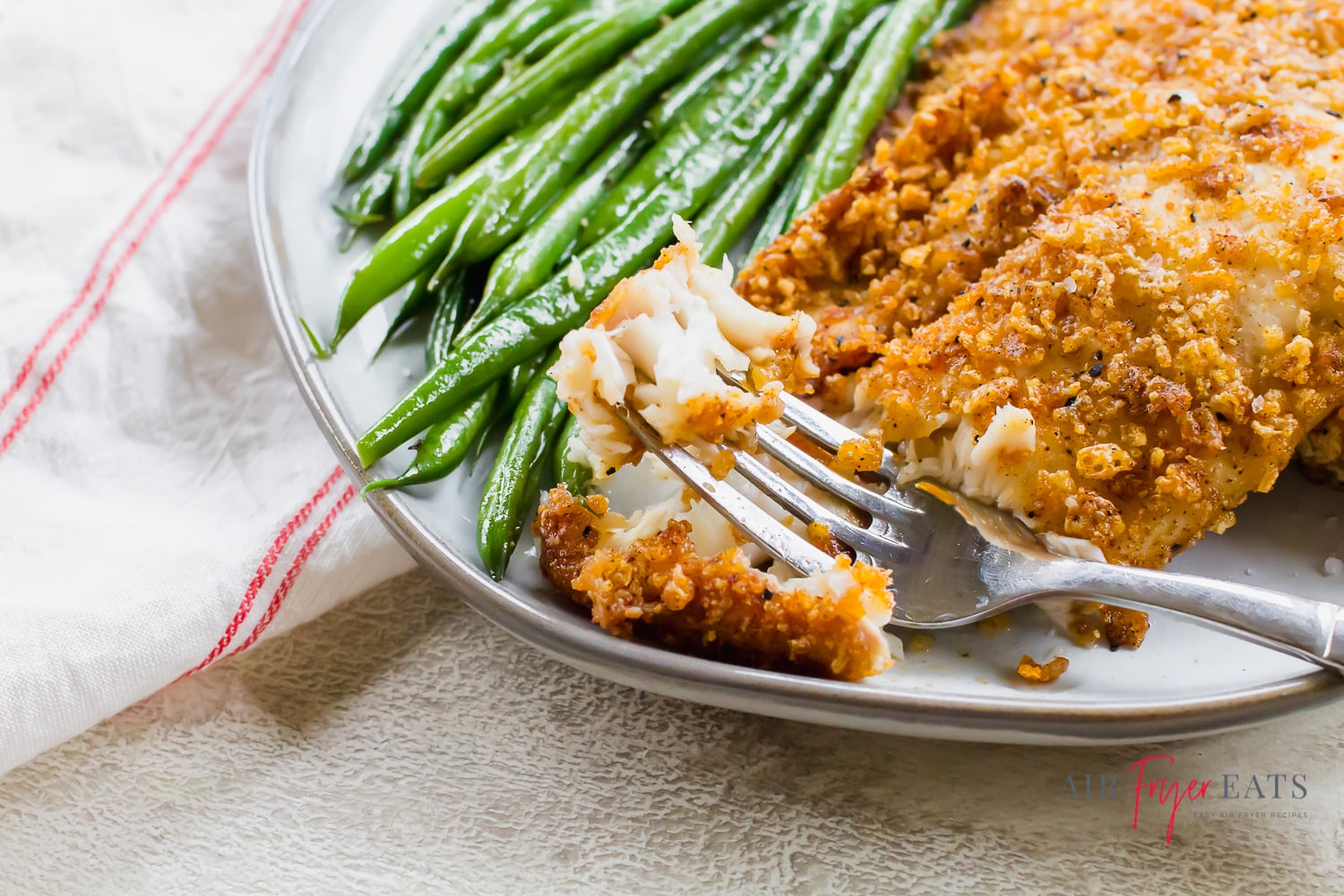 WHAT TO SERVE WITH AIR FRYER TILAPIA
Tilapia goes with any veggie you can think of. A simple side dish like roasted potatoes and Brussels sprouts are a delectable complement to the flaky fish.
I love these balsamic air fryer mushrooms! They're just as good as sautéed mushrooms on the stove but take a fraction of the time.
Skip the oven with this air fryer baked potato recipe! It's a great option to keep the kitchen cool when you have a potato craving.
Fish and air fryer asparagus are best friends. The flavors are absolutely perfect together and it makes for a fancy dinner with almost no work.
WHAT TEMP SHOULD TILAPIA BE COOKED TO?
When you're working with fish filets, they usually cook fast. But what's the ideal temperature for tilapia?
To be safely cooked, air fryer tilapia filets need to reach at least 145 degrees F internally.
To keep the fish flaky and moist, you don't want it to get too much higher or it will dry out.
ARE AIR FRYERS GOOD FOR FISH?
We make a lot of fish in my house! It's a great source of protein and omega 3s. But is tilapia too delicate for an air fryer?
Absolutely not! The air fryer is one of the easiest ways to make fish.
Like a convection oven, the air fryer cooks food from all sides, making it perfect to cook tilapia quickly and evenly without overcooking the fish!
You can do breaded fish, frozen fish, or even a beautiful salmon.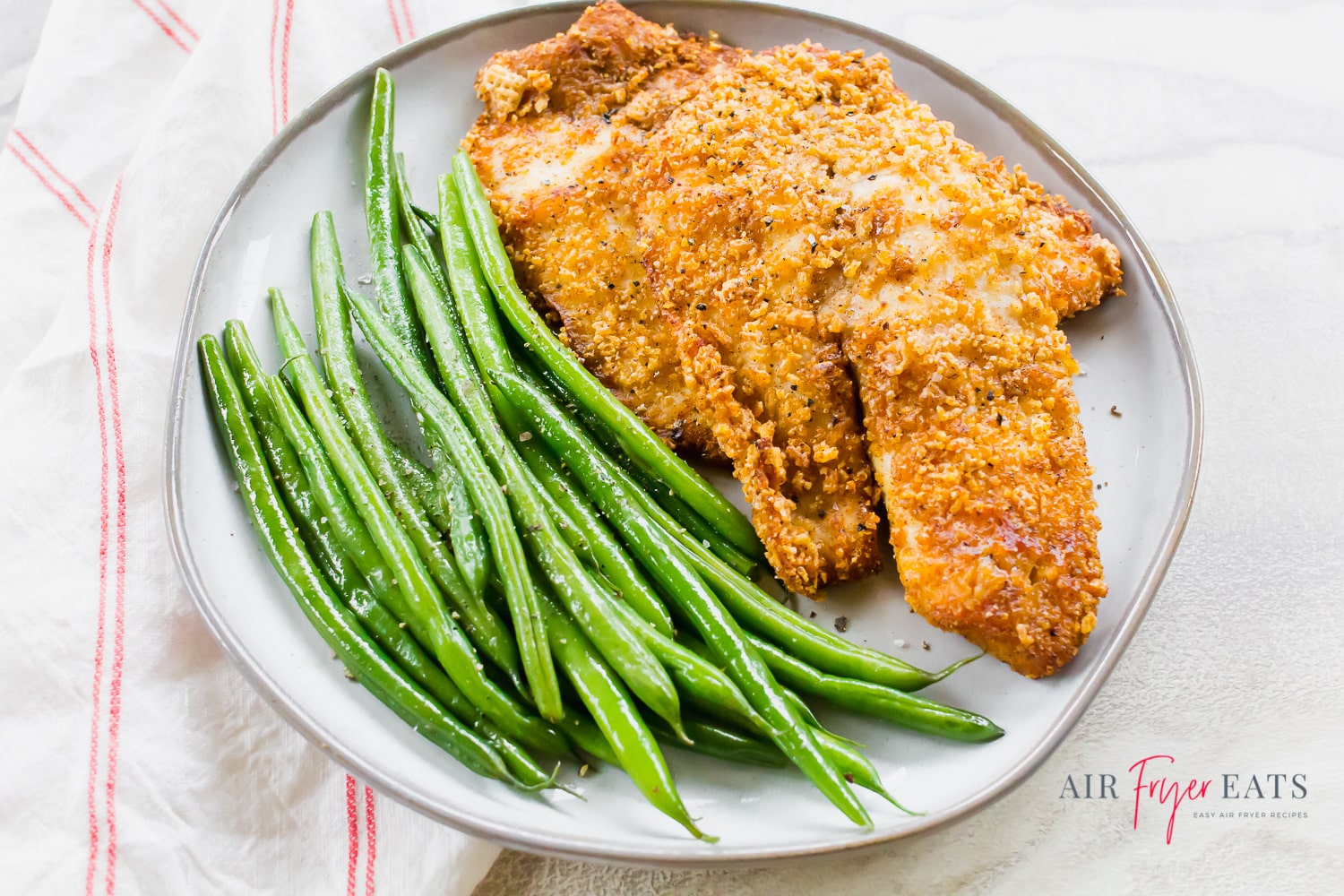 MORE YUMMY AIR FRYER RECIPES
You can make shrimp in the air fryer just as easily as tilapia. Perfect for fresh or frozen shrimp to add to a dish or add to a steak!
The air fryer is great at keeping food moist, which is perfect for sweet and spicy chicken.
Keep your Mexican night vegetarian with DIY cauliflower taco bowls! Clean out your produce drawer and add your favorite taco toppings.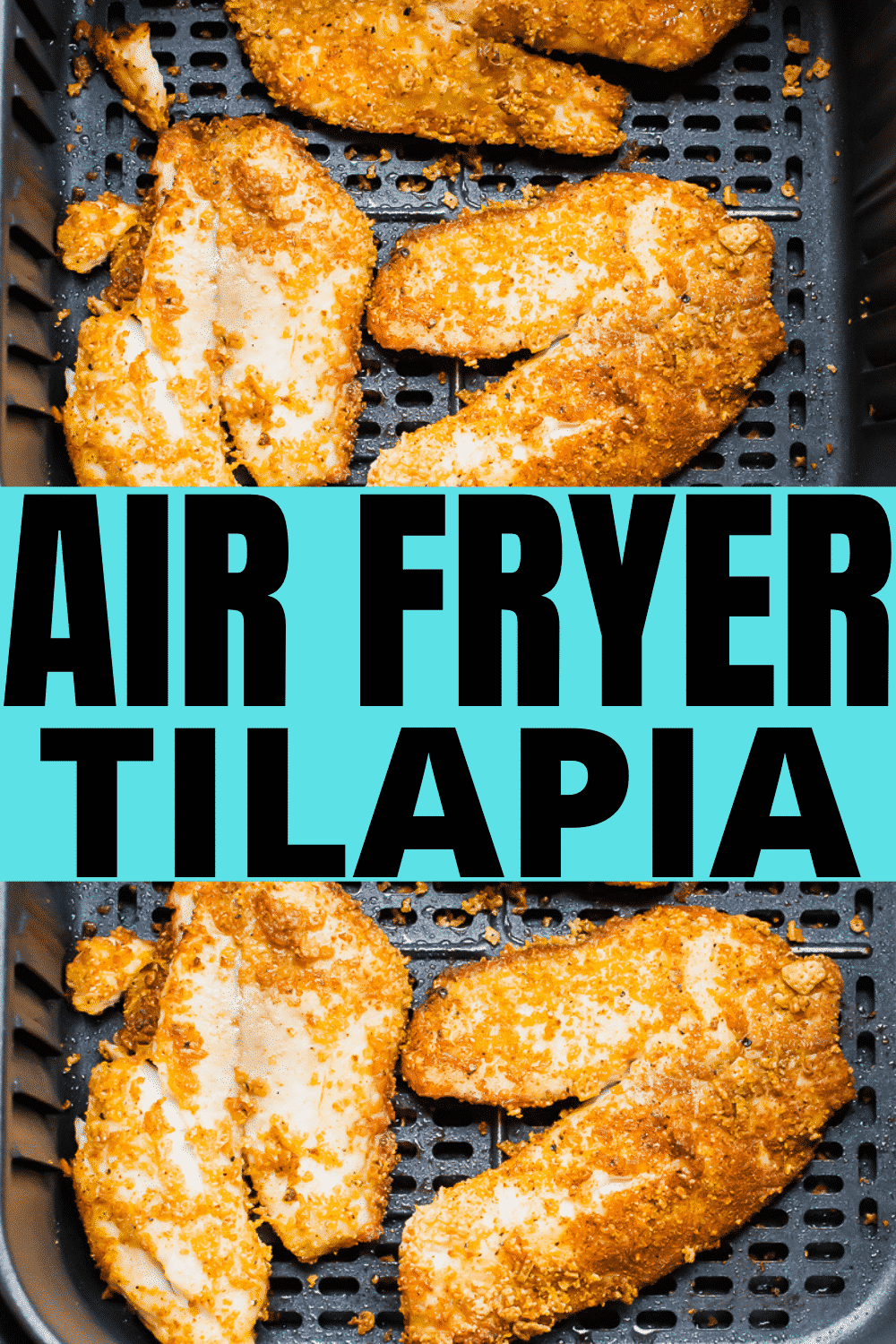 Pro Tips
Use Any Air Fryer: This recipe can be made in an air fryer unit with a basket or an air fryer oven. If you're using an air fryer oven, place your food on the middle rack and select the "air fry" function.
Check your food as it cooks! Since each air fryer runs differently, sometimes air frying is a trial and error process. When cooking a new recipe, be sure to check on your food often. This will help you avoid over or undercooking, and help you learn your air fryer's specific ways!
Air Fryer Tilapia
Fish in the air fryer is super crunchy and perfectly flakey! Forget about deep-fried fish and try this easy fish recipe.
Ingredients
4

tilapia filets

Spray oil

1

tsp

chili powder

½

tsp

garlic salt

½

tsp

pepper

1

cup

breadcrumbs
Instructions
Spray tilaipa filets with a little bit of oil and set aside.

Combine spices in small bowl.

Put breadcrumbs in ziplock bag. Add spices to bag and shake well to combine.

One at a time, place tilapia into bag and gently press breadcrumb mixture into the fish. Make sure all sides are coated, and repeat for each filet.

Cook filets for 10-12 minutes at 400°F or 200°C in air fryer basket. Flip filets halfway through cooking.
Go AD FREE!
Notes
Line your basket with parchment paper or aluminum foil for easier cleanup!
Gluten Free? We used Ian's GF Bread Crumbs in this recipe. You can find that product on Amazon and other grocers.
Pro Tip: This recipe can be made in the air fryer unit with a basket or the air fryer oven. If you are using the air fryer oven, use the middle rack and select the "Air Fry" function.
Nutrition
Calories:
109
kcal
|
Carbohydrates:
20
g
|
Protein:
4
g
|
Fat:
2
g
|
Saturated Fat:
1
g
|
Sodium:
497
mg
|
Potassium:
63
mg
|
Fiber:
1
g
|
Sugar:
2
g
|
Vitamin A:
148
IU
|
Calcium:
49
mg
|
Iron:
1
mg
Tired of the ads?
Go AD Free - Become part of our Membership community!
Air Fryers can vary greatly. Please take the time to learn your specific air fryer. You may need to adjust times and temperatures based upon your air fryer.
All though this website attempts to provide accurate nutritional information, the information should only be considered an estimate. Varying factors such as different product types, different brands, etc. can change nutritional information. It is your responsibility as a consumer to read all labels to make sure the ingredients fit your dietary needs as well as calculate your own nutritional information as a double check.