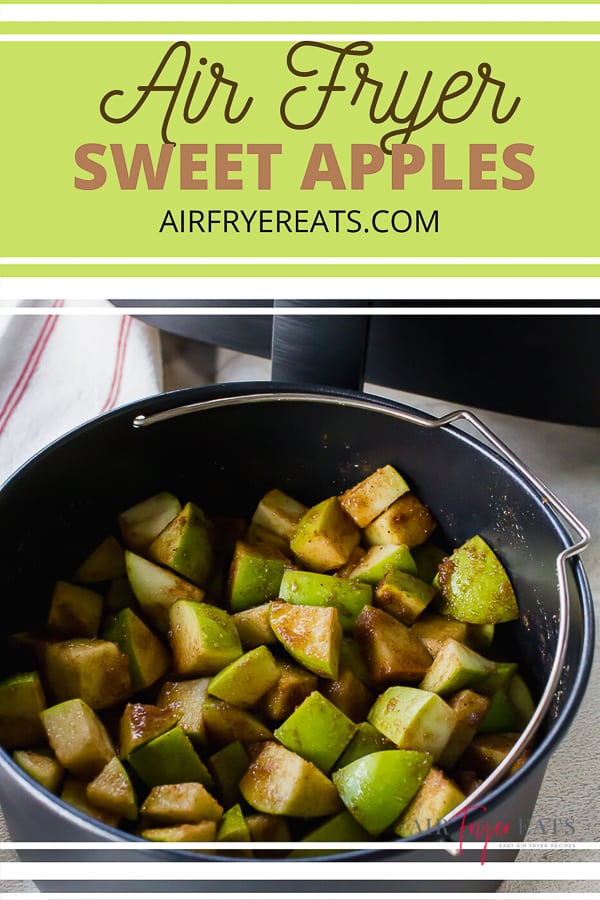 These seasoned Air Fryer Sweet Apples are an amazing healthier dessert you can make in less than 20 minutes! The perfect gluten and dairy free dessert!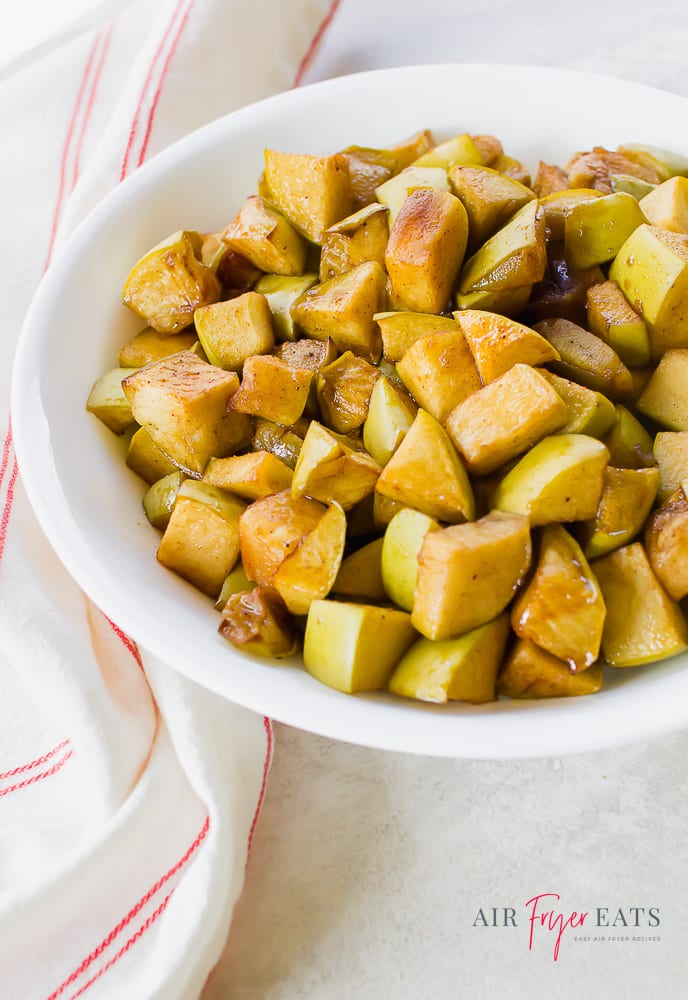 Sometimes I want a little something sweet but I don't want a full blown dessert like cake or ice cream, and these Air Fryer Sweet Apples are the perfect filler for that craving!
Sweet enough to be a dessert and healthy enough to be a side dish, it's the perfect in between.
I LOVE the crunch of the cooked but not completely softened apples covered in sweet seasonings like clove, cinnamon, and brown sugar.
These are best when they're hot out of the air fryer, and luckily they cook up quickly for an easy after-dinner treat!
Need more air fryer ideas? Try these amazing Air Fryer Kale Chips for a healthy, crunchy snack!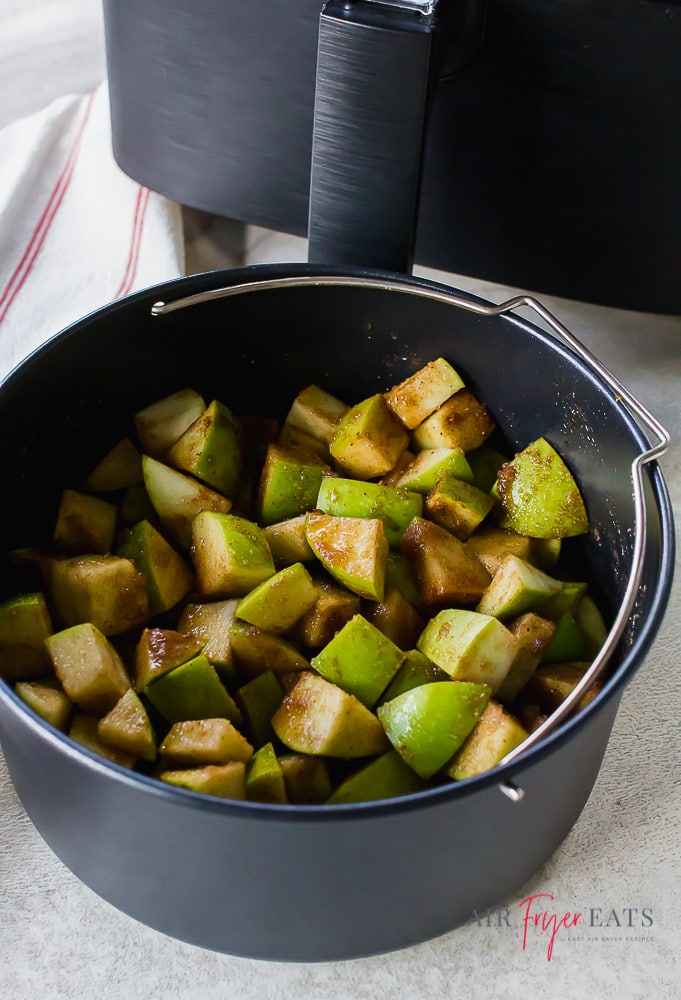 HOW TO MAKE AIR FRYER SWEET APPLES
This sweet treat is as easy as dice, stir, cook!
Dice the apples into bit sized pieces.
Combine all the spices and remaining ingredients into a bowl. Mix to combine.
Place all your ingredients in an oven-safe bowl large enough for mixing and coat the apples thoroughly with your water and seasonings. Then, put your bowl in the air fryer basket — or on your air fryer toaster oven tray.
Next, cook on air fryer mode at 350 degrees F for 6 minutes. After cooking, stir well and cook for another 2 minutes. Serve warm and enjoy!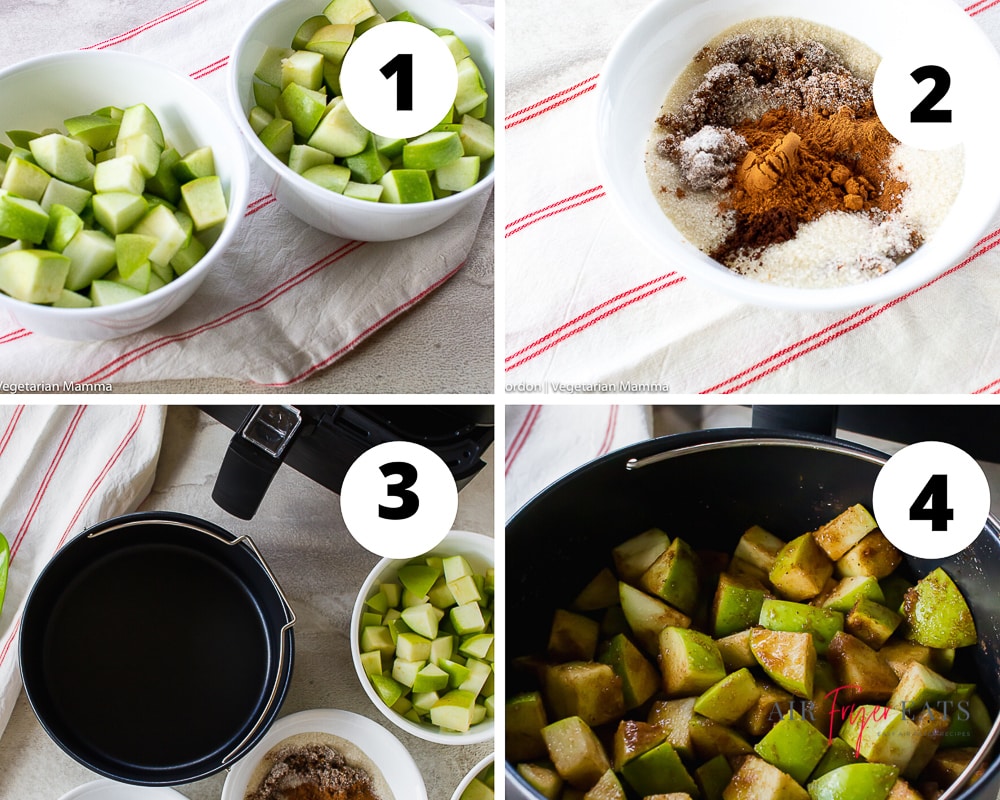 WHAT APPLES ARE BEST FOR COOKING?
When cooking with apples, you're looking for different things than you might want for a raw apple.
For this recipe, I recommend Granny Smith apples because their texture cooks well and the tartness balances out the sugar and cinnamon here.
However, Pink Lady, Honeycrisp, and Golden Delicious apples are also great for cooking pies or Air Fryer Sweet Apples! If you like sweeter apples, try Gala apples.
HOW TO SERVE AIR FRYER SWEET APPLES
These "baked" apples are great on their own, but also play well with others!
Much like apple pie, these sweet apples go great with ice cream a la mode.
Looking for more savory ideas? Throw these in with some homemade oatmeal for your own cinnamon apple oatmeal!
These apples will last up to 5 days in the refrigerator, so they're a great night snack and next morning breakfast treat!
WHAT TYPE OF BOWL SHOULD YOU USE?
We get a lot of questions about the container that we use in our air fryer recipes. The "pot" came with a set I bought from amazon.
It is hard to find the "pot" in a small set or individual, but sometimes you can. You can see it here.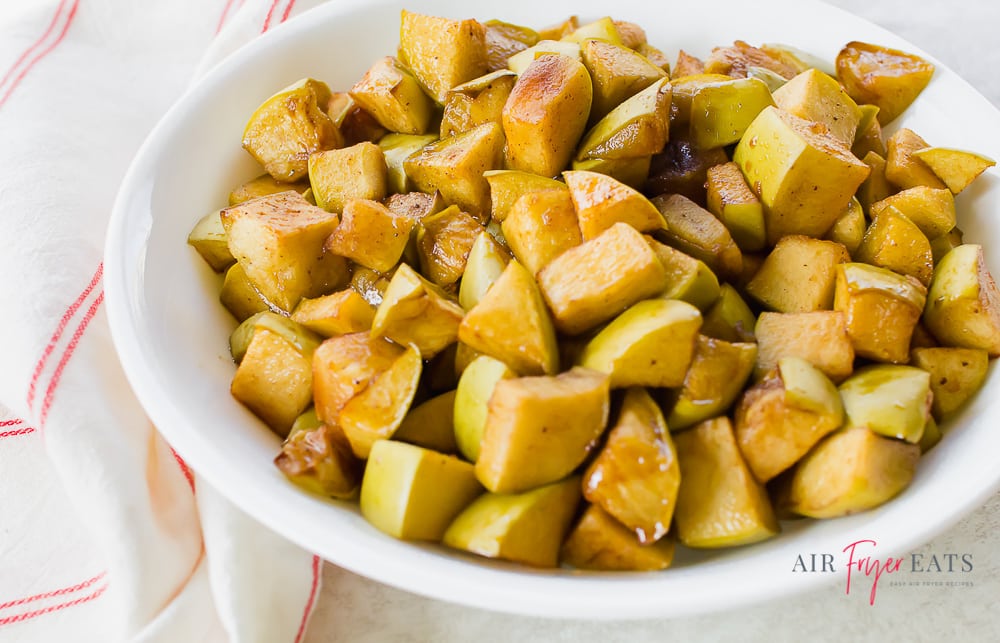 YUMMY AIR FRYER RECIPES
If you are looking for more air fryer recipes, we have a few that you should take a look at.
Consider making these Fryer Cinnamon Rolls, Donuts in the Air Fryer, 12 Air Fryer Breakfast Recipes. Air Fryer Sweet Potato Casserole and Cupcake in the Air Fryer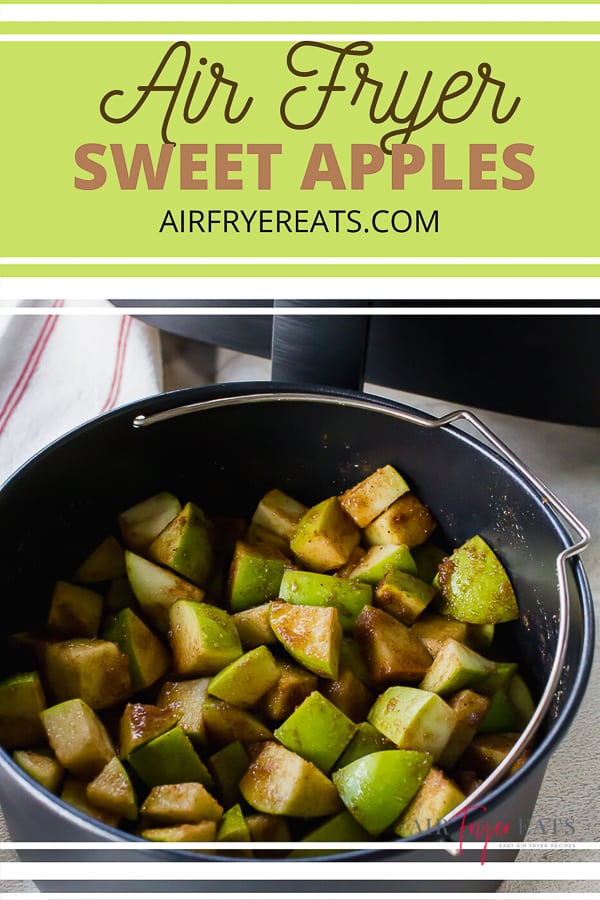 Pro Tip: This recipe can be made in the air fryer unit with a basket or the air fryer oven.
If you are using the air fryer oven, use the middle rack and select the "Air Fry" function.
Have you made this recipe? Please leave a comment AND rating below! It helps other readers!
Be sure to tag @AirFryerEats on instagram, if you share a picture on the gram!
Let's get social, you can follow me on Youtube, Instagram, Facebook, Pinterest or join one of our Air Fryer Facebook Groups: Air Fryer Recipes, Air Fryer Recipes for Seniors and Gluten Free Air Fryer Recipes.
Don't forget to subscribe to our EMAIL newsletter.