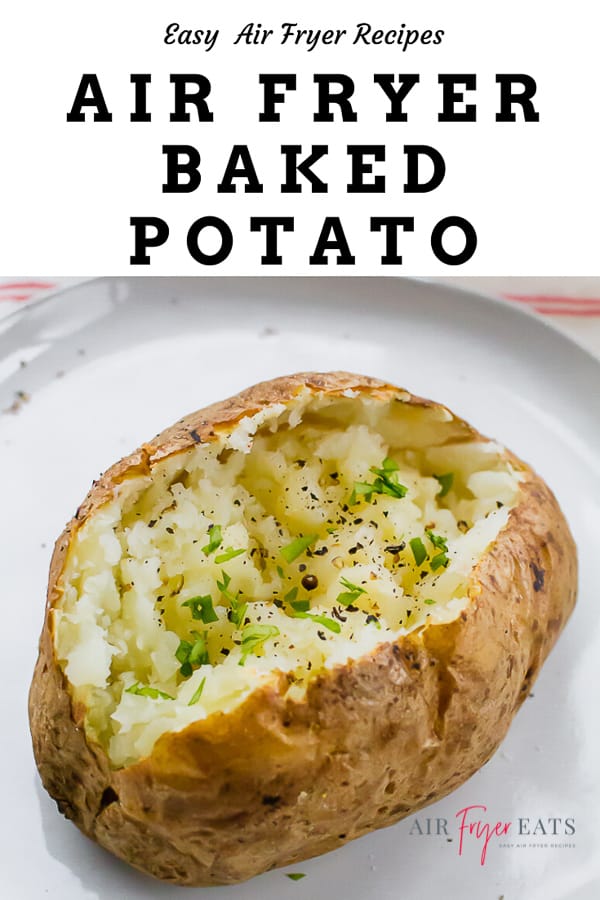 Why wait forever for your oven to bake potatoes when your air fryer can do it in half the time? With just one bite of a succulent Air Fryer Baked Potato, you'll never go back to the old way again!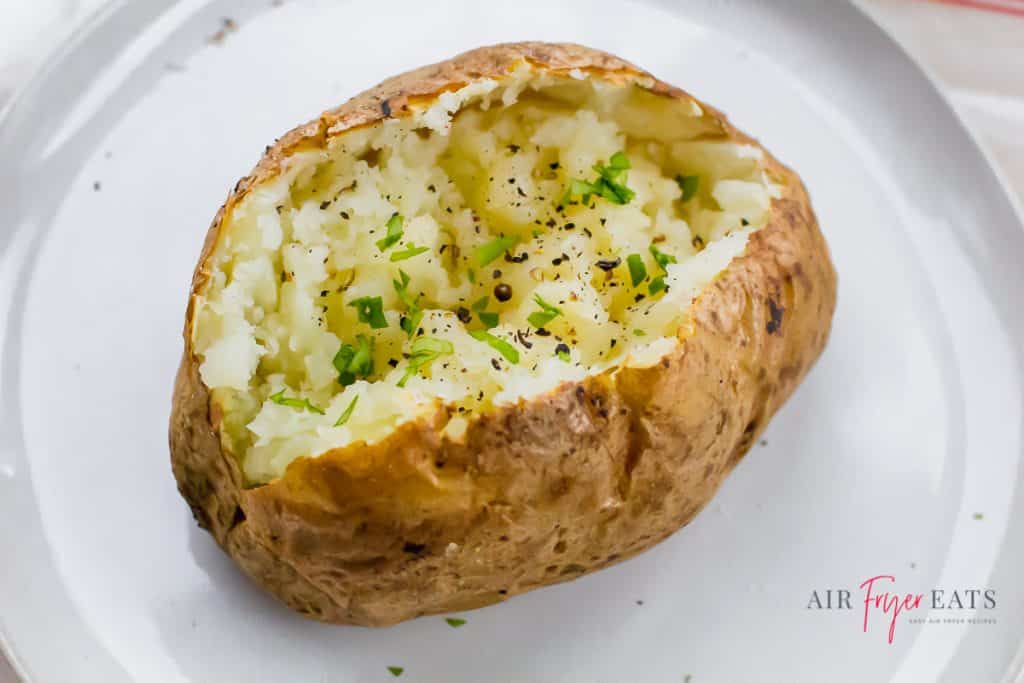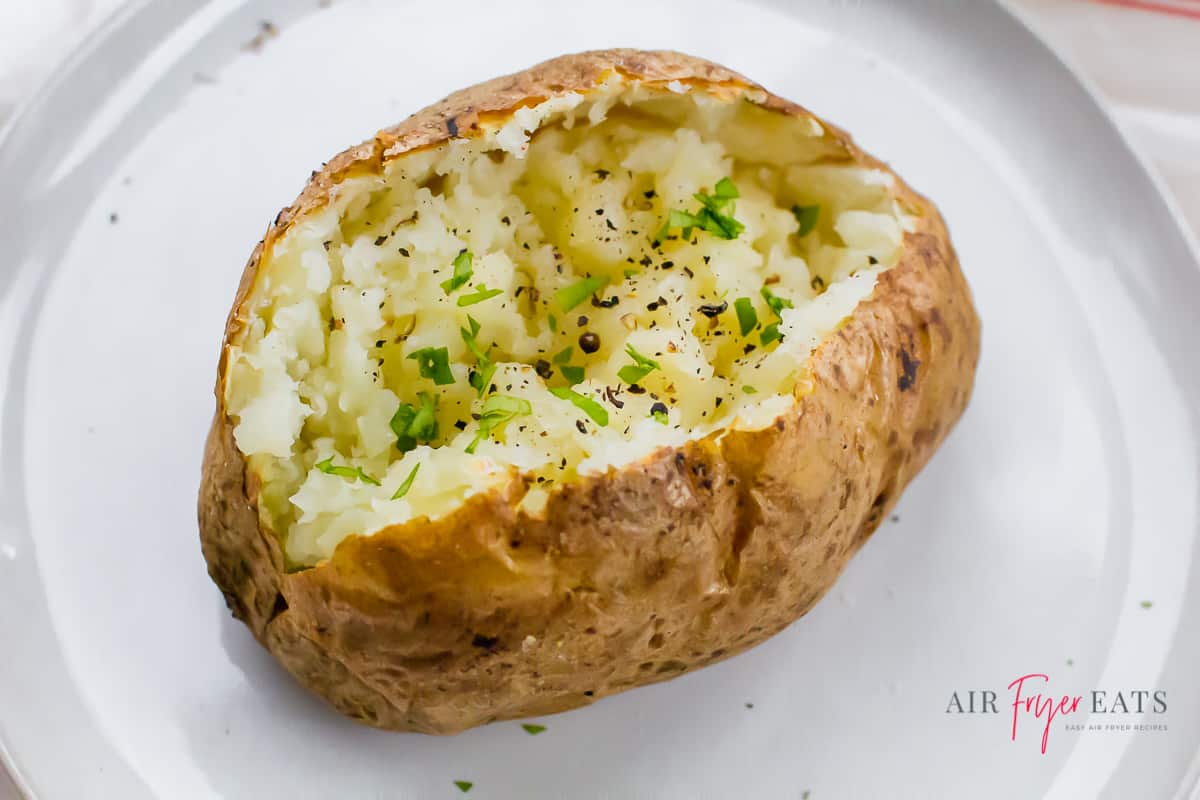 Air Fryer Baked Potato Recipe
An Air Fryer Baked Potato is the ultimate baked potato!
Air fried potatoes are done in less time than conventional methods, and they taste better, too!
In only 40 minutes from start to finish, you'll have potatoes baked to a flawlessly fluffy texture.
And you won't believe how little effort it takes to make them!
If you can't resist an Air Fryer Sweet Potato, you'll totally love this baked potato recipe too!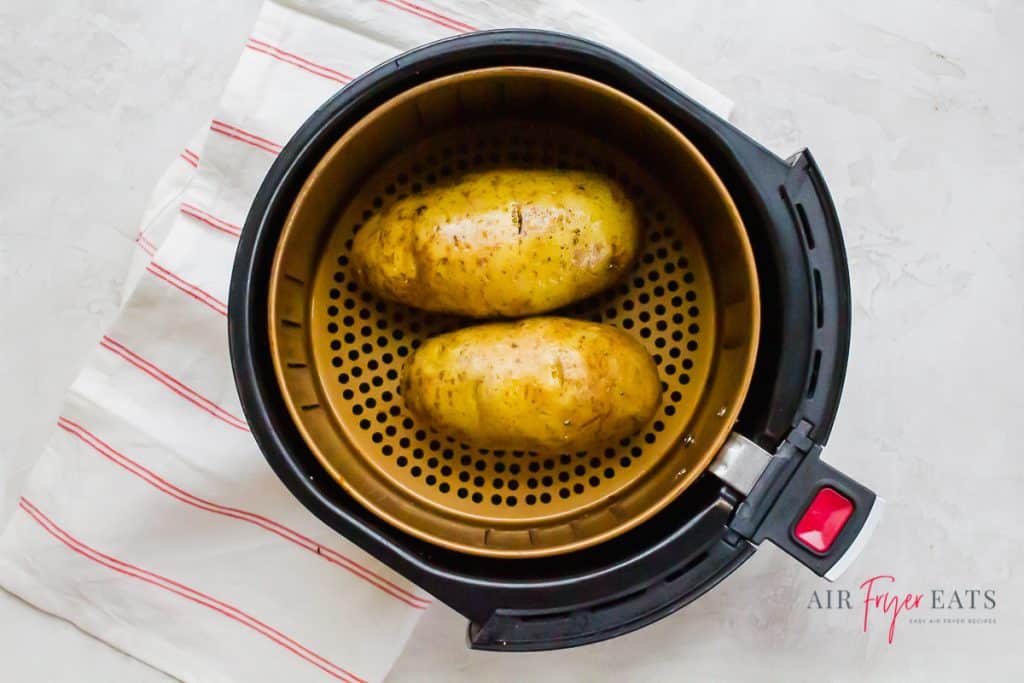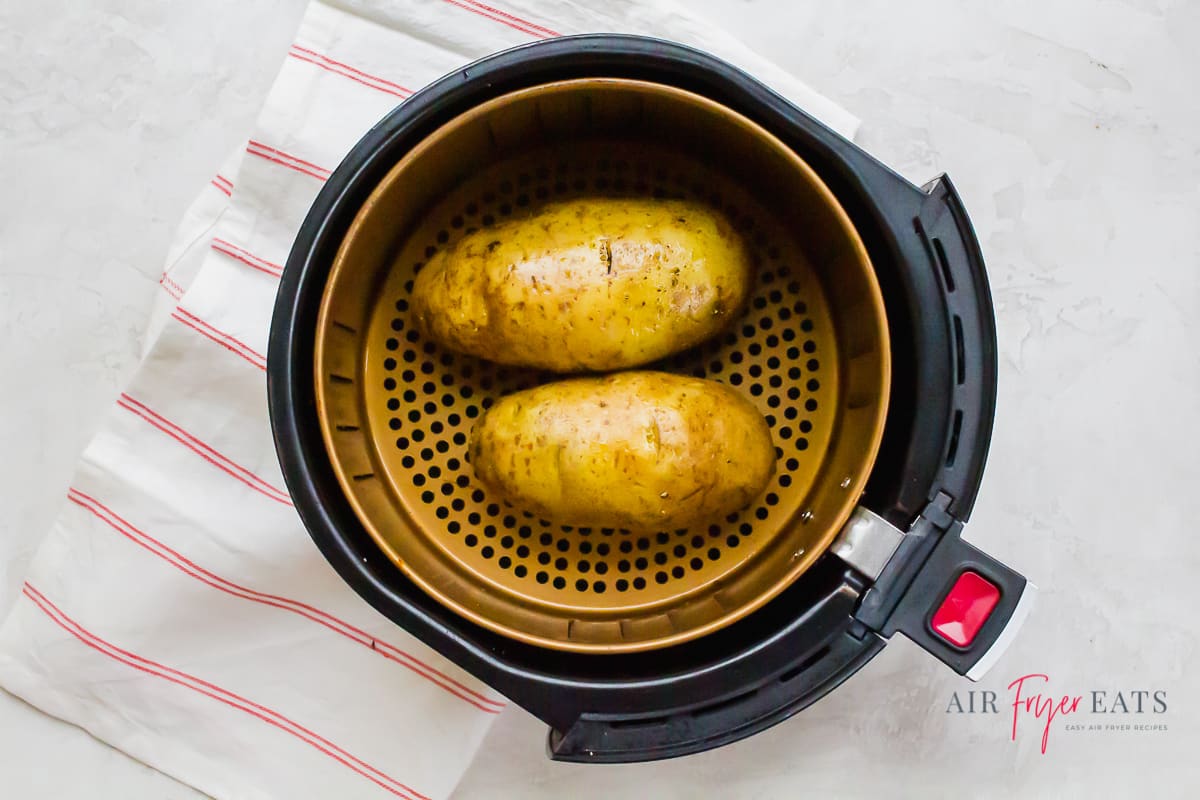 How to Make a Baked Potato in Air Fryer
Step 1: Thoroughly rinse a couple of good sized russet potatoes and pat them dry with paper towels. Pierce the potatoes all over with a fork to allow air to escape while cooking. This is an important step whenever you cook potatoes. Nobody wants a potato explosion on their hands!
Step 2: Pour a bit of olive oil over your potatoes. Remember that air fryers only need a small amount of oil for cooking. Coating your potatoes in oil will allow them to crisp up on the outsides while letting the insides cook to a perfectly fluffy finish.
Step 3: Season the potatoes with salt and pepper. A little bit of seasoning goes a long way, so between a couple of potatoes you should only need a teaspoon of each.
Step 4: Rub the oil and seasonings all over the outsides of the potatoes to coat them well, then place them in the basket of your air fryer. Cook at 390 degrees F for 35-40 minutes. Then remove, serve with your favorite toppings, and enjoy!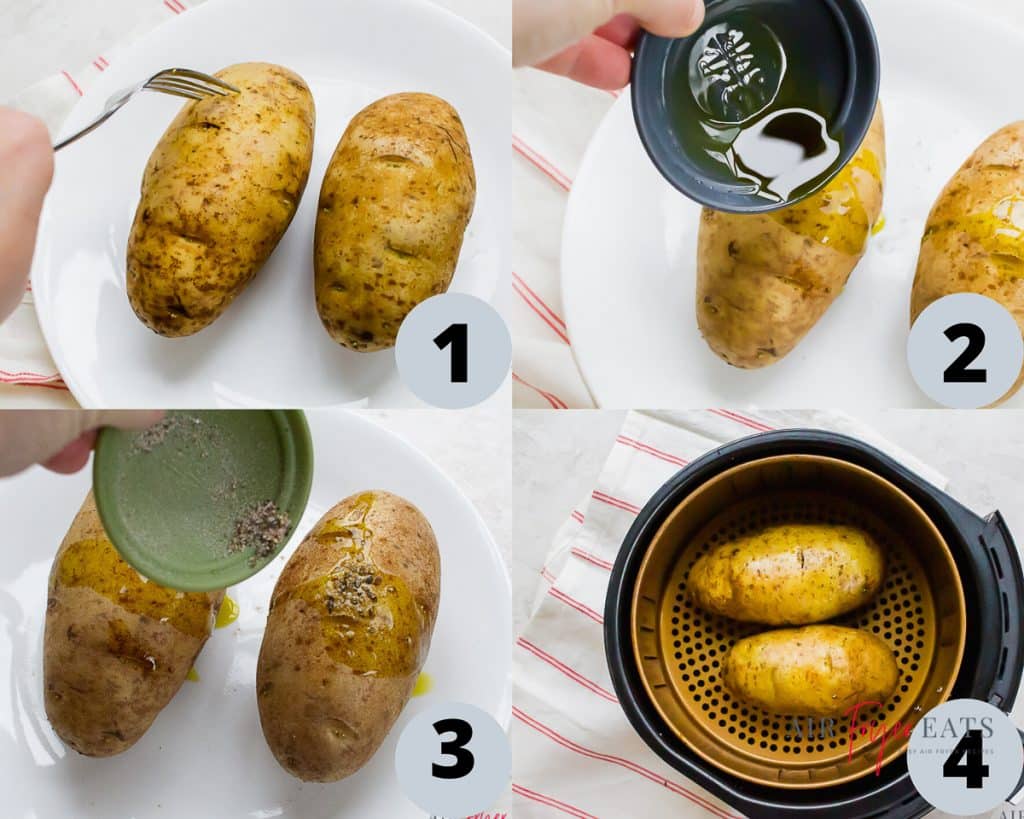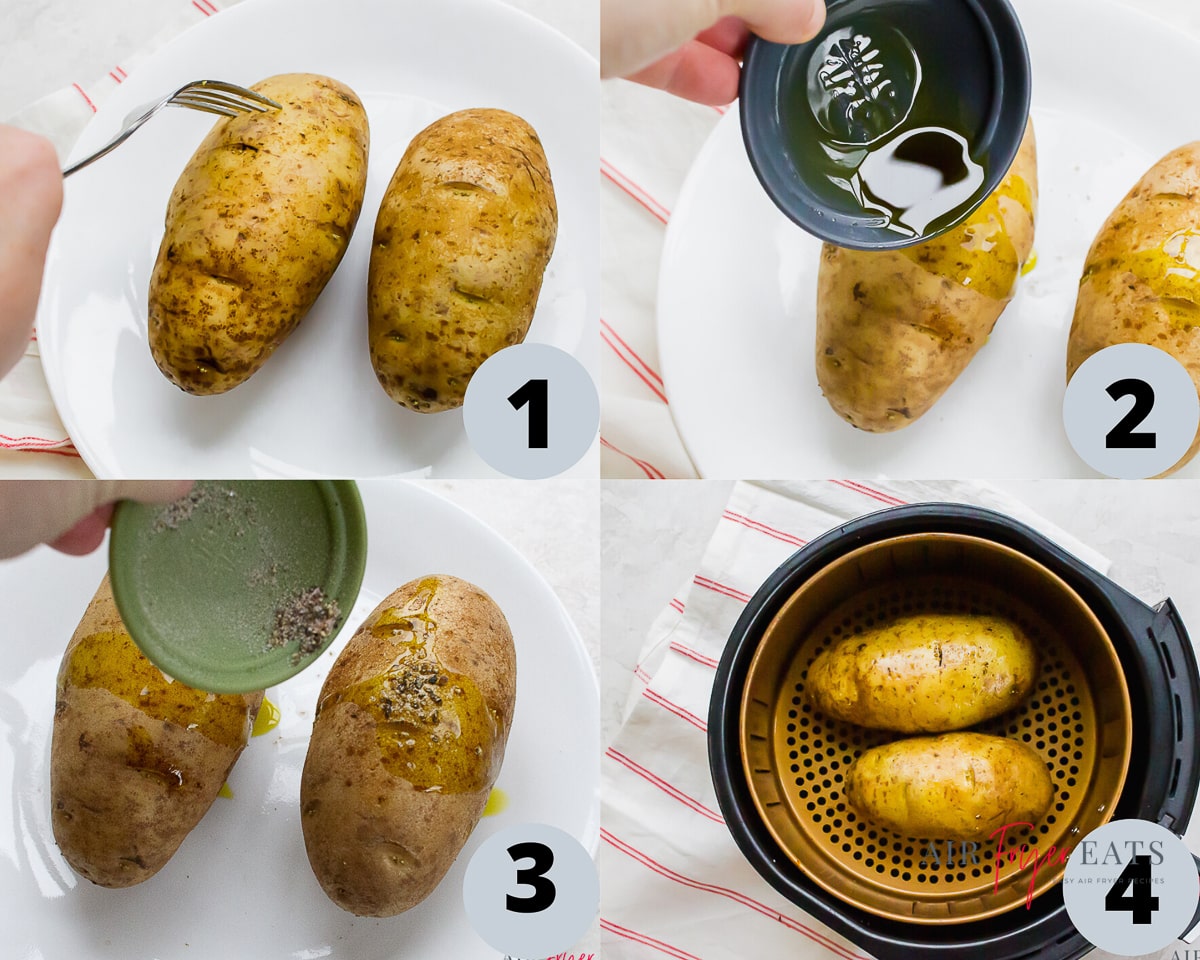 Tips for Cooking Baked Potatoes in Air Fryers
Keep in mind that while the method is mostly universal, each air fryer model works a little differently.
Here are some tips to ensure that your air fried potatoes are delightful and delectable every time:
Depending on the size of your potatoes, you may need to adjust the cooking time.
Very large potatoes will need additional time to bake all the way through.
You can cook as little as one or as many as four potatoes in your air fryer at a time.
As long as your potatoes are fairly uniform in size, there's no need to adjust the cook time or temperature. Only do so if the potatoes are much different or much larger in size.
Always score your potatoes with a fork before cooking. Trapped air is the enemy of a perfectly baked potato!
Allowing the steam to have a mode of escape is the key to getting that perfect potato texture while air frying.
Flipping your potatoes once about halfway through cooking will help them to bake evenly.
Most air fryers have a function that allows you to pull the basket out at your leisure to flip or check foods for doneness.
Simply flip the potatoes and place the basket back in the air fryer to finish baking.
Pierce the baked potatoes with a knife to check for doneness.
If the knife pierces through without resistance and comes out clean, your baked potatoes are ready to eat.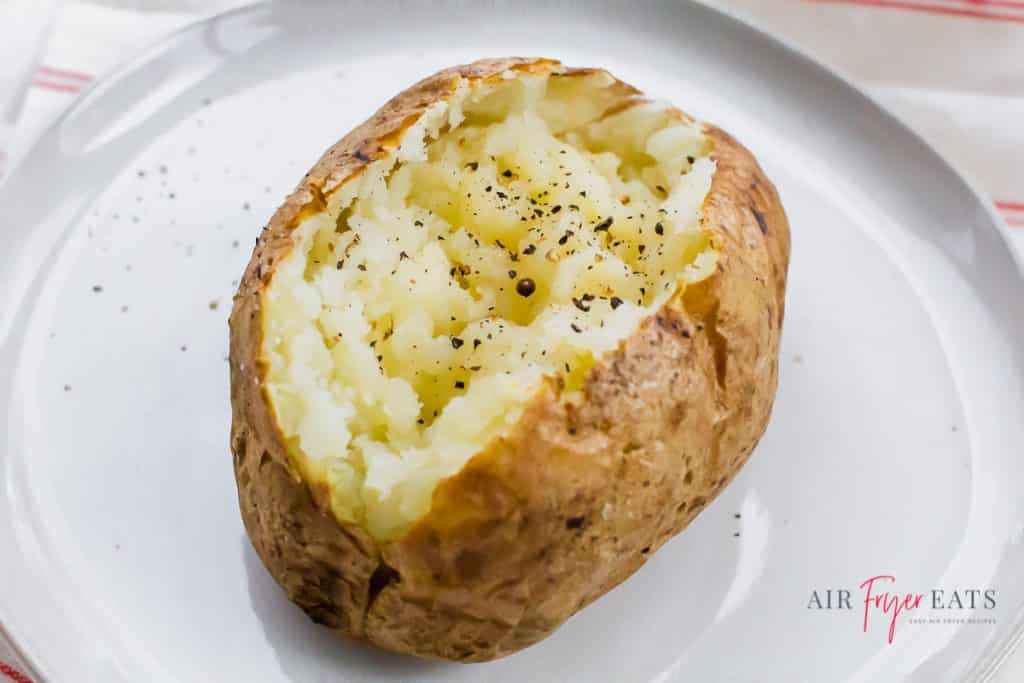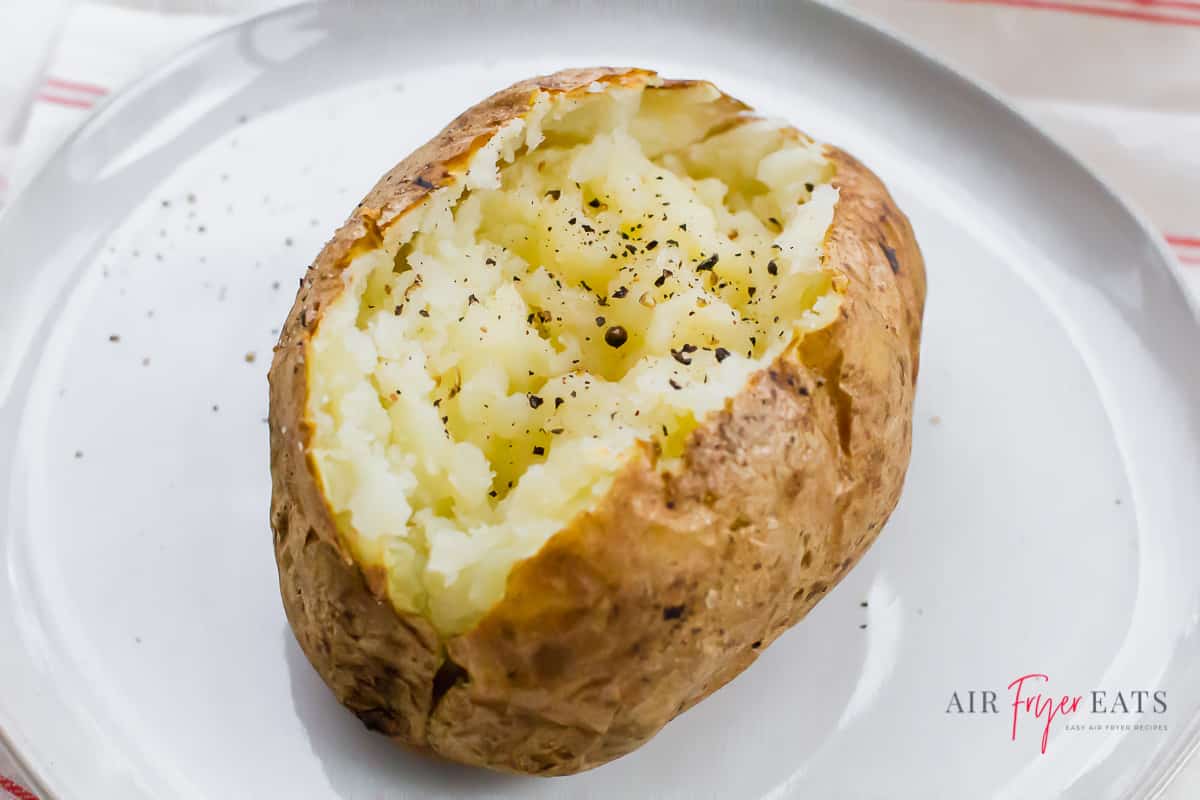 How to Serve Baked Potatoes
There are so many delicious ways to eat a baked potato!
A pat of butter, fresh herbs, and a sprinkle of fresh cracked black pepper is a simple, but scrumptious way to enjoy your potato.
But if you're looking to jazz up your potatoes, try some of these toppings ideas:
Load them with crumbled strips of crispy Air Fryer Bacon, plus your favorite shredded cheese and a dollop of sour cream. Yum!
Season with taco seasoning, black beans, and diced tomatoes or your favorite salsa for a Mexican-style masterpiece!
Smother your air fryer potatoes with cheese sauce and top them with Air Fryer Broccoli. It's a combination that is simply out-of-this-world!
Air Fryer Baked Potato makes a perfect side dish accompaniment to Air Fryer Chicken Cutlets! Honestly, if there ever was a match made in heaven - this is it!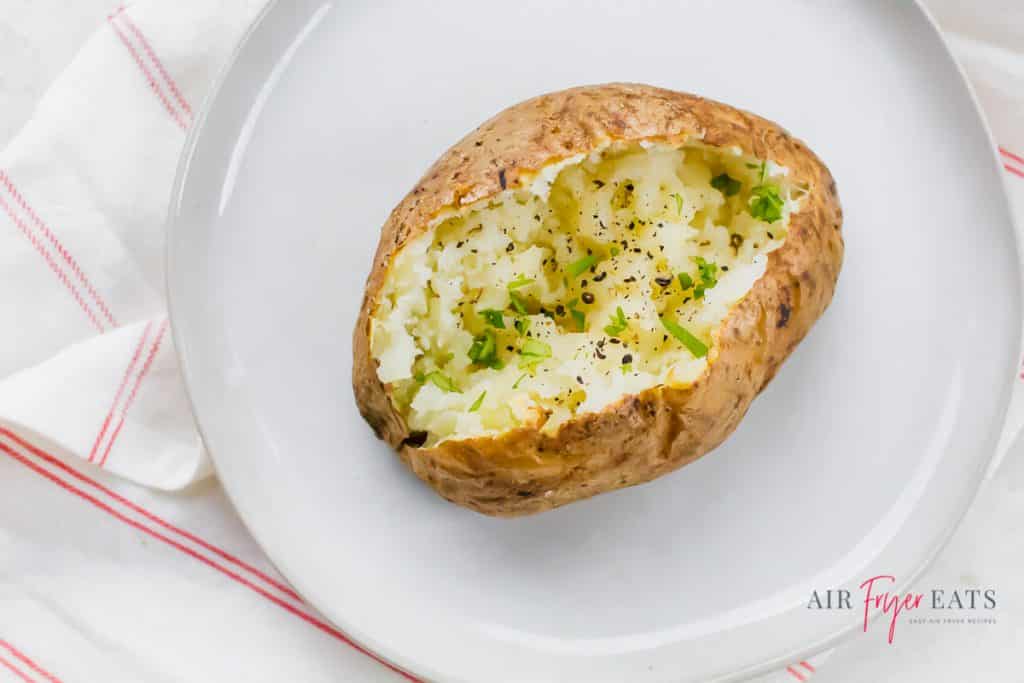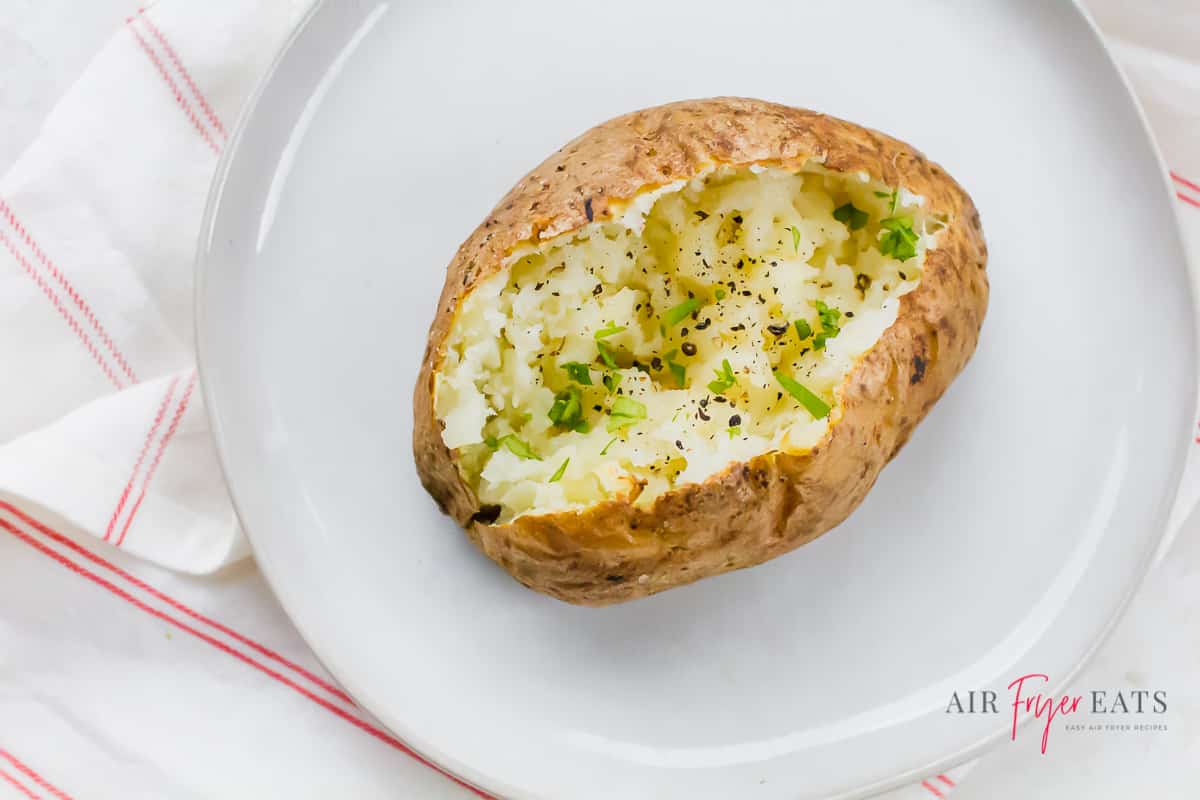 Want more incredible air fryer potato recipes? Give these a try!
We have so many air fryer recipes to choose from!
If you are having trouble figuring out which one to try next, we suggest: Air Fryer French Fries, Air Fryer Potato Pancakes and Air Fryer Roasted Potatoes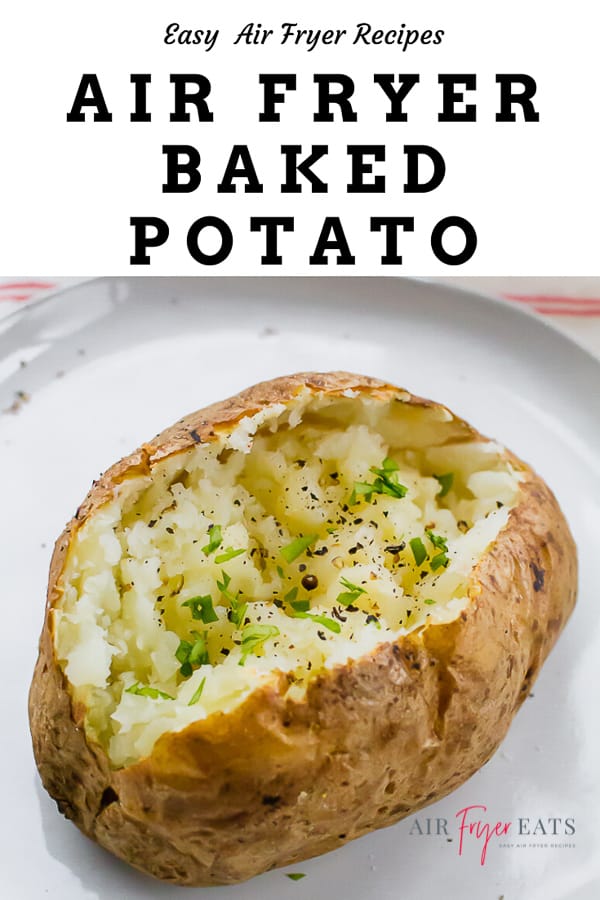 Pro Tips
Use Any Air Fryer: This recipe can be made in an air fryer unit with a basket or an air fryer oven. If you're using an air fryer oven, place your food on the middle rack and select the "air fry" function.
Check your food as it cooks! Since each air fryer runs differently, sometimes air frying is a trial and error process. When cooking a new recipe, be sure to check on your food often. This will help you avoid over or undercooking, and help you learn your air fryer's specific ways!


Have you made this recipe? Please leave a comment AND rating below! It helps other readers!
Be sure to tag @AirFryerEats on instagram, if you share a picture on the gram! Let's get social, you can follow me on Youtube, Instagram, Facebook, Pinterest or join one of our Air Fryer Facebook Groups: Air Fryer Recipes, Air Fryer Recipes for Seniors and Gluten Free Air Fryer Recipes.
Don't forget to subscribe to our EMAIL newsletter.
Air Fryer Baked Potato
Why wait forever for your oven to bake potatoes when your air fryer can do it in half the time? With just one bite of a succulent Air Fryer Baked Potato, you'll never go back to the old way again!
Ingredients
2-3

medium sized baking potatoes

1

tbsp

olive oil

1

tsp

salt

1

tsp

pepper
Instructions
Gently poke holes into the potatoes all over the skin, using a fork.

Rub the outsides of the potatoes with the oil, then sprinkle the salt & pepper over them to season.

Place the potatoes into the bottom of your air fryer basket.

Cook at 390 F for 35-40 minutes.
Go AD FREE!
Notes
Cooking times will vary depending on the size of the potato, you may need to add more time for larger sized potatoes. You can test the doneness of the potato by inserting a knife or fork into the potato.
Tips for cooking baked potatoes in the air fryer:
Whether you have 1,2,3 or 4 potatoes, you do not need to adjust the cook time! However, if the potatoes are quite large, you may need to add time to ensure that they cook through completely.

Always use a fork to poke a few holes in your potato so that steam can escape while cooking.

I try to flip the potatoes 1 time during cooking. You don't need to flip more than that.
Pro Tip: This recipe can be made in the air fryer unit with a basket or the air fryer oven. If you are using the air fryer oven, use the middle rack and select the "Air Fry" function.
Nutrition
Serving:
1
potato
|
Calories:
233
kcal
|
Carbohydrates:
39
g
|
Protein:
5
g
|
Fat:
7
g
|
Saturated Fat:
1
g
|
Sodium:
1174
mg
|
Potassium:
888
mg
|
Fiber:
3
g
|
Sugar:
1
g
|
Vitamin C:
12
mg
|
Calcium:
28
mg
|
Iron:
2
mg
Tired of the ads?
Go AD Free - Become part of our Membership community!
Air Fryers can vary greatly. Please take the time to learn your specific air fryer. You may need to adjust times and temperatures based upon your air fryer.
All though this website attempts to provide accurate nutritional information, the information should only be considered an estimate. Varying factors such as different product types, different brands, etc. can change nutritional information. It is your responsibility as a consumer to read all labels to make sure the ingredients fit your dietary needs as well as calculate your own nutritional information as a double check.