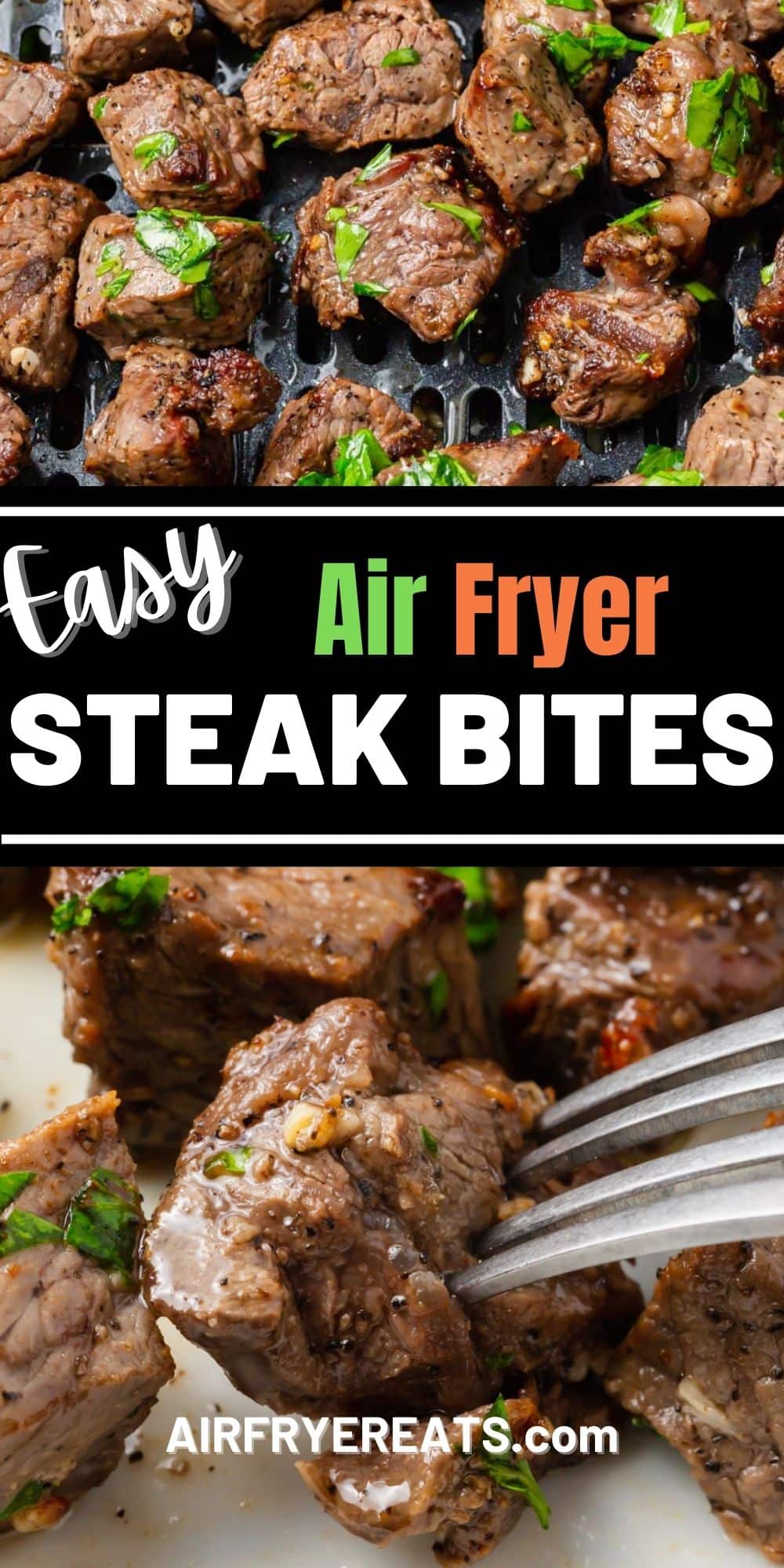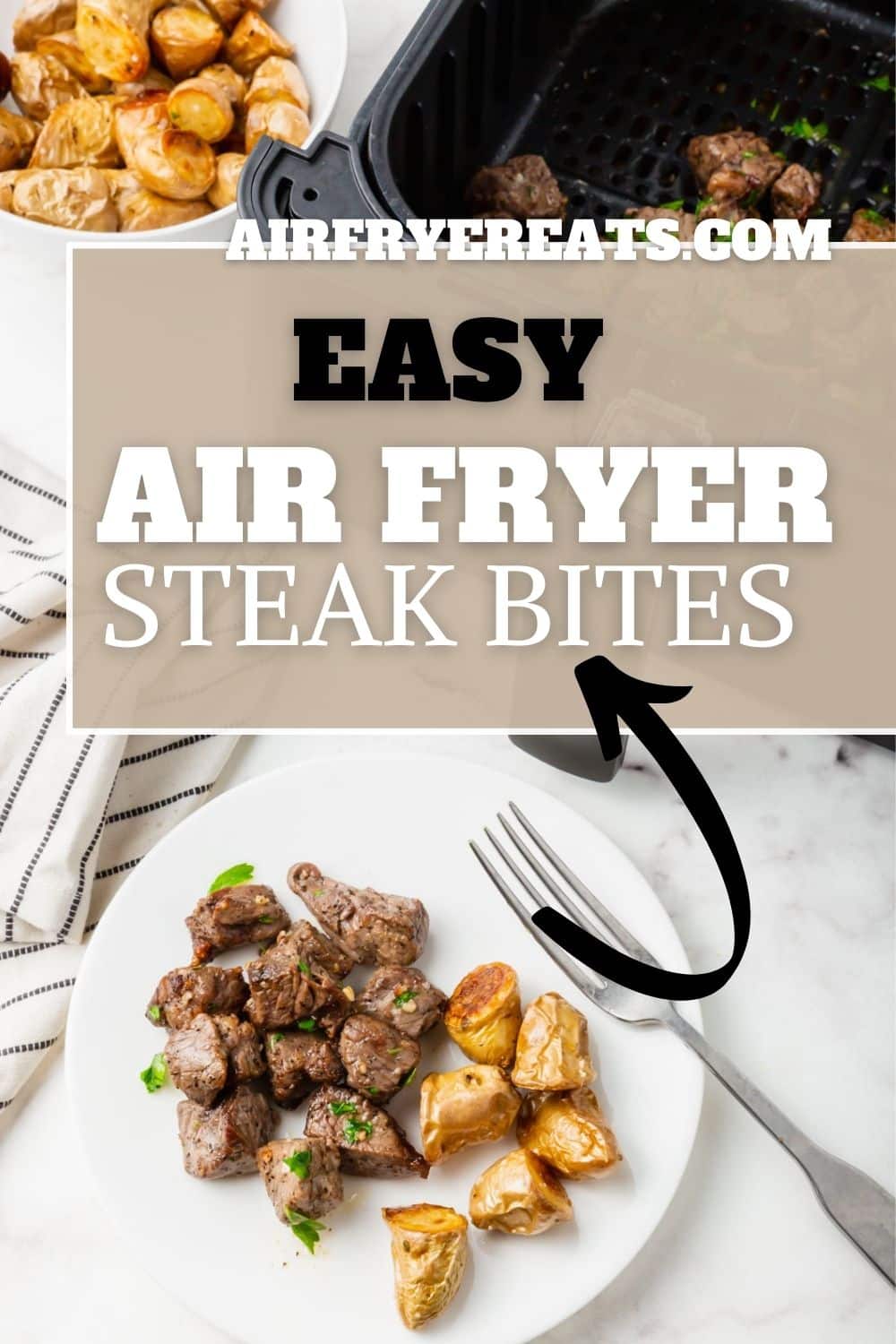 Air Fryer Steak Bites are an easy and convenient way to cook steak that is perfectly cooked and in bite sized pieces.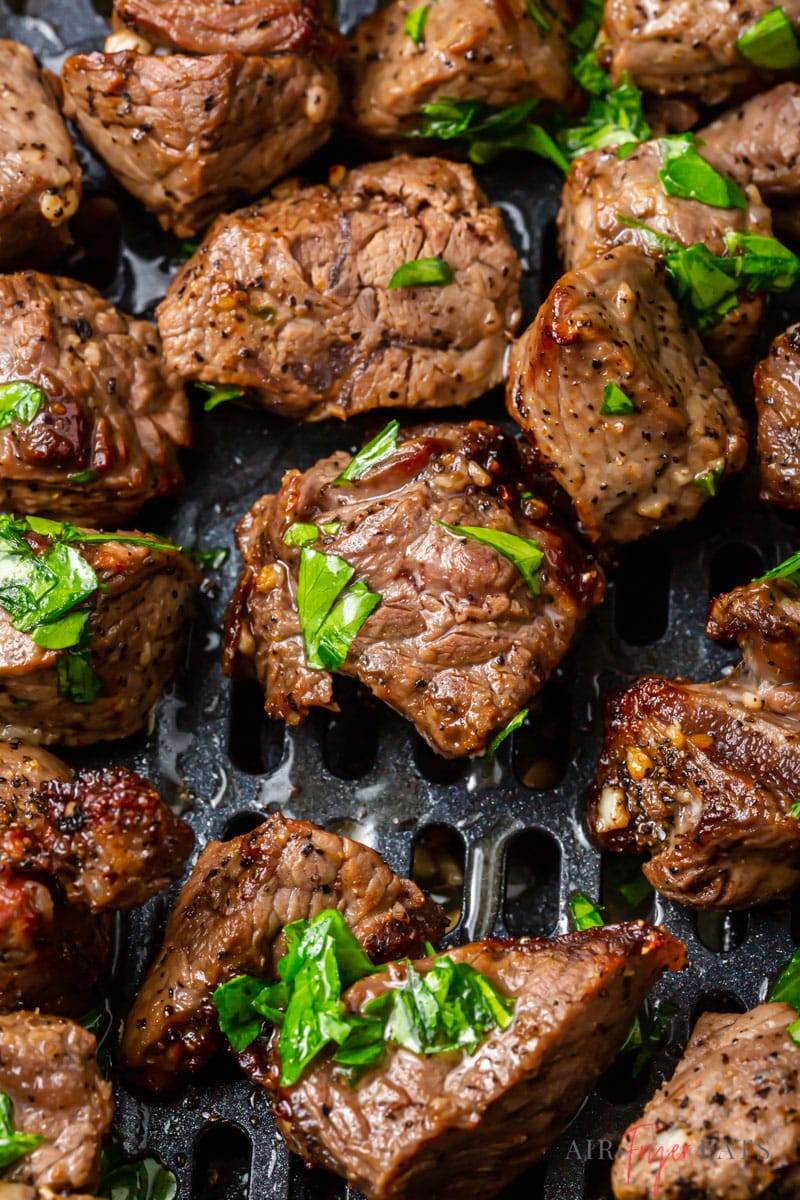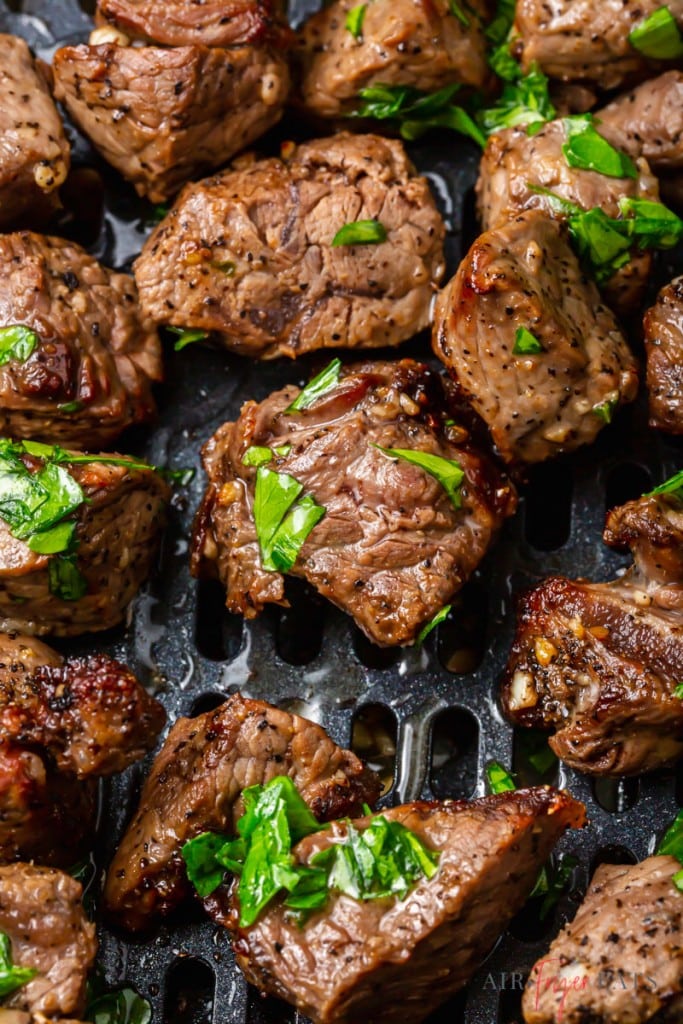 AIR FRYER STEAK BITES RECIPE
Cutting your steak into small pieces before cooking it allows you to season more of the meat, creating melt in your mouth, flavorful steak bites that are so simple to eat, you don't even need a steak knife.
Steak bites in the air fryer cook in less than 10 minutes, which means you'll be enjoying your steak dinner really soon! Cooking steak in the air fryer is also much less messy than other types of preparation, and I love that perk of air fryer cooking most of all.
Eat these steak bites as an entree, add them to salad, or make steak sandwiches. Your options are endless. Air Fryer Steak bites are great for meal prep too. I like this Air Fryer Pork Loin Roast for meal prep as well.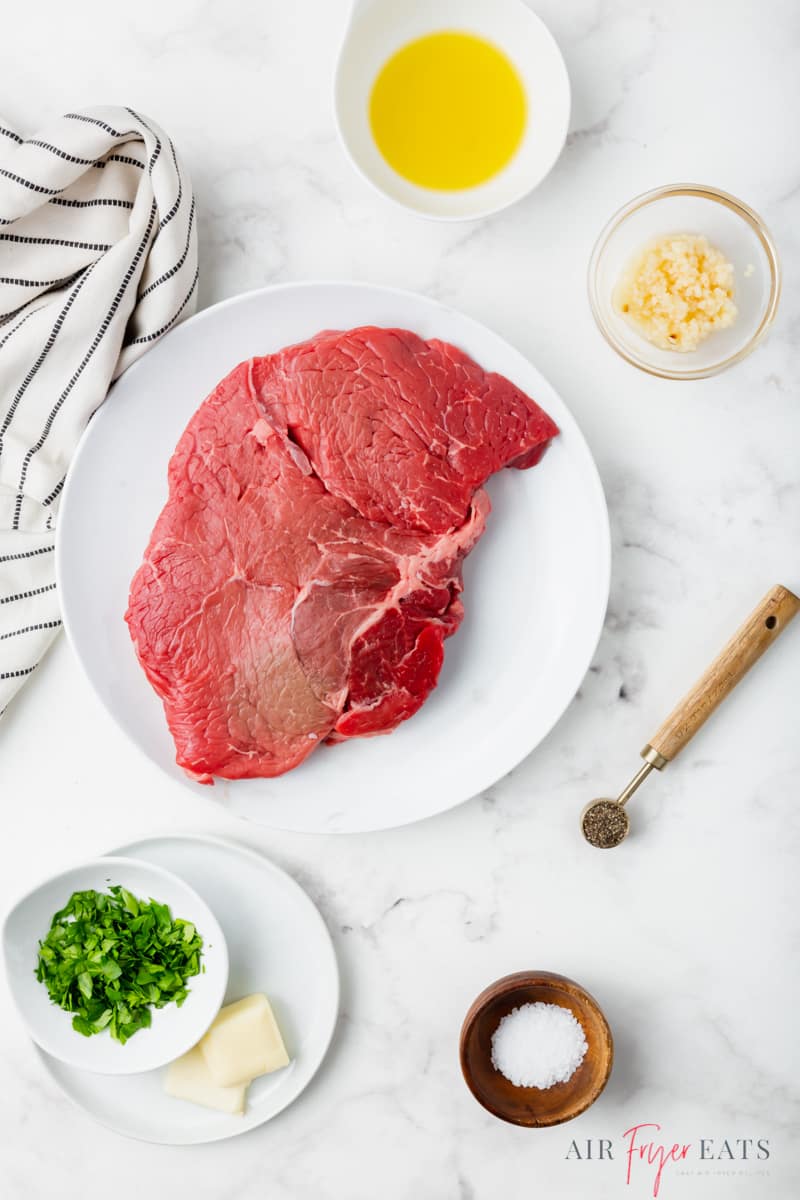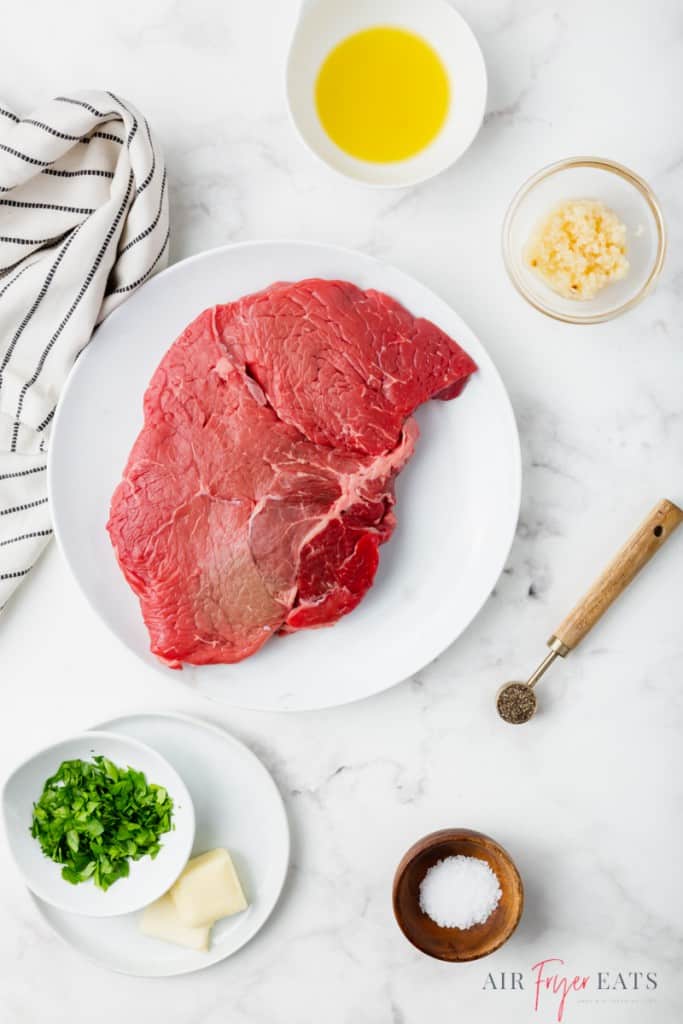 INGREDIENTS IN AIR FRYER STEAK BITES
Sirloin Steak - One pound of steak is the perfect amount to fit in my air fryer, leaving room for air circulation. You can use other cuts of steak in this recipe too. Cut the steak into ½ inch cubes.
Olive Oil - We'll be coating the bites with olive oil to add moisture, keep them from sticking, and to adhere the seasonings to the meat.
Garlic - two cloves of garlic, minced finely, adds tons of savory flavor to steak.
Salt - Season well with salt, add to taste.
Pepper - Pepper goes so well with beef.
Butter- a finishing touch of melted butter makes these bites extra amazing.
Parsley- A fresh bit of green is beautiful on these steak bites.
If you have any questions about making air fryer steak bites, please leave a comment below and I will get back to you ASAP!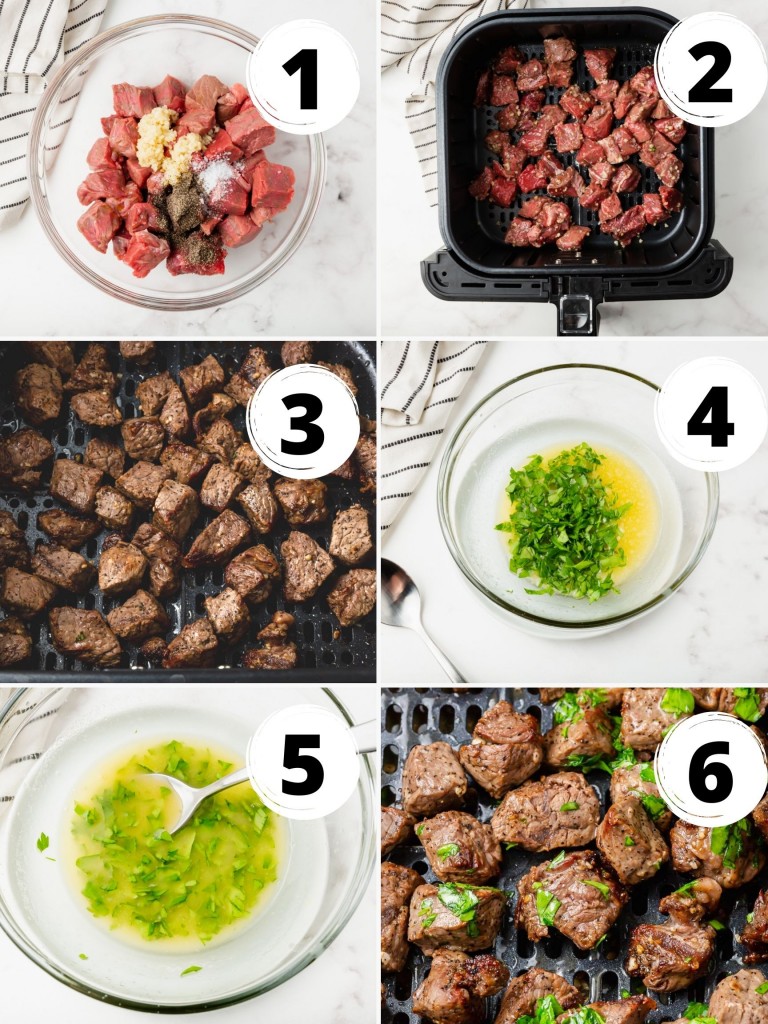 HOW TO MAKE AIR FRYER STEAK BITES
In a medium sized bowl, add the steak, olive oil, garlic, salt, and black pepper. Toss until well combined.
Preheat the air fryer, then add the steak.
Cook as directed, flipping halfway through the cooking time.
While the steak is cooking, add melted butter and fresh parsley to a small bowl.
Stir until combined.
Once the steak is cooked, toss with the herb butter and serve immediately.
These numbered steps match the numbered photos above and are for illustration purposes. For the complete list of ingredients and instructions for steak bites in the air fryer, please see the recipe below.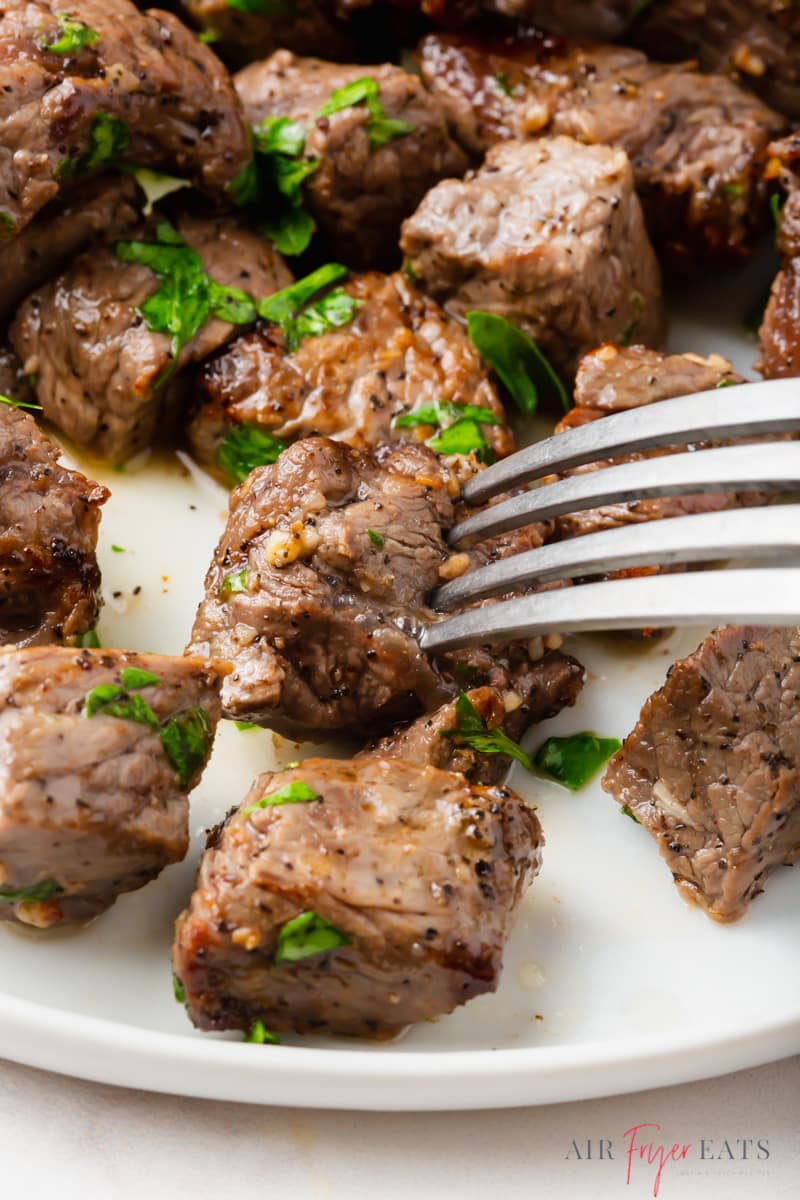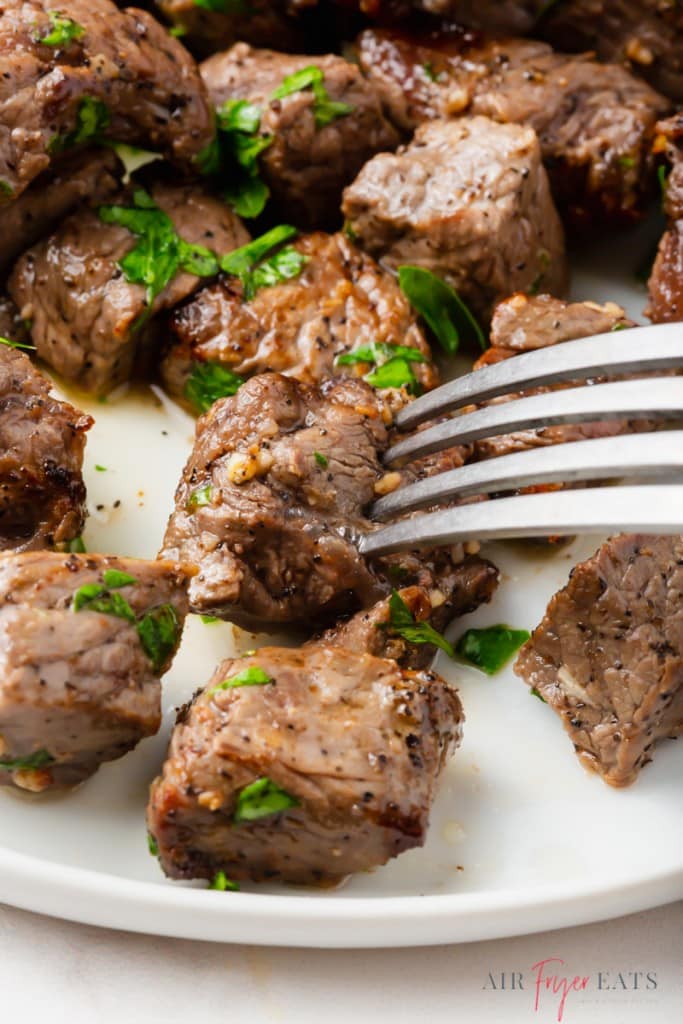 WHAT TO SERVE WITH AIR FRYER STEAK BITES
Steak goes amazingly well with potatoes. Pairing Air Fryer Steak Bites with Potatoes is your best bet.
Try Air Fryer Baked Potatoes, or Air Fryer Steak Fries on the side of this dish. Pictured below are our Air Fryer Potatoes, which are simple air fryer roasted baby potatoes.
To add some veggies to your steak dinner, make Air Fryer Asparagus, Air Fryer Balsamic Mushrooms, or Air Fryer Zucchini as well.
For a slightly out of the box idea, try serving these delicious steak bites with some fried eggs for breakfast!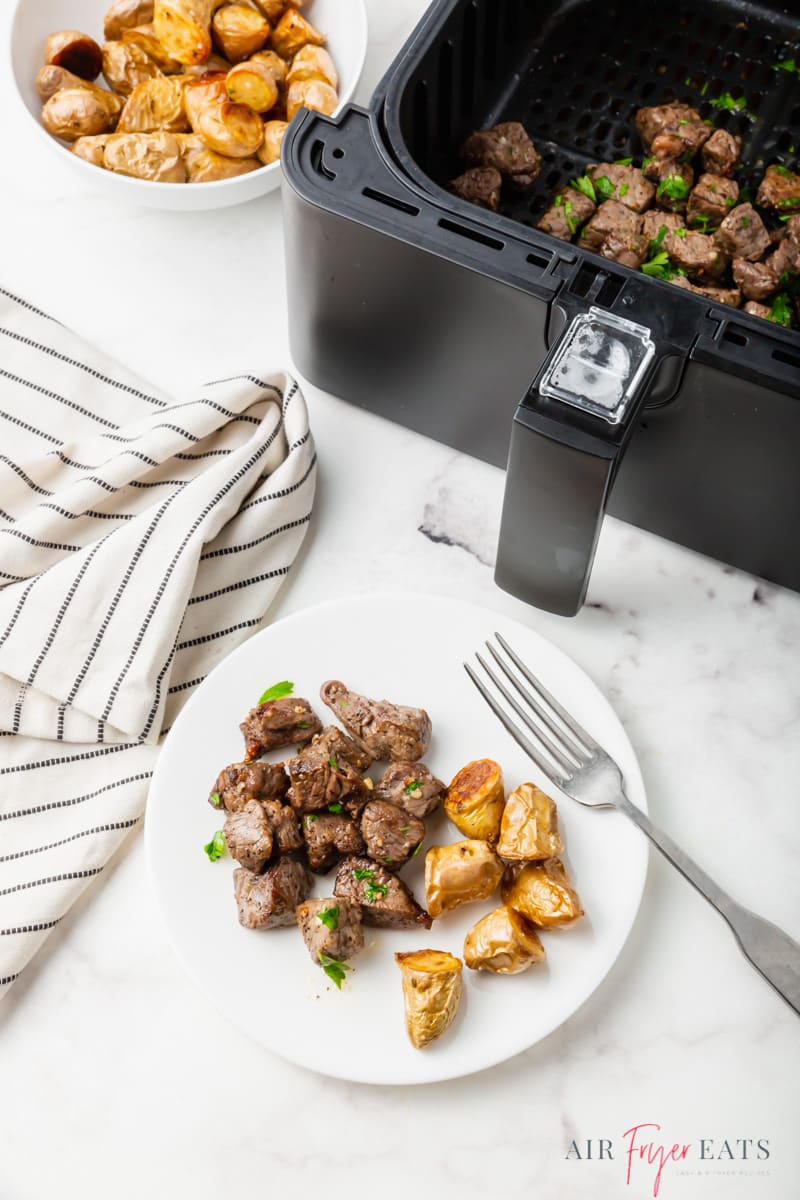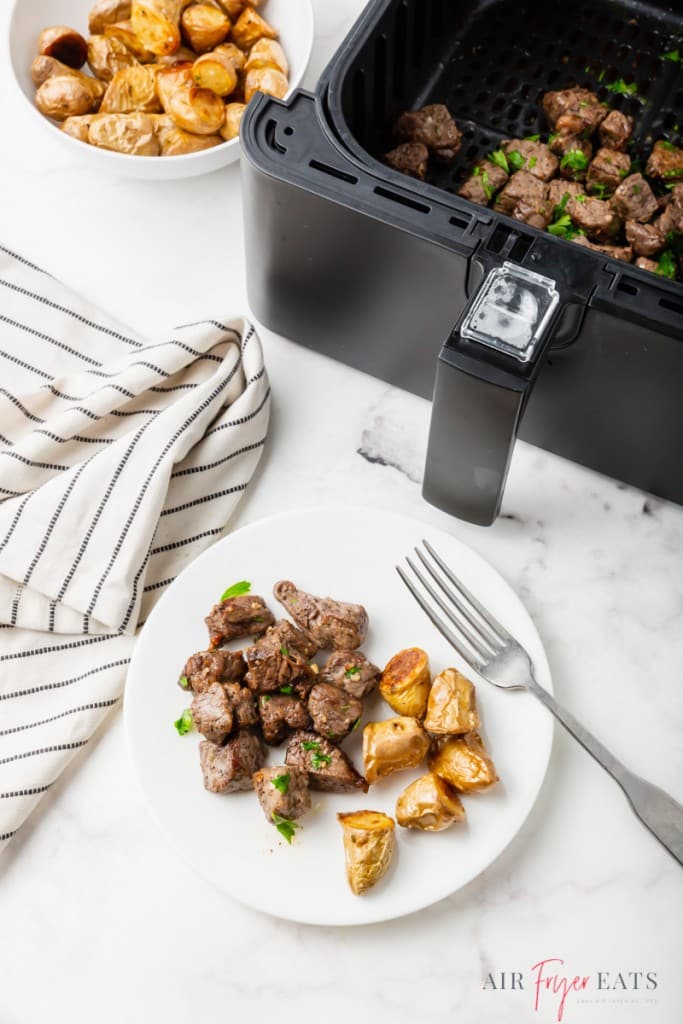 HOW DO I COOK RARE (OR MEDIUM, OR WELL DONE) STEAK IN THE AIR FRYER?
The amount of time that you need to cook these steak bites will depend on both the size of your pieces and the temperature that you prefer your steak cooked to.
With this technique, it's best to err on the side of underdone, because you can always put steak back in to cook longer, but you can't un-cook it.
I like my steak medium-rare/medium and cook until I get an internal temperature with an instant read thermometer of 135°F.
Check your steak as it's cooking to get the temperature you like.
MAKING HERB BUTTER FOR STEAK
Herb infused butter is a beautiful finishing touch to any steak dish. Here we are going simple with just butter and fresh parsley, but you can feel free to add any fresh herbs that you like. Thyme, Rosemary, Chives would all be delicious.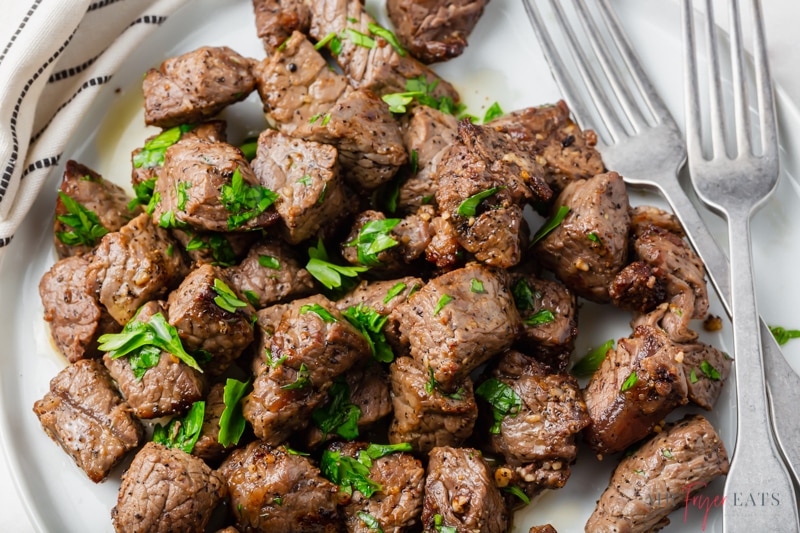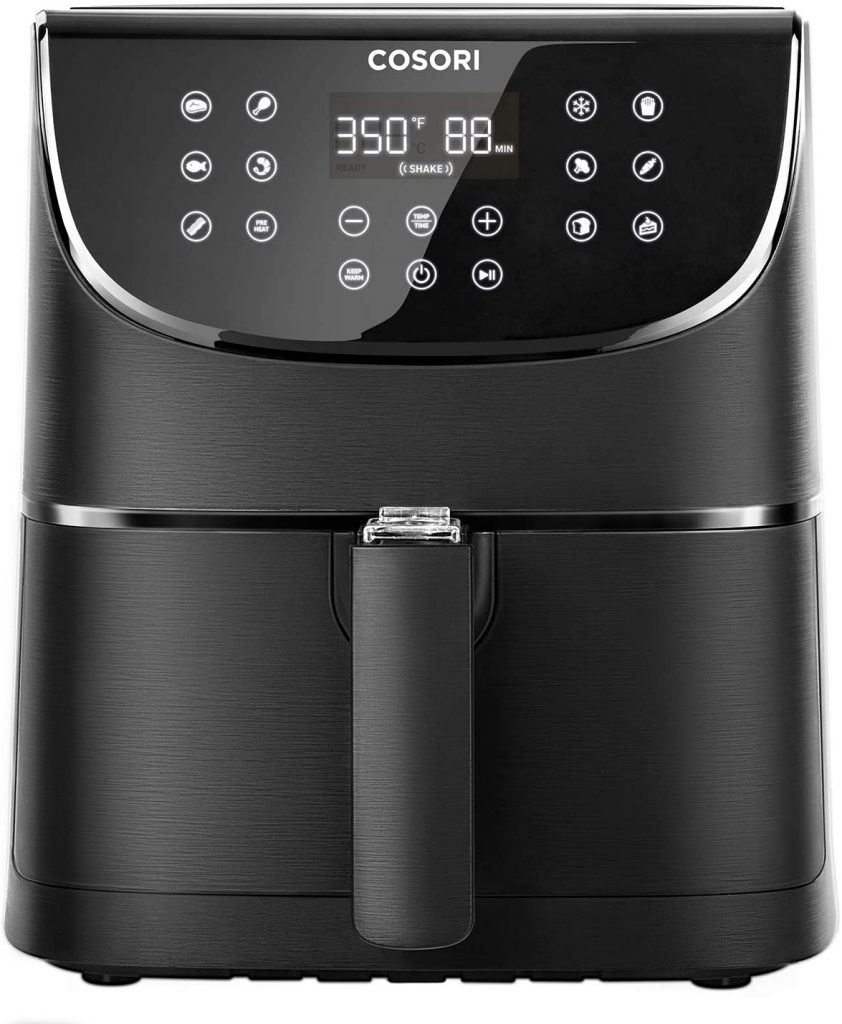 MORE AIR FRYER STEAK and MEAT RECIPES
Don't want to cut your steak up? Try our Air Fryer Steak Recipe to learn how to cook a whole steak this way. Air Fryer Lamb Chops are a meaty, impressive dinner entrée that you can make in no time.
Turn plain boneless pork chops into a delicious meal with our Air Fryer Pork Chops Recipe. Or maybe you want to lighten things up with this delicious steak salad.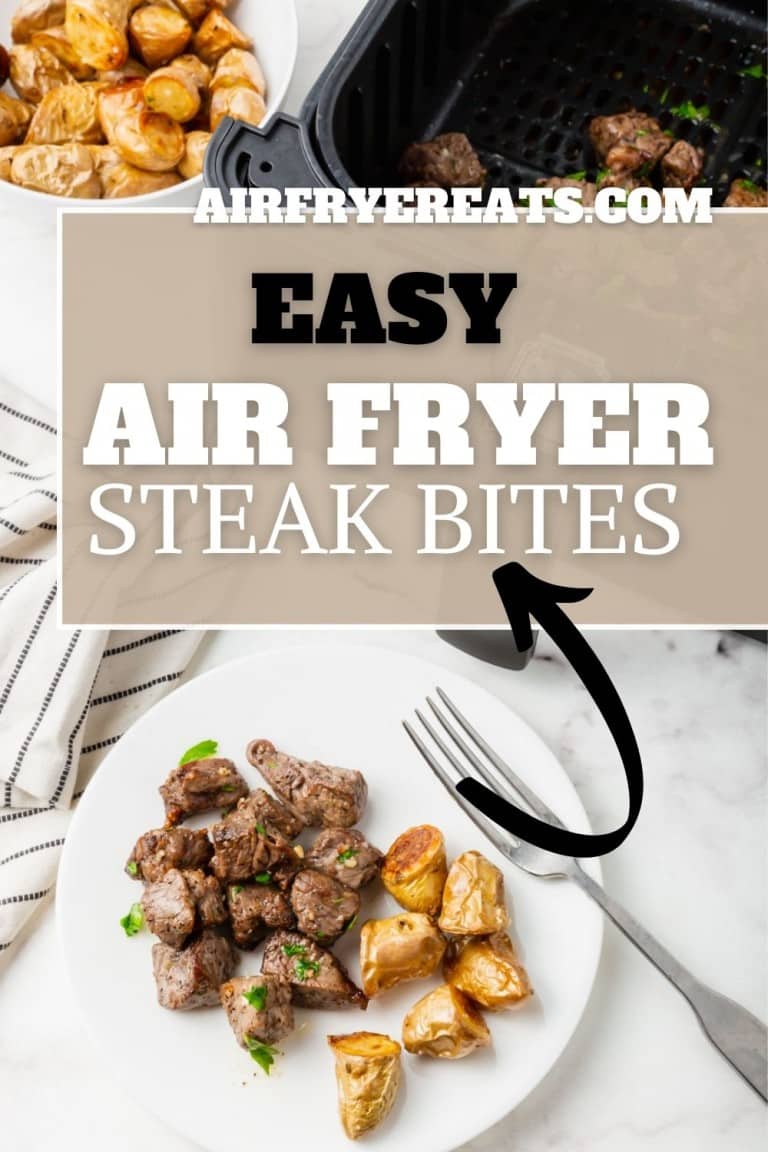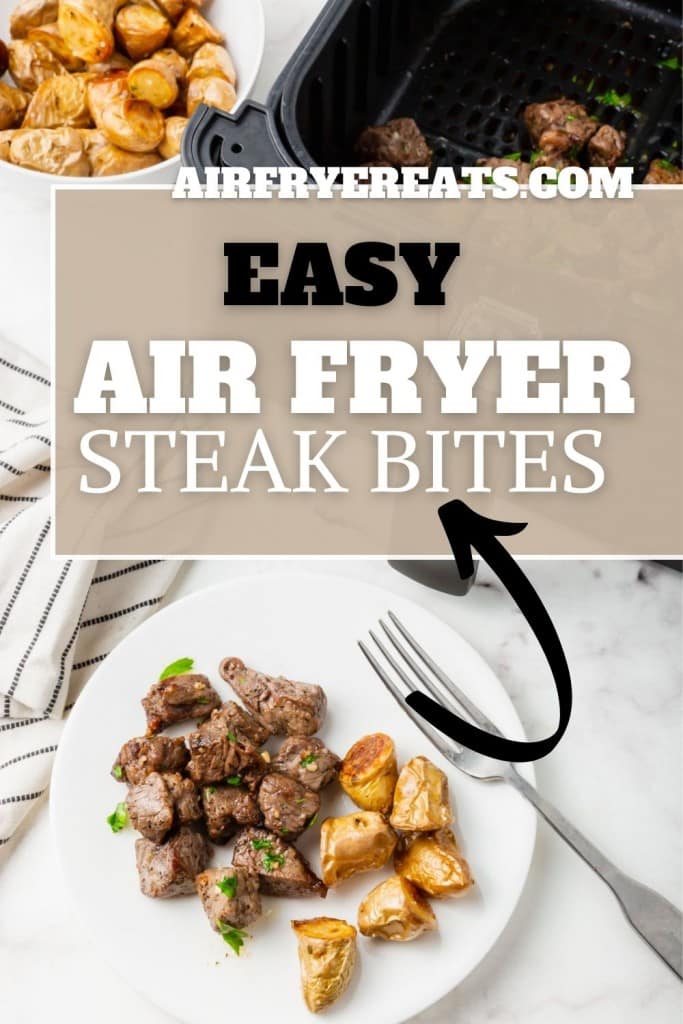 Have you made this recipe? Please leave a comment AND rating below! It helps other readers!
Be sure to tag @AirFryerEats on instagram, if you share a picture on the gram! Let's get social, you can follow me on Youtube, Instagram, Facebook, Pinterest or join one of our Air Fryer Facebook Groups: Air Fryer Recipes, Air Fryer Recipes for Seniors and Gluten Free Air Fryer Recipes.
Don't forget to subscribe to our EMAIL newsletter.
Air Fryer Steak Bites
Air Fryer Steak Bites are an easy and convenient way to cook steak that is perfectly cooked and in bite sized pieces.
Ingredients
Instructions
In a medium sized bowl, add the steak, olive oil, garlic, salt, and ground black pepper. Toss until well combined.

Preheat the Air Fryer at 400°F for 5 minutes. Add the steak and cook at 400F for 8-10 minutes, flipping halfway through.

While the steak is cooking, add the butter and fresh parsley in a small bowl.

Once the steak is cooked, toss with the herb butter. Serve immediately.
Go AD FREE!
Notes
You can make this dairy-free by using dairy-free butter in place of regular butter.

If you don't have fresh parsley, you can use other fresh herbs, such as thyme or rosemary.

Other cuts of steak can be used in this recipe in the same way.
Pro Tip: This recipe can be made in the air fryer unit with a basket or the air fryer oven. If you are using the air fryer oven, use the middle rack and select the "Air Fry" function.
ProTip: Check your food as it cooks. Each air fryer runs a bit differently. Sometimes airfying is a trial and error process. Check your food as it cooks to learn your air fryer better! When cooking a new recipe or food items be sure to check your food often to help avoid over/under cooking.
Have oven recipes that you'd like to convert to an air fryer recipe? Use our Air Fryer Calculator to help you estimate cooking times and temps! Calculator here: https://airfryereats.com/air-fryer-conversion-air-fryer-calculator/
Nutrition
Calories:
237
kcal
|
Carbohydrates:
1
g
|
Protein:
25
g
|
Fat:
14
g
|
Saturated Fat:
6
g
|
Polyunsaturated Fat:
1
g
|
Monounsaturated Fat:
6
g
|
Trans Fat:
1
g
|
Cholesterol:
84
mg
|
Sodium:
406
mg
|
Potassium:
404
mg
|
Fiber:
1
g
|
Sugar:
1
g
|
Vitamin A:
261
IU
|
Vitamin C:
2
mg
|
Calcium:
39
mg
|
Iron:
2
mg
Tired of the ads?
Go AD Free - Become part of our Membership community!
Air Fryers can vary greatly. Please take the time to learn your specific air fryer. You may need to adjust times and temperatures based upon your air fryer.
All though this website attempts to provide accurate nutritional information, the information should only be considered an estimate. Varying factors such as different product types, different brands, etc. can change nutritional information. It is your responsibility as a consumer to read all labels to make sure the ingredients fit your dietary needs as well as calculate your own nutritional information as a double check.
If you enjoyed this recipe, be sure to check out Air Fryer Eats Membership! Our membership offers exclusive recipes, meal plans, ebooks, helpful learning videos and more – all completely ad free!