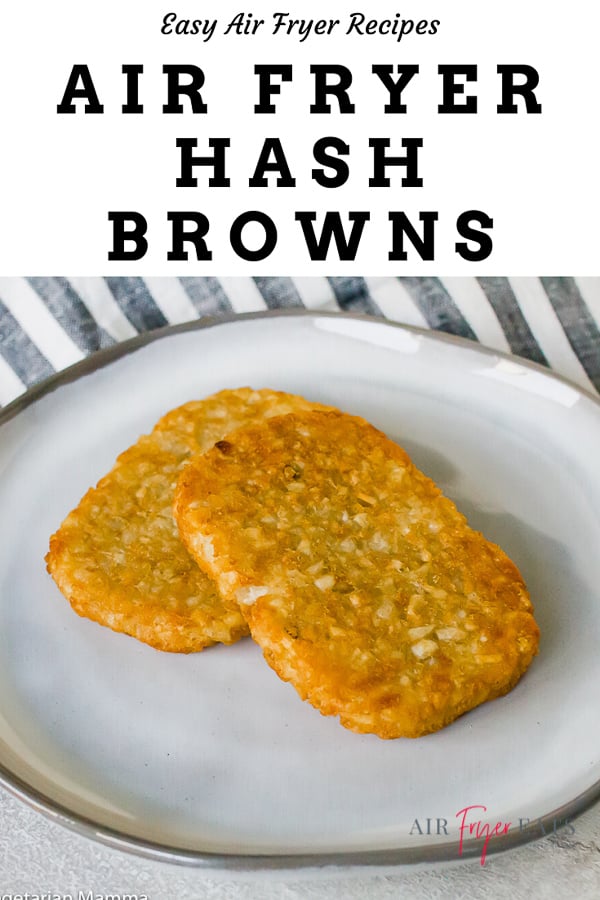 Air Fryer Hash Brown Patties go from frozen to ready in less than 20 minutes! These super crispy breakfast potatoes are perfect for a morning on-the-go and cook while you get ready for the day.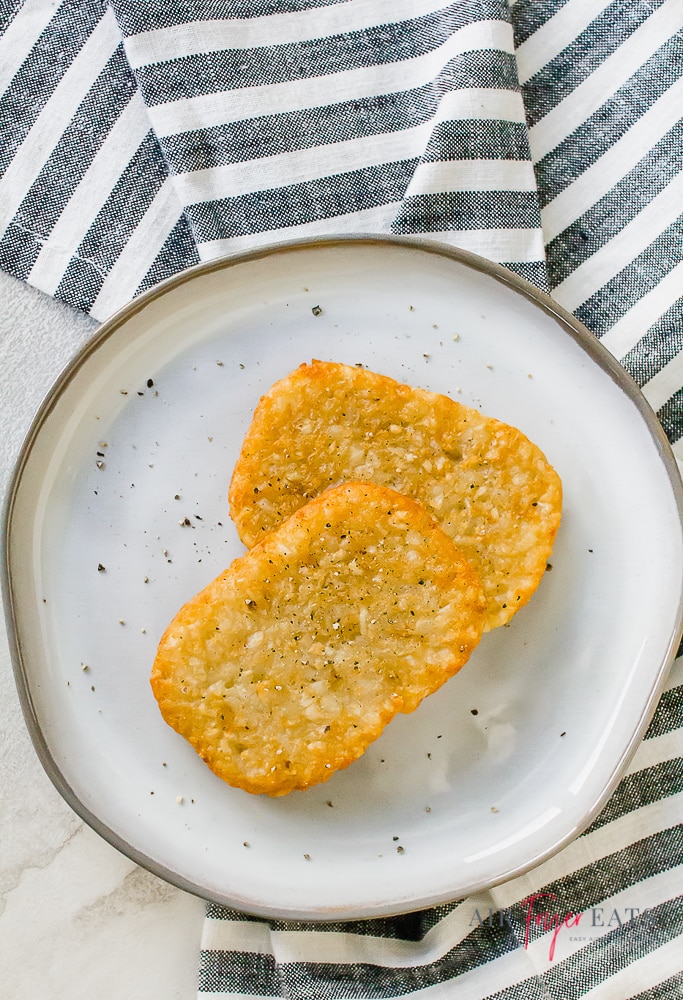 Air Fryer Frozen Hash Brown Patties
Breakfast potatoes are my favorite start to the day, and these Frozen Air Fryer Hash Browns are super simple.
This hash browns recipe is just one ingredient and basically one step — cook!
You can garnish these with pepper, ketchup, salsa, or whatever condiment you love!
Add these hash browns to my Tofu Scramble Breakfast Burritos for a little extra heartiness!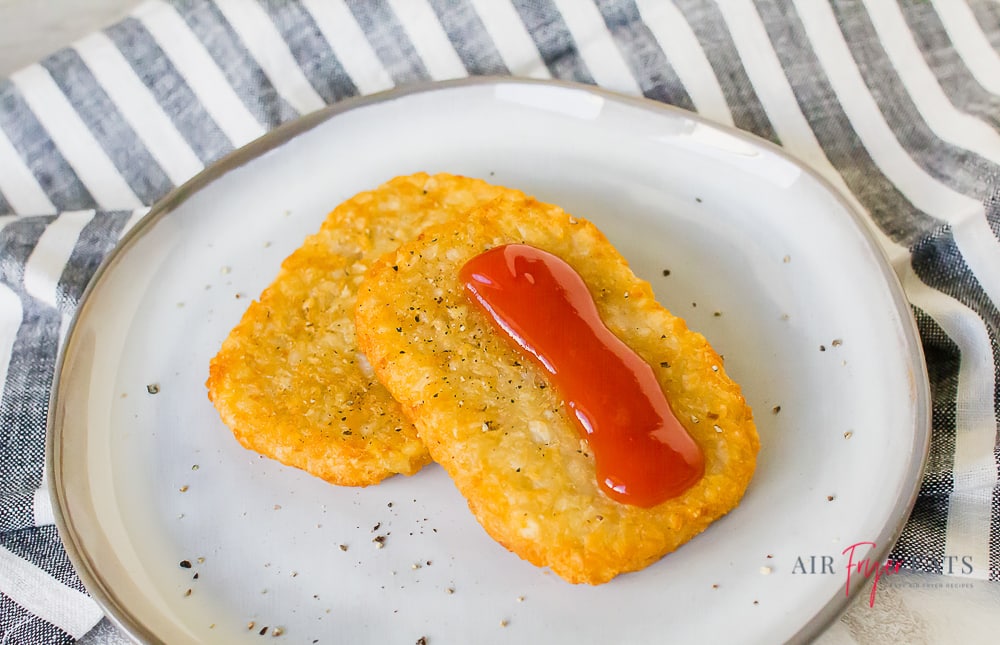 HOW TO MAKE AIR FRYER HASH BROWNS
I always keep a bag of frozen potatoes just in case I need to whip up hash browns for a quick breakfast or a delicious breakfast for dinner night!
The beauty of these is there's minimal work on your end to make them golden brown and crispy.
First, portion out your hash browns! A serving is usually one hash brown per person.
Then, put two hash browns in the air fryer basket — or on your air fryer tray! If you have room for more without the hash browns overlapping or touching, feel free to cook more at a time.
Next, Air fry the hash browns at 380 degrees F for about 16 minutes, flipping the patties halfway through cooking. When they're crispy and golden brown, they're done!
Garnish with your favorite condiments and a little pepper. Serve and enjoy!
You can use this frozen hash brown recipe with a unit with an air fryer basket or air fryer trays.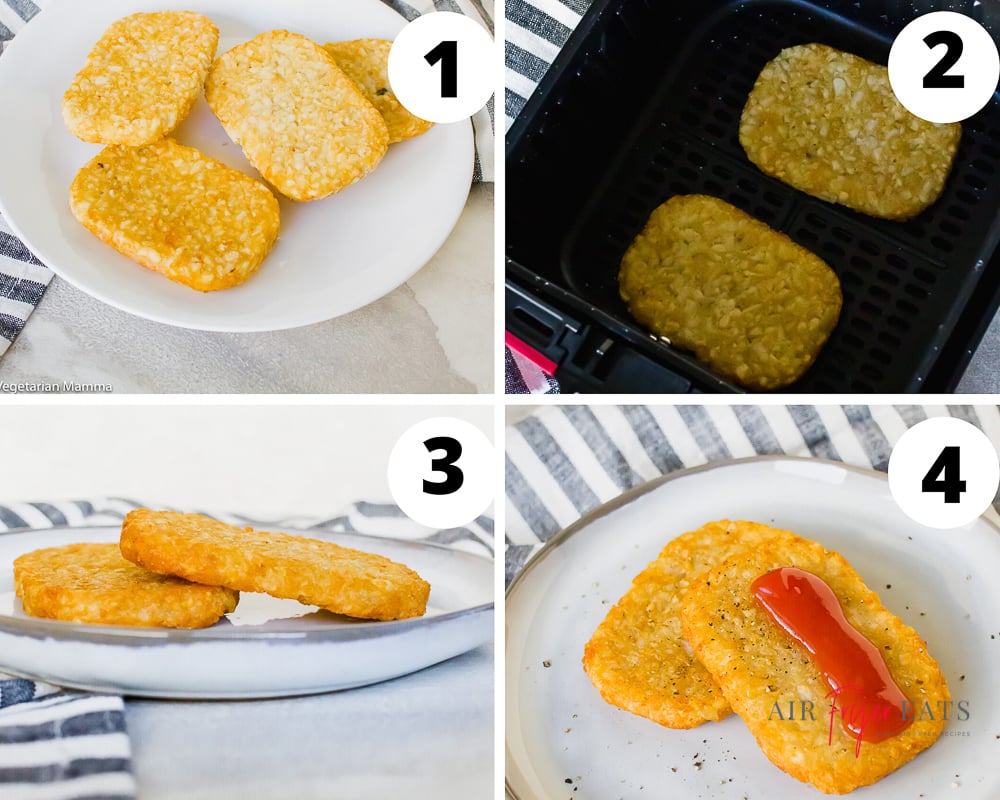 What are Hash Browns
Crispy hash browns are a staple of American breakfasts dating back to 1890.
This hash brown recipe is for the hash brown patties, and there's always been a debate over what is hash browns and what is home fries.
The dish originated in New York City diners as scattered shredded potatoes cooked on a flattop.
Some recipes add onions, and we all know Waffle House is famous for its long list of hash brown toppings.
What to Serve with Hash Browns
Breakfast is my favorite meal of the day! We have breakfast for dinner at least once a month because it's an easy meal where everyone can agree.
I love air fryer hash browns with a couple of fried eggs or this Tofu Scramble. Just like scrambled eggs but with tons of turmeric.
If you want to have an all air fryer breakfast, serve hash browns alongside this super crispy Air Fryer Bacon!
Got a sweet tooth? Try these Air Fryer Donut Holes for a sweet ending to your savory breakfast.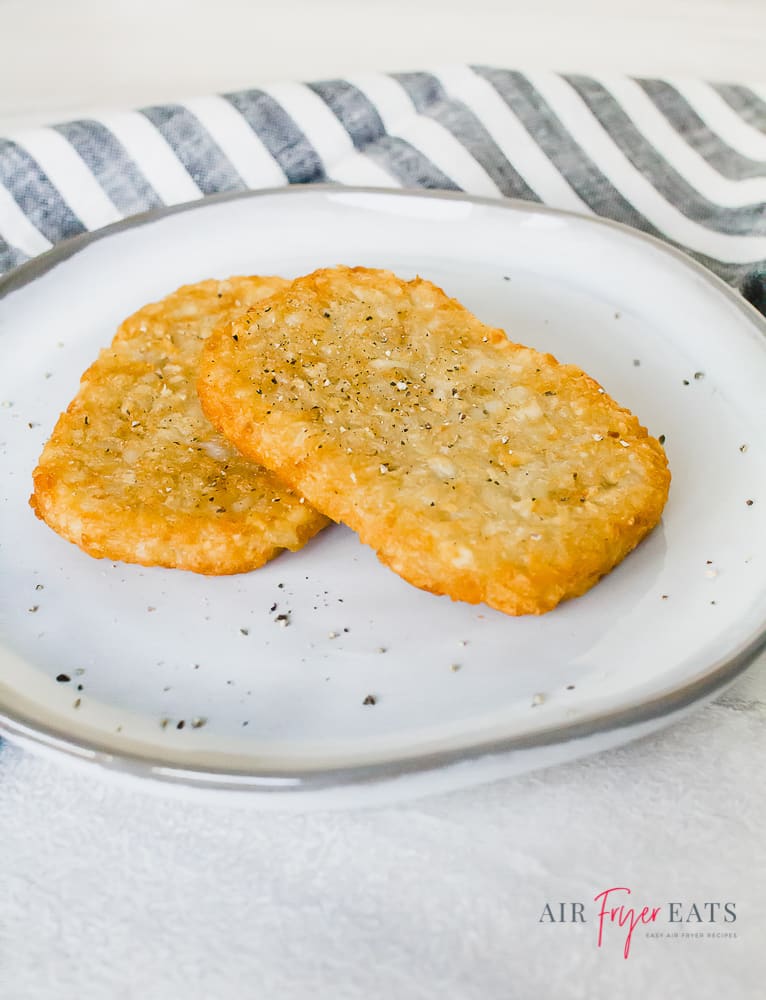 OTHER AMAZING RECIPES
We all love to cook! Check out some of our other delicious recipes such as Caramel Apple French Toast Casserole, Air Fryer Tater Tot and Egg Cups, Tofu Scramble Breakfast Burrito and Air Fryer Monkey Bread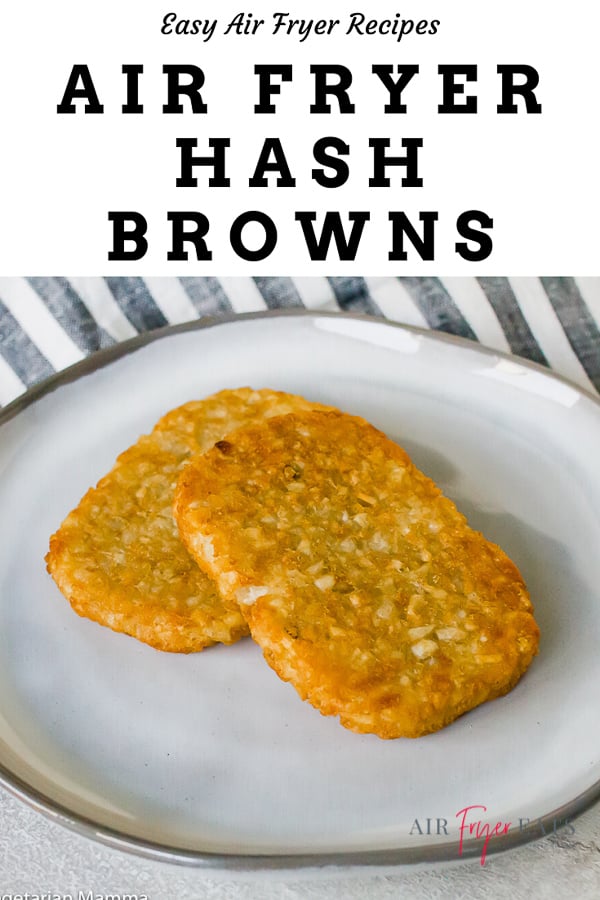 Pro Tips
Use Any Air Fryer: This recipe can be made in an air fryer unit with a basket or an air fryer oven. If you're using an air fryer oven, place your food on the middle rack and select the "air fry" function.
Check your food as it cooks! Since each air fryer runs differently, sometimes air frying is a trial and error-process. When cooking a new recipe, be sure to check on your food often. This will help you avoid over or undercooking, and help you learn your air fryer's specific ways!
Frozen Air Fryer Hash Browns
The best breakfast on the go! These frozen potatoes are ready in less than 20 minutes while you get ready for the day.
Instructions
Place hash browns in air fryer basket. Be sure not to overlap frozen hash browns.

Air fry for 8 minutes on each side at 380 degrees F or 193 degrees C.
Go AD FREE!
Notes
Pro Tip:
This recipe can be made in the air fryer unit with a basket or the air fryer oven. If you are using the air fryer oven, use the middle rack and select the "Air Fry" function.
Nutrition
Calories:
1
kcal
|
Carbohydrates:
1
g
|
Protein:
1
g
|
Fat:
1
g
|
Sodium:
1
mg
Tired of the ads?
Go AD Free - Become part of our Membership community!
Air Fryers can vary greatly. Please take the time to learn your specific air fryer. You may need to adjust times and temperatures based upon your air fryer.
All though this website attempts to provide accurate nutritional information, the information should only be considered an estimate. Varying factors such as different product types, different brands, etc. can change nutritional information. It is your responsibility as a consumer to read all labels to make sure the ingredients fit your dietary needs as well as calculate your own nutritional information as a double check.