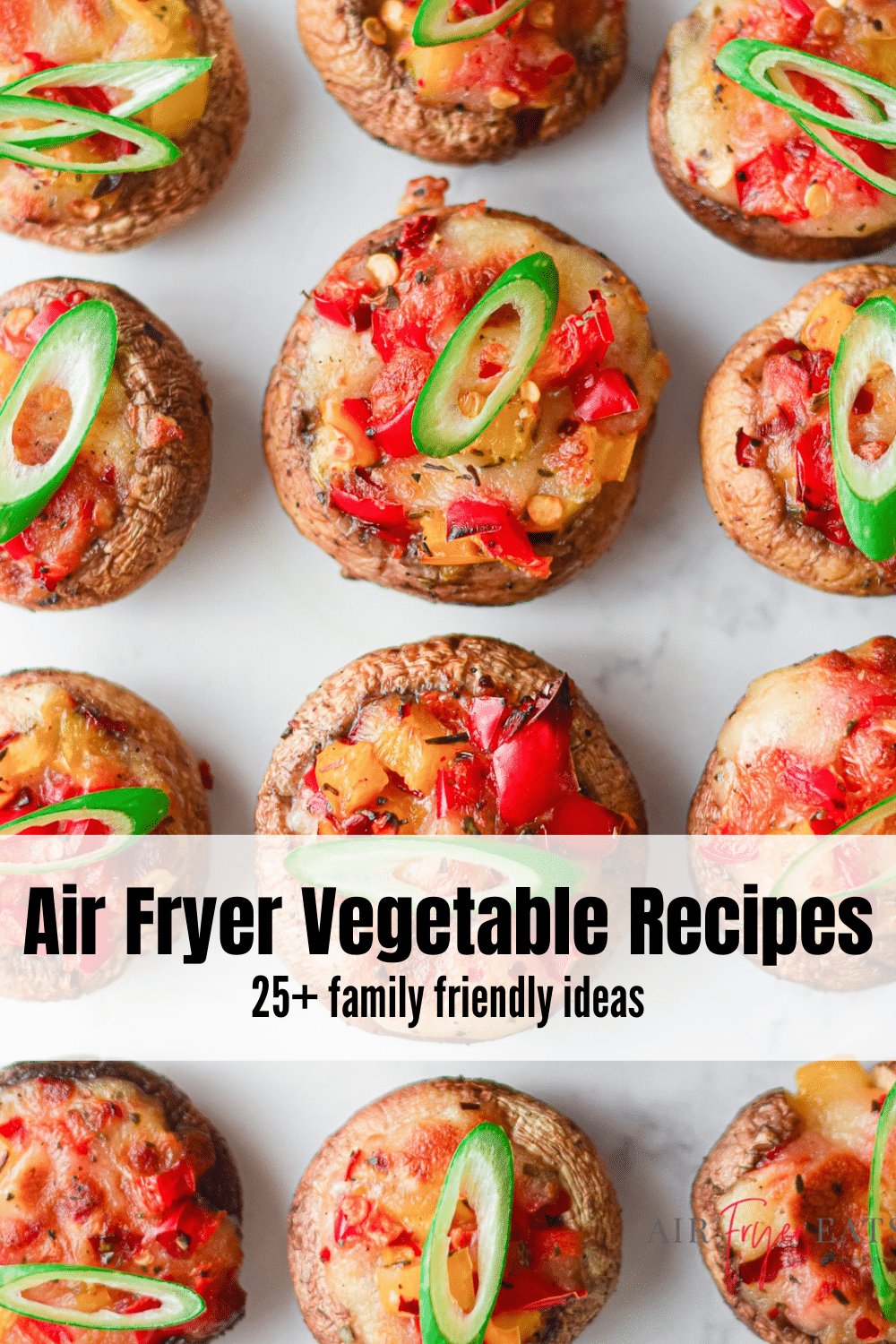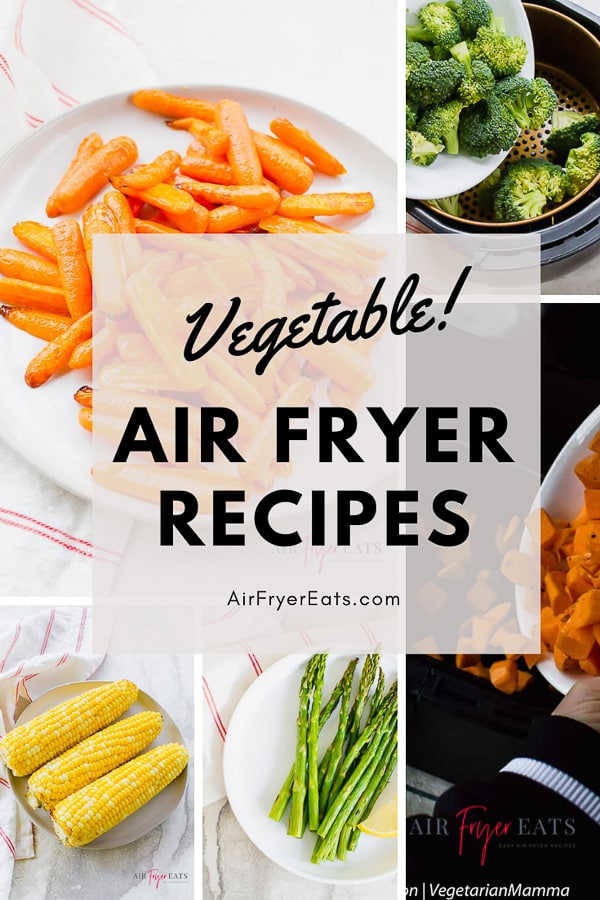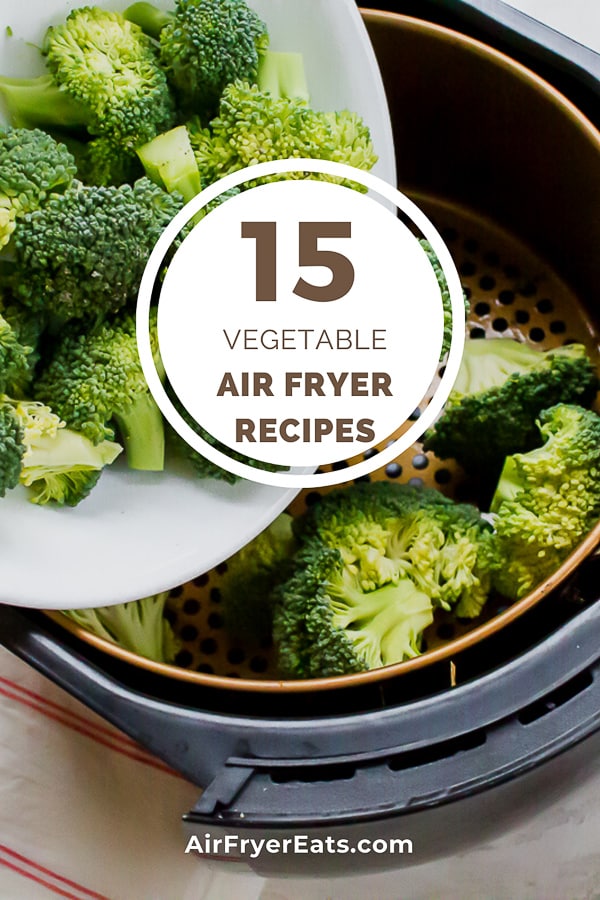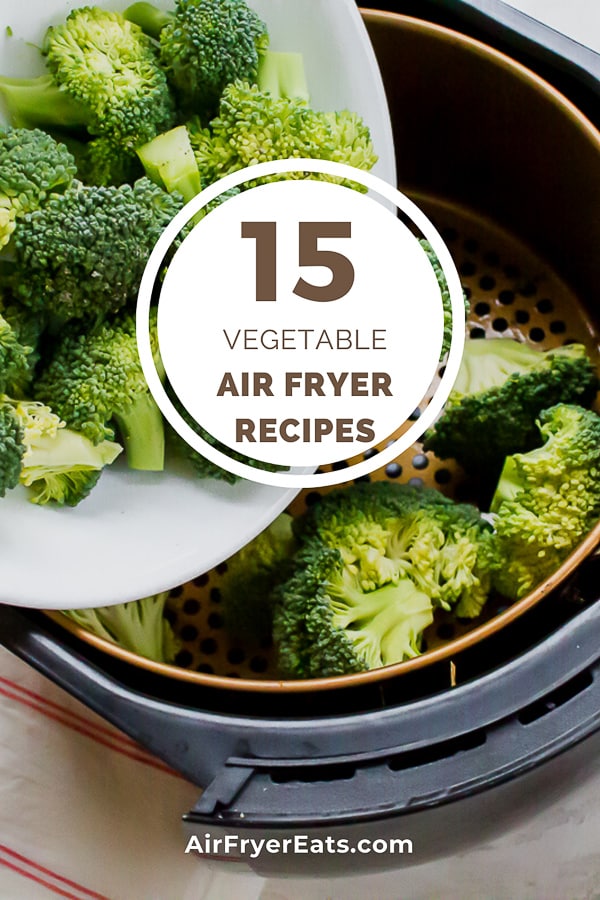 Air Fryer Vegetables are a quick and easy way to incorporate more healthy veggies into your menu plan! Read on to learn how to cook over 25+ vegetables in air fryer with these easy air fryer veggie recipes.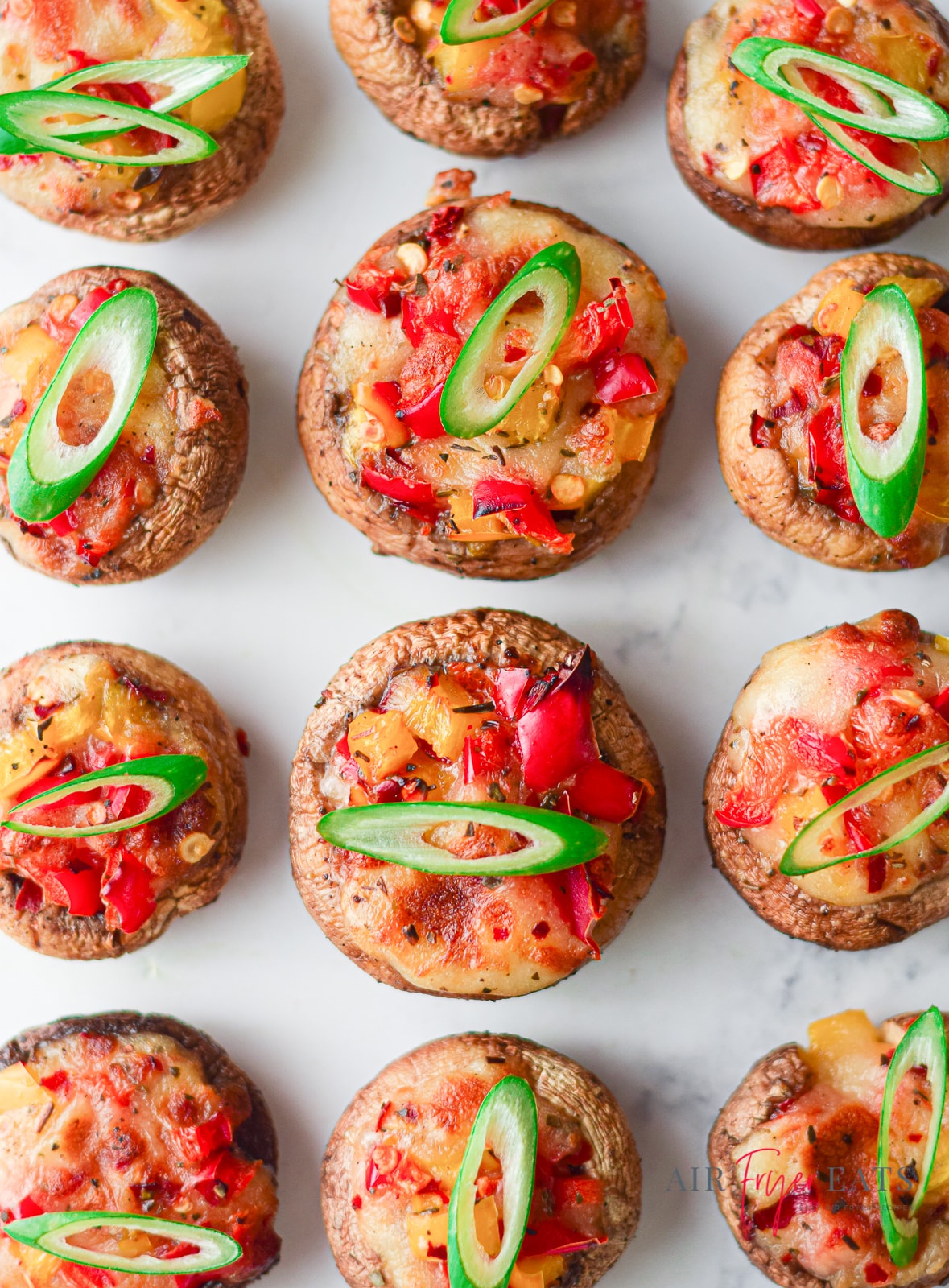 How To Cook Air Fryer Vegetables
Are you new to air frying? We are so happy you are here! We love to help people become experts with their air fryer.
If you are new, we suggest that you start with our Start Here page. We have a whole community just waiting to welcome you!
Whether you are a seasoned air fryer expert or a beginner, we have got some easy and delicious air fryer vegetable recipes to share with you today! Cooking vegetables in your air fryer creates the perfect side dish for any meal!
So get your grocery list ready, we have lots of air fryer veggie recipes to choose from such as Air Fryer Broccoli, Air Fryer Stuffed Mushrooms, Air Fried Green Beans, and so many more!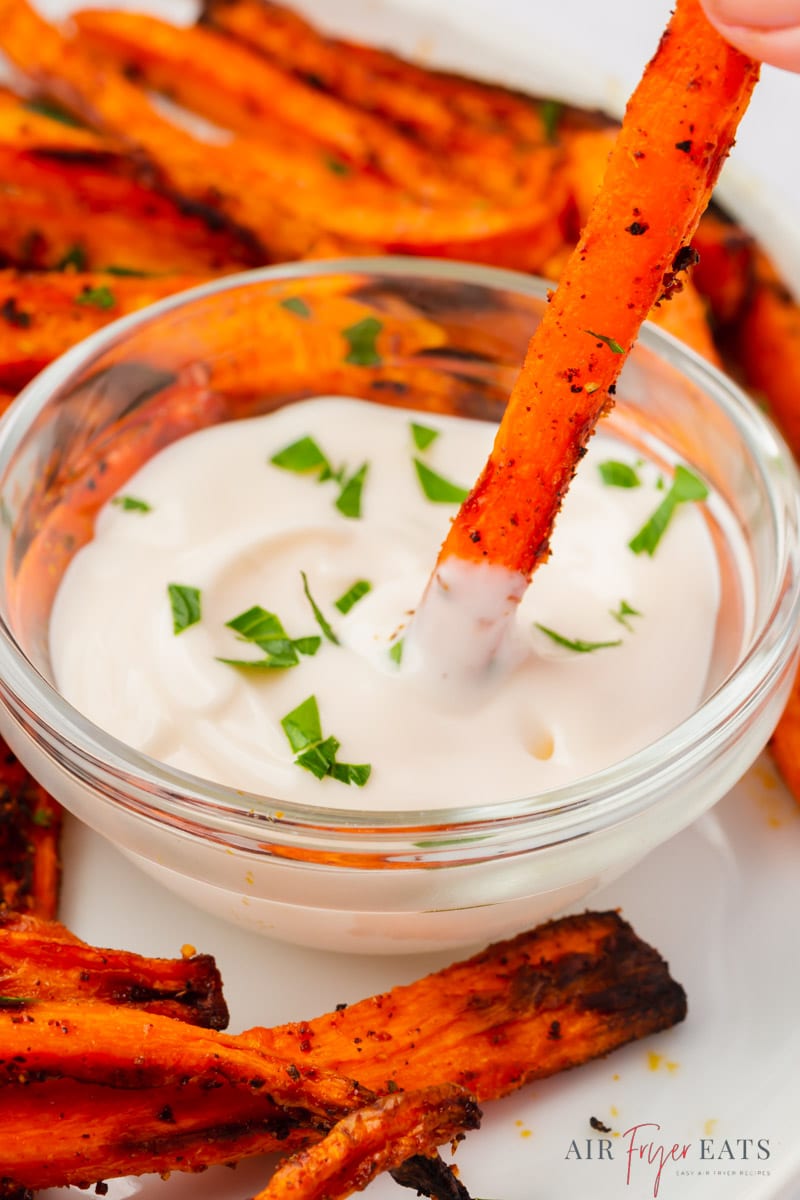 Best Tips for Making Air Fryer Vegetables
Season to taste. Sometimes vegetables are delicious on their own but sometimes they need a little help. A basic seasoning you can add to your Air Fryer Vegetables is salt and pepper. When making air fryer roasted vegetables we like to elevate the taste by adding in Everything Bagel Seasoning (Super YUM!) or garlic salt. Just taste as you go, add in a little bit of spice at a time until you reach your desired taste! Trust us, your taste buds will thank you!
Drizzle with olive oil. Sometimes just adding a little drizzle of olive oil to your air fryer vegetables can make a huge change in the taste. The olive oil can add a lot of richness and depth to the roasted vegetable in air fryer. The drizzle of olive oil to the air fryer vegetables will make the flavors come together and sing! Plus, a little bit of oil turns regular vegetables into beautifully roasted vegetables in the air fryer.
Leftovers. Save your leftovers for lunch or dinner the next day! Even better, double the air fryer vegetables that you are making for dinner, so that you can use them for easy sides for the entire week! Some vegetables may taste even better the next day, like air fryer broccoli, but some air fryer vegetables, like zucchini chips may become soggy. For some air fried vegetables, it will just be a trial and error when it comes to what heats up best the next day.
I can personally share that I often make Air Fryer Broccoli and Air Fryer Sweet Potato Cubes.
Add some heat with spices. Similar to seasoning your air fryer vegetables, you can upgrade the taste by adding some spice. If you want to add a little bit of spice or heat to your veggies, we suggest red pepper flakes. You know, red pepper flakes aren't just for pizza!? They taste amazing on your veggies too! If you are making an air fryer vegetables recipe that already calls for spice you may need to taste as you cook and adjust the flavors along the way to make the recipe perfect for your taste buds. When you "shake" the basket or stir/turn the veggies, you can always sample them and add more spices to your liking.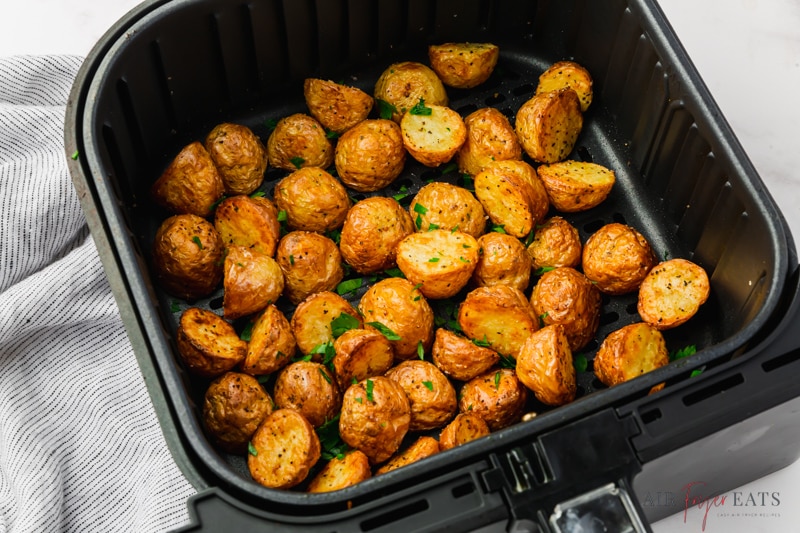 Favorite Air Fryer Potato Recipes
Potatoes are one of the most popular and most consumed vegetables, alongside of a tomato. And yes, we know that tomatoes are technically a fruit, but you know what we mean.
You might not know this but the first vegetable ever grown in space was a potato! How cool is that? I bet they don't have an air fryer in space yet, but maybe that will change! We have a variety of fresh and frozen recipes when it comes to potatoes in the air fryer!
Air Fryer Baked Potato - Ah, for us this is the air fryer recipe that started it all! The beloved baked potato in the air fryer! We love making them in the air fryer because we don't have to wait for the oven to heat up! And a bonus is the air fryer makes the potato skin EXTRA crunchy and delicious!
Air Fryer Roasted Potatoes - Baby potatoes, sliced in half and coated with olive oil and seasonings are turned into the most delicious crispy potato side dish in your air fryer.
Air Fryer Potato Skins - You can turn air fryer baked potatoes into cheesy, delicious Air Fryer Potato Skins. Nobody can resist this air fryer version of a favorite bar appetizer, topped with cheese, bacon, sour cream, and chives.
Air Fryer Potato Wedges - Air Fryer potato wedges are perfectly seasoned, rustic french fries that cook up beautifully crispy in your air fryer. Serve these as a side dish with your favorite dinners, you'll keep coming back to this recipe again and again.
Air Fryer Breakfast Potatoes - There is no better addition to a home cooked meal than crispy air fryer breakfast potatoes, or Air Fryer Home Fries. Though breakfast is in the name, it doesn't stop you from having them at dinner time too! These potatoes come out of the air fryer in 25 minutes!
Air Fryer Potato Pancakes - Crispy Air Fryer Potato Pancakes are the perfect next-day dish for leftover mashed potatoes. Try them as a side dish for dinner or brunch!
Frozen Potatoes always cook up perfectly in the air fryer too! Try these easy recipes: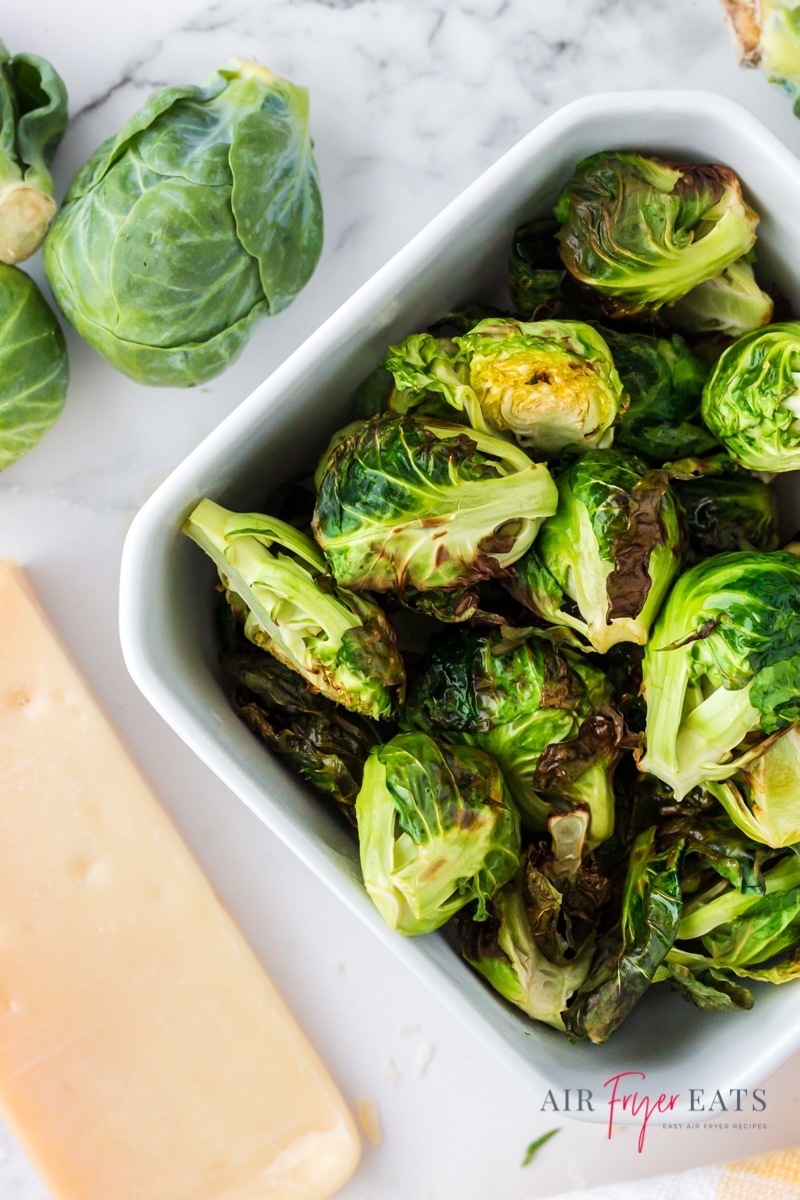 Delicious Green Vegetables in Air Fryer
When it comes to vegetables, green vegetables are a pretty hot topic! There are more to green vegetables than your dark leafy greens! Think outside the box when it comes to green vegetables, think: broccoli, green beans, brussel sprouts and zucchini. When it comes to green vegetables in the air fryer, green beans would be our favorite!
Did you know that green beans are grown two different ways? In bush form and in vine form. Green beans are super easy to grow at home as well, all you need is some green bean starter seeds and some soil! Then you'll have an endless supply of Air Fryer Green Beans all summer long! But don't get stuck just on beans, check out all the other veggies you can make in your air fryer.
Air Fryer Brussel Sprouts - Air Fryer Brussel Sprouts are not only nutritious but incredibly flavorful! In less than 15 minutes your air fryer gives these sprouts the most delectable crispy crunch on the outside with a roasted, caramelized flavor that is out of this world!
Air Fryer Broccoli - Air Fryer Broccoli is the perfect combination of crispy and tender, and you won't believe how easy it is to make! Broccoli tends to cook quickly in the air fryer and gives you more of an oven-roasted taste. If you don't like charred broccoli, cut the cooking time down by 2-3 minutes.
Air Fryer Asparagus - We think that asparagus often gets a bad rap and we are here to change your mind! This Air Fryer Asparagus recipe takes three ingredients and prep time to dinner time in 10 minutes. You will never want to eat asparagus cooked a different way again!
Air Fryer Green Beans - We've already professed our love for green beans in the air fryer in the paragraph above. But we want you to try it out and see if you agree! Pro tip: add a dash of red pepper flakes to your green beans for a kick of spice and flavor!
Air Fryer Zucchini - This is the perfect way to use up all that zucchini your grew in your garden. And the recipe has just one ingredient! You guessed it, zucchini! Oil is optional in this recipe and of course seasonings as well.
Air Fryer Fried Green Tomatoes - Yes, tomatoes are technically a fruit, but we are throwing the green tomatoes in here. These air fried green tomatoes are not only tasty, but they are crispy and perfect for dipping into your favorite sauce!

Air Fryer Zucchini Fries - These little guys are a bit labor-intensive because they're breaded and cooked in batches. It's totally worth it though! A few basic pantry ingredients turn your fresh zucchini into delicious, crunchy fries.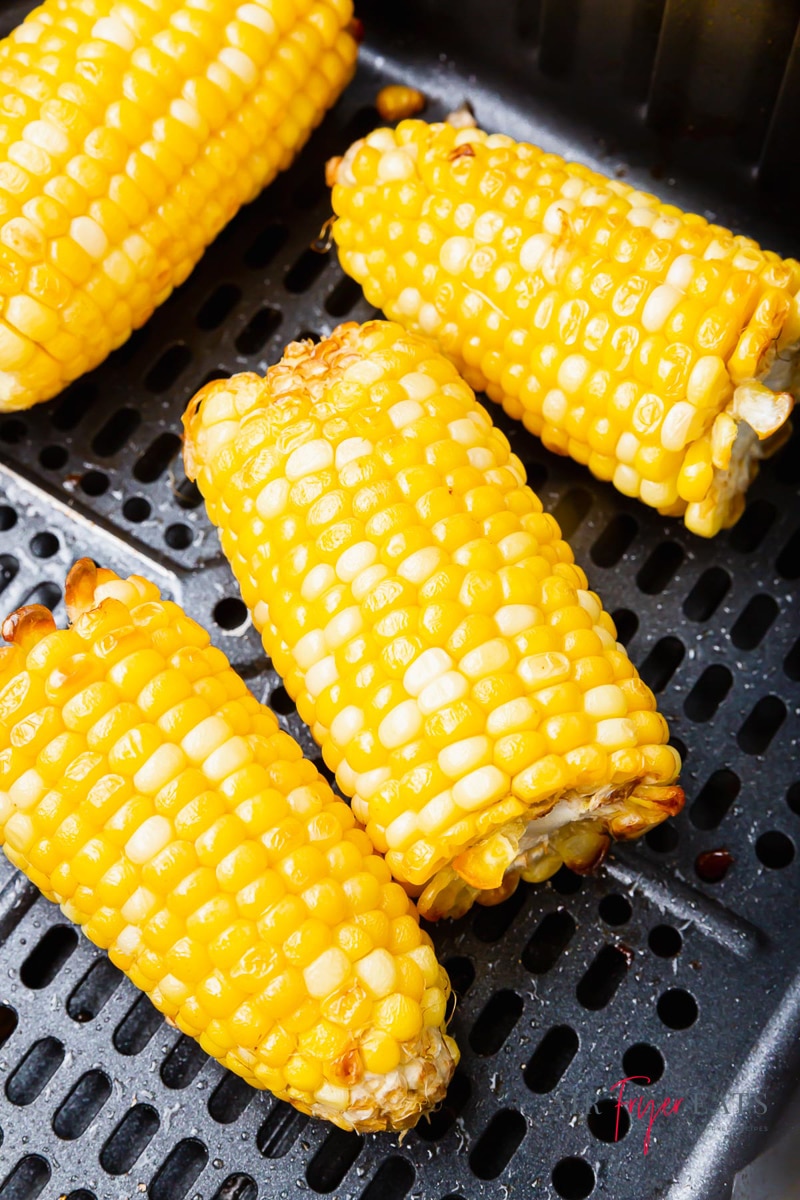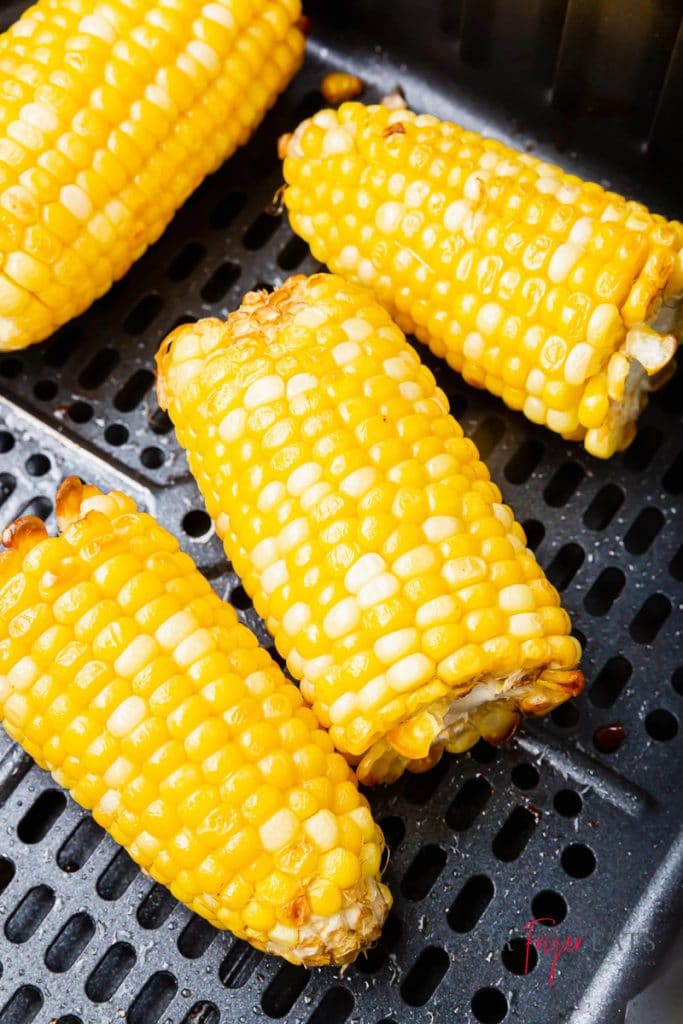 Tasty Fresh Vegetables in Air Fryer
The number of ways you can prepare vegetables in the air fryer is almost endless! They say that the more colorful the food, the better. Below we've included some colorful and oh-so-delicious air fryer vegetables that you can cook up this week.
Be daring this week, and try out a new vegetable recipe in your air fryer. You might be pleasantly surprised and find a new favorite!
Air Fryer Carrots - Air fried carrots are a quick and easy way to get a delicious vegetable side dish on your table in under 15 minutes. Use baby carrots to help cut the prep time down. Baby carrots will save you time peeling and cutting down the carrots to size.
Air Fryer Corn on the Cob - Air Fryer Corn on the Cob will become your new favorite air fryer recipe. Corn in the air fryer is cooked in under 10 minutes and provides a delicious roasted flavor. Once you cook corn in the air fryer, you will never go back to boiling or grilling corn!
Balsamic Air Fryer Mushrooms - Mushroom caps marinated in a savory balsamic vinegar mixture come out of the air fryer perfectly cooked and irresistibly delicious in just a few minutes. Balsamic Air Fryer mushrooms will be your go-to side dish from now on!
Air Fryer Stuffed Mushrooms - Air Fryer Stuffed Mushrooms are the vegetarian appetizer everyone wants to eat! These yummy stuffed mushroom caps are filled with gooey mozzarella cheese, red and yellow bell peppers, and a delicious Italian seasoning blend.
Air Fryer Crispy Eggplant - Tender slices of eggplant, air fried to crispy perfection! Crispy Air Fryer Eggplant will find a happy place on your dinner table now that you know how to make it perfectly.
Air Fryer Eggplant - Preparing Air Fryer Eggplant is much easier than you might think! This often overlooked vegetable, with the right seasonings, will be a welcome addition to your side dish rotation.
Air Fryer Cabbage Steaks - Air Fryer Cabbage Steaks are an amazing vegetarian main or side dish. They brown up beautifully in the air fryer with just a small amount of oil. If you are not a cabbage fan, you might find that preparing cabbage in the air fryer, may change your mind.
Be sure to try our recipes for Air Fryer Artichokes, Air Fryer Roasted Garlic, and Air Fryer Cauliflower too!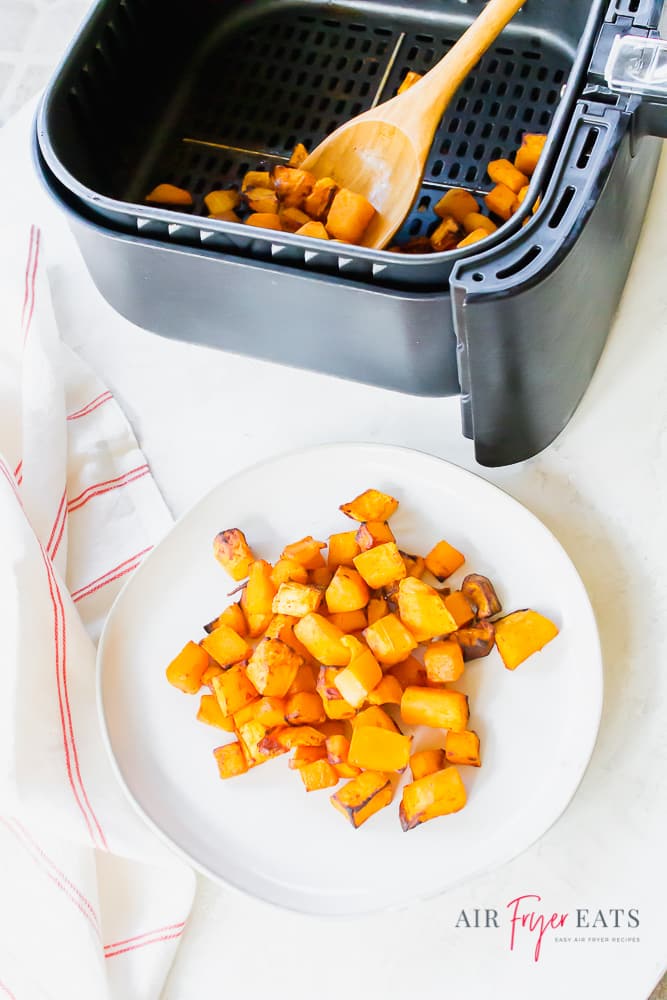 Seasonal Air Fryer Squash Recipes
Air Fryer Squash is a very popular seasonal vegetable. With zucchini and yellow squash peaking in the summer. Then butternut squash, acorn squash and spaghetti squash make their appearance in the fall, just in time for cozy dinners and holiday meals. These fall and winter squashes have a long shelf life. You can store them in a cool dark place and they can last for months!
Air Fryer Butternut Squash - Air Fryer Butternut Squash is a yummy, kid-friendly side dish that brings deep flavor and color to your dinner table. It is also a great air fryer vegetable to make a double batch of to have extras for the week.
Air Fryer Acorn Squash - We admit a cooked acorn squash is typically not a thing of beauty. Most will argue it tastes WAY better than it looks! You will be surprised at how quickly and perfectly acorn squash cooks in the air fryer! And you will be surprised at how much you love the flavor!
Air Fryer Spaghetti Squash - This Air Fryer Spaghetti Squash recipe is just ONE ingredient and can be the base for so many main or side dishes! Make this your own a million different ways with seasonings, proteins, and sauces!
Air Fryer Squash - Air Fryer Squash and Zucchini is a quick and easy side dish that will bring a pop of color to your dinner table. In less than 20 minutes, you'll have a tender and delicious side dish perfect for any meal!
Can I Freeze Air Fryer Vegetables?
When it comes to freezing air fryer vegetables, I would caution you. I've found that freezing vegetables that have already been cooked tend to make them super soggy when you reheat them. I would avoid freezing cooked vegetables, and refrigerate them instead. They make great leftovers!
Is Cooking Vegetables In the Air Fryer Healthy?
Yes! The air fryer is fantastic for making healthy meals and veggie side dishes. Most of our easy air fryer vegetable recipes are low-fat, use just a small amount of oil, and are healthy options for you and your family.
How to Make Crispy Vegetables in the Air Fryer?
Be sure to follow the recipes here for whatever type of veggie you want to make in the air fryer. Generally, the key to cooking crispy roasted vegetables in the air fryer is to make sure they are dry before you start cooking, coat them with a small amount of oil, and cook at the recommended temperature.
More Delicious Air Fryer Vegetable Recipes
Air Fryer Vegetable Recipes: Air Fryer Carrots
These Air Fryer Carrots are a snap to make in your air fryer. Air fried carrots are a quick and easy way to get a delicious vegetable side dish on your table in under 15 minutes.
Ingredients
1

lb

baby carrots

halved

2

T

butter

1

T

honey

optional
Instructions
Wash baby carrots and cut into halves. Add the carrots to a baking pan or other oven safe bakeware.

Season the carrots with 2 T of butter. Optional: salt and pepper

Cook at 380 degrees F (193 C) for 15 minutes. Check at 10 minutes, if you like the tenderness you can stop the cooking now. If you want your carrot softer, continue to cook.

Then remove, serve with your favorite toppings, and enjoy!
Go AD FREE!
Notes
Pro Tip: This recipe can be made in the air fryer unit with a basket or the air fryer oven. If you are using the air fryer oven, use the middle rack and select the "Air Fry" function.
Nutrition
Calories:
107
kcal
|
Carbohydrates:
14
g
|
Protein:
1
g
|
Fat:
6
g
|
Saturated Fat:
4
g
|
Cholesterol:
15
mg
|
Sodium:
139
mg
|
Potassium:
269
mg
|
Fiber:
3
g
|
Sugar:
10
g
|
Vitamin A:
15815
IU
|
Vitamin C:
3
mg
|
Calcium:
36
mg
|
Iron:
1
mg
Tired of the ads?
Go AD Free - Become part of our Membership community!
Air Fryers can vary greatly. Please take the time to learn your specific air fryer. You may need to adjust times and temperatures based upon your air fryer.
All though this website attempts to provide accurate nutritional information, the information should only be considered an estimate. Varying factors such as different product types, different brands, etc. can change nutritional information. It is your responsibility as a consumer to read all labels to make sure the ingredients fit your dietary needs as well as calculate your own nutritional information as a double check.