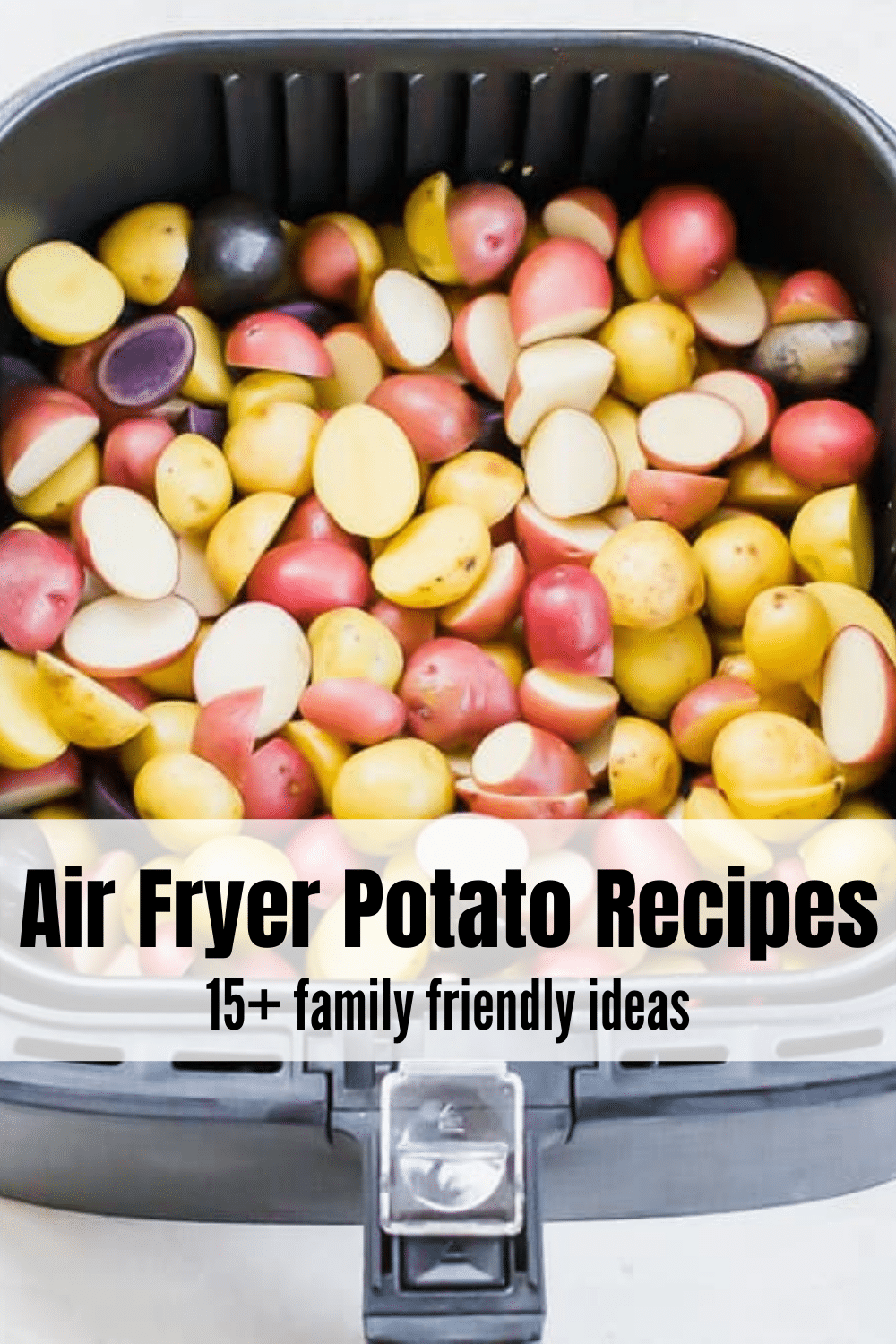 Air Fryer Potatoes are the best easy side dish that's versatile for every meal! From crispy potato wedges to the classic baked potato, make all your favorite comfort foods in the air fryer.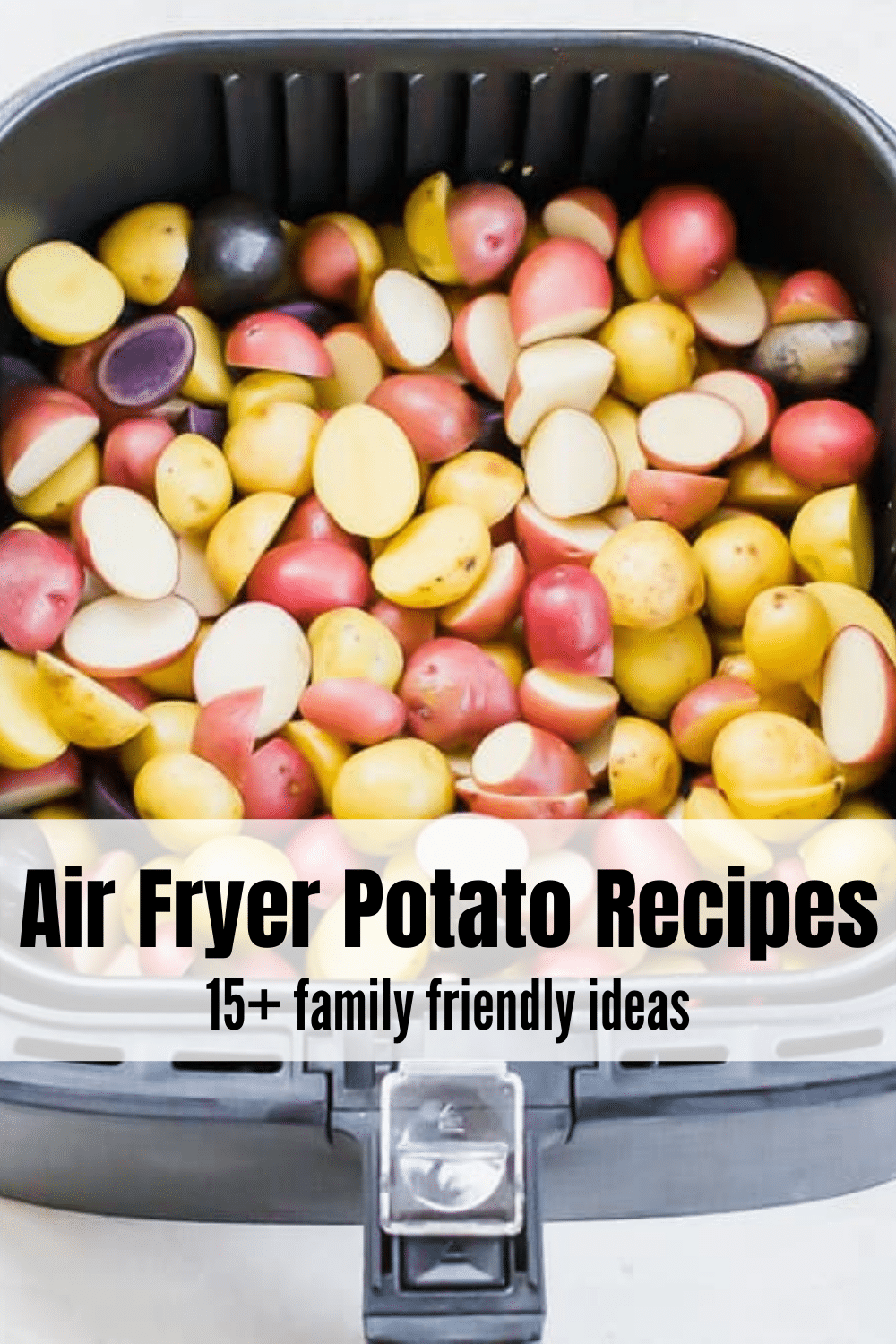 AIR FRYER POTATO RECIPES
I love all things potatoes. Mashed, baked, roasted, in a salad— they're all comforting and delicious with minimal work. But the best way to make potatoes, I think, is in the air fryer.
If you have never made potatoes in the air fryer, you are in for a treat! Cooking potatoes in your air fryer is quick, simple and oh so delicious. Forget roasting potatoes in the oven — this will be your new go-to for all potato side dishes.
INGREDIENTS FOR AIR FRYER POTATOES
Potatoes: Fresh or frozen, just about any potato can go in the air fryer! No need to thaw if they are frozen, simply adjust the cooking time.
Oil: To make your air fryer potatoes perfectly nonstick, add a little oil to the mix. Olive oil, avocado oil, sunflower oil — you name it.
If you have any questions about how to make air fryer potatoes, please leave a comment below and I will get back to you ASAP!
DELICIOUS AIR FRYER POTATO RECIPES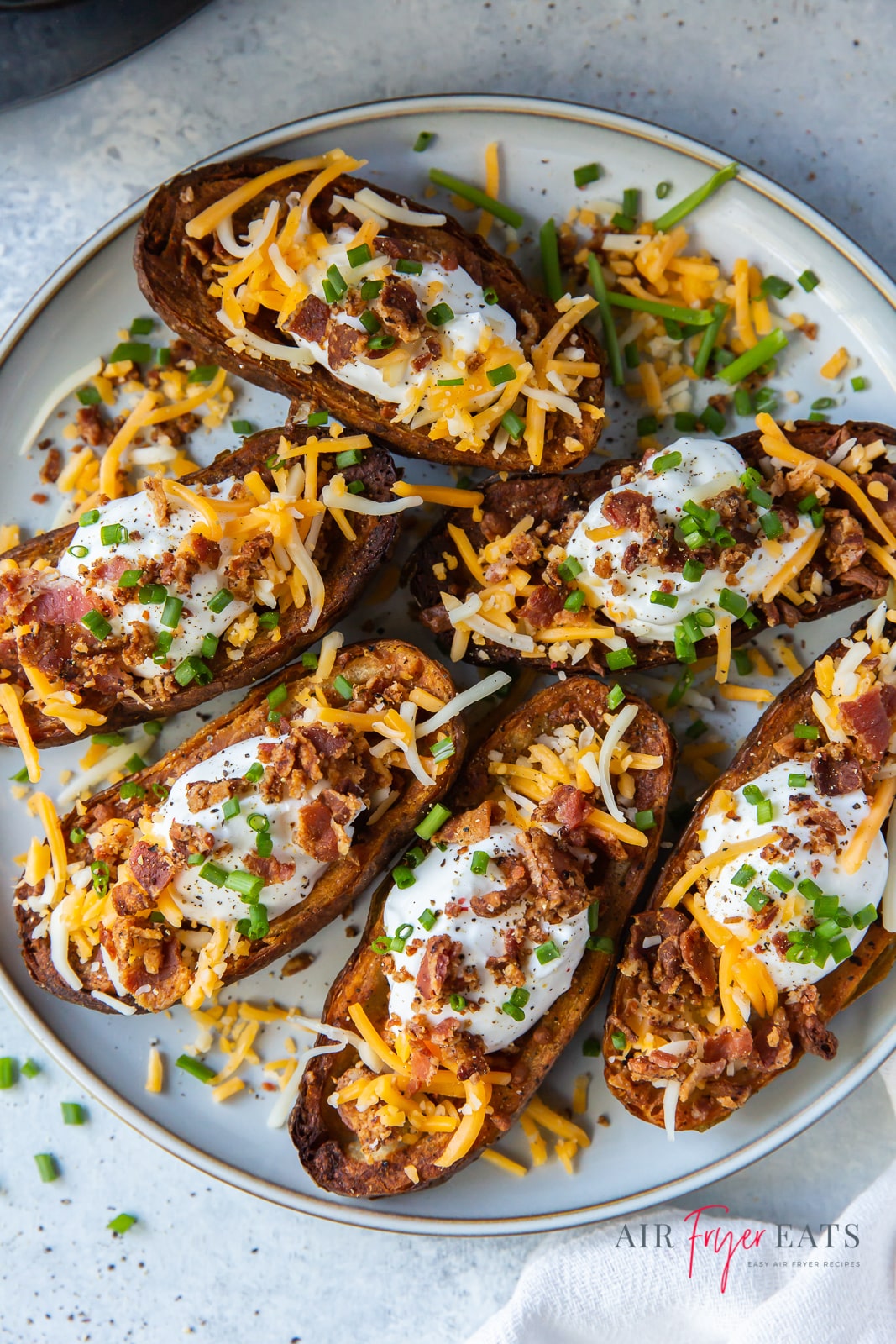 Make your favorite bar snack food as crispy as can be with the air fryer! I love air fryer potato skins because they're perfect for a gameday appetizer or a quick vegetarian dinner.
You'll just need some already Air Fried Baked Potatoes to get started with this recipe for loaded potato skins. The rest of the ingredients — AKA all your fav baked potato toppings — you might already have in your fridge.
In a rush? Make frozen potato skins in the air fryer, too! You can make and freeze your own for the speediest dinner in just 8 minutes.
Air Fryer Steak Fries are perfectly seasoned, rustic French fries that cook up beautifully crispy in your air fryer. The best potato wedges are fluffy on the inside and crispy on the outside.
Frozen french fries in the air fryer are great, but there is something special about making your own fries. I usually use Russet potatoes for this potato recipe to get the biggest fries.
No need to skin them! Just be sure to wash all raw potatoes well before slicing and cooking.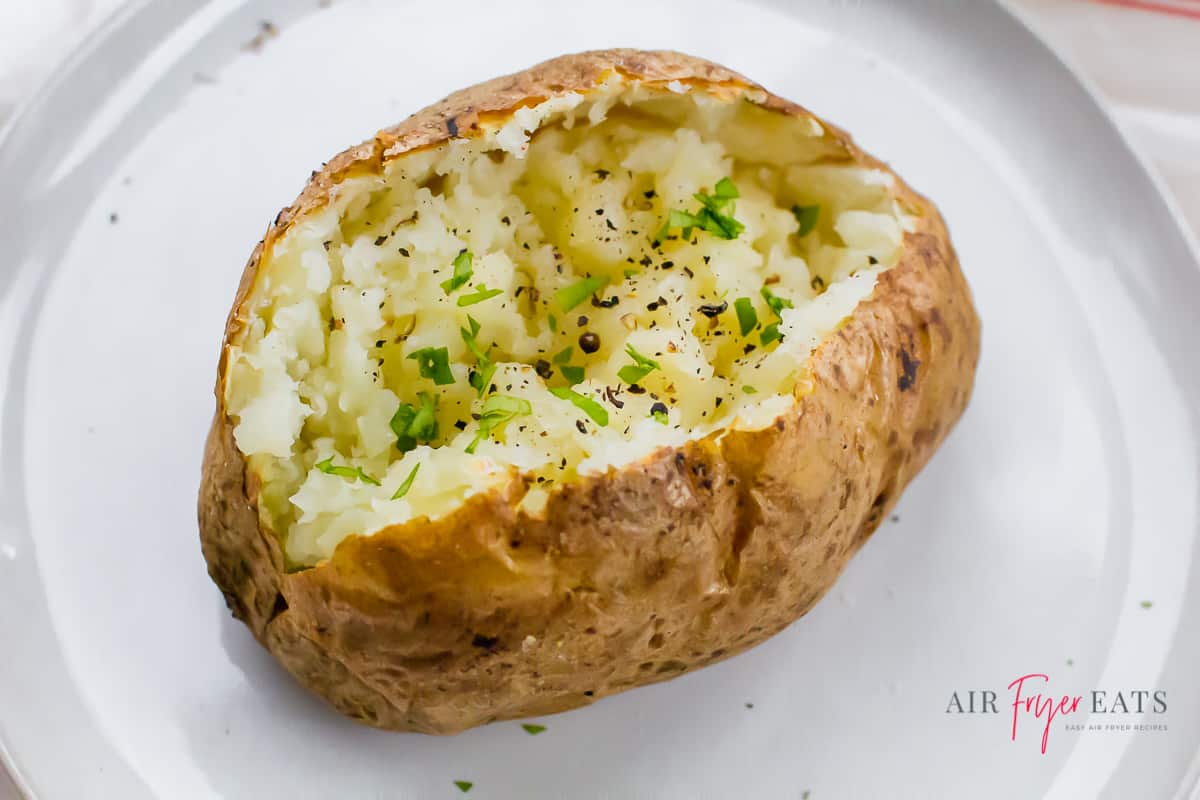 There's something so comforting about a simple warm baked potato. Fall in love with these air fryer baked potatoes that are a quick and easy side dish to make without heating your whole kitchen!
Keep it simple with a little salt, pepper, and butter, or go all out with a loaded baked potato. You can always add shredded cheese, sour cream, bacon, chives, or even a whole meal to your baked potatoes.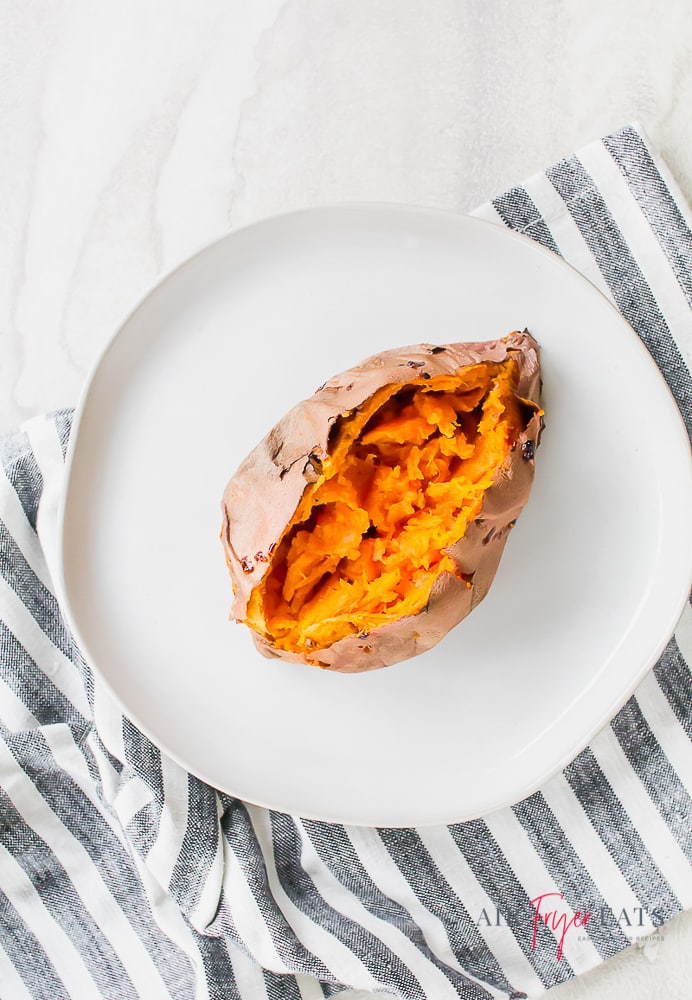 Sweet potatoes are delicious AND healthy, too, but they take forever to bake in the oven. Sweet potatoes in the air fryer are far less daunting and perfectly crisp on the outside and fluffy on the inside every time.
I usually keep this simple with a little butter and salt, but if you're looking for something special, add a little brown sugar, maple syrup, honey, marshmallows, or cinnamon for a sweeter potato.
You can also keep it savory with garnishes like sour cream, chives, bleu cheese, walnuts, or even chili!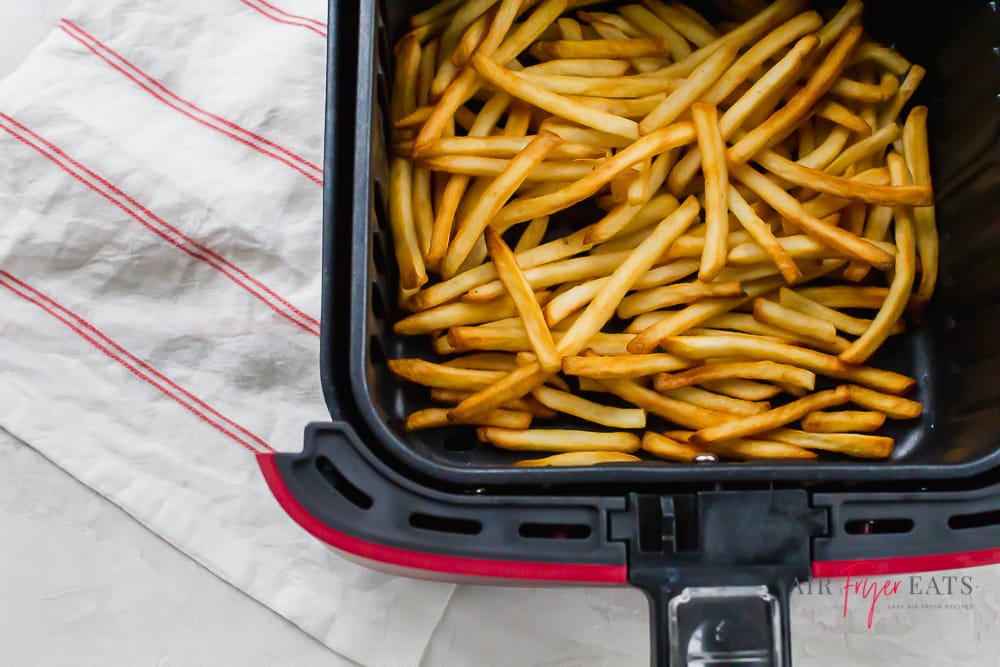 Making french fries in your air fryer is a total breeze! Just one bite of these perfectly crispy fries is like a trip to your favorite burger joint.
I always have a bag of frozen French fries in the freezer just in case. Skip the oven directions and make the best fries in the air fryer. Gone are the days of limp, lifeless french fries that take forever to cook in the oven!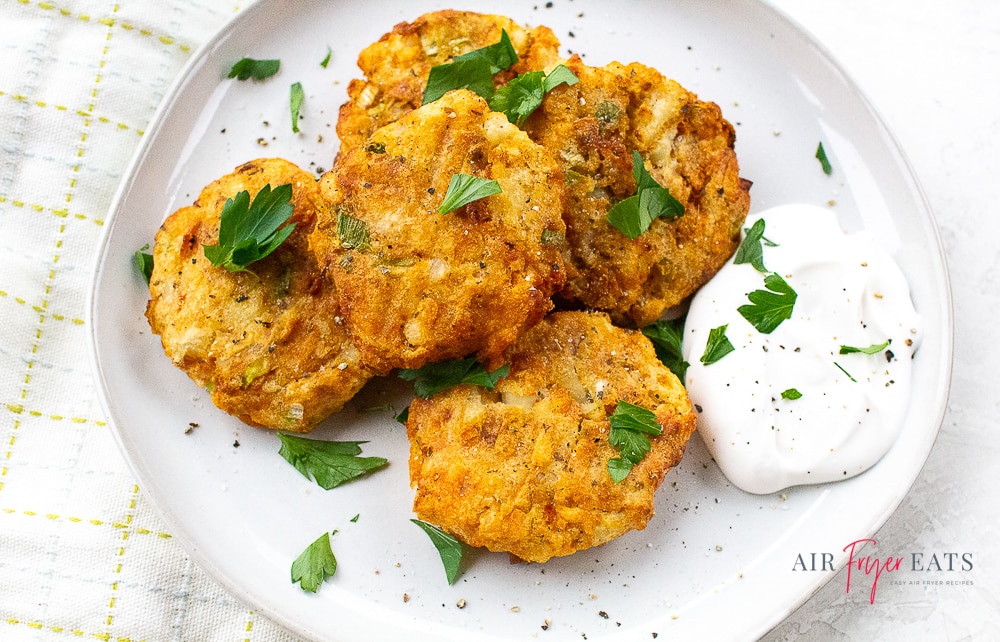 I love a simple potato pancake, and they don't get crispier than in the air fryer! The best part: It's made with leftover mashed potatoes!
This easy latke recipe is great for the holiday season or as a quick vegetarian dinner idea. Don't forget the applesauce or sour cream for dipping!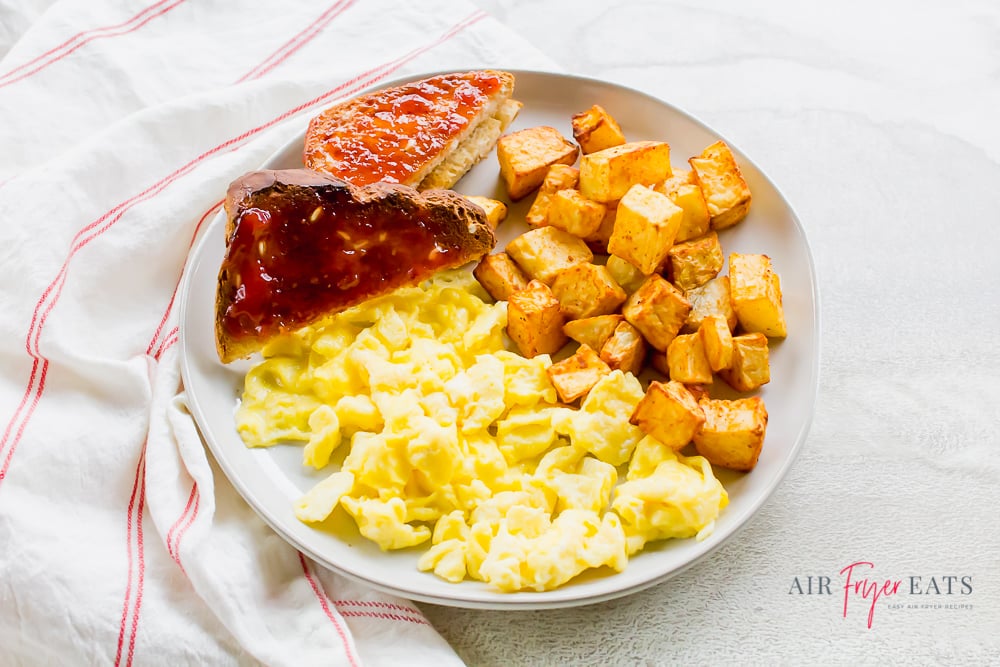 Potatoes are not just for dinner! Make the crispiest fried breakfast potatoes in the air fryer in just 25 minutes for a flavorful breakfast side dish. These are my absolute favorite air fryer potatoes!
They're crispy on the outside and pillowy on the inside, just like they should be. Keep it simple or make a breakfast potato hash with bacon, onions, and chives.
MORE AIR FRYER POTATOES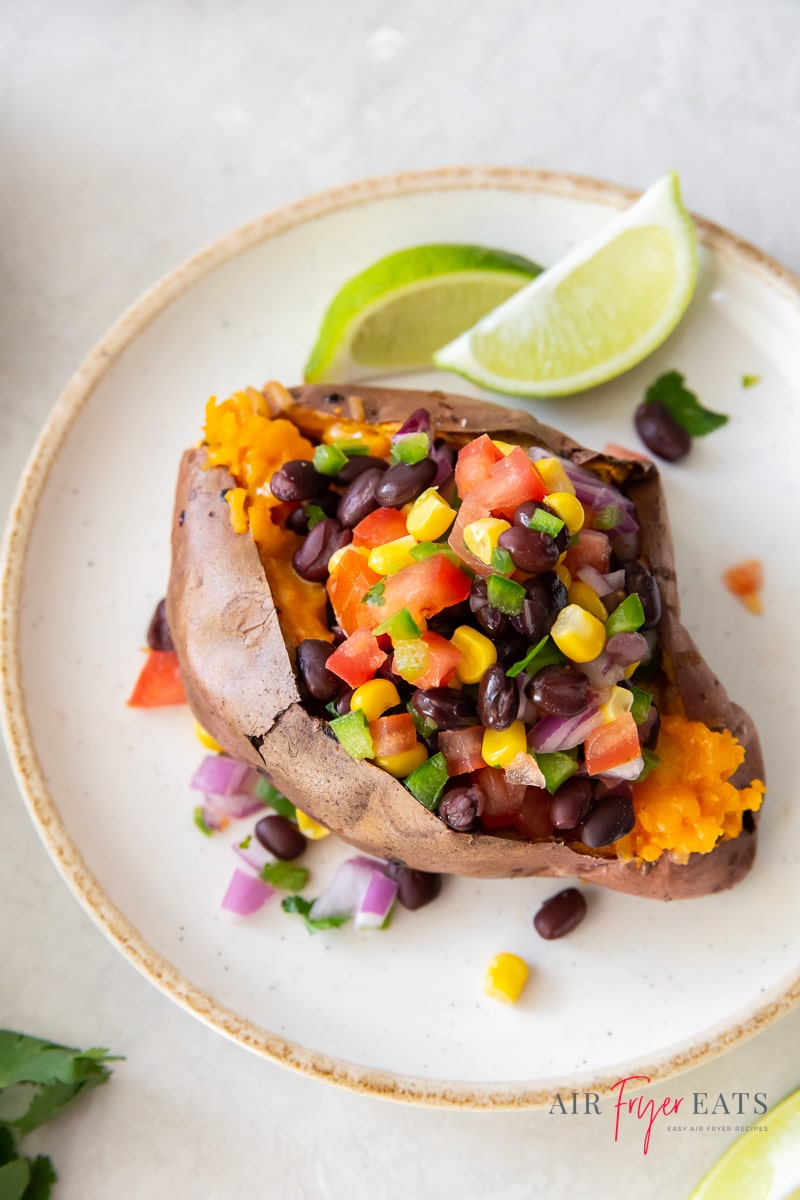 Looking for a Taco Tuesday alternative? I love these Mexican stuffed sweet potatoes packed with all my fav taco toppings!
They're filled with tomatoes, black beans, corn, red onion, jalapeños, and of course a little cilantro. I like to add a little hot sauce for an extra kick.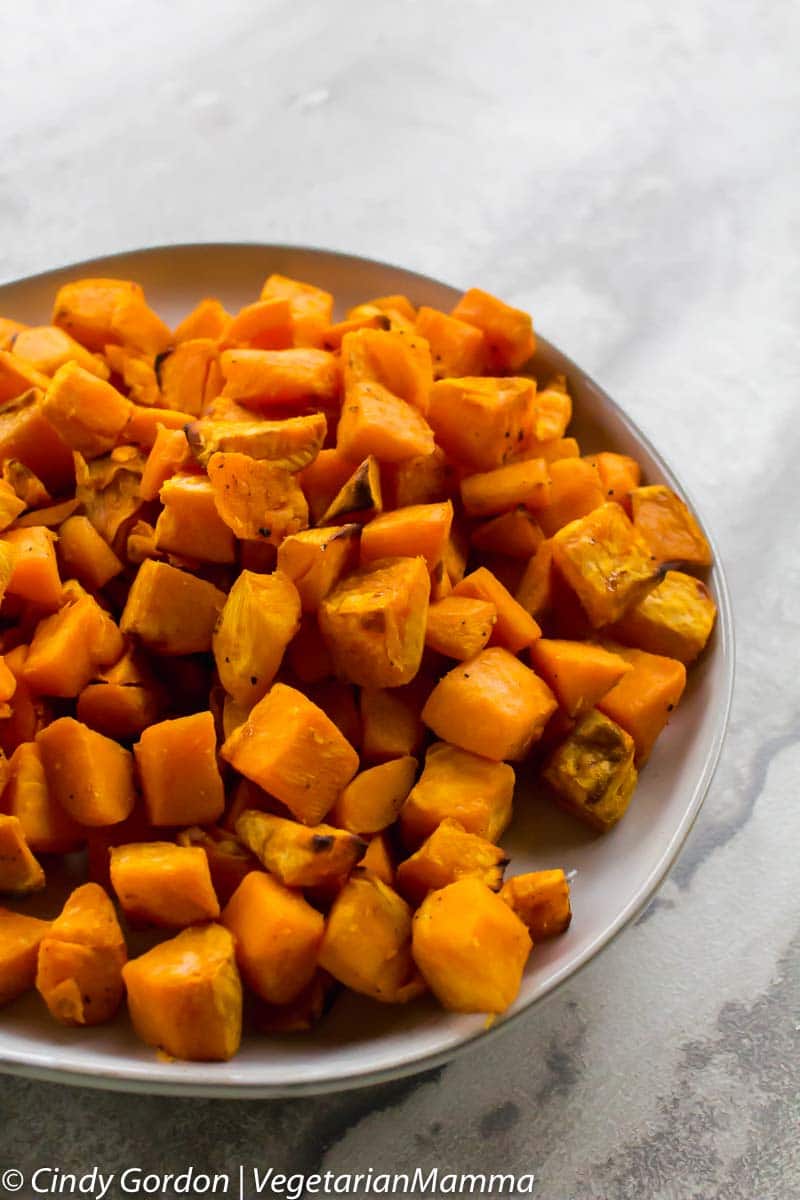 Fall is meant for all things sweet potato. This Air Fryer Sweet Potato Hash is such an easy and versatile side dish! It's made with just sweet potato cubes, a little oil, and some salt and pepper.
You can dress it up with your fav hash ingredients like bacon, onions, fall veggies, peppers, chives, or even a fried egg.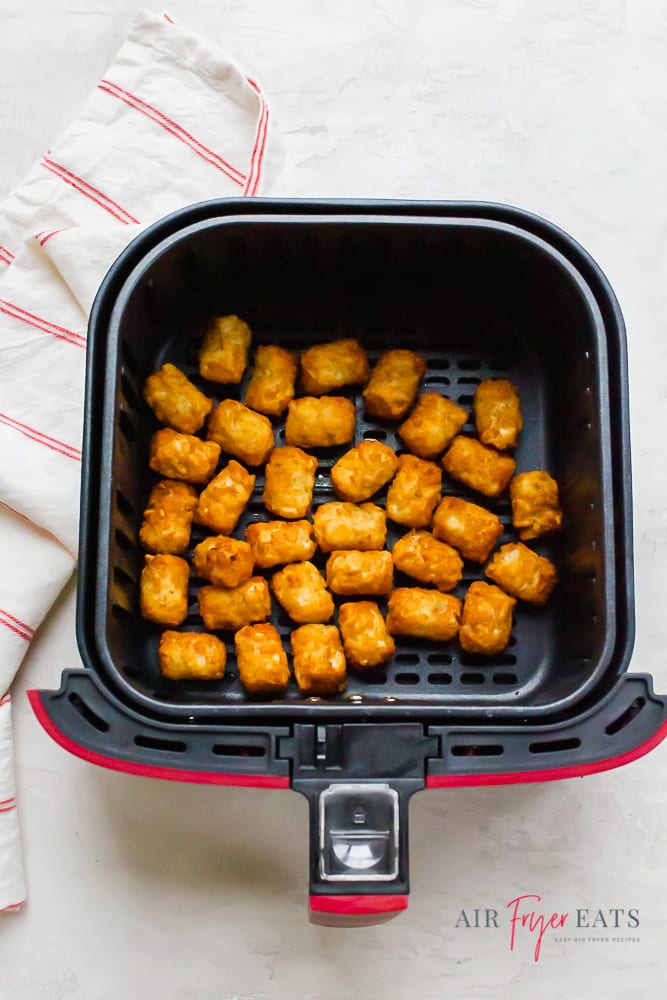 I always have a bag of frozen tater tots in my kitchen for emergencies. If you have not made frozen tater tots in the air fryer yet, stop what you're doing and make them right now.
They're super crispy, just like your favorite restaurant. Say goodbye to soggy frozen food forever!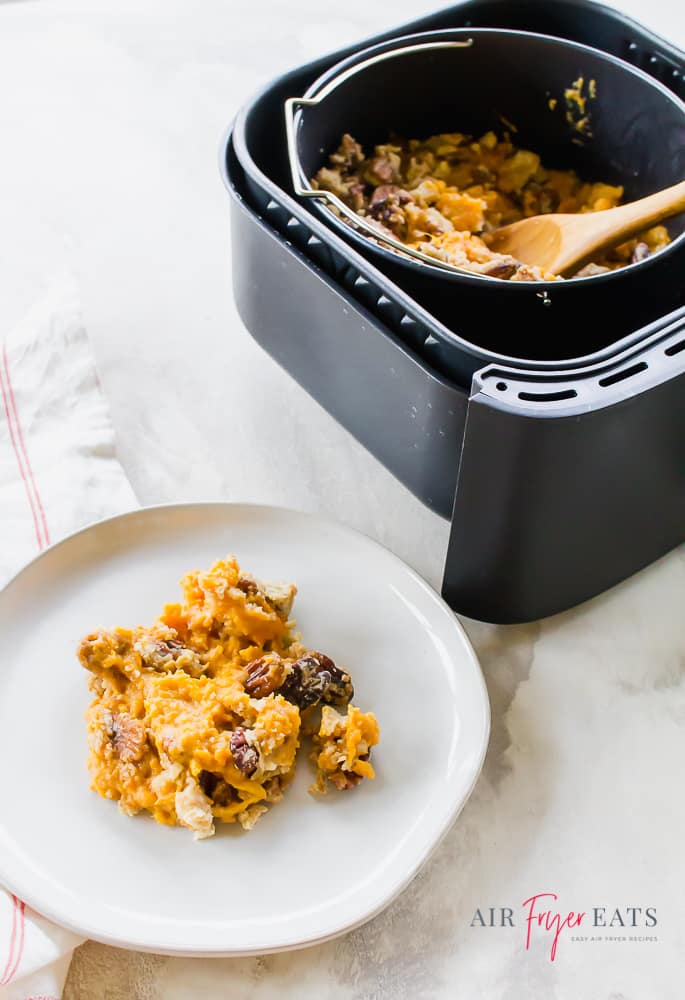 When it comes to Thanksgiving, anything you can make in advance or out of the oven is a lifesaver. Impress at the next holiday dinner with this air fryer sweet potato casserole!
The fluffy sweet potato filling and crunchy pecan topping will be the star of the show. All you need is an air fryer pot or Pyrex dish to make it.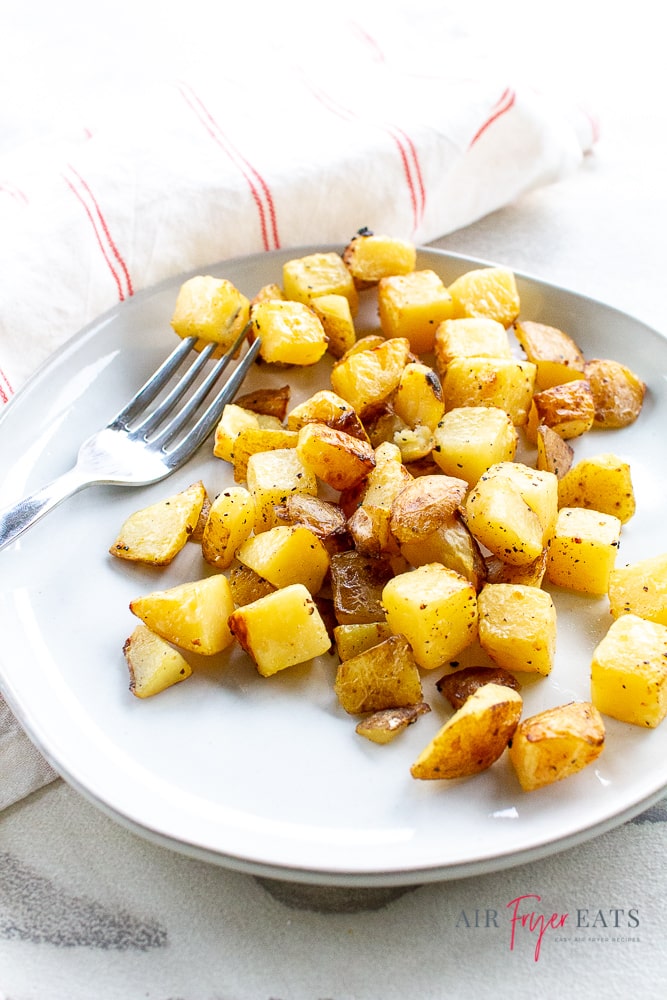 Did you know you can make delicious crispy canned potatoes in the air fryer? That's right, shelf stable canned potatoes are easy to make in your air fryer.
Canned food may not be the freshest, but I always have a few canned veggies in the pantry. In less than 20 minutes, start to finish, you will have a plate full of crispy, delicious golden brown air fried potatoes!
HOW TO MAKE THE BEST AIR FRYER POTATOES
When it comes to air fried potato recipes, crispy on the outside and fluffy on the inside is always the goal. That's where all the comfort comes from! Here's some tips and tricks to make the most yummy potatoes in the air fryer every time:
Preheat the air fryer. For the crispiest air fried potatoes, be sure to preheat the air fryer. If yours doesn't have a preheat setting, simply run it for a few minutes before adding your potatoes. This keeps the potatoes from steaming while it heats.
Add a little oil. When it comes to the air fryer, a little oil always helps everything cook without sticking. For potatoes, it also makes that delicious potato skin extra crispy.
Pierce whole potatoes before cooking. When you are making a baked potato, be sure to pierce the skin with a fork a few times to release the steam.
Switch up the seasonings. A lot of these air fryer potato recipes are simple and seasoned with the basics. You can add tons of different seasonings depending on your menu! Try Italian seasoning, garlic, and a little parmesan cheese for a versatile potato side dish, or a little cumin and paprika for a Mexican side even kids will love.
Flip everything. For the most even cooking, be sure to flip baked potatoes or sweet potatoes while it cooks. For smaller items like French fries, simply shake the basket every few minutes for even browning.
WHAT TO SERVE WITH AIR FRYER POTATOES
Make dinner an entire air fryer meal with Air Fryer Chicken Breasts, Baked Pork Chops in the Air Fryer, Air Fried Hamburgers, or even Air Fryer Chicken Fried Steak! Air fryer potatoes go with almost anything, really.
Don't forget dessert with these Air Fryer Peanut Butter Cookies, Banana Chips in the Air Fryer, or these amazing Air Fryer Chocolate Glazed Donuts. There's truly nothing the air fryer can't do.
WHICH POTATOES ARE THE BEST FOR AIR FRYING?
I have yet to find a potato that is not delicious in the air fryer. However, you will want different potatoes depending on your air fryer potato recipe.
Russet potatoes are best for bigger items, like whole baked potatoes or crispy potato wedges.
Yukon gold potatoes are my favorite for a simple roasted potato side dish. They turn a deep golden brown when air fried and are super creamy and flavorful. Perfect for breakfast potatoes!
Red potatoes are my favorite for a pot roast or German potato salad. While they roast beautifully, they lose their crispiness as they cool.
Baby potatoes aren't actually a variety of potato — they are simply potatoes harvested very early. These make for a beautiful presentation since they are small enough to eat without having to chop!
WHY DO YOU SOAK POTATOES IN WATER BEFORE AIR FRYING?
If you want the crispiest air fried potatoes, you will want to soak them at least an hour before cooking.
This does not apply for frozen potatoes, only fresh. Soaking them helps rinse away excess starches for a perfectly crunchy potato wedge.
Be sure to completely dry potatoes before cooking for the crispiest exterior possible.
WHY ARE MY AIR FRYER POTATOES NOT CRISPY?
There are a number of reasons why your air fryer potatoes are not as crispy as you want.
If you overcrowd the air fryer basket, the potatoes will steam instead of air fry.
Be sure to dry every potato well before cooking. Any excess water will also steam the potatoes.
If you use too much oil, the fries will become soggy and greasy instead of crispy while absorbing excess oil.
Always soak fresh potatoes for the crispiest final result.
If the potatoes look brown but not on all sides, shake the basket and keep cooking.
Potato Fun Facts
If you are like me, you love ALL things potatoes.
Unlike most veggies, potatoes are still very much alive when you buy them at the store. Warmth and moisture can make the spuds sprout, which is why they should always be stored in a cool, dry spot.
Sweet potatoes, while almost identical to russet potatoes, aren't actually potatoes at all! They're from the morning glory family and are actually swollen roots!
Ireland is easily the most famous place to enjoy potatoes, followed quickly by Idaho, but the original potatoes actually date back to the Inca Indians in Peru in approximately 8,000 B.C. Eventually they made the journey to Europe and took over the world.
Potatoes in space?! The first vegetable grown in space was actually a potato in partnership with NASA and the University of Wisconsin.
Everyone loves potato chips, but unfortunately — or maybe luckily — they were invented by mistake. Chef George Crum was annoyed that Cornelius Vanderbilt had sent back his regular thick-cut potatoes. In retaliation, Crum cut the potatoes paper thin, fried then, and the rest is history.
Potatoes are popular science fair experiments, but they have also been used by ancient cultures to prevent rheumatism, soothe a toothache, clear up blemishes, or even heal broken bones. There's nothing a humble potato can't do!
Air Fryer Potatoes: Featuring Air Fryer Mexican Sweet Potatoes
Tender, perfectly cooked Air Fryer Mexican Sweet Potatoes topped with fresh salsa are a vegan meal or side dish packed with fresh veggies and amazing flavors. This recipe is super simple, delightfully fresh, and great for meal prep too.
Ingredients
4

Sweet Potatoes

medium sized

1

tbsp

Avocado Oil

1

cup

Tomato

diced

1

cup

Black Beans

drained and rinsed

½

cup

Corn Kernels

frozen

¼

cup

Red Onion

diced

1

Jalapeño Pepper

diced, seeds removed

2

tbsp

Fresh Cilantro

finely chopped

½

tsp

Kosher Salt

1

Lime

juiced

Hot Sauce

to taste
Instructions
Pierce the sweet potatoes a few times with a fork, then place them in the basket of the air fryer. Rub with avocado oil.

Air fry at 400 degrees F for 35-40 minutes, or until tender.

While potatoes are cooking, make the salsa. In a mixing bowl, add tomato, beans, corn, onion, jalapeño, cilantro, lime juice, and kosher salt. Stir to combine, cover, and refrigerate until ready to use.

Split open cooked potatoes and serve filled with black beans salsa. Top with hot sauce if desired.
Go AD FREE!
Notes
If you want your salsa extra hot, don't remove the seeds from the jalapeno.
This meal works really well for meal prep. Keep refrigerated until ready to eat, up to 5 days.
Pro Tip: This recipe can be made in the air fryer unit with a basket or the air fryer oven. If you are using the air fryer oven, use the middle rack and select the "Air Fry" function.
Pro Tip: Check your food as it cooks. Each air fryer runs a bit differently. Sometimes airfying is a trial and error process. Check your food as it cooks to learn your air fryer better! When cooking a new recipe or food items be sure to check your food often to help avoid over/under cooking.
Have oven recipes that you'd like to convert to an air fryer recipe? Use our Air Fryer Calculator to help you estimate cooking times and temps! Calculator here:
https://airfryereats.com/air-fryer-conversion-air-fryer-calculator/
Nutrition
Calories:
315
kcal
|
Carbohydrates:
64
g
|
Protein:
8
g
|
Fat:
4
g
|
Saturated Fat:
1
g
|
Polyunsaturated Fat:
1
g
|
Monounsaturated Fat:
3
g
|
Sodium:
456
mg
|
Potassium:
1072
mg
|
Fiber:
12
g
|
Sugar:
12
g
|
Vitamin A:
32445
IU
|
Vitamin C:
21
mg
|
Calcium:
93
mg
|
Iron:
3
mg
Tired of the ads?
Go AD Free - Become part of our Membership community!
Air Fryers can vary greatly. Please take the time to learn your specific air fryer. You may need to adjust times and temperatures based upon your air fryer.
All though this website attempts to provide accurate nutritional information, the information should only be considered an estimate. Varying factors such as different product types, different brands, etc. can change nutritional information. It is your responsibility as a consumer to read all labels to make sure the ingredients fit your dietary needs as well as calculate your own nutritional information as a double check.