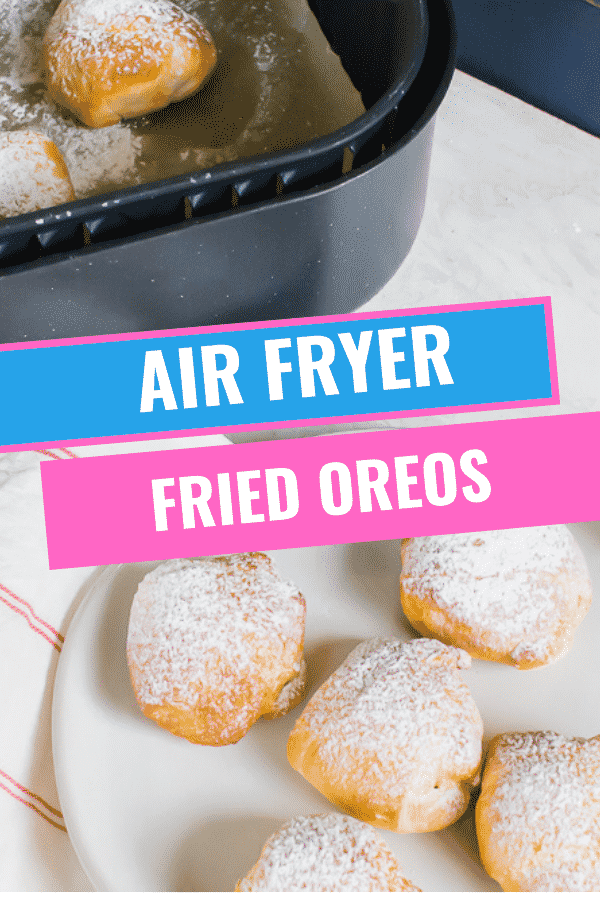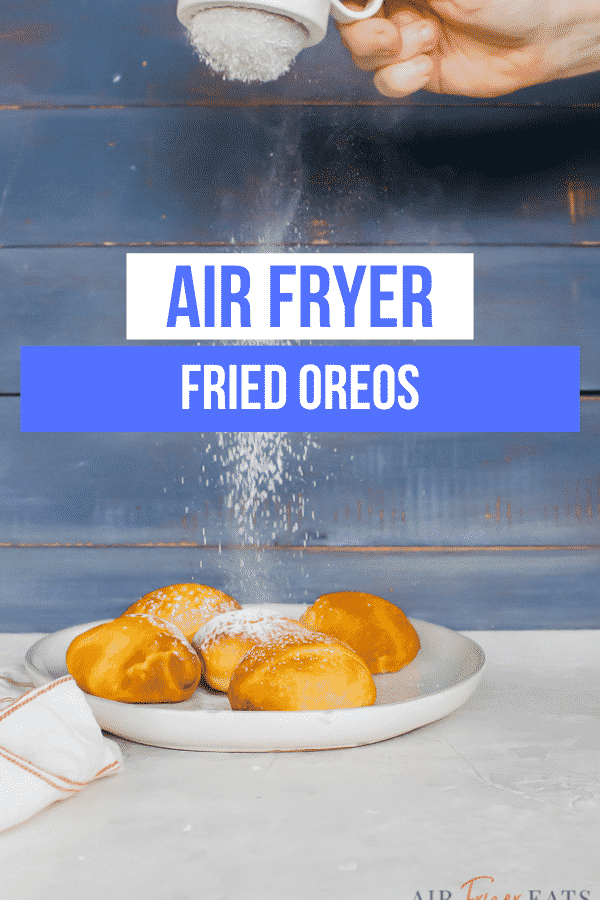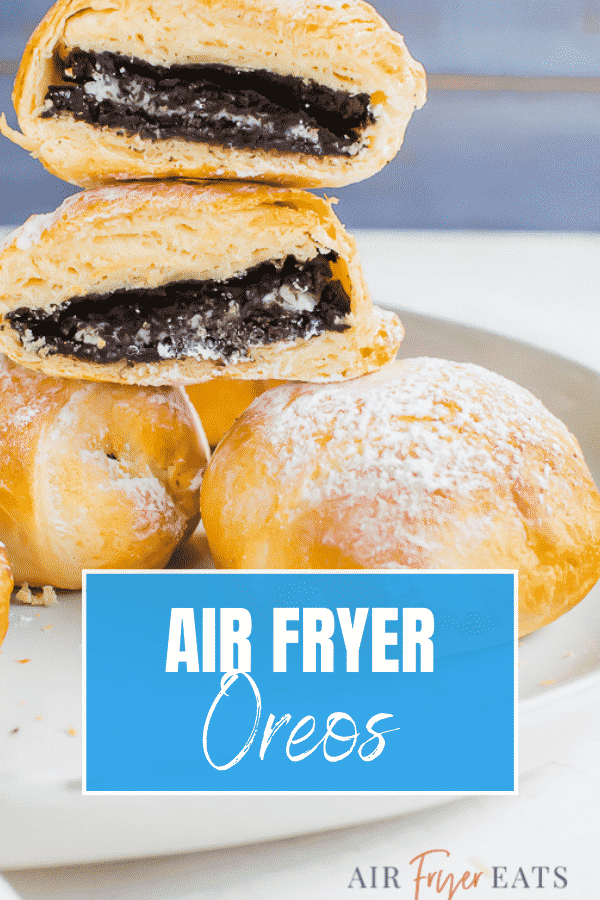 Air Fried Oreos are a healthier version of your favorite fair food! Just 3 ingredients and 5 minutes needed to make this quick and easy vegan dessert.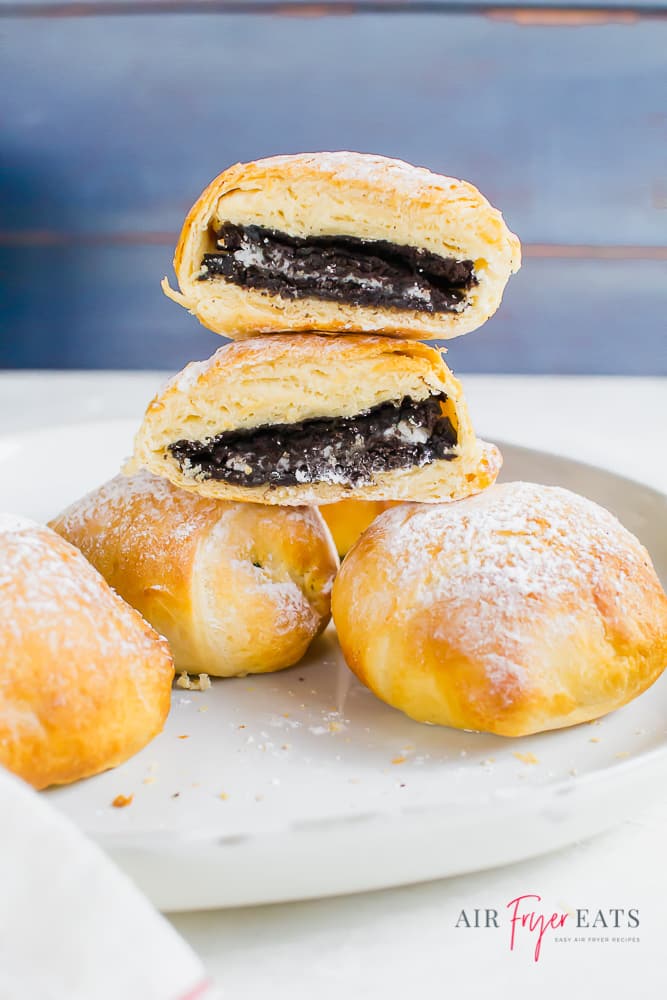 Air Fried Oreos Recipe
Fried food was a big part of my childhood. It's cheap, easy, and you can fry almost anything!
These Air Fried Oreos are the perfect quick and delicious dessert to whip up after dinner.
With just three simple ingredients — Oreos, canned crescent rolls, and powdered sugar — anyone can help with this dessert recipe!
Did you know Oreos are naturally vegan? Most crescent rolls are too, making this a great vegan option for a party! Just check your dough.
Got a sweet tooth? Try this dessert-for-breakfast Air Fryer Monkey Bread day or night or this homemade Superman Ice Cream!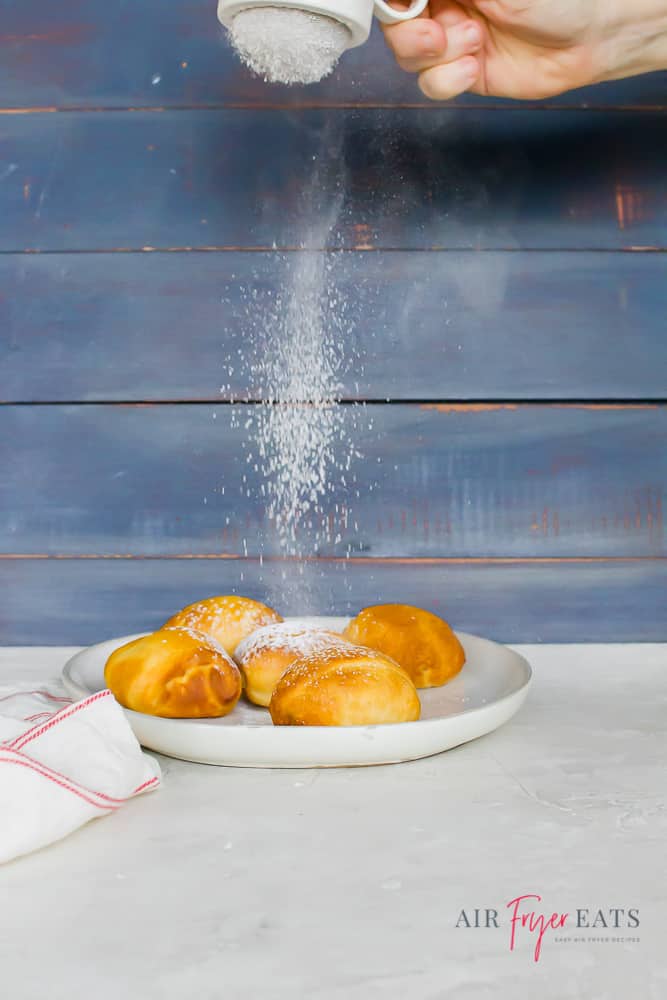 HOW TO MAKE AIR FRIED OREOS
This recipe makes 8 Air Fried Oreos because there's usually 8 crescent rolls in a can.
You can easily double or even triple this recipe for a party! Make them in batches and don't overcrowd your air fryer.
First, separate your crescent rolls and lay them on a piece of parchment paper.
Next, place an Oreo on each piece. I like to put them on the wider end to prevent leakage.
Now, gently wrap the Oreos in dough, covering all sides, and place in your air fryer basket or on your air fryer tray!
Then, cook your wrapped cookies for about 5 minutes at 350 degrees F (or 177 degrees C!) until the crescent rolls are golden brown.
Finally, remove Air Fried Oreos from the basket and sprinkle with powdered sugar.
Serve immediately. Enjoy!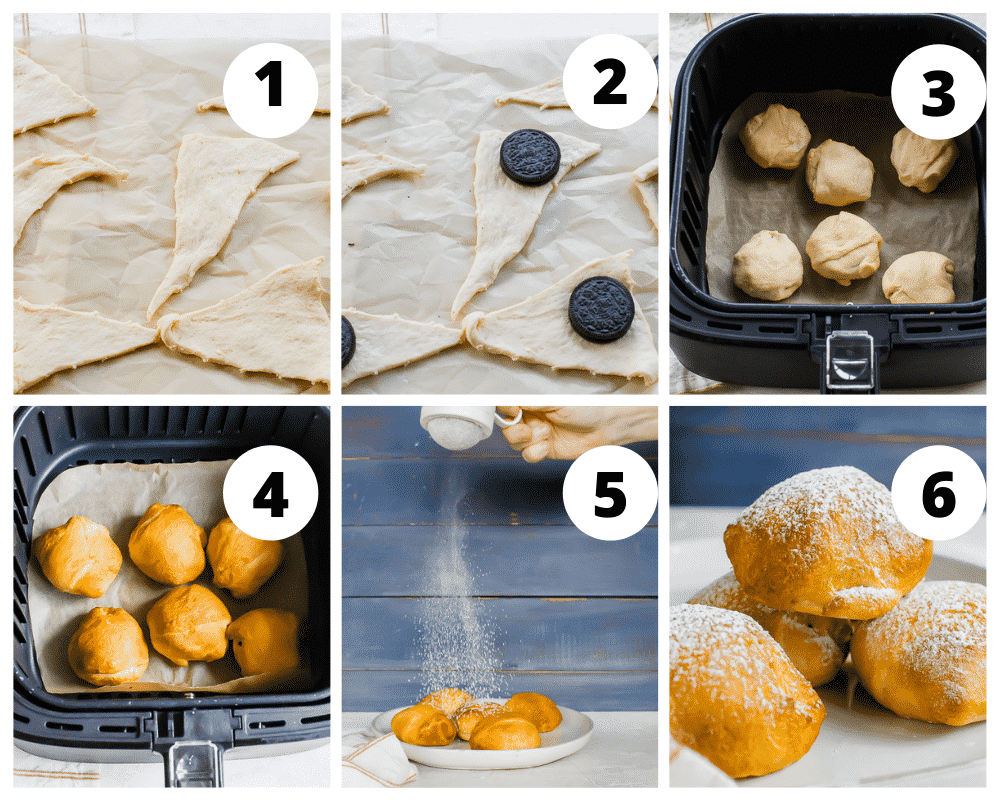 History of Fried Oreos
I first fell in love with traditionally fried Oreos at the state fair. It sounds so wrong, but it feels so right in your mouth.
The deep fried version was first introduced at the L.A. County Fair in 2002 thanks to Charlie Boghosian or "The Man Who Fries Everything."
Typically, fried Oreos are surrounded by a buttermilk pancake batter and fried in vegetable oil.
We cut the calories considerably with this air fryer recipe. It still cures that fair junk food craving!
How long do Fried Oreos last?
If you even have leftovers with this air fryer recipe, they won't last long.
Air Fried Oreos will last about 24 hours and can be stored in the fridge overnight if needed.
If you have to keep them, put them in a paper bag or in a container with a paper towel to help absorb the humidity.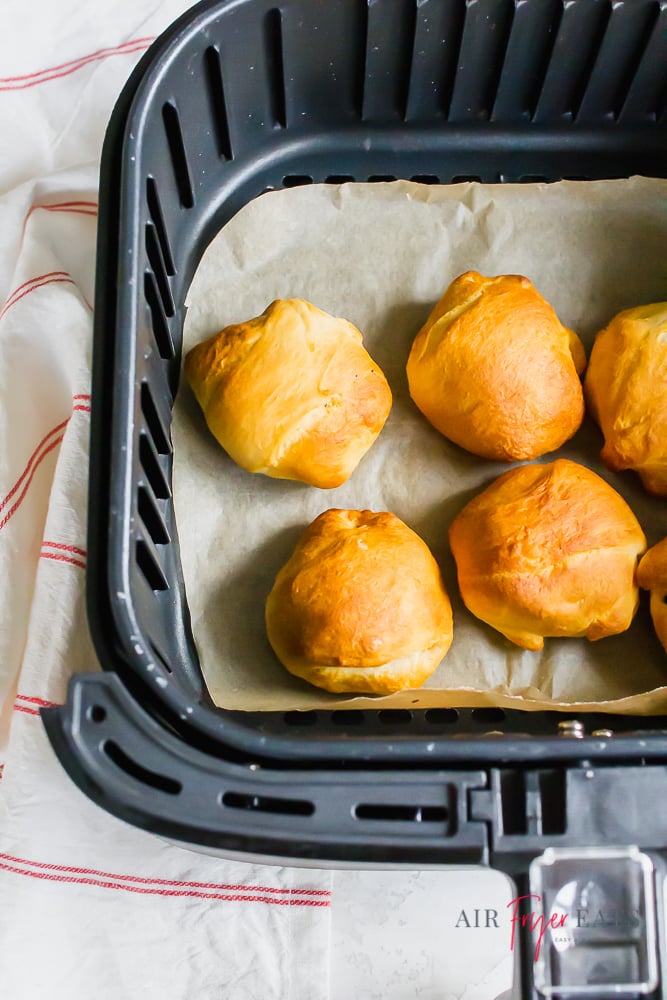 Other Easy Air Fryer Dessert Recipes
If you are hungry for desserts, raise your hand! We have some delicious air fryer and even some non air fryer dessert recipes on our sister site!
You have got to check out Air Fryer Peanut Butter Cookies, Vegan Double Chocolate Puppy Chow, Air Fryer Cupcakes, Air Fryer Spiced Apples and No-Bake Cornflake Cookies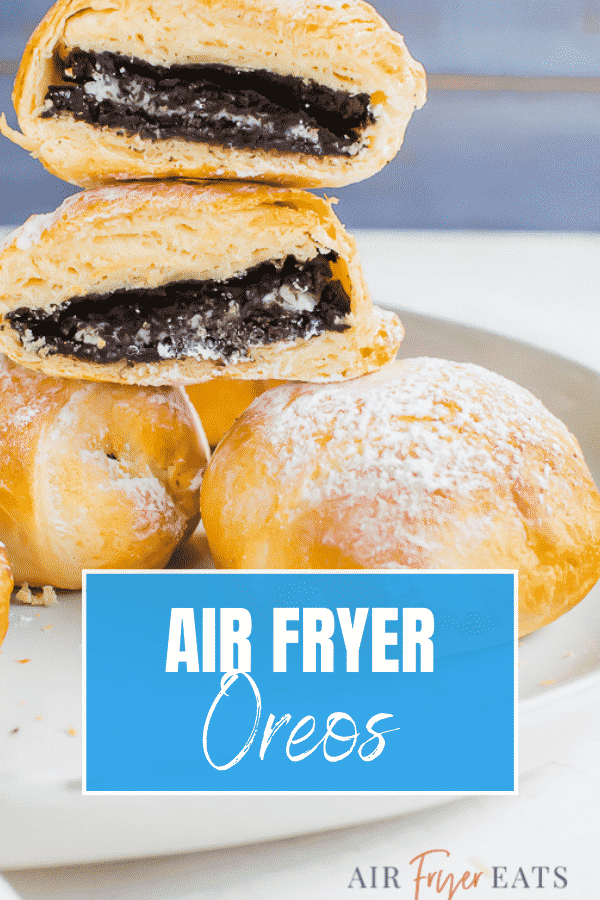 Pro Tips
Use Any Air Fryer: This recipe can be made in an air fryer unit with a basket or an air fryer oven. If you're using an air fryer oven, place your food on the middle rack and select the "air fry" function.
Check your food as it cooks! Since each air fryer runs differently, sometimes air frying is a trial and error process. When cooking a new recipe, be sure to check on your food often. This will help you avoid over or undercooking, and help you learn your air fryer's specific ways!
Air Fried Oreos
Enjoy this fair favorite at home with this quick and easy recipe! Just 3 ingredients and ready in 10 minutes.
Ingredients
8

Oreos

1

can

crescent rolls

Powdered sugar

for dusting, optional
Instructions
Separate crescent rolls and spread out on a baking sheet or plate.

Place one Oreo in each crescent roll. Gently wrap the dough around the cookie and place into air fryer basket.

Air fry wrapped Oreos at 350 degrees F (177 degrees C) for 5 minutes.

Remove fried Oreos from basket and dust with powdered sugar while warm. Serve immediately. Enjoy!
Go AD FREE!
Notes
Pro Tip:
This recipe can be made in the air fryer unit with a basket or the air fryer oven. If you are using the air fryer oven, use the middle rack and select the "Air Fry" function.
Nutrition
Calories:
155
kcal
|
Carbohydrates:
20
g
|
Protein:
2
g
|
Fat:
8
g
|
Saturated Fat:
3
g
|
Sodium:
277
mg
|
Potassium:
26
mg
|
Fiber:
1
g
|
Sugar:
8
g
|
Calcium:
3
mg
|
Iron:
1
mg
Tired of the ads?
Go AD Free - Become part of our Membership community!
Air Fryers can vary greatly. Please take the time to learn your specific air fryer. You may need to adjust times and temperatures based upon your air fryer.
All though this website attempts to provide accurate nutritional information, the information should only be considered an estimate. Varying factors such as different product types, different brands, etc. can change nutritional information. It is your responsibility as a consumer to read all labels to make sure the ingredients fit your dietary needs as well as calculate your own nutritional information as a double check.