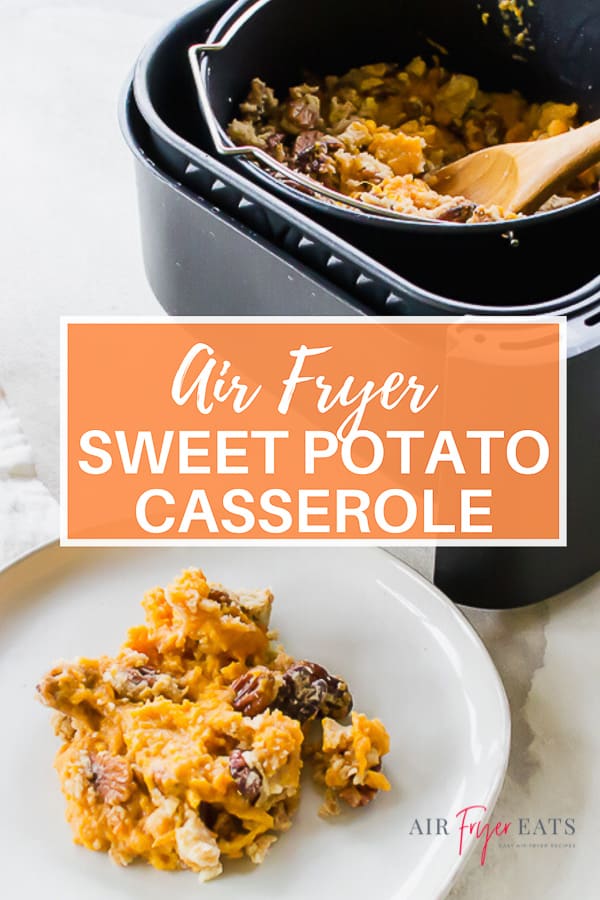 If you want to impress the crowd at your next holiday gathering, bring a dish of Air Fryer Sweet Potato Casserole. The fluffy sweet potato filling and crunchy pecan topping will be the star of the show!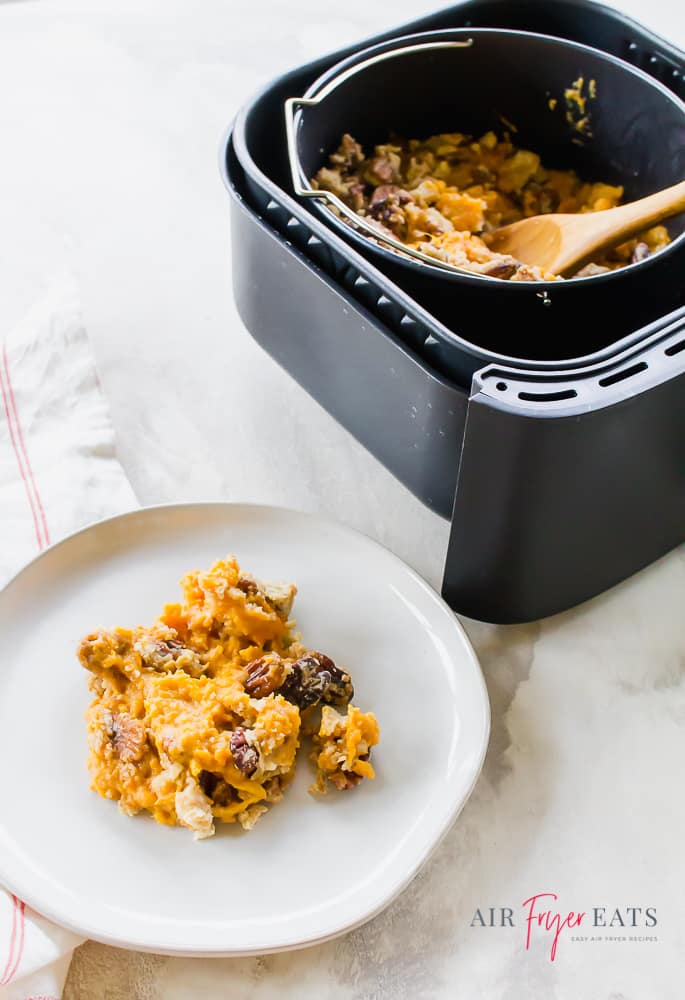 This Vegan Air Fryer Sweet Potato Casserole is a decadent dairy free, gluten free version of everyone's favorite sweet potato recipe.
The fluffy sweet cinnamon spiced filling is made with coconut milk for extra creaminess and flavor.
After it's baked it gets topped with an irresistible brown sugar pecan topping.
Not dairy free or gluten free? No problem, use your own favorite butter, milk and flour.
If you are looking for other side dishes like this one to supplement your holiday dinner table, you need to check out our Air Fryer Spaghetti Squash and our Air Fryer Zucchini.
Ingredients in Vegan Sweet Potato Casserole
Sweet potatoes
Full fat coconut milk (the canned stuff)
Brown sugar
Ground cinnamon
Cooking Sweet Potatoes
This recipe uses diced and boiled sweet potatoes.
They come out super soft, so the texture is perfect for mashing or whipping into a casserole.
First, you'll want to wash and peel your sweet potatoes, then dice them into one-inch cubes.
Next, bring a large pot of water to a boil on the stove.
Add the sweet potato cubes and boil for 10 minutes, or until soft.
Drain the water from the sweet potatoes using a colander before mashing.
If you prefer, you could totally save time and prep your sweet potatoes ahead using my air fryer sweet potato recipe. After air frying, allow the sweet potatoes to cool, then scoop the flesh out of the skin before mashing.
How to Make Vegan Sweet Potato Casserole
This sweet potato casserole is as easy as can be.
You can use a stand mixer or handheld mixer if you like, but I find that cooked sweet potatoes are soft enough to mash and stir by hand.
Here's how to make this easy sweet potato casserole:
First, mash your sweet potatoes in a large bowl using a potato masher or fork.
Then, add brown sugar to the bowl.
Measure out 1/2 cup of canned coconut milk, using the cream from the top first, and add it to the bowl.
Next, add ground cinnamon and melted vegan butter to the bowl.
Use a fork to mix all of the ingredients until combined.
Spread the vegan sweet potato mixture into an oiled oven safe baking dish, top with topping (directions below) and put into the air fryer basket.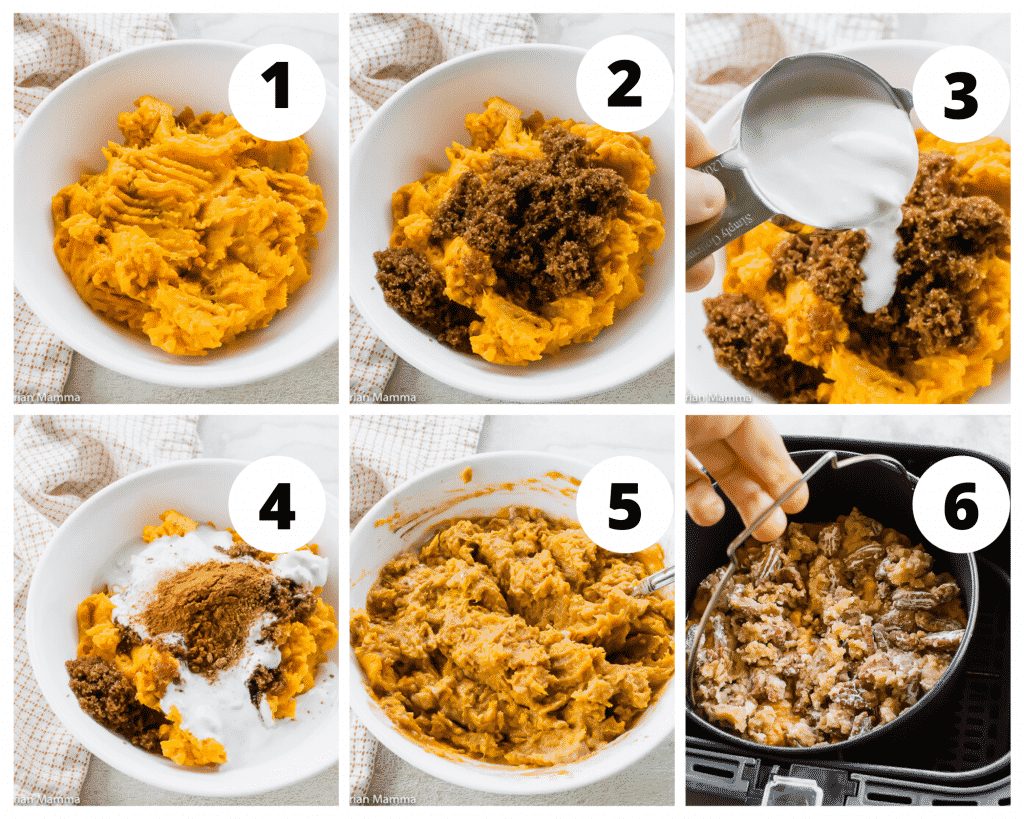 How to Make Pecan Streusel Topping for Sweet Potato Casserole
It may seem fancy, but making a pecan streusel is super easy. Follow these simple steps to make this yummy streusel topping:
Add flour to a large bowl.
Then add brown sugar.
Add the cinnamon.
Pour in melted vegan butter.
Use a fork to combine all of the ingredients until the mixture becomes crumbly.
Stir in the pecans.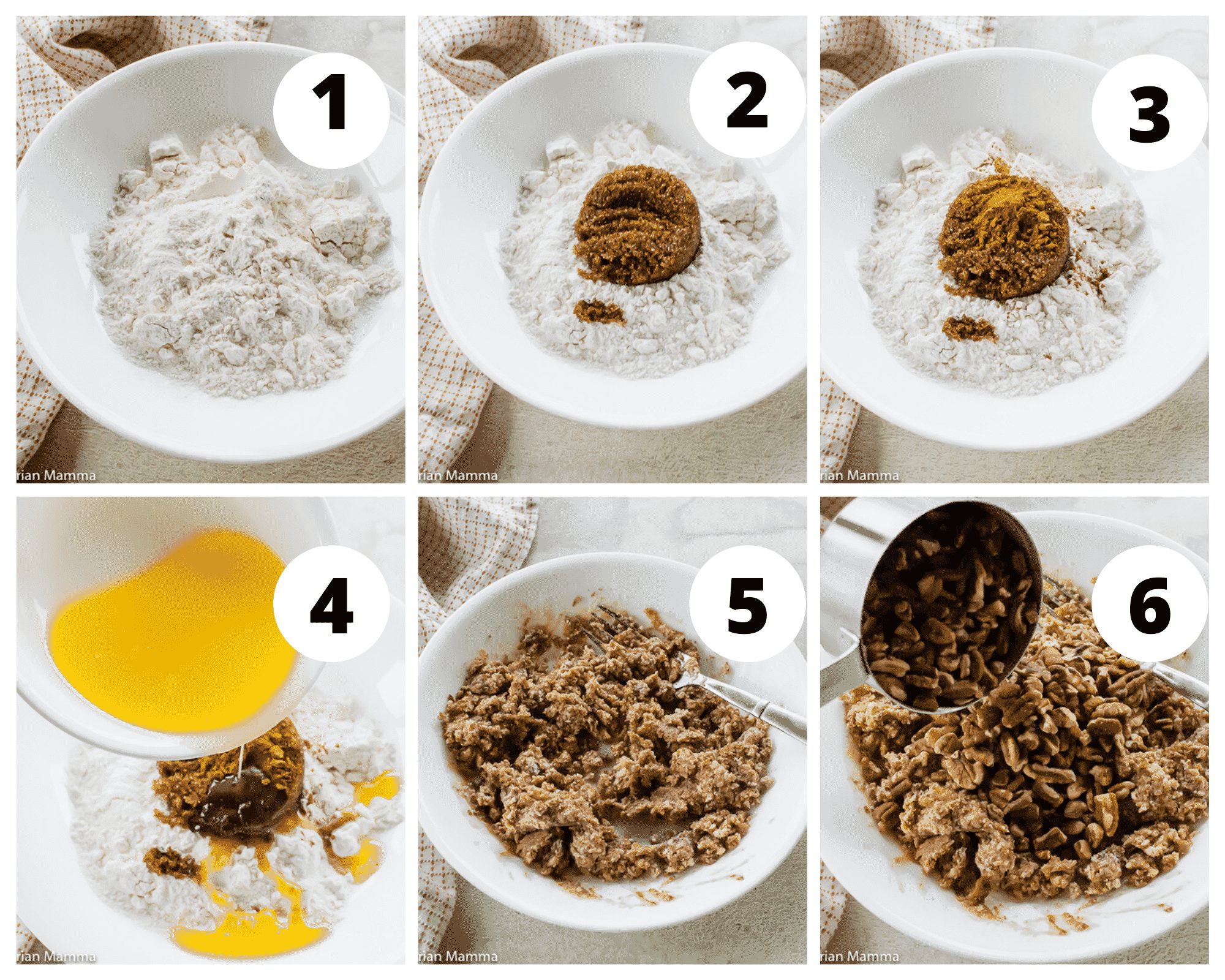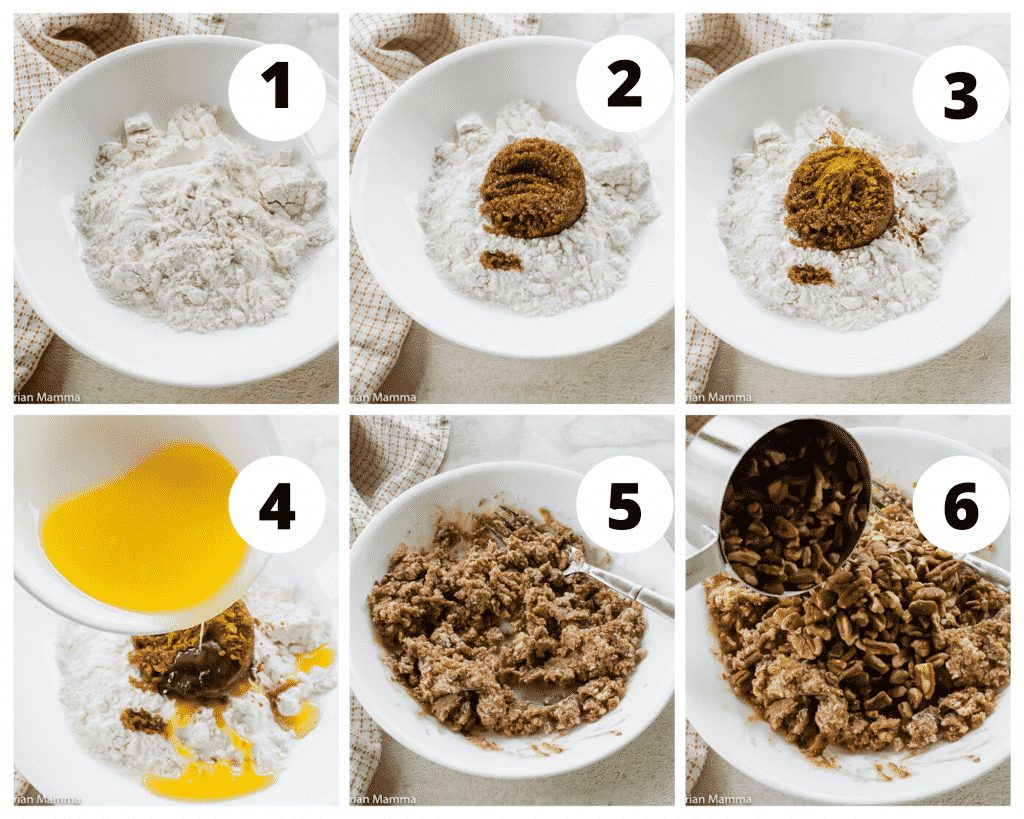 How to Assemble a Sweet Potato Casserole
After you're done mixing your pecan streusel topping, all that's left to do is put everything together.
First, Sprinkle the pecan crumble topping over the top of your sweet potatoes in an even layer.
Use your hands to spread it out if needed.
Finally, pop your sweet potato casserole in the oven and bake at 350° for 30-35 minutes or until cooked through and the middle is set.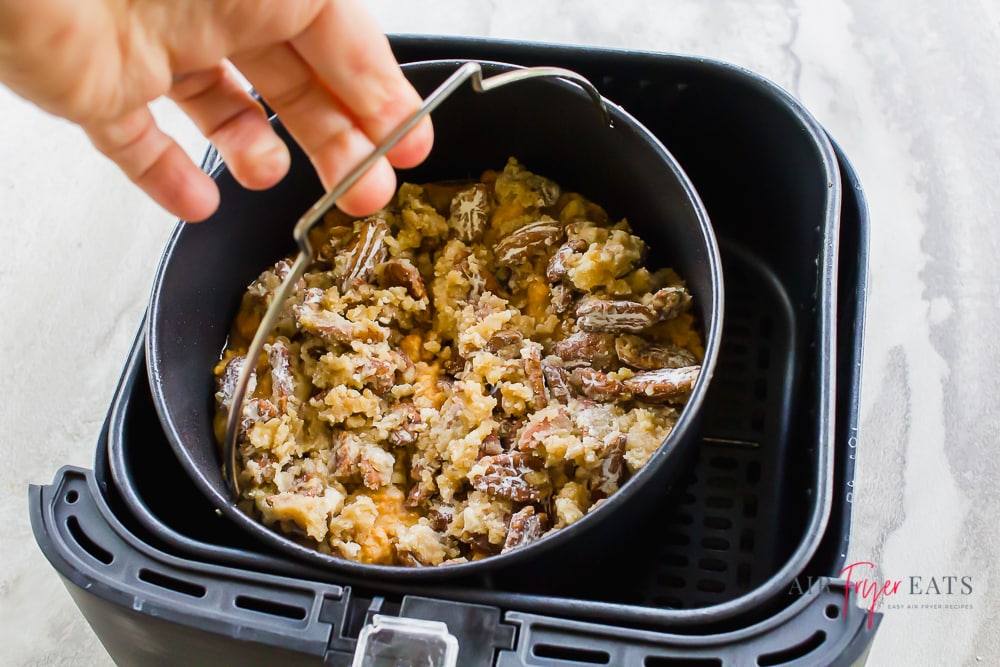 Other Toppings for Sweet Potato Casserole
While I believe this easy vegan sweet potato recipe is best served with the pecan crumble topping, there are some other ways to top it if you don't like pecans or need to serve nut-free meals.
Try some of these other sweet potato casserole topping ideas:
Marshmallows: Be sure to use vegan marshmallows. Most of the more popular brands of marshmallows contain gelatin, which is made with animal proteins.
You can find vegan marshmallows at your local specialty or health foods store.
Add the marshmallows to the top of the casserole toward the last 5 minutes of baking to brown them, or broil them for 3 minutes or so, making sure to watch closely so they don't burn.
Crumb topping without nuts: You can simply omit the pecans and make a simple crumb topping using the instructions for my pecan streusel topping.
Coconut flakes: You can make a "coconut praline" topping by adding unsweetened flaked coconut to your pecan streusel topping, or your nut-free crumb topping.
It adds a delectable crunch texture to the topping!
Load it up!: If you're feeling really wild, make a "loaded" sweet potato casserole by adding your favorite vegan caramel sauce and a sprinkle of cinnamon to any of the topping ideas above. Yum!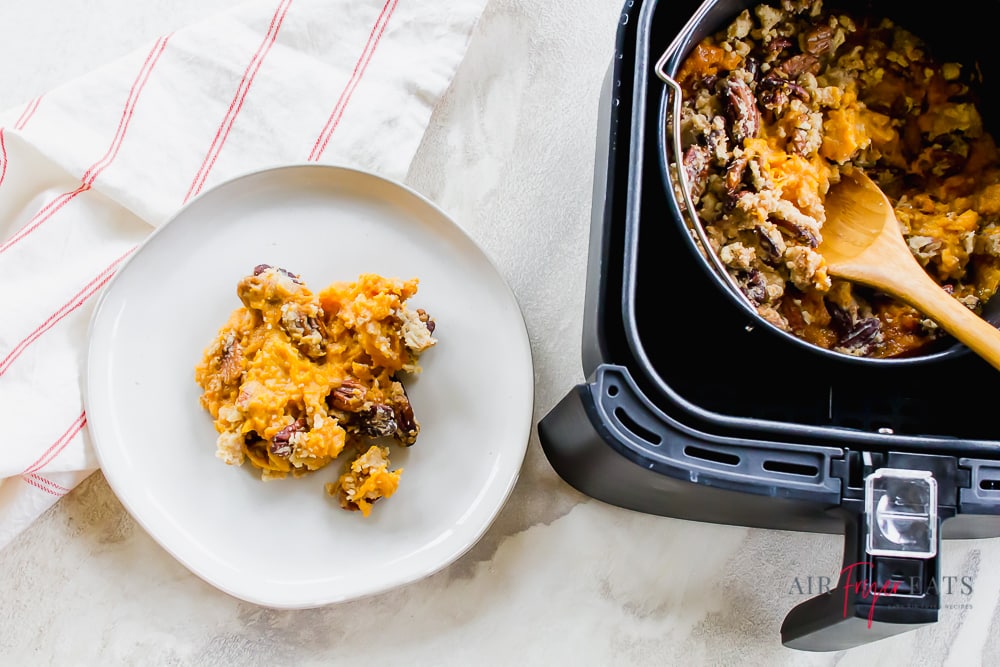 Have you made this recipe? Please leave a comment AND rating below! It helps other readers!
Be sure to tag @AirFryerEats on instagram, if you share a picture on the gram!
Let's get social, you can follow me on Youtube, Instagram, Facebook, Pinterest or join one of our Air Fryer Facebook Groups: Air Fryer Recipes, Air Fryer Recipes for Seniors and Gluten Free Air Fryer Recipes.
Don't forget to subscribe to our EMAIL newsletter.