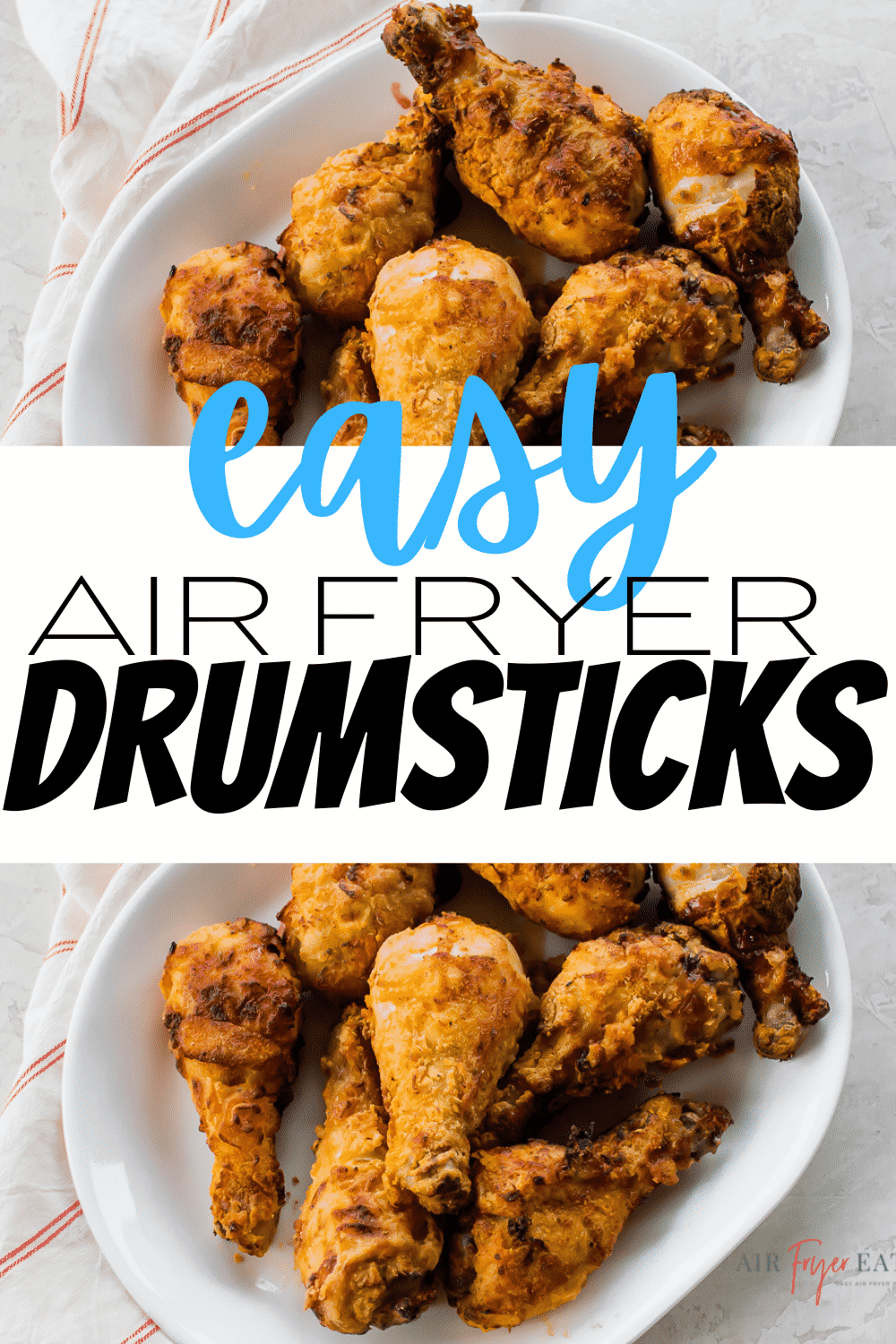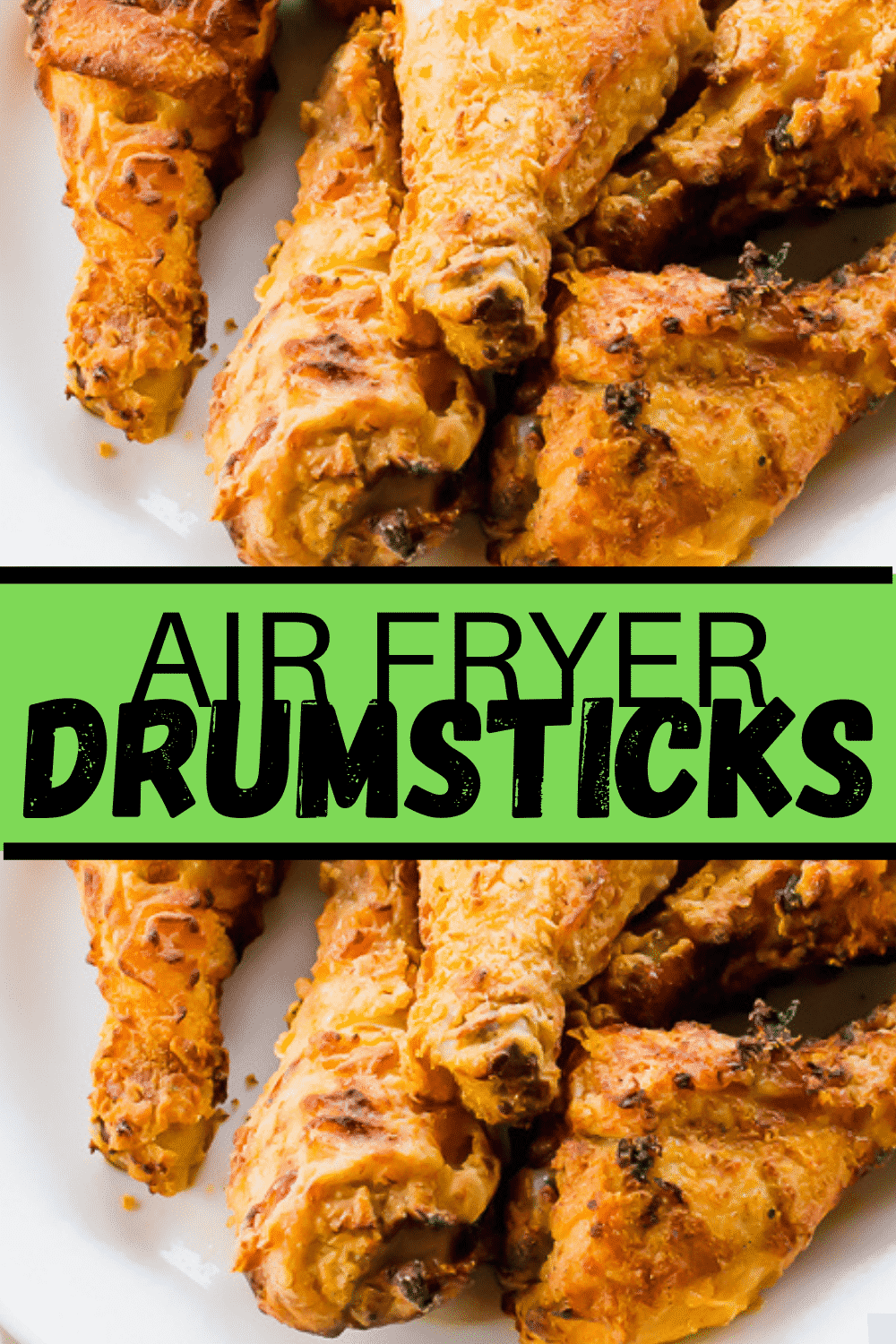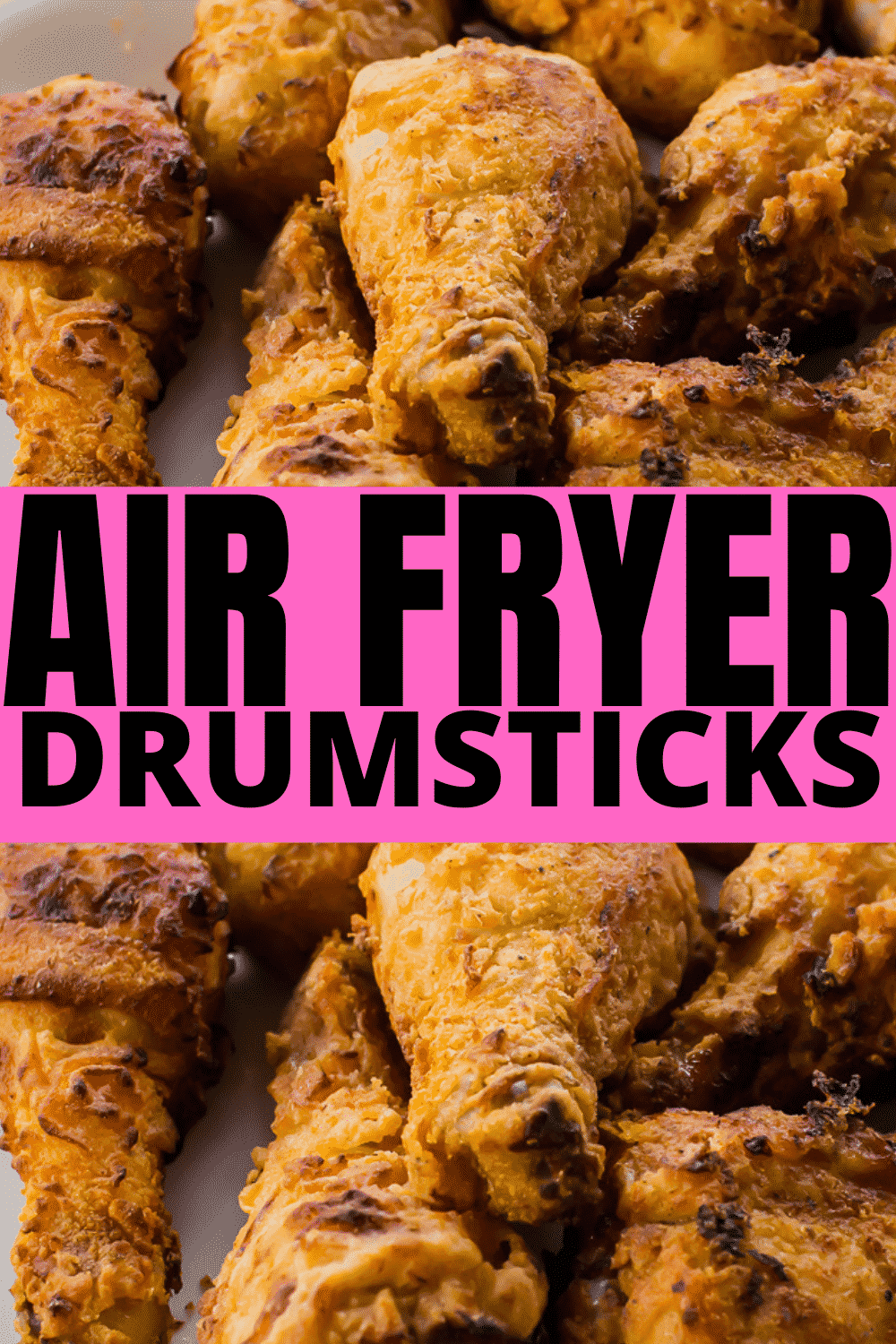 Air Fryer Chicken Drumsticks are a quick budget dinner the family will love! Ditch the oil and make the crispiest fried chicken in the air fryer with a seasoned flour coating.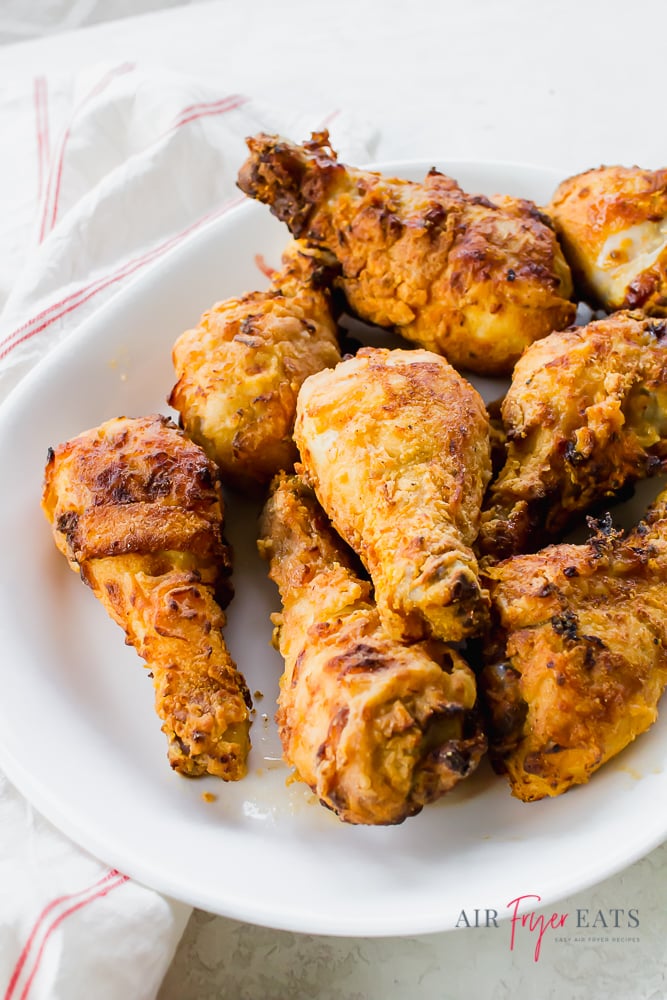 AIR FRYER CHICKEN DRUMSTICKS RECIPE
Fried chicken is my ultimate comfort food, and I prefer the legs. This Air Fryer Chicken Drumsticks recipe is the best way to make hot fried chicken without oil. It's still crispy and so flavorful!
Air fryer drumsticks are perfect next to some saucy bbq chicken wings for your next tailgate. I love them for a budget dinner, too, with a mound of fluffy mashed potatoes.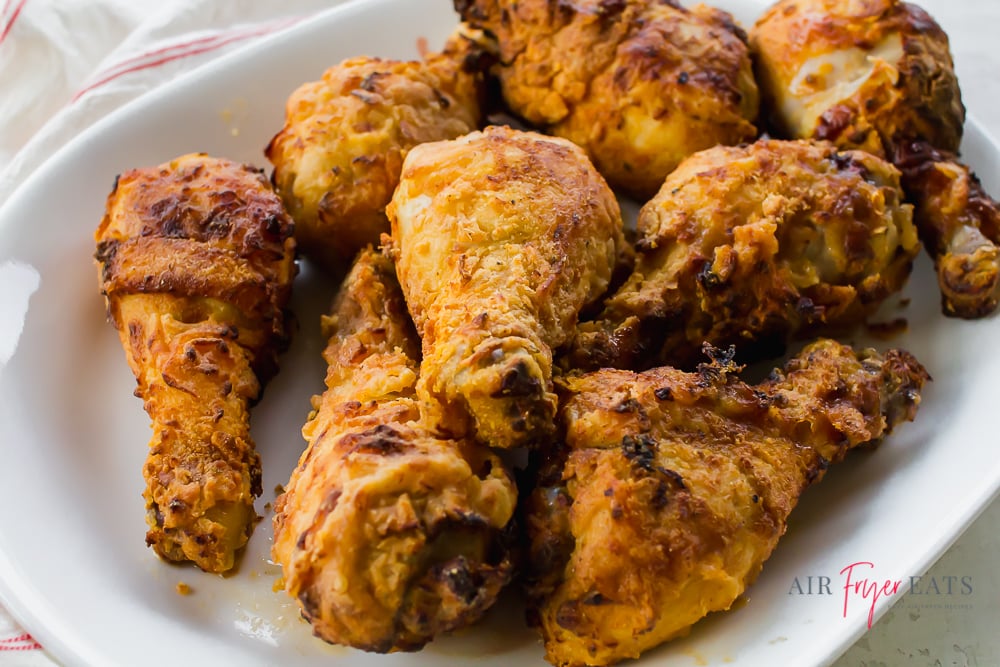 INGREDIENTS IN AIR FRYER CHICKEN DRUMSTICKS
Chicken drumsticks: These are one of the cheapest and most flavorful cuts of chicken! I always keep a pack of chicken legs in the freezer for a rainy day.
Buttermilk: The best fried chicken marinades have buttermilk. The extra acidity and the creamy base make the perfect juicy chicken every time.
Hot sauce: I love hot chicken! You can skip this step if you want plain fried chicken, but any hot sauce you like will work.
Pepper: I love the bite of black pepper. Use as little or as much as you'd like in this fried chicken recipe.
Salt: Salt is important in "fried" foods to bring out the natural flavors beneath the crust.
All-purpose flour: I use gluten-free flour for my fried hot chicken coating. You can use either and still get a super crispy crust!
Garlic powder: Dehydrated garlic powder is slightly sweeter than raw garlic but brings all the flavor!
Onion powder: Onions are the kind of flavor, and dehydrated onion powder brings all the savory flavor without the work — or the tears!
Paprika: This bright red spice brings a great color and a subtle smokiness to the seasoned flour.
Cayenne pepper: A little goes a long way with cayenne pepper! I love the extra kick, but you can skip it if you don't like spicy food.
If you have any questions, please leave a comment below and I will get back to you.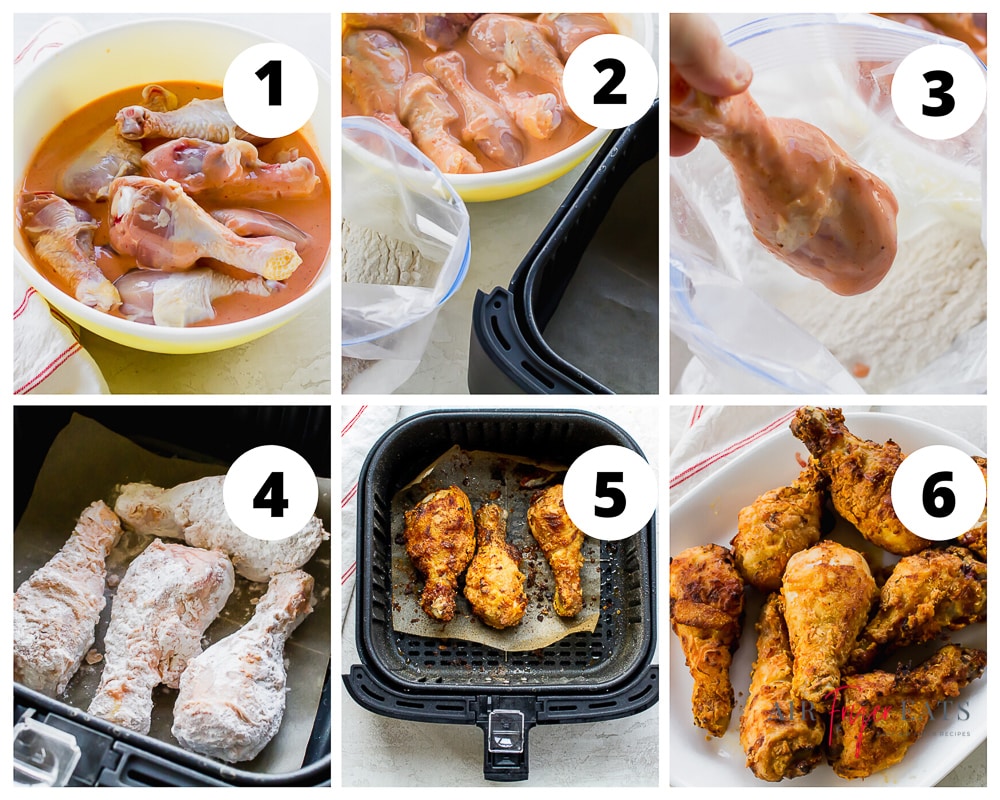 HOW TO MAKE AIR FRYER CHICKEN DRUMSTICKS
First, whisk together the hot chicken marinade with buttermilk, hot sauce, salt, and pepper. Marinate the chicken drumsticks in the buttermilk mixture for at least an hour, but it's best overnight if you have time!
When it's time to air fry the chicken, mix the flour — regular or gluten-free — with the garlic powder, onion powder, paprika, and a little cayenne pepper.
Then, dip the marinated chicken legs in the seasoned flour and coat them on all sides. Repeat with all the chicken!
Now, put the chicken drumsticks in the air fryer basket or on the air fryer tray! Be sure to leave space between each leg. You may need to cook them in batches.
Air fry the chicken legs, flipping halfway through, until the meat is at least 165 degrees F.
Finally, let the chicken legs rest a few minutes before serving. I like to set a platter in the middle of the table for everyone to grab as they want!
These numbered steps match the numbered photos above and are for illustration purposes. For the complete list of ingredients and instructions, please see the recipe below.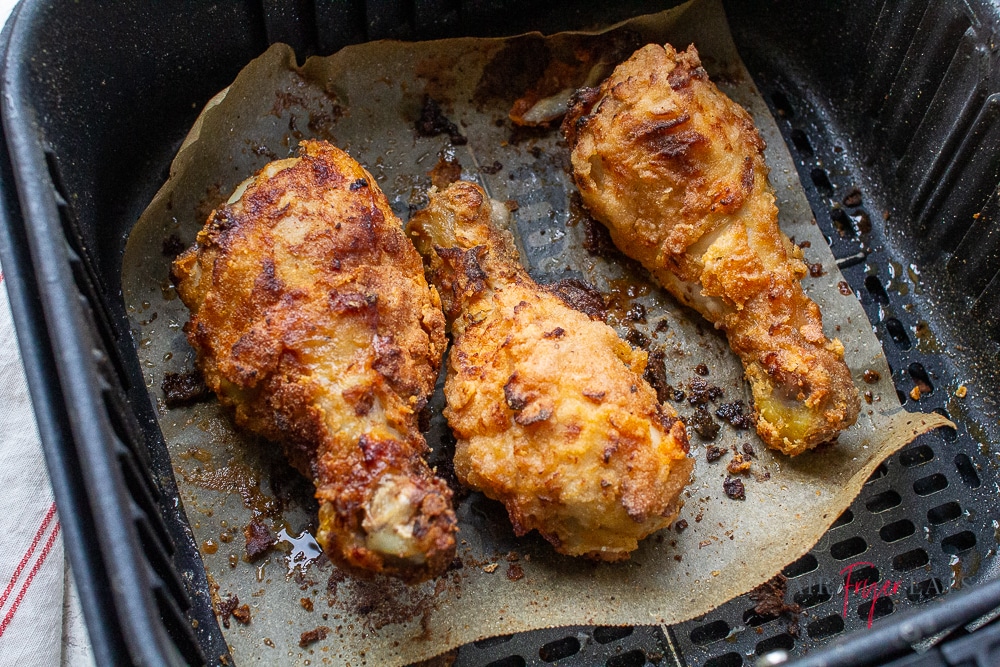 WHAT TO SERVE WITH AIR FRYER DRUMSTICKS
Chicken drumsticks and corn are the summer staple I need every week when it's warm. Corn on the cob is the best, and this smoked corn on the cob is one of my favorite ways to use fresh corn.
Did you know you can make corn casserole in the air fryer? It's true! This creamed corn recipe is perfect to cool down your tastebuds after the hot chicken!
If you want a healthy side dish, Brussels sprouts are a great option! They're so crispy in the air fryer without dirtying sheet pans.
If you're out of fresh veggies, make the crunchiest frozen onion rings in the air fryer! No one will know they started as frozen.
CAN YOU PUT RAW CHICKEN DRUMSTICKS IN THE AIR FRYER?
New kitchen gadgets can be intimidating. Luckily, the air fryer is perfect for all your kitchen needs.
Simply put, an air fryer is a countertop convection oven, meaning it blows the air around to cook your food on all sides. It's great for air fryer drumsticks because it gets all the meat evenly around the bone.
If you can cook it in the oven, you can cook it in the air fryer!
IS CHICKEN IN AN AIR FRYER HEALTHY?
I have random cravings for fried chicken, but I don't love all that oil and fat.
This air fryer chicken drumstick recipe is completely oil-free, reducing the calories from a traditional fried chicken.
You can also use gluten-free all-purpose flour just as easily as regular flour. Both make a super crispy, lower fat fried chicken.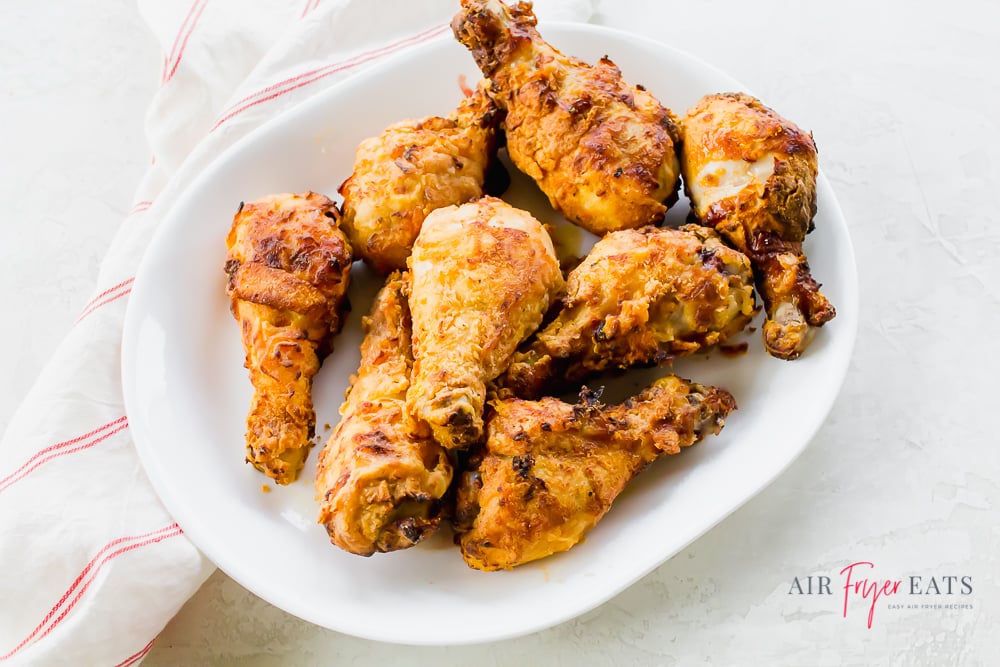 MORE YUMMY AIR FRYER RECIPES
I love chicken tenders of all varieties. Frozen chicken tenders in the air fryer are so much faster and crispier than with an oven!
You can also make air fryer chicken tenders or crispy air fryer chicken cutlets at home and skip the oil! They're as crunchy as your favorite restaurant.
Sometimes I want a juicy, seasoned chicken breast without all breading. Change up your weeknight dinner routine with this sticky ginger chicken in the air fryer!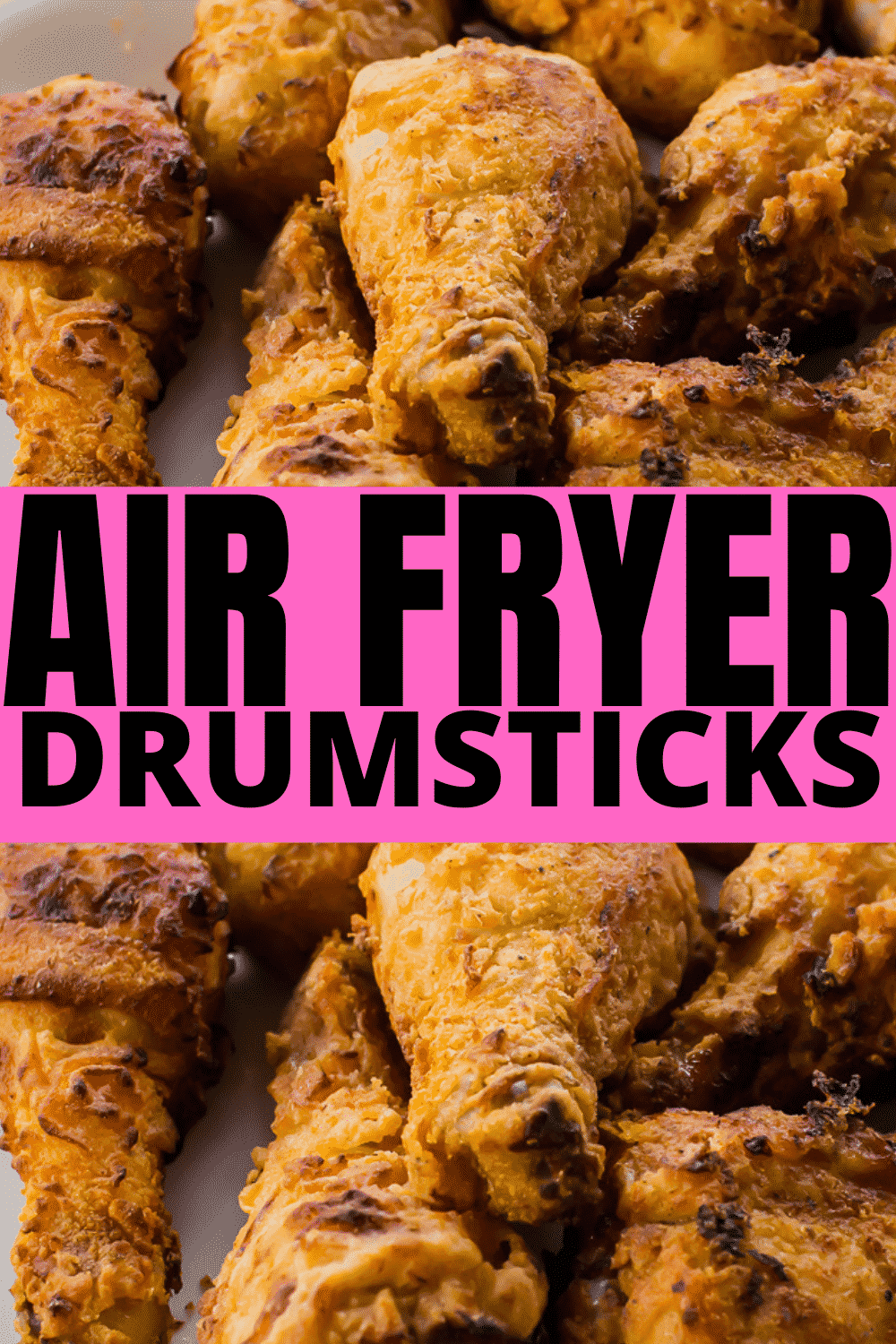 Pro Tips
Use Any Air Fryer: This recipe can be made in an air fryer unit with a basket or an air fryer oven. If you're using an air fryer oven, place your food on the middle rack and select the "air fry" function.
Check your food as it cooks! Since each air fryer runs differently, sometimes air frying is a trial and error process. When cooking a new recipe, be sure to check on your food often. This will help you avoid over or undercooking, and help you learn your air fryer's specific ways!
Air Fryer Chicken Drumsticks
Crispy, crunchy fried chicken legs are a breeze in the air fryer! A buttermilk and hot sauce marinade takes this fried chicken recipe to the next level!
Ingredients
8-12

pieces

chicken drumsticks
For the marinade:
1

tsp

salt

1

tsp

pepper

1.5

cups

buttermilk

½

cup

hot sauce
For the coating:
1

cup

all purpose flour

or gluten-free AP flour

1

tsp

garlic powder

1

tsp

onion powder

1

tsp

paprika

½

tsp

cayenne pepper
Instructions
To marinade the chicken:
Whisk together the marinade ingredients in a large bowl.

Add the chicken legs to the bowl and toss to coat. Cover and refrigerate for at least one hour or overnight.
To coat the chicken:
Combine the coating ingredients in a large ziplock baggie. Place the marinated chicken pieces into the bag of coating mix one at a time and press the bag together to coat the chicken. Place the coated chicken piece into your air fryer basket. Repeat until the air fryer basket is full.
To cook your chicken:
Air fry the chicken at 380 degrees F for 25 minutes, flipping the chicken pieces halfway through.
Go AD FREE!
Notes
I like to lay down parchment paper or foil to help with clean up.

I also like to use spray oil (avocado oil) on the drumsticks. Give them a spray before you flip them over to help prevent sticking, and give the tops a spritz of oil to help brown.

You can always spritz any floury areas to make them brown.

Remember to use your meat thermometer to determine if your chicken is cooked. The internal temperature should be 165 degrees F before consuming.

Pro Tip: This recipe can be made in the air fryer unit with a basket or the air fryer oven. If you are using the air fryer oven, use the middle rack and select the "Air Fry" function.
Nutrition
Serving:
2
pieces
|
Calories:
185
kcal
|
Carbohydrates:
30
g
|
Protein:
7
g
|
Fat:
4
g
|
Saturated Fat:
2
g
|
Cholesterol:
12
mg
|
Sodium:
1472
mg
|
Potassium:
219
mg
|
Fiber:
1
g
|
Sugar:
5
g
|
Vitamin A:
547
IU
|
Vitamin C:
22
mg
|
Calcium:
108
mg
|
Iron:
2
mg
Tired of the ads?
Go AD Free - Become part of our Membership community!
Air Fryers can vary greatly. Please take the time to learn your specific air fryer. You may need to adjust times and temperatures based upon your air fryer.
All though this website attempts to provide accurate nutritional information, the information should only be considered an estimate. Varying factors such as different product types, different brands, etc. can change nutritional information. It is your responsibility as a consumer to read all labels to make sure the ingredients fit your dietary needs as well as calculate your own nutritional information as a double check.