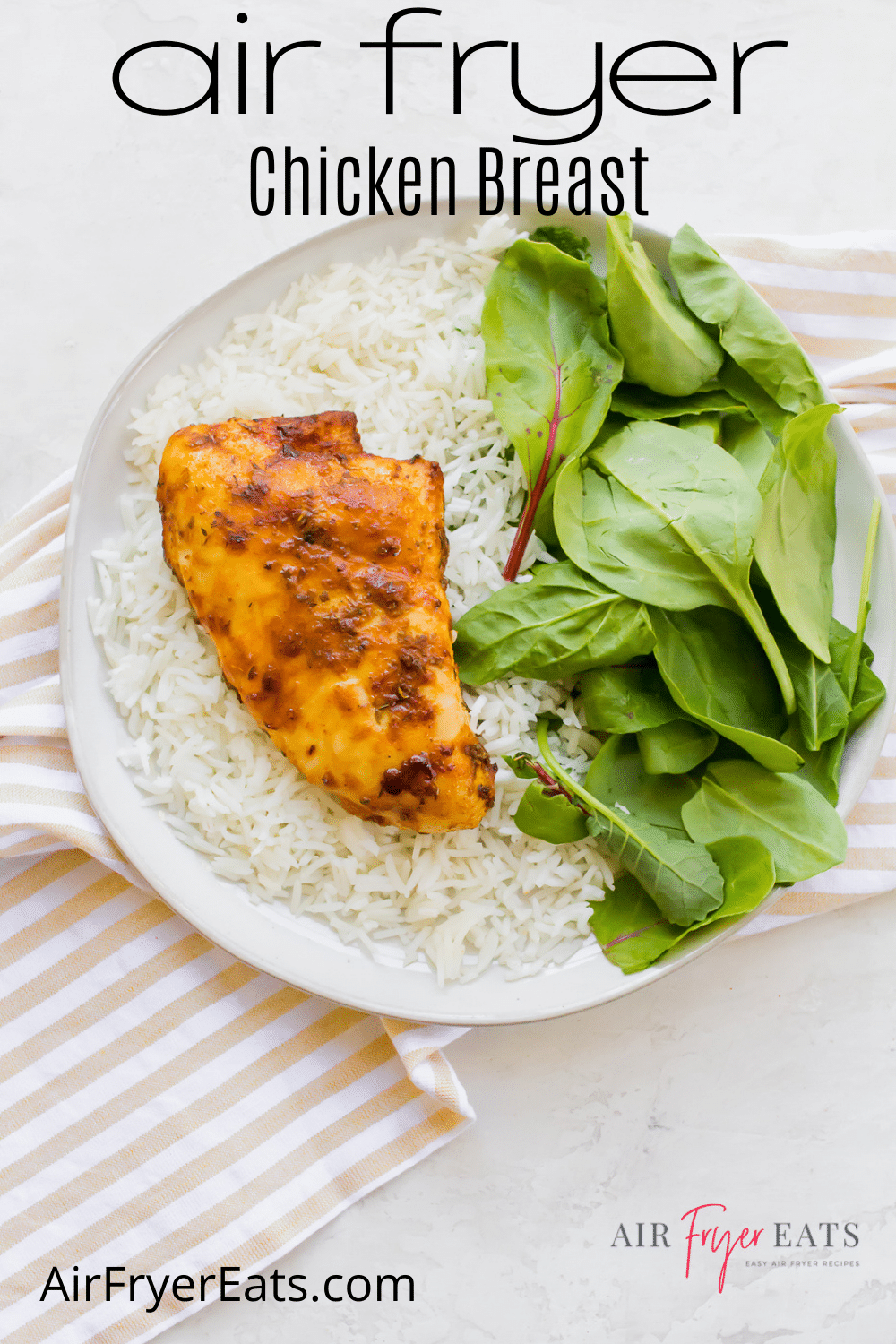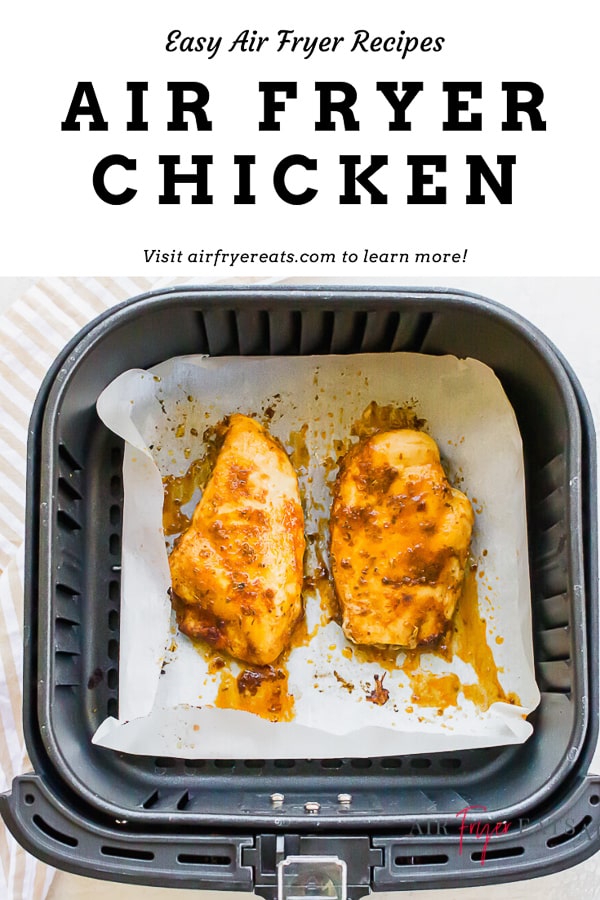 Air Fryer Chicken Breast is the fastest way to prepare incredible, juicy chicken breasts! Forget the oven - your air fryer will have this mouthwatering chicken on your table in only 20 minutes!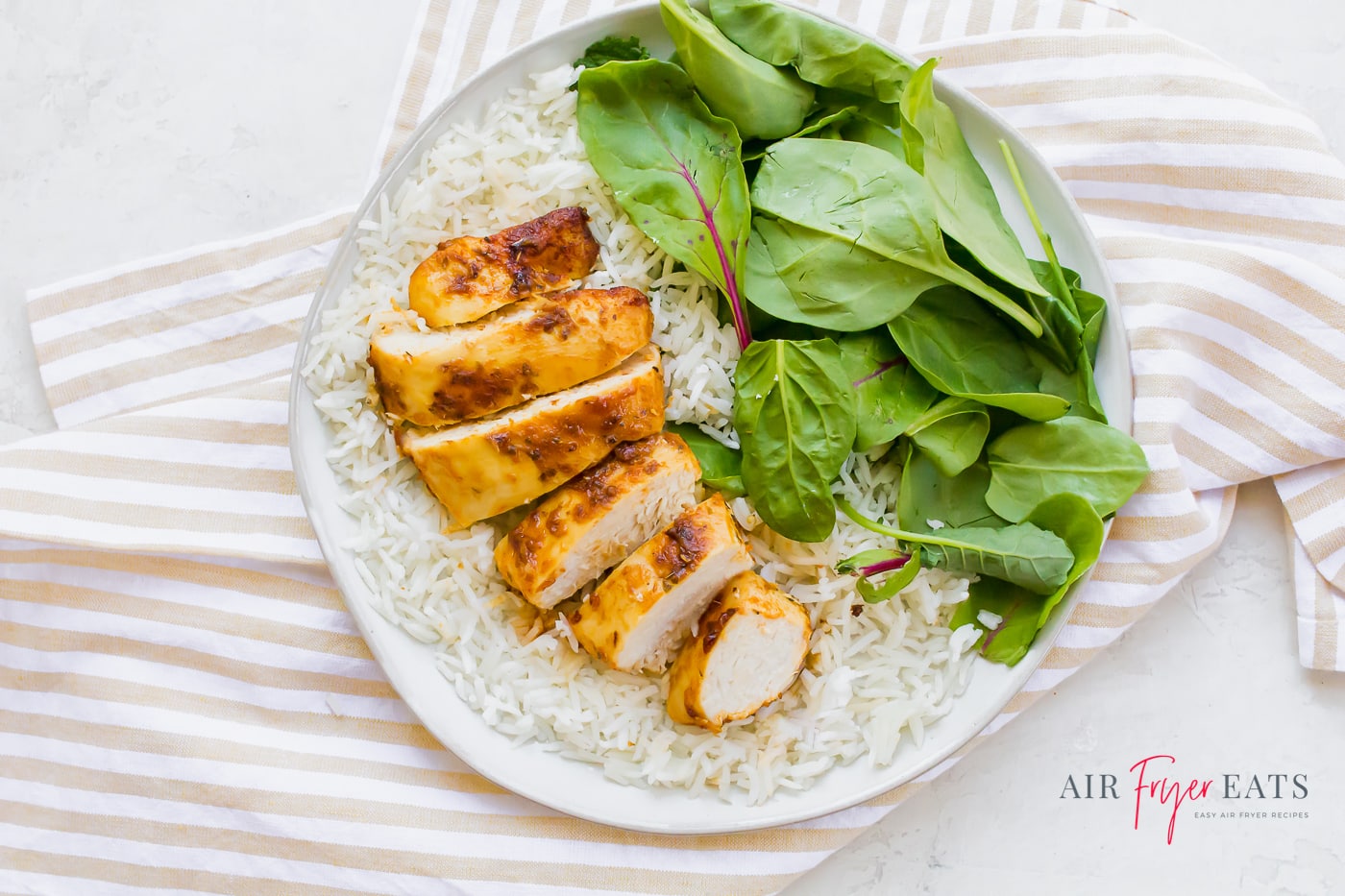 AIR FRYER CHICKEN BREAST RECIPE
Air Fryer Chicken Breast is a healthy and delicious dish that is seasoned to perfection!
The savory outer coating complements the juicy and tender chicken so well, you'll love cooking chicken in your air fryer! A very light layer of seasoned cornstarch coating makes this air fryer chicken delicious, but not breaded.
This air fryer chicken breast recipe does not require any brining, or marinating, so it's fast and easy. Air fried chicken is a versatile dish that can be the star of your dinner, or cooked to use later in recipes or for meal prep.
Breaded chicken breast in the air fryer is delicious, but I think that you'll find that this recipe for air fried chicken breast is just as good, and without the extra calories that breadcrumbs add.
Air Fryer Chicken Breast is faster to make than baked chicken breast, and tastier too. Juicy air fryer chicken breast is flavorful and perfect.
Use this method to cook all types of boneless skinless chicken, including chicken tenders, chicken cutlets, or chicken breast strips.
This easy air fryer chicken recipe pairs perfectly with fresh greens and rice, or a flavorful Roasted Red Pepper Risotto.
INGREDIENTS NEEDED FOR AIR FRYER CHICKEN BREAST
You won't believe how easy it is to make the perfect juicy chicken breast in your air fryer!
Here's what you'll need for this recipe:
Chicken Breasts: Boneless, skinless chicken breasts are easy to find in the grocery store and exactly what you need for this recipe. You can use whole chicken breasts, thin cutlets, or even tenderloins with this recipe, just adjust the cooking time for thinner pieces.
Cornstarch: A small amount of cornstarch helps to create a thin, crispy outer layer on these air fryer chicken breasts without making them bready.
Garlic Powder: I use garlic powder in almost every chicken recipe. It's a perfect pairing.
Paprika: This spice adds a bit of color and a warm flavor to the chicken breasts.
Oregano: I like dried oregano as a chicken seasoning. Feel free to swap it out for basil, thyme, or Italian Seasoning.
Oil: Any type of mild flavored oil can be used in this recipe. The oil helps to brown the chicken and allows the seasonings to stick to it. Try olive oil, canola oil, or avocado oil.
Optional: Season your chicken with kosher salt and fresh black pepper to your tastes.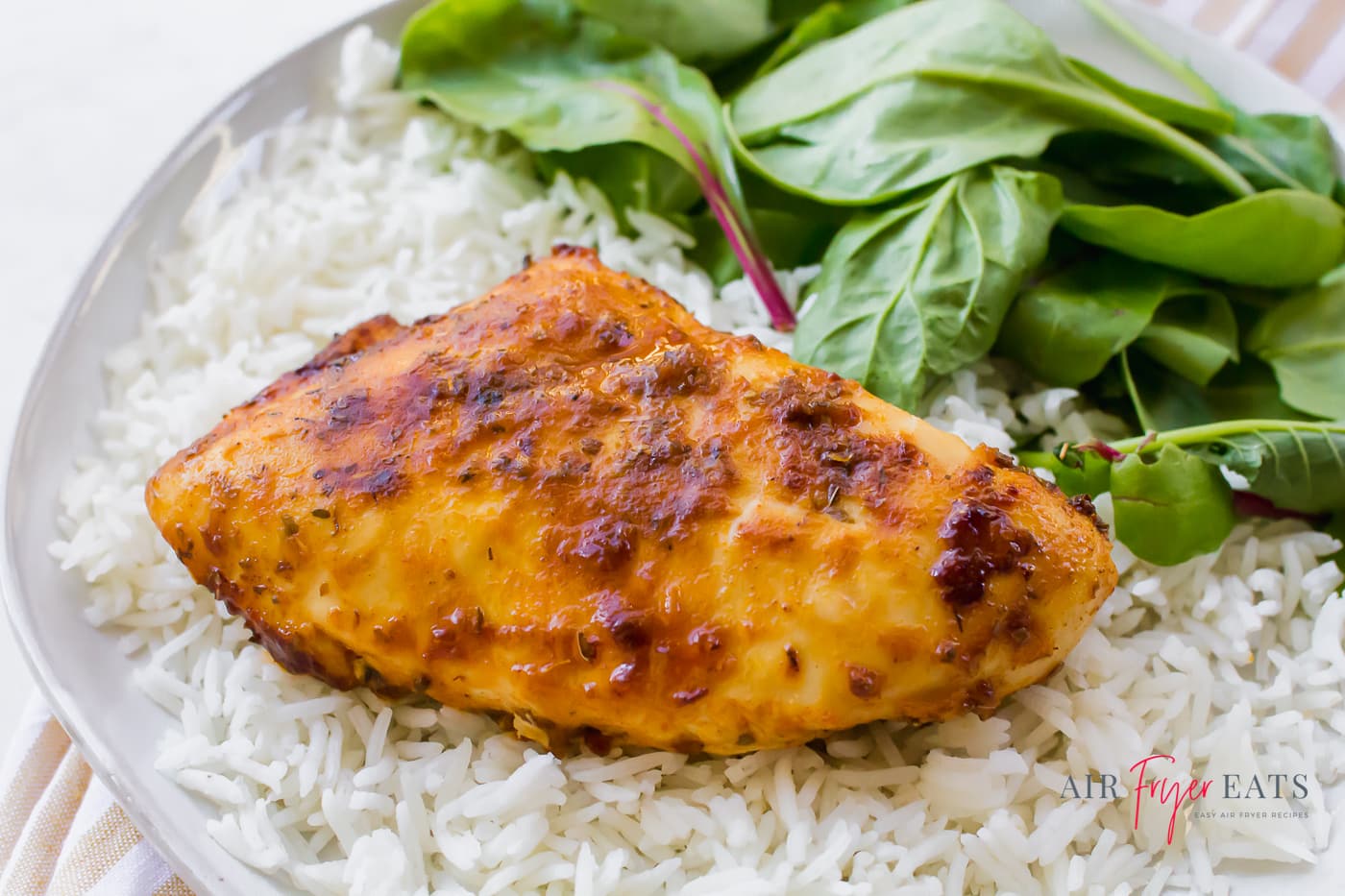 If you have any questions about Air Fryer Chicken Breast, please leave a comment below and I will get back to you ASAP!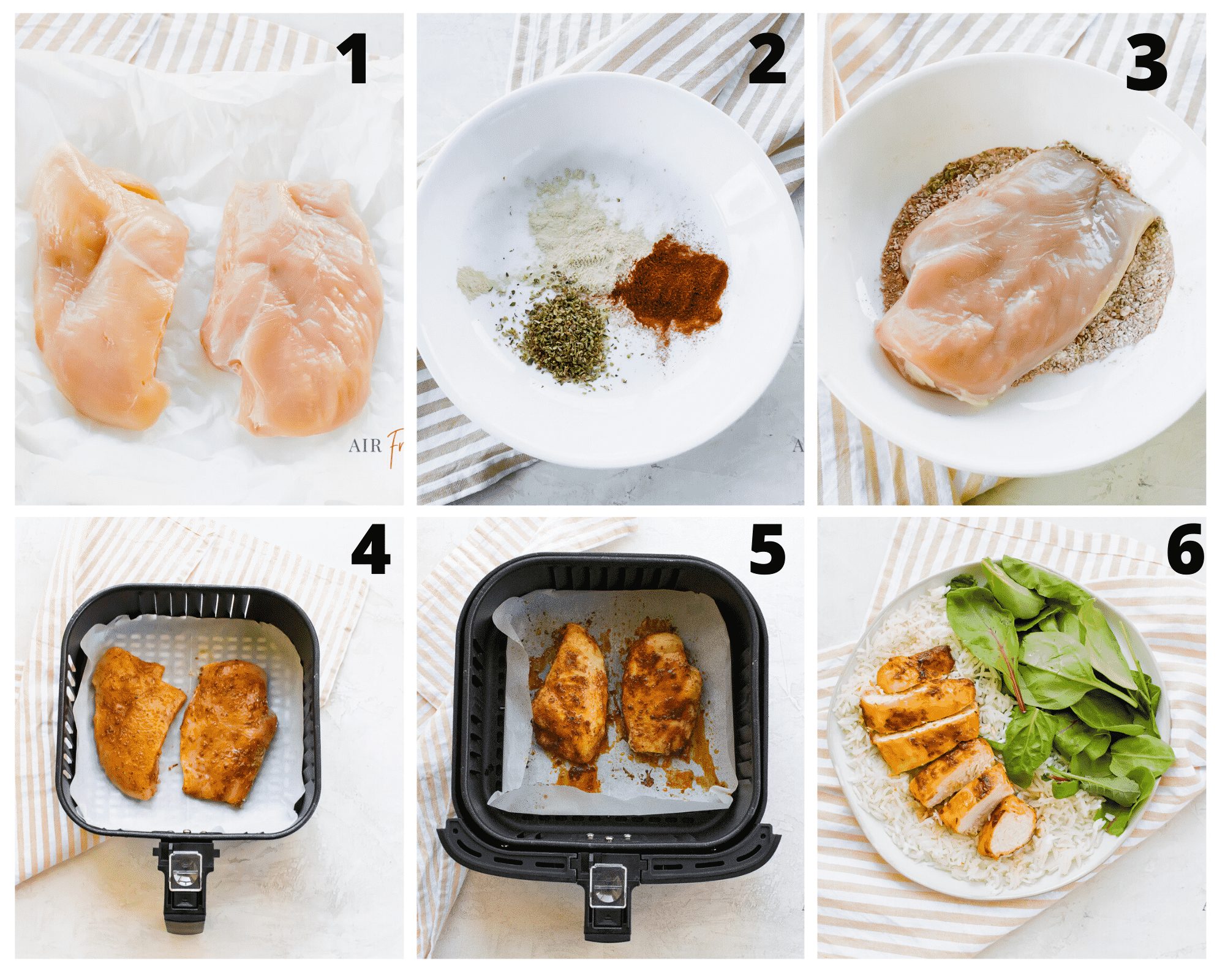 HOW TO COOK CHICKEN BREAST IN AIR FRYER
Learn how to air fry chicken breasts the easy way!
Start by trimming off unwanted pieces from your boneless skinless chicken breasts. Simply snip excess fat, skin, and cartilage off using a good pair of kitchen shears and discard.
Combine the cornstarch and spices together in a shallow bowl.
Coat the chicken evenly with a thin layer of oil, then sprinkle with the spice and cornstarch mixture.
Line your air fryer basket with foil or parchment, and place the seasoned chicken breasts on top.
Cook chicken breast in your air fryer for 16-18 minutes at 350 degrees. Flip the chicken halfway through the cooking time to ensure that it cooks thoroughly.
Let the chicken breasts rest for 5 minutes, then slice, plate, and dig in!
HOW DO I KNOW WHEN AIR FRYER CHICKEN IS DONE?
It is super important to take food safety measures when cooking chicken!
Undercooked chicken can harbor bacteria and cause illnesses, so it's imperative that you cook your chicken to the right temperature!
While it may be tempting to eyeball it, I recommend playing it safe and using a meat thermometer.
Chicken should reach a minimum internal temperature of 165 degrees F at the thickest part of the cutlet (or 74°C).
The cook time for air fryer chicken breast will vary from what is listed in this recipe, depending on the thickness and size of your chicken breasts.
WHY DO I NEED TO LET CHICKEN REST AFTER COOKING?
When you cook chicken, the moisture inside of it moves toward the outer surface of the meat. If you cut into it right away, all of the moisture will be released, leaving dry chicken.
Letting the meat rest for about 5 minutes gives the juices time to redistribute into the meat so they won't be lost when cutting.
WHY DID MY CHICKEN NOT BROWN?
If your chicken doesn't look like these photos, it's possible that you missed a step or ingredient somewhere. Adding oil to the chicken breast before air frying is the most important way to get browning.
You may also not see browning if your chicken has too much moisture. Pat it dry with paper towels before adding the oil and seasonings next time.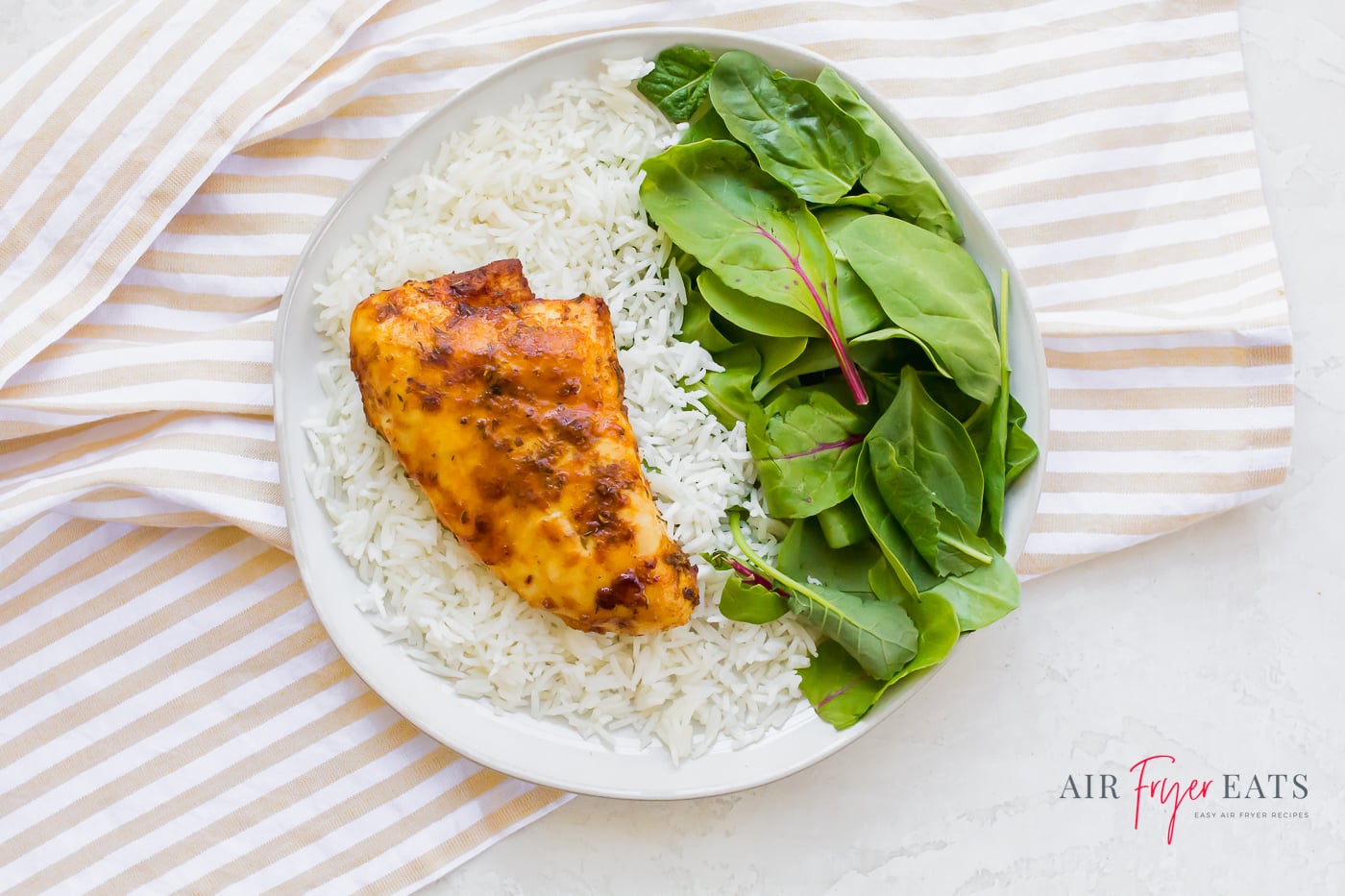 IS AIR FRIED CHICKEN HEALTHY?
Because air frying uses very little, if any, cooking oil, it adds only a minimal amount of additional fat when cooking.
Traditionally fried foods are immersed in oil, and it can often be difficult to drain off the excess.
Air frying eliminates a significant amount of the extra fat and calorie content that traditional frying adds, so it's considered a much more desirable cooking method.
There are a few other ways to reduce excess fat and calorie content when air frying chicken breasts.
Sugary glazes can be swapped for flavorful seasoning mixes as well.
What you're left with is juicy, filling chicken that is packed with protein and so good for you!
WHAT CAN I USE INSTEAD OF CORN STARCH ON CHICKEN?
If you don't have corn starch you can replace it with all-purpose flour, or feel free to just leave it out. The chicken will still be delicious without any added starch or flour.
HOW DO I MAKE CRISPY AIR FRYER CHICKEN BREASTS?
Go check out my recipes for Air Fryer Chicken Tenders and Air Fryer Fried Chicken. Both are breaded and crispy from the air fryer.
CAN I MAKE CHICKEN BREASTS IN A NINJA FOODI AIR FRYER?
Of course you can make chicken breast in a ninja foodi! We love the Foodi because it is both an Instant pot and an Air Fryer. See my recipe that is specific to making Ninja Foodi Chicken Breasts for the details.
You can make Ninja Foodi Chicken Thighs, or a Whole Chicken in the Ninja Foodi too!
CAN I COOK RAW CHIKEN IN AN AIR FRYER?
The air fryer is the perfect way to cook raw chicken breasts. If you usually use your air fryer to make frozen foods, you'll be amazed at how well it cooks fresh foods like chicken too.
CAN I MAKE FROZEN CHICKEN BREAST IN AIR FRYER?
I suggest thawing your chicken before cooking it in the air fryer. It cooks more evenly and faster that way. However, if you forgot to thaw the chicken, you can cook it from frozen.
Cook the chicken without any seasoning for 5 minutes to partially thaw it. Then carefully remove it and season with oil, cornstarch, and seasonings as directed in the recipe. Continue cooking as directed in the recipe, being sure that the chicken reaches an internal temperature of 165°F/74°C. Increase the time as needed.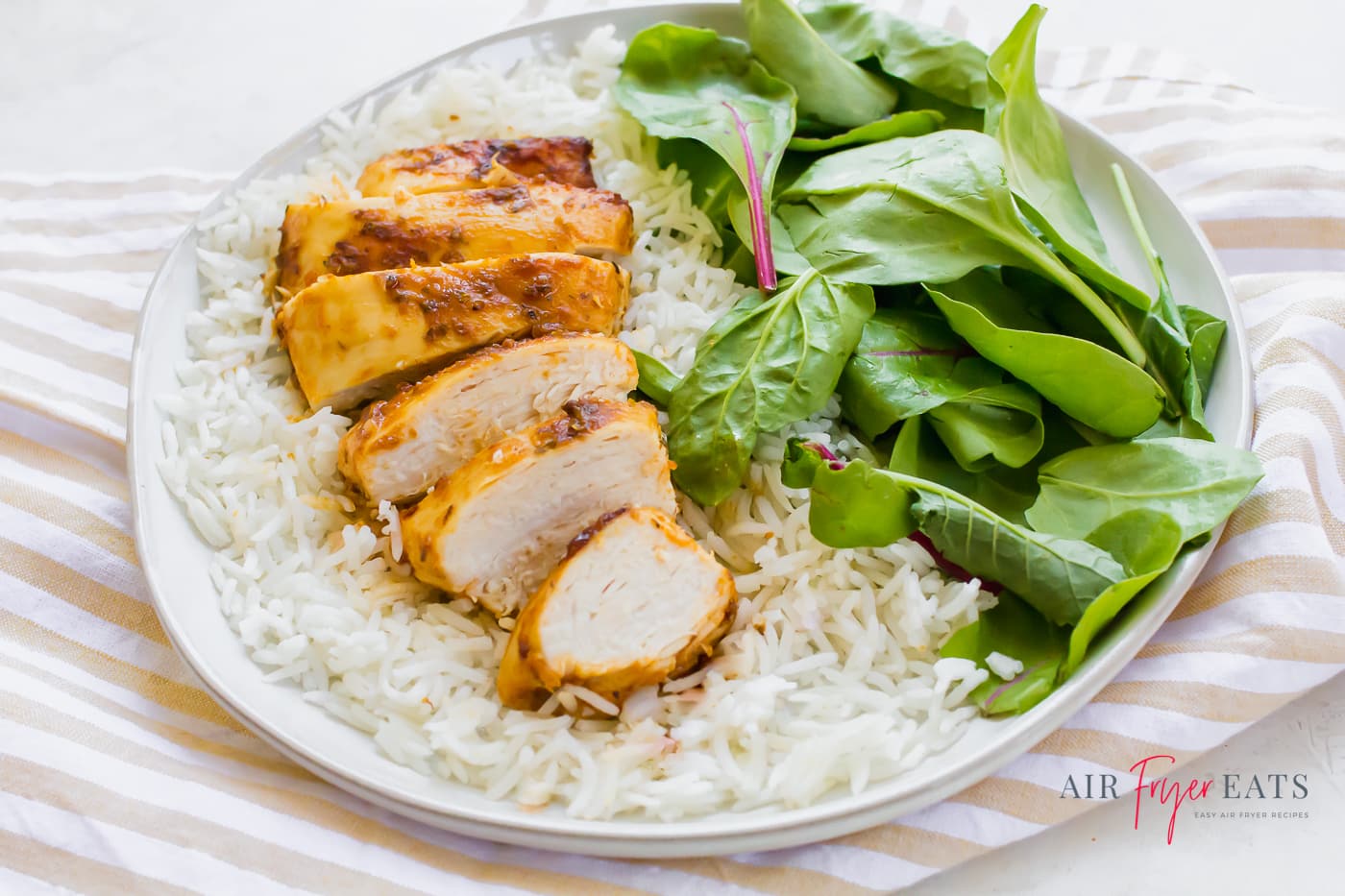 DELICIOUS CHICKEN IN AIRFRYER RECIPES
Chicken breasts in the air fryer can be exciting and delicious! Don't get into a chicken slump, try one of these air fryer chicken recipes tonight.
Air Fryer Smoky Chicken turns chicken breasts or cutlets into a deliciously seasoned main dish with very little effort.
Enjoy a homemade version of Chinese Takeout with my Air Fryer Orange Chicken recipe.
Or, make a healthier Asian inspired Sticky Ginger Chicken in the Air Fryer.
Mix up a batch of my amazing Chicken Dry Rub and use it to make all types of air fryer chicken, including Air Fryer Chicken Tenders and Air Fryer Chicken Wings!
Tired of chicken? Make Air Fryer Buffalo Tofu for a meatless change.
MORE MAIN DISH RECIPES TO ENJOY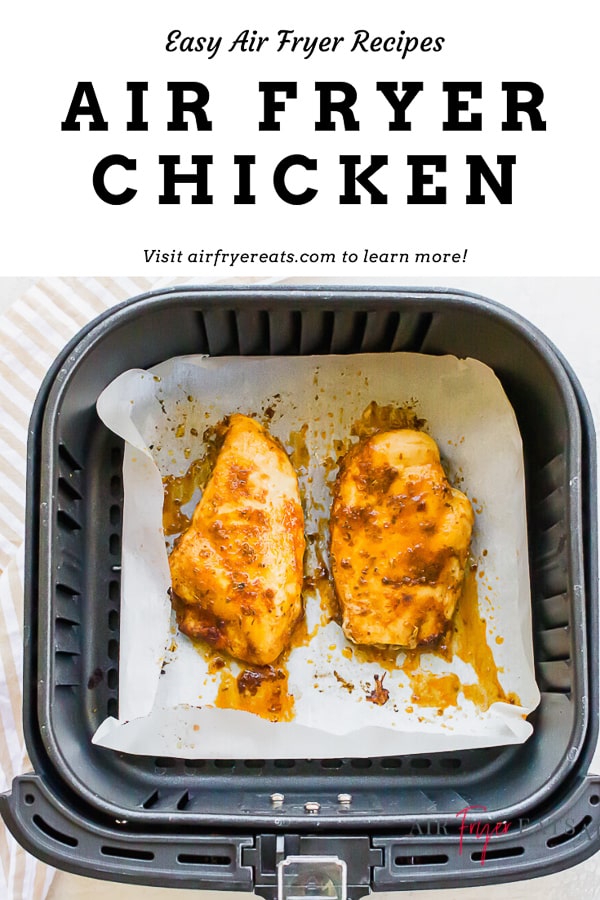 Pro Tips
Use Any Air Fryer: This recipe can be made in an air fryer unit with a basket or an air fryer oven. If you're using an air fryer oven, place your food on the middle rack and select the "air fry" function.
Check your food as it cooks! Since each air fryer runs differently, sometimes air frying is a trial and error process. When cooking a new recipe, be sure to check on your food often. This will help you avoid over or undercooking, and help you learn your air fryer's specific ways!


Have you made this recipe? Please leave a comment AND rating below! It helps other readers!
Be sure to tag @AirFryerEats on instagram, if you share a picture on the gram! Let's get social, you can follow me on Youtube, Instagram, Facebook, Pinterest or join one of our Air Fryer Facebook Groups: Air Fryer Recipes, Air Fryer Recipes for Seniors and Gluten Free Air Fryer Recipes.
Don't forget to subscribe to our EMAIL newsletter.
Air Fryer Chicken Breast
Air Fryer Chicken Breast is the fastest way to prepare incredible, juicy chicken breasts! Forget the oven - your air fryer will have this mouthwatering chicken cooked to perfection in only 20 minutes!
Ingredients
4

chicken breasts

boneless

1.5

teaspoons

garlic powder

1

teaspoon

smoked paprika

1.5

teaspoon

dried oregano

1.5

tablespoons

cornstarch

oil
Instructions
Prepare the chicken breasts by trimming off any excess fat and unwanted pieces.

Mix the spices and cornstarch together in a bowl.

Coat the chicken breasts with oil or cooking spray.

Sprinkle the spice & cornstarch mixture on the chicken.

Place a piece of parchment or foil in the bottom of your air fryer basket. Place the chicken on top of that.

Air fry the chicken for 16-18 minutes at 350°F/177°C, flipping the chicken breasts halfway through. Cook until the internal temperature in the thickest part of the chicken reaches a minimum of 165°F/74°C.

Let the chicken rest for 5 minutes before slicing & plating.
Go AD FREE!
Notes
Season your chicken breasts with salt and pepper to taste.
Use any light flavored oil, or spray oil to coat the chicken.

Each air fryer will run a bit differently. Temps and time may vary.

Make sure that your chicken is cooked through. It must be 165 degrees F at the thickest part.

The chicken breasts I used in this recipe were 1 inch thick.

Feel free to adjust the seasonings in this recipe. Other herbs and spices can be added.
Pro Tip: This recipe can be made in the air fryer unit with a basket or the air fryer oven. If you are using the air fryer oven, use the middle rack and select the "Air Fry" function.
Pro Tip: Check your food as it cooks. Each air fryer runs a bit differently. Sometimes airfying is a trial and error process. Check your food as it cooks to learn your air fryer better! When cooking a new recipe or food items be sure to check your food often to help avoid over/undercooking.
I can't stress this enough: ALWAYS use a meat thermometer. That is more accurate than any time/temp. The time/temp is a guide to start with. Things will vary depending on the size/thickness of your chicken breast AND your air fryer.
Have oven recipes that you'd like to convert to an air fryer recipe? Use our Air Fryer Calculator to help you estimate cooking times and temps! Calculator here:
https://airfryereats.com/air-fryer-conversion-air-fryer-calculator/
Nutrition
Serving:
1
breast
|
Calories:
276
kcal
|
Carbohydrates:
4
g
|
Protein:
48
g
|
Fat:
6
g
|
Saturated Fat:
1
g
|
Cholesterol:
145
mg
|
Sodium:
264
mg
|
Potassium:
871
mg
|
Fiber:
1
g
|
Sugar:
1
g
|
Vitamin A:
327
IU
|
Vitamin C:
3
mg
|
Calcium:
23
mg
|
Iron:
1
mg
Tired of the ads?
Go AD Free - Become part of our Membership community!
Air Fryers can vary greatly. Please take the time to learn your specific air fryer. You may need to adjust times and temperatures based upon your air fryer.
All though this website attempts to provide accurate nutritional information, the information should only be considered an estimate. Varying factors such as different product types, different brands, etc. can change nutritional information. It is your responsibility as a consumer to read all labels to make sure the ingredients fit your dietary needs as well as calculate your own nutritional information as a double check.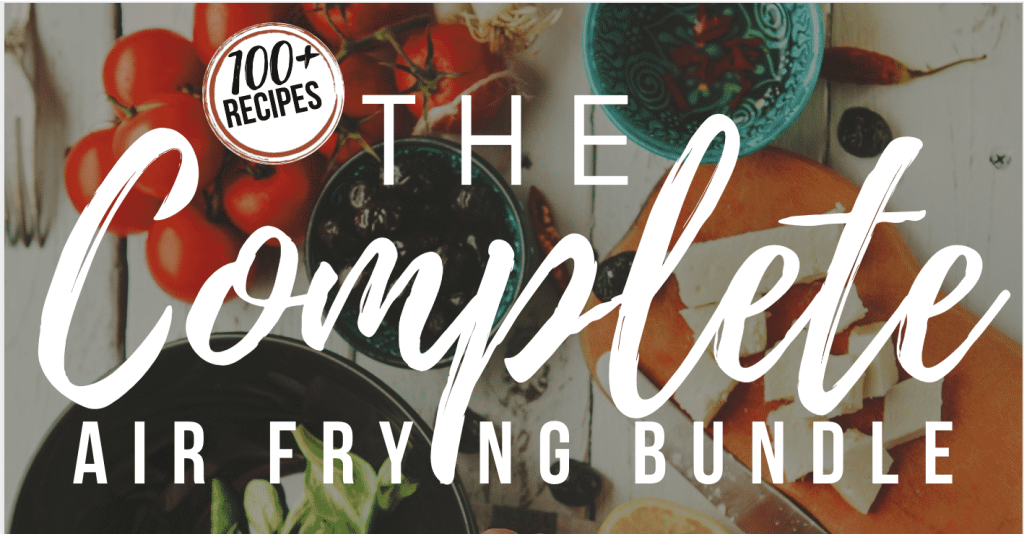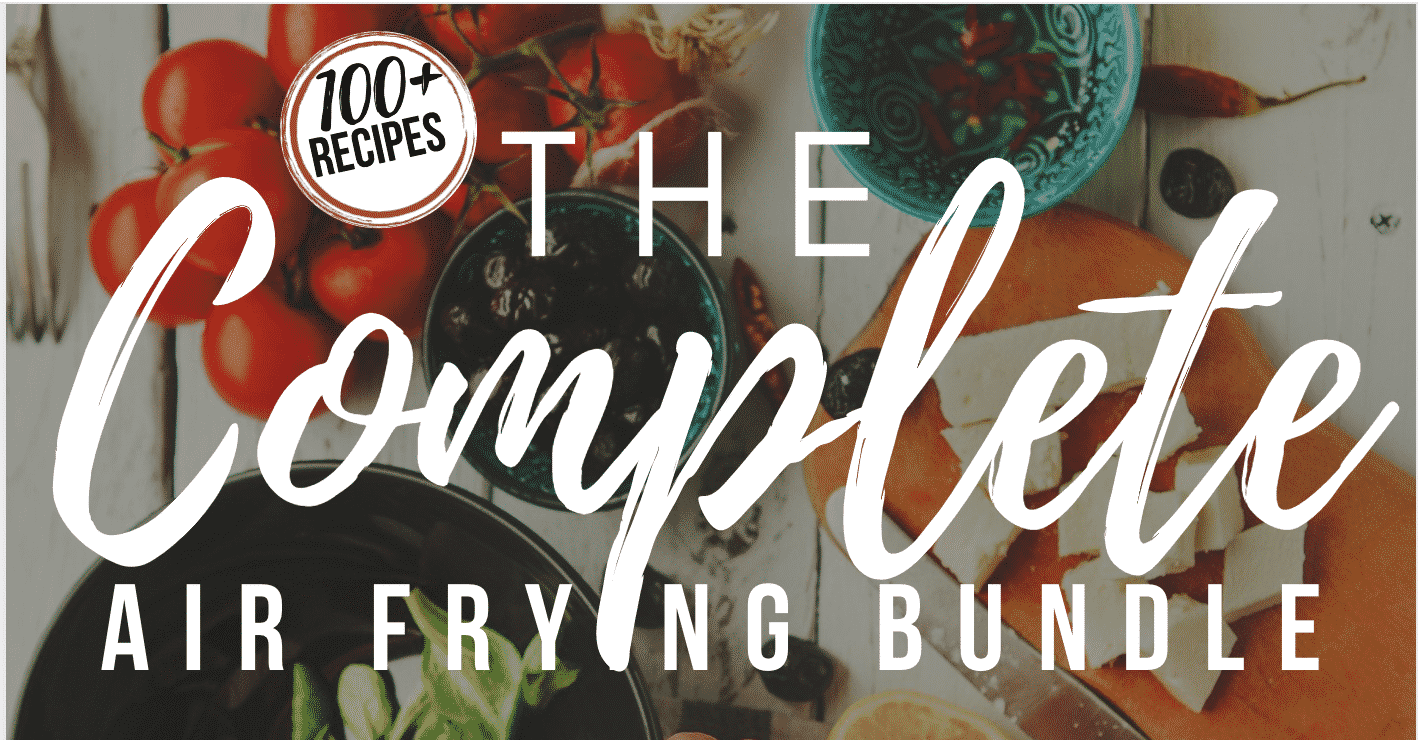 Have you ever wondered if you can put foil in your air fryer? You can! But you need to do it a specific way! Be sure to check out our post about: Can you put aluminum foil in an air fryer So you can get all the details you need to be successful!
If you are looking for more recipes for your air fryer, we have got you covered! Some of our favorites and our readers favorites are: Mozzarella sticks air fryer, Frozen chicken nuggets in air fryer, Frozen chicken tenders in air fryer, Air fryer scallops and Air Fryer Burger.
TEACH ME ABOUT AIR FRYERS
Still wondering about your air fryer? Are you wanting to learn more about air frying? I highly suggest you check out our "Start Here" page to get more information!