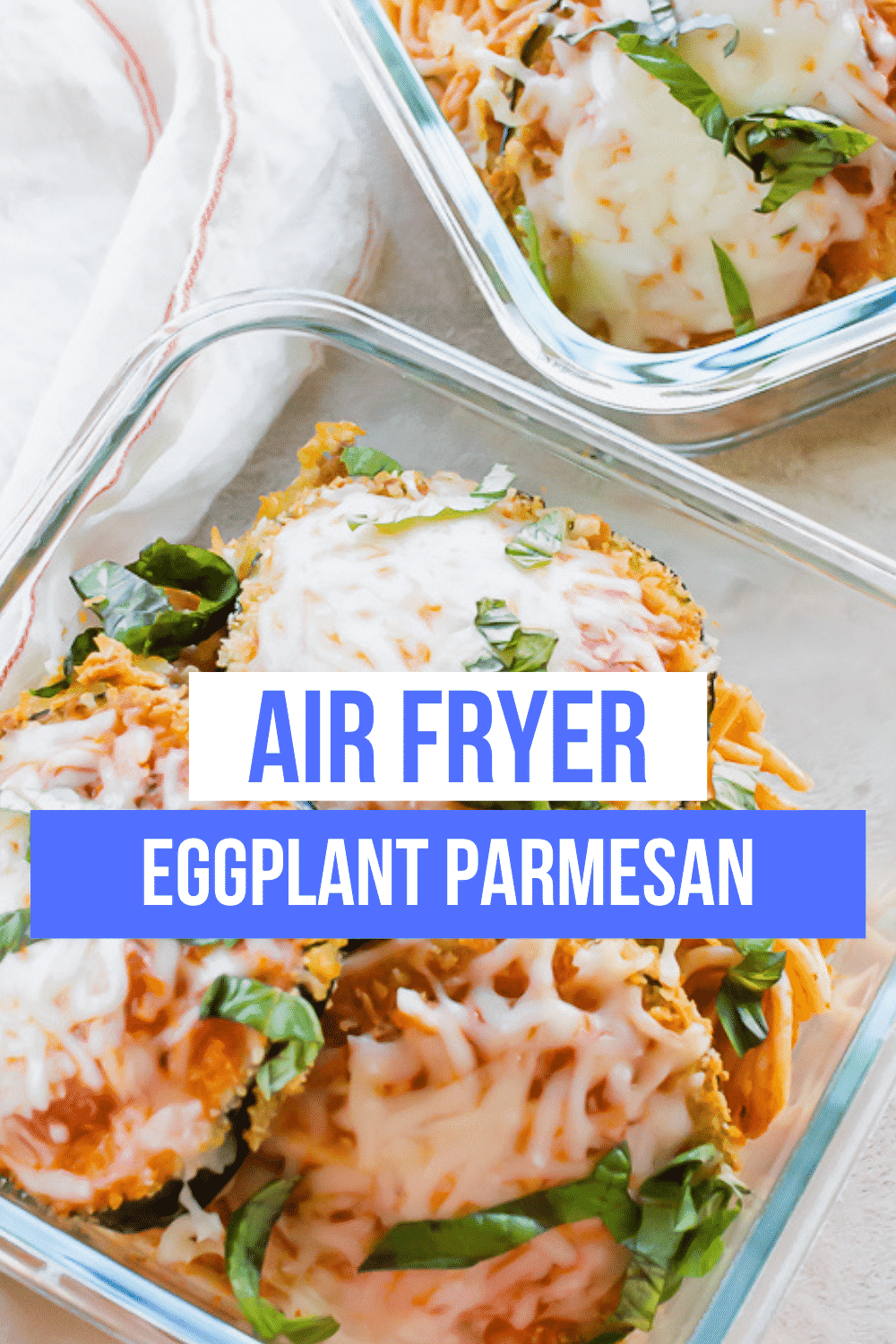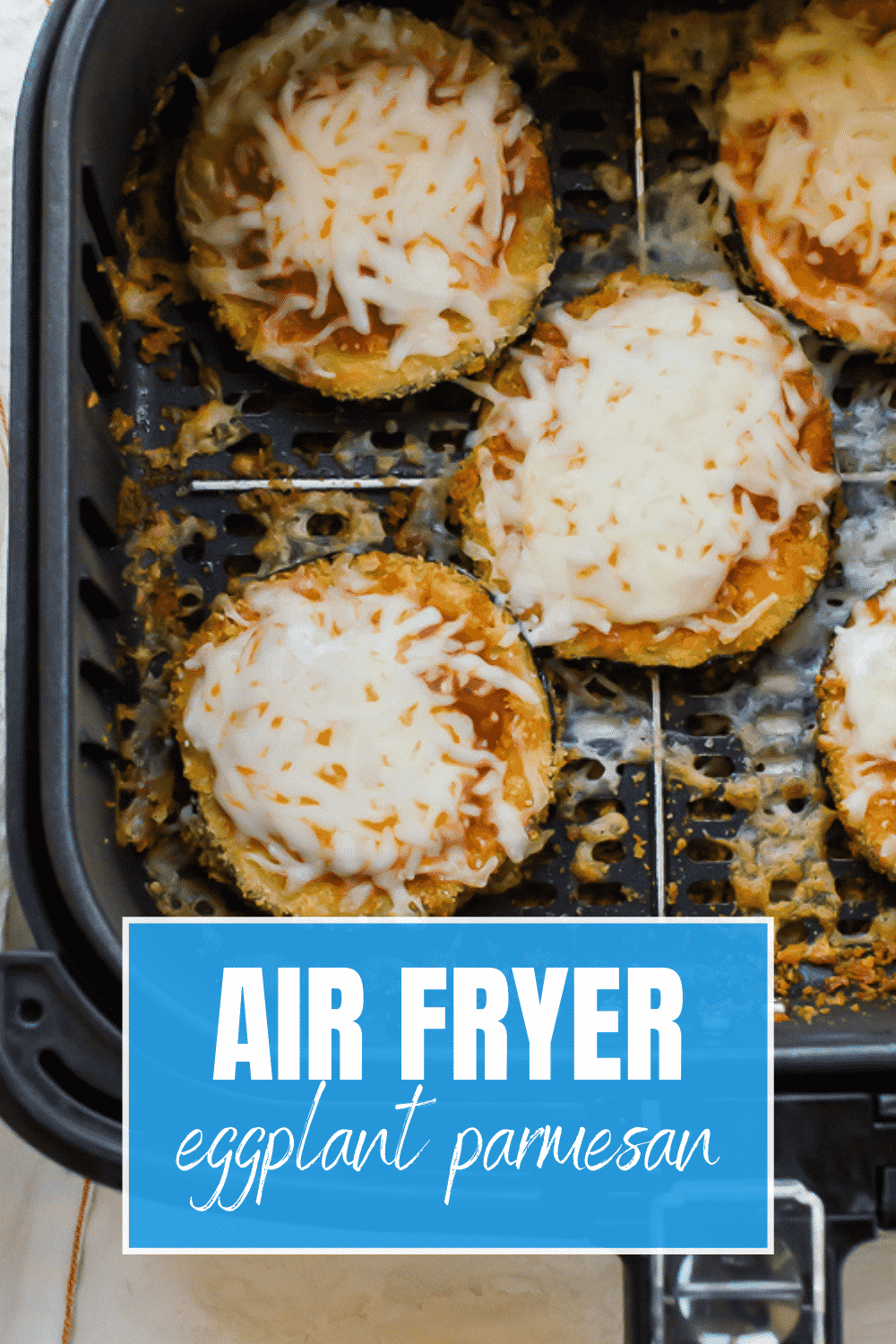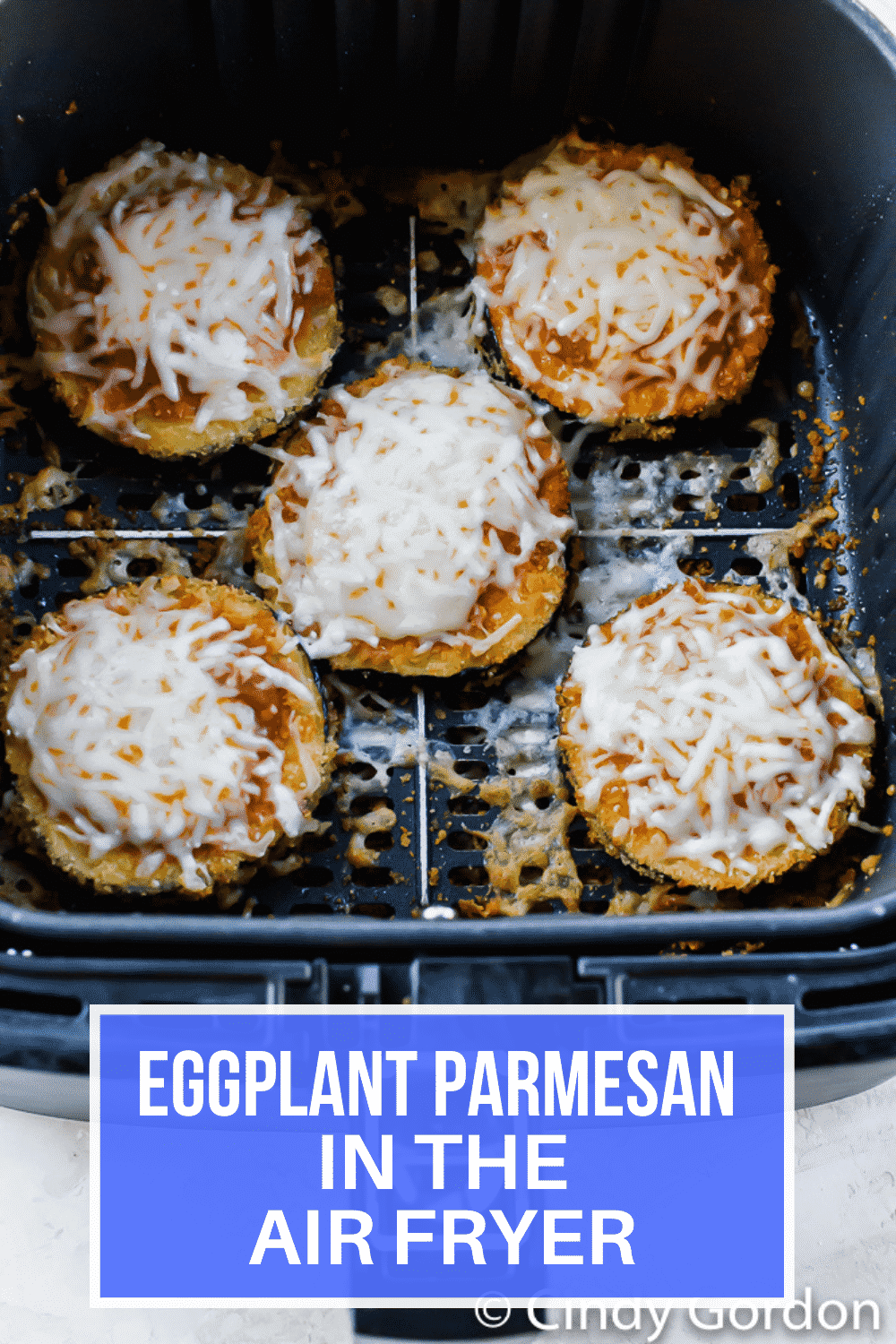 Airfryer eggplant parmesan is a classic vegetarian Italian dinner that you can make with less oil and less mess by using your air fryer. Crispy on the outside and perfectly tender on the inside, you'll love this recipe.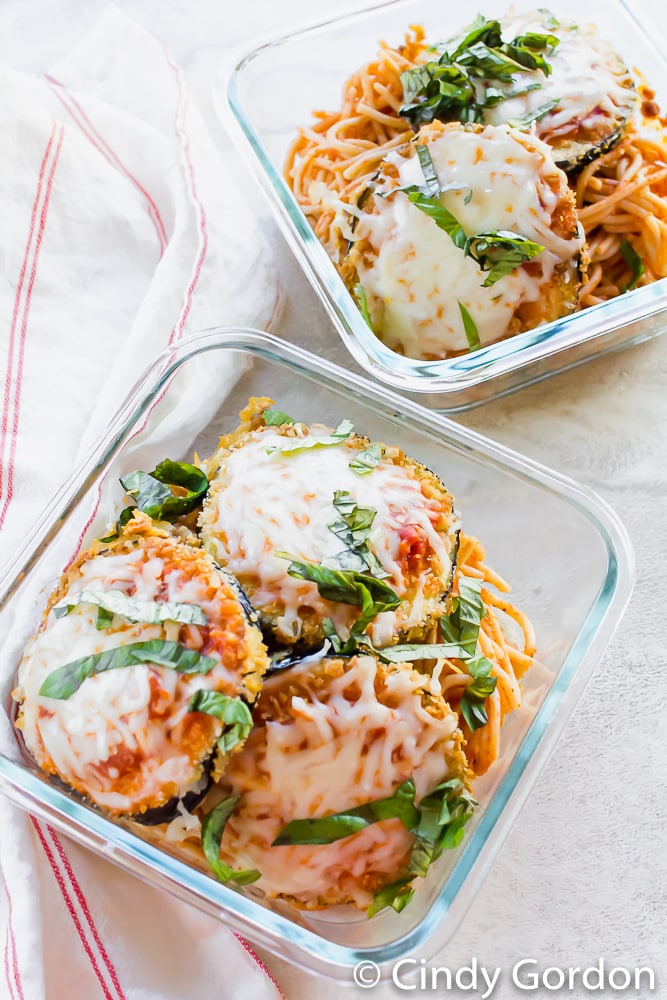 AIR FRYER EGGPLANT PARMESAN RECIPE
Crispy panko breadcrumbs, marinara sauce, and mozzarella cheese top slices of eggplant to create this classic Italian dish, and the best part is, you can make eggplant parmesan air fryer friendly!
Traditionally, eggplant parmesan requires frying breaded eggplant slices in hot oil. We don't need to fry them because we are going to use the crisping power of our air fryer to make the eggplant perfectly crispy without all that oil.
This eggplant recipe will join your rotation of dinner recipes once you see how simple and delicious this is!
Try this recipe for Zucchini Parmesan in the air fryer for a fun twist. For another great Air Fryer Italian dinner, try Air Fryer Spaghetti Meatballs. If you you are feeling like plain eggplant you can try our Air Fryer Eggplant.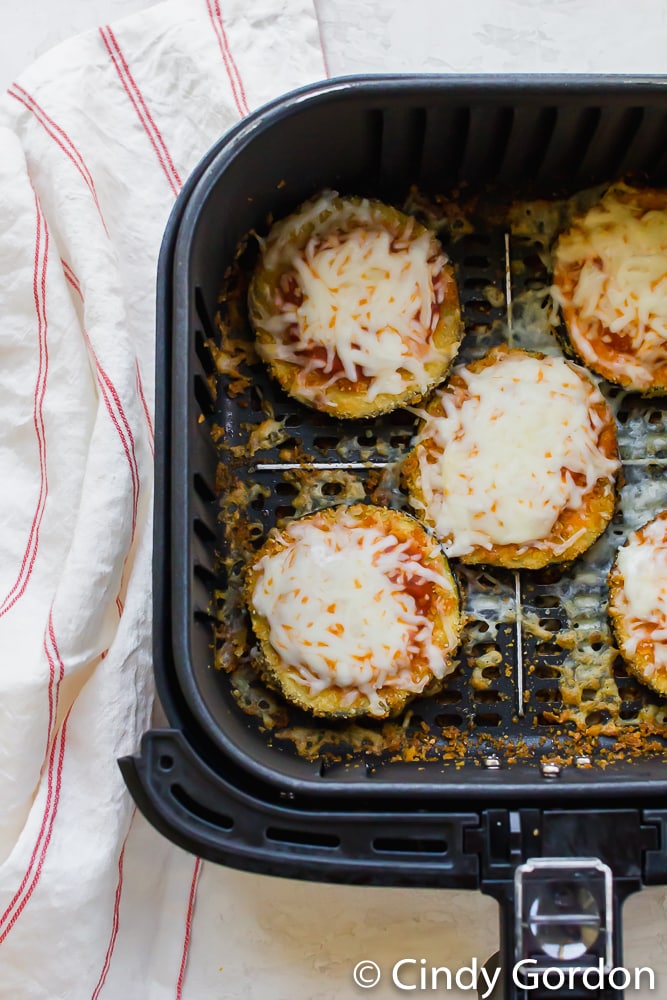 INGREDIENTS IN AIR FRYER EGGPLANT PARMESAN
Spaghetti - Serve spaghetti or your favorite pasta with the eggplant.
Marinara Sauce - Use whatever brand or style of sauce that you like!
Eggplant - find a medium sized eggplant, about 1 pound in weight.
Eggs - The eggs in this recipe help the breadcrumbs stick to the eggplant.
Panko Breadcrumbs - Panko is perfect for air fryer recipes because these crumbs are extra crispy.
Italian Seasoning - This is typically a blend of herbs including basil and oregano.
Mozzarella Cheese - Perfect for melting on top of your eggplant parmesan.
Fresh Basil - This is a garnish that adds wonderful herb-y flavor.
If you have any questions, please leave a comment below and I will get back to you.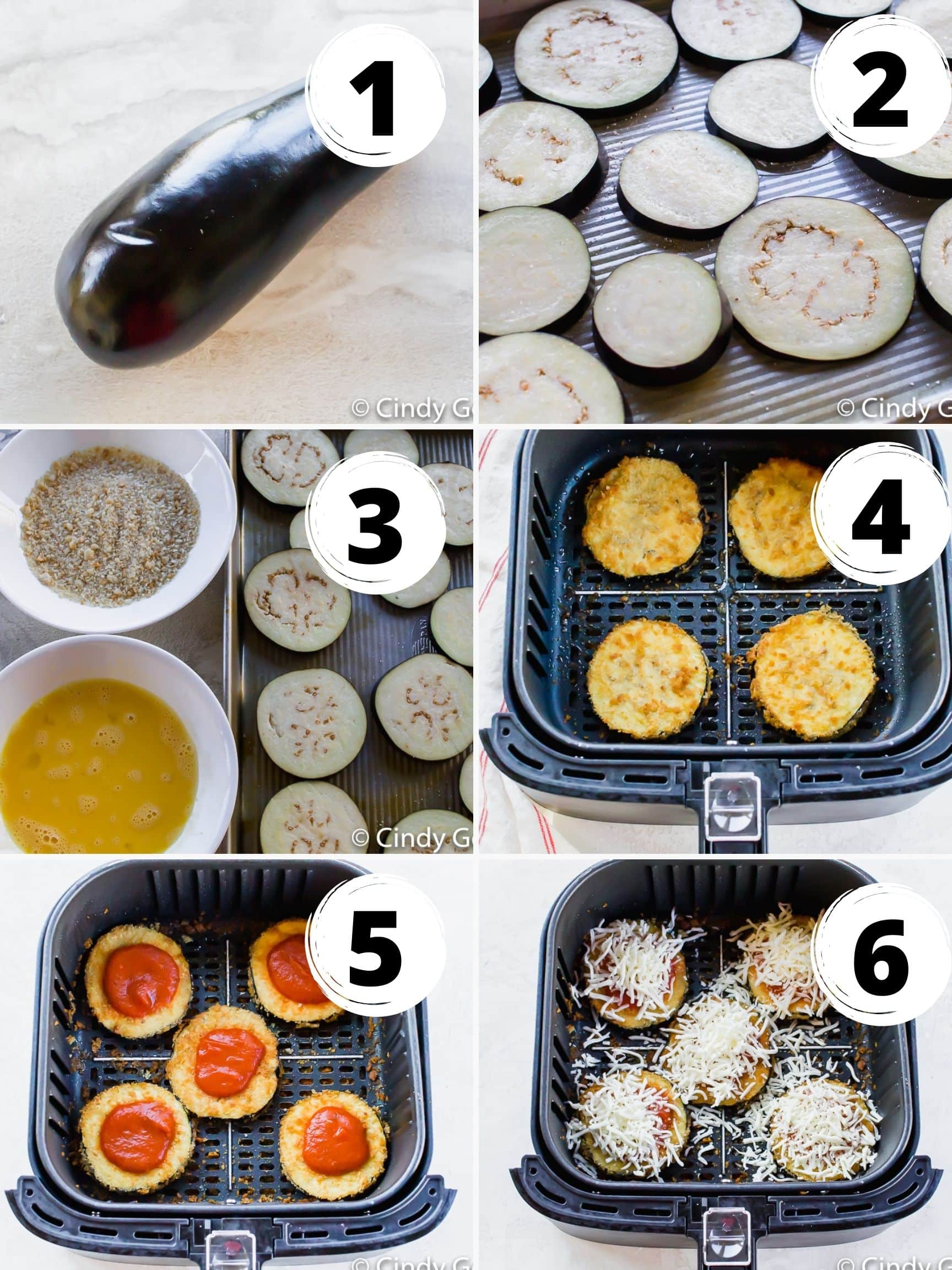 HOW TO MAKE AIR FRYER EGGPLANT PARMESAN
Select a medium eggplant. Wash it and slice off the ends.
Slice eggplant into ¼ inch pieces. Place eggplant on a lipped cookie sheet. Salt the eggplant and let it sit for a bit. Flip the eggplant slices over and salt them again. Then let them sit for a bit longer.
In a small bowl beat eggs and set aside. In another small bowl mix panko and Italian seasoning. Dip each eggplant piece into the egg mixture, followed by the panko mixture to coat.
Cook the eggplant in the air fryer as directed.
Gently spoon sauce onto each individual piece of eggplant.
Place cheese on eggplant pieces. Cook in the air fryer until cheese is melted.
These numbered steps match the numbered photos above and are for illustration purposes. For the complete list of ingredients and instructions, please see the recipe below.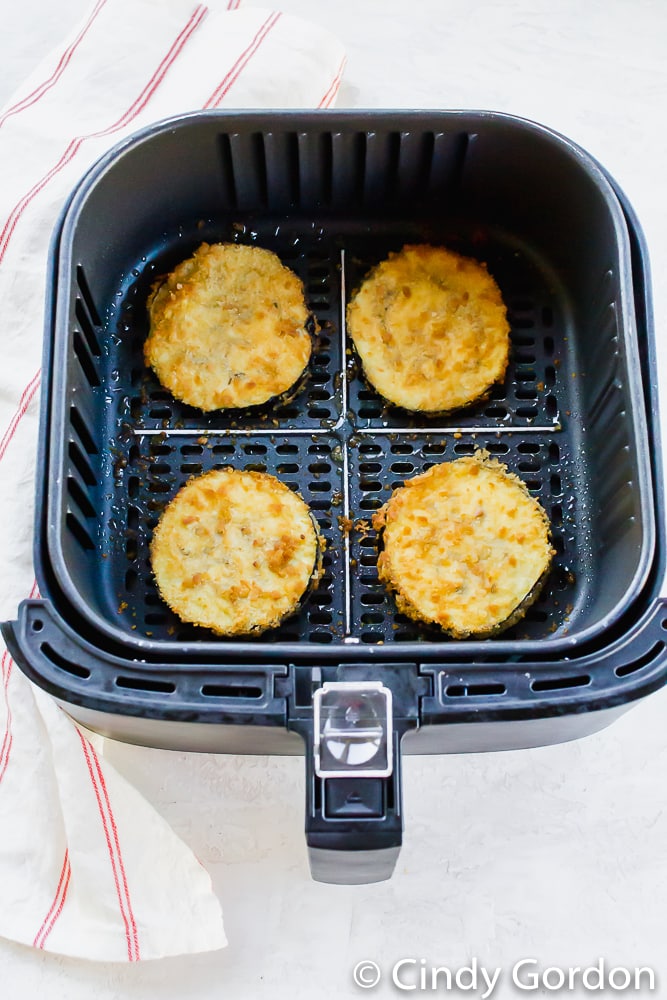 VEGAN AIR FRYER EGGPLANT PARMESAN
Making this recipe vegan is pretty simple with some substitutions.
Use maple syrup instead of the egg to stick the breadcrumbs to the eggplant.
Omit the cheese all together, or use a vegan shredded cheese like Daiya.
DO YOU PEEL EGGPLANT BEFORE COOKING?
It is not required that you peel eggplant for making eggplant parmesan, and actually I prefer to leave the skin on.
If you're using a particularly tough eggplant or if the eggplant skin is damaged, you can peel some of it, but you definitely don't need to. The skin is generally tender and the texture is lovely in most dishes.
CAN I FREEZE AIR FRYER EGGPLANT PARMESAN?
You sure can! place cooked slices in a zipper bag in the freezer. They will stay fresh for up to six months.
To reheat from frozen, place slices back into the air fryer and cook at 350F for 5 minutes, adding additional minutes if needed.
WHAT TO SERVE WITH AIR FRYER EGGPLANT PARMESAN
Eggplant Parm is a complete meal all on it's own. I like to serve mine with gluten free spaghetti.
Your family might like an extra veggie with this meal, and you may be wondering what vegetable goes with eggplant parmesan. I'd suggest Balsamic Air Fryer Mushrooms or Air Fryer Zucchini.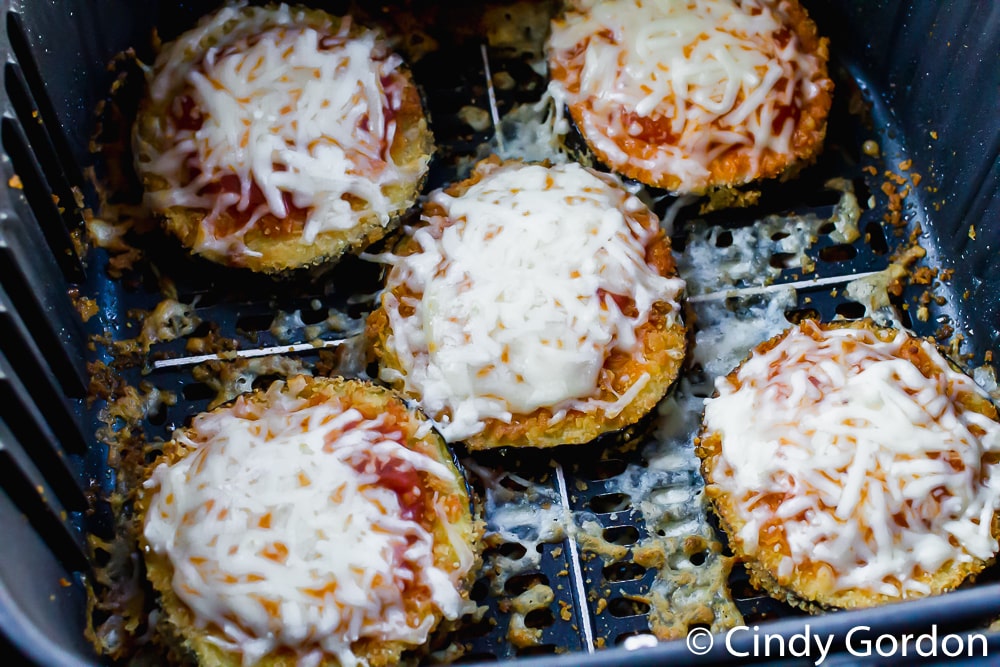 MORE AMAZING AIR FRYER DINNER RECIPES
Another great vegetarian air fryer dish is our Air Fryer Mushroom Tacos.
Love the crunch you get from air frying with breadcrumbs? Try Air Fryer Fish.
Air Fryer Meatloaf is a crowd pleasing dinner recipe that you can make in the air fryer too!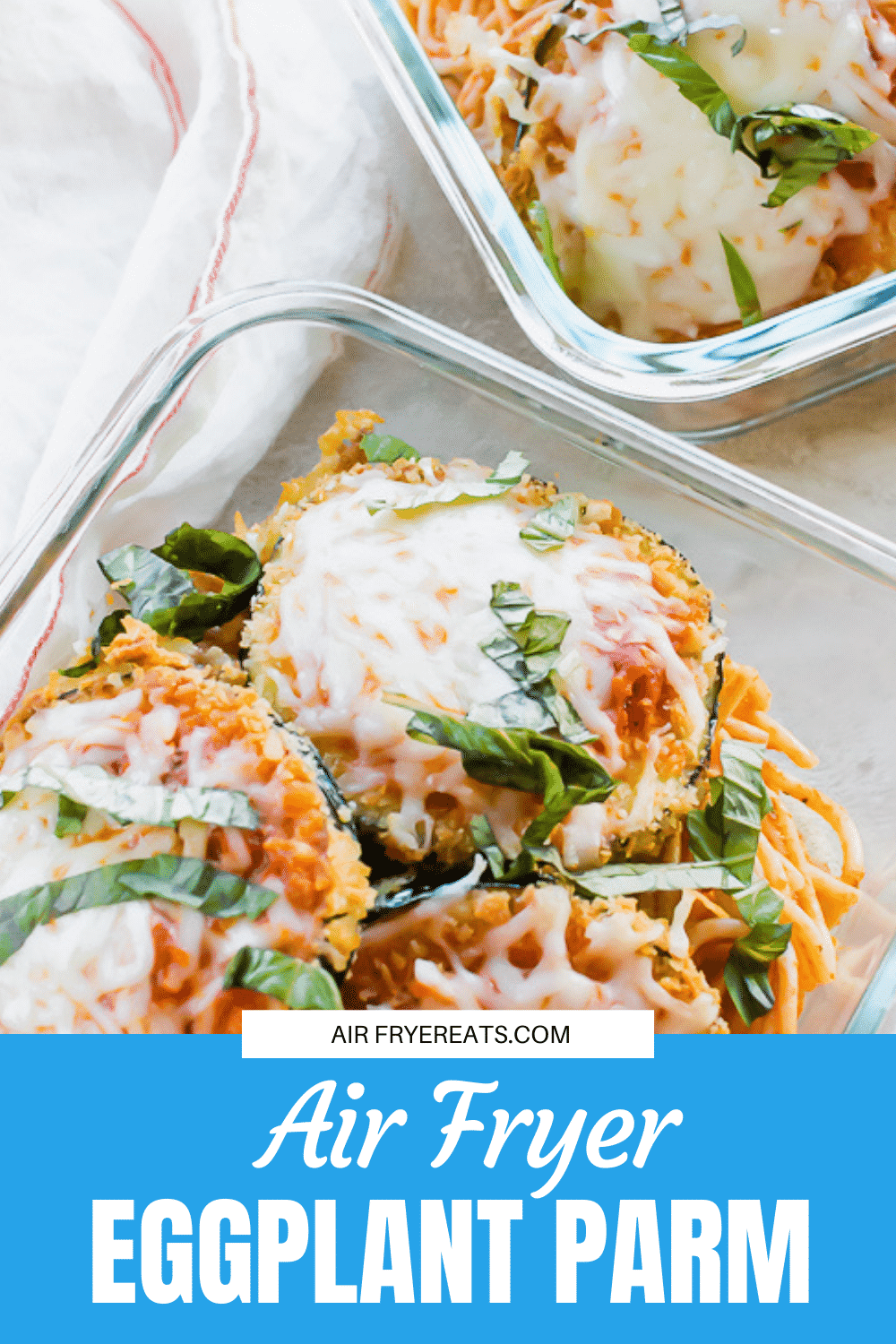 Have you made this recipe? Please leave a comment AND rating below! It helps other readers!
Be sure to tag @AirFryerEats on instagram, if you share a picture on the gram!
Let's get social, you can follow me on Youtube, Instagram, Facebook, Pinterest or join one of our Air Fryer Facebook Groups: Air Fryer Recipes, Air Fryer Recipes for Seniors and Gluten Free Air Fryer Recipes.
Don't forget to subscribe to our EMAIL newsletter.