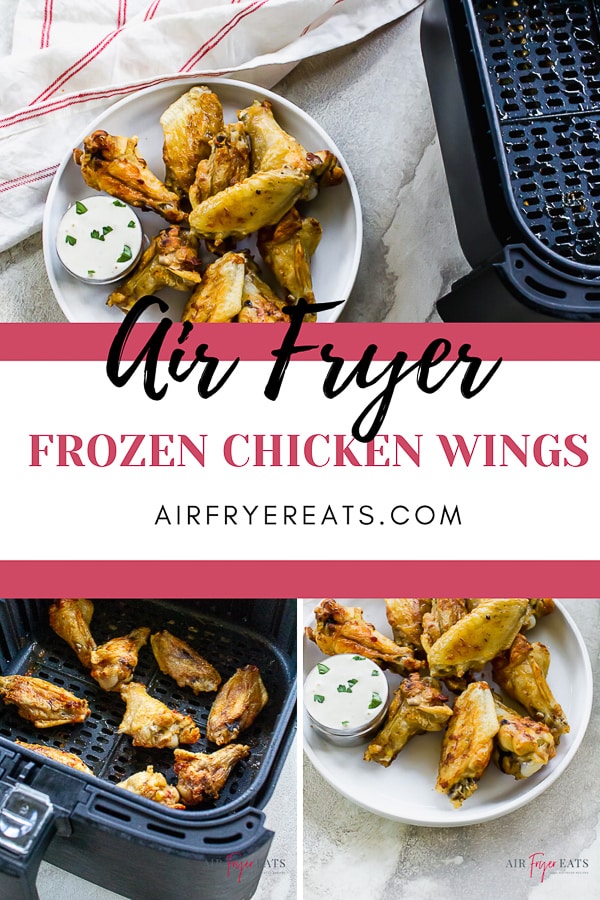 Air Fryer Frozen Chicken Wings are a quick and easy appetizer you can make in a snap. Just throw the frozen chicken wings in the air fryer and let the cooking magic begin!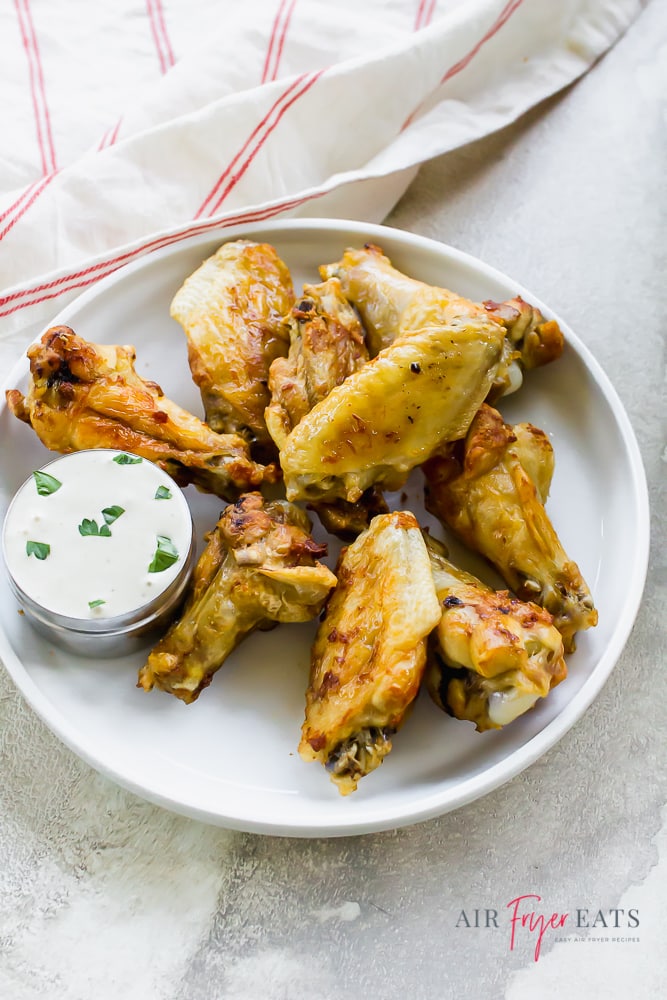 CAN YOU COOK FROZEN CHICKEN WINGS IN THE AIR FRYER?
That is a question we see frequently in our facebook groups. The answer is YES! You sure can.
It is actually very simple to make frozen chicken wings in the air fryer!
We get it, sometimes you forget to thaw the wings.
Life happens, things happen, we are all busy!
Maybe you have guests show up expectedly and you want to whip up a snack.
This air fryer frozen chicken wing recipe is just the one you need to keep bookmarked!
If you are a snacker that loves your air fryer, you should try our air fryer jalapeno poppers, air fryer Shishito Peppers or our air fryer pickles.
You are going to love those air fryer snacks!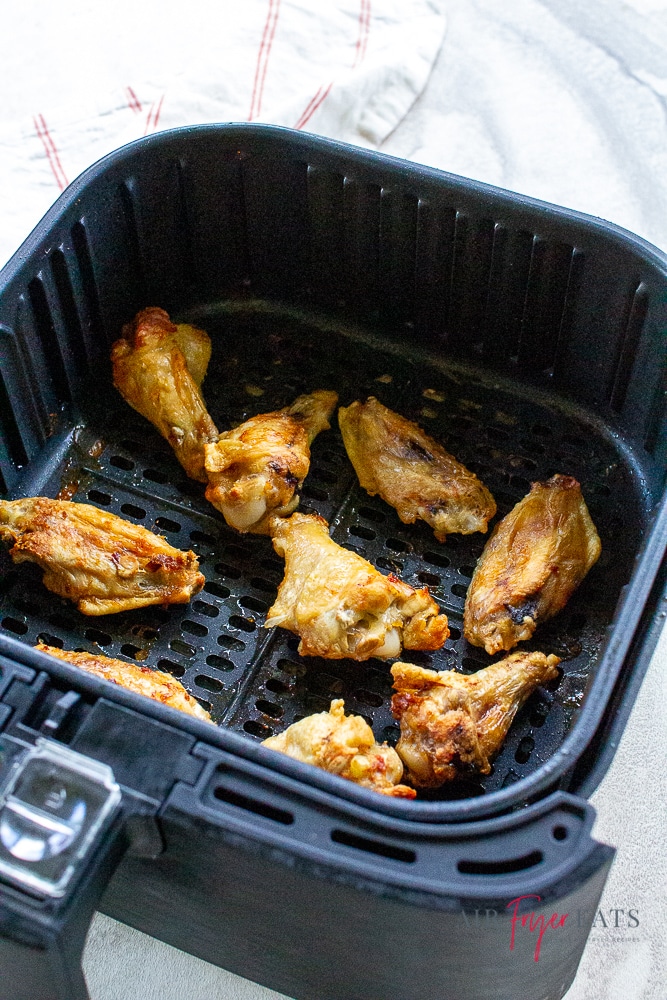 Tips for making frozen chicken wings in air fryer
Do I need to preheat my air fryer? Each air fryer runs a bit differently and each model comes with its own instructions.
It's kinda of 50/50 on whether you should or not. I personally do not preheat my air fryers. I would refer to your air fryer manual.
Do I need to add spray oil to my frozen wings when I put them in the air fryer? This is also up to personal preference.
I find that when I stick the wings in the air fryer there is plenty of moisture that helps the wings to get crisp.
If you feel that your wings aren't crisping the way you like, you can spray with some spray oil.
Be careful with the liquid in the inner basket. Your inner air fryer basket will catch all the frozen liquid drain off as well as chicken debris.
Be careful when you separate the baskets. If your unit starts to smoke, you may want to empty that basket, then start air frying again.
If you have a meat thermometer, you can check to make sure your wings come to an internal temp of 165F/73C.
There are recipes with varying times, so it is BEST to check the internal temp of the chicken. Use that as your rule of thumb as to whether the wings are cooked.
Have left over cooked wings? You can reheat chicken wings in your air fryer.
Put the chicken wings into the air fryer basket and air fry at 380F/193C for 5 minutes or until warm again.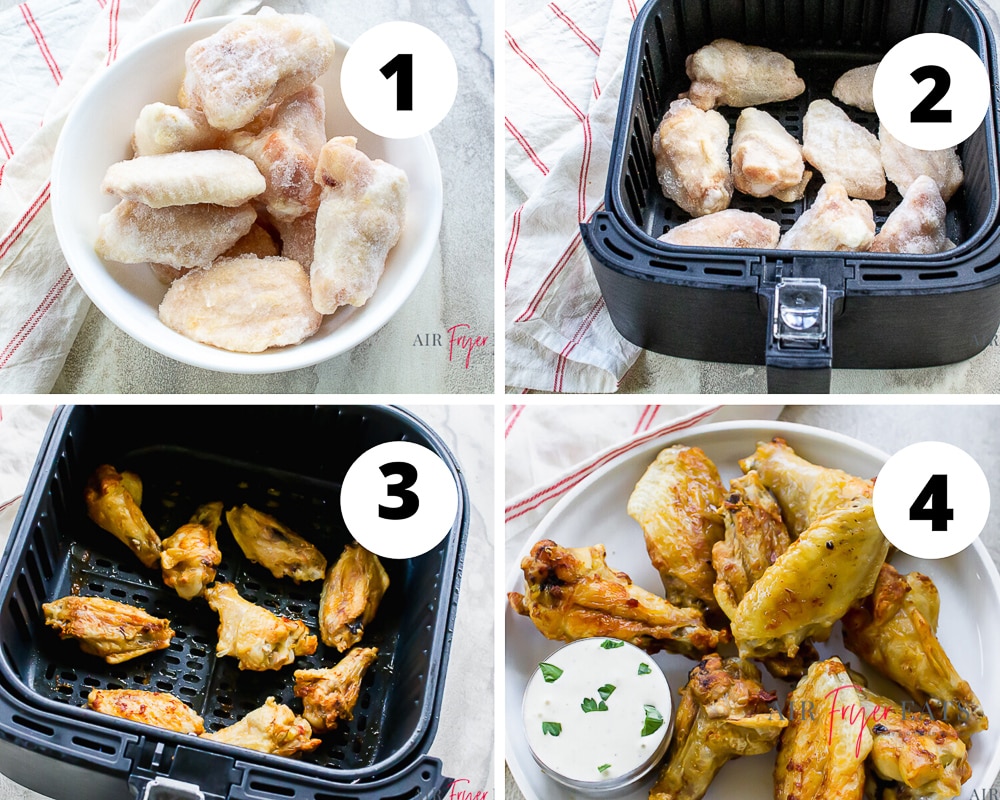 How to make air fryer frozen Chicken wings
Remove your frozen chicken wings from the freezer bag. Inspect the chicken wings and remove any unwanted pieces.
Place wings into the air fryer basket or tray. I do not oil the chicken wings.
Air fry the frozen chicken wings at 380F/193C for 30 minutes. Flip the wings over at the 15 minute mark (half way through) if you are using an air fryer oven. If you are using an air fryer with a basket, shake the wings at the 15 minute mark. (Some do 400F for a crispier skin)
Remove the wings from the air fryer basket and put on a plate. You can top with your favorite sauce or salt/pepper.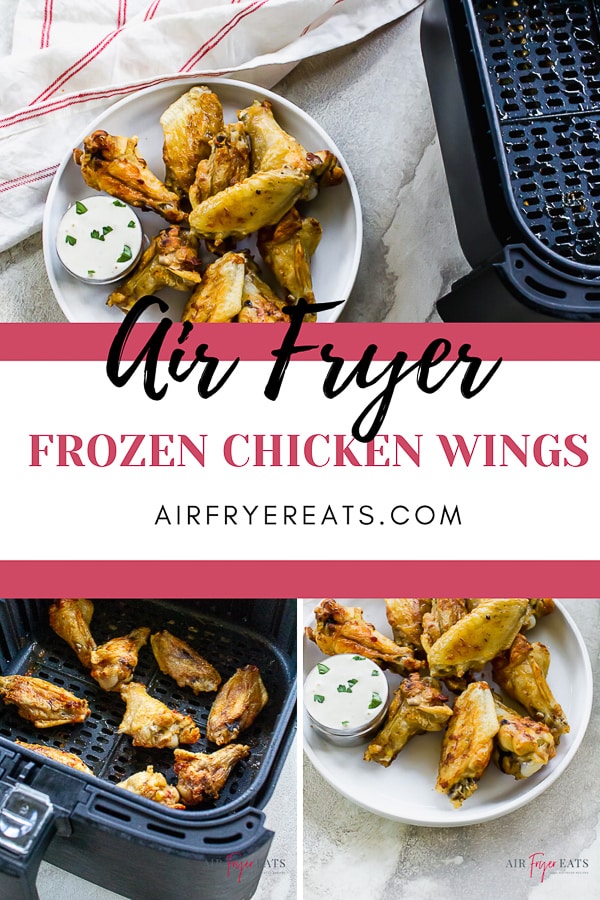 PRO TIP: When cooking meat it is extremely important that you measure the internal temperature to make sure your meat has been cooked to completion.
I highly recommend that you get a meat thermometer to keep handy when cooking in your air fryer!
Pro Tip: This recipe can be made in the air fryer unit with a basket or the air fryer oven.
If you are using the air fryer oven, use the middle rack and select the "Air Fry" function.
How to reheat wings
You can easily reheat wings in your air fryer. There are a variety of ways to reheat your ways.
Place your wings in the air fryer.
Reheat your wings at 350F for 5 minutes, then turn the heat up to 400F and cook for an additions 3-5 minutes or until warm and crispy.
Have you made this recipe? Please leave a comment AND rating below! It helps other readers!
Be sure to tag @AirFryerEats on instagram, if you share a picture on the gram! Let's get social, you can follow me on Youtube, Instagram, Facebook, Pinterest or join one of our Air Fryer Facebook Groups: Air Fryer Recipes, Air Fryer Recipes for Seniors and Gluten Free Air Fryer Recipes.
Don't forget to subscribe to our EMAIL newsletter.