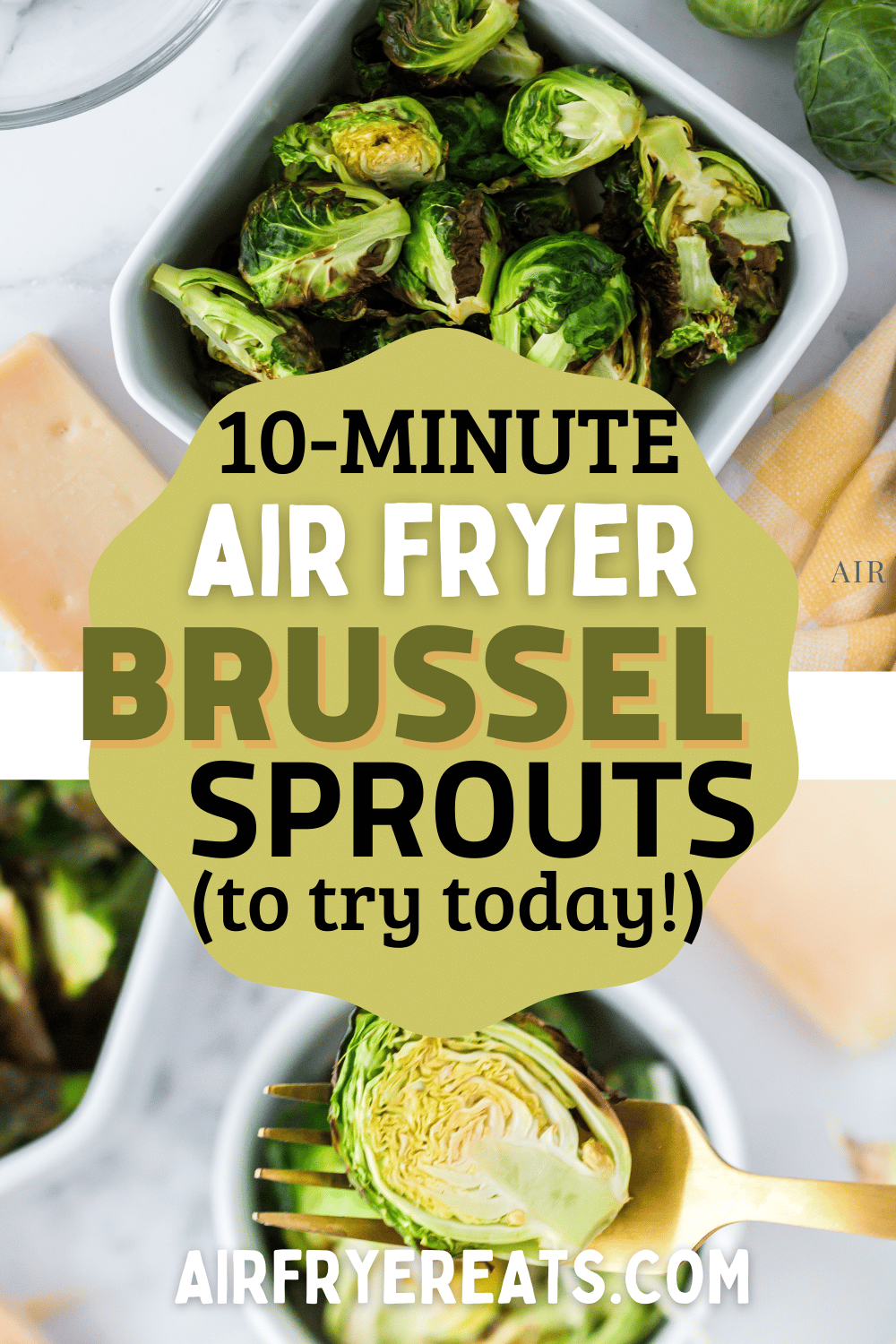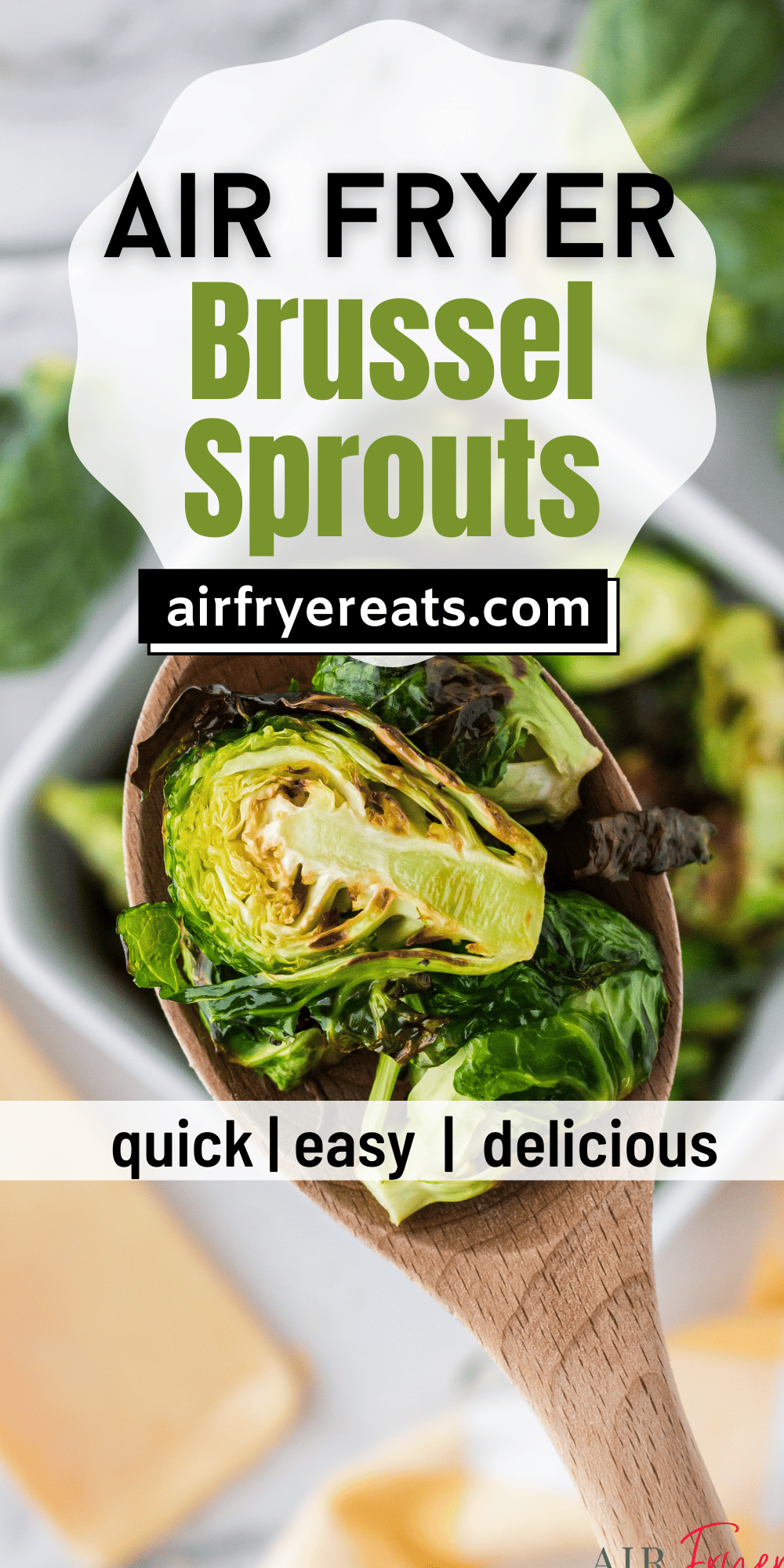 Ninja Foodi Brussel Sprouts are made using the air fryer function of the Foodi to bring out their best! These spouts are firm, crisp, and better than you can imagine.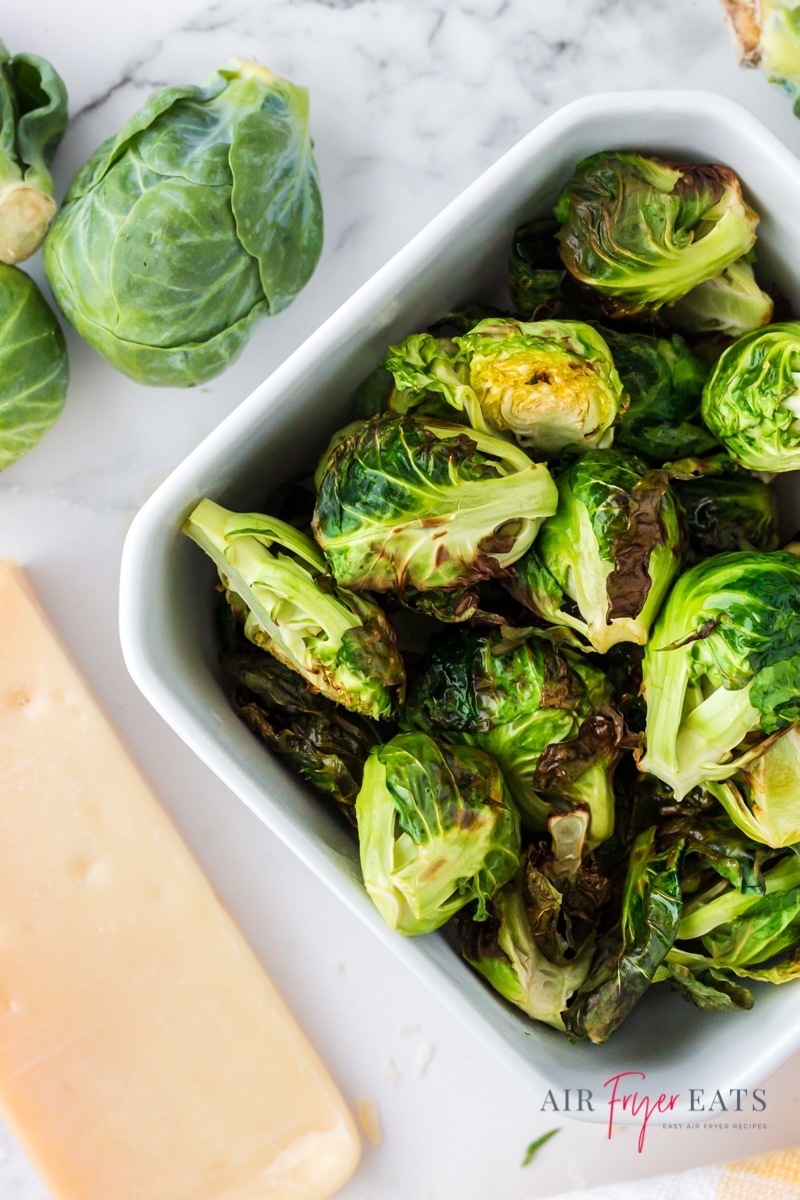 RECIPE FOR BRUSSEL SPROUTS IN NINJA FOODI
Wondering how you should cook up brussel sprouts in your Ninja Foodi? We all know that this multicooker machine does a lot of different things well, but when it comes to brussel sprouts, you should definitely use the air fry setting.
The air fryer function of the Ninja Foodi is my favorite way to cook brussel spourts that are tender, browned, and crispy on the edges!
They turn out much like they would if you roasted them in the oven, but much more quickly and with less oil and mess.
Cooking with an air fryer that isn't a Ninja Foodi? Check out our recipe for Air Fryer Brussel Sprouts instead.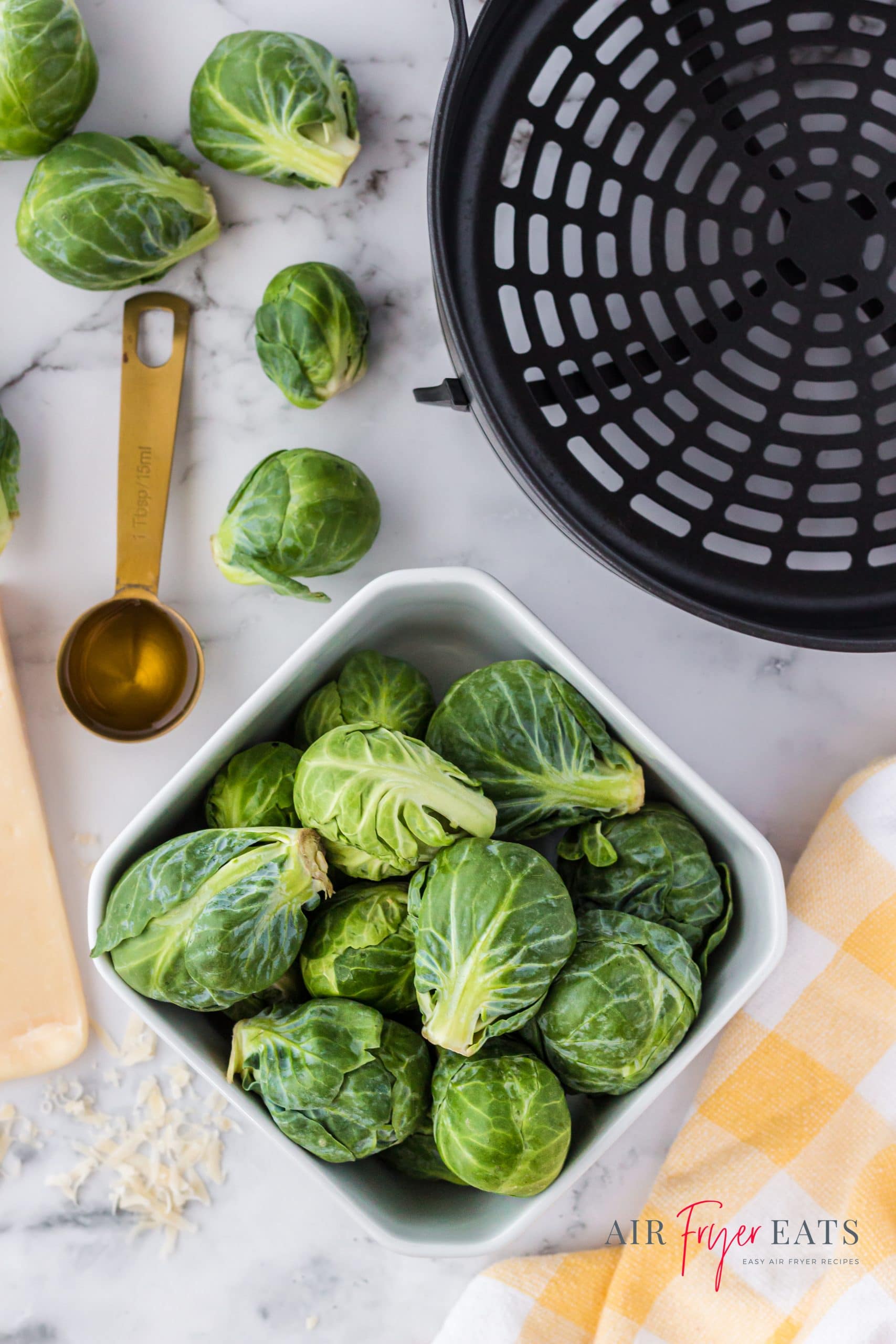 INGREDIENTS FOR BRUSSEL SPROUTS IN NINJA FOODI
Brussel Sprouts - This easy air fryer recipe is for cooking fresh brussel sprouts in the air fryer. You need about 2 pounds of them.
Olive Oil - A small amount of oil will help the brussel sprouts cook up beautifully, with crispy brown edges.
Parmesan Cheese - the salty flavor of parmesan pairs really well with slightly bitter brussel sprouts. I like to add this after they are cooked so that the cheese is just slightly melted and fresh.
Balsamic Vinegar - another flavor booster, mix in this rich vinegar with the parmesan cheese to make the Ninja Foodi Brussel Sprouts taste amazing.
If you have any questions about making brussel sprouts in the Ninja Foodi air fryer, please leave a comment below and I will get back to you ASAP!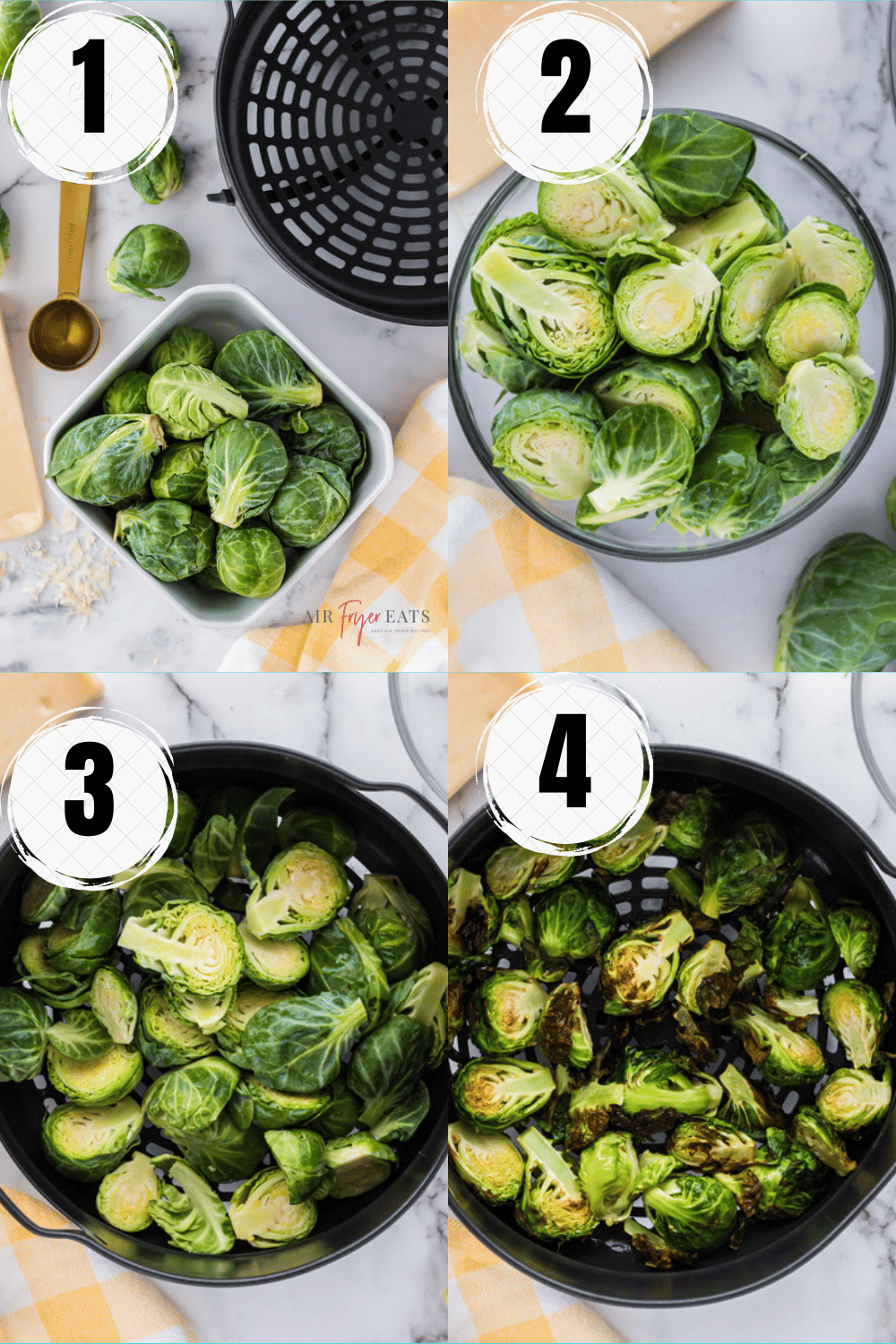 HOW TO MAKE BRUSSEL SPROUTS IN NINJA FOODI
Start by preheating the Ninja Foodi on the air fryer setting to 350°F/180°C for a few minutes while you wash and trim the brussel sprouts.
Remove the ends from each sprout, take off any damaged outer leaves, and cut each sprout in half.
Toss the brussel sprouts in olive oil, and add them to the basket. Air fry as directed in the recipe card below.
Stir halfway through the cooking time and finish air frying. When done the brussel sprouts should be tender on the inside and browned on the edges. Garnish with fresh parmesan cheese and balsamic vinegar before serving.
These numbered steps match the numbered photos above and are for illustration purposes. For the complete list of ingredients and instructions for Ninja Foodi Brussel Sprouts, please see the recipe below.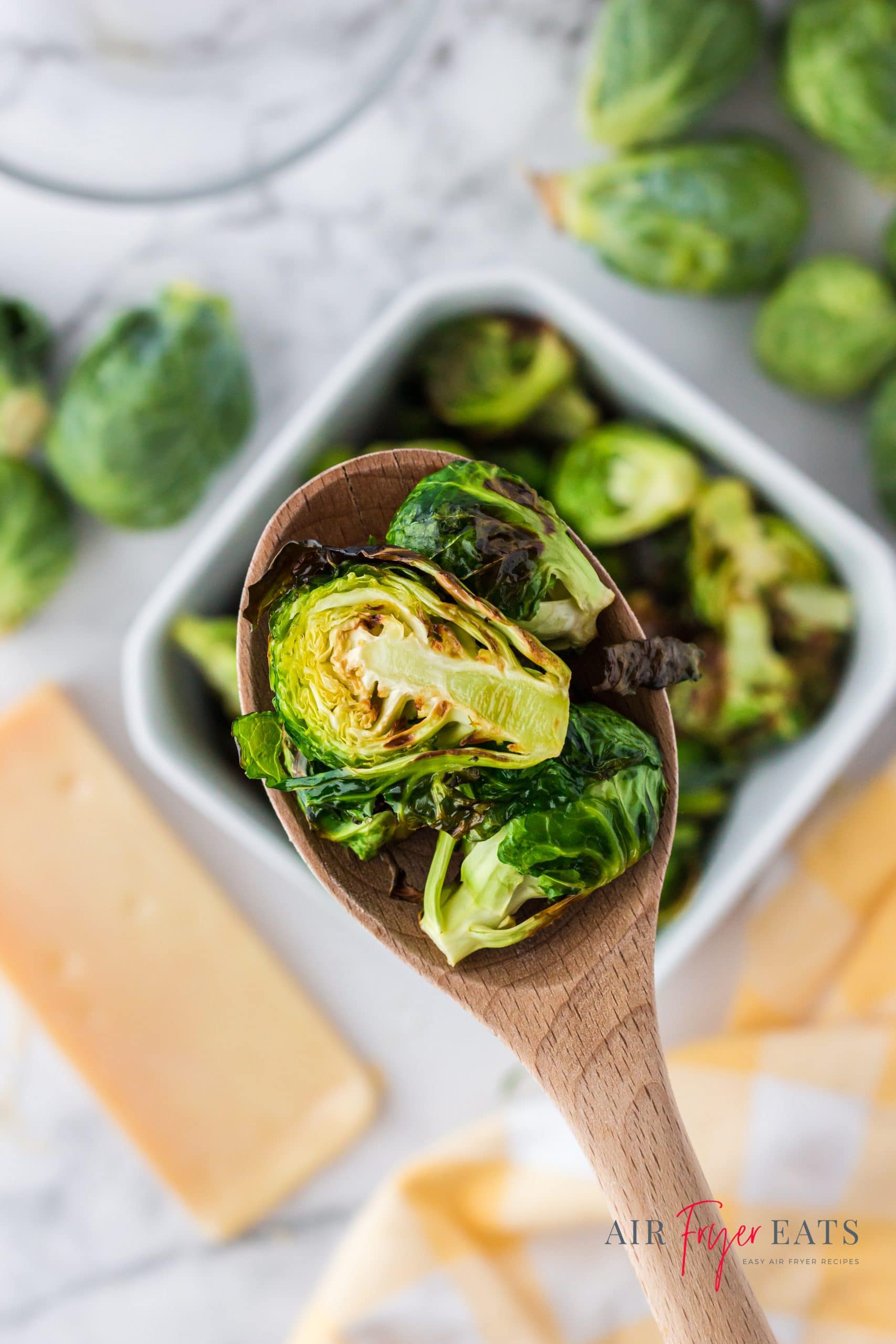 WHAT TO SERVE WITH NINJA FOODI BRUSSEL SPROUTS
Brussel sprouts in the Ninja Foodi pair perfectly with savory meals, and are particularly tasty in the fall when you can get them really fresh.
Try a side of air fryer brussel sprouts with Ninja Foodi Pork Chops, Pork Roast in Ninja Foodi, or a Ninja Foodi Steak. Add a side of mashed potatoes for a hearty, homestyle dinner.
Cook easy Chicken Breasts in the Ninja Foodi and make healthy meal prep bowls with sliced chicken, brussel sprouts, and instant pot brown rice.
DOES THE NINJA FOODI COOK DIFFERENTLY THAN OTHER AIR FRYERS?
We already have a recipe here for Air Fryer Brussel Sprouts. So, why do we need a separate recipe for air frying them in the Ninja Foodi?
The Foodi does air fry a bit differently than most other basket style air fryers. In our testing, we notice that the Foodi seems to air fry faster and hotter than our trusty Cosori basket model.
You've heard me say it before: All Air Fryers Cook Differently.
If this is your first time making brussel sprouts in the Ninja Foodi, be sure to keep an eye on them, especially during the last few minutes. This way you can adjust the cooking time if needed.
DO I NEED TO CUT BRUSSELS SPROUTS IN HALF?
When roasting, or in this case, air frying brussel sprouts, I like them to be cut in half so that they have more surface area to get browned and crispy. If your sprouts are particularly small you may want to just trim the ends and cook them whole.
CAN I AIR FRY FROZEN BRUSSEL SPROUTS?
For really crispy Brussel sprouts, you should use fresh sprouts to make this recipe.
If you don't care so much about getting that browned, crisp texture on your brussels, then you can totally air fry frozen brussel sprouts.
P.S. you can also air fry frozen broccoli!
Cook them from frozen, following the recipe below. Frozen Brussel sprouts take the same amount of time to cook as fresh ones.
WHY ARE MY BRUSSEL SPROUTS BURNING IN THE AIR FRYER?
There are two reasons why your sprouts might be burning. First, you may need to not cook them so long. Always check on your food as it cooks so that it doesn't overcook.
Second, you may need to increase the temperature. The key to really great roasted air fryer brussel sprouts is to cook them at high heat for a short amount of time. Low heat can backfire.
MY BRUSSELS SPROUTS ARE STILL RAW ON THE INSIDE!
It may be tricky to get tender middles to your sprouts if they are very large. Consider slicing them into quarters if they are bigger than average.
Some recommend soaking brussel sprouts in cold water for 20 minutes or so before air frying. I haven't tried this, but it's worth a shot!
These Ninja Foodi brussel sprouts should be tender, but have a bit of chew to them. We don't want them to be mush!
HOW TO STORE LEFTOVER BRUSSELS SPROUTS
Keep leftovers in an airtight container in the refrigerator for 3-5 days. Reheat in the microwave or put them back in the air fryer for 2-5 minutes.
Need more brussel sprout inspiration? Check out this recipe that adds bacon to brussel sprouts with parmesan and balsamic.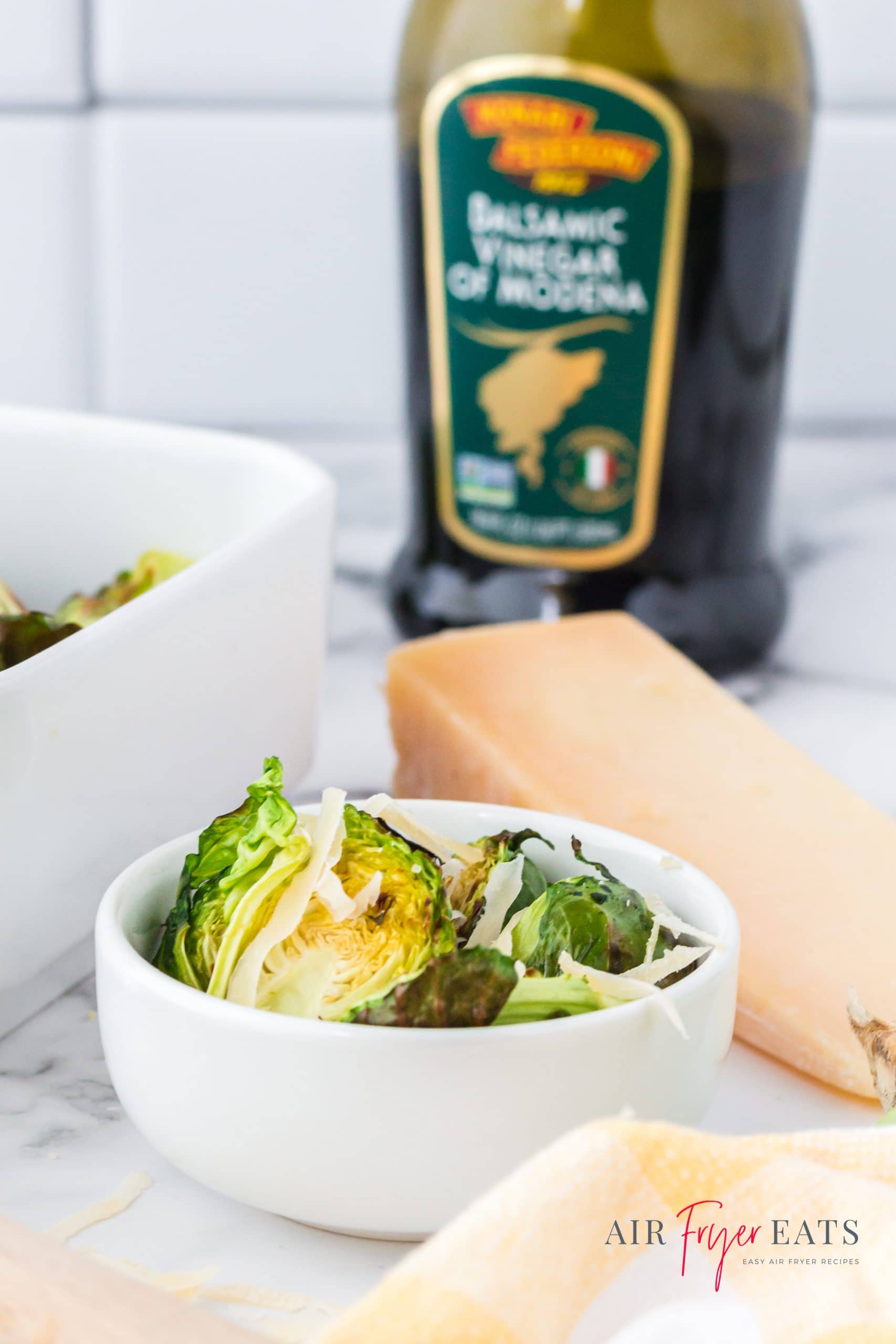 MORE NINJA FOODI AIR FRYER RECIPES
I love using my Ninja Foodi as an air fryer. Of course, I also use it to make grains and steam things, but it really shines while roasting dishes in the air fryer basket.
Ninja Foodi Meatloaf is a family favorite at my house, and I can make it with beef, turkey, or even vegan ground meat. Yum!
If you're looking for a snack for a game, you should try my Ninja Foodi Chicken Wings. They are crispy and flavorful, and much less messy to cook than deep fried wings.
Need a new way to cook fish? Ninja Foodi Salmon is simple to make and very fast.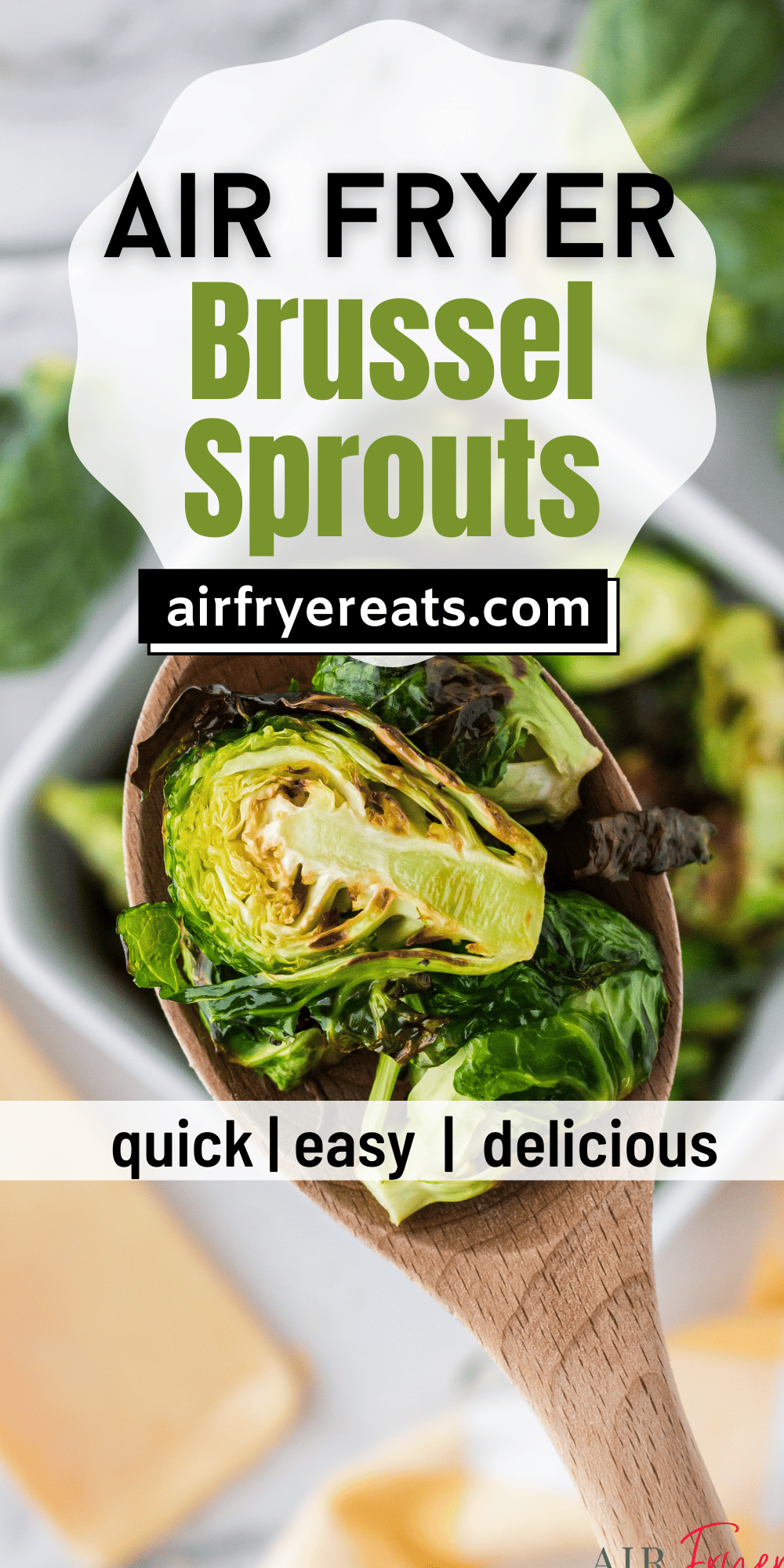 Have you made this recipe? Please leave a comment AND rating below! It helps other readers!
Be sure to tag @AirFryerEats on instagram, if you share a picture on the gram! Let's get social, you can follow me on Youtube, Instagram, Facebook, Pinterest or join one of our Air Fryer Facebook Groups: Air Fryer Recipes, Air Fryer Recipes for Seniors and Gluten Free Air Fryer Recipes.
Don't forget to subscribe to our EMAIL newsletter.
Ninja Foodi Brussel Sprouts
Ninja Foodi Brussel Sprouts are made using the air fryer function of the Foodi to bring out their best!
Ingredients
24

ounces

brussel sprouts

fresh

2

tablespoons

olive oil

¼

cup

shredded parmesan cheese

2

tablespoons

balsamic vinegar

to taste

salt and pepper

to taste
Instructions
Preheat the air fryer to 350°F/180°C for 5 minutes.

Trim the ends from the brussel sprouts, remove any damaged outer leaves, and slice each brussel sprout in half.

Toss the brussel sprouts in olive oil. Place them in the air fryer basket, and cook in the Ninja Foodi on the Air Fry setting at 350°F/180°C for 5 minutes.

Stir, then air fry for an additional 5 minutes, or until the brussel sprouts are slightly browned and tender.

If desired, season with salt and pepper, sprinkle with freshly grated parmesan cheese, and drizzle with balsamic vinegar.
Go AD FREE!
Notes
Adding cheese and balsamic vinegar to your sprouts after they're cooked is optional, but a very delicious option!
To add flavor, sprinkle the brussel sprouts with salt, pepper, and/or garlic powder. I suggest adding the parmesan cheese first, and then tasting to see if any salt is necessary, since parmesan is salty.
Pro Tip: This recipe can be made in the air fryer unit with a basket or the air fryer oven. If you are using the air fryer oven, use the middle rack and select the "Air Fry" function.
Pro Tip: Check your food as it cooks. Each air fryer runs a bit differently. Sometimes air frying is a trial and error process. Check your food as it cooks to learn your air fryer better! When cooking a new recipe or food items be sure to check your food often to help avoid over/under cooking.
Have oven recipes that you'd like to convert to an air fryer recipe? Use our Air Fryer Calculator to help you estimate cooking times and temps! Calculator here: https://airfryereats.com/air-fryer-conversion-air-fryer-calculator/
Nutrition
Calories:
168
kcal
|
Carbohydrates:
17
g
|
Protein:
8
g
|
Fat:
9
g
|
Saturated Fat:
2
g
|
Polyunsaturated Fat:
1
g
|
Monounsaturated Fat:
6
g
|
Cholesterol:
5
mg
|
Sodium:
154
mg
|
Potassium:
682
mg
|
Fiber:
6
g
|
Sugar:
5
g
|
Vitamin A:
1337
IU
|
Vitamin C:
145
mg
|
Calcium:
129
mg
|
Iron:
3
mg
Tired of the ads?
Go AD Free - Become part of our Membership community!
Air Fryers can vary greatly. Please take the time to learn your specific air fryer. You may need to adjust times and temperatures based upon your air fryer.
All though this website attempts to provide accurate nutritional information, the information should only be considered an estimate. Varying factors such as different product types, different brands, etc. can change nutritional information. It is your responsibility as a consumer to read all labels to make sure the ingredients fit your dietary needs as well as calculate your own nutritional information as a double check.