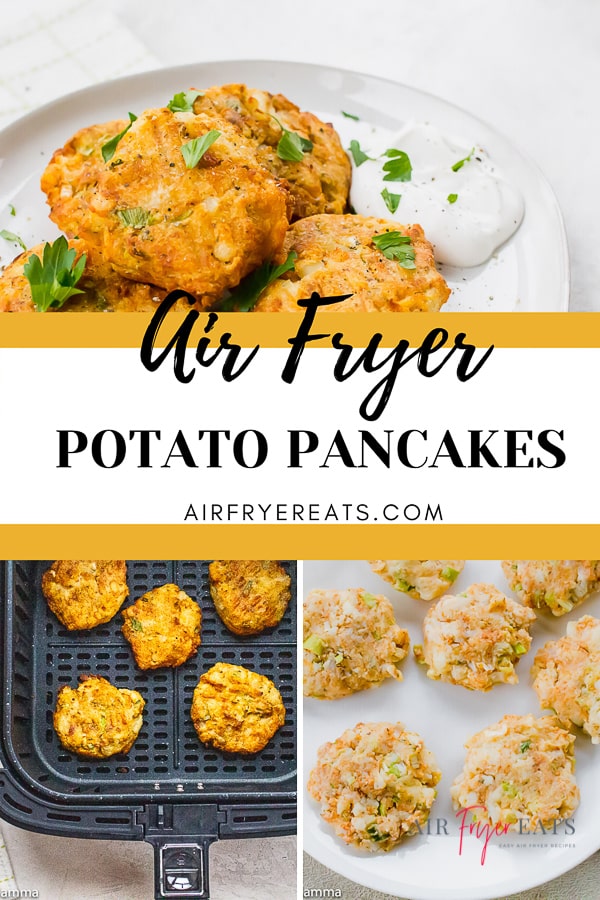 These crispy Air Fryer Potato Pancakes are the perfect next-day dish for leftover mashed potatoes. Try them as a side dish for dinner or brunch!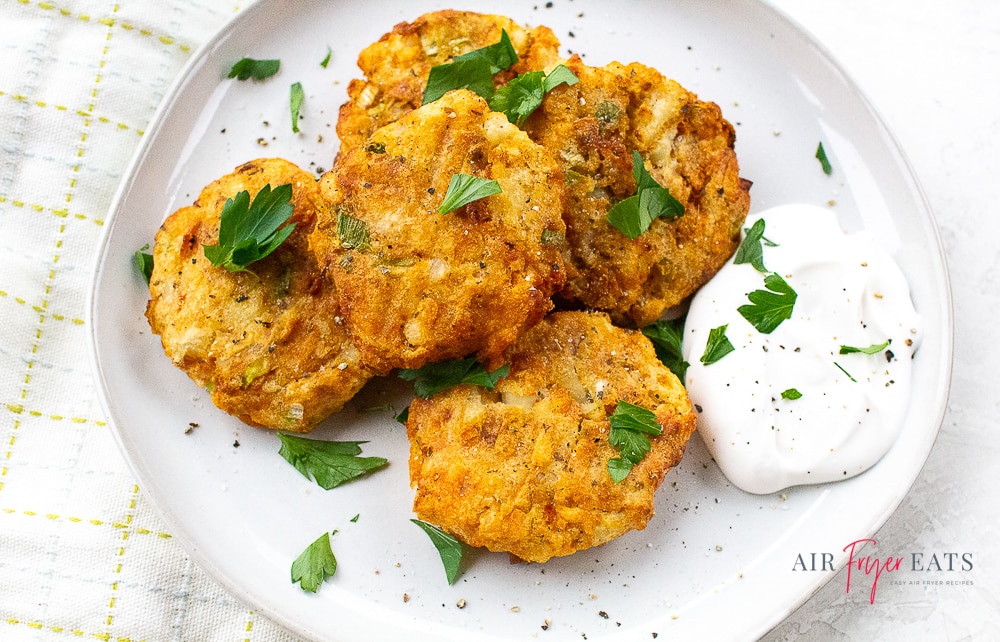 I love leftovers, but sometimes the same meal multiple days in a row is monotonous.
This Air Fryer Potato Pancake recipe is great because it takes leftovers that may go to waste and turns them into something new and delicious: a crispy potato cake that's soft and creamy inside!
Just five ingredients takes your leftover mashed potatoes to another level and the air fryer can get them crispy in 10 minutes!
Make it your own with different toppings and dipping sauces for the family!
Looking for a great mashed potato recipe?
Skip the cream and try our Vegan Mashed Potatoes to make fluffy vegan side dish without the dairy!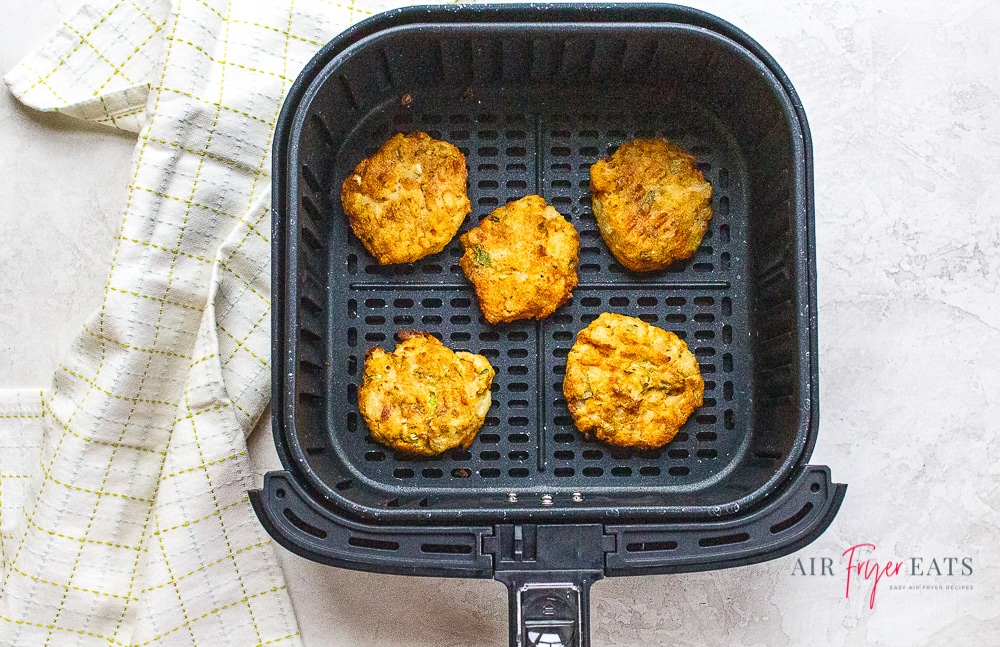 How to make Air Fryer Potato Pancakes
Made garlic mashed potatoes last night? That's great!
You can use any flavor of leftover mashed potatoes that please your palate as long as they're cold!
If they're warm, the pancakes won't stick together.
Scoop cold leftover mashed potatoes into a mixing bowl.
Add green onions.
Add all purpose flour — gluten-free or regular — and spices.
Scramble an egg in a separate bowl and add to potato mixture.
Combine ingredients well.
Form potato pancake mixture into patties. Place patties in air fryer basket and cook for about 10 minutes at 380°F, flipping about halfway through cooking. Plate with a side of sour cream and garnish with green onions or parsley if desired!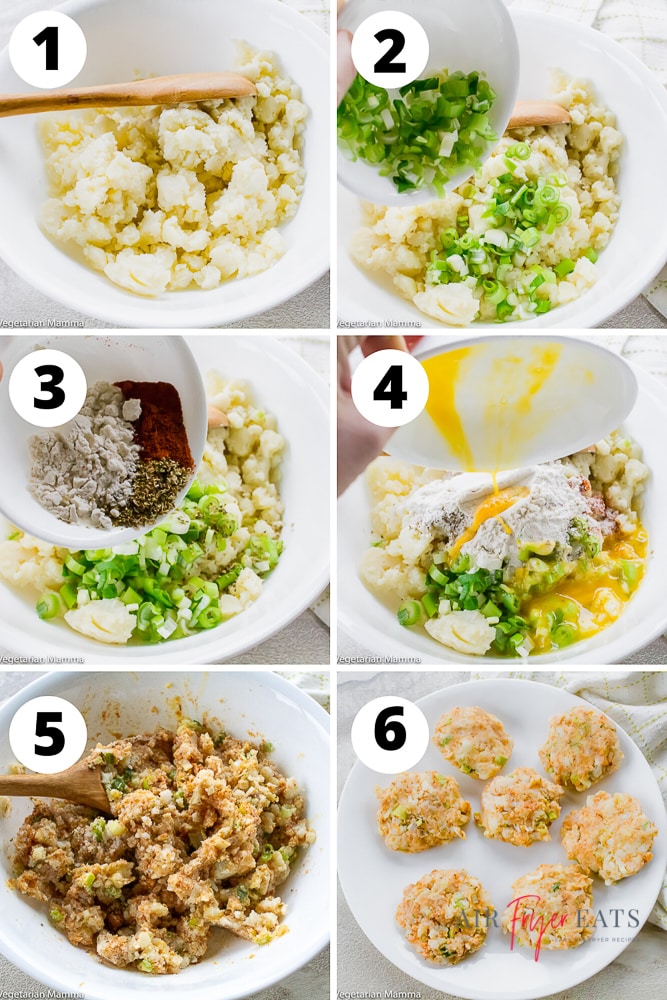 How to make potato pancakes stick together
Struggling to keep the potato mixture together when forming patties?
If your mixture is too runny, add more flour! Gluten-free or regular all purpose flour is fine for this.
If you have a cheesecloth, spoon the mixture into the cloth and squeeze any excess liquid from the mixture.
A thicker consistency potato mixture will stay together best during cooking.
What do you serve with potato pancakes?
Air Fryer Potato Pancakes are a hit on their own, but you can mix and match your toppings and dips.
I prefer a garnish of green onions and a side of sour cream, but apple sauce and smoked salmon also go great with this recipe!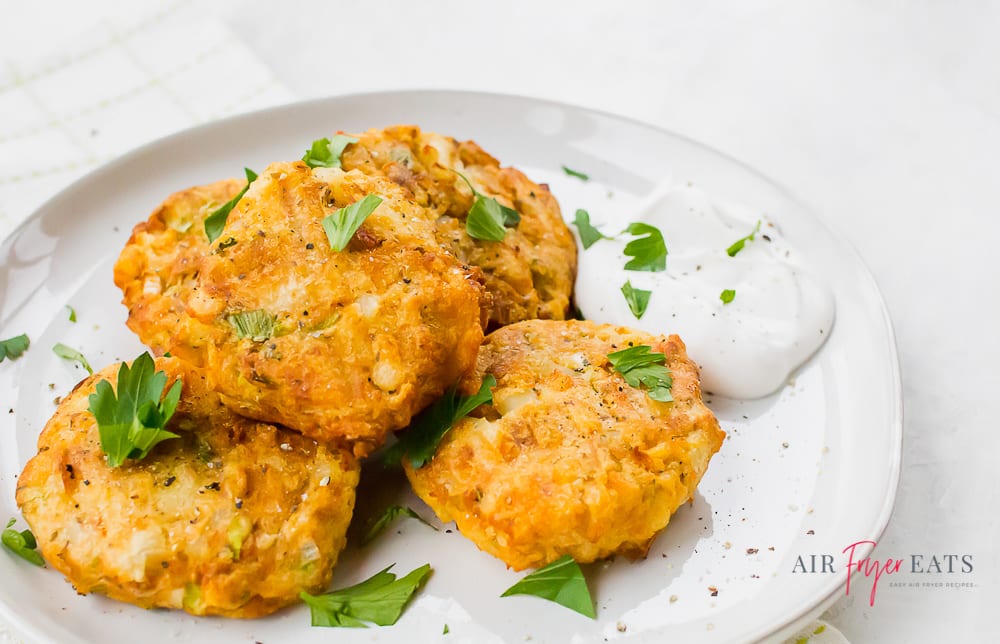 More Yummy Air Fryer Recipes
We have so many delicious air fryer recipes.
If you are looking for something new to try in your air fryer check out our Air Fryer Turkey, Air Fryer Asparagus, Steak in the air fryer, Air Fryer Brussels Sprouts and Air Fryer Tater Tots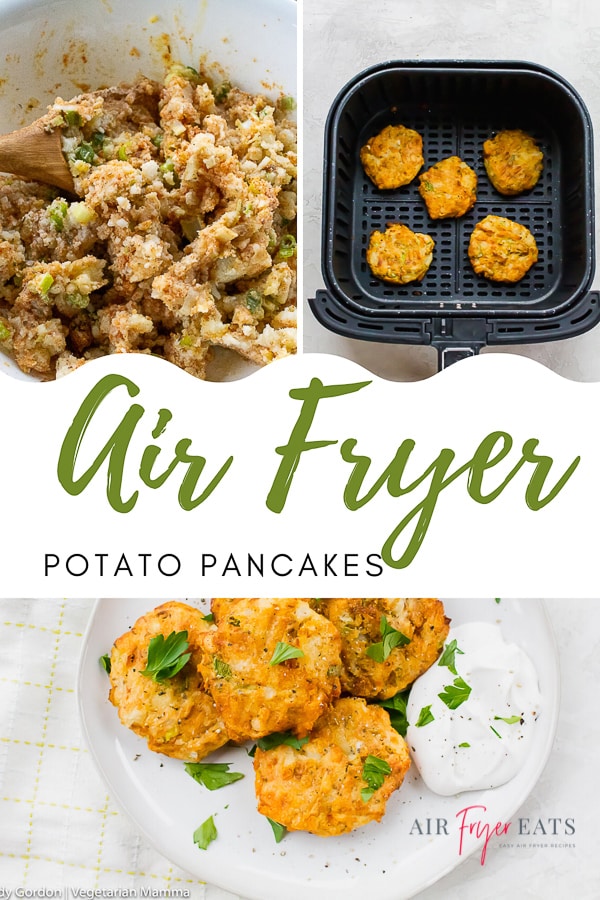 Pro Tip: This recipe can be made in the air fryer unit with a basket or the air fryer oven.
If you are using the air fryer oven, use the middle rack and select the "Air Fry" function.
Are you gluten-free? Me too! We also have a sister site where EVERYTHING is gluten-free.
It is called VegetarianMamma.
You can find some awesome dishes there for your Meatless Mondays!
Always be sure to read ingredient labels to make sure that the product/ingredients fits your dietary restrictions!
Generally, we make simple enough recipes where you can sub the ingredients.
Common subs in our recipes include: Bread = Canyon Bakehouse Bread Crumbs = Ian's GF Bread Crumbs Flour = GF Jules All Purpose GF Flour.
Because our household is mixed between gluten and gluten-free, we have made almost everything on our site both ways. (except some of the frozen foods).
If you have any questions, please ask!
Have you made this recipe? Please leave a comment AND rating below! It helps other readers!
Be sure to tag @AirFryerEats on instagram, if you share a picture on the gram! Let's get social, you can follow me on Youtube, Instagram, Facebook, Pinterest or join one of our Air Fryer Facebook Groups: Air Fryer Recipes, Air Fryer Recipes for Seniors and Gluten Free Air Fryer Recipes.
Don't forget to subscribe to our EMAIL newsletter.