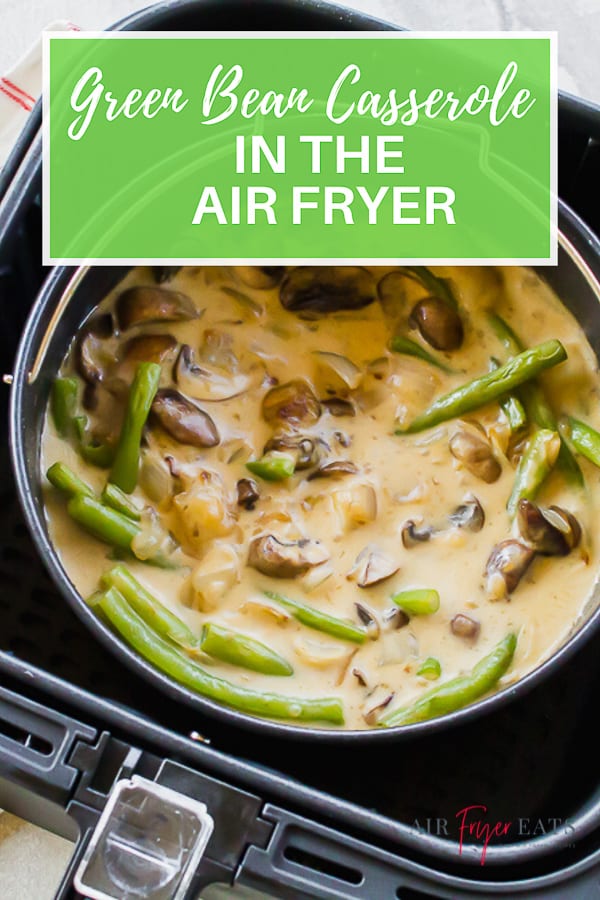 This Air Fryer Green Bean Casserole is your traditional holiday hit without the dairy! Dress it up or keep it plain for my favorite vegan side dish for every family gathering!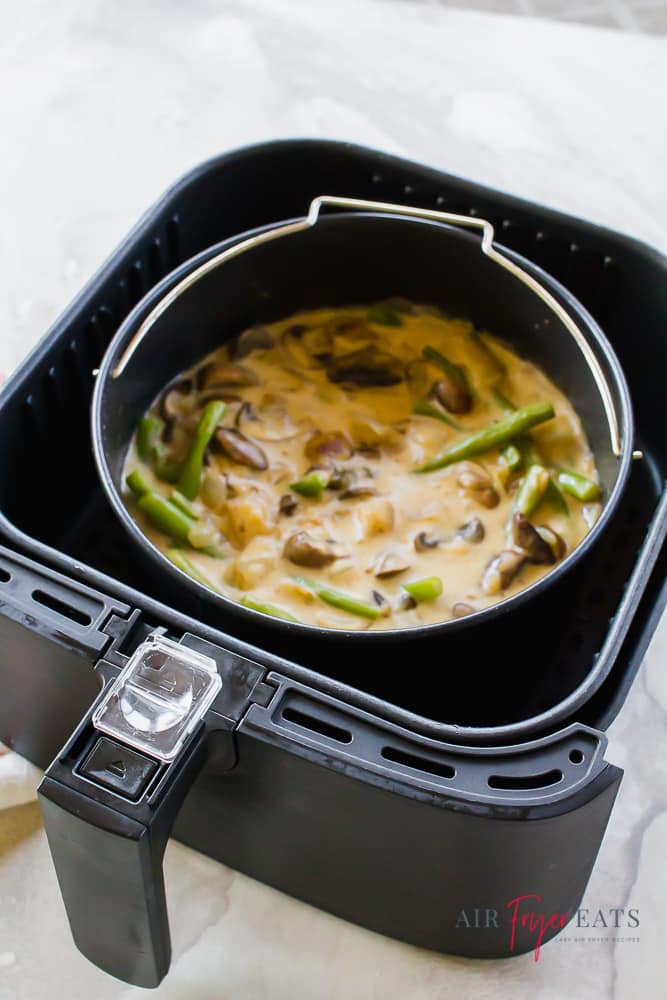 Green bean casserole has always been one of my favorite holiday treats, but the heaviness of it is comparable to a main meat!
This Vegan Green Bean Casserole takes the heaviness out but still brings you comfort just like grandma's original recipe.
I prefer using fresh green beans in this to give it a little extra crunch and flavor and swap the typical creamy soup and milk base for coconut milk and vegetable broth mixed with sautéed mushrooms and onions for the same concept with fresher ingredients!
In need of more vegan holiday dishes this year?
Try my Vegan Sweet Potato Casserole Or Air Fryer Sweet Potato Casserole for the best half dessert, half side dish with a delicious pecan crumble topping!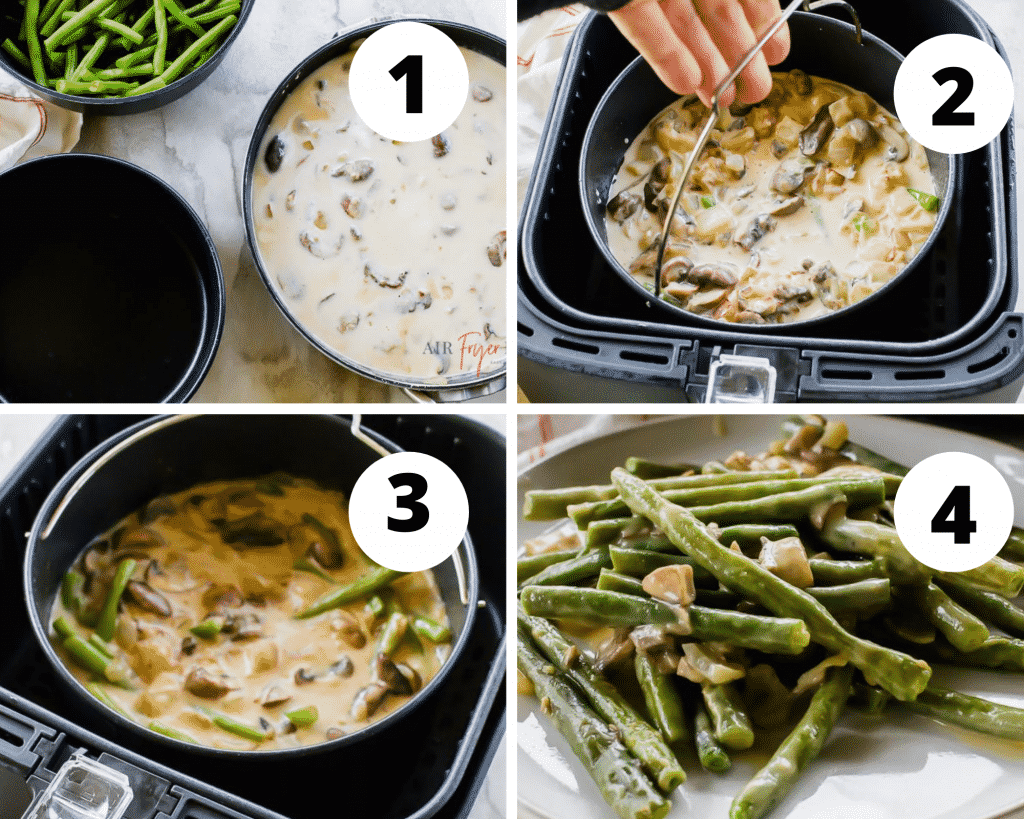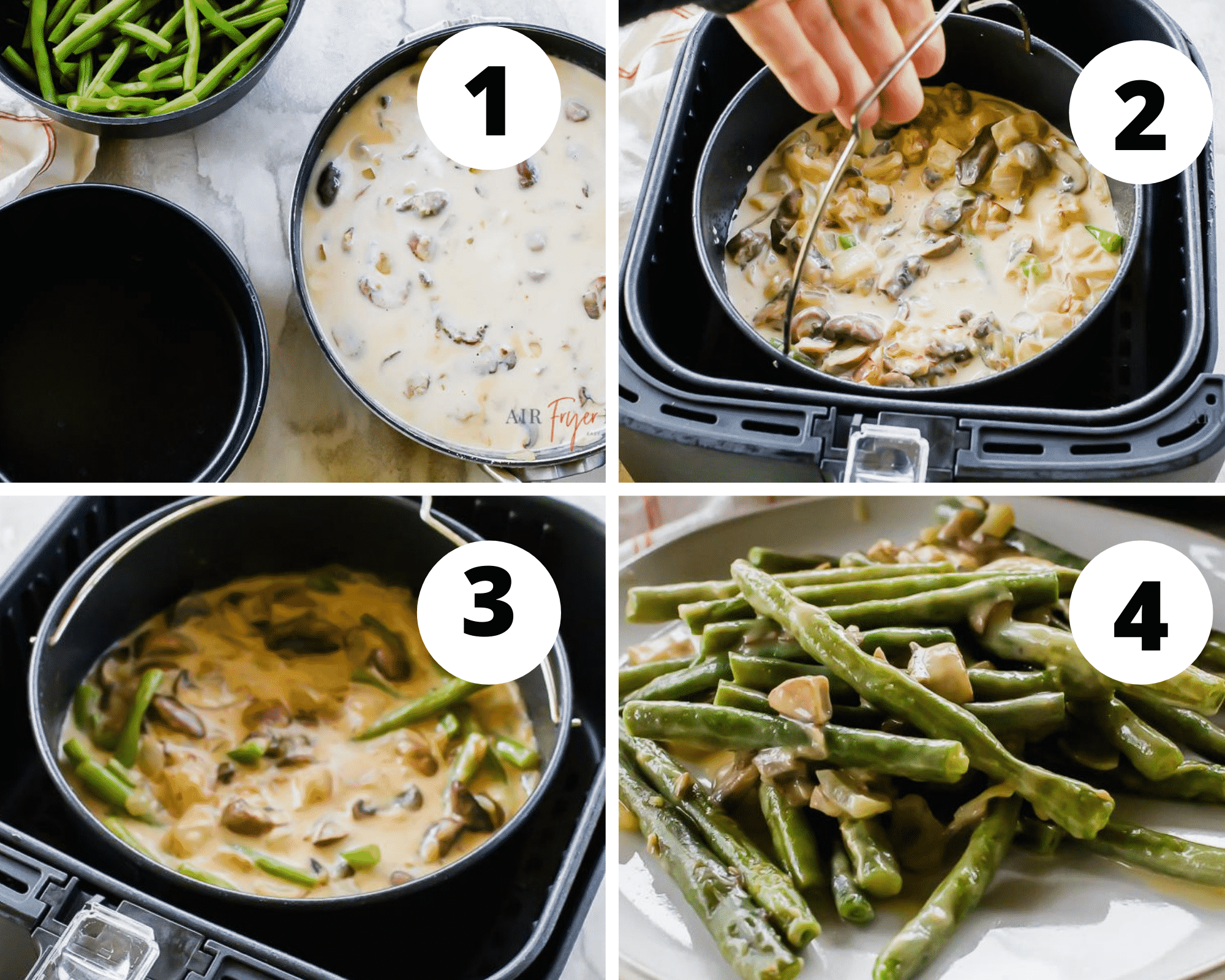 HOW TO MAKE AIR FRYER GREEN BEAN CASSEROLE
Start by boiling your green beans for 5 to 7 minutes before shocking them in ice water to stop the cooking and setting them aside. Then, in a skillet over medium heat, warm your oil and sauté the onions. Next, add your diced mushrooms and sauté your mixture until the onions and mushrooms have softened. Now, sprinkle your flour over the skillet mixture and stir to combine. This helps make the gravy thicken!
Then, add your vegetable broth to the skillet slowly, stirring as you add more. Add your coconut cream to the skillet as well. Add cooked beans to an oven safe container, then pour the mixture over the beans. Then put the pot into the air fryer basket or tray.
Finally, air fry at 340 degrees F/171C for about 15 minutes until everything is combined and heated through.
Serve warm and enjoy!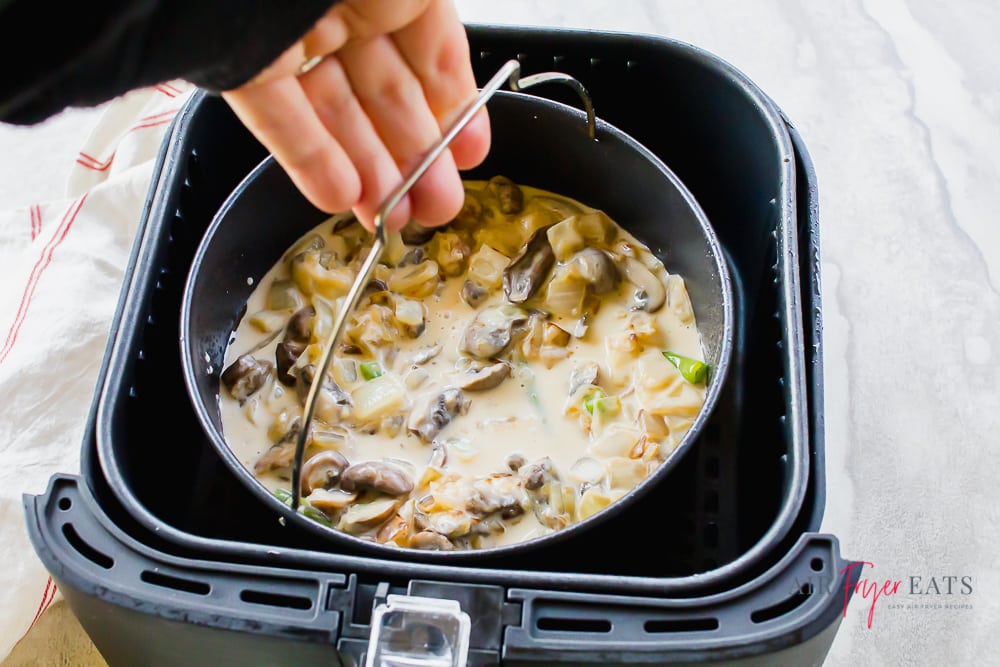 CAN I MAKE VEGAN GREEN BEAN CASSEROLE AHEAD OF TIME?
Every holiday season, I find myself planning a menu with as many make-ahead dishes as I have day-of dishes.
There's nothing easier than pulling your pre-made casserole from the fridge to the oven with no holiday mess.
This casserole could easily be made the night before and refrigerated until it's time to cook.
If so, bring the dish out about half an hour before you want to cook it so it can slowly come to room temperature, and give it a quick mix before popping it in the air fryer.
You may also need to add a few extra minutes of cook time. Unfortunately, this casserole does not freeze and thaw well, but it's quick to make!
Vegan Green Bean Casserole will last about 3 to 4 days leftover, until the beans begin to absorb too much liquid and become mush.
The sauce makes this a great addition to your leftovers sandwich the next day, though!
VEGAN GREEN BEAN CASSEROLE SUBSTITUTIONS
I like to keep my casserole simple with the basics, but many of my friends like to add a little something extra to theirs.
The most popular addition by far is the fried onions on top. You can either buy these from the store or make your own.
I prefer the sautéed onions in mine, so I add those and leave out the fried bits.
Not a fan of coconut cream? Cashew cream goes great here too! This helps replace the typical Cream of Mushroom soup sauce.
Not Vegan?
You can use heavy cream or a full fat milk in place of the coconut. It is a simple swap out!
MORE HOLIDAY AIR FRYER RECIPES TO TRY:
If you are looking to use your air fryer to help make your holiday dinner, we have a few more recipes for you to check out.
These holiday classics can be made in your air fryer: Air Fryer Creamed Corn Casserole, Air Fryer Squash and Zucchini and Air Fryer Turkey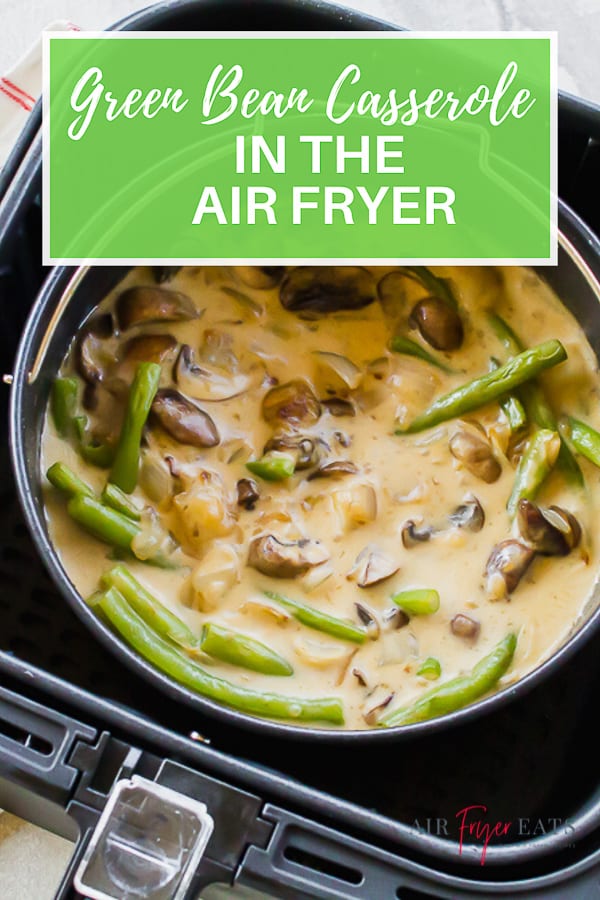 Pro Tip: This recipe can be made in the air fryer unit with a basket or the air fryer oven.
If you are using the air fryer oven, use the middle rack and select the "Air Fry" function.
Have you made this recipe? Please leave a comment AND rating below! It helps other readers!
Be sure to tag @AirFryerEats on instagram, if you share a picture on the gram!
Let's get social, you can follow me on Youtube, Instagram, Facebook, Pinterest or join one of our Air Fryer Facebook Groups: Air Fryer Recipes, Air Fryer Recipes for Seniors and Gluten Free Air Fryer Recipes.
Don't forget to subscribe to our EMAIL newsletter.