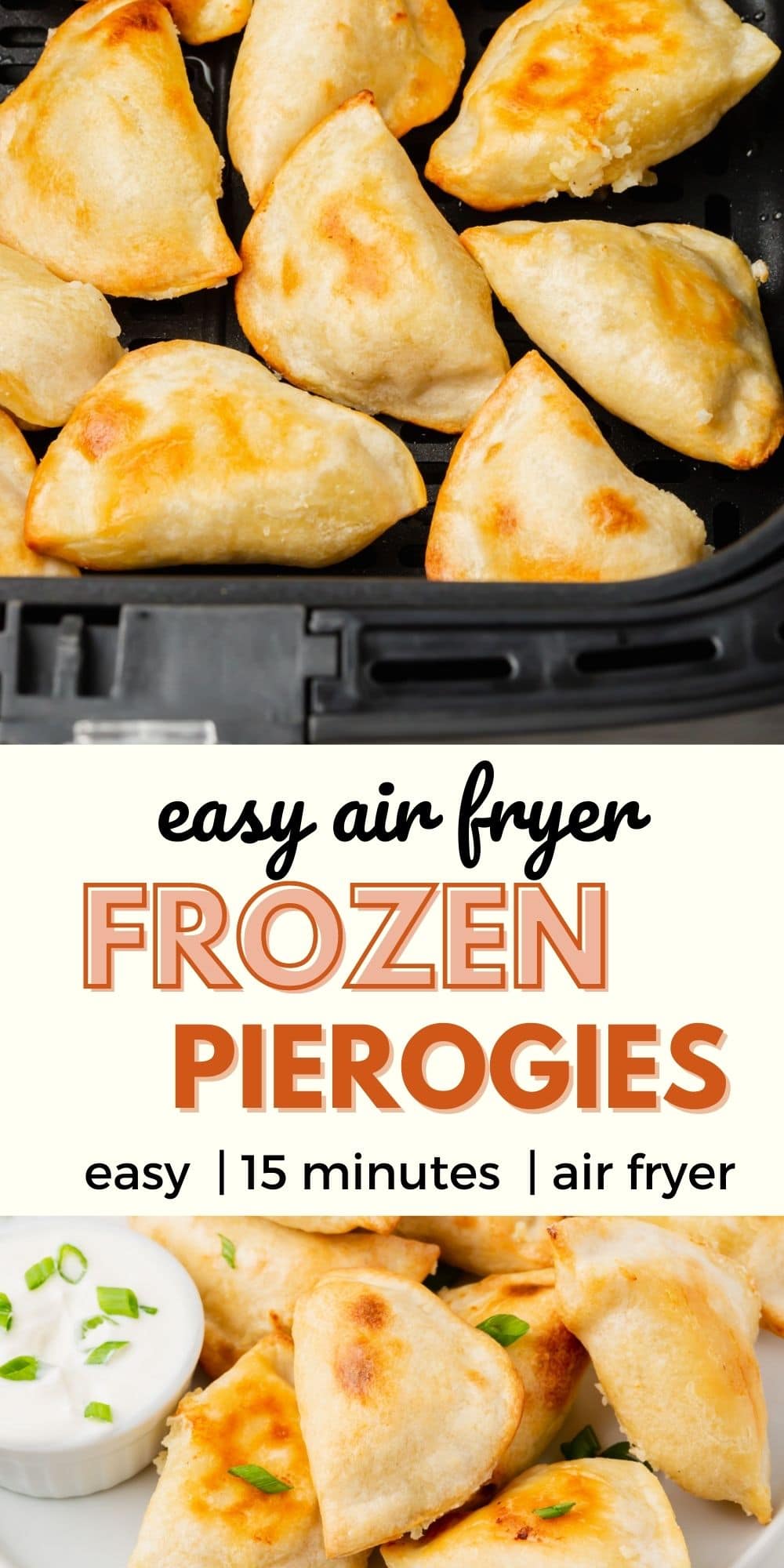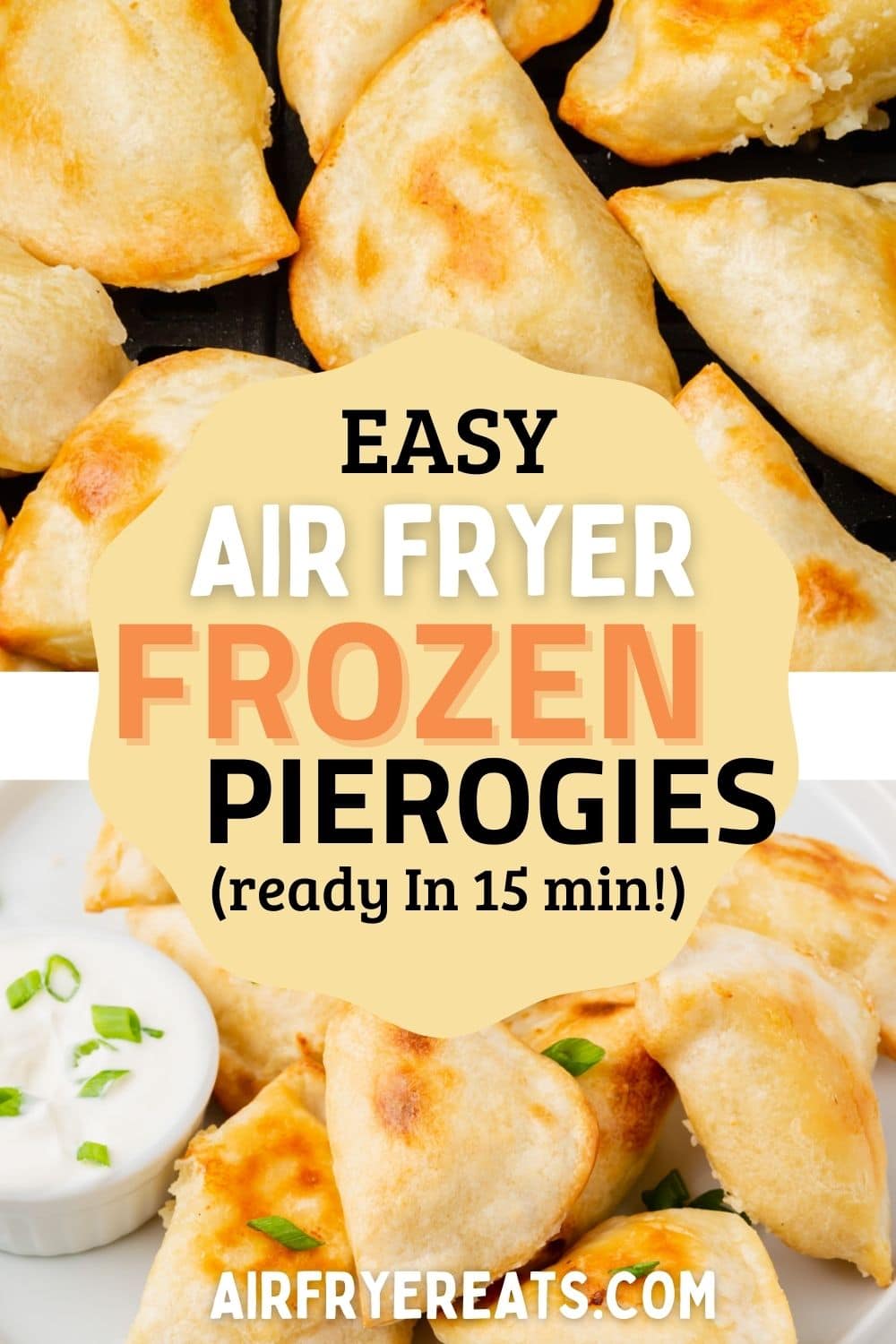 You can make Frozen Pierogies in your Air Fryer in under 15 minutes! Never wonder how to make pierogies in the air fryer again. With these simple instructions they'll come out soft and perfectly crispy on the outside every time.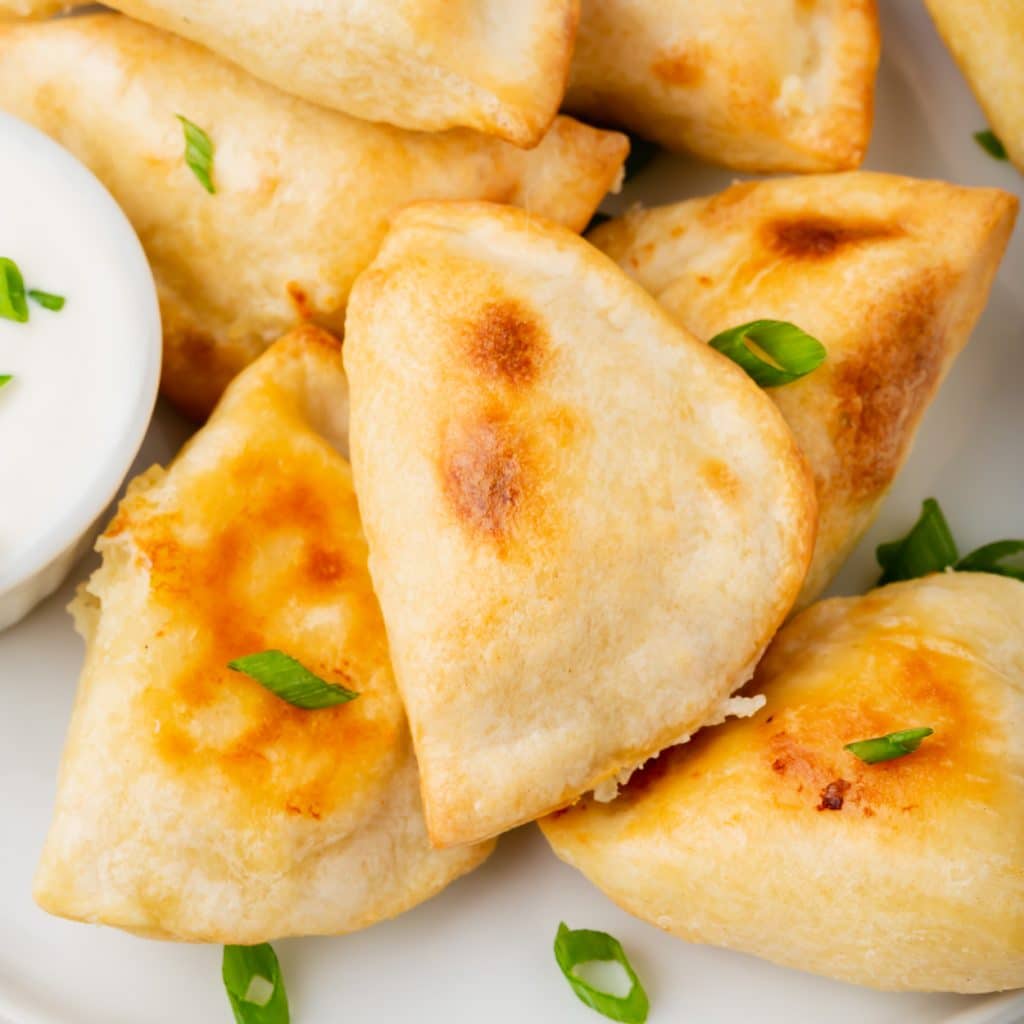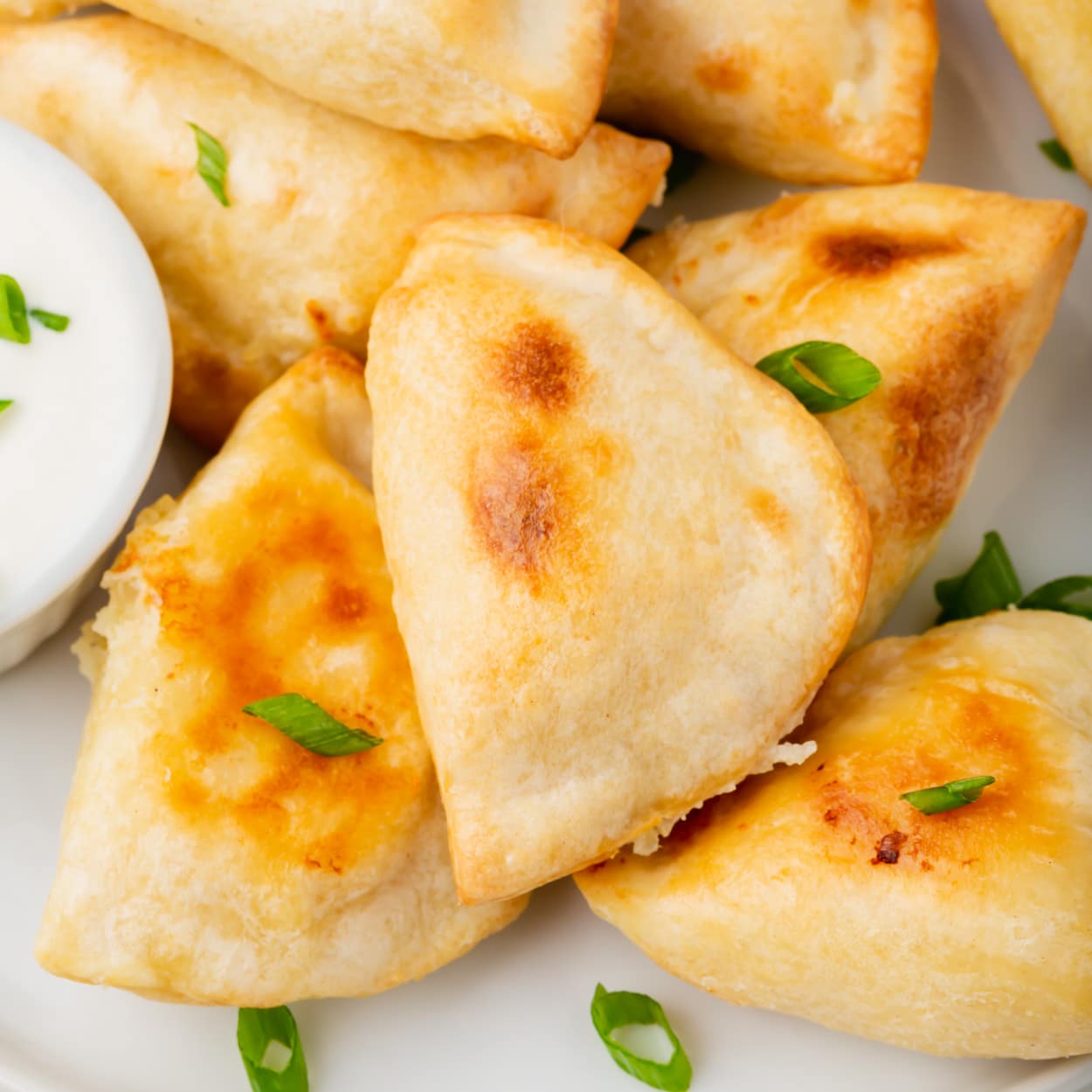 MAKE FROZEN PIEROGIES IN AIR FRYER
Making frozen pierogies in the air fryer is so simple, and they are completely delicious.
I think it's really interesting that almost all cultures have a food similar to pierogi. In Asian countries we see dumplings, Italy has ravioli, and from the Middle East, we get samosas.
Pierogies (or Pierogi) are generally considered a Polish delicacy, but versions of pierogies are made in most Eastern European countries, including Poland, Ukraine, and Russia.
I completely understand why this type of food is so popular - Pierogies are delicious! What could be better than a cheese and potato filling wrapped in a tender dough?
Oh, I know! We'll make pierogies better by cooking them in the air fryer! A box of frozen pierogies made in the air fryer is the perfect shortcut dinner starter, ready in around 10 minutes, and delicious.
Frozen convenience foods like popcorn shrimp, meatballs and french fries are some of the best air fryer foods. Add Frozen Pierogies to your Air Fryer meal rotation after learning how simple it is.
WHY YOU'LL LOVE TO COOK FROZEN PIEROGIES IN THE AIR FRYER
Air frying is the best way to cook frozen pierogies, but you actually have a lot of options when it comes to cooking frozen pierogies. Mrs. T's website gives 8 different methods! Each of them has its own challenges.
The microwave method of making frozen pierogies is pretty easy, but the pierogies can come out gummy and overcooked.
Boiling frozen pierogies makes them soft and mushy.
Baking or sauteing them can take more than 20 minutes, and deep frying pierogies is just inconvenient.
Using the air fryer to make frozen pierogies solves these problems! Your frozen piergies will be ready in 10 or 11 minutes,crispy on the outside and perfectly cooked inside. Let's do it!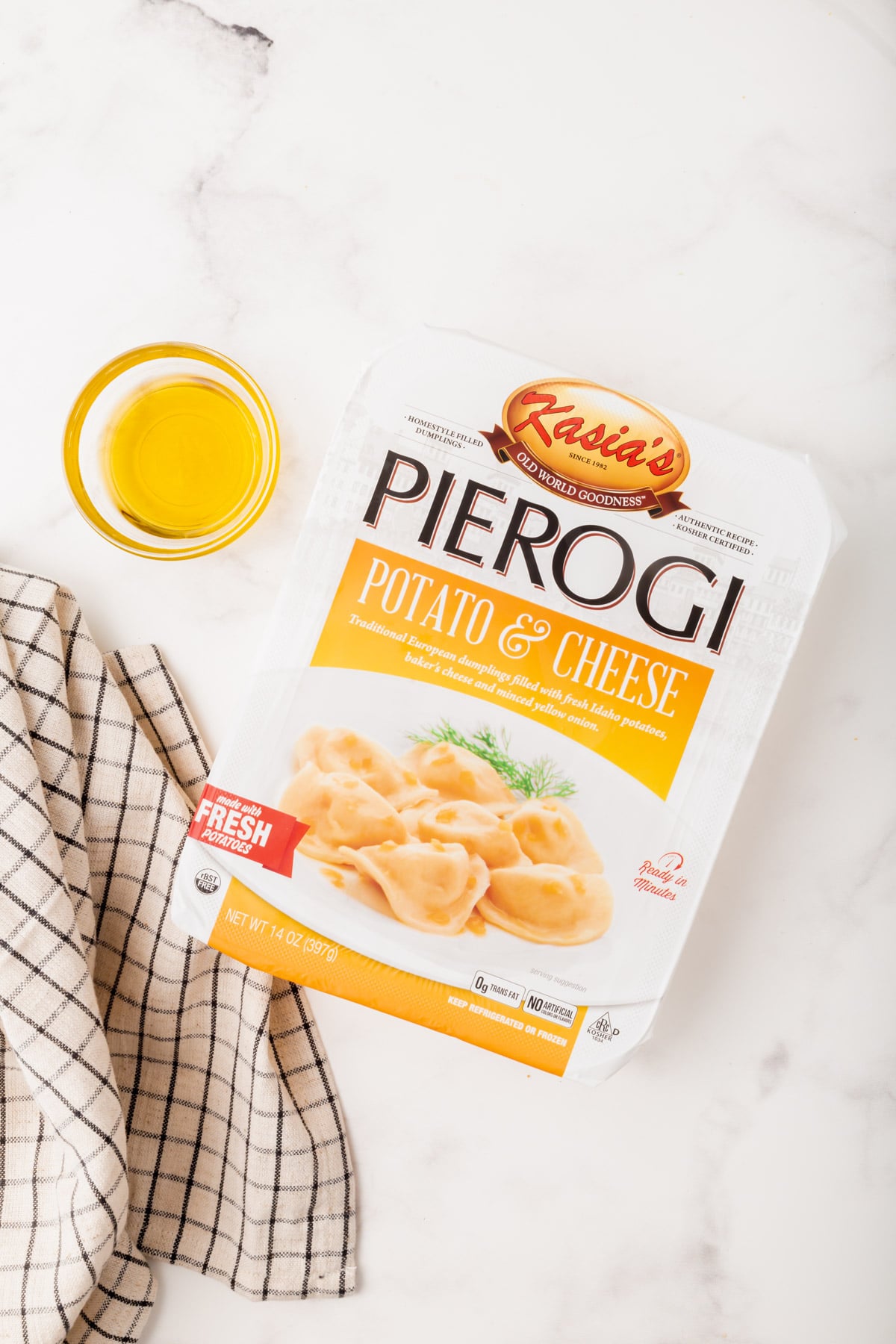 INGREDIENTS FOR FROZEN PIEROGIES IN AIR FRYER
Frozen Pierogies - This recipe will work with any brand of frozen pierogies that you have. Mrs. T's is a popular brand of frozen Pierogi, but today we're cooking Kasia's pierogies, which are delicious.
Olive Oil - To get a nice crispy outer crust on your air fryer pierogies, a brush or spray of olive oil is a perfect choice.
You may also be able to get regional or locally made pierogies in specialty flavors. Buffalo chicken pierogies, arugula and goat cheese, and stuffed banana pepper pierogies are available in a shop near me, and they are delicious! You can make these in the air fryer as well!
If you have any questions about making frozen pierogies in the air fryer, please leave a comment below and I will get back to you ASAP!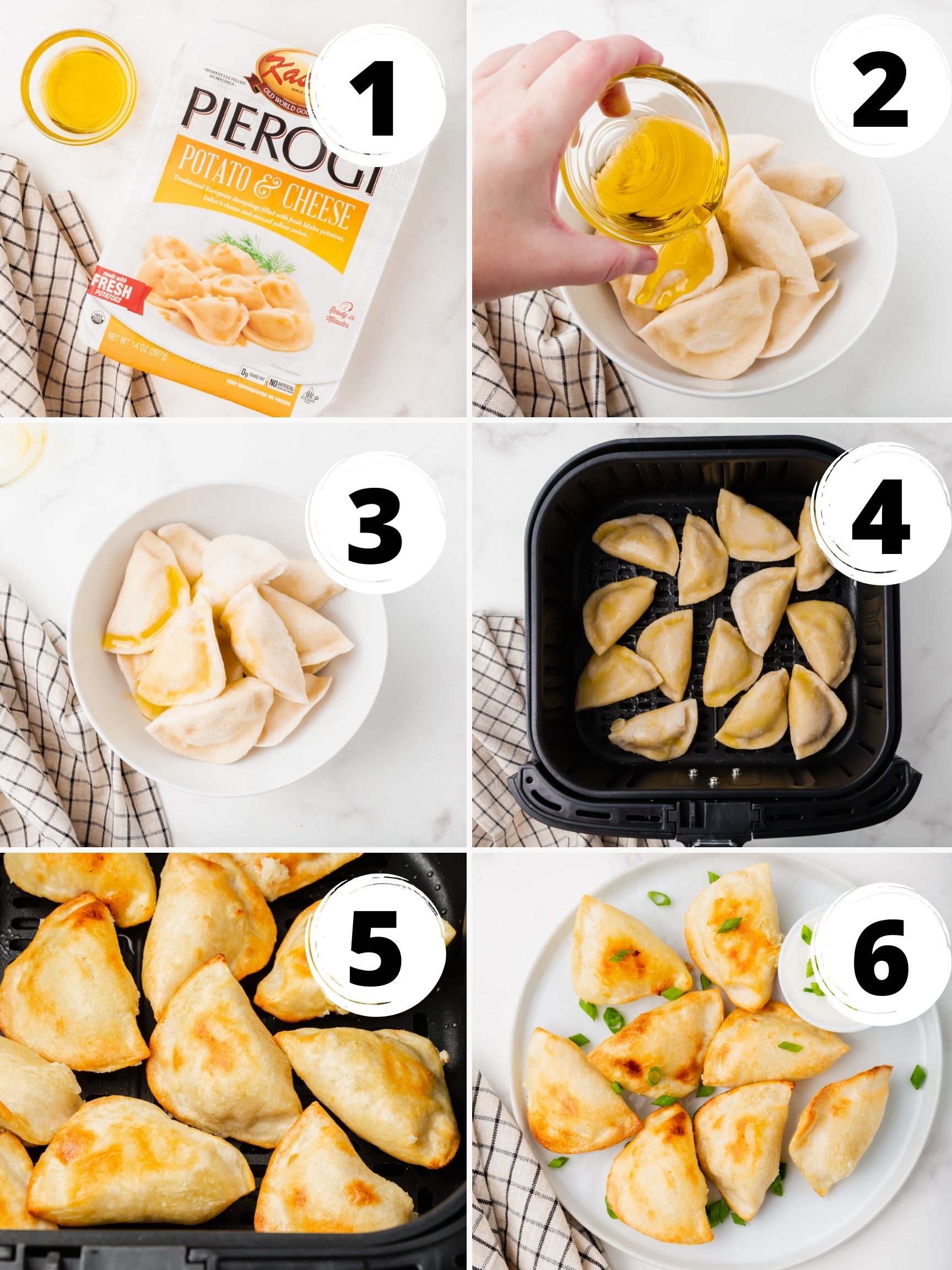 HOW TO MAKE FROZEN PIEROGIES IN AIR FRYER
Choose your favorite brand of frozen pierogies, and measure out your oil.
Add the whole box of pierogies to a bowl, and pour in the olive oil.
Toss pierogies with olive oil until lightly covered. You can also brush the oil on, or spray on olive oil with a mister.
Place the pierogies in a single, even layer in the air fryer basket.
Air fry as directed in the recipe card below, flipping the pierogies over halfway through the cooking time.
Serve hot with any desired toppings.
These numbered steps match the numbered photos above and are for illustration purposes. For the complete list of ingredients and instructions for Air Fryer Frozen Pierogies, please see the recipe below.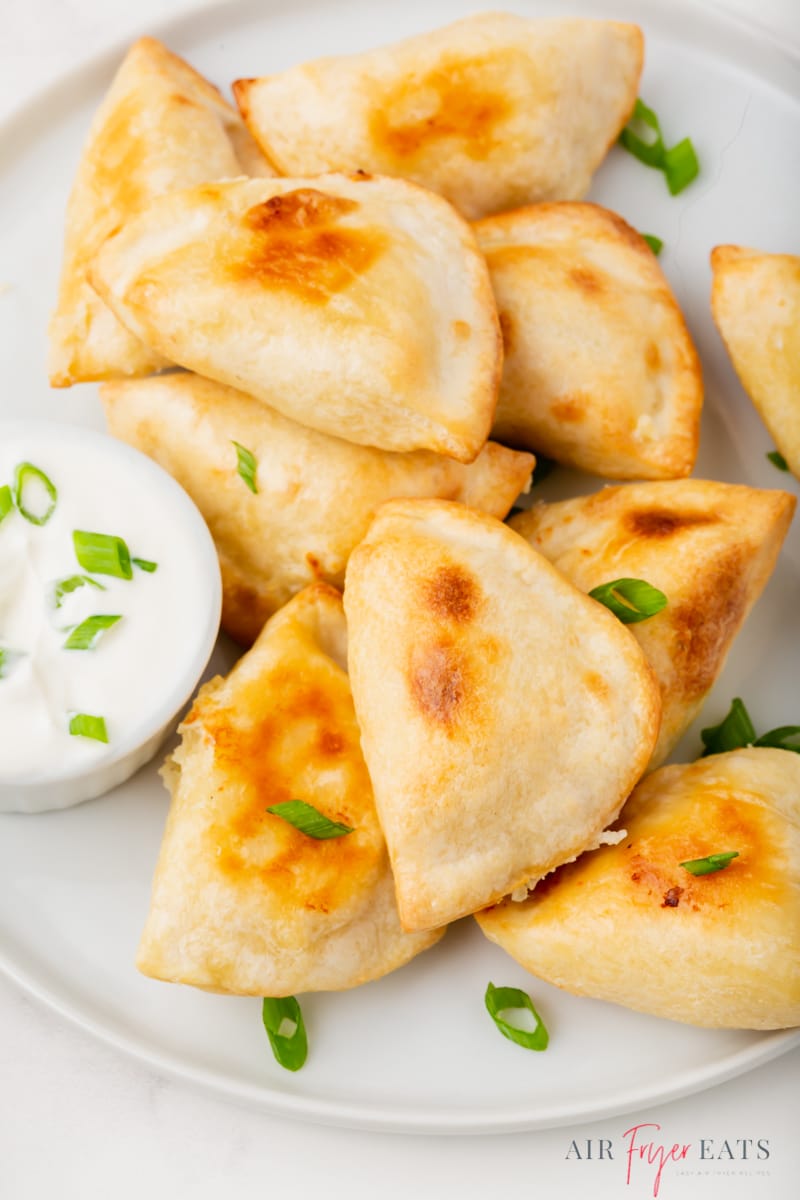 AIR FRYER FROZEN PIEROGIES TIPS
Don't Thaw Them. Cook the pierogies directly from the freezer. It's easy this way, and the texture won't be right if you let them thaw out.
Use Any Oil. I like olive oil on my air fryer pierogies, but any lightly flavored oil can be used. Avocado oil or canola oil works just as well.
Watch Your Food. This is true for anything you're cooking in the air fryer. Since all machines cook a little bit differently, you may need to adjust the amount of time you cook pierogies in the air fryer. You can always add time, but you can't take it away!
Don't Overcrowd. I was able to fit the entire box of pierogies in my Cosori air fryer. If you're working with a smaller air fryer, you may want to cook the pierogies in batches.
Flip Them. For pierogies that are crispy all the way around, be sure to flip them over at the halfway point.
Keep Pierogies from Sticking. For easy clean-up and to be extra sure that nothing sticks to the air fryer, try using parchment paper air fryer liners.
AIR FRYER PIEROGIES TIME
At 400°F/200°C you should air fryer pierogies for the following suggested amounts of time:
Mini Pierogies - 4-8 minutes
Regular Pierogies - 9-11 minutes
Large Pierogies - 8-15 minutes
Be sure to plan for a few minutes of prep time, just to toss the pierogies in oil.
HOW TO SERVE AIR FRYER FROZEN PIEROGIES
Pierogies are best served warm, so be sure to enjoy yours shortly after they come out of the air fryer.
Add Toppings:
Sour cream, fried onions, and butter are traditional pierogi toppings. You can do your own thing too and serve them with salsa, tomato sauce, or honey mustard.
Kids might like to dip their air fryer pierogies in ketchup or ranch dressing! If your kids like dipping, try making these Kid Friendly Tofu Bites too.
Make a Meal:
Air Fryer Pierogies can be the main event, but they make an excellent side dish too. Serve them with Air Fryer Breaded Pork Chops, Air Fryer Ham, or Air Fryer Brats to make a delicious, hearty meal.
Use your air fried pierogies in any type of casserole, or try this Pierogi Chicken Supper recipe.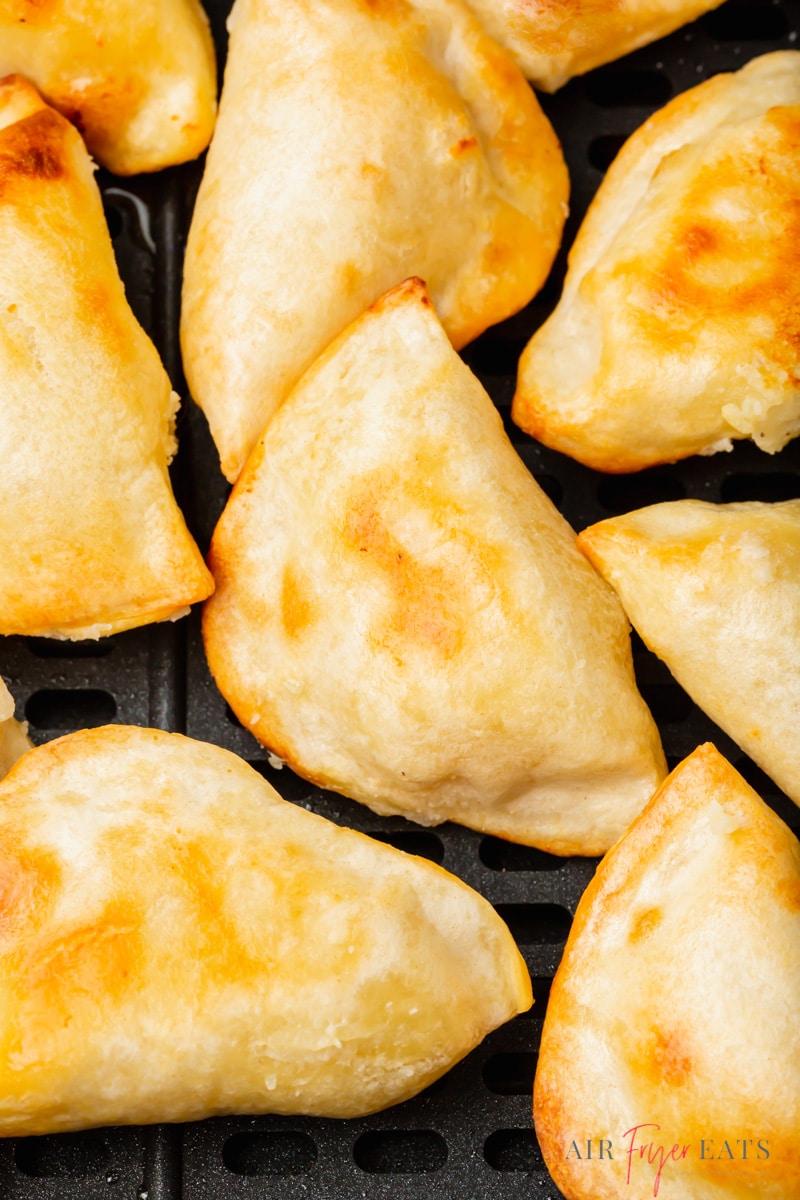 CAN I MAKE LARGE PIEROGIES IN THE AIR FRYER?
If you are buying specialty pierogies, particularly the ones sold around the holidays, you may find that they are much bigger than Mrs. T's frozen pierogies.
You can still cook these in the air fryer. Be sure not to overcrowd the machine, and plan on adding a few more minutes of cook time to get them heated through.
CAN I MAKE MINI PIEROGIES IN THE AIR FRYER?
Mini pierogies can also be cooked in the air fryer this same way. Reduce the cooking time by half to start, adding additional minutes if needed. I suggest cooking for between 4 and 8 minutes total.
DO I HAVE TO ADD OIL TO FROZEN PIEROGIES?
I tried making the frozen pierogies in the air fryer without any oil, and while they did cook well, they didn't get get the nice crispy exterior that I wanted. I definitely suggest using some oil to air fry frozen pierogi.
Not all frozen foods require oil to cook. Items like frozen french fries and frozen chicken tenders already have oil on them, while pierogies do not.
HOW DO I KNOW WHEN FROZEN PIEROGIES ARE DONE?
Your pierogies should puff up and be golden brown when they are done cooking in the air fryer.
Frozen foods should always be cooked to an internal temperature of 165°F/74°C for safety. You can check with a thermometer to be sure.
Feel free to cook for additional time if you like your frozen pierogies to be extra browned and crispy!
WHAT IS THE BEST FROZEN PIEROGI FLAVOR?
There are many great flavors available, so choose what sounds good to you.
Potato and Cheese Pierogies are popular with kids, and a definite favorite if you can't choose.
Other flavors of frozen pierogies readily available in the freezer section almost always include creamy potato and another item. Look for potato and onion, cheddar and bacon, feta and spinach, or broccoli cheddar!
Traditional pierogi might come filled with fresh farmer's cheese or a saurkraut filling. You can also find sweet-style dessert pierogies if you live somewhere where polish food is popular.
HOW TO STORE LEFTOVER FROZEN PIEROGIES
Store any leftovers in an airtight container in the refrigerator for up to three days.
Reheat cooked frozen pierogies in the air fryer at 400°F/200°C for 2-4 minutes.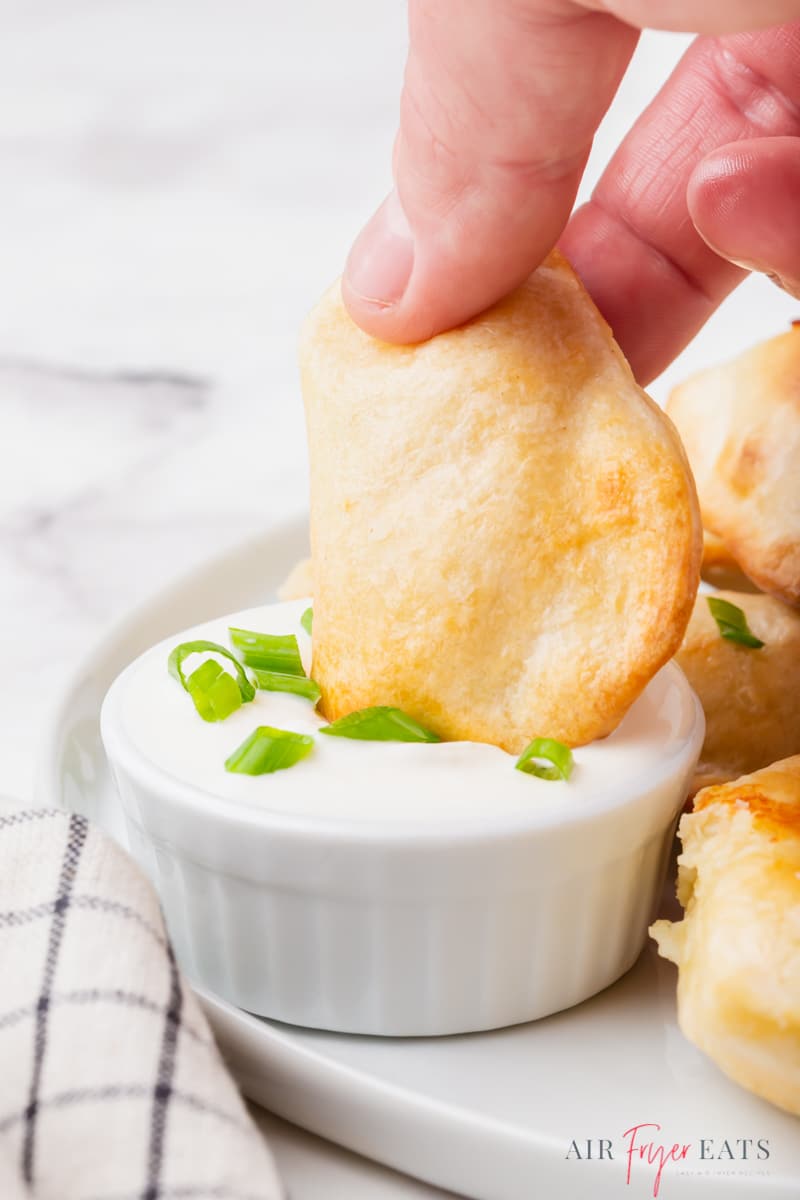 MORE EASY FROZEN FOOD AIR FRYER RECIPES
Nothing could be easier than making a Totino's Pizza in the Air Fryer for a busy weeknight dinner.
If you like frozen pierogies in the air fryer, you will also love making Frozen Dumplings in the Air Fryer.
Get your snack on with Frozen Mozzarella Sticks and Frozen Sweet Potato Fries.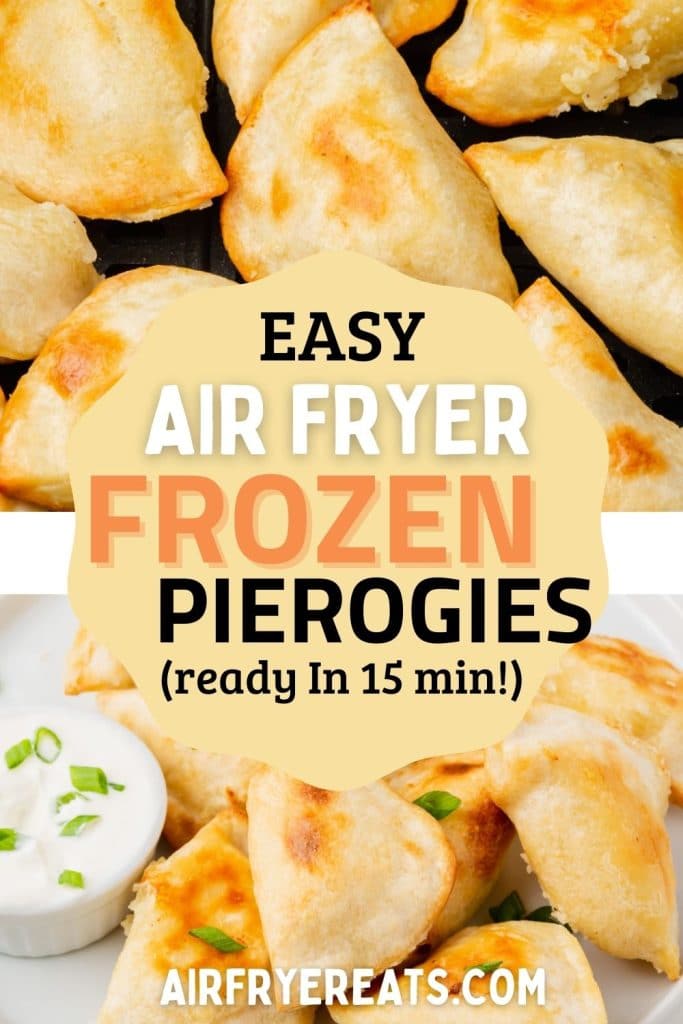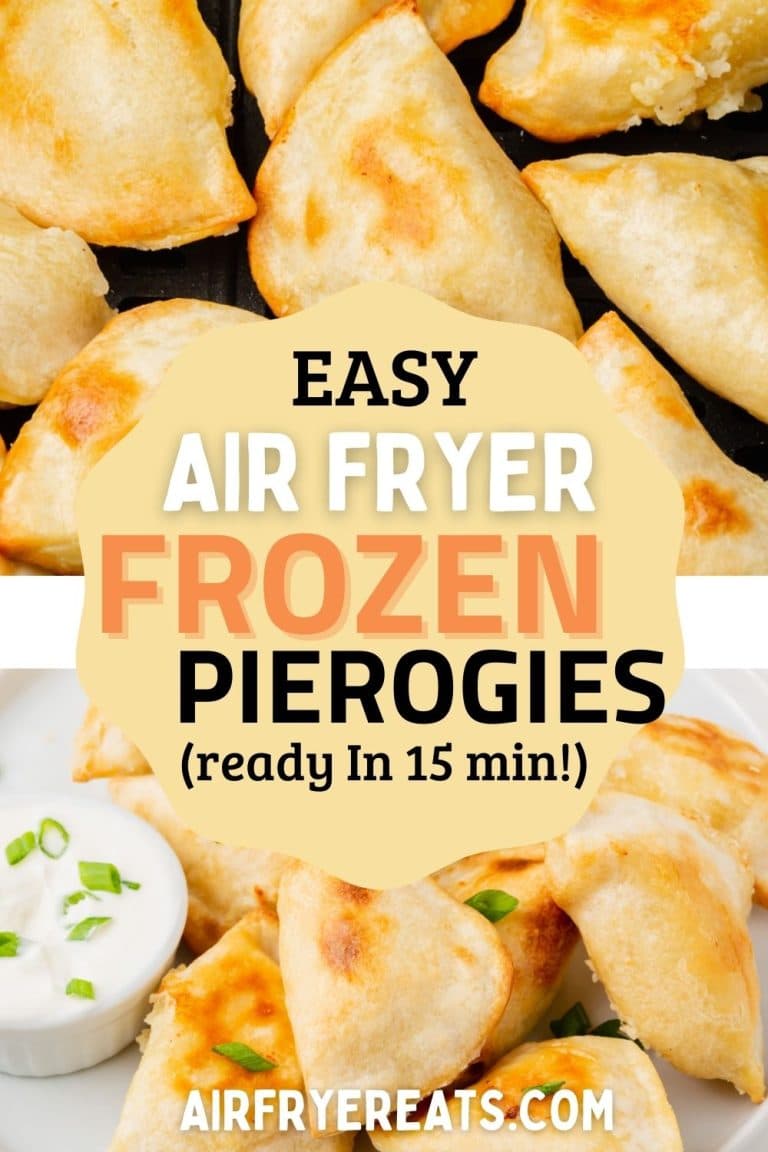 Have you made this recipe? Please leave a comment AND rating below! It helps other readers!
Be sure to tag @AirFryerEats on instagram, if you share a picture on the gram! Let's get social, you can follow me on Youtube, Instagram, Facebook, Pinterest or join one of our Air Fryer Facebook Groups: Air Fryer Recipes, Air Fryer Recipes for Seniors and Gluten Free Air Fryer Recipes.
Don't forget to subscribe to our EMAIL newsletter.
Air Fryer Frozen Pierogies
Never wonder how to make pierogies in the air fryer again. With these simple instructions they'll come out soft and perfectly crispy on the outside every time. #airfryer
Ingredients
1

pound

Frozen Pierogies

a standard sized box

1

tablespoon

Olive Oil

or any mild flavor oil
Instructions
Add the pierogies to a bowl and toss with olive oil until lightly covered.

Place the pierogies in an even layer in the air fryer basket.

Air fry at 400F for 9-11 minutes, until the pierogies are golden and crispy, flipping halfway through.

Serve immediately with your favorite toppings or dip.
Go AD FREE!
Notes
You can also spray the pierogies with cooking spray instead of tossing in oil if you prefer. The goal is to get the pierogies golden brown and crispy.
Do not use too much oil or the pierogies will be oily. You do not need a lot of oil for the air fryer - just about a tablespoon will do the trick.
Keep the pierogies in a single, even layer so they can crisp up. You may need to cook the pierogies in batches depending on the size of your air fryer.
This method will work for any size pierogies. Adjust the cooking time as needed.
Pro Tip: This recipe can be made in the air fryer unit with a basket or the air fryer oven. If you are using the air fryer oven, use the middle rack and select the "Air Fry" function.
Pro Tip: Check your food as it cooks. Each air fryer runs a bit differently. Sometimes airfrying is a trial and error process. Check your food as it cooks to learn your air fryer better! When cooking a new recipe or food items be sure to check your food often to help avoid over/undercooking.
Have oven recipes that you'd like to convert to an air fryer recipe? Use our Air Fryer Calculator to help you estimate cooking times and temps! Calculator here:
https://airfryereats.com/air-fryer-conversion-air-fryer-calculator/
Nutrition
Calories:
406
kcal
|
Carbohydrates:
61
g
|
Protein:
9
g
|
Fat:
15
g
|
Saturated Fat:
3
g
|
Polyunsaturated Fat:
1
g
|
Monounsaturated Fat:
3
g
|
Cholesterol:
7
mg
|
Sodium:
702
mg
|
Potassium:
1
mg
|
Fiber:
4
g
|
Sugar:
7
g
|
Vitamin C:
16
mg
|
Calcium:
54
mg
|
Iron:
2
mg
Tired of the ads?
Go AD Free - Become part of our Membership community!
Air Fryers can vary greatly. Please take the time to learn your specific air fryer. You may need to adjust times and temperatures based upon your air fryer.
All though this website attempts to provide accurate nutritional information, the information should only be considered an estimate. Varying factors such as different product types, different brands, etc. can change nutritional information. It is your responsibility as a consumer to read all labels to make sure the ingredients fit your dietary needs as well as calculate your own nutritional information as a double check.