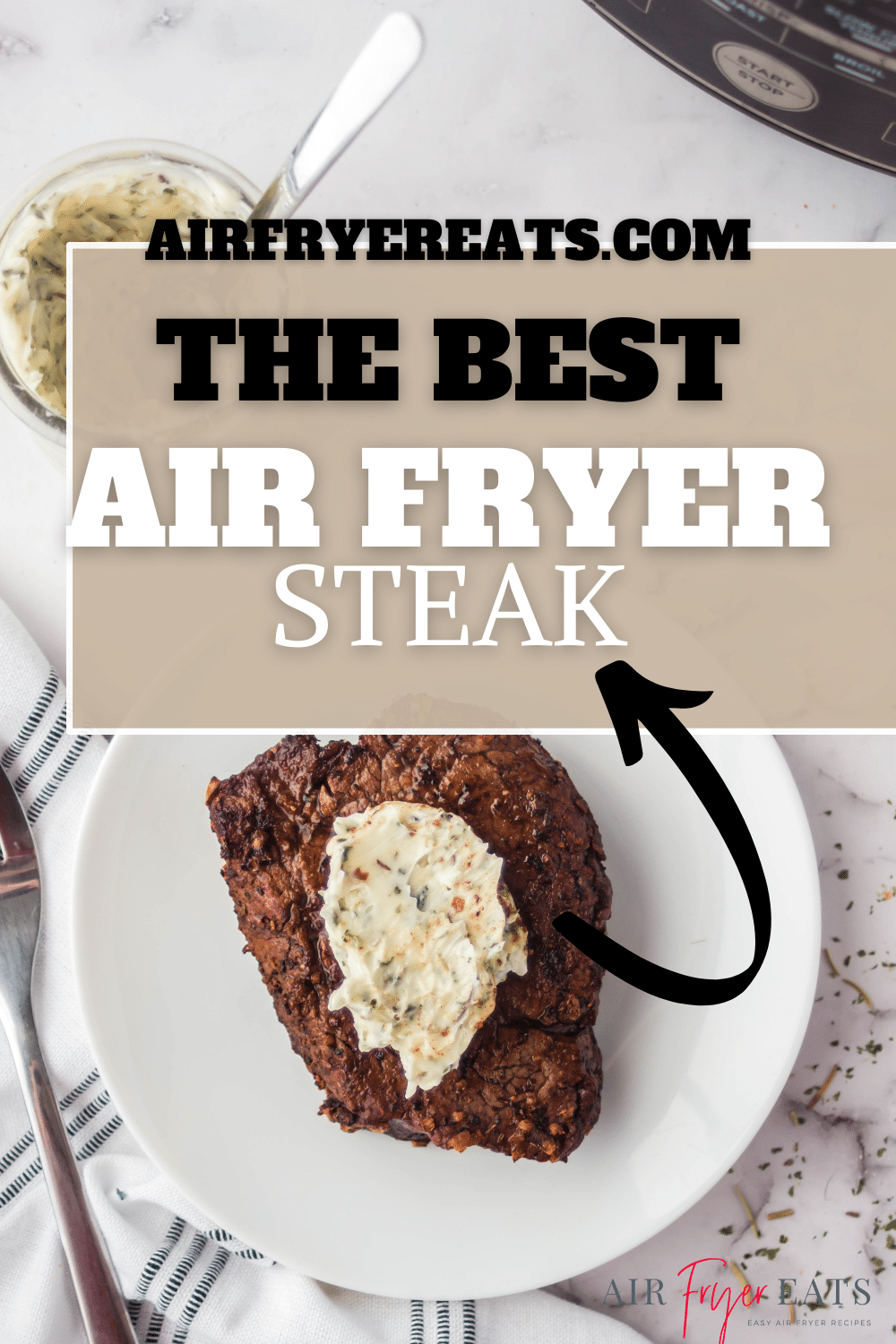 A thick and juicy Ninja Foodi Steak is topped with a savory garlic butter spread, to make the perfect air fryer steak. It tastes just like you ordered it from your favorite steakhouse.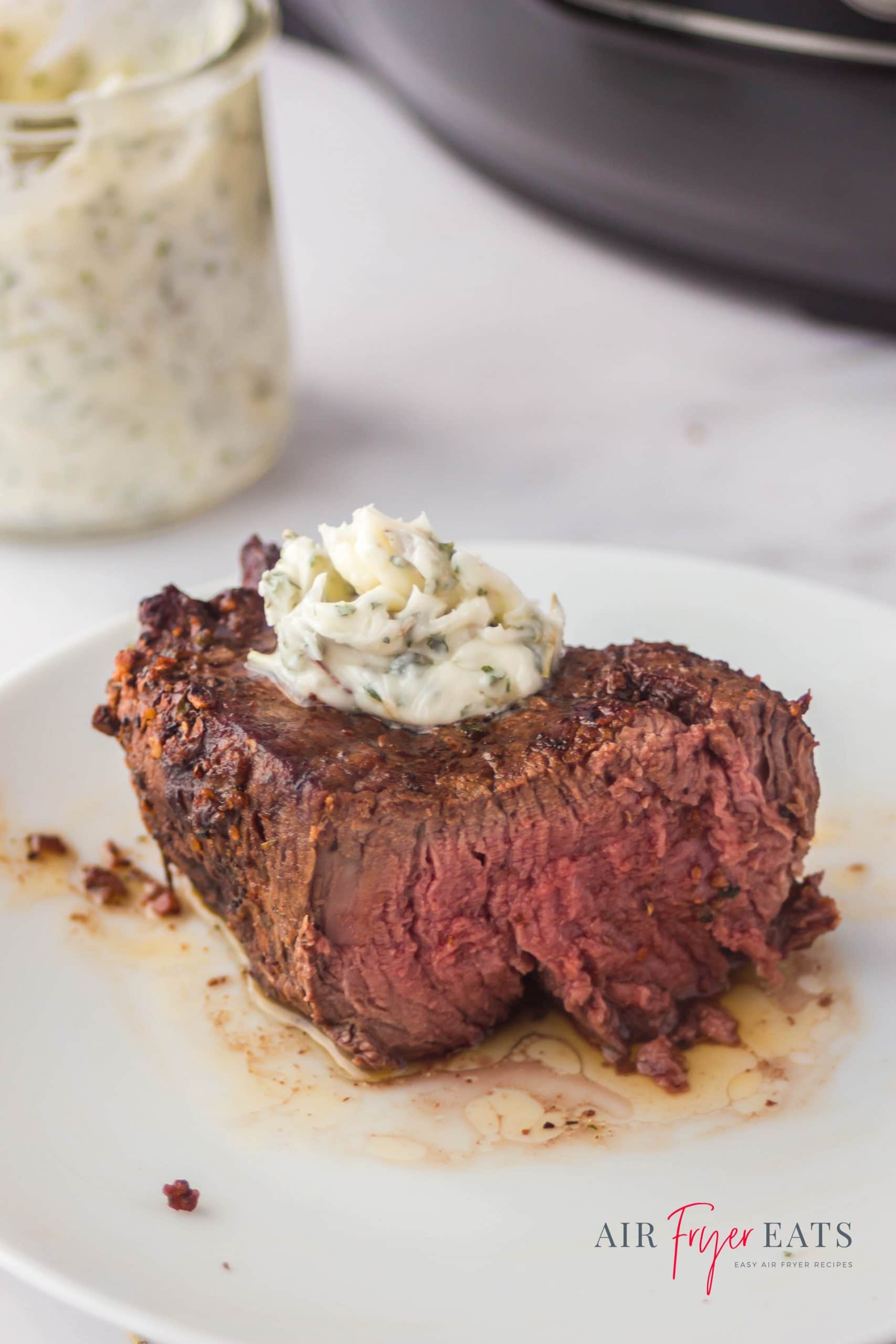 NINJA FOODI STEAK RECIPE
Making a delicious steak in your Ninja Foodi is so easy! While grilling or broiling are generally the ways to get a steakhouse-worthy filet, I think that the air fryer replicates the best part of both of those methods. Ninja Foodi steak is even better than one cooked in a traditional way.
You can make a Steak in the Ninja Foodi with this recipe, or follow my Air Fryer Steak recipe to use a different machine. Remember that all air fryers are different, so you may need to adjust the times a bit to work with your specific air fryer.
Ninja Foodi Steak is perfect topped with an easy garlic herb butter and served with Mashed Potatoes and your favorite veggies.
Try making Ribs in the Ninja Foodi too, or check out our whole collection of Ninja Foodi Air Fryer Recipes.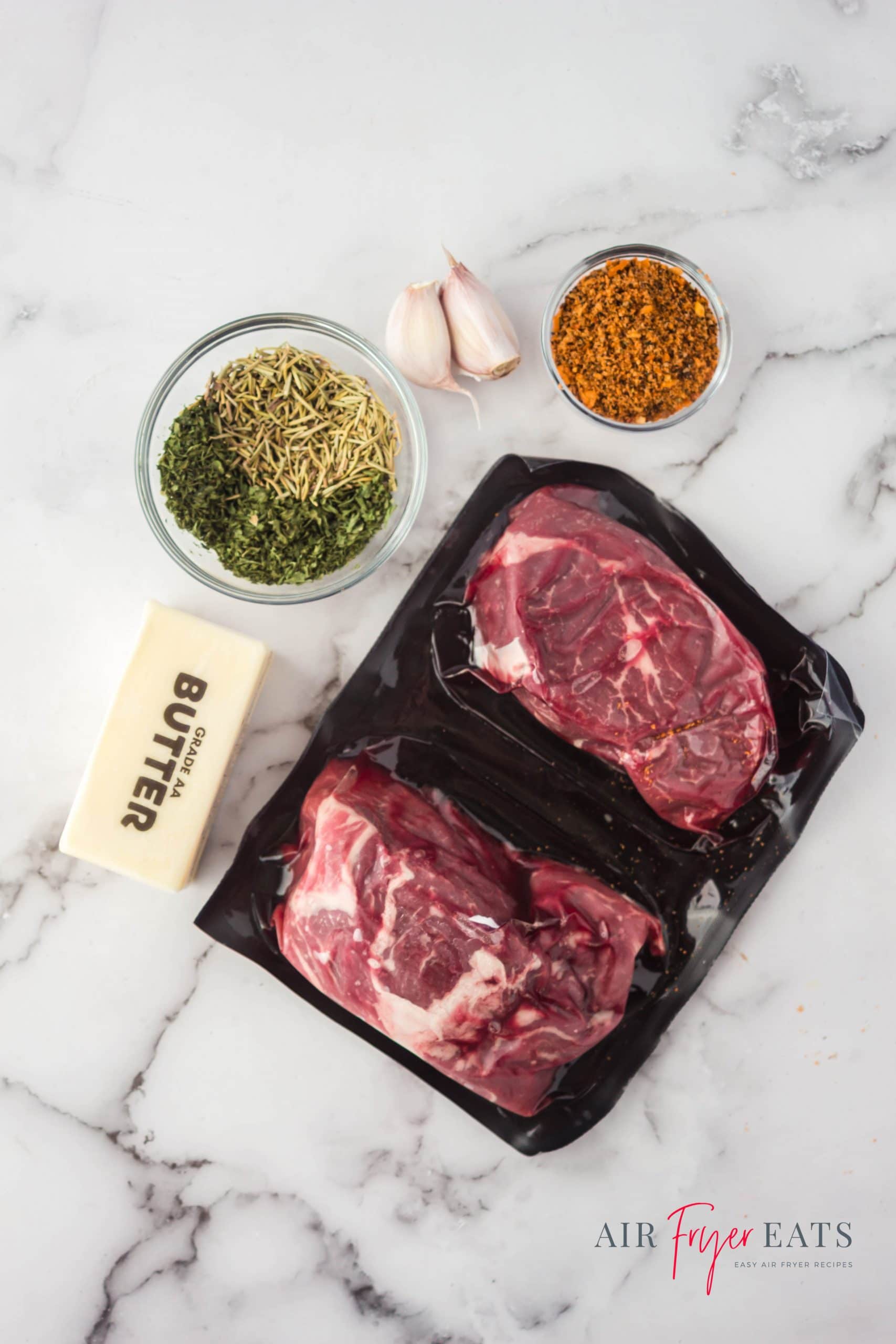 INGREDIENTS FOR NINJA FOODI STEAK
Steak - 2 smaller cuts of your favorite steak will fit in the Ninja Foodi. Here we're making Ninja Foodi steak with 4 oz. filet mignon steaks.
Montreal Seasoning - This is the ultimate steak seasoning! If you haven't used it, I suggest you try it. Other steak seasoning can be used as well.
Butter - to top our air fryer steak, a compound butter made with herbs and garlic provides the perfect finish.
Garlic - 1 tablespoon of minced fresh garlic flavors the butter.
Dried Rosemary - Rosemary goes into the compound butter to give it a gorgeous herby flavory.
Dried Parsley - Parsley joins the rosemary in the butter for more flavor and a fresh note.
If you have any questions about Ninja Foodi Steak, please leave a comment below and I will get back to you ASAP!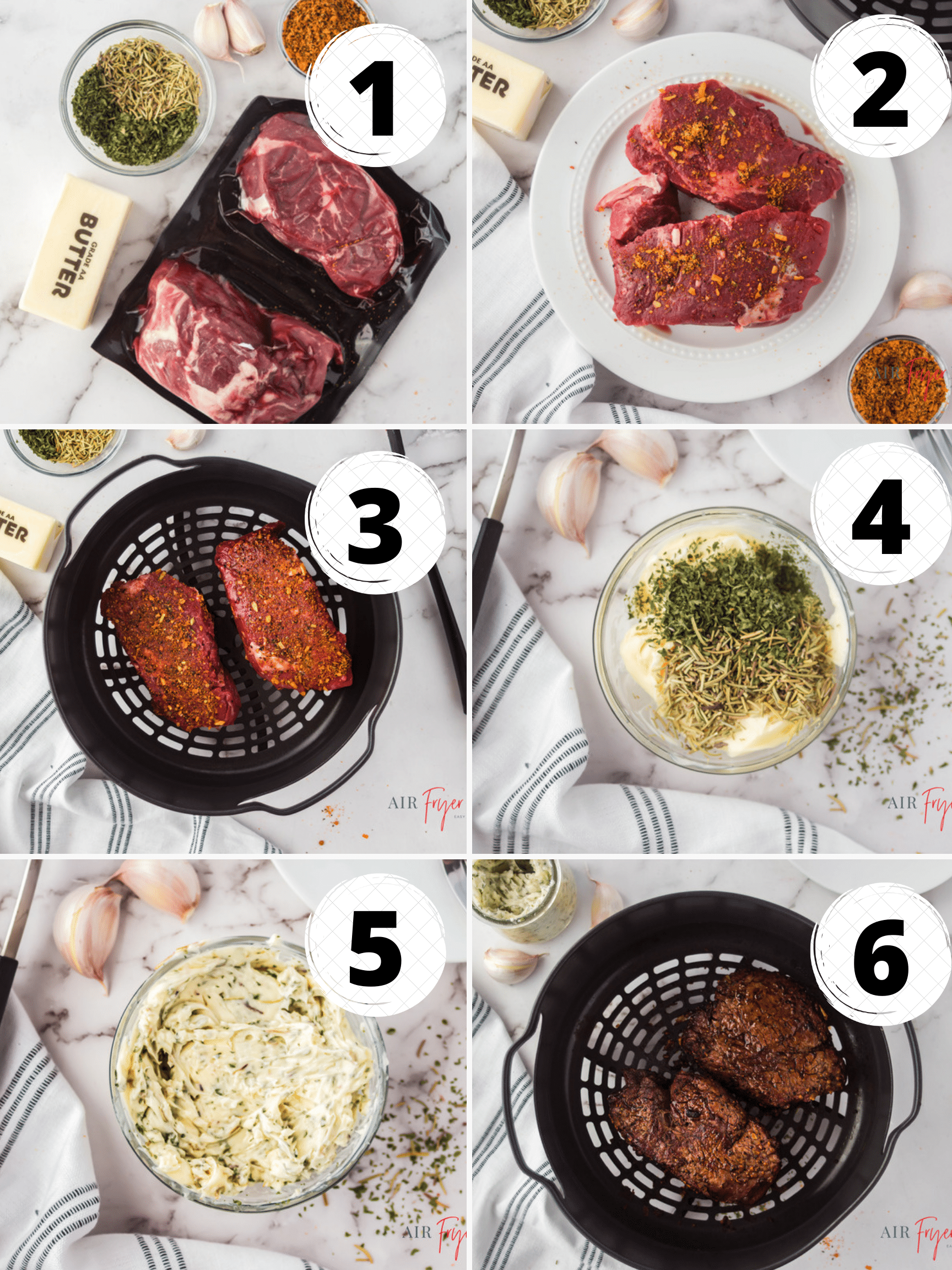 HOW TO MAKE STEAK IN NINJA FOODI
Preheat your Ninja Foodi to 400°F for 5 minutes on the air fryer setting while you get your other ingredients together.
Remove steaks from their packaging and season the steak by rubbing Montreal seasoning on all sides of the steak.
Place steaks in the Ninja Foodi air fryer basket, and cook as directed in the recipe, flipping over half way through cooking time.
While the steak is cooking, make the compound butter by combining softened butter, minced garlic, dried parsley and dried rosemary.
Mix until well combined.
Allow steak to rest for 5 minutes after cooking. Top with the garlic herb butter and enjoy.
These numbered steps match the numbered photos above and are for illustration purposes. For the complete list of ingredients and instructions for Ninja Foodi Steak, please see the recipe below.
In the mood for chicken instead? Check out this recipe for Ninja Foodi Chicken Breast! Chicken Thighs cook up perfectly in the Foodi too.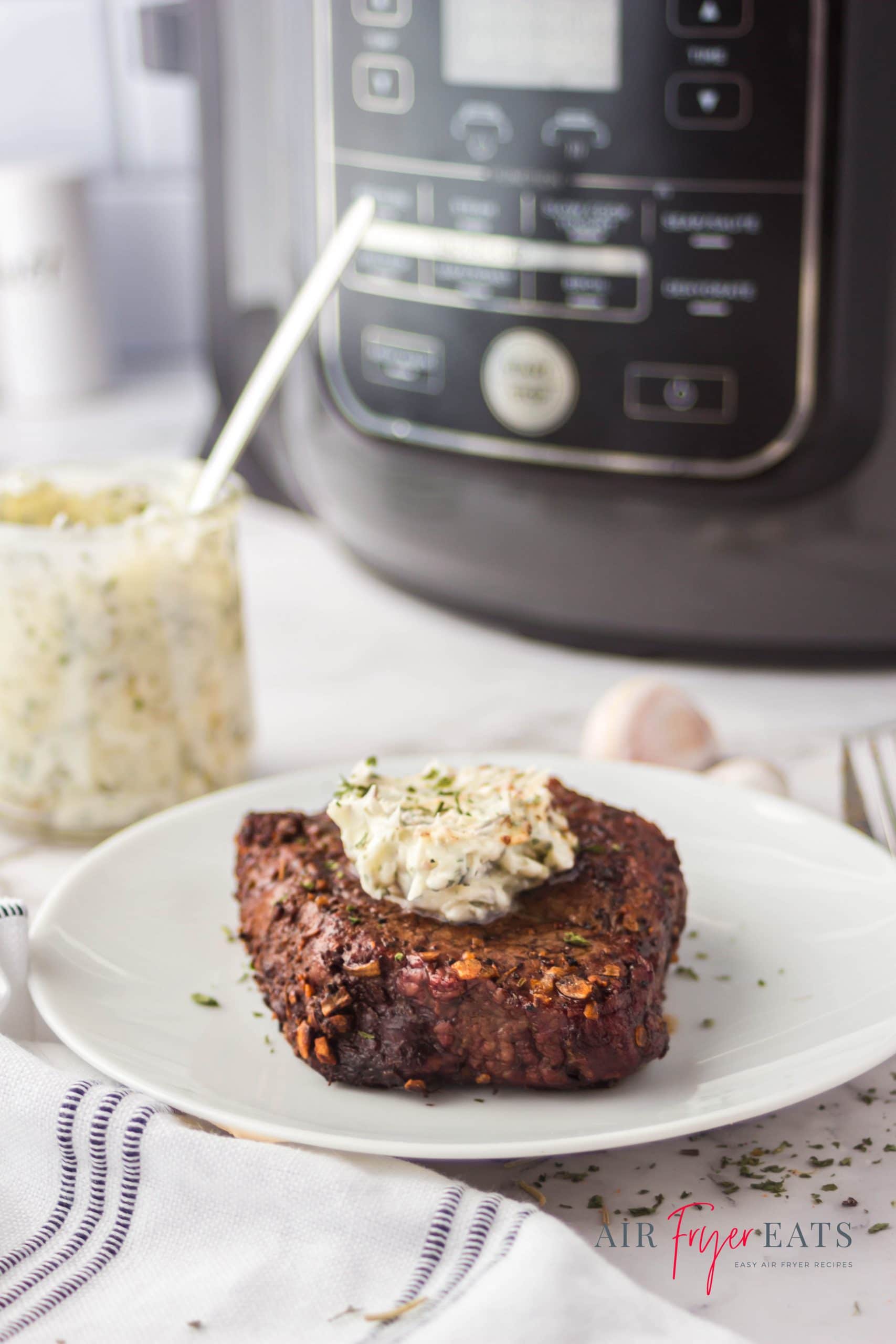 This steak was cooked in a Ninja Foodi, using the Foodi Air Fryer Lid.
WHAT TO SERVE WITH NINJA FOODI STEAK
Serve your restaurant quality Ninja Foodi steak with Air Fryer Steak Fries, Air Fryer Potato Wedges, or Air Fryer Keto Zucchini Fries.
Mushrooms, like Balsamic Air Fryer Mushrooms or even Air Fryer Mushrooms from a Can will be delicious with your steak.
Add some veggies with a fresh Greek Cucumber Salad.
WHAT TEMPERATURE DO YOU COOK STEAK IN THE NINJA FOODI?
400 degrees is the perfect temperature for cooking steak in the Ninja Foodi. Adjust the time to cook the steak to the temperature you like.
Medium Steak in the Ninja Foodi takes 12 minutes.
Medium Rare Steak in Ninja Foodi takes 10 minutes.
HOW LONG SHOULD YOU LET A STEAK REST?
After cooking steak in the Ninja Foodi, take it out and let it rest for at least 5 minutes. This will allow the juices of the steak to redistribute, giving you a tender cut of meat.
WHY DO WE PUT BUTTER ON STEAK?
Steak without butter is good, but steak with the extra creamy fat from a pat of herbed butter is fantastic. Butter adds richness and flavor to steak.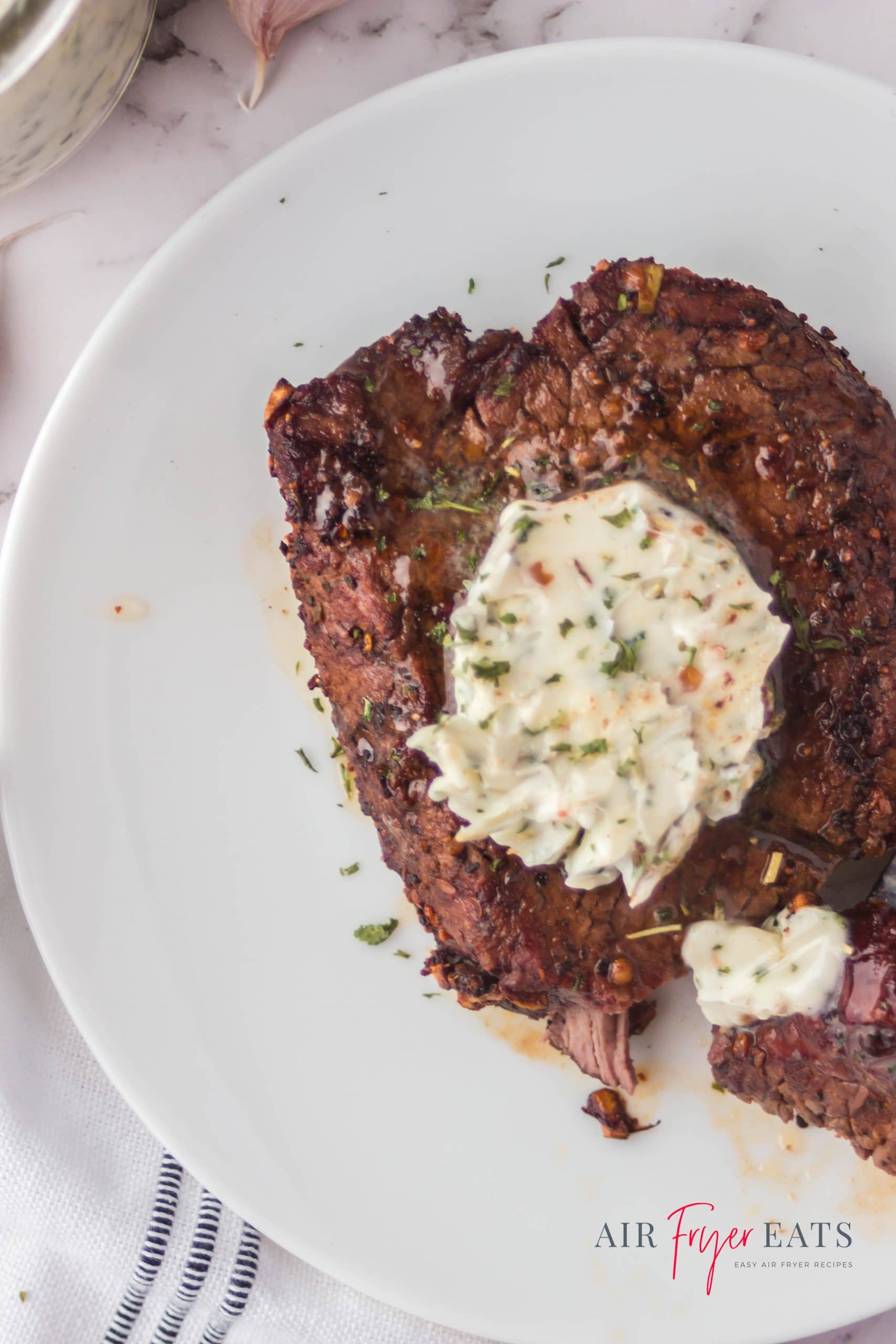 MORE DELICIOUS AIR FRYER MEAT RECIPES
Air Fryer Steak Bites are a super fast steak recipe for bite size pieces that are easy to eat and serve.
Air Fryer Chicken Fried Steak is a delicious way to prepare a cube steak.
For a really impressive meal, make Air Fryer Lamb Chops.
Have leftovers? Try one of these Leftover Steak Recipes to turn them into a new masterpiece.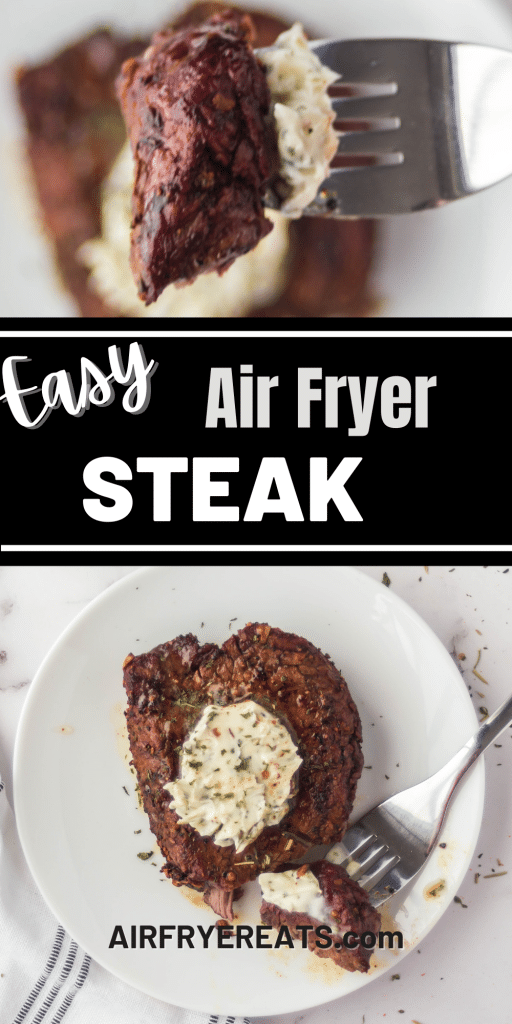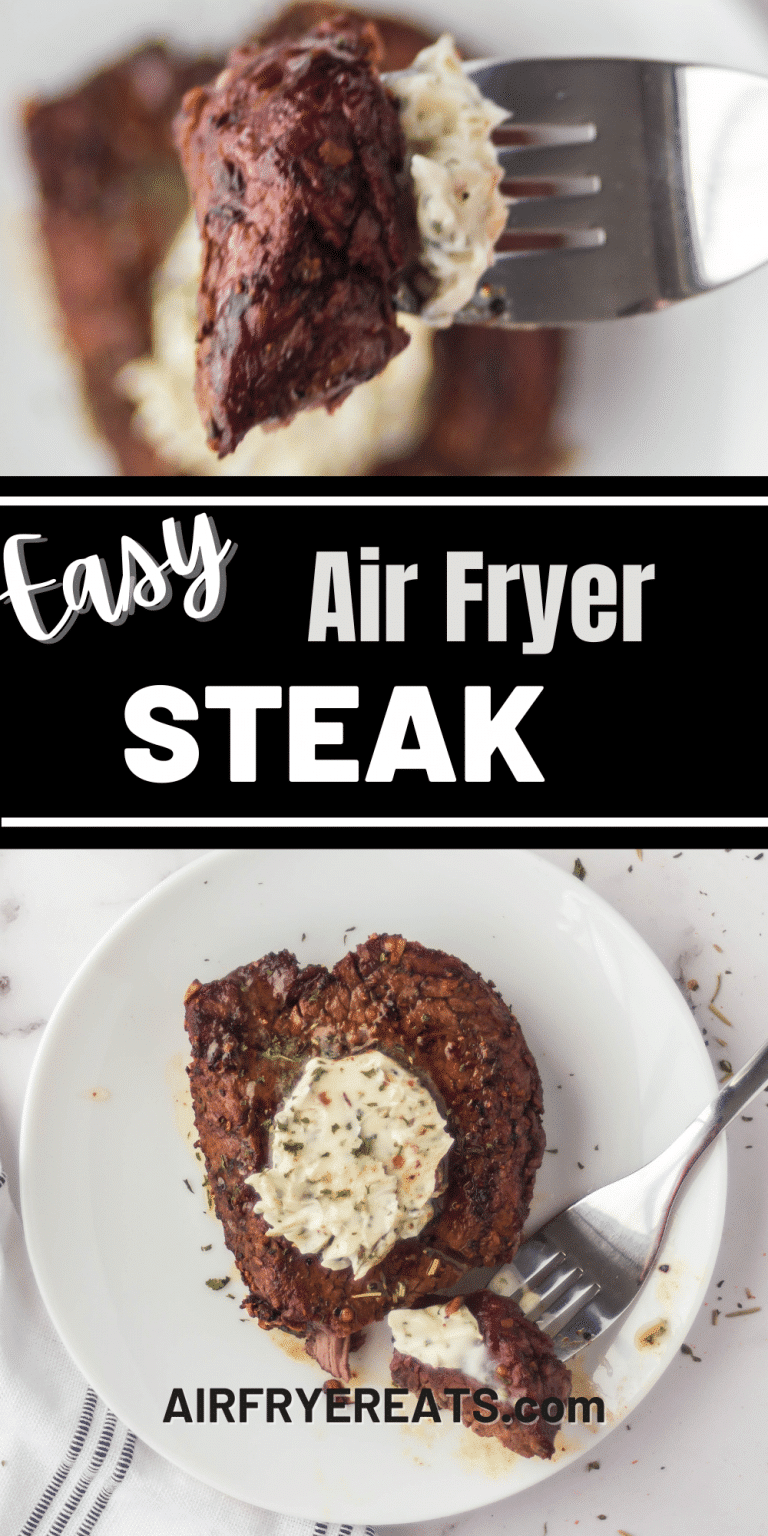 Have you made this recipe? Please leave a comment AND rating below! It helps other readers!
Be sure to tag @AirFryerEats on instagram, if you share a picture on the gram! Let's get social, you can follow me on Youtube, Instagram, Facebook, Pinterest or join one of our Air Fryer Facebook Groups: Air Fryer Recipes, Air Fryer Recipes for Seniors and Gluten Free Air Fryer Recipes.
Don't forget to subscribe to our EMAIL newsletter.
Ninja Foodi Steak
A thick and juicy Ninja Foodi Steak is topped with a savory garlic butter spread, to make the perfect air fryer steak that tastes like you ordered it from your favorite steakhouse.
Ingredients
2

4oz.

Steaks

Filet Mignon, or other

1

tbsp

Montreal Seasoning

or other steak seasoning

½

cup

Butter

softened

1

tbsp

Minced garlic

½

tbsp

Dried rosemary

1

tbsp

Dried parsley
Instructions
Preheat your Ninja Foodi to 400°F for 5 minutes on the air fry setting.

While that is preheating, remove your steak from the packaging and rub down all sides of each steak with Montreal seasoning.

Place steaks in the air frying basket and cook for 6 minutes. Flip over and cook for an additional 6 minutes, for 12 minutes total cook time for a medium well steak.

While steak is cooking, combine softened butter with garlic, rosemary, and parsley until fully incorporated.

Remove steaks from the air fryer and allow to rest for 5 minutes. Serve topped with garlic herb butter and enjoy.
Go AD FREE!
Notes
If you don't have Montreal seasoning or don't like Montreal seasoning, simply combine your favorite steak spices and sprinkle 1 tablespoon onto the steaks.
The Ninja Foodi can comfortably handle either two small steaks or one 6-10 oz. steak.
For Medium well steak, cook for 12 minutes. The photos shown here are of a medium rare filet mignon that was cooked for a total of 10 minutes. Adjust the timing to get the temperature that you prefer.
This steak was made in a Ninja Foodi. You can use this method to cook steak in a different air fryer as well.
Pro Tip: This recipe can be made in the air fryer unit with a basket or the air fryer oven. If you are using the air fryer oven, use the middle rack and select the "Air Fry" function.
Pro Tip: Check your food as it cooks. Each air fryer runs a bit differently. Sometimes airfrying is a trial and error process. Check your food as it cooks to learn your air fryer better! When cooking a new recipe or food items be sure to check your food often to help avoid over/under cooking.
Have oven recipes that you'd like to convert to an air fryer recipe? Use our Air Fryer Calculator to help you estimate cooking times and temps! Calculator here:
https://airfryereats.com/air-fryer-conversion-air-fryer-calculator/
Nutrition
Calories:
426
kcal
|
Carbohydrates:
3
g
|
Protein:
1
g
|
Fat:
46
g
|
Saturated Fat:
29
g
|
Polyunsaturated Fat:
2
g
|
Monounsaturated Fat:
12
g
|
Trans Fat:
2
g
|
Cholesterol:
123
mg
|
Sodium:
412
mg
|
Potassium:
78
mg
|
Fiber:
1
g
|
Sugar:
1
g
|
Vitamin A:
1506
IU
|
Vitamin C:
3
mg
|
Calcium:
59
mg
|
Iron:
1
mg
Tired of the ads?
Go AD Free - Become part of our Membership community!
Air Fryers can vary greatly. Please take the time to learn your specific air fryer. You may need to adjust times and temperatures based upon your air fryer.
All though this website attempts to provide accurate nutritional information, the information should only be considered an estimate. Varying factors such as different product types, different brands, etc. can change nutritional information. It is your responsibility as a consumer to read all labels to make sure the ingredients fit your dietary needs as well as calculate your own nutritional information as a double check.