Did you know you can make delicious Air Fryer Green Beans from a can? That's right, shelf stable canned green beans are easy to make in your air fryer.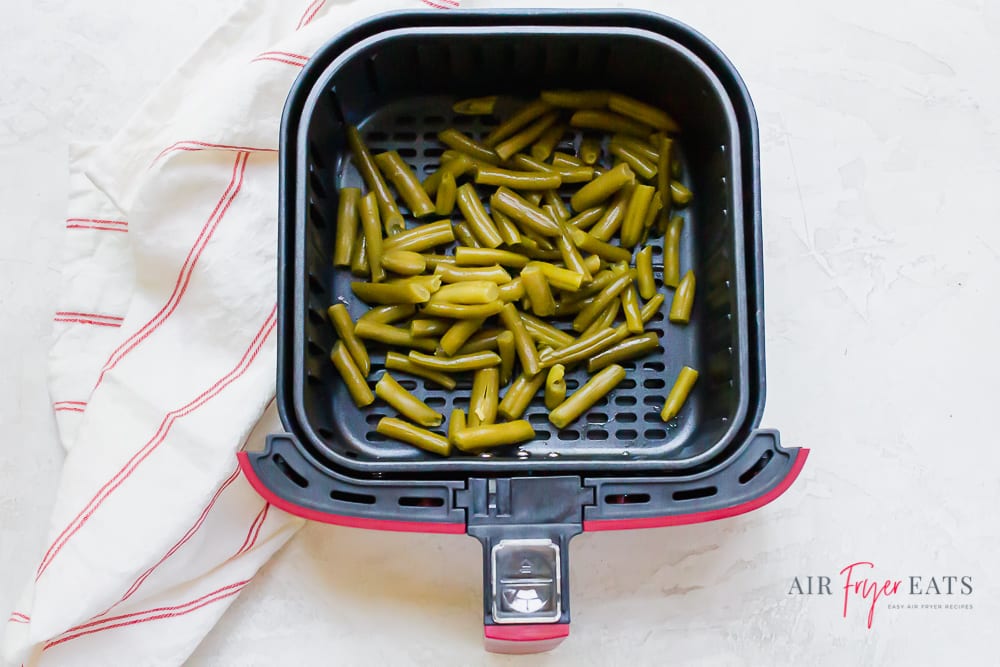 Air Fryer Beans (canned) are a great air fryer side dish recipe.
Air fried green beans are done in less time than conventional methods, and they taste better, too!
You might remember our recent post about air fryer potatoes from a can.
Those are delicious too!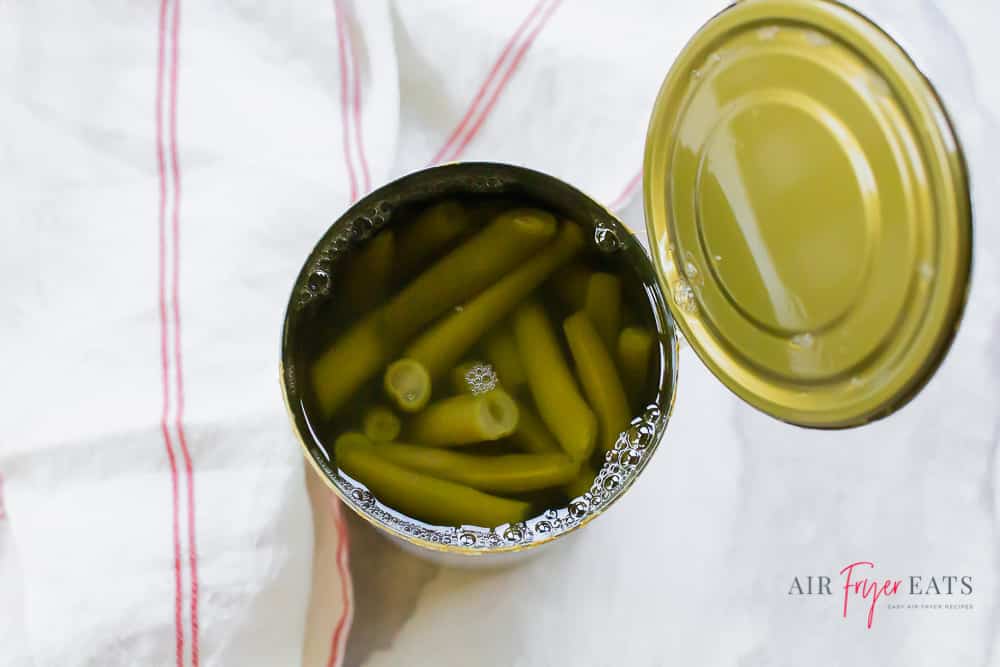 We love that this air fryer green bean recipe uses green beans from a can.
This particular recipe lends itself to be a great one in times where fresh green beans aren't as easily accessible.
Canned beans are a staple that we keep in our "emergency preparedness kit."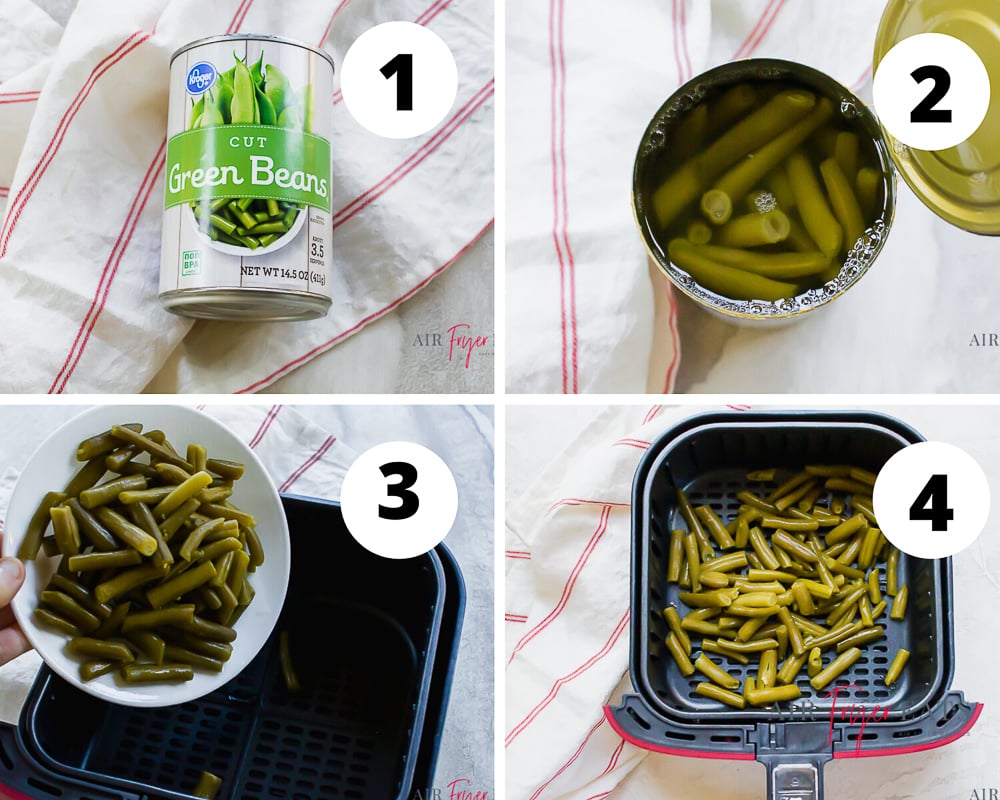 HOW TO MAKE CANNED GREEN BEANS IN THE AIR FRYER
Select your can of beans.
Open beans, drain liquid and rinse beans in water.
Place the beans into the air fryer basket or air fryer tray. Air fry the beans at 350F/176C for 4 minutes.
Remove beans from basket. Season beans with salt and pepper and enjoy!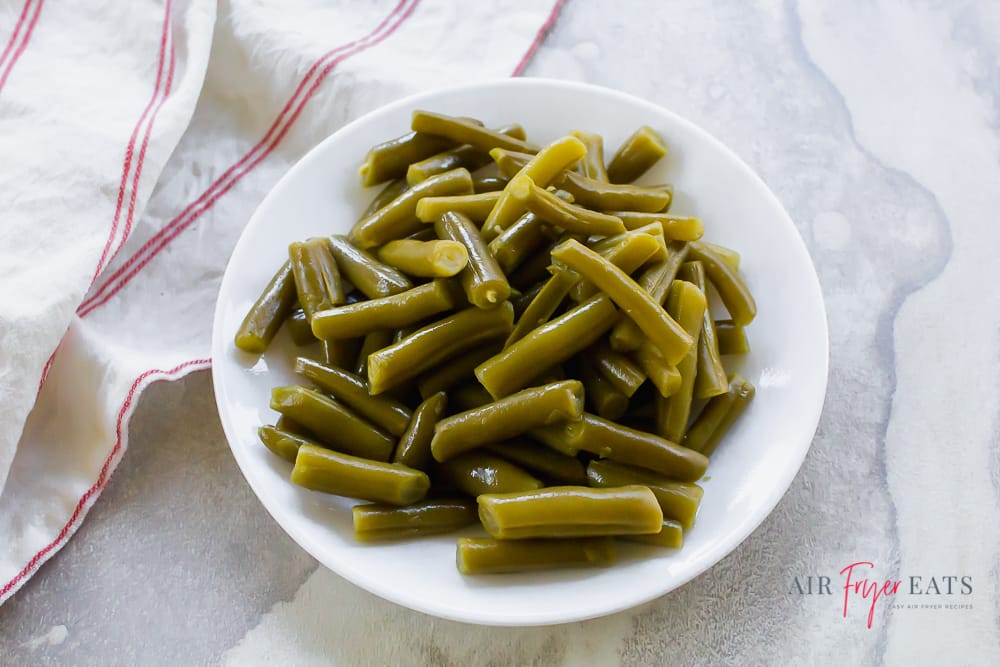 HOW TO SERVE AIR Fried Green Beans (from a can)
There are so many delicious ways to eat green beans. A pat of butter, fresh herbs, and a sprinkle of fresh cracked black pepper is a simple, but scrumptious way to enjoy your beans.
But if you're looking to jazz up your beans, try some of these toppings ideas:
Load them with crumbled strips of crispy Air Fryer Bacon. Yum!
Season with taco seasoning, black beans, and diced tomatoes or your favorite salsa for a Mexican-style masterpiece!
Smother your air fryer beans with parmesan cheese.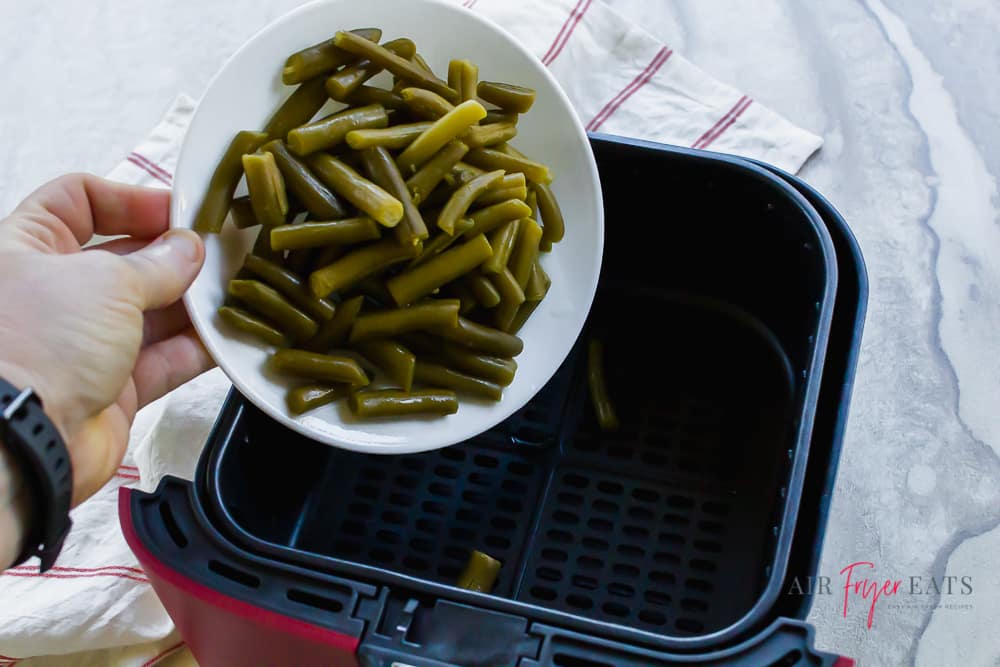 MORE AIR FRYER VEGGIE SIDE DISH RECIPES TO ENJOY!
Looking for more air fryer recipes to make?
Take a look at these air fryer side dishes: Air Fryer Sweet Potato, Crispy Asparagus in the Air Fryer and Air Fryer Brussel Sprouts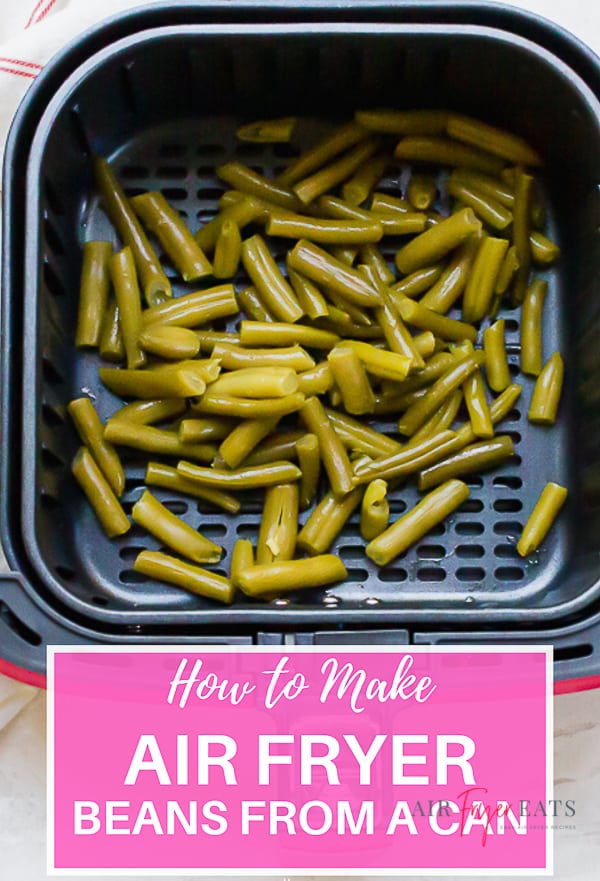 Pro Tip: This recipe can be made in the air fryer unit with a basket or the air fryer oven.
If you are using the air fryer oven, use the middle rack and select the "Air Fry" function.
Are you gluten-free? Me too! We also have a sister site where EVERYTHING is gluten-free.
It is called VegetarianMamma.
You can find some awesome dishes there for your Meatless Mondays!
Always be sure to read ingredient labels to make sure that the product/ingredients fits your dietary restrictions!
Generally, we make simple enough recipes where you can sub the ingredients.
Common subs in our recipes include: Bread = Canyon Bakehouse Bread Crumbs = Ian's GF Bread Crumbs Flour = GF Jules All Purpose GF Flour.
Because our household is mixed between gluten and gluten-free, we have made almost everything on our site both ways. (except some of the frozen foods).
If you have any questions, please ask!
Have you made this recipe? Please leave a comment AND rating below! It helps other readers!
Be sure to tag @AirFryerEats on instagram, if you share a picture on the gram!
Let's get social, you can follow me on Youtube, Instagram, Facebook, Pinterest or join one of our Air Fryer Facebook Groups: Air Fryer Recipes, Air Fryer Recipes for Seniors and Gluten Free Air Fryer Recipes.
Don't forget to subscribe to our EMAIL newsletter.