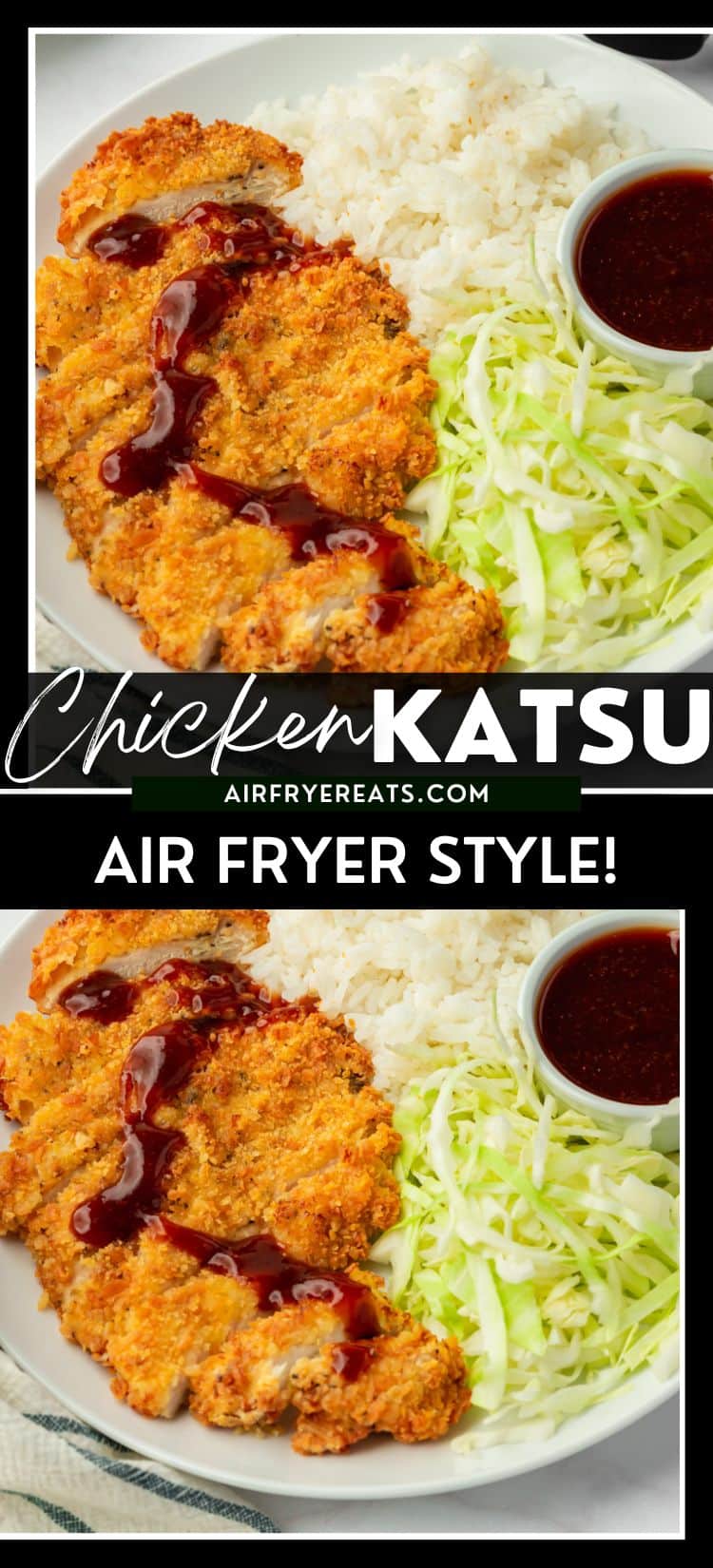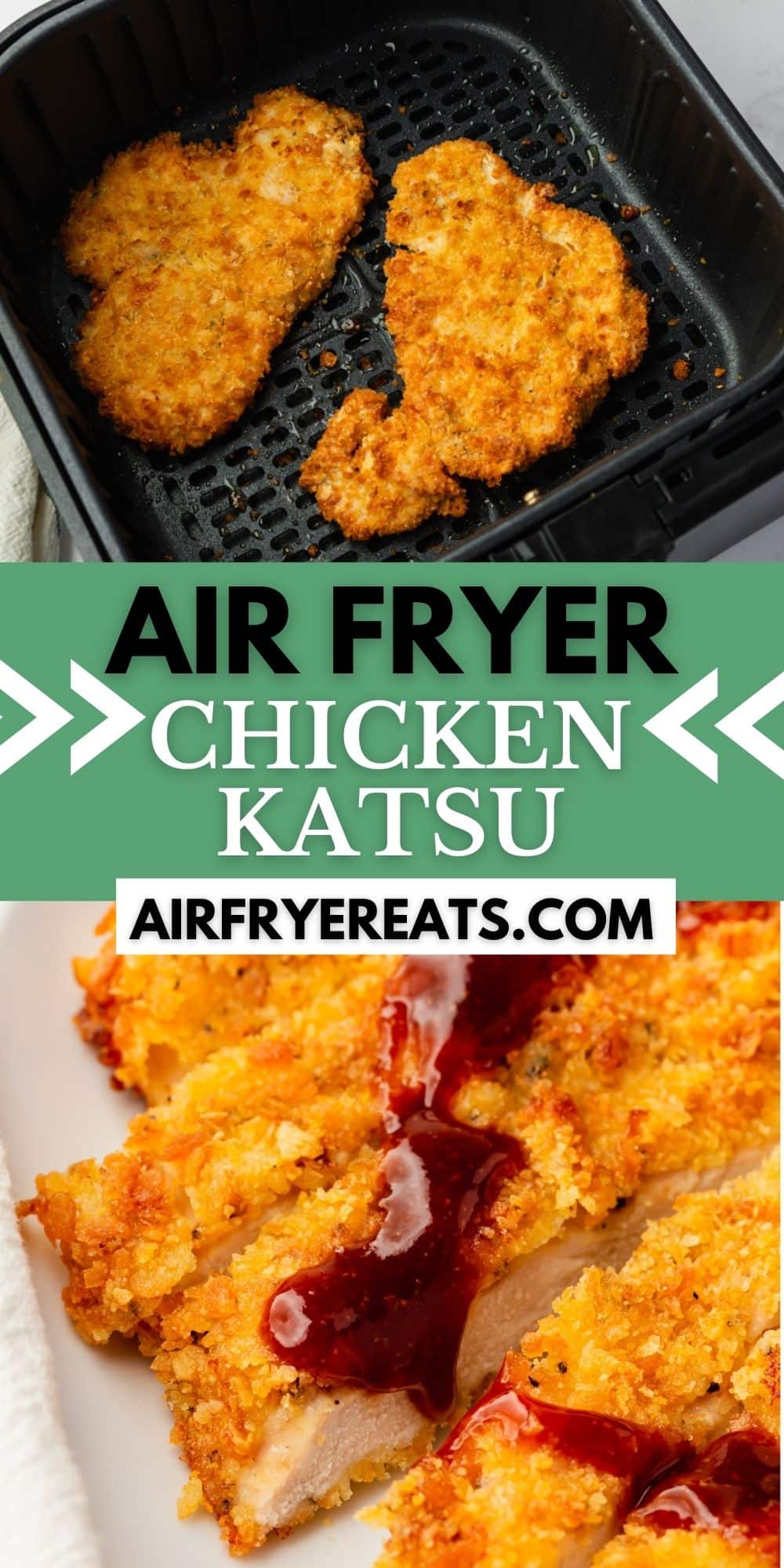 Use your favorite countertop appliance to make Air Fryer Chicken Katsu! It's just like your favorite Japanese restaurant's fried chicken cutlets, complete with a homemade tonkatsu sauce.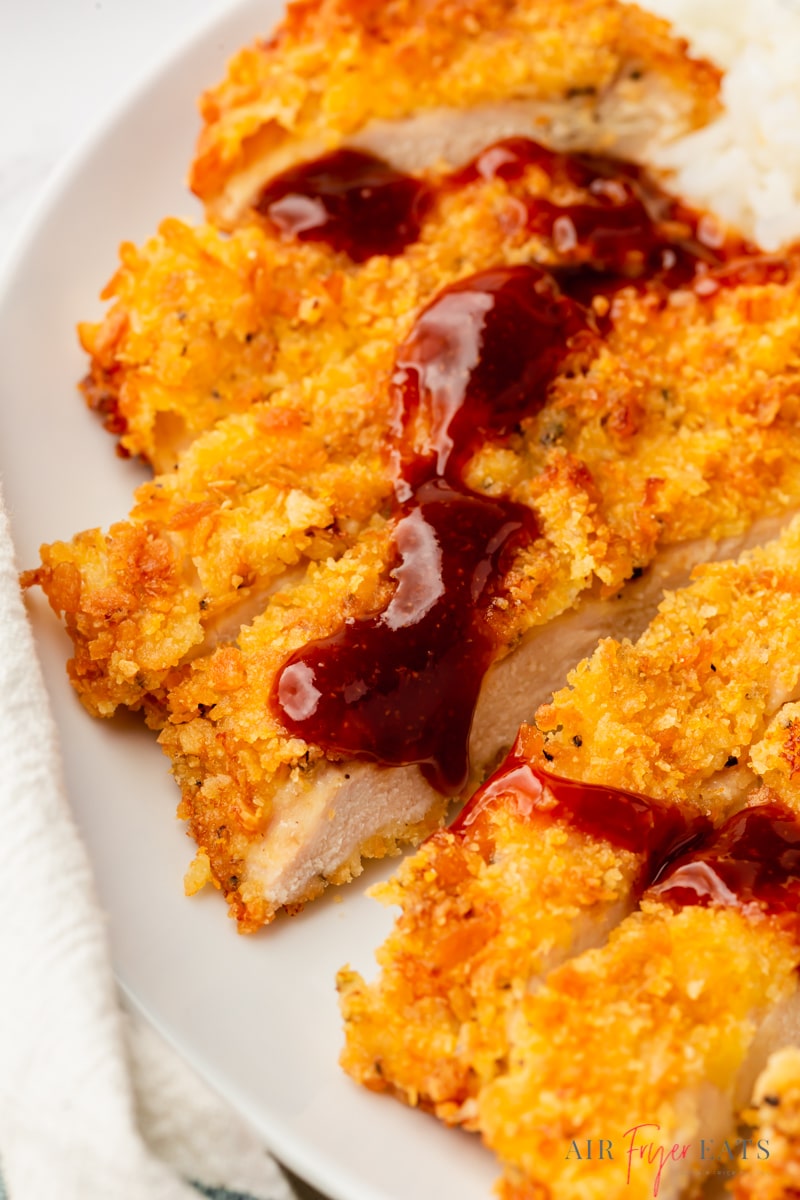 AIR FRYER CHICKEN KATSU RECIPE
Chicken Katsu is a classic Japanese comfort food dish, also popular in Hawaii, of crispy, fried chicken cutlets with a tangy barbecue-style sauce.
You should know that any type of breaded chicken that you can fry, can also be made in the air fryer, and it will be just as crispy as delicious if you follow my recipe!
If you've made our traditional air fryer chicken cutlets, you'll know exactly what I'm talking about.
Unlike traditionally prepared fried chicken katsu cutlets, this air fryer recipe uses way less oil to reach the same crispy destination. We will use only enough oil to make the panko breadcrumbs brown and delicious, and not a drop more.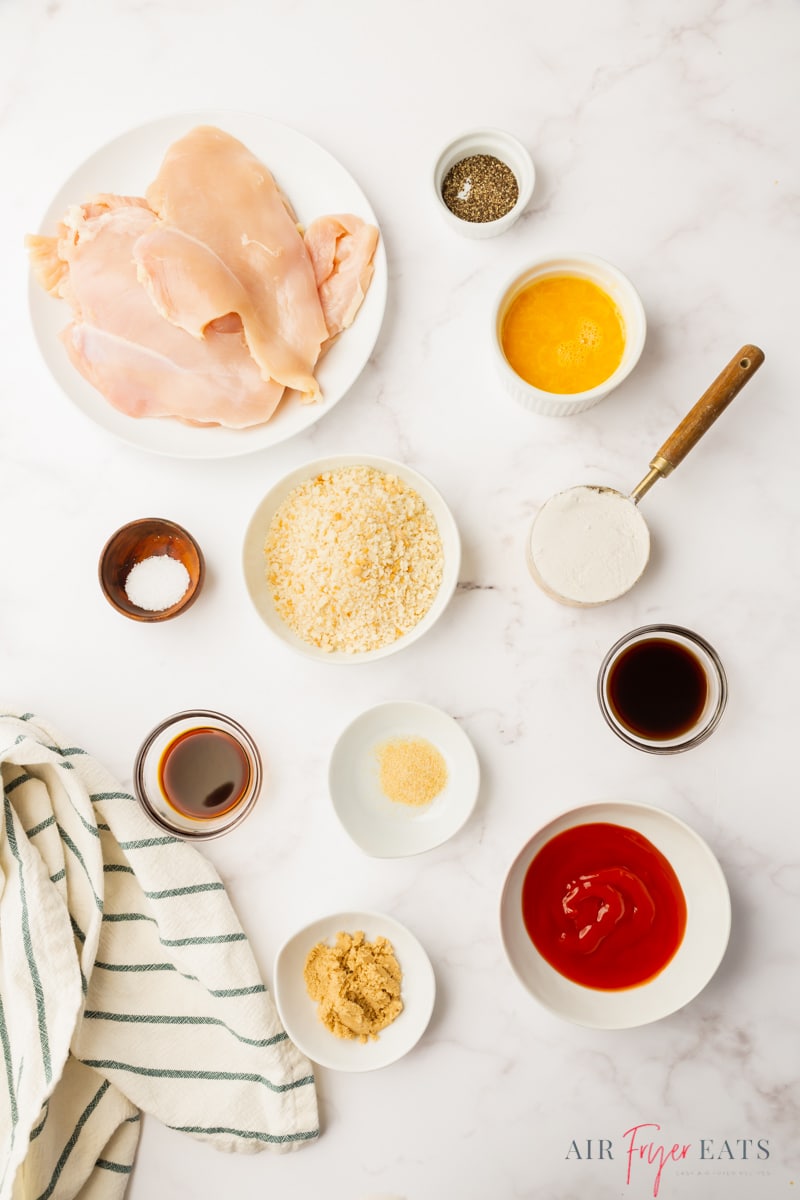 INGREDIENTS FOR AIR FRYER CHICKEN KATSU
Chicken Cutlets - Buy cutlets already sliced at the store, or slice two chicken breasts into thin cutlets yourself. Either way, pound them out with a meat mallet so that they are the same thickness all the way through.
Salt and Pepper - The chicken is really very plain, seasoned only with salt and pepper. This makes it the perfect vessel for a tasty katsu sauce!
Flour - We used all-purpose flour to build a breading on the cutlets. You can also use gluten-free flour, or go more traditional and use potato starch or corn starch.
Eggs - Eggs hold the bread crumbs to the chicken and help create the perfect katsu breading.
Panko Bread Crumbs - The key to the delicious texture of chicken katsu is the crunchy panko coating. These come in a gluten-free version as well if you're wondering, and both work just fine.
Tonkatsu Sauce - You can buy this tangy Japanese bbq sauce in a bottle at your local large grocery store or Asian food market, but it's really simple to make it from scratch with ingredients you probably already have: Ketchup, Worchestershire sauce, soy sauce (or tamari), brown sugar, and garlic powder.
If you have any questions about making air fryer chicken katsu, please leave a comment below and I will get back to you ASAP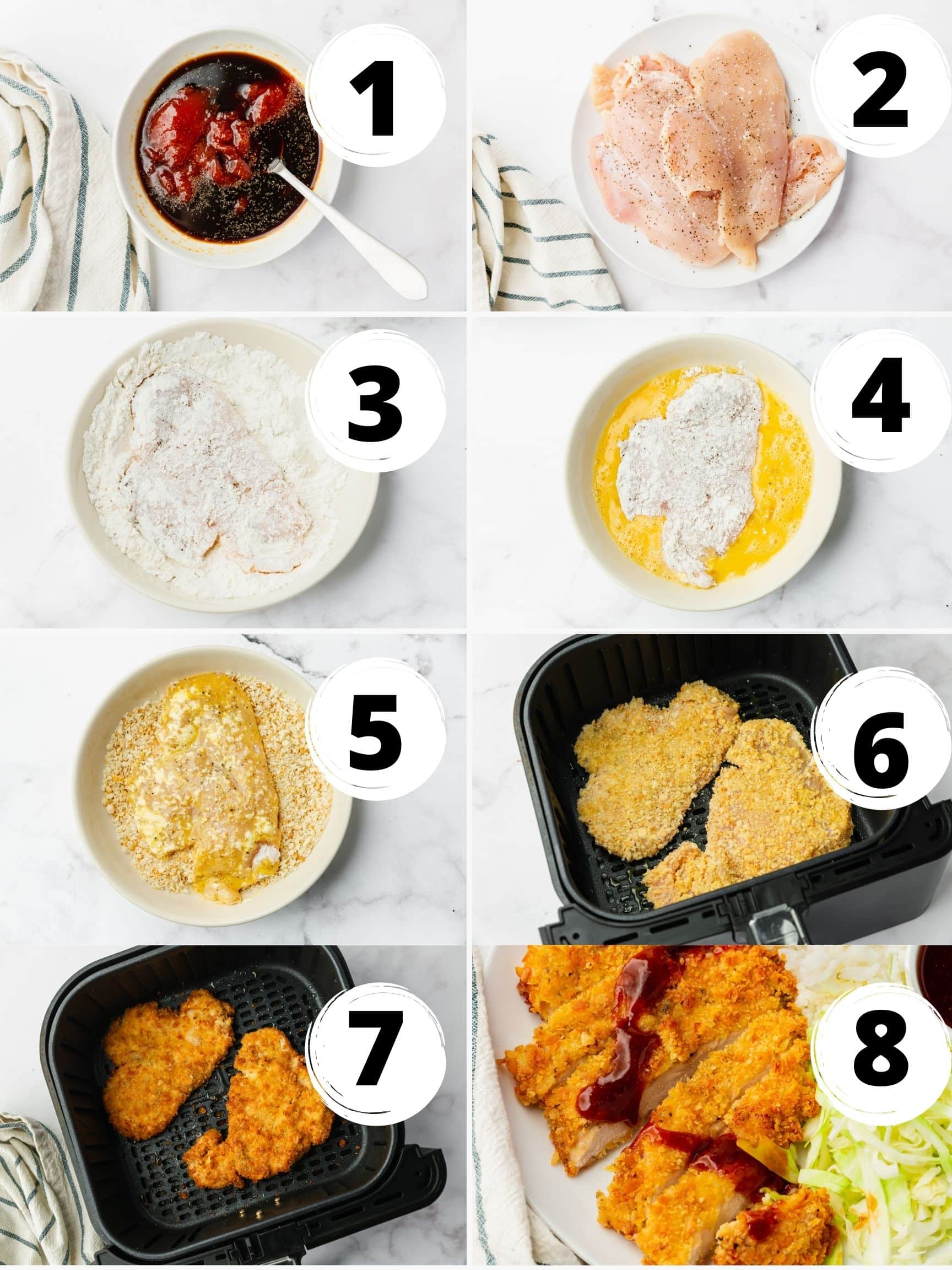 HOW TO MAKE CHICKEN KATSU IN AIR FRYER
Make the Tonkatsu Sauce by mixing the ketchup, Worchestershire, tamari or soy sauce, brown sugar, and garlic powder together in a small bowl. Set the sauce aside.
Slice the Chicken Breasts Into Cutlets and pound to ½-inch thickness. Season both sides of each cutlet with salt and pepper.
Set up a Breading Station, by putting the flour, beaten eggs, and panko breadcrumbs in three separate shallow bowls. Dredge the chicken first in the flour, covering all sides, and shaking off any excess.
Then dip the cutlets in the egg.
Finally, place the chicken in the panko breadcrumbs, making sure that the chicken is fully covered. Press the breadcrumbs in if you need to so that they stick.
Spray the Air Fryer Basket with Cooking Oil. Place the chicken in the basket in a single layer, then spray the tops of the cutlets with additional oil.
Air Fry as directed in the recipe card below. Halfway through, flip the chicken cutlets over and spray again with oil. Continue air frying until the chicken is fully cooked, and the internal temperature reaches 165°F/74°C.
These numbered steps match the numbered photos above and are for illustration purposes. For the complete list of ingredients and instructions for making Chicken Katsu in air fryer, please see the recipe below.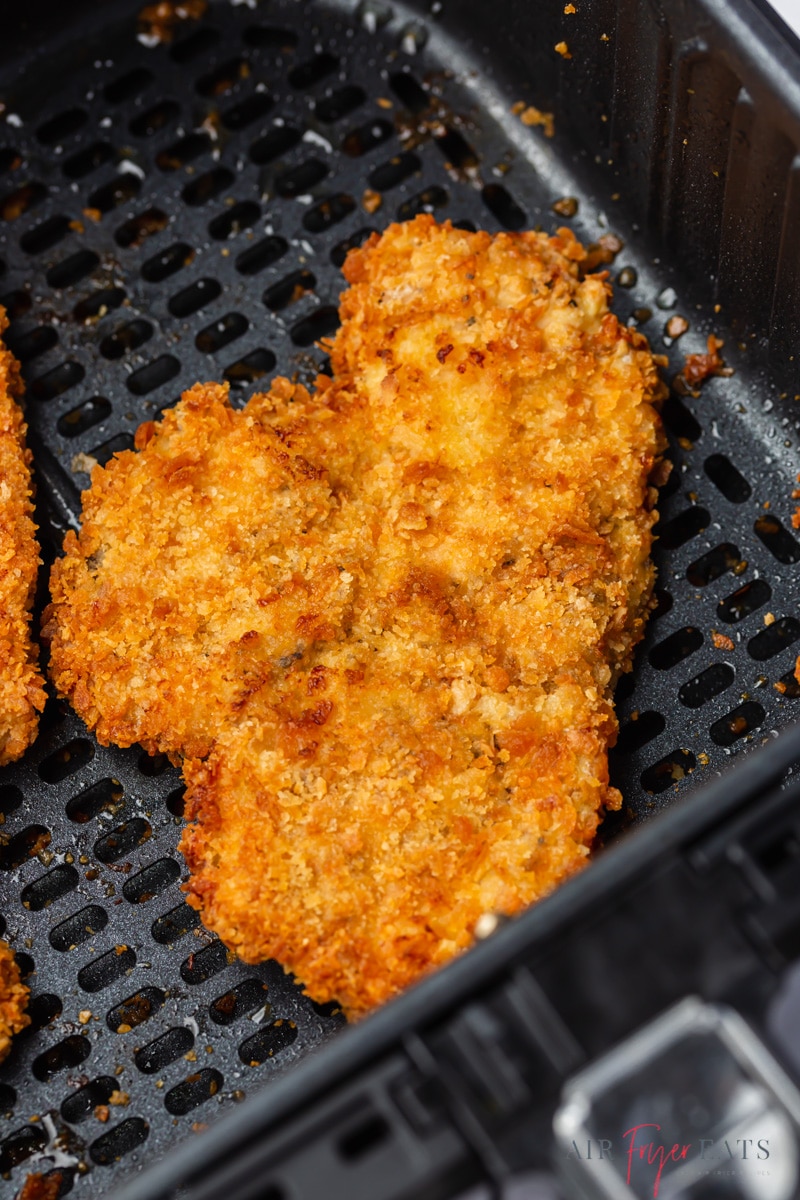 HOW TO SERVE AIR FRYER CHICKEN KATSU
The traditional way to serve or eat Japanese chicken katsu is drizzled with sweet and savory tonkatsu sauce with rice and a pile of thinly shredded cabbage on the side.
Sometimes the cabbage is served underneath the fried chicken cutlets, to keep them from sitting directly on the plate and losing their crunch.
You may prefer to serve the sauce on the side instead of on the chicken, and that's totally fine!
I like to serve the chicken sliced into strips so that it's easy to eat. I do the same with crispy Air Fryer Pork Chops.
Air Fryer Chicken Katsu can be dipped into other sauces if you prefer, like bottled sweet and sour sauce, or regular BBQ sauce if that's what you have on hand.
AIR FRYER SIDE DISHES THAT GO WITH CHICKEN KATSU
If you'd like to stray away from the traditional steamed rice, you can make a delicious Fried Rice in the Air Fryer, using the pot that came with your machine.
I think this meal could use a healthy green veggie on the side. Try making Air Fryer Green Beans, and drizzling them with a bit of soy sauce.
Air Fryer Edamame is the perfect Japanese appetizer too!
HOW TO STORE LEFTOVER AIR FRIED CHICKEN KATSU
Keep leftovers in an airtight container for 2-3 days. Reheat for 1-2 minutes in the air fryer and they'll be just as crispy and delicious the next day!
HOW TO CUT CHICKEN BREASTS INTO CUTLETS
Place a chicken breast on a cutting board. Hold the chicken down with one hand, while you slice it in half, passing the knife in between your palm and the board.
Then, pound the chicken slices into cutlets that are a half-inch thick throughout. I find it easiest to cover the chicken with a piece of plastic wrap to keep the kitchen clean.
You can do this with a meat tenderizer (use the flat side) or with a rolling pin.
IS CHICKEN KATSU GLUTEN FREE?
Traditionally, this dish is made with panko breadcrumbs, which are made from wheat. If you make it at home though, you can control the ingredients!
Make gluten-free chicken katsu in the air fryer by using gluten-free flour, gluten-free panko breadcrumbs, and tamari instead of soy sauce.
HOW TO MAKE NINJA FOODI KATSU CHICKEN
We have a whole section of Ninja Foodi Air Fryer recipes! In general, I find that the ninja foodi air fries food a bit quicker than other large air fryers. So follow this recipe, but keep an eye on the chicken in case it's ready a few minutes early.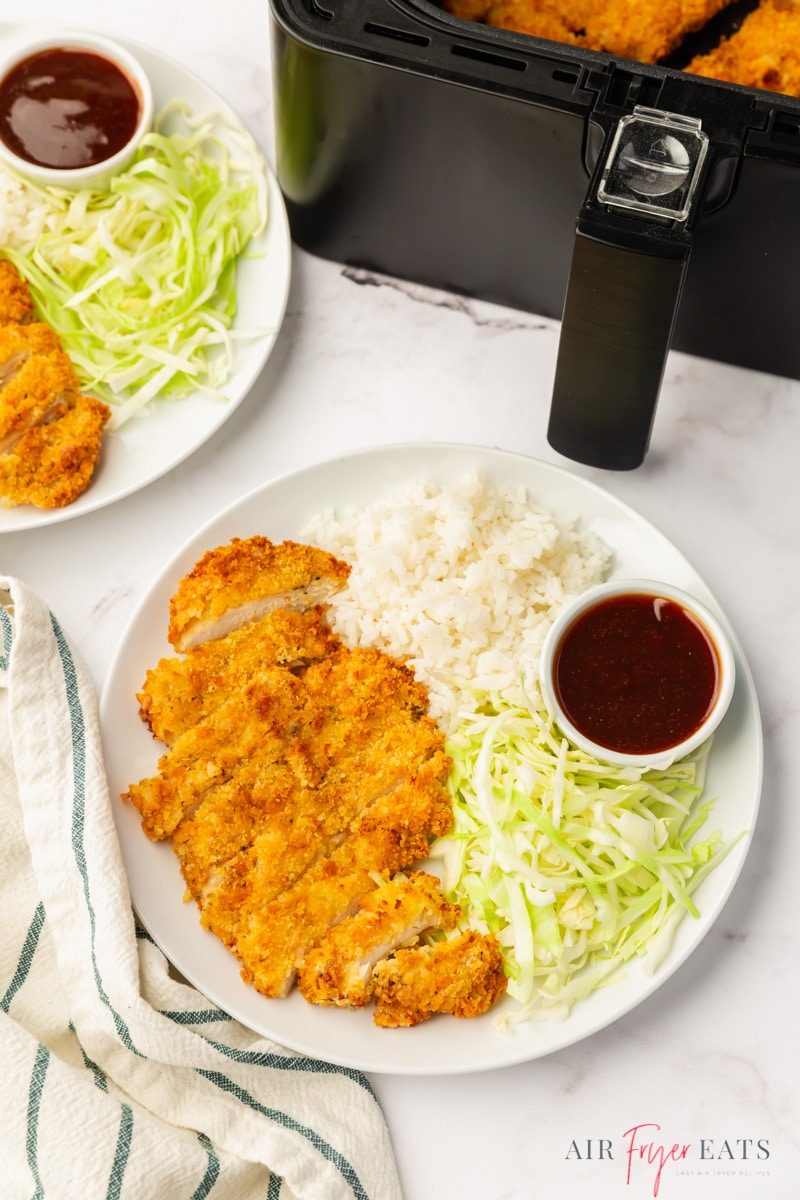 MORE ASIAN INSPIRED AIR FRYER RECIPES
Chicken, cooked in the air fryer with Asian sauces and seasonings, is one of my go-to's when I need to figure out dinner in a hurry. Try Air Fryer Sticky Ginger Chicken, or Air Fryer Orange Chicken.
You'll also love these easy instructions for making Trader Joe's Orange Chicken in the Air Fryer, and if you need to give the air fryer a break tonight, try this one skillet creamy Thai basil chicken instead.
Tired of chicken? Make Air Fryer Tuna Steaks or Air Fryer Short Ribs. Both of these recipes have delicious Asian flavors.
Looking for a vegetarian air fryer meal? Try crispy Tofu Noodle Bowls, or Tofu Manchurian in the air fryer.
Don't forget about snacks! Frozen dumplings are easy to make in the air fryer, and so are frozen egg rolls.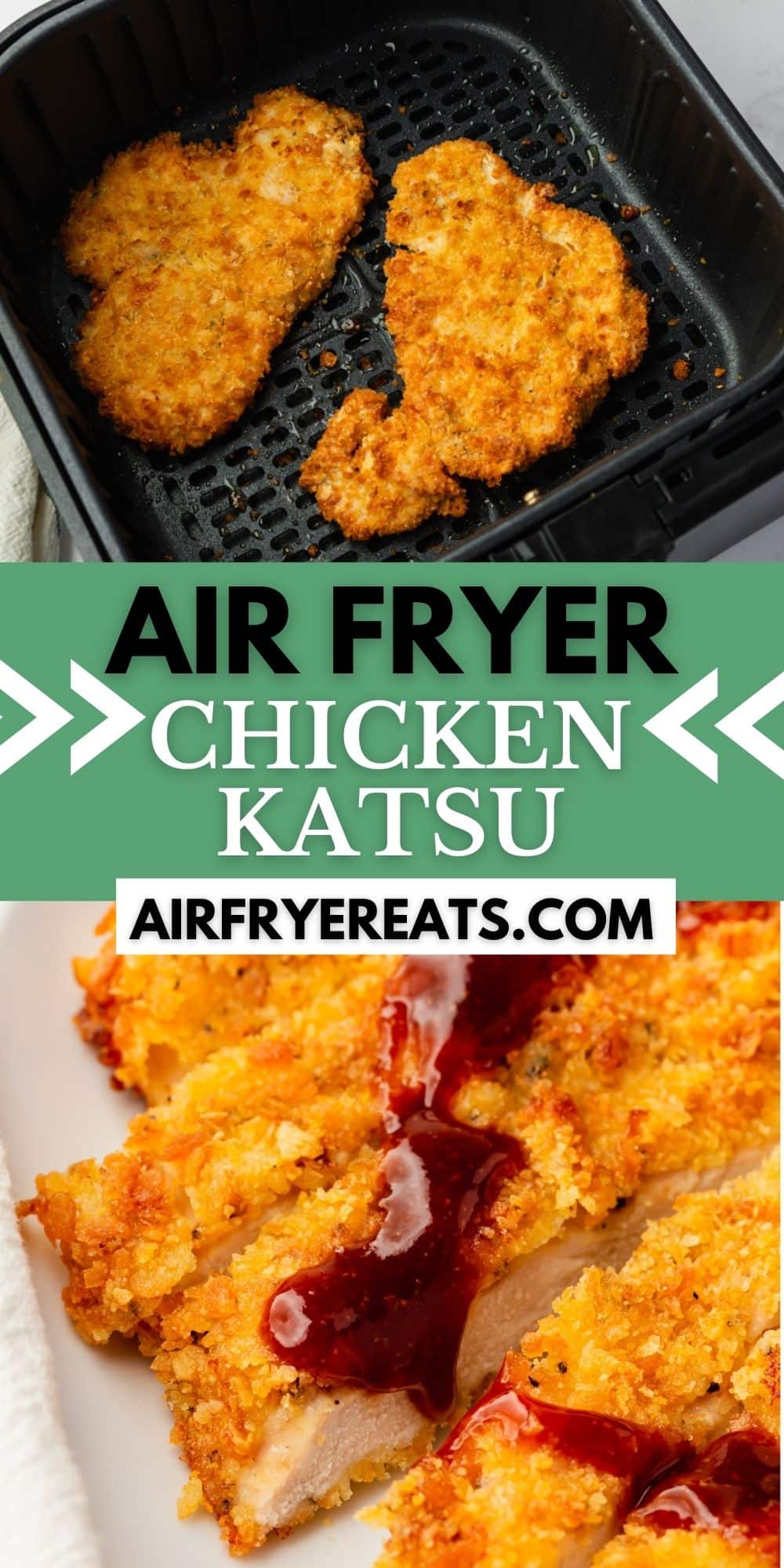 Have you made this recipe? Please leave a comment AND rating below! It helps other readers!
Be sure to tag @AirFryerEats on instagram, if you share a picture on the gram! Let's get social, you can follow me on Youtube, Instagram, Facebook, Pinterest or join one of our Air Fryer Facebook Groups: Air Fryer Recipes, Air Fryer Recipes for Seniors and Gluten Free Air Fryer Recipes.
Don't forget to subscribe to our EMAIL newsletter.
Air Fryer Chicken Katsu
Air Fryer Chicken Katsu with an easy Tonkatsu sauce is just as tasty as anything you'd order at your favorite Japanese restaurant, and so simple to make at home.
Equipment
Mixing bowl

3 shallow bowls

Meat Mallet

or rolling pin, to pound chicken cutlets
Ingredients
For the Tonkatsu sauce:
¼

cup

ketchup

2

tbsp

worcestershire sauce

1

tbsp

soy sauce

or tamari

1

tbsp

brown sugar

¼

tsp

garlic powder
For the Chicken:
1

lb (2 pieces)

boneless skinless chicken breasts

½

tsp

salt

½

tsp

ground black pepper

½

cup

all-purpose flour

2

eggs

beaten

1

cup

unseasoned panko breadcrumbs
Instructions
To make the tonkatsu sauce, place the ketchup, worcestershire sauce, soy sauce, brown sugar and garlic powder in a small bowl. Mix to combine.

Slice the chicken breasts in half and pound to ½-inch thickness, so that you have 4 chicken pieces. Season with salt and pepper on both sides. Place on a plate.

Place the flour, eggs and panko breadcrumbs in 3 separate shallow bowls. Dredge the chicken first in the flour, covering all sides, and shaking off any excess.

Then dip the flour covered chicken in the beaten eggs, letting any excess drip off.

Finally, place the chicken in the panko breadcrumbs, making sure that the chicken is fully covered. Press the breadcrumbs into the chicken if need be.

Spray the air fryer basket with cooking oil. Place the chicken in the air fryer basket in a single layer. Cook in batches if need be. Spray the top of the chicken with additional cooking oil.

Air fry at 350°F/180°F for 18 minutes, or until the internal temperature of the chicken reaches 165°F74°C, flipping and spraying the top of the chicken with more cooking oil halfway through.

Slice the chicken and top with tonkatsu sauce. Serve with rice and shredded cabbage, if desired.
Go AD FREE!
Notes
If you'd like this recipe to be gluten-free, use gluten-free flour and gluten-free panko bread crumbs. You'll also want to use tamari, or gluten-free soy sauce.
To be more authentic, you can replace the flour in this recipe with potato starch or cornstarch.
Tonkatsu sauce is pretty simple to make, but you can use store-bought bottled sauce as well.
It's important to pound out the chicken so that it's all the same thickness and about ½ inch. This will ensure that the cutlets cook at the same time. If the cutlets aren't thin enough, you'll need to cook them for longer and risk burning the breading.
Cook in batches. Once you pound out the cutlets, you will probably only be able to fit 2 at a time in the air fryer basket. You can keep the first batch warm in a 200°F oven while the second batch is cooking.
Pro Tip: This recipe can be made in the air fryer unit with a basket or the air fryer oven. If you are using the air fryer oven, use the middle rack and select the "Air Fry" function.
Pro Tip: Check your food as it cooks. Each air fryer runs a bit differently. Sometimes air frying is a trial and error process. Check your food as it cooks to learn your air fryer better! When cooking a new recipe or food items be sure to check your food often to help avoid over/under cooking.
Have oven recipes that you'd like to convert to air fryer recipes? Use our Air Fryer Calculator to help you estimate cooking times and temps! Calculator here: https://airfryereats.com/air-fryer-conversion-air-fryer-calculator/
Nutrition
Calories:
314
kcal
|
Carbohydrates:
32
g
|
Protein:
31
g
|
Fat:
6
g
|
Saturated Fat:
2
g
|
Polyunsaturated Fat:
1
g
|
Monounsaturated Fat:
2
g
|
Trans Fat:
0.02
g
|
Cholesterol:
154
mg
|
Sodium:
1063
mg
|
Potassium:
625
mg
|
Fiber:
1
g
|
Sugar:
8
g
|
Vitamin A:
238
IU
|
Vitamin C:
3
mg
|
Calcium:
64
mg
|
Iron:
3
mg
Tired of the ads?
Go AD Free - Become part of our Membership community!
Air Fryers can vary greatly. Please take the time to learn your specific air fryer. You may need to adjust times and temperatures based upon your air fryer.
All though this website attempts to provide accurate nutritional information, the information should only be considered an estimate. Varying factors such as different product types, different brands, etc. can change nutritional information. It is your responsibility as a consumer to read all labels to make sure the ingredients fit your dietary needs as well as calculate your own nutritional information as a double check.