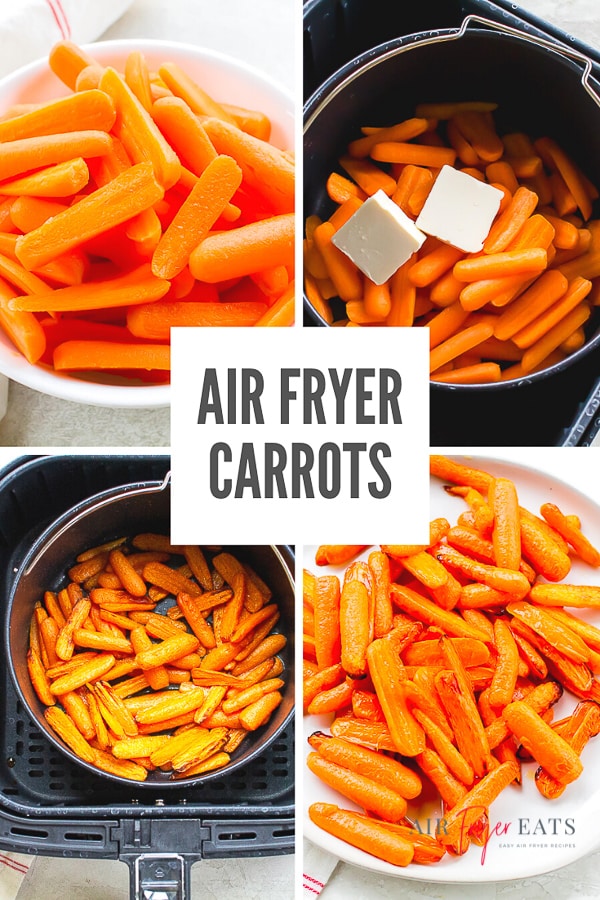 These Air Fryer Carrots are a snap to make in your air fryer. Air fried carrots are a quick and easy way to get a delicious vegetable side dish on your table in under 15 minutes.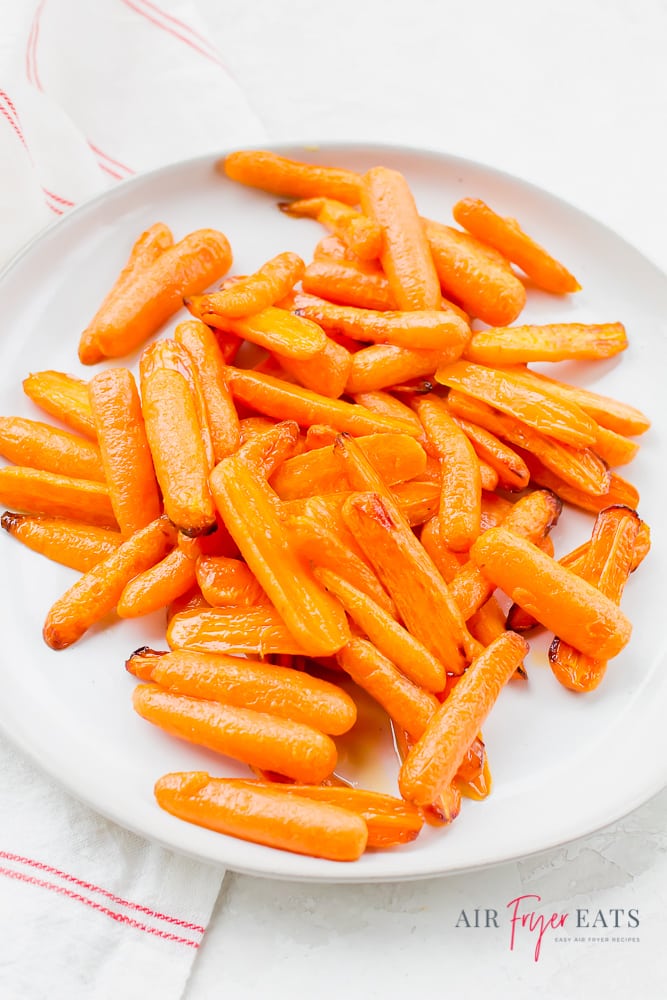 Air Fryer Carrots
Air Fryer Carrots are a great air fryer side dish recipe.
These carrots are done in less time than conventional oven methods, and they taste better, too!
We love that this air fryer carrot recipe uses baby carrots.
Typically baby carrots are easy to find and since they already have the skin removed, it makes prepping them easy!
In less than 20 minutes, start to finish, you will have a plate full of savory carrots!
If you are a vegetable fan, after you make this recipe, you are going to need to check out our air fryer potatoes and our air fryer sweet potato!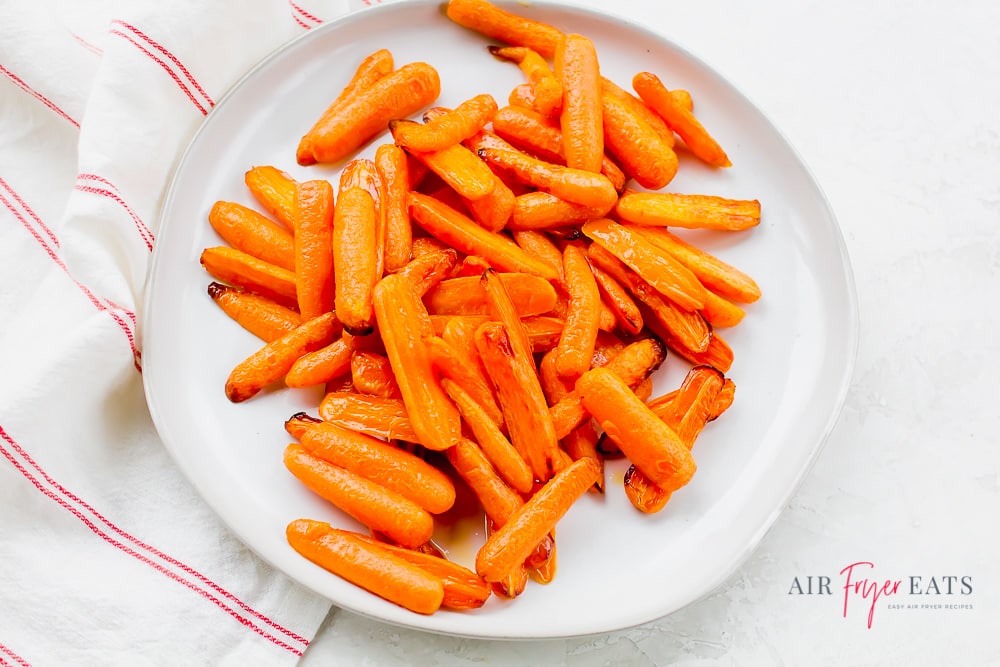 How to make air fryer carrots
Step 1: Wash baby carrots and cut into halves. Add the carrots to a baking pan or other oven safe bakeware.
Step 2: Season the carrots with 2 T of butter. Optional: salt and pepper
Step 3: Cook at 380 degrees F (193 C) for 15 minutes. Check at 10 minutes, if you like the tenderness you can stop the cooking now. If you want your carrot softer, continue to cook.
Step 4: Then remove, serve with your favorite toppings, and enjoy!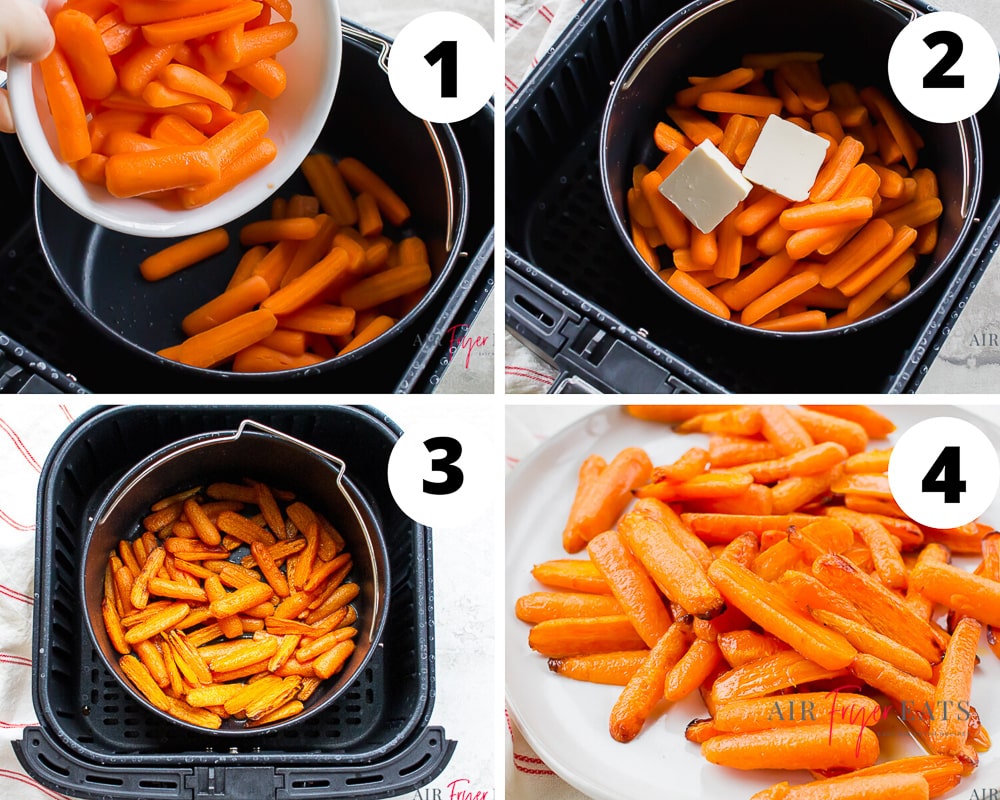 Tips for cooking air fryer carrots
Keep in mind that while the method is mostly universal, each air fryer model works a little differently.
Here are some tips to ensure that your air fried carrots are delightful and delectable every time:
You can make sweet or savory carrots. To make sweet carrots you can add some brown sugar to them while they are cooking.
To make savory carrots, you can add some smoke paprika or Italian seasoning to the carrots before cooking.
Shaking your carrots once about halfway through cooking will help them to bake evenly.
Most air fryers have a function that allows you to pull the basket out at your leisure to flip or stir the foods. I would suggest you do this 1-2 times during the cooking.
You need to use a baking pan or other oven safe bakeware. Why?
It just makes for easier clean up and allows for the butter to coat all carrot pieces.
Use baby carrots to make this recipe. Why did we use baby carrots? Just because it makes life easier, they are already peeled and cut.
You can use long carrots, just remove skin and cut down to "baby carrot" size.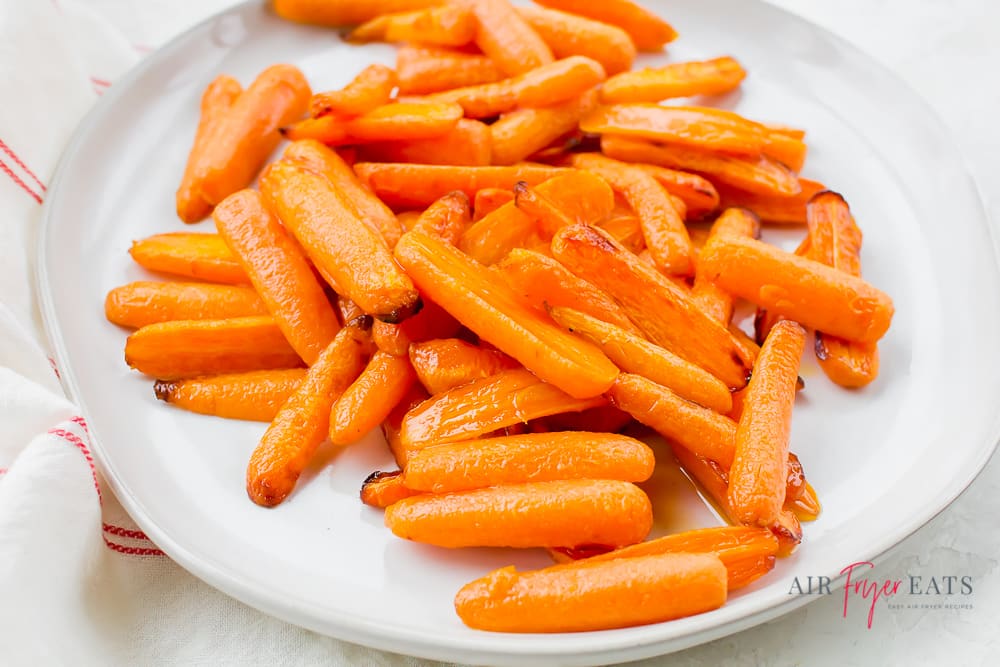 How to serve Air fryer carrots
Honestly, the ways to serve this air fryer side dish are endless, but we can think of a few ways to serve it up!
Serve these air fryer carrots on your next Holiday Menu. They are easy and won't take up cooking space on your stove! That is a win!
Air Fryer Steak is delicious enough to stand alone, but when you pair it with this carrot recipe, the flavor of the duo is unstoppable!
Hold the french fries and load up on carrots as a side, when you serve up some air fryer hamburgers!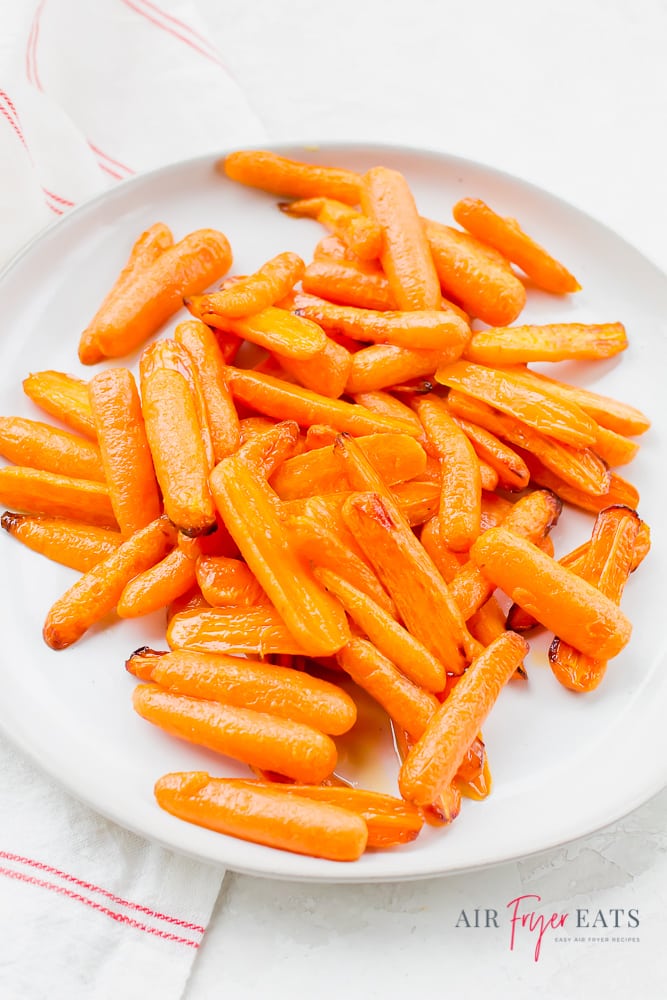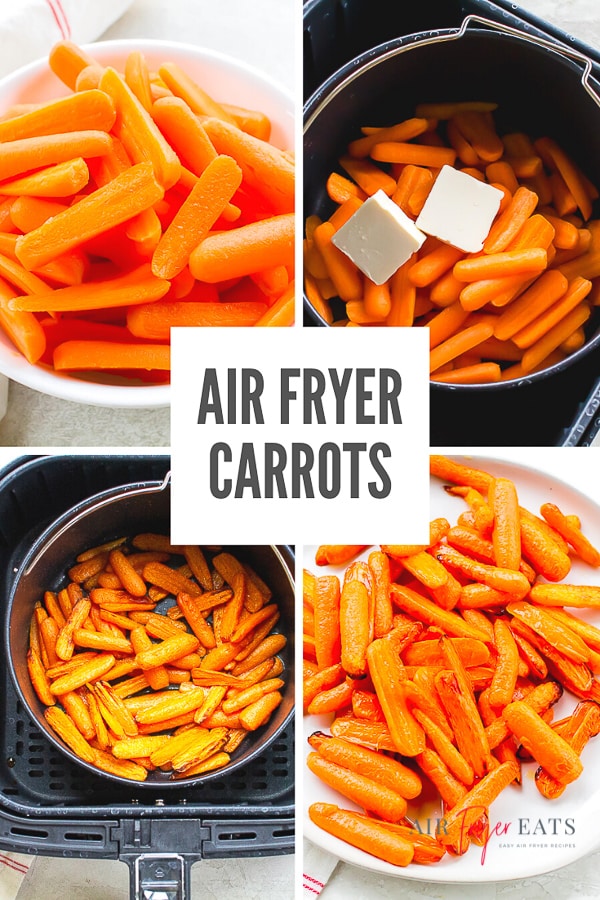 Pro Tip: This recipe can be made in the air fryer unit with a basket or the air fryer oven.
If you are using the air fryer oven, use the middle rack and select the "Air Fry" function.
Have you made this recipe? Please leave a comment AND rating below! It helps other readers!
Be sure to tag @AirFryerEats on instagram, if you share a picture on the gram!
Let's get social, you can follow me on Youtube, Instagram, Facebook, Pinterest or join one of our Air Fryer Facebook Groups: Air Fryer Recipes, Air Fryer Recipes for Seniors and Gluten Free Air Fryer Recipes.
Don't forget to subscribe to our EMAIL newsletter.