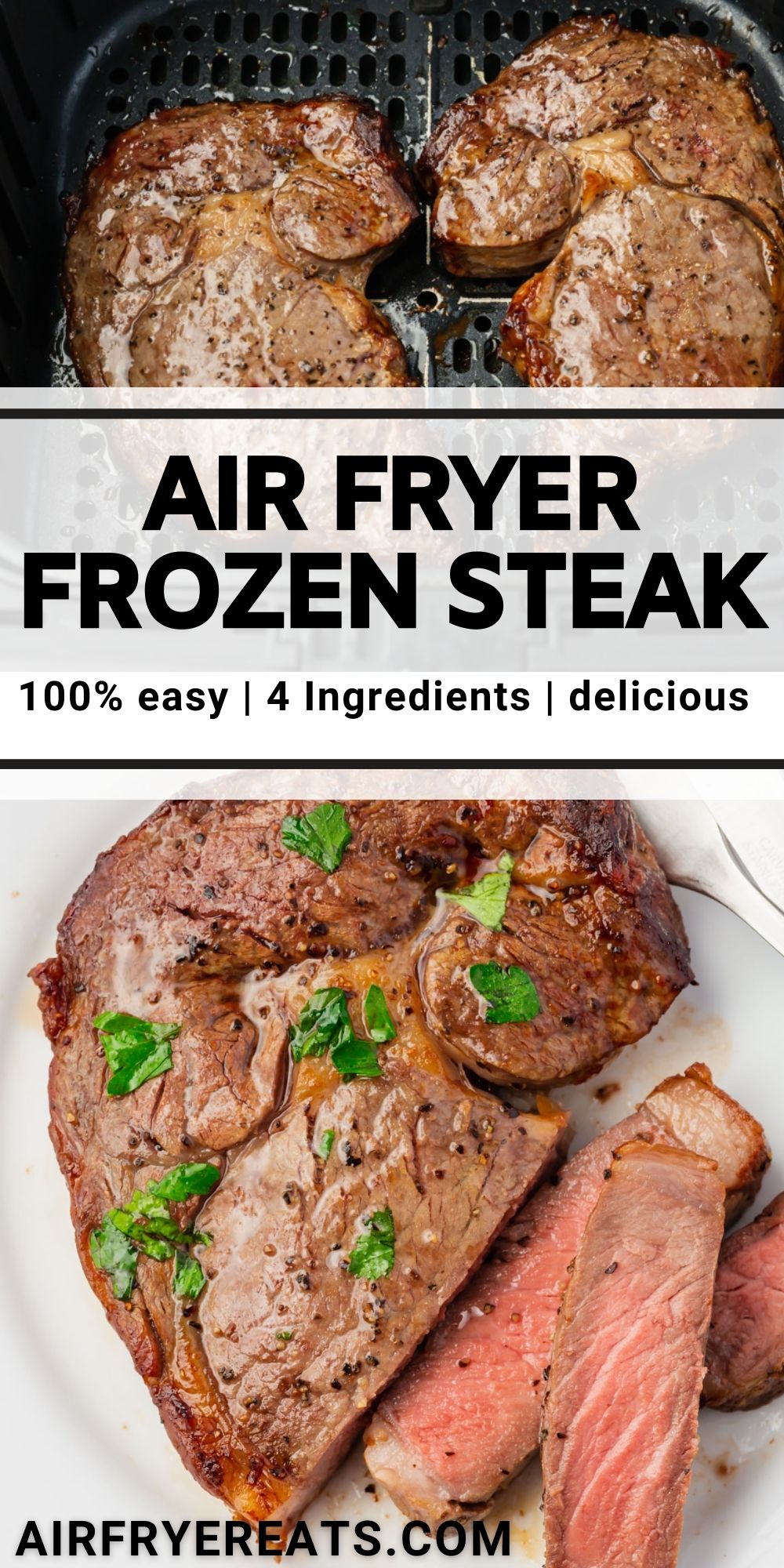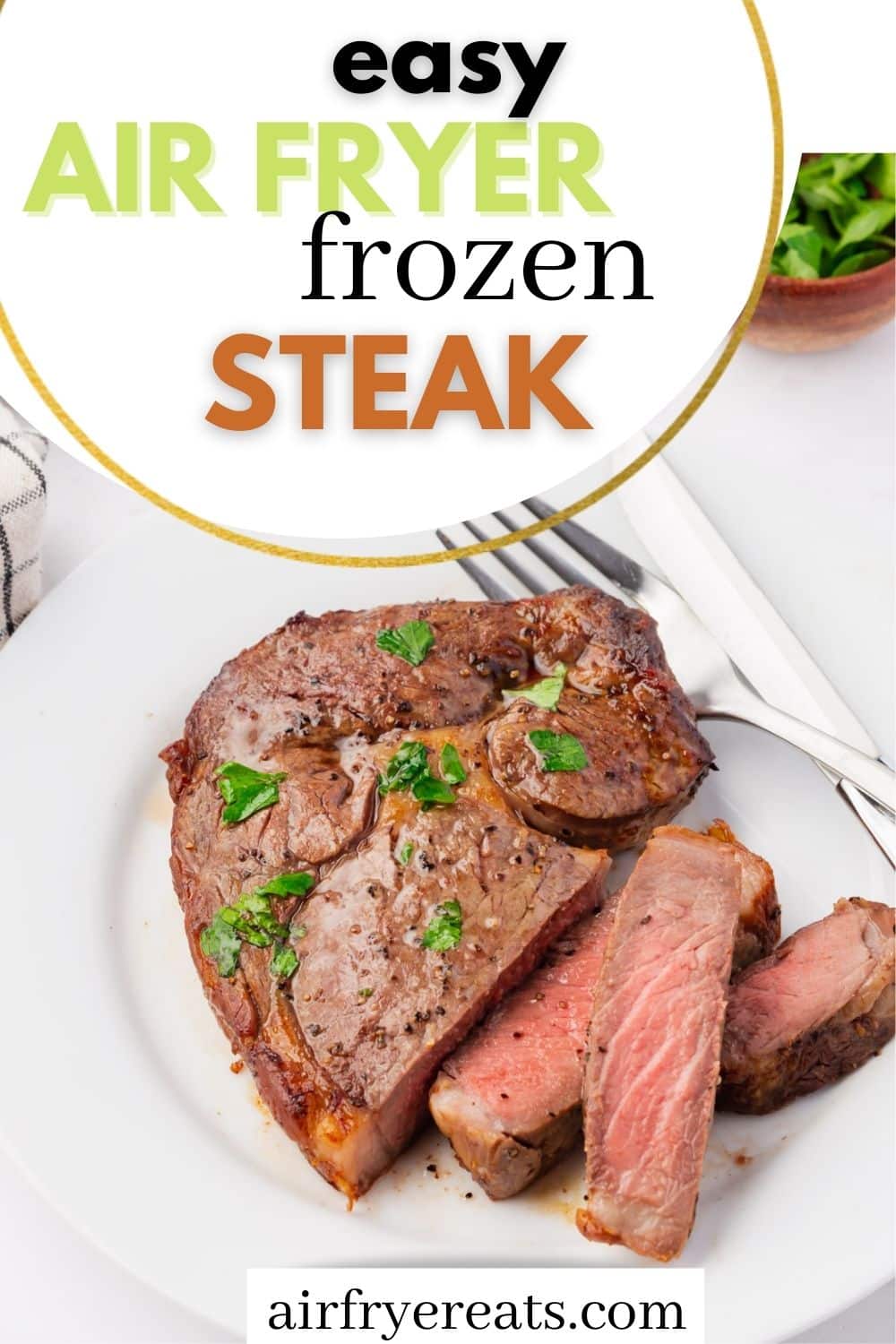 Did you forget to thaw the steaks for dinner tonight? Don't worry about it! You can cook Frozen Steak in the Air Fryer right now, without any need to plan ahead.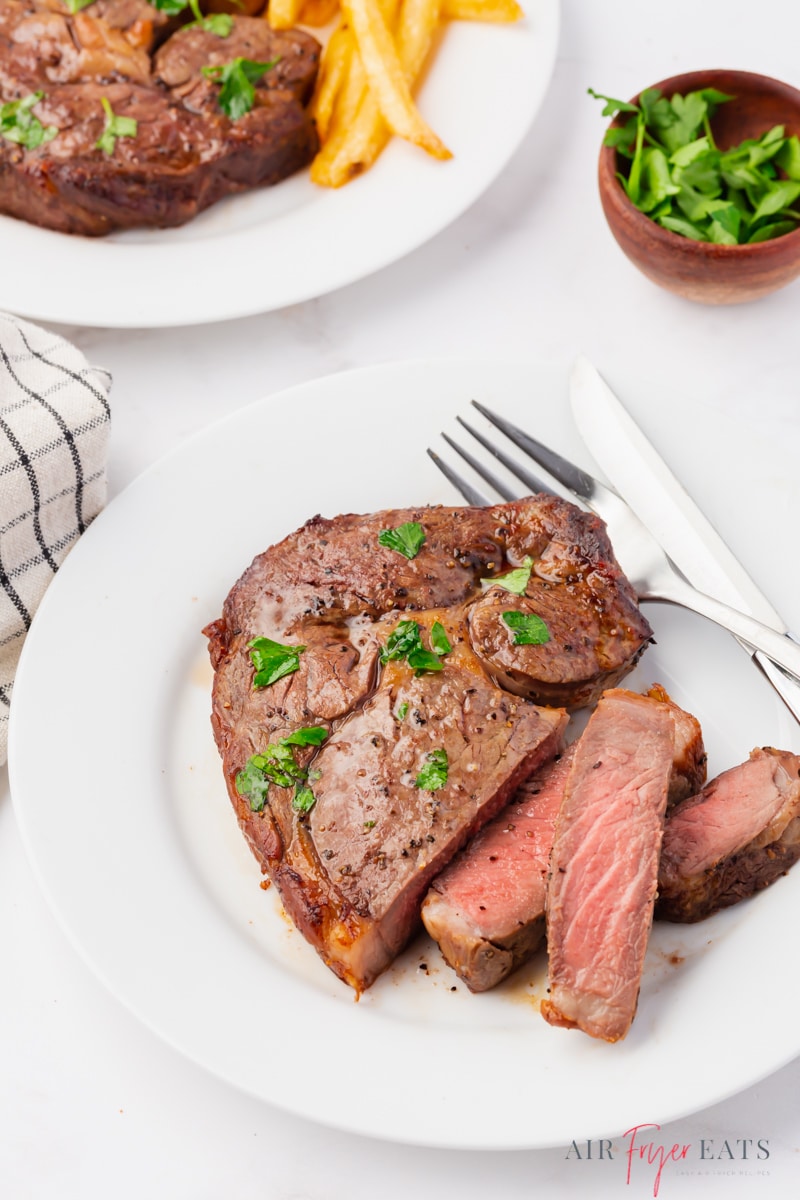 FROZEN STEAK IN AIR FRYER RECIPE
Steak is a classic dinner, fit for both special occasions and casual evenings. Making the perfect steak at home doesn't have to be complicated when you have your trusty air fryer at the ready.
It takes about 20 minutes to make frozen steak in the air fryer, start to finish. You don't need to wait for the meat to thaw, and you don't need to do any fancy preparation steps.
These steaks go straight from the freezer to the air fryer, with just a quick stop for seasoning first.
The best part is that you really can make a perfectly cooked medium-rare steak using this method! Don't worry that the air fryer will dry out your steaks, because it won't if you follow these instructions.
These air fryer frozen steaks are the best you've had at home and just as good as anything you'd order at a restaurant.
Do you want more steakhouse-worthy air fryer recipes? Try Air Fryer Cornish Hen, Air Fryer Scallops, and Air Fryer Lamb Chops next. Serve any of these with a side of Air Fryer Potato Wedges for the full experience.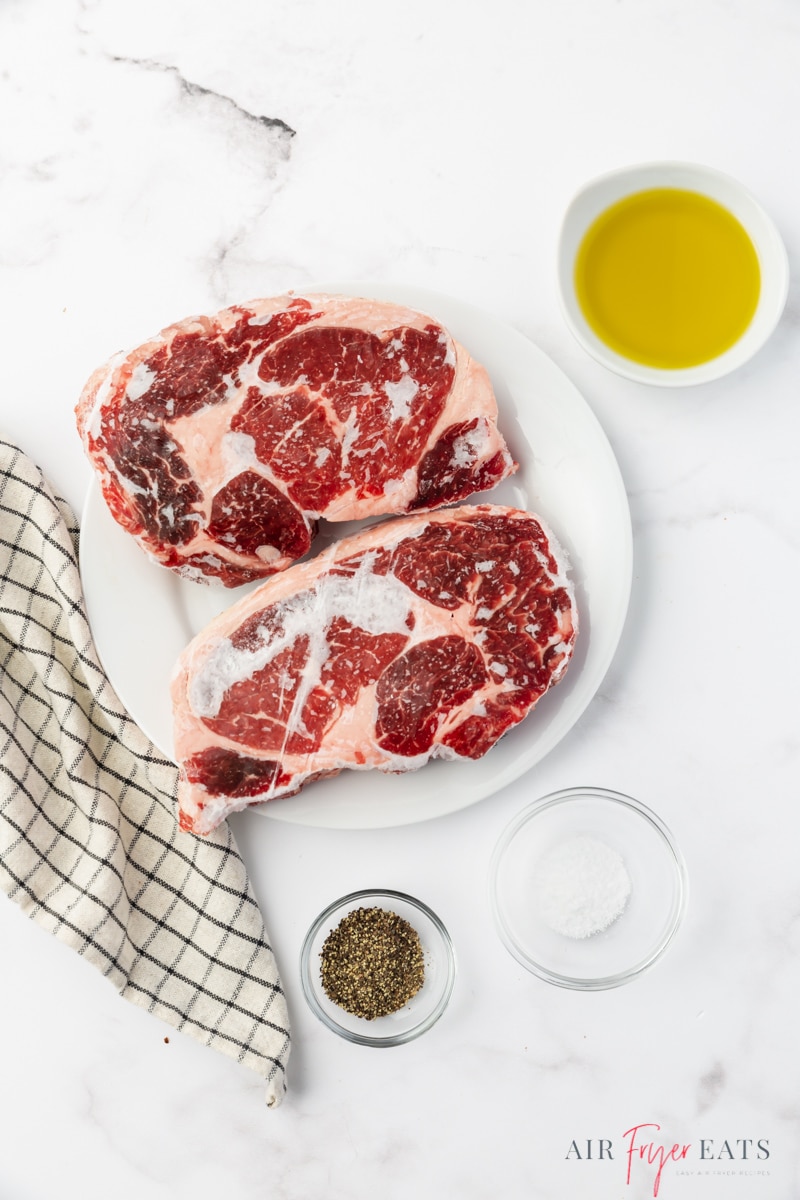 INGREDIENTS FOR FROZEN STEAK IN AIR FRYER
Olive Oil - A thin coat of oil on the steaks ensures that they stay tender, and helps the seasonings adhere to the meat.
Salt and Pepper - Kosher salt and freshly cracked black pepper are simple seasonings that are all you need to make a delicious steak. Of course, regular salt and ground pepper will work as well.
Frozen Steaks - Grab two steaks right from the freezer to put in the air fryer! I'm making ribeye steaks today that are each about ⅔ of a pound.
You can use this air fryer recipe to cook strip steaks, sirloin steaks, filets, or porterhouse steaks too. Any cut of steak you have in the freezer can go in the air fryer!
If your steaks are particularly large, you may only be able to cook one at a time in the air fryer.
I find that these instructions work best for steaks that are about 1-inch thick. Steaks that are thicker or thinner will require some adjustments in cooking time.
If you have any questions, please leave a comment below and I will get back to you ASAP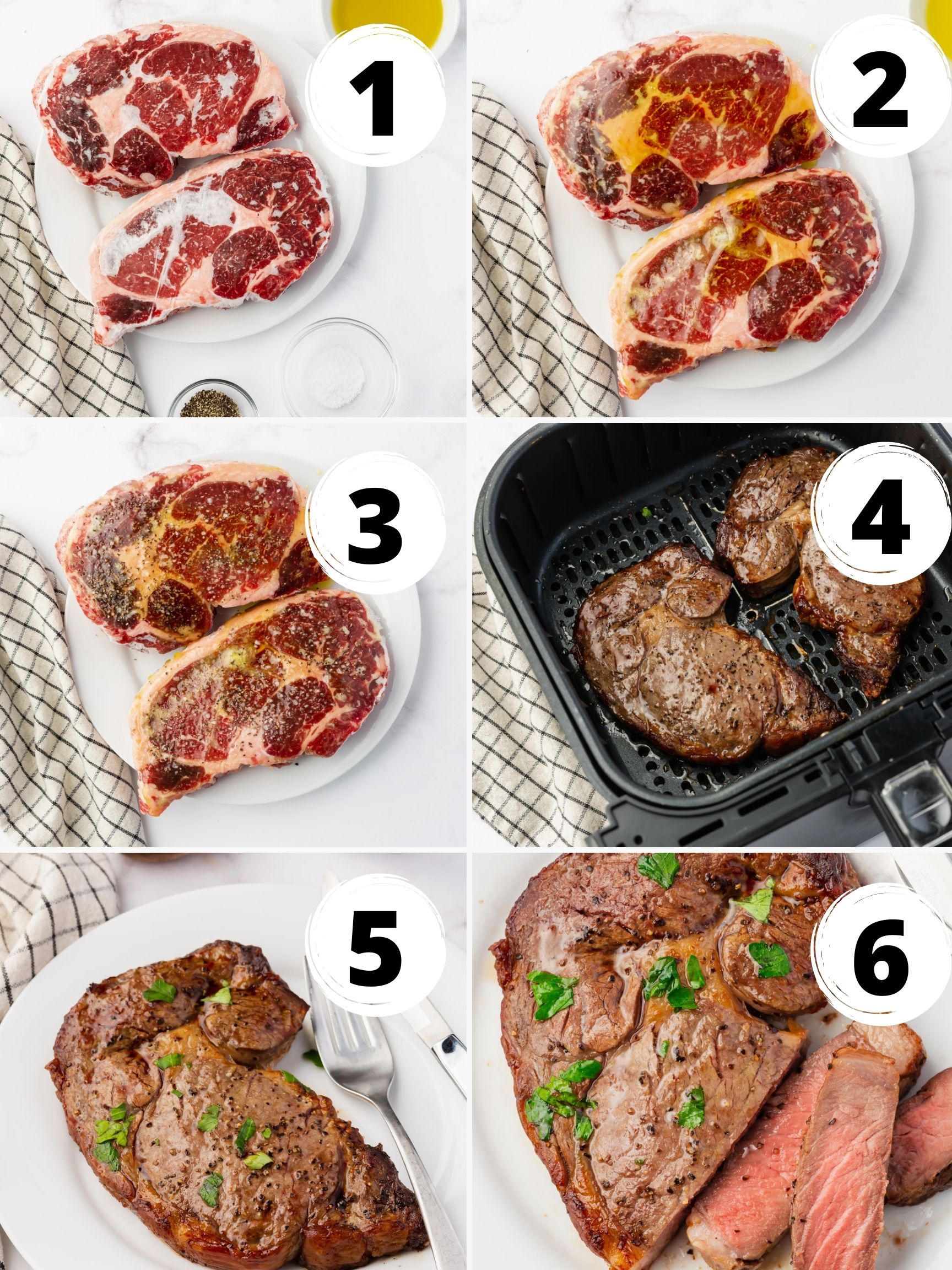 HOW TO MAKE FROZEN STEAK IN AIR FRYER
Gather your ingredients and preheat the air fryer at 380°F/190°C for 5 minutes.
Place the frozen steaks on a plate and brush both sides with olive oil. If you don't have a basting brush, rub the oil on the meat with your hands.
Season with salt and pepper. Be sure to get both sides of the steaks!
Place the seasoned frozen steaks in the air fryer basket, and cook at the same temperature you preheated the air fryer to for 13-16 minutes, or until the steak is done to your liking.
Allow the steak to rest for at least 5 minutes before cutting into it. This is important. If you cut into the steak too soon all of the juices will run right out.
Garnish with fresh parsley if you like, and enjoy.
These numbered steps match the numbered photos above and are for illustration purposes. For the complete list of ingredients and instructions, please see the recipe below.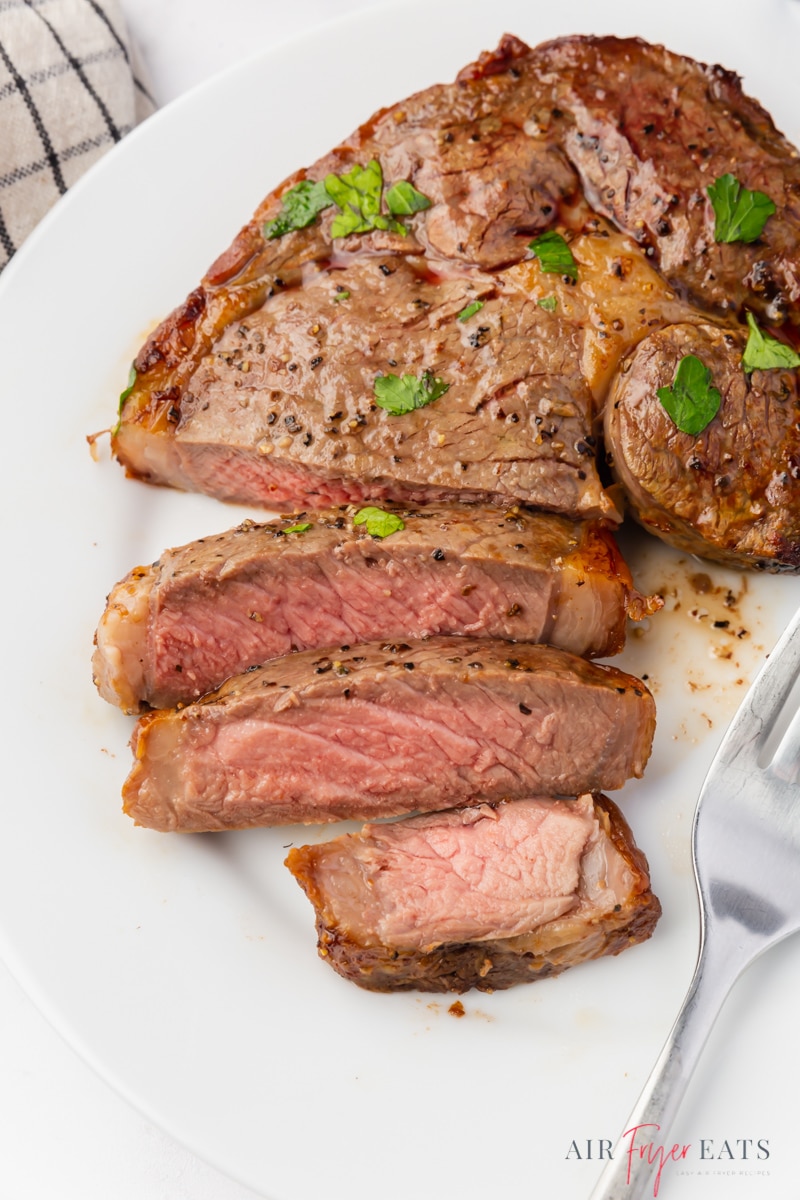 WHAT TO SERVE WITH AIR FRYER FROZEN STEAK
Air Fryer Frozen Steak is the perfect special meal to serve on a busy weeknight. It's quick and easy and will go with all of your favorite side dishes. Try some of these:
Air Fryer Baked Sweet Potatoes are delicious with steak. I like mine with lots of butter and a little bit of brown sugar!
If you'd rather be more traditional, you can also bake russet potatoes in the air fryer, or air fry red potatoes instead.
Be sure to include some veggies with your meat and potatoes meal. Air Fryer Broccoli is always a good choice, or you can make a healthy salad.
DO I NEED TO THAW STEAK BEFORE AIR FRYING?
You do not need to thaw steaks before air frying them! That is the beauty of this recipe, and one of the benefits of cooking with an air fryer. If you're following this method, put the steaks in the air fryer right from the freezer.
If you have already thawed your steaks, go visit my Air Fryer Steak recipe for instructions for air frying a fresh steak instead.
CAN I AIR FRY FROZEN STEAK IN A NINJA FOODI?
Yes, you can cook a frozen steak in your Ninja Foodi cooker. Follow these instructions, setting the Foodi to the "air fry" setting.
DO I PREHEAT THE AIR FRYER WHEN AIR FRYING FROZEN STEAK?
Yes. I don't often recommend preheating, but I do preheat the air fryer for most frozen meats. The frozen steaks will cook better if the machine is already nice and hot when you put them in.
HOW LONG DOES IT TAKE TO MAKE WELL DONE FROZEN STEAK IN AIR FRYER?
If you like your steak well done, you should cook frozen steak for 14 to 18 minutes in a preheated air fryer. Check the temperature to be sure that it's above 160°F/70°C for well-done steak. Add additional time if needed.
WHAT TEMPERATURE SHOULD I AIR FRY FROZEN STEAK?
I have found that the perfect temperature to cook frozen steak in the air fryer is 380°F/190°C. It's important not to cook frozen meat at too high or too low of a temperature so that it thaws and cooks seamlessly.
STEAK COOKING TEMPERATURES
No matter how you're cooking your steaks, the temperatures for the level of doneness are always the same. Here's a quick list so you have it handy while you're making this recipe!
Rare - 120°F/50°C - This steak is red and warm or slightly cool in the center.
Medium Rare - 130°F/54°C - If you want a warm red center, medium rare should be your order.
Medium - 140°F/60°C- A medium steak is more firm, and hot in the center with a hot pink color.
Medium Well - 150°F/65°C - Not quite well done, but almost there!
Well Done - 160°F/70°C - A well-done steak is no longer red on the inside, and is firm and dry in texture.
The recommended cook time in this recipe should give you a medium rare steak temperature. Adjust the cooking time by 2-3 minutes per level if you want your steak done differently.
I suggest using an instant-read thermometer to test your steak to be sure it's the way you want it.
Remove the steak from the air fryer just before it reaches the temperatures listed above, as the steak will continue to cook just a bit as it rests.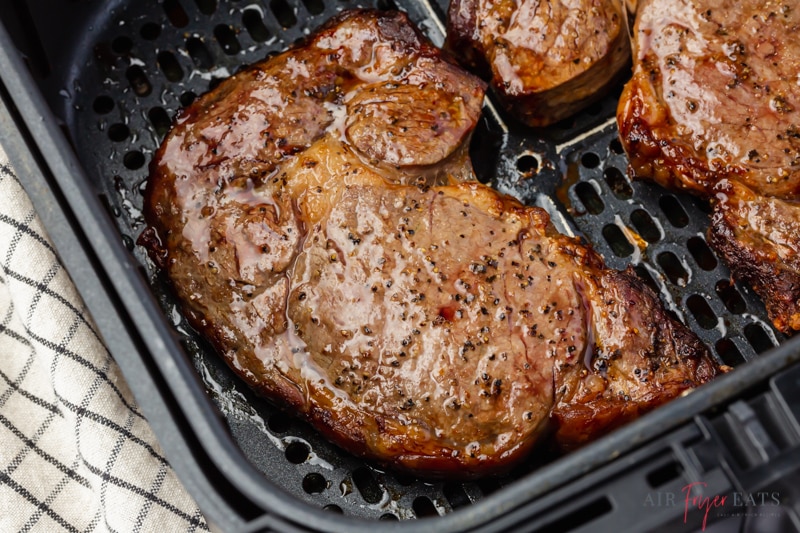 MORE AIR FRYER STEAK RECIPES
There are many ways to cook steak in the air fryer!
One of my absolute favorite recipes is this one for Air Fryer Steak Bites. The steak is already cut into bite-sized pieces so it cooks up in just a few minutes.
Inexpensive Cube Steaks come out of the air fryer tender and perfectly cooked. I love making these on busy weeknights.
You can also turn those cube steaks into Air Fryer Chicken Fried Steak. This recipe is divine with a side of mashed potatoes and a simple country gravy.
Looking for something different? Air Fryer Tuna Steaks aren't beef, but they are delicious and simple to air fry. For a vegetarian option, make Air Fryer Cabbage Steaks.
AIR FRYER STEAK SEASONING OPTIONS
Seasoning your steaks with simple salt and pepper ensures that the meaty flavor of your steaks shines through, but you can certainly add more flavor if you want to.
Aside from your standby shaker of steak seasoning, you can try a combination of any of the following spices that are delicious on steak:
garlic powder
onion powder
paprika, or smoked paprika
fresh or dried herbs such as thyme, rosemary, or sage
chili powder
Sauces can be added to your steak after it's cooked. Check out this recipe for bruschetta steak, and make an Italian-inspired fresh tomato topping for your frozen air fryer steaks.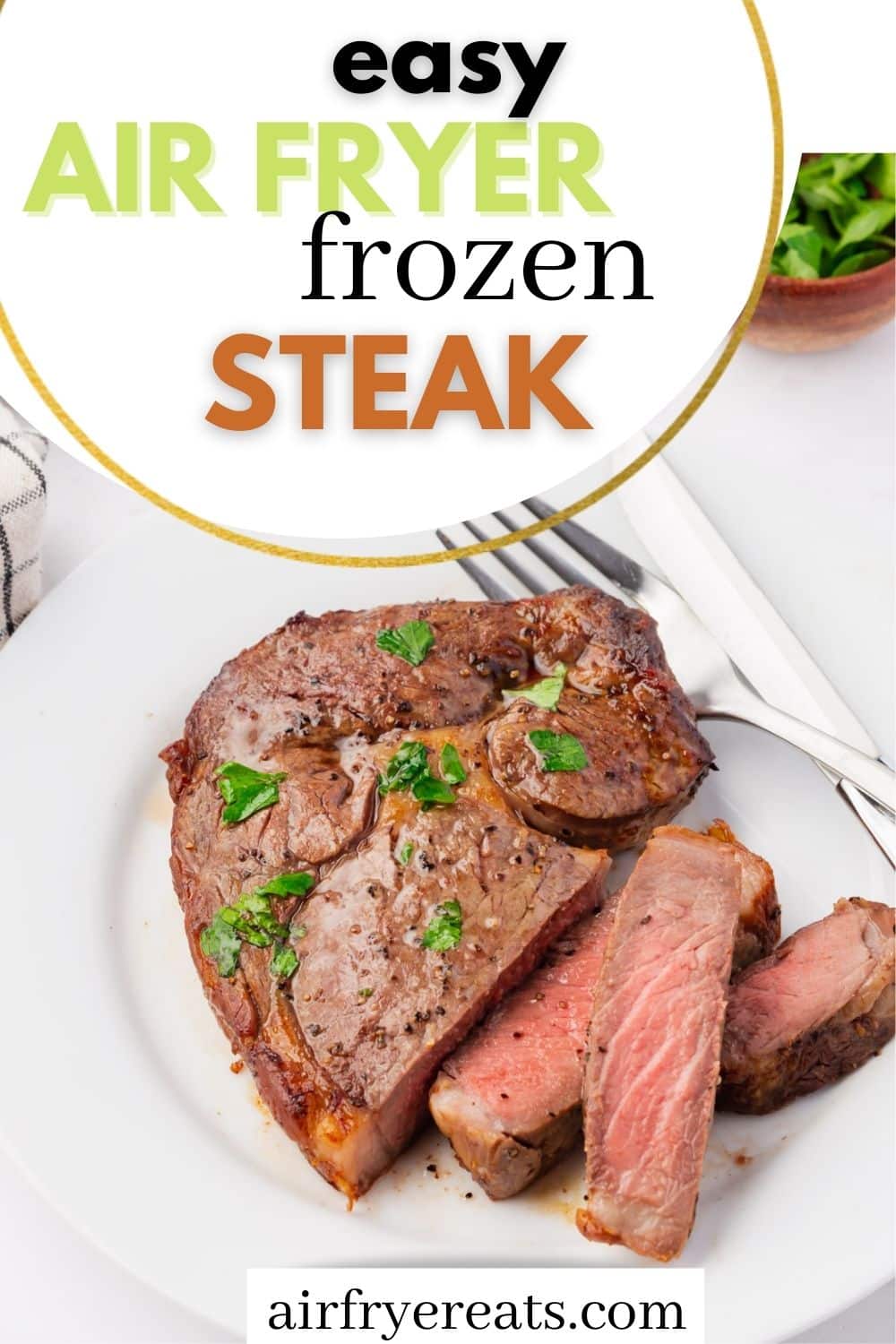 Have you made this recipe? Please leave a comment AND rating below! It helps other readers!
Be sure to tag @AirFryerEats on instagram, if you share a picture on the gram! Let's get social, you can follow me on Youtube, Instagram, Facebook, Pinterest or join one of our Air Fryer Facebook Groups: Air Fryer Recipes, Air Fryer Recipes for Seniors and Gluten Free Air Fryer Recipes.
Don't forget to subscribe to our EMAIL newsletter.
Frozen Steak In Air Fryer
Did you forget to thaw the steaks for dinner tonight? Don't worry about it! You can cook Frozen Steak in the Air Fryer right now, without any need to plan ahead.
Ingredients
2

steaks

½ to ¾ lb each

1

tablespoon

olive oil

½

teaspoon

kosher salt

or to taste

¼

teaspoon

ground black pepper

or to taste

chopped fresh parsley

optional, to garnish
Instructions
Gather your ingredients. Preheat the air fryer at 380°F/190°C for 5 minutes.

Place the frozen steaks on a plate. Brush with olive oil on both sides.

Sprinkle both sides of the steaks with salt and pepper.

Place the frozen steaks in the air fryer basket. Air Fry at 380°F/190°C for 13-16 minutes, flipping the steaks halfway through. Cook until the steak reaches an internal temperature of 130-140°F for medium rare.

Let the steaks rest for 5 minutes before slicing. Serve garnished with fresh parsley, if desired.
Go AD FREE!
Notes
Air fry the steak straight from frozen. You do not need to let the steak thaw at all!

I used frozen ribeye steaks that were approximately ⅔ lb each and about 1 inch thick. Depending on the size of your steak, you may need more or less time in the air fryer.

I like my steak medium/medium-rare which took about 13 minutes in the air fryer. If you like yours more well done you will likely need to cook for 14-16 minutes. Use an instant read thermometer to know when your steaks are done.

Pro Tip: This recipe can be made in the air fryer unit with a basket or the air fryer oven. If you are using the air fryer oven, use the middle rack and select the "Air Fry" function.
Pro Tip: Check your food as it cooks. Each air fryer runs a bit differently. Sometimes air frying is a trial and error process. Check your food as it cooks to learn your air fryer better! When cooking a new recipe or food items be sure to check your food often to help avoid over/under cooking.
Have oven recipes that you'd like to convert to an air fryer recipe? Use our Air Fryer Calculator to help you estimate cooking times and temps! Calculator here:
https://airfryereats.com/air-fryer-conversion-air-fryer-calculator/
Nutrition
Serving:
1
steak
|
Calories:
533
kcal
|
Carbohydrates:
0.2
g
|
Protein:
45
g
|
Fat:
39
g
|
Saturated Fat:
15
g
|
Polyunsaturated Fat:
2
g
|
Monounsaturated Fat:
20
g
|
Cholesterol:
138
mg
|
Sodium:
699
mg
|
Potassium:
609
mg
|
Fiber:
0.1
g
|
Vitamin A:
35
IU
|
Calcium:
17
mg
|
Iron:
4
mg
Tired of the ads?
Go AD Free - Become part of our Membership community!
Air Fryers can vary greatly. Please take the time to learn your specific air fryer. You may need to adjust times and temperatures based upon your air fryer.
All though this website attempts to provide accurate nutritional information, the information should only be considered an estimate. Varying factors such as different product types, different brands, etc. can change nutritional information. It is your responsibility as a consumer to read all labels to make sure the ingredients fit your dietary needs as well as calculate your own nutritional information as a double check.