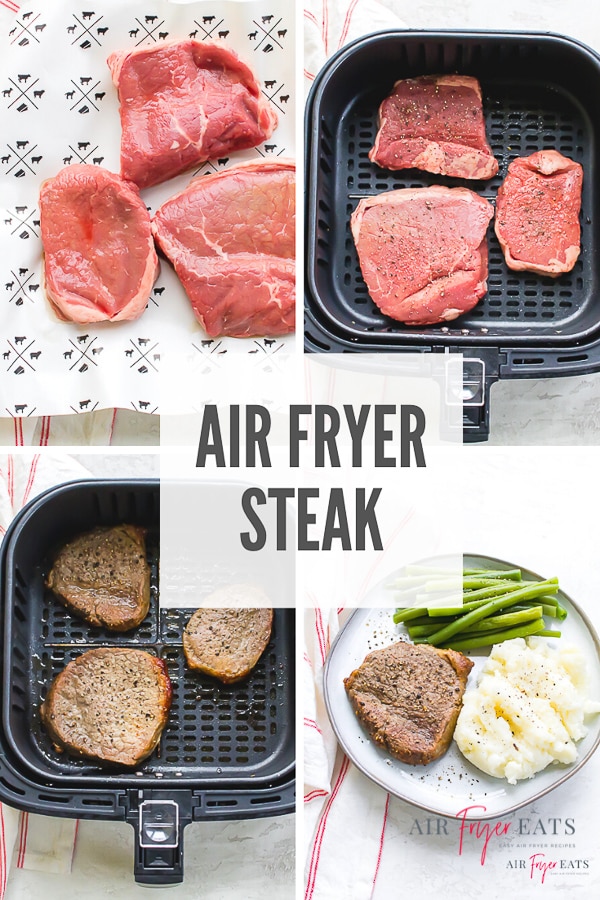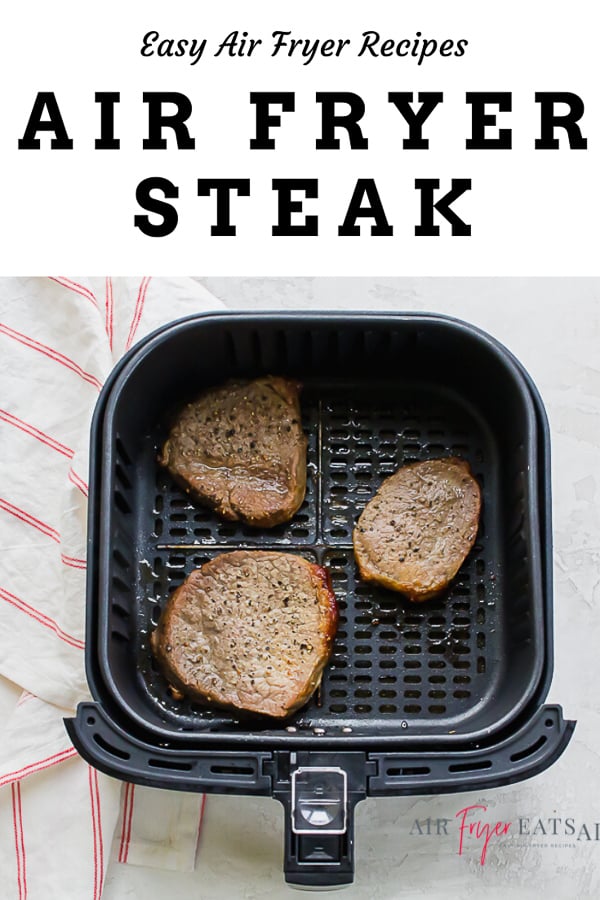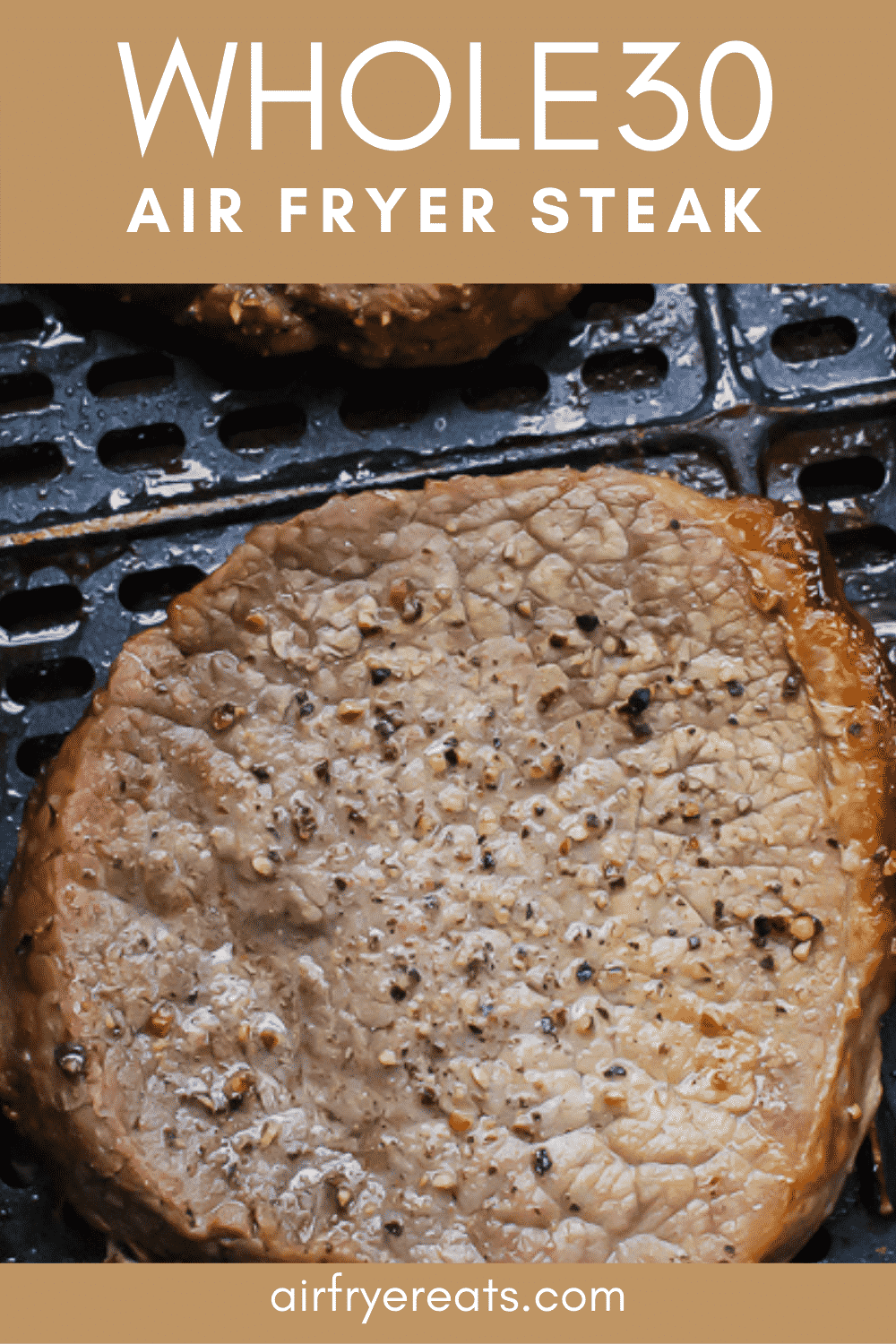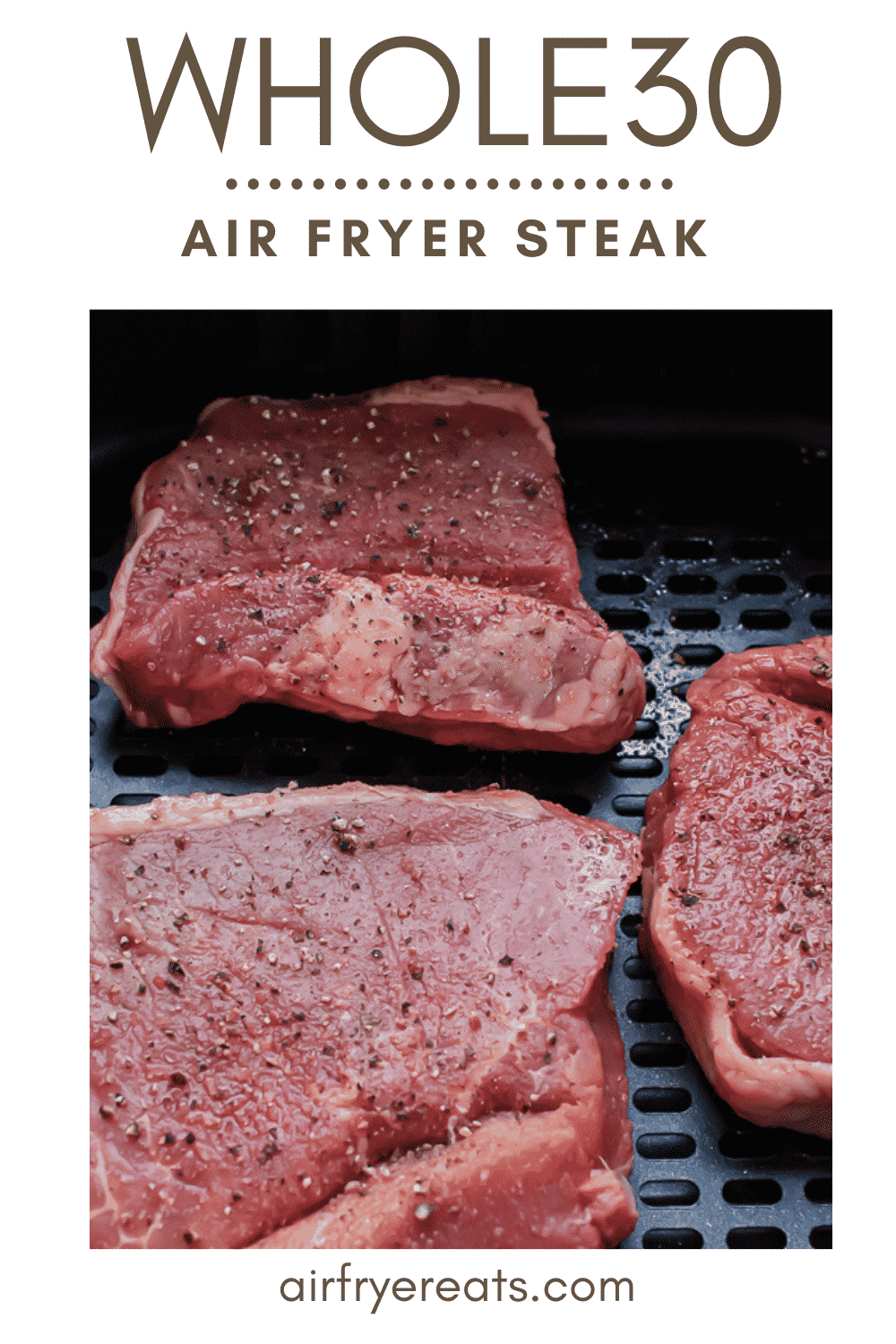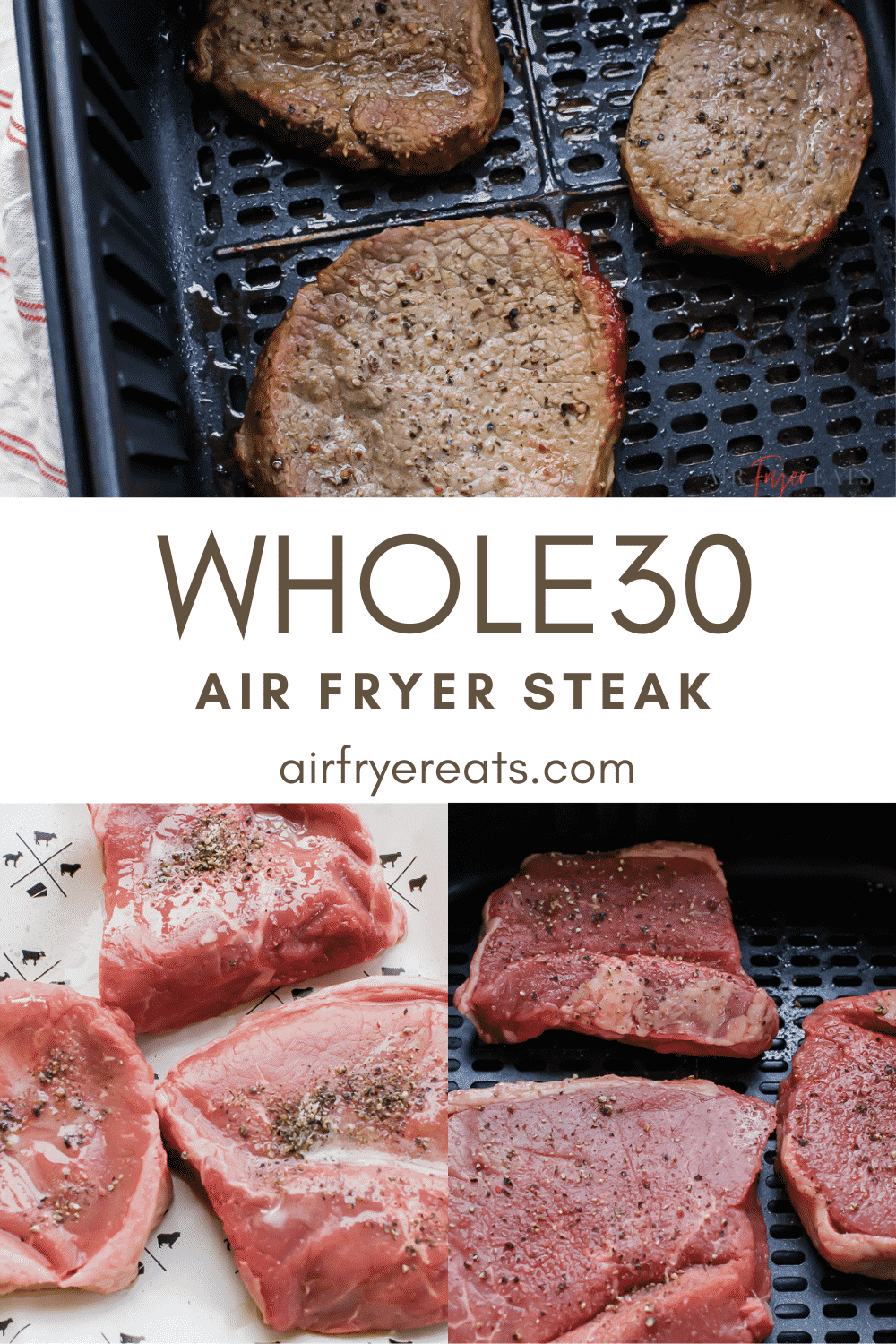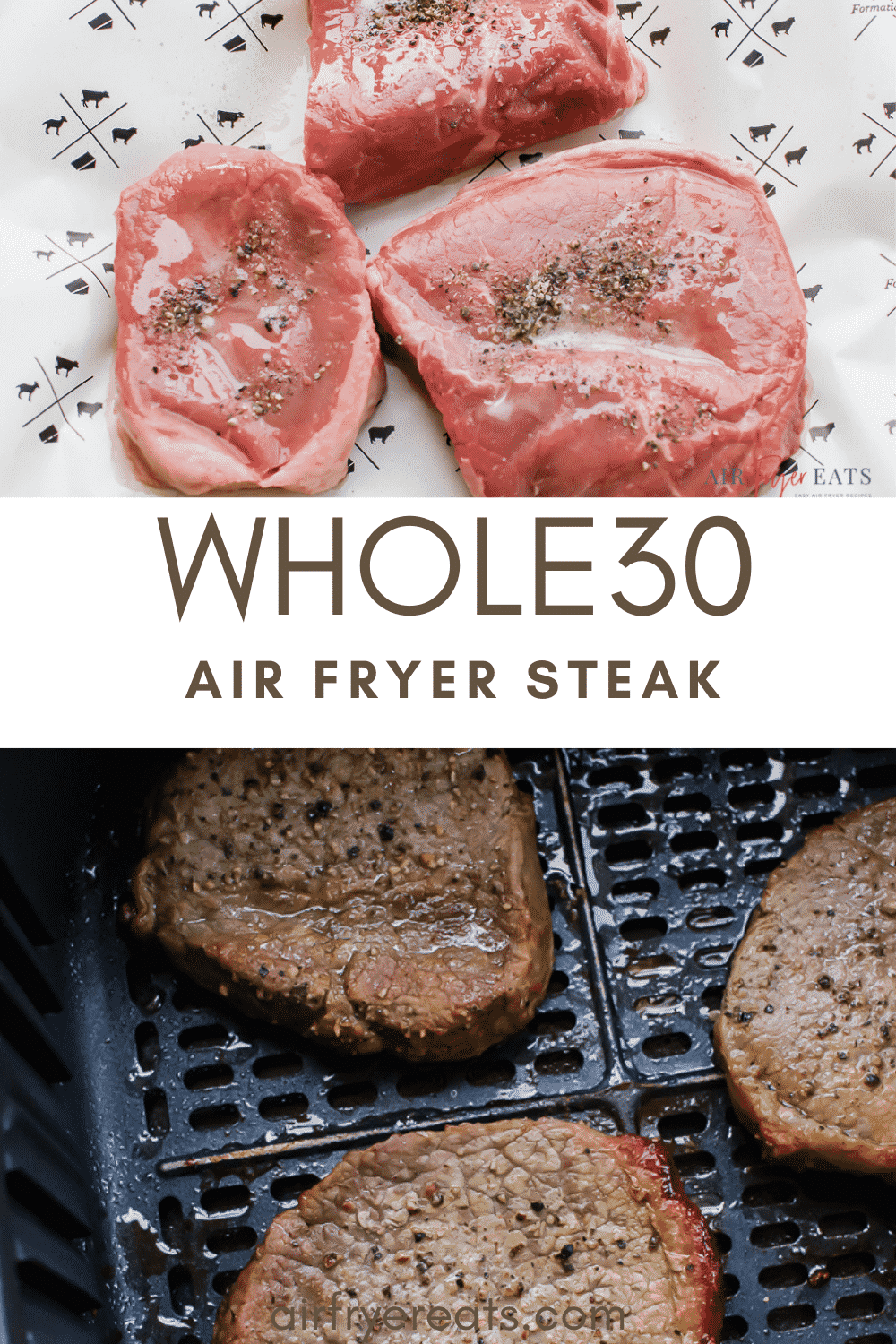 What's more satisfying than a perfectly cooked steak made right in your own kitchen? You'll go crazy for this easy 10 minute air fryer steak recipe!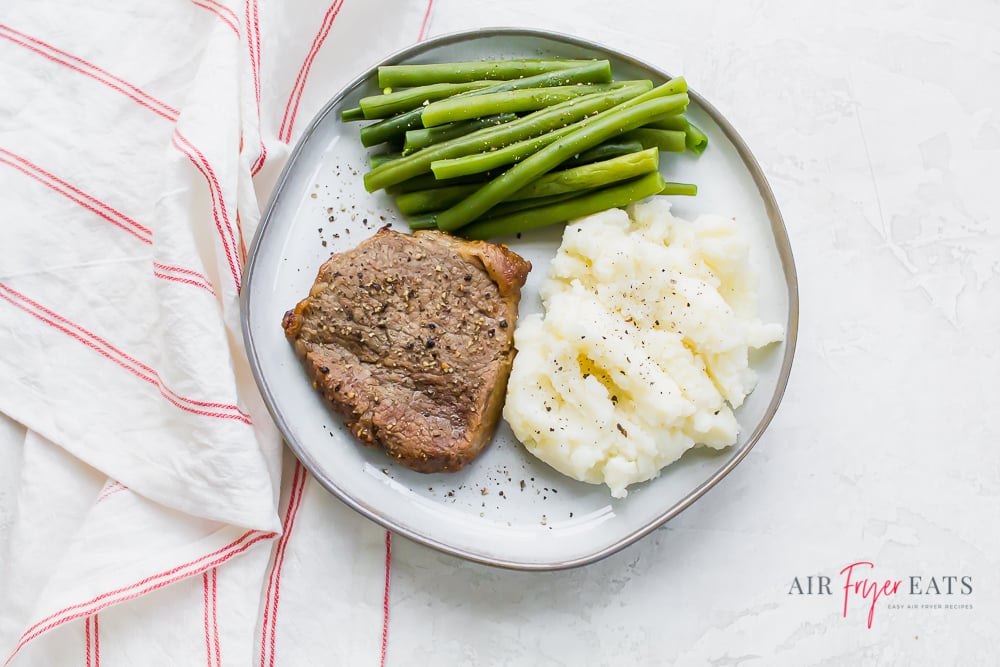 Air Fryer Steak is juicy, tender, flavorful, and so easy to make!
There's no need to feel intimidated about cooking steak at home when you can trust that your air fryer will get the job done right.
With only 4 simple ingredients and a few minutes of prep, you'll be on your way to having a delicious steak meal with hardly any effort at all.
Served with a fresh baked potato and a side of broccoli, you can have a romantic dinner for two on the table in no time!
How to Cook Steak in an Air Fryer Oven
The best tasting steak doesn't require a bunch of fancy ingredients.
I like to keep it simple with a few good cuts of beef, my favorite cooking spray (I use avocado oil), and some salt and black pepper.
Here's how to easily prepare air fryer steak for cooking:
First, trim off any excess fat or unwanted bits from your cuts of steak.
Next, spray the steak on both sides with a bit of your favorite cooking oil.
Then, sprinkle salt and pepper over the steak.
Finally, place it in your air fryer and you're ready to cook!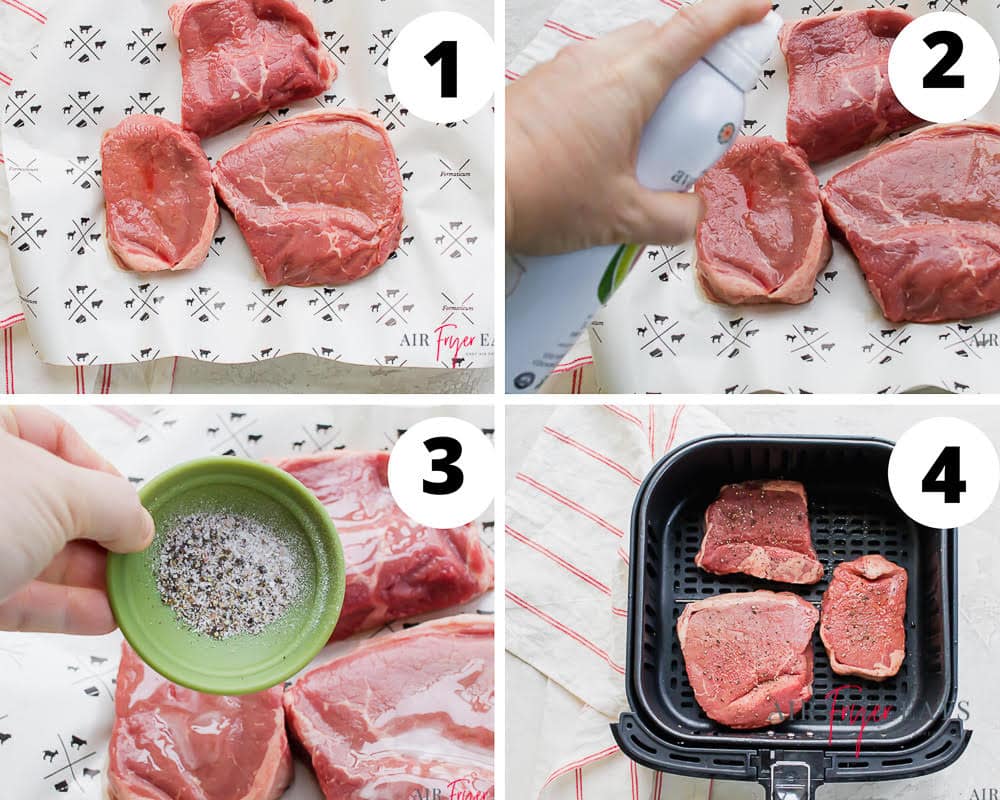 How Long does it take to cook steak in airfryer?
The number one thing to keep in mind when cooking any food in your air fryer is that not all air fryers are created equally.
Depending on your model and the size of your model, its features, and even things like elevation and your region's climate, you may have to adjust the cooking time to get your desired results.
As a general rule of thumb, I like to cook my steak anywhere between 8-12 minutes in my air fryer, depending on the level of doneness that I'm trying to achieve.
I start by turning my air fryer up to 400 degrees F and follow these guidelines for cook times:
For medium-rare steak: Cook for around 8 minutes
A medium cooked steak: Air fry for 9-10 minutes.
For well-done steak: Cook for around 12 minutes.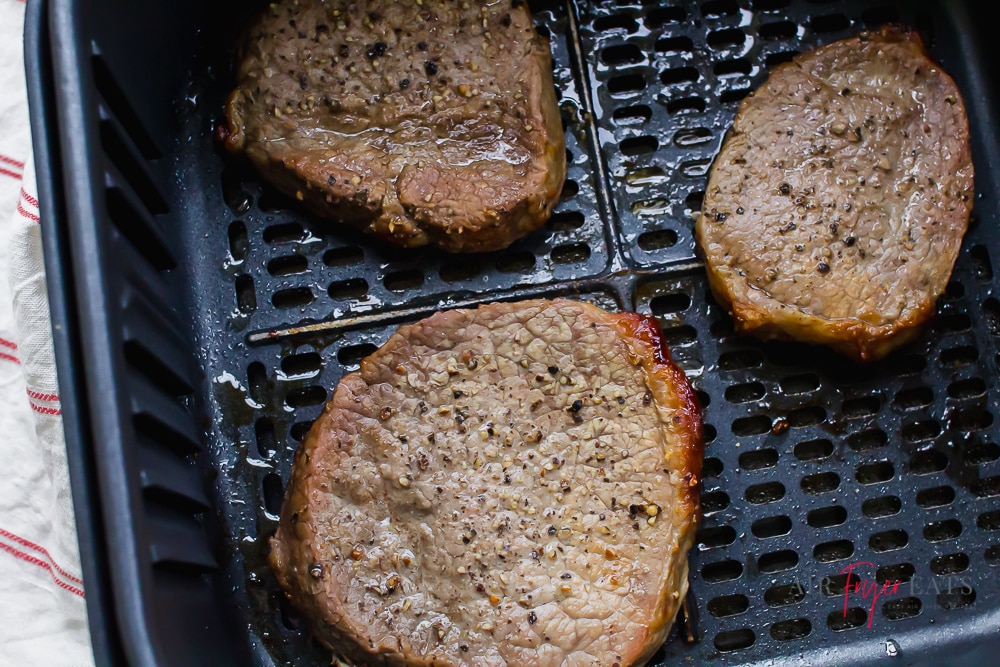 What's the best cut of steak for air frying?
You can really use just about any cut of steak as long as it fits in your air fryer basket!
As always, anything that you cook in your air fryer should be placed in the basket in a single layer to avoid crowding and ensure even heating.
I like to use eye of round for this easy air fryer steak recipe. It's not too thick or too thin, so it cooks perfectly in a short amount of time.
Other similar options would be rib eye, tri tip, or New York strip.
Just remember that you may need to adjust your cooking time down for a thinner cut of beef or add more time for a thicker cut.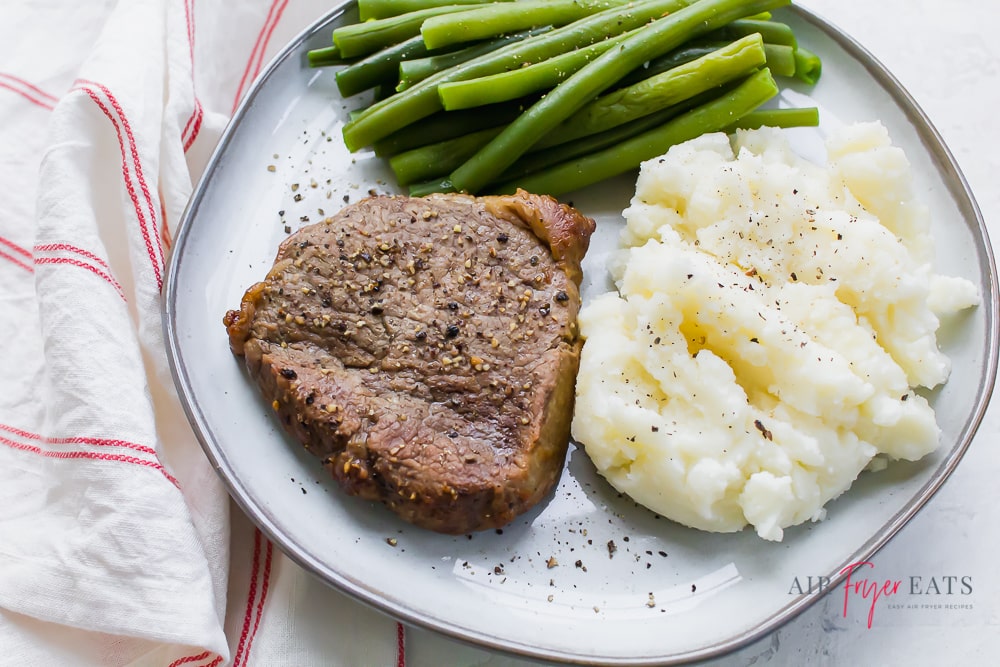 What to serve with steak:
One of the best things about steak is that it's such a versatile protein.
It can be paired with a simple side for a no-frills meal, or served with an array of dishes as part of a hearty feast.
Here are some ideas for side dishes to pair with your air fryer steak:
A sweet & succulent baked sweet potato or some crispy, crunchy, and lightly caramelized air fried brussel sprouts.
A hefty pile of the easiest French fries or a simple roasted red potatoes.
A stack of potato pancakes topped with sour cream and chives.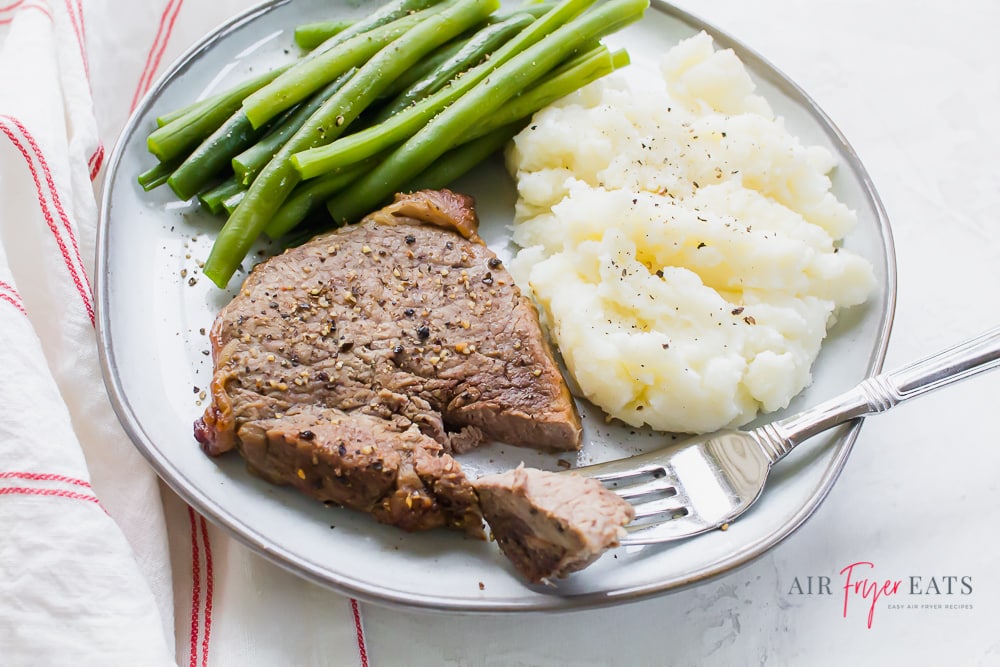 Looking for more hearty air fryer main course recipes? Try some of these!
We have so many air fryer recipes to choose from!
If you are having trouble figuring out which one to try next, we suggest: Air Fryer Meatloaf, Air Fryer Porkchops, Air Fryer Chicken Breast, Air Fryer Spaghetti and Meatballs and Air Fryer Chicken Tenders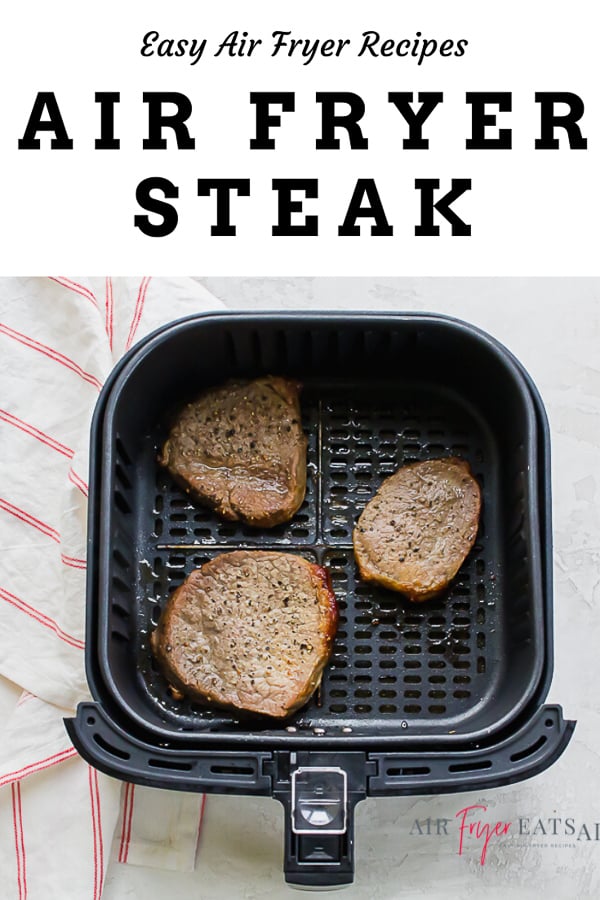 Looking for purchase an air fryer? Wondering which air fryer is right for you?
Here are my TOP picks of air fryers on the market today!
Pro Tip: This recipe can be made in the air fryer unit with a basket or the air fryer oven.
If you are using the air fryer oven, use the middle rack and select the "Air Fry" function.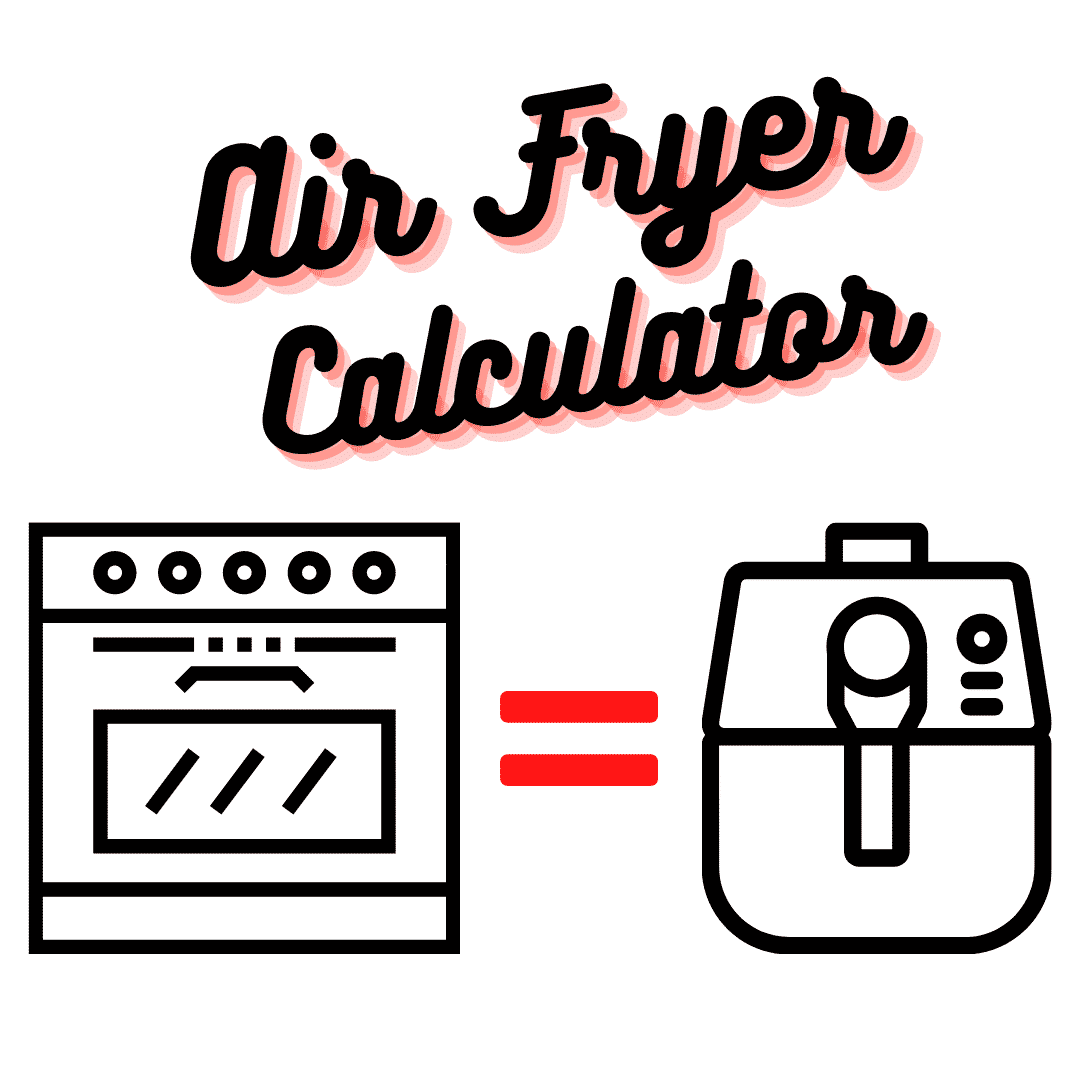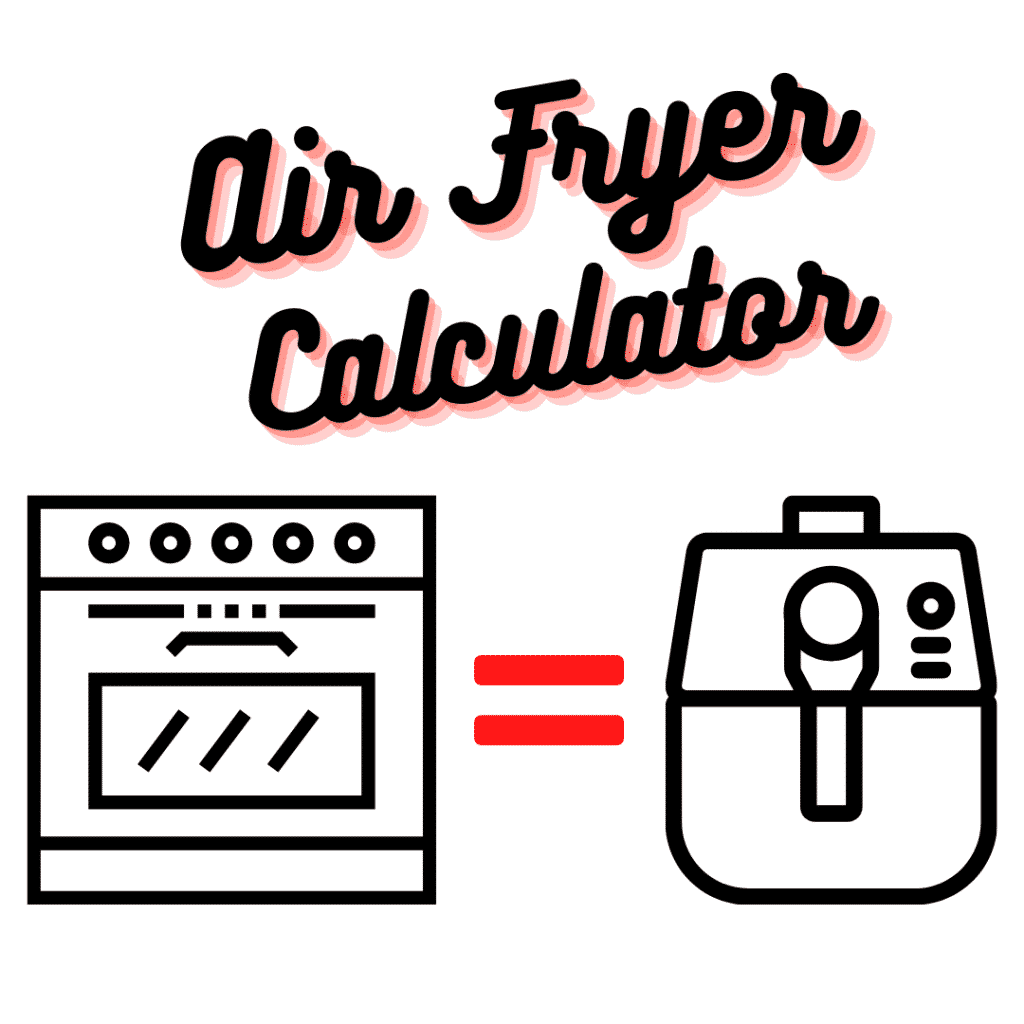 Have you made this recipe? Please leave a comment AND rating below! It helps other readers!
Be sure to tag @AirFryerEats on instagram, if you share a picture on the gram! Let's get social, you can follow me on Youtube, Instagram, Facebook, Pinterest or join one of our Air Fryer Facebook Groups: Air Fryer Recipes, Air Fryer Recipes for Seniors and Gluten Free Air Fryer Recipes.
Don't forget to subscribe to our EMAIL newsletter.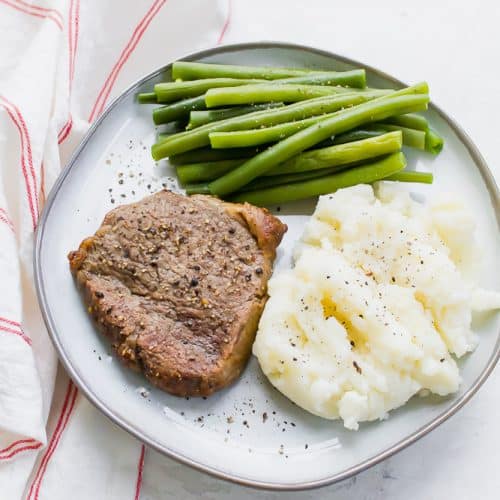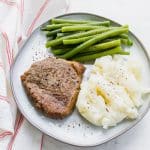 Print Recipe
Air Fryer Steak
What's more succulent than a perfectly cooked steak? You'll go crazy for this easy 10 minute air fryer steak recipe!
Instructions
Trim any unwanted areas from the meat.

Coat both sides of the steak with oil.

Liberally season each side of the meat with salt & pepper.

Place the seasoned steak into your air fryer basket.

Cook at 400 degrees F for 8-12 minutes depending on your desired doneness.
Video
Notes
With this type of steak, I got a medium rare steak at 8 minutes and a well done steak at 12 minutes. This may vary depending on the thickness and cut of your meat and your air fryer. Use your best judgement and check the air fryer steak often during cooking.

For easier clean up you can lay down parchment or foil in the basket of your air fryer to catch

liquids.

Pro Tip: This recipe can be made in the air fryer unit with a basket or the air fryer oven. If you are using the air fryer oven, use the middle rack and select the "Air Fry" function.
Nutrition
Serving:
1
steak
|
Calories:
316
kcal
|
Protein:
51
g
|
Fat:
11
g
|
Saturated Fat:
4
g
|
Cholesterol:
142
mg
|
Sodium:
129
mg
|
Potassium:
796
mg
|
Calcium:
45
mg
|
Iron:
5
mg
Air Fryers can vary greatly. Please take the time to learn your specific air fryer. You may need to adjust times and temperatures based upon your air fryer.
All though this website attempts to provide accurate nutritional information, the information should only be considered an estimate. Varying factors such as different product types, different brands, etc. can change nutritional information. It is your responsibility as a consumer to read all labels to make sure the ingredients fit your dietary needs as well as calculate your own nutritional information as a double check.