These air fryer chicken recipes are great for a quick dinner or easy meal prep! From frozen chicken breasts to takeout copycat recipes, there are a million ways to make chicken in the air fryer. Read on to learn how to cook chicken breasts, thighs, wings, and legs in the air fryer!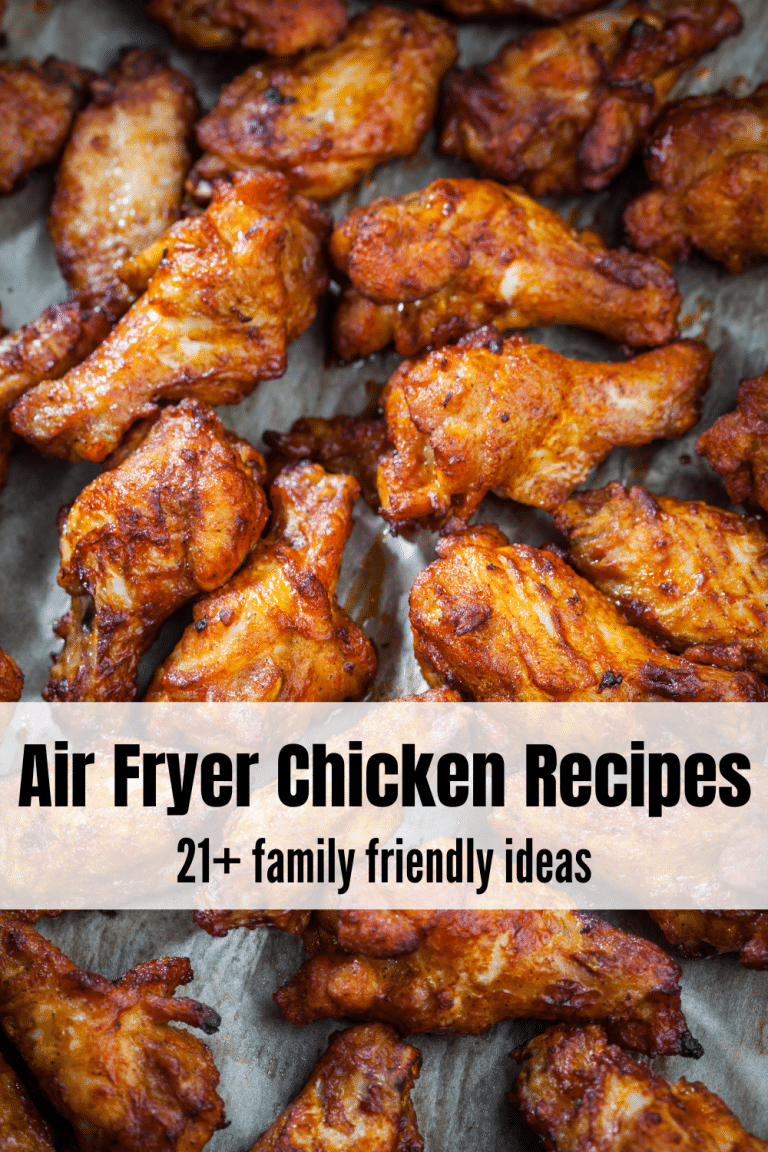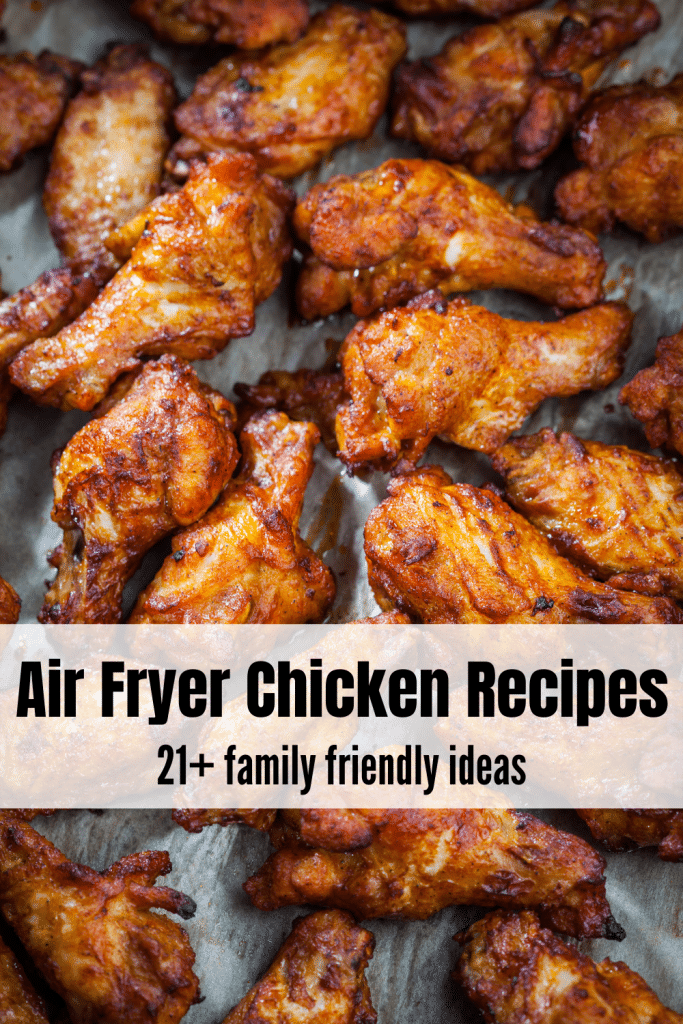 WELCOME TO AIR FRYER CHICKEN RECIPES!
Are you new to air frying? We are so happy you are here! We love to help home cooks become experts with their air fryer. It is truly the best kitchen appliance out there! If you are new to air frying, we suggest that you start with our Start Here page. We have a whole community of air fryer believers just waiting to welcome you!
Whether you are a seasoned air fryer expert or just beginning, we have got some easy and delicious air fryer chicken recipes to share with you today! Cooking chicken in your air fryer creates the perfect protein-packed main dish for a healthy dinner or quick meal prep!
BEST TIPS FOR MAKING AIR FRYER CHICKEN RECIPES
For the best air fryer chicken, follow these easy tips to nail your dinner whether it's raw chicken breasts or frozen chicken tenders.
Give everyone room to cook. One of the biggest air fryer mistakes you can make is crowding the food. For the best chicken in the air fryer, leave space around all your chicken breasts, chicken thighs, chicken tenders, and other chicken cuts. This lets everything cook evenly and quickly, browning on all sides.
Add a little oil. Most air fryer baskets and trays are nonstick. But a bit of olive oil, avocado oil, or other neutral oil helps the skin crisp and keep the seasoning in place. Spray on all sides for the best air fried chicken.
Check the temp. The worst surprise is pink chicken or dry chicken! On your first few rounds of making chicken in the air fryer, be sure to check the meat every few minutes.
Let it rest. Once your chicken has reached 165 degrees F, let it rest a few minutes before slicing or serving. This helps the chicken reabsorb the juices and stay super juicy and flavorful.
Change it up. These recipes are just guidelines for the best air fried chicken. You can always change up the spices and seasonings for a Greek air fried chicken, Italian chicken, Mexican chicken, or even an Asian chicken fried rice! If you want to add a little bit of spice or heat to your veggies, we suggest red pepper flakes.
Marinate for the most moisture. Chicken is the best blank slate for tons of flavor with minimal work. Marinating your air fryer chicken for a few hours or even overnight before cooking makes the best dinners.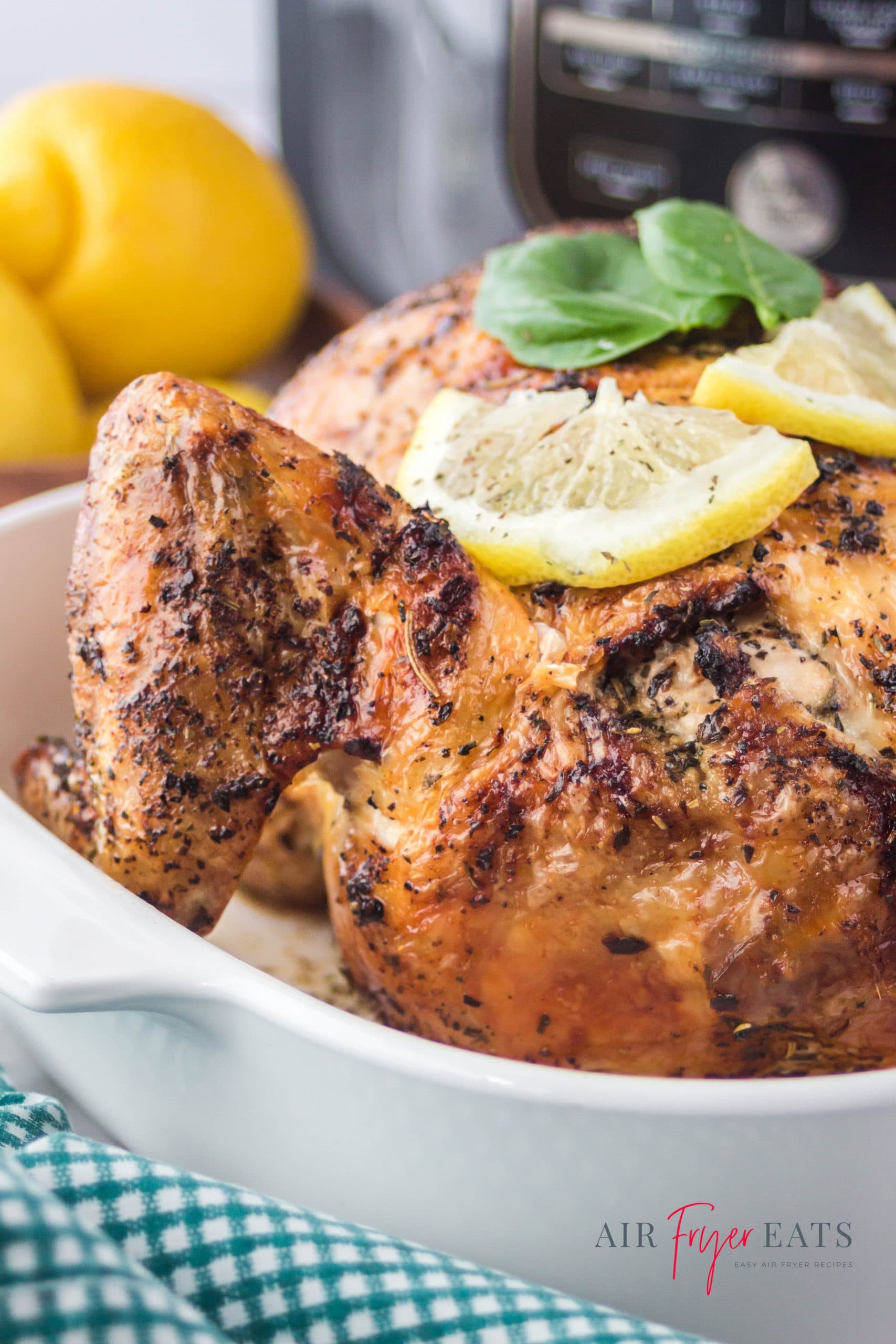 FAVORITE AIR FRYER CHICKEN RECIPES
Chicken is easily the most popular protein in the United States, and most countries eat poultry regularly. When you are feeding your family on a budget, chicken is a great way to get food on the table with tons of flavor and flair!
Mix and match these delicious air fryer chicken recipes for a weekly meal plan that's never the same.
Air Fryer Whole Chicken: There is nothing more impressive than a whole roasted chicken! This Air Fryer Whole Chicken recipe makes the most succulent roasted chicken in less than an hour. Skip the grocery store rotisserie chicken and make this at home with a few simple spices.
Air Fryer Chicken Thighs: If you love crispy chicken skin, this is the recipe for you! Chicken thighs in the air fryer are super moist on the inside and crunchy on the outside. Make this 30-minute meal with simple pantry staples. Don't forget the spray oil!
Air Fryer Fried Chicken: People often ask, "Can you make real fried chicken in the air fryer?" I am here to say you definitely can make super crunchy fried chicken with no oil. I use a buttermilk and hot sauce marinade before coating the hot chicken in flour and spices. Trust me, the marinade is worth the time!
Air Fryer Chicken Tenders: Breaded chicken tenders are great, but sometimes I just want a perfectly seasoned, naked chicken tender. Chicken tenders in the air fryer are perfectly browned on the outside and moist on the inside in 10 minutes flat. Dinner has never been on the table so fast!
Air Fryer Chicken Legs: Chicken legs are one of those cuts of meat that are always inexpensive at the grocery store, but often we don't exactly know what to do with them to make them really delicious.This Air Fryer Chicken Legs recipe is perfectly seasoned with a smoky, salty spice blend and cooked to perfection.
Air Fryer Chicken Cutlets: Pound out chicken breasts into thin slices, add a tasty breadcrumb coating, and air fry for the most delicious and simple dinner recipe! Chicken cutlets in the air fryer are ready in minutes, and perfect for sandwiches or enjoying with pasta.
EASY AIR FRYER CHICKEN BREAST RECIPES
I love a simple chicken breast dinner! It's healthy, filling, and so easy to make for the family.
Air Fryer Chicken Breasts: This is truly the fastest way to make chicken breasts that are moist and full of flavor! You only need 6 ingredients to make these simple chicken breasts in the air fryer. This recipe is perfect for meal prep or a big leftover lunch salad.
Air Fryer Sticky Ginger Chicken: This is a great Asian chicken air fryer recipe with only FOUR ingredients, chicken breasts included! Marinate your chicken in a simple soy sauce, garlic, and ginger sauce for the most moist chicken in the air fryer ever. Be sure to use a meat thermometer for the best chicken.
Air Fryer Smoky Chicken: If you're missing classic grilled chicken in the winter, try this Smoky Chicken recipe! It's quick and easy but packed with that smokehouse taste. No smoker required! It's perfect with some balsamic sautéed mushrooms.
Air Fryer Orange Chicken: I love Chinese food, but I don't love the takeout prices. Make your own sticky and sweet orange chicken at home with this copycat takeout recipe! Plus, it is healthier than restaurant versions but just as delicious.
Air Fryer Chicken Katsu: Another Asian-inspired air fryer recipe, this one is from Japan! Bread thin chicken cutlets with extra crispy panko breadcrumbs and serve with homemade tonkatsu sauce.
Air Fryer Chicken Fajitas: You don't need to dirty all the skillets to make the best chicken fajitas! Add all your favorite bell peppers to the mix with these seasoned chicken breast strips wrapped in warm tortillas. Garnish your air fryer chicken fajitas with guacamole, salsa, lettuce, herbs, or whatever you feel like. Chicken fajitas are very versatile.
Air Fryer Sweet and Spicy Chicken: The best of both worlds! This beginner air fryer recipe is a little spicy and a little sweet. You can adjust the spiciness of this Asian air fryer chicken recipe by increasing or decreasing the cayenne pepper and red pepper flakes. Be warned: A little goes a long way of each!
Air Fryer Chicken Chimichangas: Change it up this Taco Tuesday with these crunchy rolled tacos stuffed with yummy air fried chicken! You can stuff your chicken chimichangas with whatever you please, but I always recommend some salsa and cheese.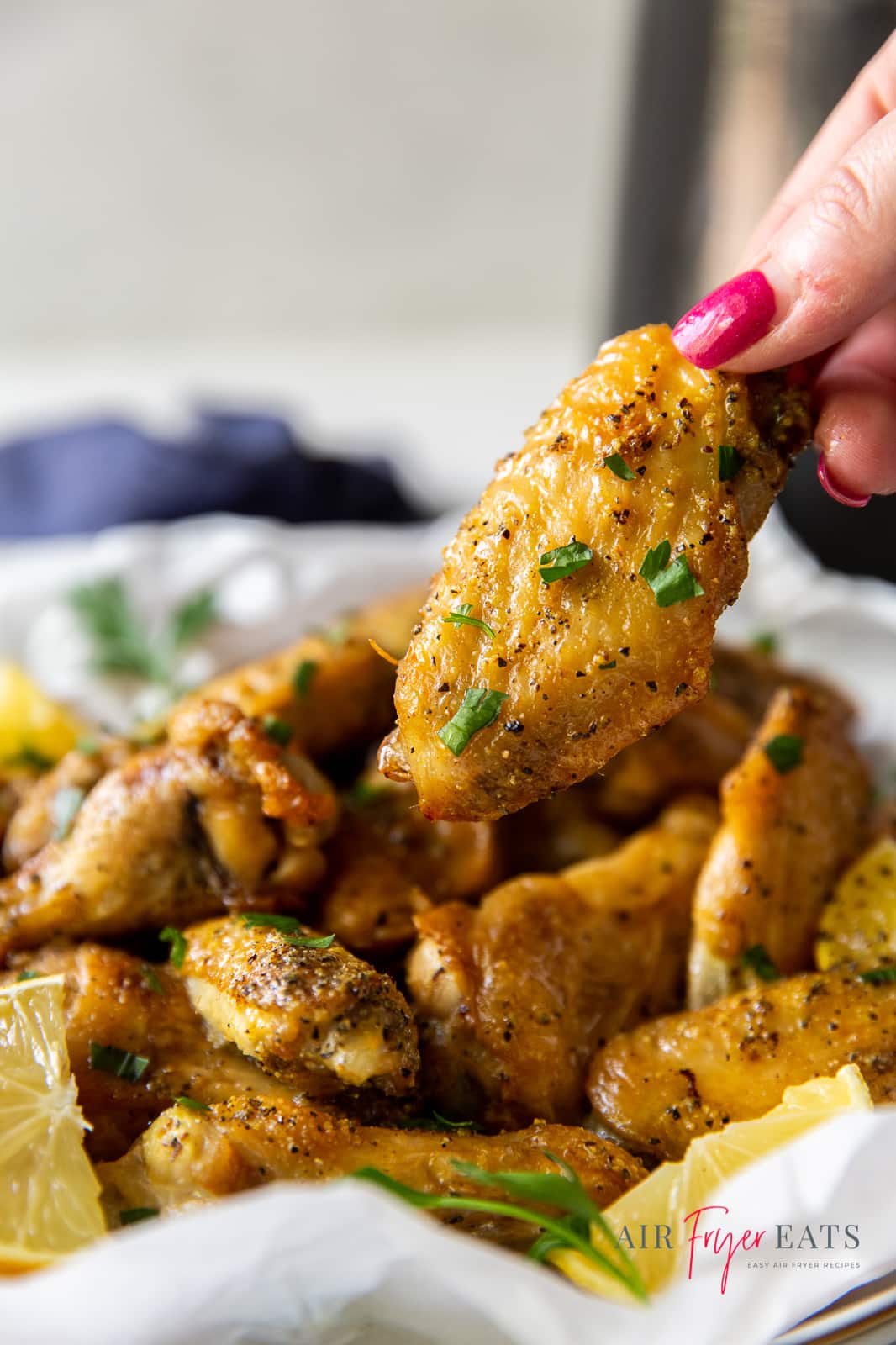 AIR FRYER WINGS RECIPES
Wings are the top tailgating food for a reason. They're handheld, easy to flavor, and even more fun to eat! From mild to spicy, you can make the best wings in the air fryer and skip the delivery fee.
Air Fryer Chicken Wings: This simple chicken wing recipe is perfect with your favorite wing sauce! You only need 3 ingredients to make wings for the whole party! If you are making wings in batches, put them in a warm oven when they're done to keep them warm.
Air Fryer BBQ Chicken Wings: Brush these crispy wings with your favorite BBQ sauce for a combination that'll leave your taste buds begging for more. Barbecue Chicken Wings in the air fryer are a delicious and savory appetizer that your whole family will love!
Air Fryer Chicken Wing Dry Rub: If you do not like sauce on your wings, you are not alone! This homemade Air Fryer Chicken Wing Dry Rub makes the juiciest meat with no sauce in sight! You just need 6 pantry staple spices for the best homemade dry rub on wings, thighs, legs, or even a roasted whole chicken.
Air Fryer Frozen Chicken Wings: I buy wings whenever I see them on sale and freeze them for a rainy tailgate afternoon. Whether you bought wings frozen or froze them yourself, there's no need to thaw with this air fryer recipe. Just throw them in the air fryer basket and let the cooking magic begin!
Air Fryer Lemon Pepper Wings: For a bright wing recipe with a little spice, try these Air Fryer Lemon Pepper Wings! They are easy to make, only 4 ingredients are needed to create these flavorful, buttery, and crispy air fryer chicken wings. I bet you have everything you need in the kitchen already!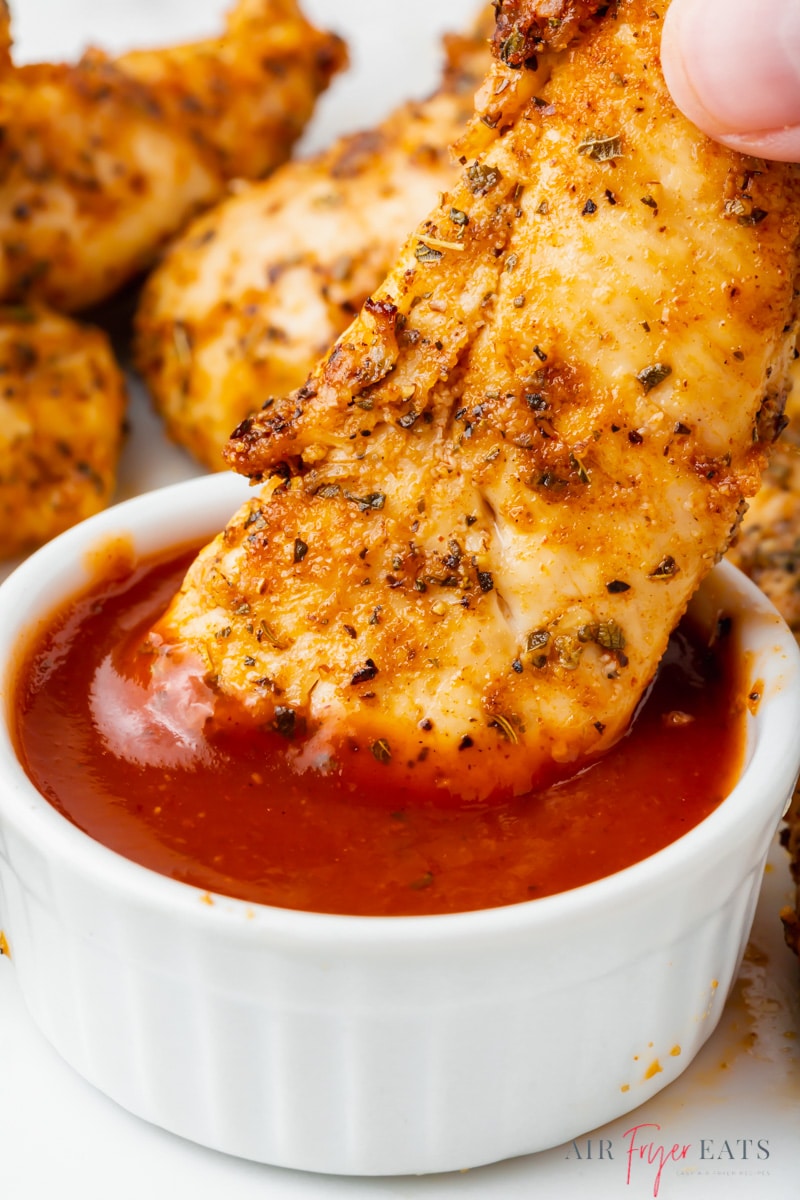 MORE AIR FRYER RECIPES FOR FAMILIES
Kids and adults love chicken! It's easy to make and full of healthy nutrients growing bodies need. Try some of these for your next family dinner.
Air Fryer Chicken Tenders: Fresh out of frozen chicken tenders? Make your own! Crunchy chicken tenders aren't just a restaurant appetizer anymore. Make these healthier than fast food in just 30 minutes.
Air Fryer Chicken Drumsticks: When I was a kid, I would only eat the fried chicken legs. Now, my kids do the same! Air Fryer Chicken Drumsticks are a quick budget dinner the family will love! Ditch the oil and make the crispiest fried chicken in the air fryer with a seasoned flour coating.
Air Fryer Frozen Chicken Nuggets: I always keep frozen chicken nuggets and frozen chicken tenders on hand. Did you know they're way better in the air fryer than the oven?! I promise you'll never go back to your conventional oven after trying chicken nuggets in the air fryer.
Tyson Air Fried Chicken: Craving that juicy chicken sandwich? Skip the drive-thru and make your own with this air fryer frozen chicken! Add your favorite toppings and sauces for a delicious air fried chicken sandwich — even on Sundays.
Air Fryer Chicken Recipes : Featuring Chicken Breast in Air Fryer
Learn how to make air fryer chicken breast that is juicy, tender, and packed full of flavor! This chicken breast in the air fryer will change the way you make dinner.
Ingredients
3

Chicken Breasts

6-8 ounces each

2

tsp.

Olive oil

2

tsp.

Italian seasoning

½

tsp.

Garlic powder

½

tsp.

Paprika

¼

tsp.

Kosher salt

¼

tsp.

Black pepper
Instructions
Rub the chicken breasts with olive oil.

Combine the seasonings in a small bowl, then rub on both sides of the chicken.

Place the breasts in a single layer in the basket and cook at 390F/189C for 9 minutes.

Flip the breasts over and cook for another 9 minutes, until internal temperature is 165 degrees F. If cooking larger or smaller breasts, be sure to adjust cook time accordingly to avoid under- or over-cooking.

Transfer chicken to a plate and loosely cover with foil, allowing it to rest for 5 minutes before serving.

Serve immediately or use as meal prep.
Go AD FREE!
Notes
Adjust the chicken seasonings however you'd like, and get creative to make other varieties.
You can make two or three chicken breasts with this recipe, depending on the size of the pieces and the size of your air fryer basket.
Pro Tip: This recipe can be made in the air fryer unit with a basket or the air fryer oven. If you are using the air fryer oven, use the middle rack and select the "Air Fry" function.
Pro Tip: Check your food as it cooks. Each air fryer runs a bit differently. Sometimes airfrying is a trial and error process. Check your food as it cooks to learn your air fryer better! When cooking a new recipe or food items be sure to check your food often to help avoid over/under cooking.
Have oven recipes that you'd like to convert to an air fryer recipe? Use our Air Fryer Calculator to help you estimate cooking times and temps! Calculator here:
https://airfryereats.com/air-fryer-conversion-air-fryer-calculator/
Nutrition
Serving:
6
oz.
|
Calories:
301
kcal
|
Carbohydrates:
4
g
|
Protein:
49
g
|
Fat:
9
g
|
Saturated Fat:
2
g
|
Polyunsaturated Fat:
1
g
|
Monounsaturated Fat:
4
g
|
Trans Fat:
1
g
|
Cholesterol:
145
mg
|
Sodium:
423
mg
|
Potassium:
912
mg
|
Fiber:
2
g
|
Sugar:
1
g
|
Vitamin A:
530
IU
|
Vitamin C:
3
mg
|
Calcium:
68
mg
|
Iron:
2
mg
Tired of the ads?
Go AD Free - Become part of our Membership community!
Air Fryers can vary greatly. Please take the time to learn your specific air fryer. You may need to adjust times and temperatures based upon your air fryer.
All though this website attempts to provide accurate nutritional information, the information should only be considered an estimate. Varying factors such as different product types, different brands, etc. can change nutritional information. It is your responsibility as a consumer to read all labels to make sure the ingredients fit your dietary needs as well as calculate your own nutritional information as a double check.
CHICKEN FUN FACTS
While chickens eat mostly seeds, grass, and grains, they are technically omnivores! These farm birds will eat insects, lizards, even small mice if they can catch them.
Have you ever wondered what's the difference between brown chicken eggs and white eggs? It's all about the type of chicken they come from! Leghorn chickens, the most common, lay white eggs, while Orpington chickens lay brown eggs. There are even chickens, the Ameraucanas, that lay blue eggs!
Chickens outnumber humans 4 to 1 with more than 25 billion chickens worldwide.
Though chickens can't fly far, they can use their wings to get a little air! When they're hunting or playing, they can get into trees and climb fences.
They can run almost 10 mph and have great agility, often helping them survive predatory attacks.
AIR FRYER CHICKEN RECIPES POST
If you've made any of these air fryer chicken recipes, please be sure to leave a comment on the recipe page letting us know what you thought!