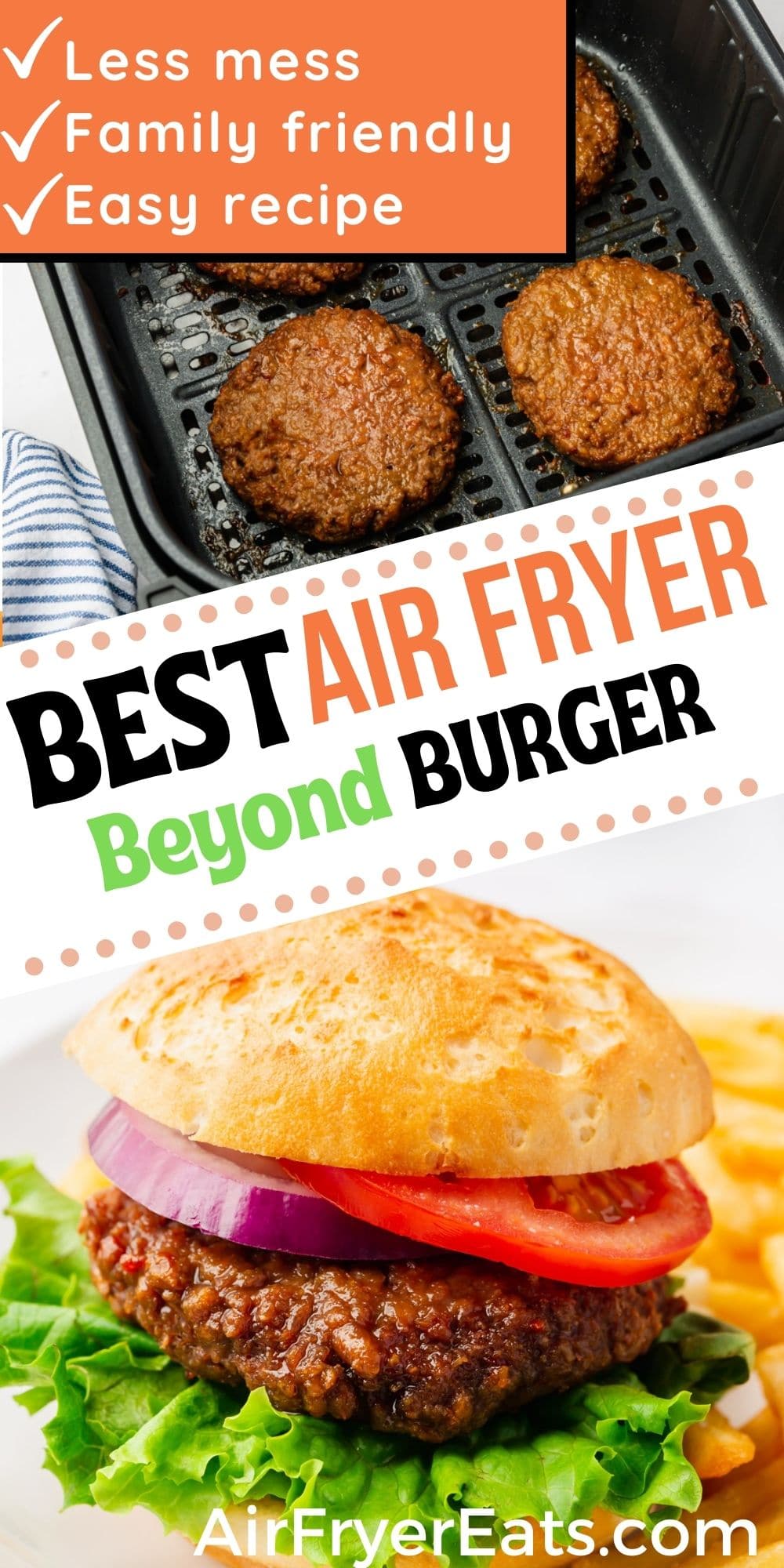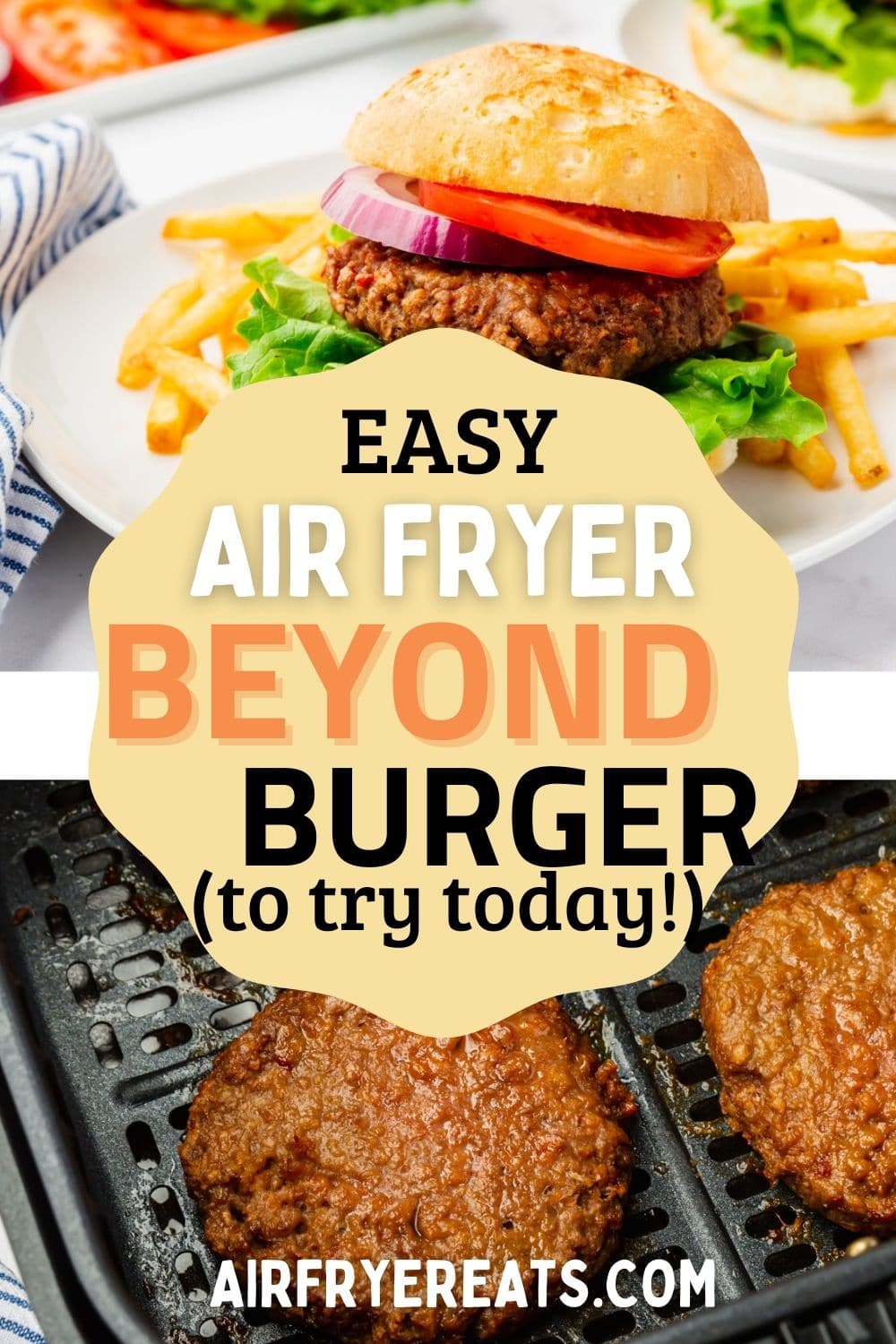 Learn to make an Air Fryer Beyond Burger! These vegetarian burger patties are so delicious and ready in just minutes using your favorite countertop appliance.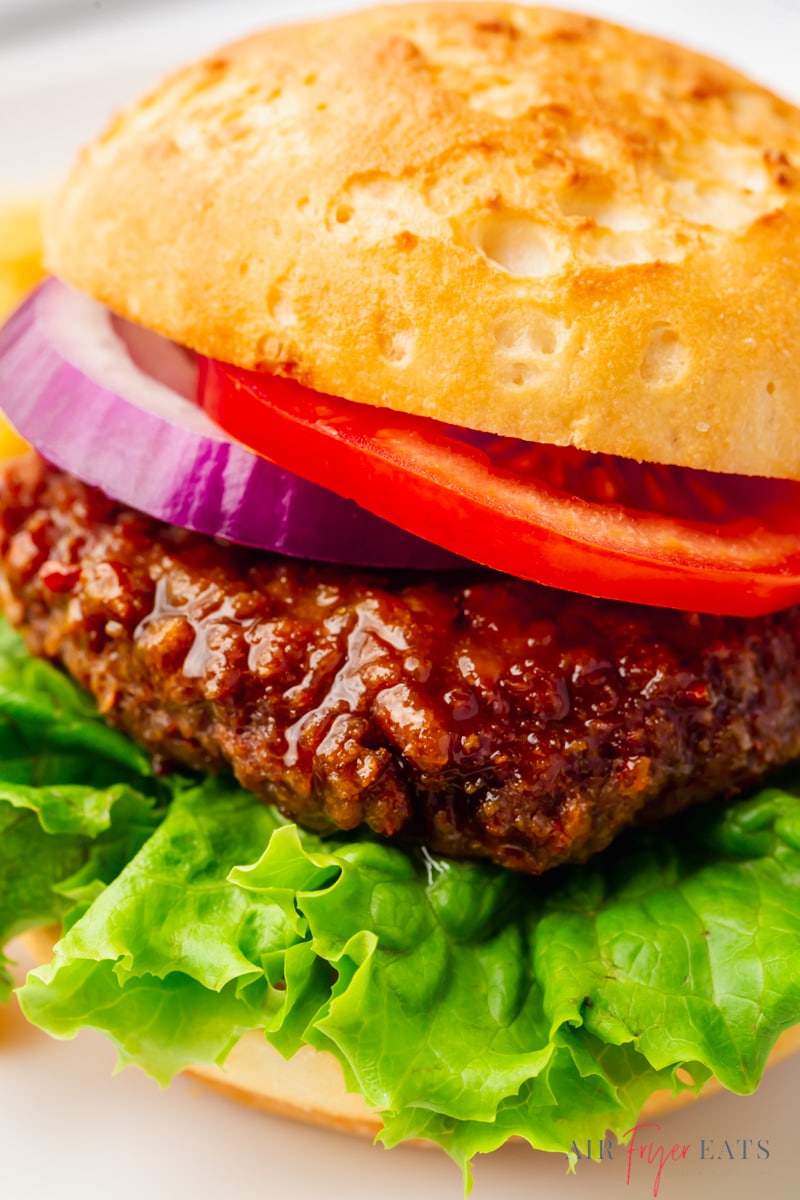 HOW TO MAKE BEYOND BURGER IN AIR FRYER
We eat a lot of plant based burgers, and Beyond Burgers are our favorite! I use Beyond Beef to make an amazing vegan meatloaf too.
Thank goodness that it's so easy to make vegan Beyond Burgers in the Air Fryer! This easy recipe is simple enough for anyone to make, even older kids and teens.
Your meat-free burger will be ready in about 8 minutes. Add it to a soft hamburger bun, loaded with lettuce, tomato, and onion, and serve with Air Fryer French Fries for a simple and satisfying meal.
Don't these burgers look amazing?! Beyond Burgers really do look and taste like beef burgers should.
If you ended up here because you're looking to make beef or turkey burgers, don't worry. Learn how to make an air fryer burger here, or get the easy recipe for air fryer turkey burgers.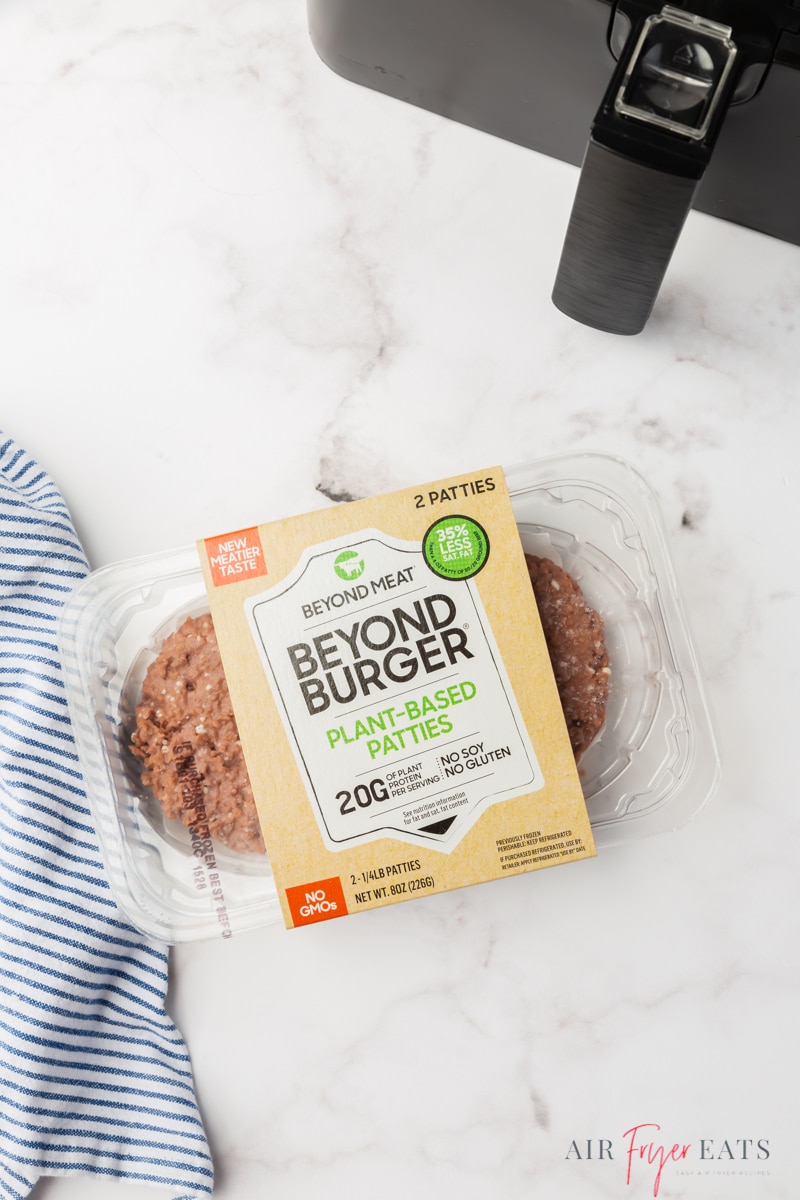 INGREDIENTS FOR AIR FRYER BEYOND BURGER
All you need to make Beyond Burgers in the air fryer are your Beyond Burger patties.
I usually buy these in a two-pack, but my Cosori Air Fryer has room for 4 large burger patties. You can cook 1, 2, or however many you want.
To make a killer deluxe burger, you should also have hamburger buns, lettuce, red onion and tomato slices, and your favorite burger condiments.
A slice of cheese or vegan cheese can be added at the end to make beyond cheeseburgers!
If you have any questions about cooking Beyond Burgers in the air fryer, please leave a comment below and I will get back to you ASAP!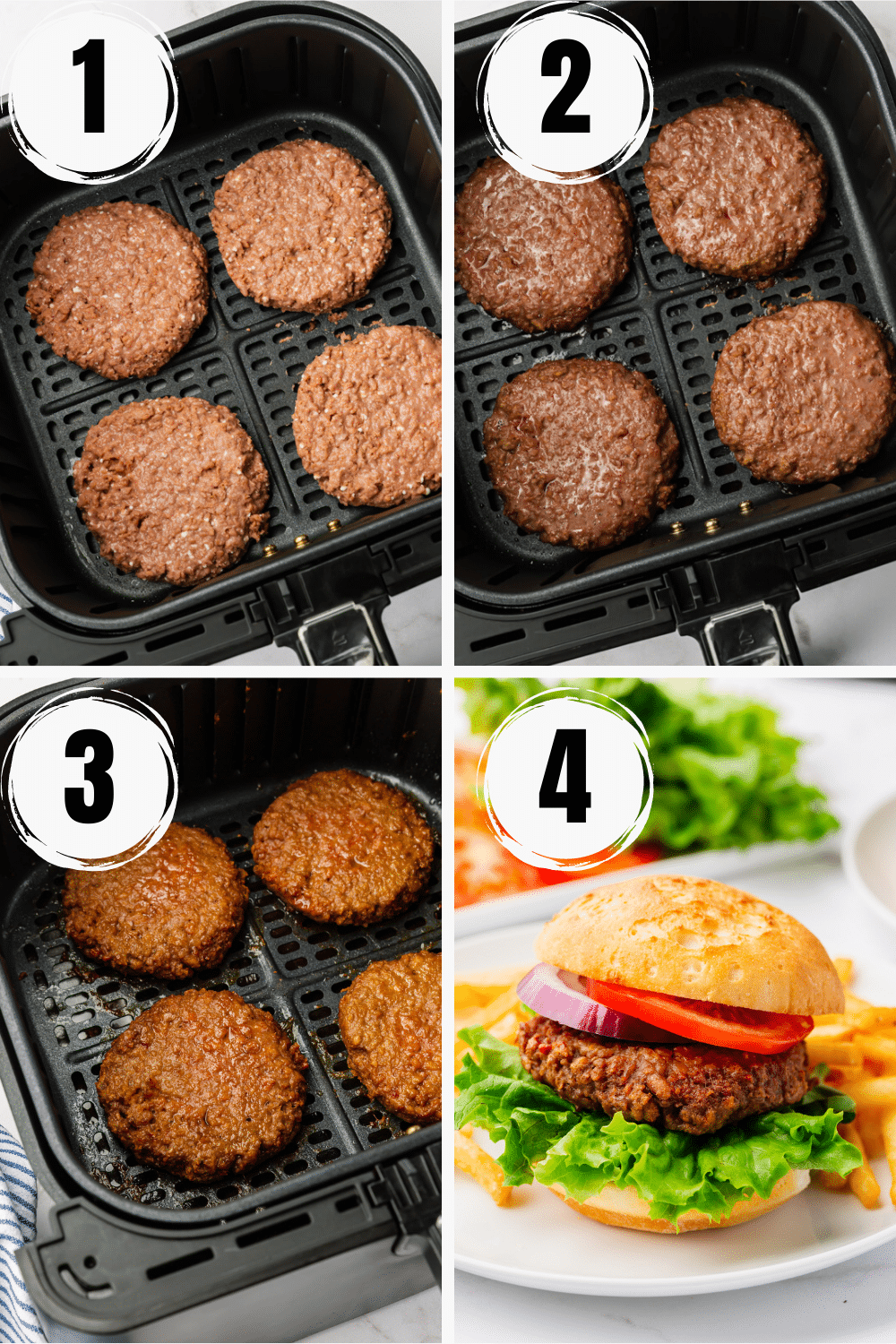 HOW TO MAKE BEYOND BURGERS IN AIR FRYER
Place the Beyond Burgers in the air fryer basket.
Air Fry as directed in the recipe below. No need to preheat the air fryer when cooking burgers in the air fryer.
Halfway through the cooking time, flip the patties over so that they cook evenly.
Serve air fryer Beyond Burgers on a bun with your favorite toppings!
These numbered steps match the numbered photos above and are for illustration purposes. For the complete list of ingredients and instructions, please see the recipe below.
HOW TO ADD CHEESE TO AIR FRYER BURGERS
It's easy to turn your air fryer Beyond Burgers into cheeseburgers.
Add a slice of Vegan Cheese on top of the burgers right after they've cooked through. Close the air fryer, but don't turn it on.
Let the remaining heat in the air fryer gently melt the cheese on top of the patties. Then carefully remove them with a spatula.
Vegan cheese slice brands to look for at the grocery store include Violife, Daiya, and Field Roast Chao.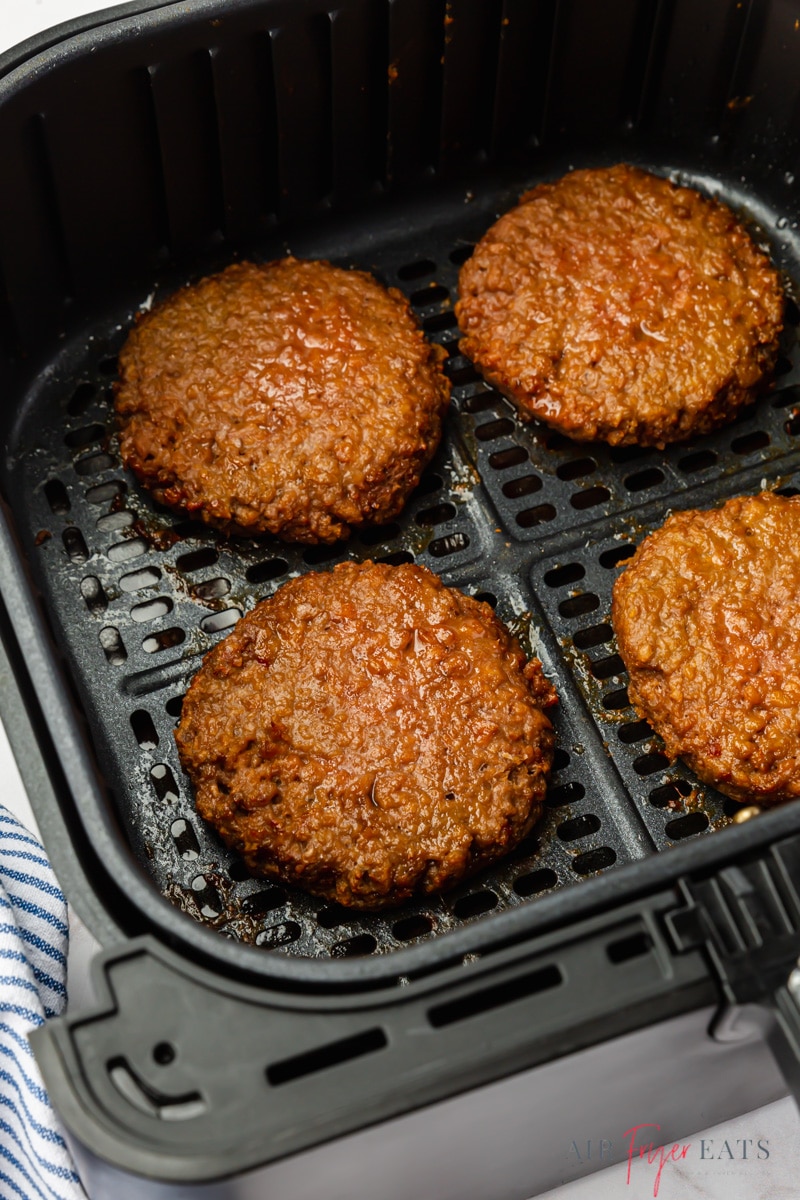 WHAT TO SERVE WITH AIR FRYER BEYOND BURGERS
Burgers are a complete meal, so long as you add some veggies to them! I suggest topping your air fryer Beyond Burgers with lettuce, tomato, thinly sliced red onion, and your choice of sauce on a soft hamburger bun.
When it comes to Beyond Burger side dishes, you have lots of options.
Air Fryer Potato Wedges or Air Fryer Steak Fries make for a classic burger pairing.
Air Fryer Onion Rings will also be super tasty with your Beyond Burgers.
For a tasty backyard BBQ-style meal, pair burgers with Macaroni Salad or Potato Salad, Air Fryer Corn on the Cob, and some ice-cold beverages.
Beyond Burgers are also delicious chopped up and added to a salad, or wrapped in a tortilla.
Want to make your own vegan burgers from scratch? Try this recipe for black bean and roasted red pepper veggie burgers.
ARE BEYOND BURGERS SOLD FROZEN OR RAW?
Beyond burgers and other beyond meat products are sold to stores frozen. Depending on where you shop, you may find them in the freezer section, or you may find them thawed in a refrigerated space.
If you buy Beyond burgers frozen, you can store them in the freezer until you're ready to thaw and cook them.
If you buy vegan burgers thawed, they should be stored in the refrigerator and cooked before the best by date on the package.
DO I NEED TO THAW BEYOND BURGERS BEFORE COOKING?
Beyond Burgers cook best if you thaw them before cooking them.
While it is possible to cook frozen beyond burgers, it's more difficult, and often results in overcooked, tough burgers.
HOW TO DEFROST BEYOND BURGERS
The best way to defrost beyond burgers that are frozen is to leave them in the refrigerator overnight. This thaws them slowly, keeping them at a safe temperature.
You can also use your microwave to defrost frozen beyond burgers quickly. Microwave at 30% power, or on the defrost setting at 30-second intervals until they are thawed. Avoid letting the microwave cook the burgers though!
CAN I AIR FRY FROZEN BEYOND BURGERS?
While I prefer to cook Beyond Burgers in the air fryer thawed, you can definitely cook frozen Beyond Burgers in the air fryer!
Since the burgers will be frozen solid, you'll need to cook them at a higher heat and for a longer time. I suggest air frying frozen beyond burgers at 400°F/200°C, for 15-18 minutes, flipping halfway.
Be sure to check out our post on making frozen burgers in air fryer too. There are lots of tips and tricks there specific to cooking frozen burger patties.
HOW LONG DOES IT TAKE TO AIR FRY BEYOND BURGERS?
It takes 8 minutes to cook 2-4 thawed Beyond Burgers in the air fryer at 350°F/180°C.
If you're only cooking one burger (I love the air fryer for cooking for 1 or 2 people!), you may find that it only takes 6-7 minutes to cook since there is more room for the hot air to circulate around it.
HOW DO I KNOW WHEN BEYOND BURGERS ARE DONE?
This is tricky, since beyond burgers aren't actually burgers. Do you still need to cook them to a certain point so that they are safe to eat?
Yes! Beyond meat needs to be cooked before eating to an internal temperature of 165°F/74°C.
When cooked to this temperature, the outside of a Beyond Burger patty should be firm and browned, and the interior will appear pink. This is normal!
An ingredient in beyond meat causes the plant-based meat to look very much like actual hamburger meat, and that pink color won't go away, even when it's overcooked.
SHOULD I ADD OIL TO BEYOND BURGERS IN THE AIR FRYER?
I don't find a need to add oil to Beyond Burgers. There is enough oil already in them, so they shouldn't stick to the basket.
I do like using parchment paper air fryer liners for messy foods like burgers though! They aren't necessary but can help make clean-up easier.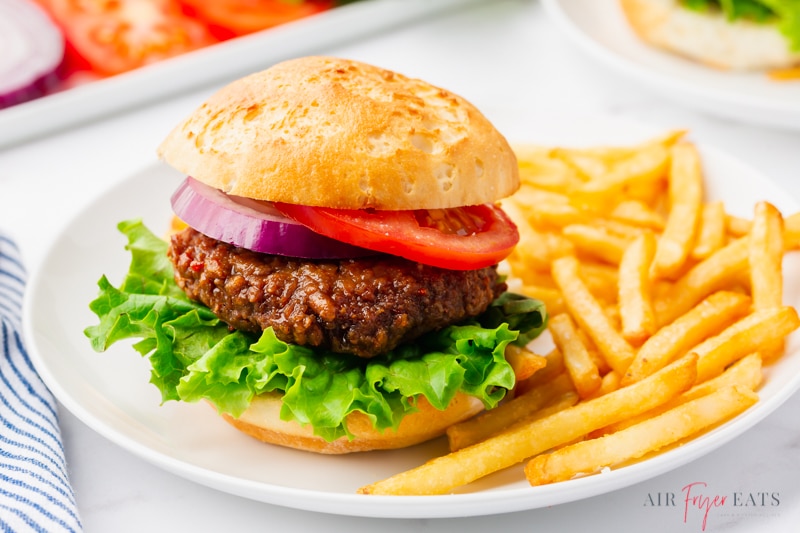 WILL THIS AIR FRYER RECIPE WORK WITH OTHER VEGGIE BURGERS?
The basic method used here to air fryer Beyond Burgers should work with other "meat-like" plant-based burgers. I mean the burger patties that have a similar texture to ground beef and are sold looking like actual hamburgers.
Examples of plant-based burger brands that are similar to Beyond Beef Burgers include Impossible Burgers, Farmland burger patties, and Morningstar Farms Incogmeato patties.
Of course, different brands and products are all a bit different, so be sure to keep a close eye on your burgers as they cook. Brands other than Beyond may need more or less time in the air fryer to cook fully.
MORE VEGETARIAN AIR FRYER RECIPES
The air fryer makes tons of delicious vegetarian meals and sides!
Use your air fryer to cook fresh broccoli or make air fryer frozen broccoli. Both are amazing and the perfect simple side dish.
Air Fryer Sweet Potatoes with a delicious fresh black bean salsa topping make a filling and simple vegetarian meal.
Make a tasty vegetarian appetizer using our recipe for Air Fryer Stuffed Mushrooms, or try making Air Fryer Zucchini Fries.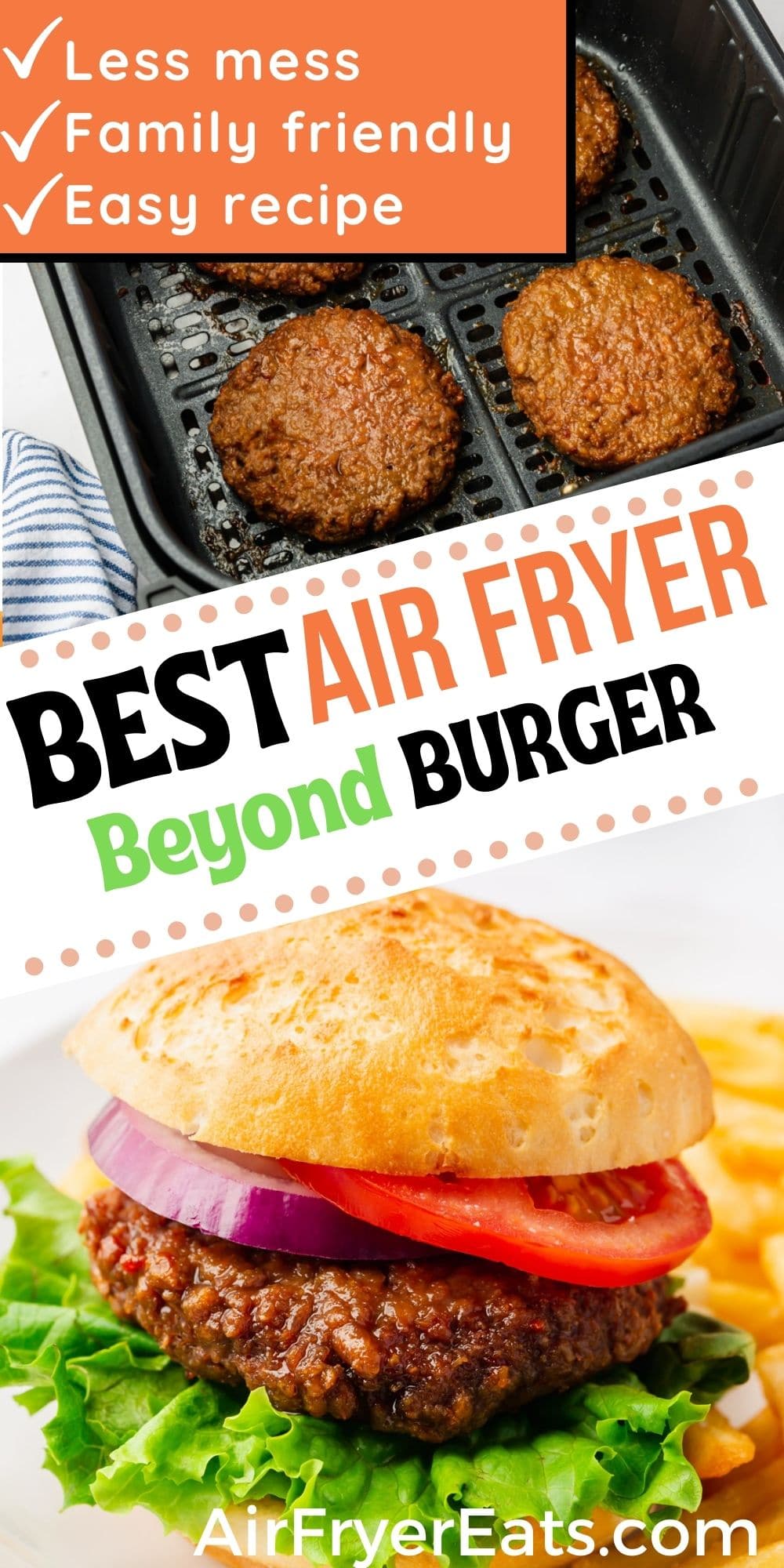 Have you made this recipe? Please leave a comment AND rating below! It helps other readers!
Be sure to tag @AirFryerEats on instagram, if you share a picture on the gram! Let's get social, you can follow me on Youtube, Instagram, Facebook, Pinterest or join one of our Air Fryer Facebook Groups: Air Fryer Recipes, Air Fryer Recipes for Seniors and Gluten Free Air Fryer Recipes.
Don't forget to subscribe to our EMAIL newsletter.
Air Fryer Beyond Burger
Learn to make an Air Fryer Beyond Burger! These vegetarian burger patties are so delicious and ready in just minutes using your favorite countertop appliance.
Ingredients
4

Beyond Burger patties

thawed

Hamburger Buns and desired toppings

optional
Instructions
Place the Beyond Burgers in the air fryer basket.

Air Fry at 350°F/180°C for 8 minutes.

Flip the burgers over halfway through the cooking time so that the burgers cook evenly.

Serve on a bun with your favorite toppings, like tomato, onion, and lettuce!
Go AD FREE!
Notes
You could really make this recipe with anywhere from 1 to 4 Beyond Burgers. If you're just feeding yourself, place one burger in the air fryer basket. You may want to check it a few minutes earlier than the time stated if you use fewer burgers because there is more air to circulate around your burger and it could cook quicker.
I don't find any need to spray the burgers with cooking oil in this recipe. There is enough fat in the burger that it doesn't stick to the air fryer basket.
Flipping the burger at the halfway point is important to ensure the burger cooks and browns evenly on both sides.
Pro Tip: This recipe can be made in the air fryer unit with a basket or the air fryer oven. If you are using the air fryer oven, use the middle rack and select the "Air Fry" function.
Pro Tip: Check your food as it cooks. Each air fryer runs a bit differently. Sometimes air frying is a trial and error process. Check your food as it cooks to learn your air fryer better! When cooking a new recipe or food items be sure to check your food often to help avoid over/under cooking.
Have oven recipes that you'd like to convert to an air fryer recipe? Use our Air Fryer Calculator to help you estimate cooking times and temps! Calculator here:
https://airfryereats.com/air-fryer-conversion-air-fryer-calculator/
Nutrition
Serving:
1
g
|
Calories:
124
kcal
|
Carbohydrates:
10
g
|
Protein:
11
g
|
Fat:
4
g
|
Saturated Fat:
1
g
|
Polyunsaturated Fat:
1
g
|
Monounsaturated Fat:
1
g
|
Cholesterol:
4
mg
|
Sodium:
398
mg
|
Potassium:
233
mg
|
Fiber:
3
g
|
Sugar:
1
g
|
Vitamin A:
11
IU
|
Vitamin C:
3
mg
|
Calcium:
95
mg
|
Iron:
2
mg
Tired of the ads?
Go AD Free - Become part of our Membership community!
Air Fryers can vary greatly. Please take the time to learn your specific air fryer. You may need to adjust times and temperatures based upon your air fryer.
All though this website attempts to provide accurate nutritional information, the information should only be considered an estimate. Varying factors such as different product types, different brands, etc. can change nutritional information. It is your responsibility as a consumer to read all labels to make sure the ingredients fit your dietary needs as well as calculate your own nutritional information as a double check.