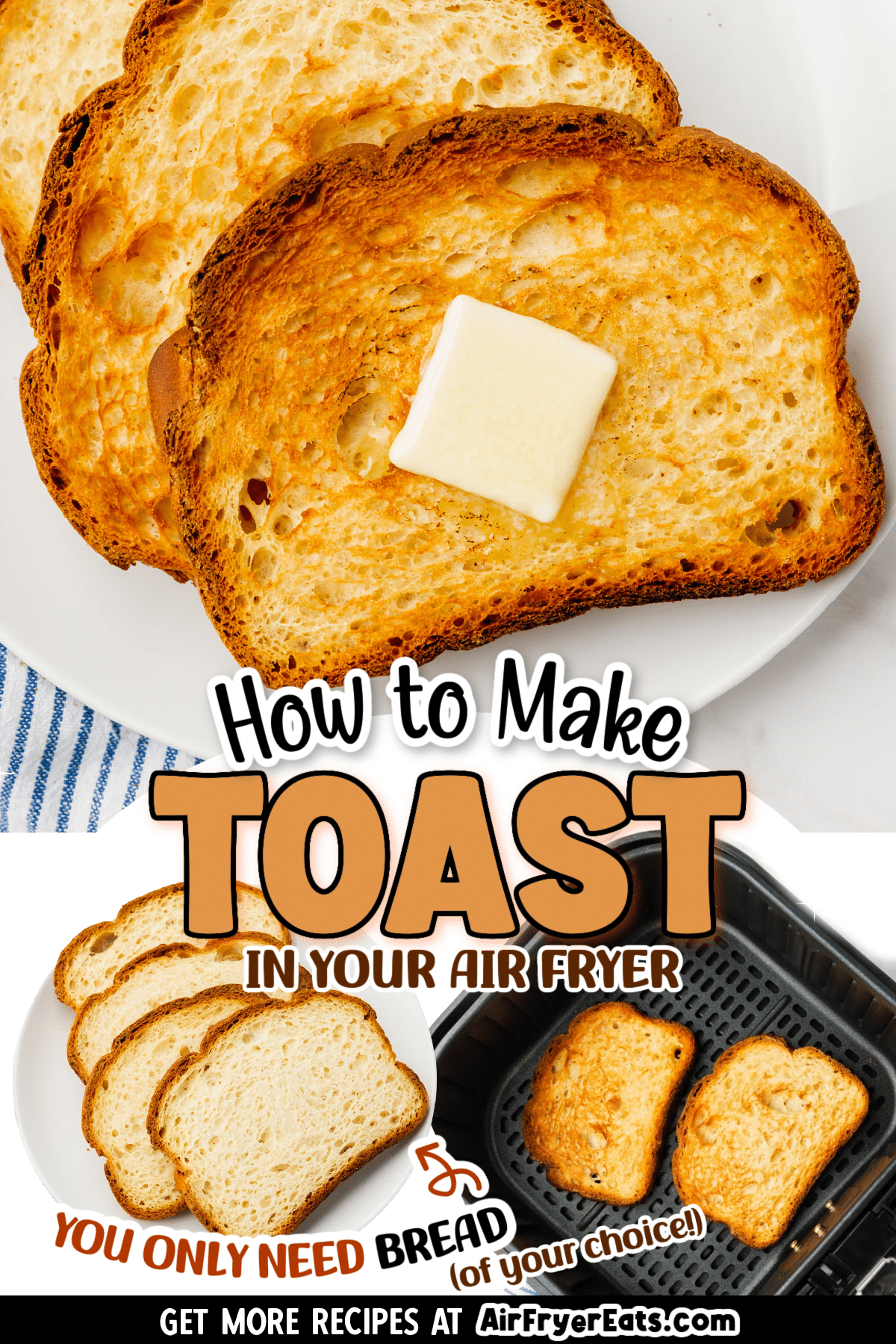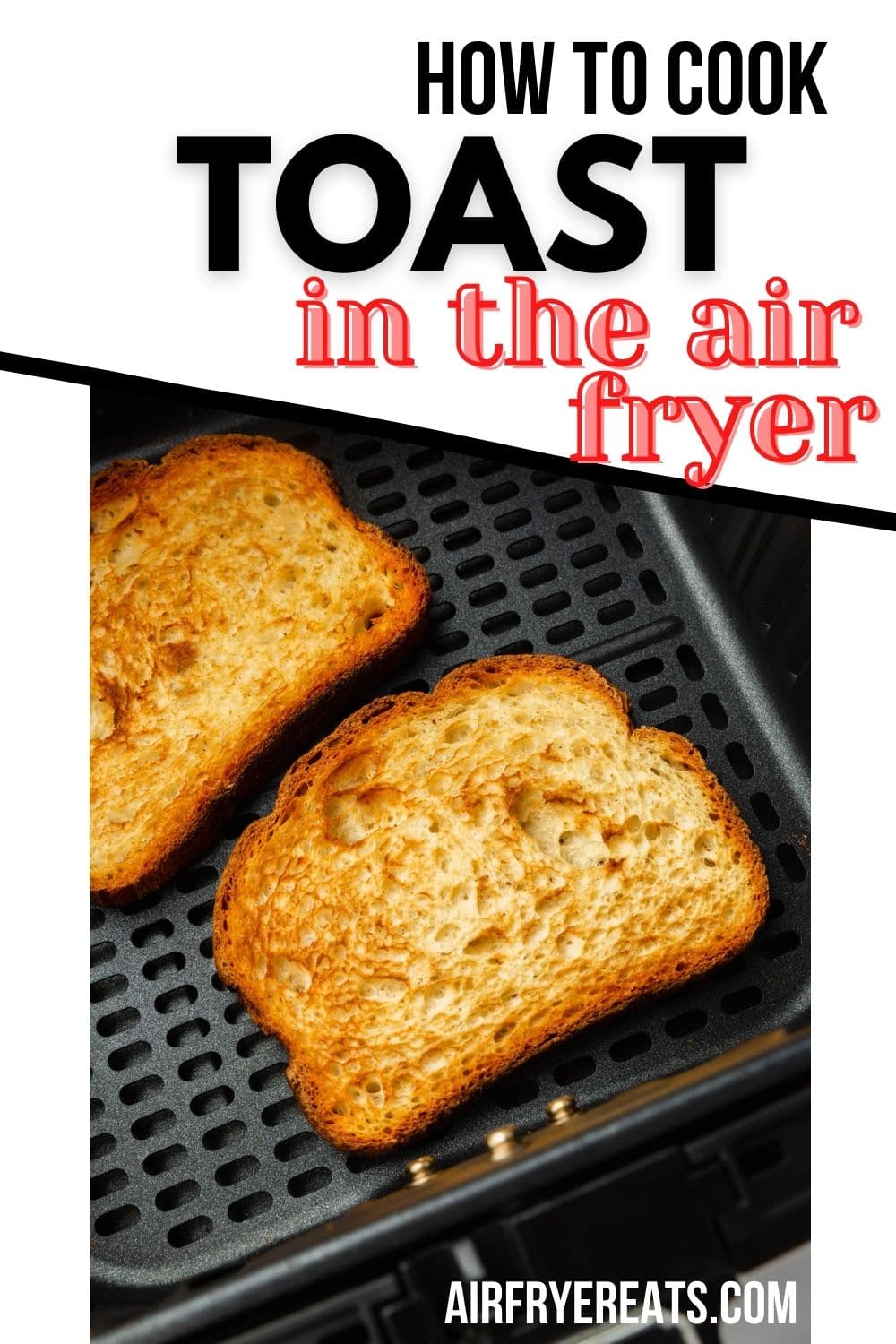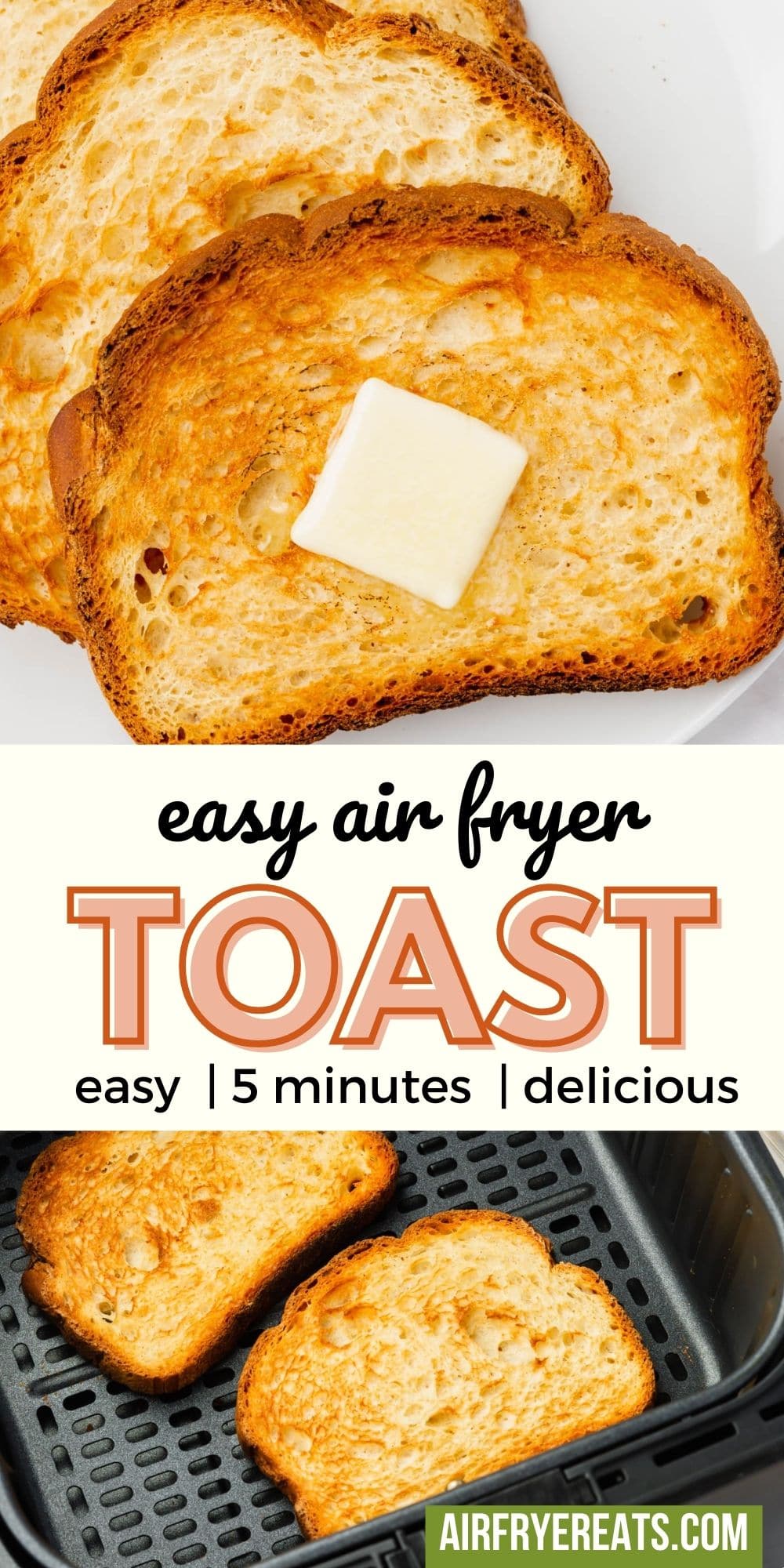 Making toast in the air fryer is an easy and convenient way to start your day. Air Fryer toast is crispy and delicious, plus it's ready in under 5 minutes!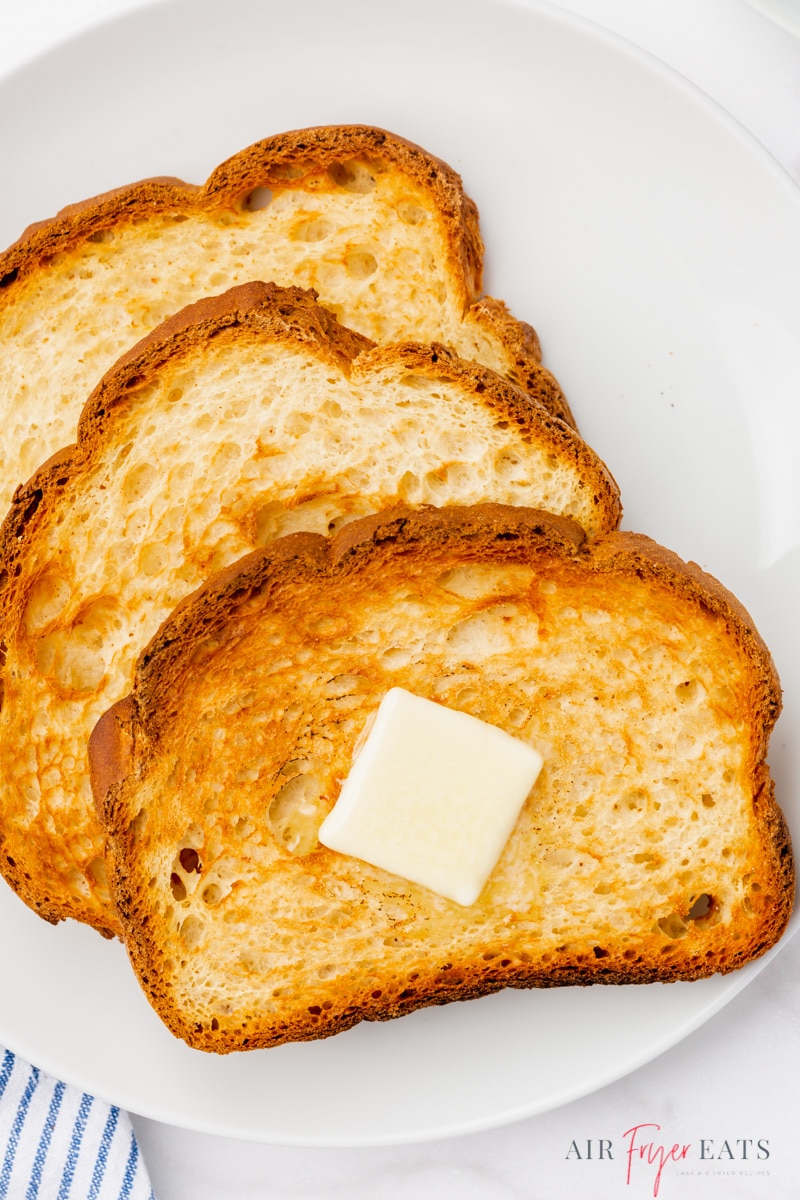 TOAST IN AIR FRYER
I know you've been wondering, "can I make toast in the air fryer?". The answer is a resounding YES! Toast in the air fryer is not only possible, but it's amazingly simple.
But why would we make toast in the air fryer when there is a small kitchen appliance already designed to make toast? Is the air fryer really better than the toaster at toasting bread?
There are tons of reasons why the air fryer is the best appliance for the job:
Maybe your toaster broke, or you're traveling and don't have room for more than one appliance.
Maybe you are making toast for a crowd, so you want to be able to use both the toaster and air fryer at the same time to make toast.
Maybe you've finally realized that the air fryer can cook anything that a toaster can, and you've tossed your toaster out!
Whatever the reason for making toast in the air fryer, I'm glad you're here. This recipe/method for making toast in the air fryer is going to change your life (or at least your mornings!)
While you're improving your mornings, make sure you learn how to make yourself a delicious Oat Milk Latte or a healthy Spirulina Smoothie too!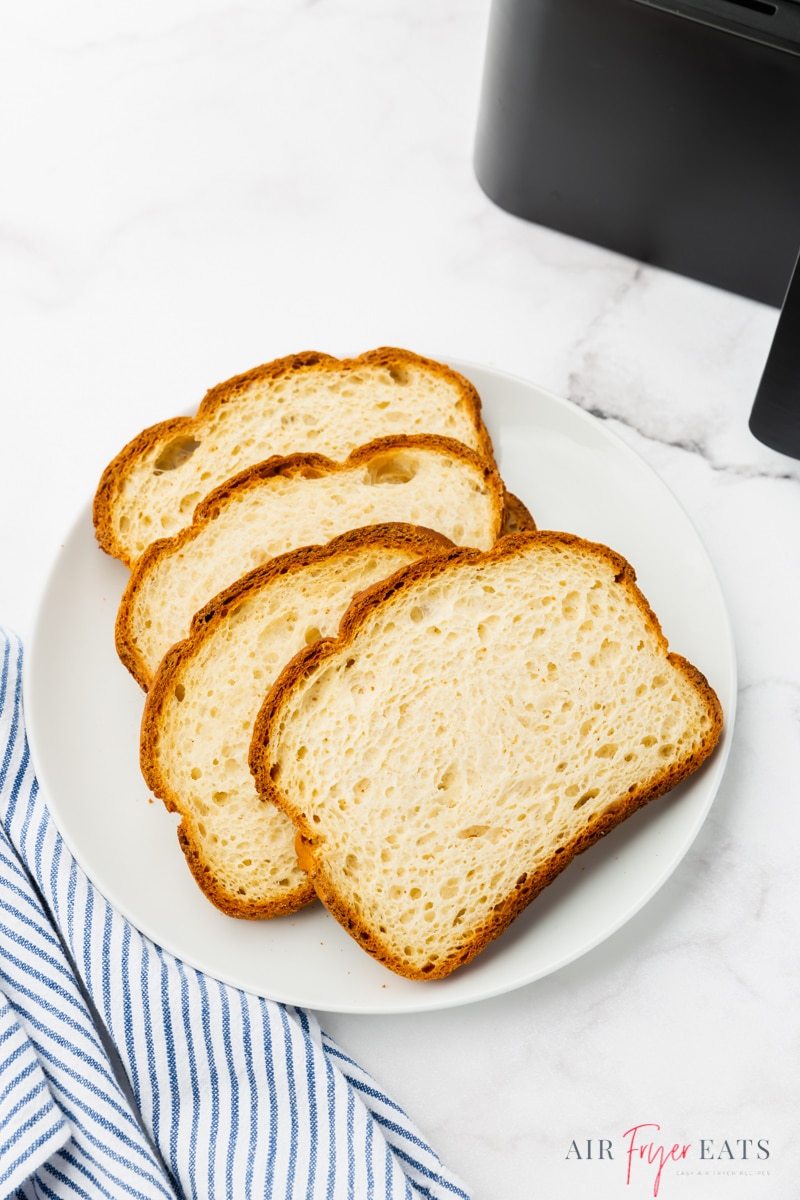 INGREDIENTS FOR AIR FRYER TOAST
All you need to make toast in the air fryer is your favorite sliced bread!
White bread, wheat bread, rye bread, Italian bread, pumpernickel bread and more can all be toasted in the air fryer.
Gluten-free bread toasts up perfectly in the air fryer too.
Homemade bread? Yep. Store bought bread? absolutely.
You can toast any and all styles of bread using your favorite air fryer. You can even make Texas Toast in the air fryer with my easy recipe.
If you have any questions at all about making toast in the air fryer, please leave a comment below and I will get back to you ASAP!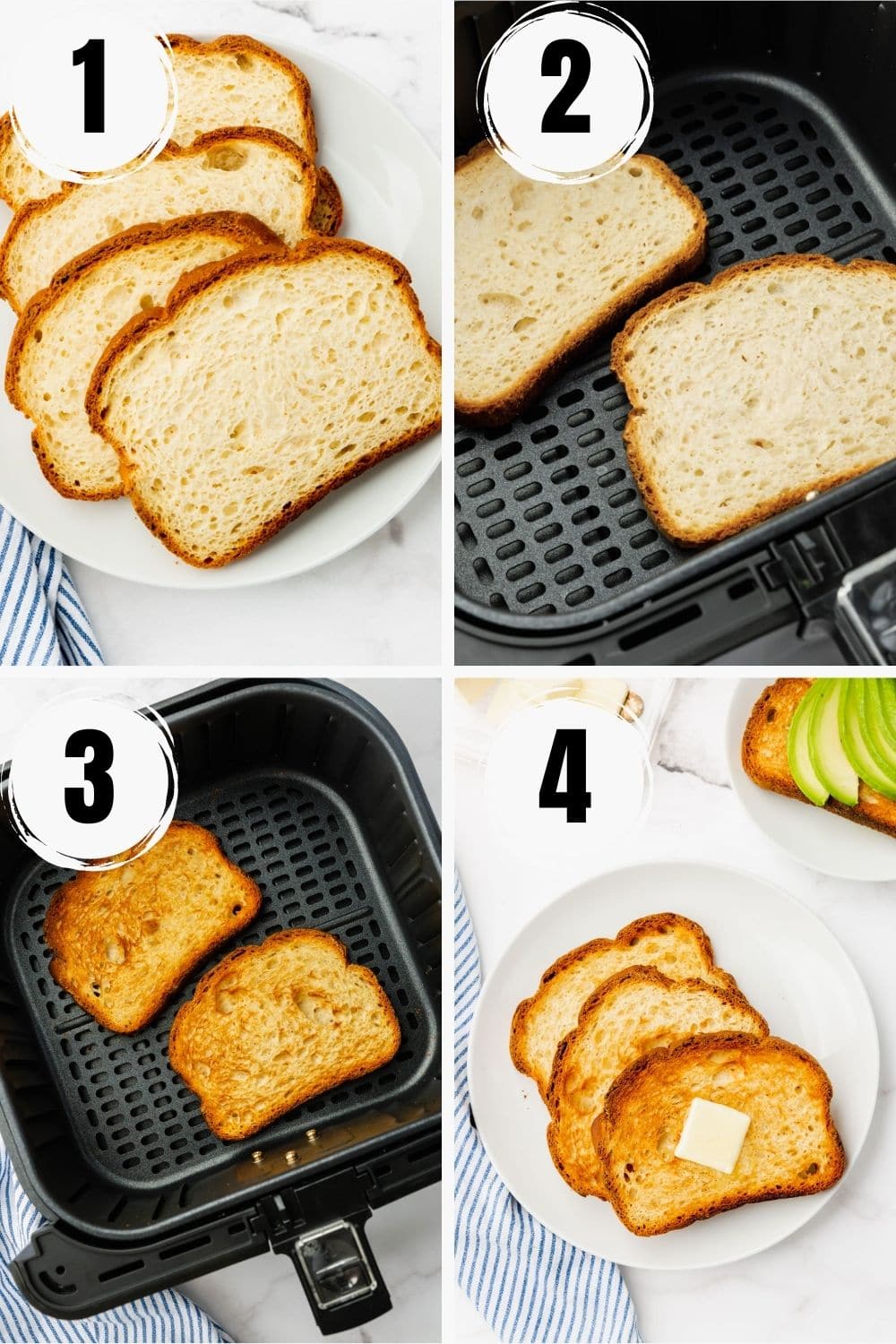 HOW TO MAKE AIR FRYER TOAST
Figure out how many slices of bread you can fit comfortably in your air fryer basket. I can usually fit four regular-sized pieces of sandwich bread in my Cosori air fryer, but the bread I used in the photos was a bit larger, so two pieces fit better.
Place the bread in the air fryer basket. No need to add any oil when air frying toast.
Air fry toast at 400°F/200°C for 4-5 minutes, flipping it over halfway through for even browning.
Serve the toast immediately with your favorite toppings. I suggest butter for sure!
These numbered steps match the numbered images above and are for illustration purposes. For the complete list of ingredients and instructions for making toast in the air fryer, please see the recipe below.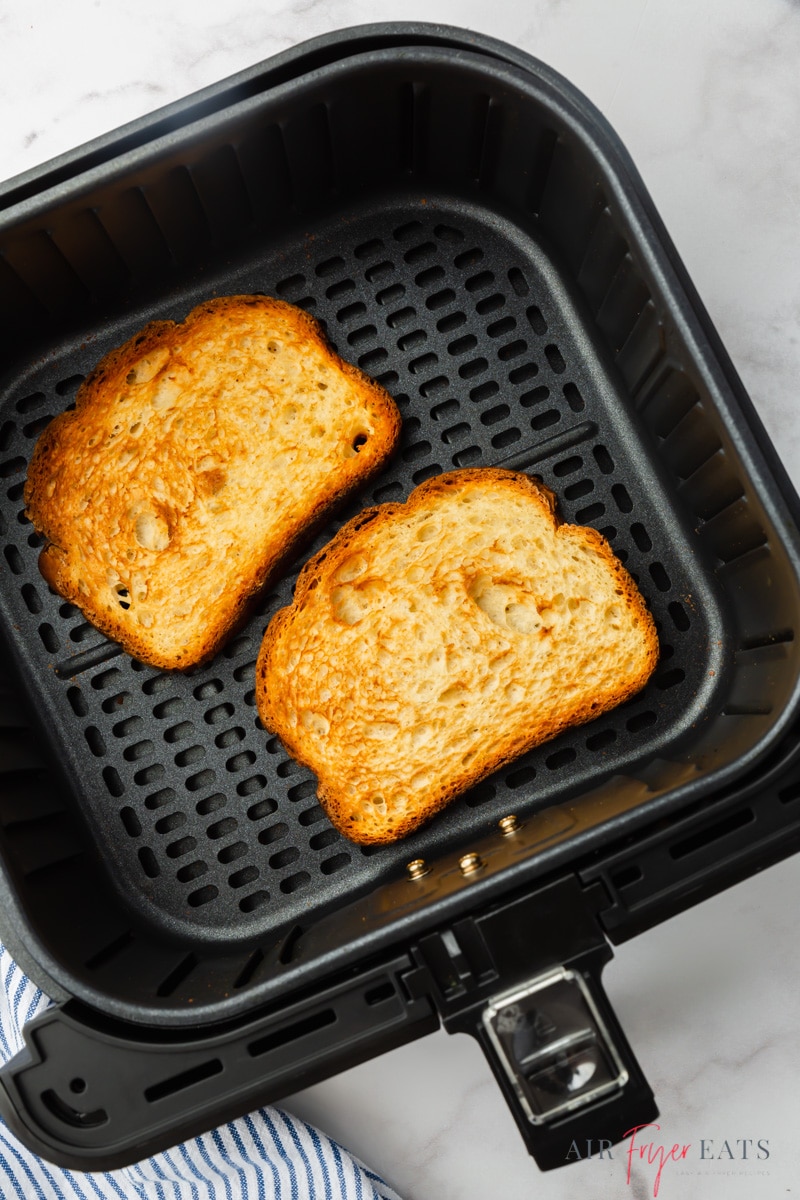 TIPS FOR MAKING TOAST IN THE AIR FRYER
Tips, tricks, and troubleshooting air fryer toast! You may not get perfect air fryer toast on the first try. This is because air fryers are all different. Some heat up quicker or hotter than others, some are bigger, or smaller, and some are just different.
It's important to learn all about your own personal air fryer. The more you use it, the easier it will be to know exactly how to make perfect toast in your air fryer, every time.
Be sure the Air Fryer is clean. You should always clean your air fryer after using it, and this is especially true if you plan to make toast. Any lingering flavors in the air fryer from a previous meal won't be tasty on fresh toast.
Don't overlap the slices. Anywhere where the bread is covered by another piece of bread won't get toasty. Be sure to leave room around each piece of bread.
Don't use a liner. Because bread is lightweight, I don't recommend that you use parchment paper or paper liners when making this recipe. There is a possibility that the paper could fly up and touch the heating element, which is a fire hazard.
Toast is blowing around in the air fryer. This can happen, particularly if your bread is light in texture. It happens with tortillas and kale chips too! To avoid this, place a metal air fryer rack on top of the bread. You can also just use a butter knife to add weight to the toast in the air fryer.
Air fryer toast is too dry. If this happens, just cook it a bit less next time. Take a minute off of the cook time and your toast should be perfect. You can also spread the bread with butter or olive oil before toasting it in the air fryer.
HOW LONG TO TOAST BREAD IN AIR FRYER?
This depends on how toasty you like your toast!
Five full minutes at 400°F/200°C will give you very browned toast.
Three minutes will give you just barely toasted bread.
Find your sweet spot in between 3 and 5 minutes to get the perfect toast for your preferences.
CAN I AIR FRY BAGELS? HOW ABOUT ENGLISH MUFFINS?
Yes, you can toast bagels in the air fryer! English muffins too!
Use this recipe to toast any type of fresh bread. Sliced bagels or split English muffins will toast up perfectly using this method too.
WHAT TO SERVE WITH AIR FRYER TOAST
Air fryer toast is the perfect easy breakfast food! Serve your toast with scrambled eggs and air fryer bacon, make avocado toast with fried eggs, or get creative with toast toppings.
Butter
Jam, jelly, or fruit spread
Cream Cheese
Sliced or mashed avocado with everything bagel seasoning
Cinnamon sugar
Fairy toast with frosting and rainbow sprinkles!
Peanut butter or your favorite nut butter
Nutella
Use your air fryer toast to make breakfast sandwiches, egg, avocado and tomato toast, or enjoy a BLT sandwich or a toasty turkey club!
WHAT IS THE TEXTURE OF AIR FRYER TOAST?
Toast made in the air fryer will be crispy on the outside and soft and warm in the middle.
You can control the level of toastiness by adjusting the amount of time that you air fry the bread. If you like extra browned toast, use the full five minutes. For lightly toasted bread, stick with 3-4 minutes.
WHY SHOULD I AIR FRY TOAST?
It may seem odd or unconventional to make toast in the air fryer, but there are some good reasons to make toast this way!
You can see the toast better in the air fryer. In a toaster, you can only see the bread from the top, so it's much easier to accidentally burn the toast.
Get even heating. Versus a toaster or a toaster oven, the air fryer will provide more even convection heat, ensuring that your toast is perfectly cooked without any burnt or undercooked spots.
You can add toppings. Unlike a toaster, you can add toppings to your toast before you toast it! Try adding butter to the bread before air frying to get a super buttery, crispy toast. Add a sprinkle of cinnamon sugar, or garlic salt to make a quick garlic toast.
CAN AN AIR FRYER REPLACE A TOASTER?
Yes, you can replace your toaster with an air fryer! Anything that you'd typically make in a toaster, including frozen waffles, pop tarts, and bagels, can be made in the air fryer instead.
The air fryer is more useful than a toaster because it can make all of your favorite toaster foods, and it can also cook other foods that the toaster doesn't do so well, like French toast sticks and Hot Pockets.
IS AN AIR FRYER THE SAME AS A TOASTER OVEN?
While the air fryer can do anything a toaster oven can do (and more!), they function very differently.
A toaster oven is basically a small oven that typically has an exposed heat source at the top and bottom of the unit.
In contrast, an air fryer is a self-contained miniature convection oven. With one heating element on top, and a fan to move that heat around, you get even, complete heat that surrounds your food from all angles.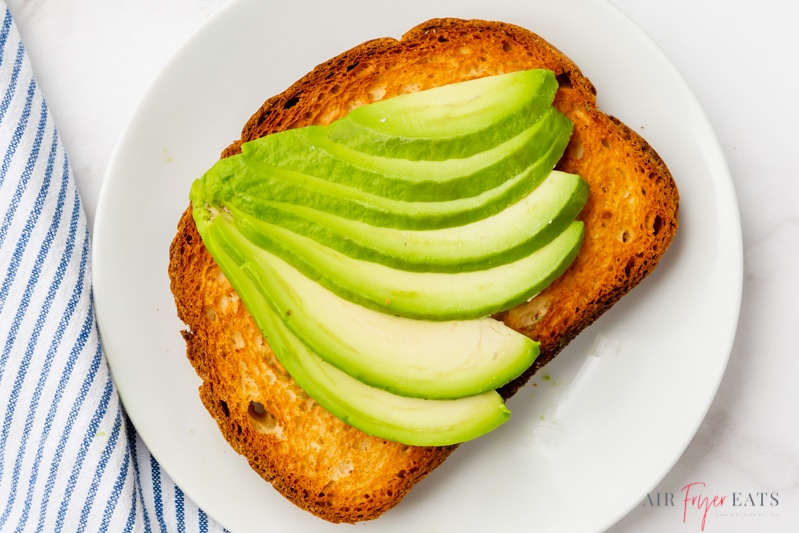 Next time you're making breakfast, try making toast in the air fryer! I know you're going to love the new trick your air fryer can do.
MORE EASY AIR FRYER RECIPES
Just like this recipe for toast in the air fryer, all of these air fryer recipes use just one ingredient and a simple method!
All you need to make a delicious burger is a frozen hamburger patty! Cook them up in the air fryer before adding to buns with your favorite toppings.
Air fryer hard boiled eggs cook in the air fryer without any added oil too.
Breakfast sausage patties or sausage links in the air fryer are the easiest breakfast food to cook, aside from toast!
Teach the kids how to make Bagel Bites in the air fryer or Totinos Pizza Rolls for a DIY after school snack.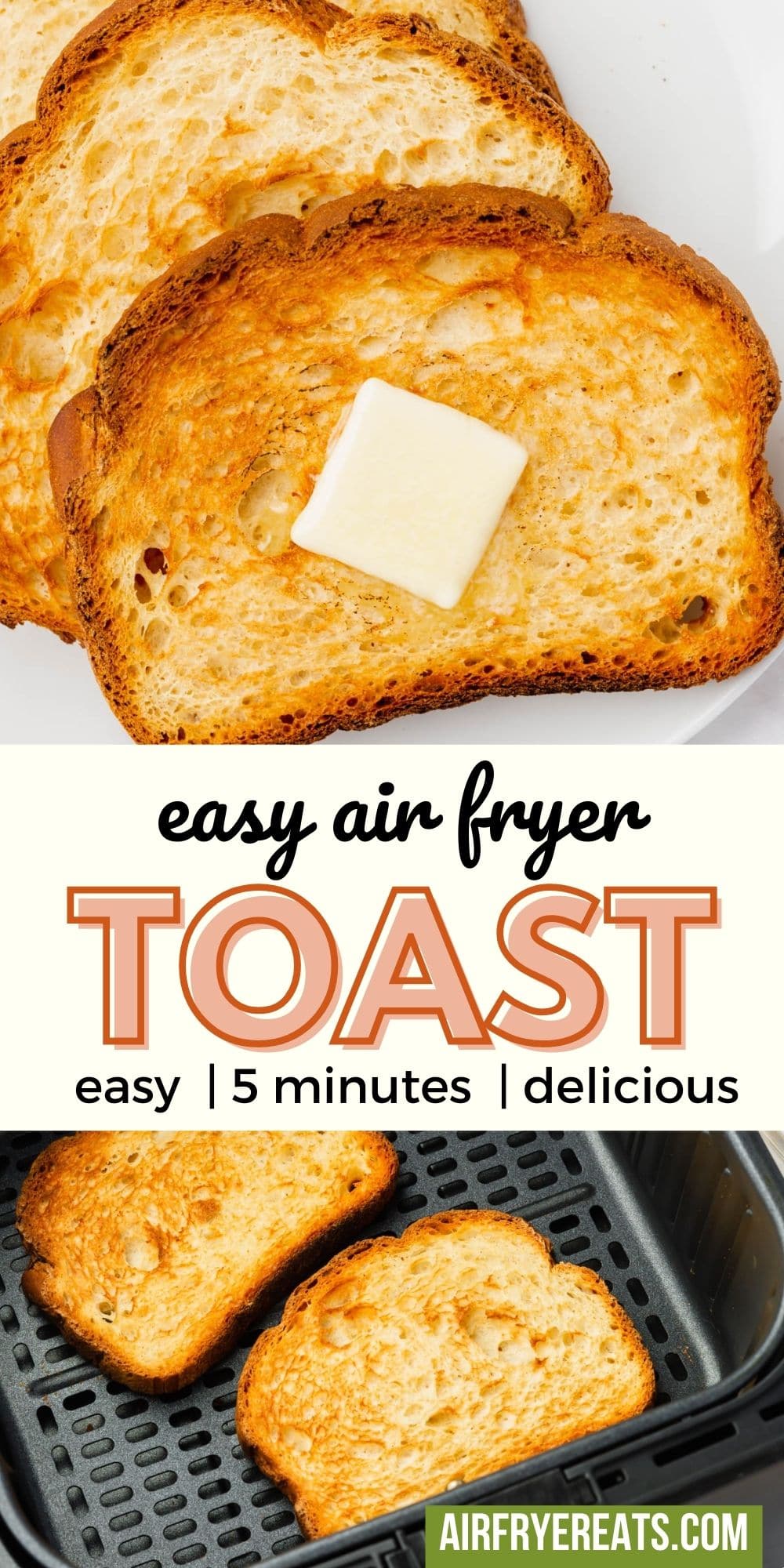 Have you made this recipe? Please leave a comment AND rating below! It helps other readers!
Be sure to tag @AirFryerEats on instagram, if you share a picture on the gram! Let's get social, you can follow me on Youtube, Instagram, Facebook, Pinterest or join one of our Air Fryer Facebook Groups: Air Fryer Recipes, Air Fryer Recipes for Seniors and Gluten Free Air Fryer Recipes.
Don't forget to subscribe to our EMAIL newsletter.
Air Fryer Toast
Making toast in the air fryer is an easy and convenient way to start your day. Air Fryer toast is crispy and delicious, plus it's ready in under 5 minutes!
Ingredients
2-4

slices

bread

of your choice
Instructions
Gather your bread and determine how many slices you can fit into the air fryer at one time.

Place the bread in your air fryer basket. Work in batches if need be.

Air fry at 400F/200°C for 4-5 minutes, flipping the bread halfway through. Use more or less time depending on how golden you like your toast.

Serve immediately with your favorite toppings.
Go AD FREE!
Notes
Depending on which type of bread I use, I can fit anywhere between 2 and 4 pieces of bread in my air fryer basket. The bread I used in the photo is a bit larger so I was only able to fit 2 slices at a time.
If you like your toast to be golden, I recommend the full 5 minutes. If you like your bread just barely toasted, start checking at 3 minutes.
If you'd like, you can butter your bread before toasting.
Lighter bread may lift and move around in the air fryer. To avoid this, place a metal trivet over the toast, or weigh it down using a butter knife or similar item.
Pro Tip: This recipe can be made in the air fryer unit with a basket or the air fryer oven. If you are using the air fryer oven, use the middle rack and select the "Air Fry" function.
Pro Tip: Check your food as it cooks. Each air fryer runs a bit differently. Sometimes air frying is a trial and error process. Check your food as it cooks to learn your air fryer better! When cooking a new recipe or food items be sure to check your food often to help avoid over/under cooking.
Have oven recipes that you'd like to convert to an air fryer recipe? Use our Air Fryer Calculator to help you estimate cooking times and temps! Calculator here:
https://airfryereats.com/air-fryer-conversion-air-fryer-calculator/
Nutrition
Calories:
77
kcal
|
Carbohydrates:
13
g
|
Protein:
3
g
|
Fat:
1
g
|
Saturated Fat:
1
g
|
Polyunsaturated Fat:
1
g
|
Monounsaturated Fat:
1
g
|
Trans Fat:
1
g
|
Sodium:
132
mg
|
Potassium:
39
mg
|
Fiber:
1
g
|
Sugar:
2
g
|
Vitamin A:
1
IU
|
Vitamin C:
1
mg
|
Calcium:
35
mg
|
Iron:
1
mg
Tired of the ads?
Go AD Free - Become part of our Membership community!
Air Fryers can vary greatly. Please take the time to learn your specific air fryer. You may need to adjust times and temperatures based upon your air fryer.
All though this website attempts to provide accurate nutritional information, the information should only be considered an estimate. Varying factors such as different product types, different brands, etc. can change nutritional information. It is your responsibility as a consumer to read all labels to make sure the ingredients fit your dietary needs as well as calculate your own nutritional information as a double check.